INTERVIEW: Manifest's Olli Haaskivi Talks Isaiah Being the Reason for 'Save the Passengers' Calling
Manifest is known for its shady characters with unclear motivations, and that couldn't be truer for Isaiah, played by Olli Haaskivi.
On Manifest Season 2 Episode 7, Olli's character was revealed as an obsessive believer who wanted to transcend death and be reborn as a "returned," just like the passengers of the "miracle" Flight 828.
Olli's character did quite a lot of damage as he lured all the passengers to a makeshift nightclub, spiked the bottles of champagne, attempted to blow them all up, held Olive at knifepoint, and died while wrestling TJ, who sacrificed his life to save his girlfriend.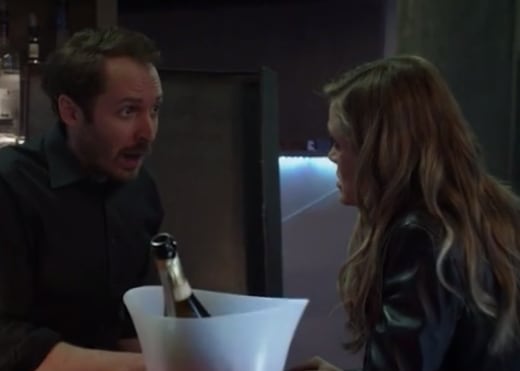 TV Fanatic had a chance to talk to Olli about his involvement in the series, bringing such an intense character to life, and what was going on in Isaiah's mind this whole time.
I didn't expect Isaiah to go that far. Let's start there!
One thing I'll say is that it's been fun to watch this season and anytime someone says, "Save the passengers," my thought is always, "From me!" It's been fun to have that up my sleeve, hearing the phrase "Save the passengers" so much for the last many weeks and be like, "That's only about me, guys."
Well, when we met Isaiah in one of the first episodes, I think it was Manifest Season 1 Episode 3. 
I think so yeah so.
So, was this his plan the whole time or was it kind of building up as he kept attending the Church of the Believers? What's your theory?
Yeah, my feeling is, I'm always sort of looking for one sort of new, big idea to hang your character on.
I remember I did a bunch of episodes of The Sinner in its second season playing a public defender, and I was speaking to a friend of mine who is a public defender, and I remember he said that all a public defender is is just a burnt-out idealist. I remember thinking, "Okay, I can base my entire character on that phrase."
That gives me everything I need. And Isaiah, when we meet him in Manifest Season 1 Episode 3, and he has a big jail scene with Michaela, he says a line that I think is, "I'm not afraid of prison; I've been here before."
It's something along those lines, and so what that says to me is it's easy to take that thought and track it down, like track the implications of that. So, my instinct is that if someone who has led a really rough life, who was potentially in and out of foster homes, maybe, I think he's definitely seen things and been a part of things that are, well…
That led to this explosive moment?
Yeah! And I think that he comes from a sort of unstable and harrowing background, whatever it is.
I have some ideas, but whatever it is, we almost don't need to know, but we know that he certainly has a past, and he has capabilities. And I think the miracle of 828 really is, I treated it as the first time that he has a really has any hope, or any optimism, or anything beautiful.
I think he leans into that really hard. I think he feels really safe in that community. I think he feels like he has a purpose. I think he feels excited to be with Olive and welcome her into this community. And I think it really is maybe the first time in his entire life that he feels those warm and positive feelings.
And then I think when that gets threatened when the Church gets attacked. And I think he has some sense that Olive's family is not approving of this.
And then he gets that confirmation when Ben comes and confronts Adrian in this episode. 
Yeah, and it also wouldn't surprise me if Adrian and Isaiah had a conversation about Ben attacking Adrian, or Isaiah maybe just has a sense that something happened there.
I think that when Isaiah's emotional safety — which has been such a comfort to him and such a source of safety and beauty in his life that has not had a lot of safety in beauty — I think a lot of things that he's been pressing down and trying to compartmentalize, a lot of angst, a lot of rage, a lot of frustration, all these things, I think really has no choice but to show up in the way that it does in 207.
What I think is interesting though is that when we started getting suspicious of  Isaiah a few episodes back, a lot of people kind of assumed that maybe he was an X'er disguised as a believer. 
Right.
But from what you're saying and this whole scene, he was always a believer. 
I really do think so, especially on 103, right off the bat, we see how much he cared for Kelly, who got murdered. We see the stars in his eyes when Michaela comes to speak with him at the prison. I always treated his beliefs as unbelievably genuine.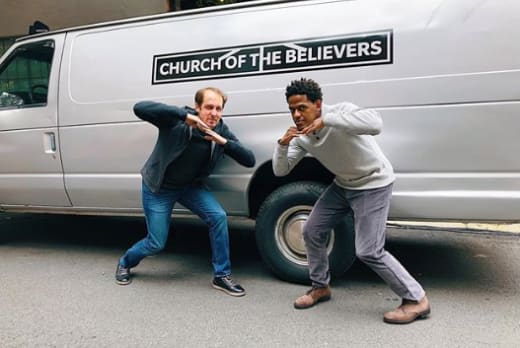 Yeah, that explains everything he did.
Yeah, I'm so glad. And like I said, when that safety gets threatened, he feels that he has to do something, and unfortunately, what he decides to do is drastic.
Adrian told Isaiah that a "bigger miracle" was coming on Manifest Season 2 Episode 6. Did Adrian know anything about this, was he referring to something else, or was it just a blanket statement to make Isaiah feel more comfortable?
I took it as a blanket statement. I took it as maybe the very first time, or not even maybe, I took it is the first time that something Adrian says doesn't ring true to Isaiah. I think it was something Adrian said to sort of calm Isaiah down kind like saying like, "Don't worry about it; we'll just figure it out later."
The thought that I had in that moment was, "I don't know if I fully believe you right now," or "Maybe I have to take matters into my own hands here."
Follow CRAVEYOUTV on socials
Manifest Review – Deadhead (3×02)
Is it just me or is this season of Manifest more action-packed?
The pace and momentum picked up even more on Manifest Season 3 Episode 2 as Angelina and her Callings were thrown into the mix. Not a moment wasted!
Not only did her Calling connect to the methheads, who have been resurrected from their underwater slumber, but it continued down the religious trajectory with a vision of Archangel Michael, best known as a healing angel who served as the leader of the army of God against the forces of evil.
Could the Calling be implying that the passengers of Flight 828 were sent back to Earth to fight against the darkness?
The Calling also brought Angelina and Peter together, but what's the connection?
It doesn't seem like their paths have crossed before in a meaningful way, and yet, the Calling's wanted them to find each other.
Pete wasn't just a random stranger in the background of her photo.
Why?
It was a little frustrating that Mic didn't even try to get any answers before bringing Pete into the precinct.
She could have still done things "by the book" while also getting some clarity as to how the methheads relate to 828 and their latest passenger.
The Captain gave Mic a stern talking to as she returned to work, but at this point, I think she's realizing that whatever Mic is messed up in, it's not normal.
Even the most rational person cannot rationalize three guys emerging from a lake after three months of being presumed dead.
The Captain knows that logic doesn't apply here, so maybe she'll be on Mic's side soon enough?
And how is Drea assisting with cases but not asking any questions? Olive openly talked about following Callings. Wouldn't that make you want to question what's going on?
Drea and Mic seem to consider each other really good friends, so it's borderline insulting not to clue her in at this point.
If she's going to be putting her life on the line, she should at least know what's at stake.
I'm glad that Pete chose to break free from Jace's toxic grasp.
He and Korey were both aware that they needed to make the most of their second chance, and they weren't interested in ruining it by making the mistakes of their past.
Jace is the one we should really be concerned about because he's dangerous and vengeful.
According to Ben and Mic's theory, the trio remained dead for 84 days, which likely means they have 84 days to live.
But what happens if they follow the Callings? Will that buy them more time as it did with Zeke?
The chase sequence gave audiences a good dose of adrenaline, even if it was cut short by Jace firebombing Mic and Drea.
Also, why wouldn't the Captain send Jared along for the ride? I'm not saying Mic and Drea can't handle themselves, but it would be nice to have some backup when dealing with dangerous criminals.
I didn't think I'd be interested in adding another passenger to the mix, but it's nice that Olive has someone her age that she can team up with.
Olive may not get the Calling's, but she has plenty of experience navigating them, so helping Angelina figure out what they mean is giving her some purpose.
Ben is his own worst enemy.
What part of Vance's "don't come save me" speech was unclear?
Instead of heeding Vance's instructions to let him handle things in Cuba, Ben couldn't help himself and needed to find a way to help his partner.
Vance was able to fake his death for more than a year, so it's safe to say he probably had an escape plan for Cuba anyway.
With the NSA, DOD, and Pentagon already onto Ben, you would think that he'd lie low, but instead, he spilled the beans to Powell about Vance being alive.
I know Ben thinks he's doing the right thing, but what makes him think Powell can be trusted? What if he was wired?
Vance has chosen to remain under the radar and has purposefully kept his circle tight.
If he thought he could trust his partner, don't you think he would have told him the truth on his own terms?
Ben, come on! I think it's been made pretty clear that government entities cannot be trusted when it comes to Flight 828.
The fact that Vance's wife blamed Ben for everything that was happening was also slightly ridiculous.
The government turned on Vance, which caused him to fake his death in the first place.
However, she knew the man she married — a man who seeks out the truth no matter the danger, so it's not like he would be fine with ignoring the biggest mystery to ever come across his desk.
Vance is a grown man who is responsible for his own decisions, and while Ben definitely contributed, none of this is his fault.
I wasn't entirely sure if Powell leaked the tail fin to reporters or if it was a result of the video that was taken by the young boy in Cuba, but either way, everyone is now aware that a piece of the plane was found in the ocean.
But these people also watched the plane land with all passengers on-board about a year-and-a-half ago in New York City, so it's understandable that they have questions.
Manifest Season Premiere Review – Tailfin (3×01)
Manifesters have been patiently waiting for this day to arrive, and rejoice we must because Manifest Season 3 Episode 1 is packed with action that will hopefully move the central mystery of Flight 828 swiftly along.
In the premiere, we're still trying to figure out the how behind the 828'ers returns, but there are also several new mysteries taking shape throughout the hour, including a brand new passenger and the possibility that religion plays a much deeper role in the return that previously imagined.
Manifest has hinted at religious undertones before, so Ben's revelation isn't exactly new.
The series is filled with biblical references and parallels. For starters, all the characters have names with biblical origins: Grace, Ezekiel (Zeke), Michaela, and even newborn, Eden.
The 828'ers have been called false prophets, they've been seen as angels who have returned to the Earth, churches have been built around their miraculous existence — the writing has always been there.
And it's not lost on anyone (especially because the episode calls it out) that the fisherman's ship responsible for finding the tailfin is named after Saint Anthony, the patron of lost things.
So again, Ben's "aha" moment that they've all been resurrected isn't exactly jaw-dropping. Though, admittedly, it does fit in nicely for a premiere that lends itself to Easter weekend.
The theme of resurrection doesn't just apply to the 828'ers because, in those final moments, we see the trio of methheads, who kidnapped Cal and then mysteriously disappeared in the frigid lake on Manifest Season 2 Episode 13, also resurrect.
There's definitely some credibility to Ben's theory.
In addition to the "how," we're continuing to ask ourselves "why."
Why are they the chosen ones? Is their mission to help people on Earth? Are they still stuck in some kind of purgatory?
One of the biggest issues with the first two seasons of the series was that nothing was getting resolved as the questions began to mount.
It looks like this season — even with Ben's vague "we're about to find out" answer when Mic questioned why this is happening — will tackle actual plot development that aims to answer the questions surrounding the central mystery.
INTERVIEW: J.R. Ramirez Teases Jared's Arc on Season 3 of 'Manifest'
At least, that's what we're hoping happens. The random side plots are engaging, but I don't think the audience will hold out for much longer if no progress is made this season.
With the tailfin, Ben and co. are starting to form a working theory that's backed up by something tangible.
The episode kicked off in Cuba where the tailfin was retrieved.
Ben arrived at the destination with Vance and another agent hoping to find some answers. And he immediately hit us with a dramatic removal of his glasses.
Wow, I've missed those.
While he wasn't certain about what he was looking for when he got there since he was going off Cal's drawings, he knew it had something to do with 828.
However, the tailfin revelation put him in a tailspin as it proved that something sinister likely happened to their flight.
INTERVIEW: Parveen Kaur Reveals Saanvi Has 'Trauma' to Work Through on Manifest Season 3
Getting blasted across the room after coming in contact with the tailfin also quelled questions about the tailfin's authenticity.
There was also the shared Calling between Ben, Mic, and Cal, who saw themselves burning up along with a brand-new passenger.
This Calling doesn't seem all that subtle. Paired with Ben's previous vision of the flight exploding mid-air and his glowing hand after coming in contact with the plane debris, it seems pretty obvious that they likely didn't survive the initial flight.
INTERVIEW: Parveen Kaur Reveals Saanvi Has 'Trauma' to Work Through on Manifest Season 3
Manifest fans have waited almost a year to learn more about what happened to Flight 828 and the passengers.
And we're getting closer than ever!
Ahead of the Manifest Season 3 premiere, TV Fanatic spoke to Parveen Kaur, who plays Saanvi Bahl, an 828 passenger and medical researcher.
With a season that promises more answers than questions, Parveen confirms that a major answer does come to the surface that describes as both "emotional" and "meaningful."
Unfortunately, we'll have to wait to see how the season plays out to know exactly what she's referring to.
Check out our full Q+A with Parveen below:
At the end of season 2, Saanvi killed The Major. How does that affect her moving forward?
Well, she obviously carries the weight of that going into season 3. The season picks up about 3 months later, so it's still relatively very fresh and she's carrying a lot of that paranoia.
She's kind of constantly looking over her shoulder waiting for someone to show up and say, "Hey, we know what you did. Your life is over, and you're gonna go to prison."
She's carrying a lot of fear… and more importantly a lot of guilt because that's not who she is, you know.
And it's someone she thought that she would never become, and I think, obviously, it was an accident, of course, but she's done something very out of character, so she's dealing with a lot of stuff going into season 3 even outside of the plane.
When the season kicks off, has she told anyone else about what happened, or is Vance the only one that knows?
Vance is the only one that knows.
So she can't talk to anyone about it!
She has no one! So, she's almost like a walking volcano that's just waiting to erupt. I mean, to keep something like that inside would be very, very challenging, which we see; We see her go through that arc in the season.
In the season 3 trailer, we see Jared holding a photo of The Major… what can you tell us about that, if anything!
There seems to be a little overlap with Jared and Saanvi… I don't know how much more I can go in, but there is certainly overlap with those two characters in some capacity.
And we haven't seen them work together that much… so that's exciting!
Yeah, I mean it's really great cause I never get to work with J.R. as Saanvi and Jared. We've had maybe one scene together, so yeah, I'm excited for people to see that.
It feels like a crossover from different shows with how little we've worked together. I'm always in the hospital, he's always in the precinct, so we are going to see those characters' paths cross.
Saanvi also eliminated the Callings, how does that change things for her?
She and Vance start working together, so it doesn't change anything in terms of how she's working and to what capacity.
It doesn't really affect her until later on in the season, but I don't want to say how because I can't give that away, but in terms of how she's trying to solve it, it doesn't affect her.
She has a lot of skills, and then later on we realize that there are consequences to her not getting the Callings. That happens later in the season.