INTERVIEW: Manifest's Olli Haaskivi Talks Isaiah Being the Reason for 'Save the Passengers' Calling
Manifest is known for its shady characters with unclear motivations, and that couldn't be truer for Isaiah, played by Olli Haaskivi.
On Manifest Season 2 Episode 7, Olli's character was revealed as an obsessive believer who wanted to transcend death and be reborn as a "returned," just like the passengers of the "miracle" Flight 828.
Olli's character did quite a lot of damage as he lured all the passengers to a makeshift nightclub, spiked the bottles of champagne, attempted to blow them all up, held Olive at knifepoint, and died while wrestling TJ, who sacrificed his life to save his girlfriend.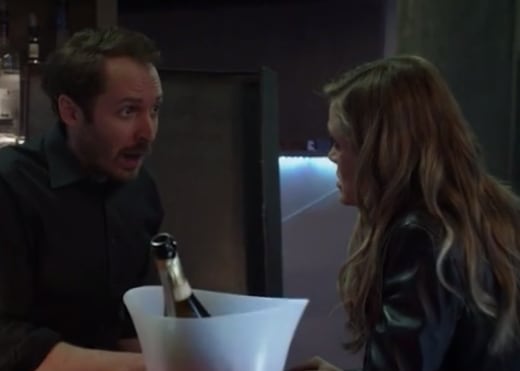 TV Fanatic had a chance to talk to Olli about his involvement in the series, bringing such an intense character to life, and what was going on in Isaiah's mind this whole time.
I didn't expect Isaiah to go that far. Let's start there!
One thing I'll say is that it's been fun to watch this season and anytime someone says, "Save the passengers," my thought is always, "From me!" It's been fun to have that up my sleeve, hearing the phrase "Save the passengers" so much for the last many weeks and be like, "That's only about me, guys."
Well, when we met Isaiah in one of the first episodes, I think it was Manifest Season 1 Episode 3. 
I think so yeah so.
So, was this his plan the whole time or was it kind of building up as he kept attending the Church of the Believers? What's your theory?
Yeah, my feeling is, I'm always sort of looking for one sort of new, big idea to hang your character on.
I remember I did a bunch of episodes of The Sinner in its second season playing a public defender, and I was speaking to a friend of mine who is a public defender, and I remember he said that all a public defender is is just a burnt-out idealist. I remember thinking, "Okay, I can base my entire character on that phrase."
That gives me everything I need. And Isaiah, when we meet him in Manifest Season 1 Episode 3, and he has a big jail scene with Michaela, he says a line that I think is, "I'm not afraid of prison; I've been here before."
It's something along those lines, and so what that says to me is it's easy to take that thought and track it down, like track the implications of that. So, my instinct is that if someone who has led a really rough life, who was potentially in and out of foster homes, maybe, I think he's definitely seen things and been a part of things that are, well…
That led to this explosive moment?
Yeah! And I think that he comes from a sort of unstable and harrowing background, whatever it is.
I have some ideas, but whatever it is, we almost don't need to know, but we know that he certainly has a past, and he has capabilities. And I think the miracle of 828 really is, I treated it as the first time that he has a really has any hope, or any optimism, or anything beautiful.
I think he leans into that really hard. I think he feels really safe in that community. I think he feels like he has a purpose. I think he feels excited to be with Olive and welcome her into this community. And I think it really is maybe the first time in his entire life that he feels those warm and positive feelings.
And then I think when that gets threatened when the Church gets attacked. And I think he has some sense that Olive's family is not approving of this.
And then he gets that confirmation when Ben comes and confronts Adrian in this episode. 
Yeah, and it also wouldn't surprise me if Adrian and Isaiah had a conversation about Ben attacking Adrian, or Isaiah maybe just has a sense that something happened there.
I think that when Isaiah's emotional safety — which has been such a comfort to him and such a source of safety and beauty in his life that has not had a lot of safety in beauty — I think a lot of things that he's been pressing down and trying to compartmentalize, a lot of angst, a lot of rage, a lot of frustration, all these things, I think really has no choice but to show up in the way that it does in 207.
What I think is interesting though is that when we started getting suspicious of  Isaiah a few episodes back, a lot of people kind of assumed that maybe he was an X'er disguised as a believer. 
Right.
But from what you're saying and this whole scene, he was always a believer. 
I really do think so, especially on 103, right off the bat, we see how much he cared for Kelly, who got murdered. We see the stars in his eyes when Michaela comes to speak with him at the prison. I always treated his beliefs as unbelievably genuine.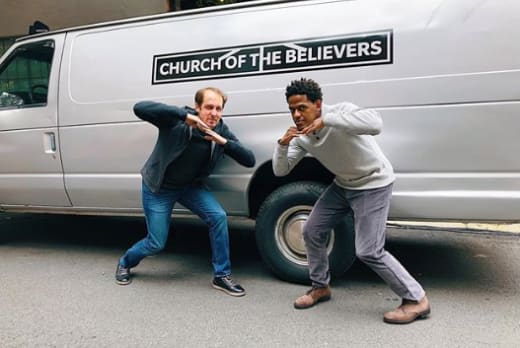 Yeah, that explains everything he did.
Yeah, I'm so glad. And like I said, when that safety gets threatened, he feels that he has to do something, and unfortunately, what he decides to do is drastic.
Adrian told Isaiah that a "bigger miracle" was coming on Manifest Season 2 Episode 6. Did Adrian know anything about this, was he referring to something else, or was it just a blanket statement to make Isaiah feel more comfortable?
I took it as a blanket statement. I took it as maybe the very first time, or not even maybe, I took it is the first time that something Adrian says doesn't ring true to Isaiah. I think it was something Adrian said to sort of calm Isaiah down kind like saying like, "Don't worry about it; we'll just figure it out later."
The thought that I had in that moment was, "I don't know if I fully believe you right now," or "Maybe I have to take matters into my own hands here."
Follow CRAVEYOUTV on socials
'Manifest' Starts Production – When Will Season 4 Premiere?
It's official — Manifest Season 4 is taking off.
Production on the resurrected show has officially begun, and while fans are thrilled, the cast members are flying at high altitudes.
J.R Ramirez, who plays Jared Vasquez on the drama, shared a glimpse of his first day back on set.
INTERVIEW: J.R. Ramirez Teases Jared's Arc on Season 3 of 'Manifest'
"Walking through the stages this am… Just felt different," Ramirez wrote on Instagram next to a photo by his dressing room.
"I've been working in this business for almost two decades now and I know to land a team of Cast n Crew that is as Collaborative, Dedicated and in my opinion (Most Importantly) "Ego Checked" as these Beautifully Talented Humans are… well it RARELY happens," he added.
"It's only day one and you can already feel the Level of Appreciation this group has for the Magical Ride that is Manifest!" he continued. "But let's keep it real… The reality is ALL of This Magic is happening because of YOU guys! You guys made this happen! We Love You. Can't wait for you to see how it all comes together…"
Vazquez is a police lieutenant that often helps the Stone family as they try to figure out the mystery of Flight 828. He's also Michaela's former fiancé.
Josh Dallas, who plays Ben Stone, also took to Instagram to mark the beginning of season 4. He posted a photo of the script and Ben's iconic black-framed spectacles with the caption: "Something's happening. #mainfest season 4 has begun!! Nothing will be the same."
Netflix saved the show months after NBC pulled the plug on it despite fan pleas and petitions.
The streamer renewed the supernatural drama for a fourth and final season to tie up loose ends, give fans closure, and finally reveal the mystery of what actually happened to flight 828.
It's unclear when the season will hit Netflix, but it seems like a 2022 premiere could be likely. Dallas also teased: "Coming soon to @netflix! #manifest ✈️"
We'll update this post as we find out more!
'Manifest' Officially Saved by Netflix For Fourth and Final Season
Happy Manifest Day — Manifest has officially resurrected.
Much like the passengers of Flight 828, the plane drama has been saved by Netflix for a fourth and final supersized season.
The upcoming season will feature a whopping 20 episodes, and will likely be split into parts.
"Couldn't let a day as significant as today go uncelebrated. Manifest will officially return for a super-sized fourth and final season, only on Netflix," the official Twitter page posted.
✈️✈️✈️ https://t.co/Ymq2rwzlJt

— JR Ramirez (@JR8Ramirez) August 28, 2021
The exciting news was announced on August 28, 8/28, better known as Manifest Day.
"What started years ago as a flight of fancy deep in my imagination has evolved into the jet engine journey of a lifetime," showrunner Jeff Rake said in a statement. "Never in my wildest dreams could I have envisioned the worldwide outpouring of love and support for this story, its characters, and the team who work so hard to bring it all to life. That we will be able to reward the fans with the ending they deserve moves me to no end. On behalf of the cast, the crew, the writers, directors, and producers, thank you to Netflix, to Warner Bros., and of course to the fans. You did this."
SAVED!

Who did this?
YOU did this.
WHO did this?
YOU DID THIS!#Netflix#20Episodes#SavedManifest pic.twitter.com/z7u4yUqRO1

— Jeff Rake (@jeff_rake) August 28, 2021
The cast immediately took to social media to share their excitement!
It's all connected!! #manifest #828 ✈️!! https://t.co/HlGd0ryJ1R

— joshdallas (@JoshDallas) August 28, 2021
828

— JR Ramirez (@JR8Ramirez) August 28, 2021
Happy #828Day!! We did it ✈️. #SaveManifest #Netflix RT

— luna blaise (@lunablaise) August 28, 2021
NBC initially grounded the supernatural drama over the summer following an intense season three finale that left fans with several jaw-dropping cliffhangers.
We even put together a list of questions that we need answered immediately!
Fans campaigned heavily on social media to save the series, but neither NBC nor Netflix budged, with the latter passing on the drama even after its first two seasons hit and stay at the top spot for several weeks.
However, fans weren't backing down, and even some big celebrities began tweeting about their obsession with the show.
Netflix eventually realized that they were making a huge mistake by not picking up the series, and the rest, well, that's history.
We're thrilled the series is getting a second chance at life, just like the passengers.
Now… we're going to binge-watch the first three seasons until season 4 is ready for takeoff!
Which 'Manifest' Character Is Your Soulmate?
Since Manifest was officially saved by Netflix for a fourth and final season, there's no better time to find out which character would be your soulmate!
Do you connect most with an 828-er? A family member of the returned? Or someone involved with helping the truth come to light?
Take the quiz now to find out!