The mystery of Flight 828 continues on Manifest Season 2 as the Callings intensify, the death date looms over the passengers, and the Stone family scrambles to figure out what the Major wants.
However, the world of Manifest with its mystery, intrigue, and mythology, wouldn't be anything without the cast and crew that bring it to life.
At the helm sits Sarah Cawley, the Director of Photography on the show's second season, whose impressive resume includes pilots of Ugly Betty, Salem, and Ringer, in addition to plenty of TV movies and documentaries.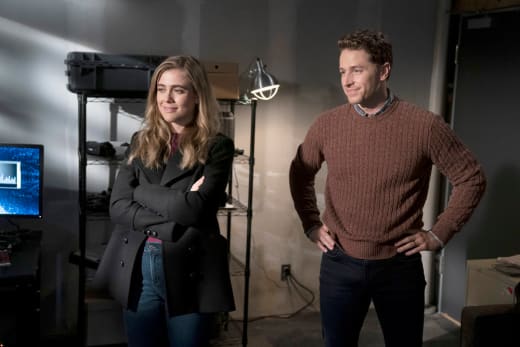 TV Fanatic had a chance to catch up with Sarah and talk to her about how she approaches the visuals for the show, how she styled the Callings, her creative process, what her background brings to the season, and so much more.
She also gives fans a tease into her favorite episodes of the season, which includes something "big" in the season finale!
Tell me a little bit about the work that goes into cinematography for an episodic series filled with mystery and mythology.
So, I came out for season two, I was not on for season one, and I really wanted a stylized show a bit more for season two, like the Callings feeling a little bit more subjective and a little more dreamlike, so we did a lot of testing before Manifest Season 2 Episode 1.
Joe Chapelle directed that episode, so we had to we had to figure out our look for the Callings, which ended up being the lens' baby.
And we had to figure out the nose dive sequence in the airplane. And some of the key props like in 201 the calling is a form of shaking, so we tried out a couple of different ways to get the image to shake, and we landed on the Keslow camera image shaker.
There was a lot of a lot of testing, which I actually think is really fun and creative. When you say you're going to do a day of camera tests, it doesn't sound that exciting, but really it's a great thing to get done before you show up on set to shoot.
And there's a whole mythology aspect to season two which actually was present in season one as well. A lot of key props that give clues on, and a lot of times for us that would be like a macro shot if it's a small prop some of which you'll see coming up in upcoming episodes.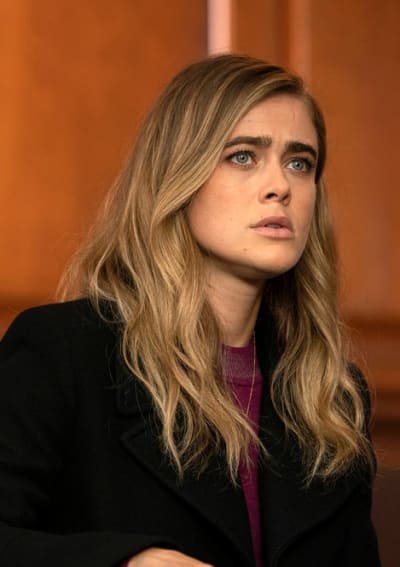 How is that different from feature films and episodic television? Does it require a different approach?
Yes, it does. Features are different than TV, and it takes a different approach from the D.P
One big reason that a feature is different is that I'm working with one director and we spend so much time together and prep.
Gathering visual references and visiting our sets, so that by the time we're shooting the film we have a very developed idea of what we're striving for. And we're both totally on the same page.
On TV, there's a rotating slate of directors, so sometimes I've worked with the director before, but if it's somebody who's new to me we have to get through that prep process really fast during our prep time, so the fact that there are different directors coming in all the time on TV makes a difference.
And then there's the aspect where, as this season's DP, I alternated with somebody else, John Inwoods, so the two of us were the stewards of the visuals on the show, so we definitely welcome new ideas from the directors.
And then, if it turns out that some of those things don't seem like they're gonna mesh especially well with the visual look we can talk about that and see how much of it we want to hold onto and how much of it we want to modify, so it fits in well with what we've established.
I've done a lot of indie features and on those there's some room for flexibility like if you get to a location and there's beautiful light happening over this way, you know sometimes you can be flexible and change your blocking so that you get that.
You get that beautiful light, or you change which way you're going to look, and I would say on television, that's less the case.
Like once you've tech scouted, especially in New York City, you're kind of locked into the way that you're looking, you got permits, you got trucks, you got locations and you've got TV show time pressure, so you don't have as much maneuverability once you're tech scouted.
When you show up you're executing what you planned as fast as you can and then you're moving on to the next set.
Also, one challenge of TV is just that frequently even though it's single camera, you do have two cameras rolling at the same time. And if you're looking at more than one direction that just adds a lighting challenge that in feature you don't usually get into quite as much.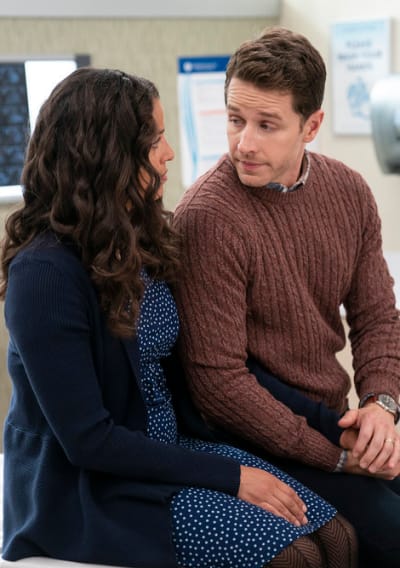 What's the typical time between when you start filming an episode to when your done and you're onto the next one?
On Manifest, we had about nine days to prep and nine days to shoot. Sometimes it would be eight days of prep in nine days of shooting, and for the season finale I think we had a couple extra days, but there was roughly nine days as a prep and nine days of shooting.
That's tight. 
Yeah, it's a tight schedule. They really stacked it up very efficiently, and it was scheduled to get maximum screen time.
Follow CRAVEYOUTV on socials
'Manifest' Starts Production – When Will Season 4 Premiere?
It's official — Manifest Season 4 is taking off.
Production on the resurrected show has officially begun, and while fans are thrilled, the cast members are flying at high altitudes.
J.R Ramirez, who plays Jared Vasquez on the drama, shared a glimpse of his first day back on set.
INTERVIEW: J.R. Ramirez Teases Jared's Arc on Season 3 of 'Manifest'
"Walking through the stages this am… Just felt different," Ramirez wrote on Instagram next to a photo by his dressing room.
"I've been working in this business for almost two decades now and I know to land a team of Cast n Crew that is as Collaborative, Dedicated and in my opinion (Most Importantly) "Ego Checked" as these Beautifully Talented Humans are… well it RARELY happens," he added.
"It's only day one and you can already feel the Level of Appreciation this group has for the Magical Ride that is Manifest!" he continued. "But let's keep it real… The reality is ALL of This Magic is happening because of YOU guys! You guys made this happen! We Love You. Can't wait for you to see how it all comes together…"
Vazquez is a police lieutenant that often helps the Stone family as they try to figure out the mystery of Flight 828. He's also Michaela's former fiancé.
Josh Dallas, who plays Ben Stone, also took to Instagram to mark the beginning of season 4. He posted a photo of the script and Ben's iconic black-framed spectacles with the caption: "Something's happening. #mainfest season 4 has begun!! Nothing will be the same."
Netflix saved the show months after NBC pulled the plug on it despite fan pleas and petitions.
The streamer renewed the supernatural drama for a fourth and final season to tie up loose ends, give fans closure, and finally reveal the mystery of what actually happened to flight 828.
It's unclear when the season will hit Netflix, but it seems like a 2022 premiere could be likely. Dallas also teased: "Coming soon to @netflix! #manifest ✈️"
We'll update this post as we find out more!
'Manifest' Officially Saved by Netflix For Fourth and Final Season
Happy Manifest Day — Manifest has officially resurrected.
Much like the passengers of Flight 828, the plane drama has been saved by Netflix for a fourth and final supersized season.
The upcoming season will feature a whopping 20 episodes, and will likely be split into parts.
"Couldn't let a day as significant as today go uncelebrated. Manifest will officially return for a super-sized fourth and final season, only on Netflix," the official Twitter page posted.
✈️✈️✈️ https://t.co/Ymq2rwzlJt

— JR Ramirez (@JR8Ramirez) August 28, 2021
The exciting news was announced on August 28, 8/28, better known as Manifest Day.
"What started years ago as a flight of fancy deep in my imagination has evolved into the jet engine journey of a lifetime," showrunner Jeff Rake said in a statement. "Never in my wildest dreams could I have envisioned the worldwide outpouring of love and support for this story, its characters, and the team who work so hard to bring it all to life. That we will be able to reward the fans with the ending they deserve moves me to no end. On behalf of the cast, the crew, the writers, directors, and producers, thank you to Netflix, to Warner Bros., and of course to the fans. You did this."
SAVED!

Who did this?
YOU did this.
WHO did this?
YOU DID THIS!#Netflix#20Episodes#SavedManifest pic.twitter.com/z7u4yUqRO1

— Jeff Rake (@jeff_rake) August 28, 2021
The cast immediately took to social media to share their excitement!
It's all connected!! #manifest #828 ✈️!! https://t.co/HlGd0ryJ1R

— joshdallas (@JoshDallas) August 28, 2021
828

— JR Ramirez (@JR8Ramirez) August 28, 2021
Happy #828Day!! We did it ✈️. #SaveManifest #Netflix RT

— luna blaise (@lunablaise) August 28, 2021
NBC initially grounded the supernatural drama over the summer following an intense season three finale that left fans with several jaw-dropping cliffhangers.
We even put together a list of questions that we need answered immediately!
Fans campaigned heavily on social media to save the series, but neither NBC nor Netflix budged, with the latter passing on the drama even after its first two seasons hit and stay at the top spot for several weeks.
However, fans weren't backing down, and even some big celebrities began tweeting about their obsession with the show.
Netflix eventually realized that they were making a huge mistake by not picking up the series, and the rest, well, that's history.
We're thrilled the series is getting a second chance at life, just like the passengers.
Now… we're going to binge-watch the first three seasons until season 4 is ready for takeoff!
Which 'Manifest' Character Is Your Soulmate?
Since Manifest was officially saved by Netflix for a fourth and final season, there's no better time to find out which character would be your soulmate!
Do you connect most with an 828-er? A family member of the returned? Or someone involved with helping the truth come to light?
Take the quiz now to find out!