The mystery of Flight 828 continues on Manifest Season 2 as the Callings intensify, the death date looms over the passengers, and the Stone family scrambles to figure out what the Major wants.
However, the world of Manifest with its mystery, intrigue, and mythology, wouldn't be anything without the cast and crew that bring it to life.
At the helm sits Sarah Cawley, the Director of Photography on the show's second season, whose impressive resume includes pilots of Ugly Betty, Salem, and Ringer, in addition to plenty of TV movies and documentaries.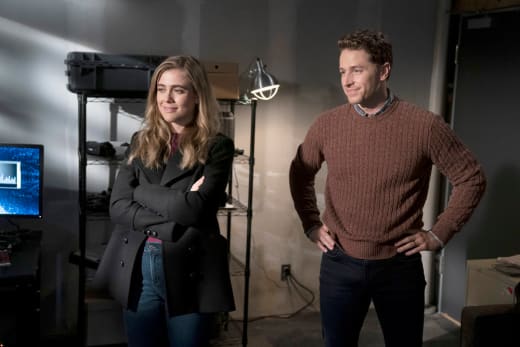 TV Fanatic had a chance to catch up with Sarah and talk to her about how she approaches the visuals for the show, how she styled the Callings, her creative process, what her background brings to the season, and so much more.
She also gives fans a tease into her favorite episodes of the season, which includes something "big" in the season finale!
Tell me a little bit about the work that goes into cinematography for an episodic series filled with mystery and mythology.
So, I came out for season two, I was not on for season one, and I really wanted a stylized show a bit more for season two, like the Callings feeling a little bit more subjective and a little more dreamlike, so we did a lot of testing before Manifest Season 2 Episode 1.
Joe Chapelle directed that episode, so we had to we had to figure out our look for the Callings, which ended up being the lens' baby.
And we had to figure out the nose dive sequence in the airplane. And some of the key props like in 201 the calling is a form of shaking, so we tried out a couple of different ways to get the image to shake, and we landed on the Keslow camera image shaker.
There was a lot of a lot of testing, which I actually think is really fun and creative. When you say you're going to do a day of camera tests, it doesn't sound that exciting, but really it's a great thing to get done before you show up on set to shoot.
And there's a whole mythology aspect to season two which actually was present in season one as well. A lot of key props that give clues on, and a lot of times for us that would be like a macro shot if it's a small prop some of which you'll see coming up in upcoming episodes.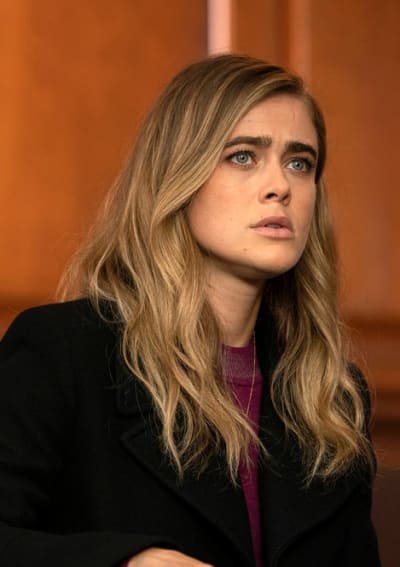 How is that different from feature films and episodic television? Does it require a different approach?
Yes, it does. Features are different than TV, and it takes a different approach from the D.P
One big reason that a feature is different is that I'm working with one director and we spend so much time together and prep.
Gathering visual references and visiting our sets, so that by the time we're shooting the film we have a very developed idea of what we're striving for. And we're both totally on the same page.
On TV, there's a rotating slate of directors, so sometimes I've worked with the director before, but if it's somebody who's new to me we have to get through that prep process really fast during our prep time, so the fact that there are different directors coming in all the time on TV makes a difference.
And then there's the aspect where, as this season's DP, I alternated with somebody else, John Inwoods, so the two of us were the stewards of the visuals on the show, so we definitely welcome new ideas from the directors.
And then, if it turns out that some of those things don't seem like they're gonna mesh especially well with the visual look we can talk about that and see how much of it we want to hold onto and how much of it we want to modify, so it fits in well with what we've established.
I've done a lot of indie features and on those there's some room for flexibility like if you get to a location and there's beautiful light happening over this way, you know sometimes you can be flexible and change your blocking so that you get that.
You get that beautiful light, or you change which way you're going to look, and I would say on television, that's less the case.
Like once you've tech scouted, especially in New York City, you're kind of locked into the way that you're looking, you got permits, you got trucks, you got locations and you've got TV show time pressure, so you don't have as much maneuverability once you're tech scouted.
When you show up you're executing what you planned as fast as you can and then you're moving on to the next set.
Also, one challenge of TV is just that frequently even though it's single camera, you do have two cameras rolling at the same time. And if you're looking at more than one direction that just adds a lighting challenge that in feature you don't usually get into quite as much.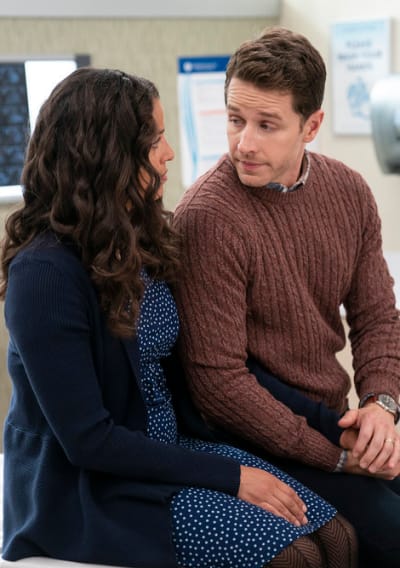 What's the typical time between when you start filming an episode to when your done and you're onto the next one?
On Manifest, we had about nine days to prep and nine days to shoot. Sometimes it would be eight days of prep in nine days of shooting, and for the season finale I think we had a couple extra days, but there was roughly nine days as a prep and nine days of shooting.
That's tight. 
Yeah, it's a tight schedule. They really stacked it up very efficiently, and it was scheduled to get maximum screen time.
Follow CRAVEYOUTV on socials
Feelin' generous? Support our site and podcast (Mimosa Talk) on Patreon and KoFi.
Manifest Season Finale Review – What Really Happened to Flight 828? (2×13)
What. Just. Happened?
Before I even kick off my review for Manifest Season 2 Episode 13, let me just say, if the series doesn't get renewed, I will be incredibly upset that we never found out what happened to Flight 828.
I had high hopes for the season finale and for the most part, it delivered, but it didn't come through on giving answers to the mysteries plaguing the series. (You can see all the questions I wanted to be addressed here.)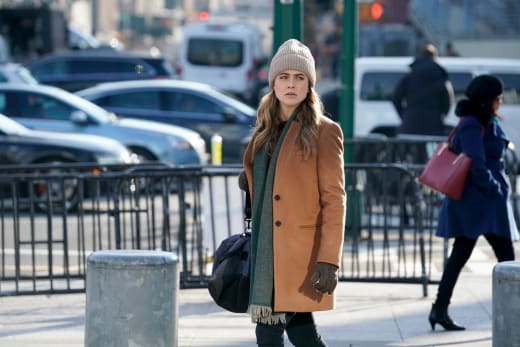 The finale should have given us some kind of closure to at least a few mysteries, but much like the rest of the season, Manifest left us with more questions than answers.
Way too much time was spent on the search for Cal and the Stone family blaming Mic for his kidnapping.
Ben and Grace were mad and thought Mic messed up by ignoring the Callings, which was understandable, but there didn't need to be multiple fights about it.
Mic was the reason Cal was kidnapped, but it wasn't like she wanted this outcome or even thought it would happen when she defied the Calling.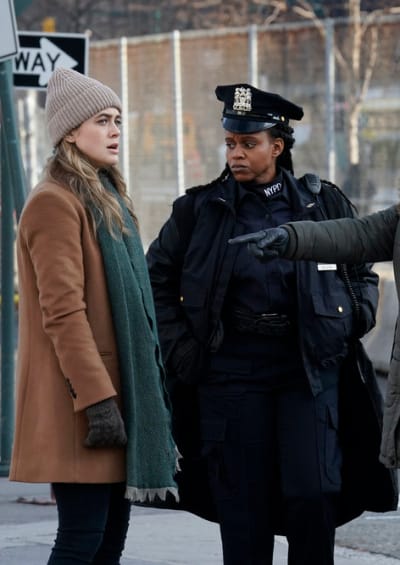 She was also beating herself up over it because she loves Cal as much as they do. She even ditched her honeymoon and traded in the last moments she could have spent with her dying husband to make things right and bring Cal to safety.
Let's give her a little bit of credit.
Ben blamed Mic for not following the Callings blindly, which wasn't fair. He's had his fair share of hypocritical moments, but this one takes the cake.
At some point this season, they've all questioned the validity of the Callings and whether or not they were a force for good or evil.
Mic's decision to follow her gut for once instead of relying on some weird voice in her heard wasn't entirely surprising. She's a good cop who wasn't willing to let a criminal go and do something that she doesn't agree with.
Too much time was also wasted on them trying to find Cal instead of giving the audience what they wanted — answers. Did I mention we wanted answers? Because we did.
Mic thought she could handle saving Cal all on her own, but she should know by now that these things are always a team effort.
Zeke and Olive were instrumental in locating Cal, and the callbacks served as a reminder of their close friendships.
Zeke's Calling to save Cal sweetly paralleled Cal's Calling to save Zeke in the snowy, cold cabin on Manifest Season 1.
Unfortunately, before we got to that promising rescue mission, we had to go through the first (and rather pointless and time-consuming) attempt, which found Mic and the dealers arranging a meet-up for the transaction — they get the meth, she gets Cal.
There was no doubt that the very public meeting place was going to cause some trouble, and the culprit was a pesky "good samaritan" who wouldn't back down even when Mic told her she was undercover.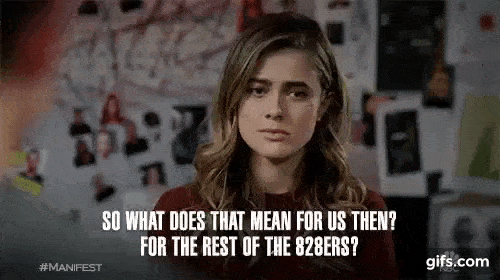 She ignored Mic's instructions to walk away and thus, botched the operation and got Chief Bowers involved. I've never wanted to punch anyone more in my life.
Mic didn't deserve this outcome, but the dealers did for their mediocre plan. How could they not realize it would be kind of difficult to leave a big 'ole duffel bag in the middle of a bustling area without anyone noticing.
However, this seemed to be what the Callings wanted to happen. Let's say it was "written in the stars."
Even before the attempted exchange, Zeke got visions of his "death," which we assumed were from his first death, but eventually figured out that it was a glimpse into the future from a Calling that would lead him to Cal.
Manifest Has So Many Mysteries It Needs to Wrap Up During Its Season 2 Finale
Manifest is a series that leans heavily into mystery and mythology, so there's a lot of pressure on the season 2 finale — which may potentially serve as the series finale — to answer the most burning questions. And there's a lot of them.
But will we get the answers we so badly want?
I hope so, otherwise, as the title of this editorial indicated, we riot.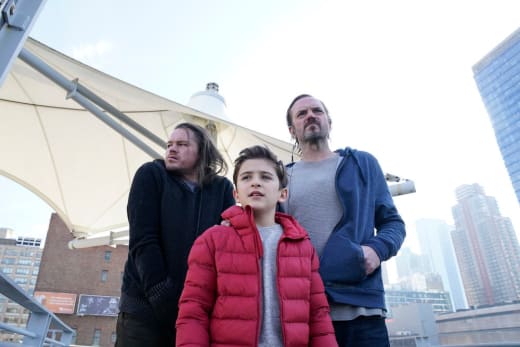 All jokes aside, it's likely that a lot of mysteries will remain open-ended and carry into the third season (pending a renewal).
Jeff Rake revealed that he has the series mapped out for a total of six seasons, which is a blessing and a curse depending on how you look at it and how confident NBC is in the series.
It's promising to know that there's an established direction that's been thought through and that each action has an intention and purpose, but at the same time, it's frustrating for fans because it likely means we'll be left in the dark about a lot of things.
One of the main mysteries propelling the series forward continues to be: what happened to Montego Air Flight 828?
The flight disappeared off the radar and returned five-and-a-half years later with the passengers still the same age as when they took off from Jamaica.
There's plenty of theories out there about what happened that involve time travel, aliens, alternate dimensions, and more, but none of that matters if we don't even get any fundamental answers to hinge a theory on.
As of now, we have no insight into what's behind the plane's disappearance or its re-emergence, and we don't know what happened to the plane or its passengers while onboard.
We know absolutely nothing in regards to the plane other than it departed and landed in the same condition, and I fear that if we don't get any insight soon, fans may start to taper off.
Questions about 828 also raise questions about Ben's terrifying Calling of the flight exploding into smithereens. Is that a future vision? Is that what really happened?
The Callings have been misleading before like when we believed the scorched plane Calling would connect to the 828 mystery but in reality, it alluded to a nightclub explosion. How much of this should we take at face value?
Which brings us to our next question: what is the purpose of the Callings and the death date?
Manifest Review – Mic and Zeke Get Married, But Do They Make It to Their Honeymoon? (2×12)
And they lived happily ever… until they didn't.
Mic and Zeke's wedding was a beautiful celebration, but their happiness was shortlived on Manifest Season 2 Episode 12 because their honeymoon was interrupted by the three looming shadow figures that have been threatening the Stone family for several episodes.
But before we get into the "disaster" that stemmed from Mic's decision to not follow the Callings, let's talk about the wedding.
It went off without a hitch aside from Mic's brief "cold feet" — and I love how Zeke worked that into a joke since he's actually freezing to death.
For #TeamZeke fans, the wedding was a celebration of life and love.
Mic hesitated a bit before the wedding because she was scared. Usually, weddings are supposed to celebrate the beginning of a long road ahead for a couple, but Mic couldn't envision a future with Zeke because they didn't have a cure for the death date.
He accepted that he was dying while she wanted him to fight for his life.
Mic wanted a "sign" to point her in the right direction, and she got it when Ben's Calling led him to a consignment shop where he found his mother's veil.
The veil confirmed what she already knew to be true: she wanted to marry Zeke more than anything.
For those of you that have been #TeamJared, well, you were in the same boat as Jared: you wanted to be happy for Mic, but it was hard to watch.
In the penultimate episode, Zeke only had 2 days left to live, which meant everything was expedited.
Jared was taken aback by Mic's announcement that she was getting married (likely because he was still holding out hope that they would get back together), but he figured that he would support her on her "big day."
Sadly, when he saw her in that wedding dress, you could see the pain it caused him. My heart broke for him.
He has wanted to be in Zeke's shoes for the longest time, and he couldn't stand by and watch the love of his life walk down the aisle and marry another man.
After the intimate celebration, Mic and Zeke got ready for their honeymoon, which also doubled as Zeke's hoorah. It's incredibly morbid, and I'm kind of glad it was interrupted.
They didn't get too far before they got the call that poor Cal was taken by the three meth heads.