The mystery of Flight 828 continues on Manifest Season 2 as the Callings intensify, the death date looms over the passengers, and the Stone family scrambles to figure out what the Major wants.
However, the world of Manifest with its mystery, intrigue, and mythology, wouldn't be anything without the cast and crew that bring it to life.
At the helm sits Sarah Cawley, the Director of Photography on the show's second season, whose impressive resume includes pilots of Ugly Betty, Salem, and Ringer, in addition to plenty of TV movies and documentaries.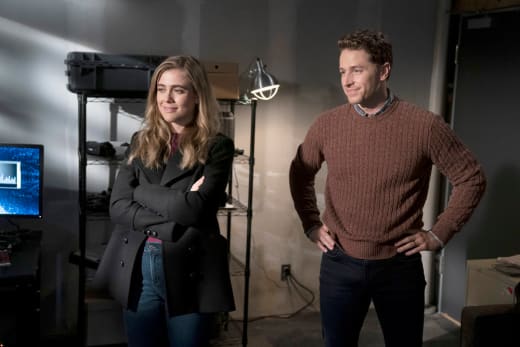 TV Fanatic had a chance to catch up with Sarah and talk to her about how she approaches the visuals for the show, how she styled the Callings, her creative process, what her background brings to the season, and so much more.
She also gives fans a tease into her favorite episodes of the season, which includes something "big" in the season finale!
Tell me a little bit about the work that goes into cinematography for an episodic series filled with mystery and mythology.
So, I came out for season two, I was not on for season one, and I really wanted a stylized show a bit more for season two, like the Callings feeling a little bit more subjective and a little more dreamlike, so we did a lot of testing before Manifest Season 2 Episode 1.
Joe Chapelle directed that episode, so we had to we had to figure out our look for the Callings, which ended up being the lens' baby.
And we had to figure out the nose dive sequence in the airplane. And some of the key props like in 201 the calling is a form of shaking, so we tried out a couple of different ways to get the image to shake, and we landed on the Keslow camera image shaker.
There was a lot of a lot of testing, which I actually think is really fun and creative. When you say you're going to do a day of camera tests, it doesn't sound that exciting, but really it's a great thing to get done before you show up on set to shoot.
And there's a whole mythology aspect to season two which actually was present in season one as well. A lot of key props that give clues on, and a lot of times for us that would be like a macro shot if it's a small prop some of which you'll see coming up in upcoming episodes.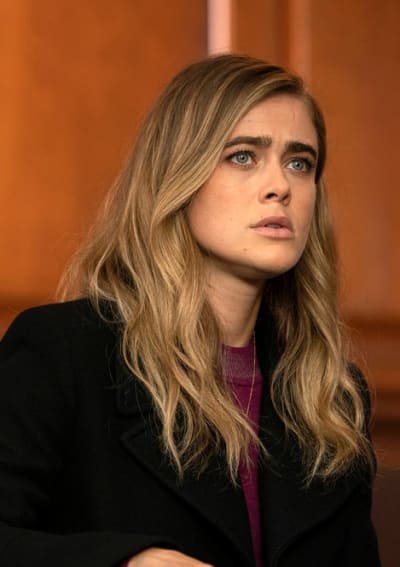 How is that different from feature films and episodic television? Does it require a different approach?
Yes, it does. Features are different than TV, and it takes a different approach from the D.P
One big reason that a feature is different is that I'm working with one director and we spend so much time together and prep.
Gathering visual references and visiting our sets, so that by the time we're shooting the film we have a very developed idea of what we're striving for. And we're both totally on the same page.
On TV, there's a rotating slate of directors, so sometimes I've worked with the director before, but if it's somebody who's new to me we have to get through that prep process really fast during our prep time, so the fact that there are different directors coming in all the time on TV makes a difference.
And then there's the aspect where, as this season's DP, I alternated with somebody else, John Inwoods, so the two of us were the stewards of the visuals on the show, so we definitely welcome new ideas from the directors.
And then, if it turns out that some of those things don't seem like they're gonna mesh especially well with the visual look we can talk about that and see how much of it we want to hold onto and how much of it we want to modify, so it fits in well with what we've established.
I've done a lot of indie features and on those there's some room for flexibility like if you get to a location and there's beautiful light happening over this way, you know sometimes you can be flexible and change your blocking so that you get that.
You get that beautiful light, or you change which way you're going to look, and I would say on television, that's less the case.
Like once you've tech scouted, especially in New York City, you're kind of locked into the way that you're looking, you got permits, you got trucks, you got locations and you've got TV show time pressure, so you don't have as much maneuverability once you're tech scouted.
When you show up you're executing what you planned as fast as you can and then you're moving on to the next set.
Also, one challenge of TV is just that frequently even though it's single camera, you do have two cameras rolling at the same time. And if you're looking at more than one direction that just adds a lighting challenge that in feature you don't usually get into quite as much.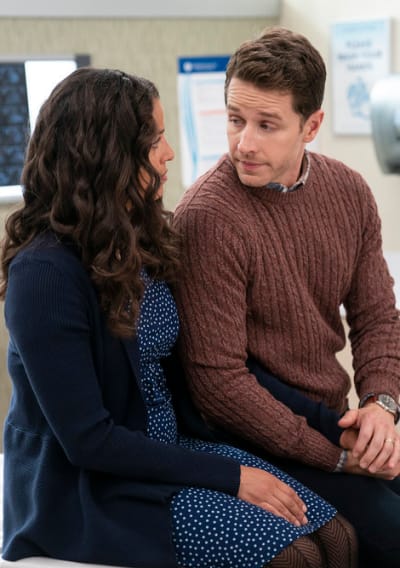 What's the typical time between when you start filming an episode to when your done and you're onto the next one?
On Manifest, we had about nine days to prep and nine days to shoot. Sometimes it would be eight days of prep in nine days of shooting, and for the season finale I think we had a couple extra days, but there was roughly nine days as a prep and nine days of shooting.
That's tight. 
Yeah, it's a tight schedule. They really stacked it up very efficiently, and it was scheduled to get maximum screen time.
Follow CRAVEYOUTV on socials
Manifest Double Episode Review – How Is Noah's Ark Connected to Flight 828? (3×07 & 3×08)
With another double-header, Manifest Season 3 Episode 7 and Manifest Season 3 Episode 8 erupted with a few answers about the miraculous return of Flight 828.
For starters, it's on its way to being declared an official miracle just like Noah's Ark, which begs the question: are the passenger's saints or angels? Is that why they're glowing?
The series has always had religious undertones, but connecting it to the vessel that saved Noah, his family, and his animals takes it to a whole other level.
Though, I guess it does explain all the guest appearances from the peacock.
The revelations started when Saanvi realized that the passengers and the recently deceased Meth Heads shared the same DNA anomaly of sapphire.
This led to the delivery of driftwood from the Vatican (the place that has the power to declare miracles). The driftwood was described as the only specimen on the planet coated with the same sapphire compound.
And it's location led Saanvi to discover that it was likely a piece from Noah's Ark.
Now, I'm not going to pretend that I understand why Flight 828 and Noah's Ark are connected (and if you do, let me know in the comments), but the fact that Ben spent much of the episodes preserving their "lifeboat" — preventing passengers from doing something that would result in all of their deaths — wasn't lost on me.
I also looked into the meaning of sapphire in the bible and found that it was once believed that the stone tablets on which the Ten Commandments were inscribed were made from sapphire.
Do with that what you will, my friends.
Maybe Ben is about to issue commandments to all of the 187 passengers?
Micromanaging so many people into diligently following the Callings and behaving appropriately sounds like a tall, impossible order.
Ben is up for the challenge, but it doesn't seem like the rest of the passengers are all too eager for him to be their "shepherd."
That reference wasn't lost on me either.
Of course, there's also a scientific aspect to what happened to Flight 828 as both the driftwood and the tailfin were triggered by a seismic event, which Saanvi notes was caused by a dormant volcano that wasn't registered in any databases.
It's described as invisible just like the lightning that Captain Daly believed struck the plane.
All I know is, I'm glad they're addressing Daly and Fiona because it means that we'll eventually get some answers as to what happened there.
Initially, I thought that maybe Flight 828 flew over Mount Arat on its way from Jamaica to New York, but the flight plan wouldn't track.
So, maybe the lightning — which we also saw with Al Zuras — is responsible for the volcanos?
Again, please let me know if I'm totally off base here!
Explosions and fire aren't new for the series as Ben and some of the other passengers continue to have visions of Flight 828 exploding.
And I'm going to go on a limb and say that the fire in the Calling that led Mick and Ben to Rachel and Hannah wasn't a coincidence either.
The volcano is the new peacock!
Read the full review at TV Fanatic!
Manifest Double Episode Review – Sayonara, Methheads! (3×05 and 3×06)
Manifest hit us with an action-packed doubleheader.
The episode was filled with dramatic fight scenes, Grace covered in blood and holding a shotgun, and an NSA agent getting shot in the head.
And that was just the tip of the iceberg.
There's no denying it — Manifest Season 3 Episode 5 and Manifest Season 3 Episode 6 were intense and gave us new and unexpected insight into the death date and the Callings.
But don't be fooled . . . as per usual, one answer leads to a plethora of new questions.
Even the ending, which saw the methheads dying together, remained vague as Ben declared: "We were so very wrong."
Jace was the only one of the methheads that wasn't redeemed, but he wasn't the only one to die.
Initially, everyone thought he'd be the only one to meet a permanent fate since he continued down a destructive path while the others made the most of their second chance.
Pete helped Ben track his brother and save his family, plus, he found love with Angelina.
Meanwhile, Kory helped save Cal by coming to tell him to stop reciting the nursery rhyme as it led Jace right to him.
They both proved that in their second go-around, they would make better choices.
And yet, it didn't matter.
After Jace died by throwing up lake water, the other two consumed by his shadow figure.
I know that the shadows come with the territory, but they were a little too animated and cheesy for my taste.
I also can't say that I'll miss the methheads. We were supposed to be touched by Pete's redemption arc and love story with Angelina, but it just didn't have the same pull as Mic and Zeke's survivor love story.
Kory barely made a dent in the storyline aside from being a cool dude.
As for Jace, well, the world is better off without him.
Olive's discovery that they "all came back together so they will all be judged together" does change things for the passengers of Flight 828.
Up until now, they thought that following the Callings individually and being good people would lead them to defeat the death date.
But if they are all being judged collectively, staying alive is going to be much harder.
One bad apple can ruin it for everyone. And we already know that there's someone out there — looking at you, Eagan — that's doesn't have pure intentions for following the Callings.
The revelation from the Egyptian symbols may have been shocking, but in hindsight, I feel like the signs were all there.
After all, the series keeps pounding the fact that it's all connected. If that's the case, why wouldn't the fates of the passengers be connected as well?
Manifest Review – Tailspin (3×04)
Vance wasn't lying when he referred to the NSA's 828 investigation room as "eureka."
Much of Manifest Season 3 Episode 4 focused on the mystery surrounding what happened to Flight 828 and the tailfin, and it was a lot to process.
We were bombarded with plenty of information, but as usual, with every answer, several new questions arose.
It's almost like we can't ever get ahead of the mystery; we're always two steps behind as we try to piece together all the clues.
Ben, Saanvi, and Mic have been trying to figure this out on their own, but it's evident that there's so much at play here that even a robust team of government researchers and scientists has been struggling to come up with any plausible theories.
For starters, Vance's team proved what Ben suspected all along: the tail fin is an original part of 828.
And it apparently teleported to the bottom of the sea on the same night that Zeke beat the death date and the methheads drowned in the lake.
Yep, teleported.
That was also the same night and time that Saanvi killed The Major, which lead her to believe that the events were somehow related and intensified her guilt.
The connection between all the events remains unclear much like the connection between the passengers and the non-passengers.
The recovered tailfin also showed signs of corrosion that was consistent with having spent seven years in saltwater.
How is it possible that the tailfin is showing signs of original wear and tear?