We've had the Black Hood, the Gargoyle King, Edward Evernever, the Stonies, the Auteur, and season 6 ushered in the Trash Bag Killer (referred to in short as TBK).
Yeah, it's a funny name, but there's nothing funny about his obsession with stalking and tormenting Betty Cooper.
His identity was somewhat revealed as Archie's construction worker Dennis in one of the episodes, but that was clearly a fake out. Why would a man like Dennis care about Betty and Archie? Neither of them really questioned TBK's identity or motives either, so it stands to reason that they know the real TBK is still out there somewhere keeping his identity tucked away in his pocket.
The test? Betty was tasked with helping him dismember a dead body. She seems only mildly torn up about it — chalk it up to being the daughter of a serial killer, I guess — while Archie shrugs it off at her attempt at survival. When there's a murderous psycho standing behind you, there isn't anything you won't do, which is fair.
Except there's also a clue hidden in this story. Betty reveals that TBK let her go because her actions proved that they were kindred spirits. Alike. The same. Bonded forever. He also thinks that the world would be better with her in it.
One of the things that immediately stood out in these flashbacks was how buff TBK is. The dude is ripped! (Last I remember, Dennis was not that ripped!) When does someone that deranged have time to go to the gym? Or is it from lugging all the bodies around? I hate that this show forces me to have these disturbing thoughts, and yet here we are.
The point is, TBK is much younger than we expected, and he's into physical fitness.
It's likely not a coincidence that Moose shows up in town at the same exact time looking equally as buff. If you don't believe me, this
Twitter account did a little side-by-side
, and it's hard to argue with bulging biceps.
Moose's presence seemed innocent enough as he simply wanted to reconnect with Kevin, but there were a lot of sus moments that audiences likely overlooked.
For starters, how did he get to the school when everyone was sheltering in place because the fog was so thick you couldn't see a thing outside? We know TBK was in town because Betty saw a figure lurking in front of her house, though, Archie never ventured out to confirm the lurkers identity so it could've been anyone.
Secondly, why did Kevin suddenly start having nightmares? Did Moose spike his drink?
And it's all too convenient that Moose now has a job as a PE teacher, which means he cares about physically fitness and has time to workout.
Moose then goes on to inform Kevin that he was fired from his trucking job when the Lonely Highway shut down and now he's living with his dad, who recently got out of jail. We know that only sketch people are involved with the Lonely Highway.
And Moose isn't impervious to the darkness as — reminder — his father was the Gargoyle King who interrupted Moose's first time with Kevin in the woods. Something like that has the potential to leave a scar, especially as Marcus Mason was clearly not supportive of his son's lifestyle. Not to mention all that he went through while at Stonewall Prep (blackmail and manipulation) and the Army, where he enlisted at the behest of Mr. Chipping.
It's not fair to Moose who has consistently been getting terrible character arcs and deserves some happiness, but it's hard to argue with the fact that the timing of his return to Riverdale is all too convenient and suspicious.
Then again, Moose could be a red herring considering his motives remain questionable. Why Betty? Are serial killers simply attracted to her because of the serial killer gene? Or is she an easy target?
Hopefully, we'll get more insight into the TBK as the season progresses because, as of now, he's been the least compelling villain on Riverdale.
At this point, the only way to make TBK a worthy serial killer is to unmask him as someone we know. Someone we've all trusted. And someone who has a reason to cling to Betty. Wouldn't it be crazy if Kevin ended up being TBK. He's been so focused on criticizing Toni and Fangs for their gang lifestyle and trying to keep baby Anthony safe, but what if the fact that he's constantly seeking out danger means he's actually subconsciously Riverdale's new threat?
And then there's always Percival Pickens, though, that would be kind of lame, wouldn't it?
Who do you think is behind the trash bag mask? And why! Sound off in the comments!
Follow CRAVEYOUTV on socials
'Stranger Things' TikTok Theory About Vecna and Ms. Kelly Will Blow Your Mind
Stranger Things Season 4A was a lot.
Each episode was a full-length movie, every character was busier than ever, and a new big bad started making the residents of Hawkins his lunchtime snack. So, naturally, there were also a lot of theories swirling around on the internet.
One that caught our attention links Ms. Kelly (Regina Ting Chen) and Vecna in a way that might blow your mind.
This might be a good time to point out that if you haven't finished binge-watching S4 (but you should because we're only a handful of days away from the 4B premiere of on July 1), you should probably close out right now because — SPOILERS AHEAD.
Both Vecna and Ms. Kelly are brand new characters this season, though, one is much more menacing than the other. Or so we thought…
Vecna makes a bold move in the first episode by making Chrissy the cheerleader his first victim. The poor girl can't escape the mindscape that she's trapped in, and when Vecna takes hold, she levitates to the ceiling as her joints snap like little pretzel sticks. It's disturbing on many levels — just ask key witness Eddie Munson, that is if you can find him in the void between our world and the Upside Down.
Vecna's second kill is Nancy's nerdy journalist friend Fred, who, at first glance, has absolutely no connection to Chrissy.
Again, or so we thought.
Vecna then sets his sights on Max. Some might think it's because Chrissy, Fred, and Max all spent a significant amount of time at the trailer park where Vecna could've taken hold, but if that theory were to hold true, everyone else would also be in Vecna's crosshairs.
So, why these three?
As Max establishes, they are all patients of the Hawkins high school counselor, Ms. Kelly.
It gets even more disturbing when you realize that Vecna pretty much feeds off of their traumas, using their fears against them to weaken and break them.
That in itself is enough to make you wonder if the sweet and helpful school counselor might be up to something more sinister, but then,
While Ms. Kelly seems innocent enough, there's another significant clue that might seal the deal on this theory — Ms. Kelly wears a necklace with a clock and a key pendant. Who else has a thing for grandfather clocks? Vecna!
TikTok's Midwest Marvel Guy's theory (watch it HERE) points out that there's a lot of clock symbolism when it comes to Ms. Kelly, including a mini grandfather clock in her office and even clock ticking sounds when Max is around the guidance counselor.
You can also explore this Reddit theory for more insight!
Some believe that it's possible Ms. Kelly is the grown-up version of Alice Creel, Henry Creel's sister, which tracks since Henry, Vecna, and 001 are one in the same. Yes, Alice supposedly died the night of Henry's attack in the Creel House, but he survived, so it's possible that she did as well.
However, I'm more inclined to think that Henry/Vecna crossed paths with Ms. Kelly when she was his guidance counselor (even for a short time) and somehow mind controlled her into essentially becoming his foot soldier for all these years. After all, he needs to have some kind of hold on the mortal world, right?
The only plot hole in this theory is that Lucas' basketball friend, Patrick, also becomes Vecna's victim, but as far as we know, he is not a patient of Ms. Kelly's. We don't know for a certain that he isn't, though, so the theory could still hold true!
With the final two installments of the season arriving Fourth of July weekend (with episode 8's runtime of 1 hour of 20 minutes, while the ninth and final episode clocks in at 2 hours and 20 minutes), there are plenty of theories floating around. One even suggests that somehow, Henry/Vecna/001 is Eleven's biological dad.
I guess we'll have to wait to see it all fall into place. There will surely be plenty of surprises as actor Joseph Quinn (Eddie) teases that fans should expect "absolute carnage."
Do you have any fun theories about Stranger Things Season 4?
And check out TikTok's Midwest Marvel Guy break down the theory right HERE!
5 Hottest Moments Between Betty and Archie on 'Riverdale'
There are a handful of ships on Riverdale that make fans go wild, but when it comes to Betty, you're either team #Bughead or team #Barchie.
While #Bughead had some really fantastic moments, many fans will argue that #Barchie was always meant to be — I think the proper term for that is "soulmates"!
In celebration, we're looking back on a few of Betty and Archie's steamiest moments on Riverdale!
Season 4 Episode 15 — "To Die For"
Fake dating? Don't have to ask them twice. When Jughead fakes his death in order to solve the Stonewall Prep mystery, Betty and Archie pretend to be a couple. And in order to sell it to everyone, they share a kiss in the music room. But the only people they seem to be fooling are themselves because there's so much chemistry and feelings wrapped up in that one moment that they begin to question everything.
Season 4 Episode 17 — "Wicked Little Town"
Okay, so fake kissing almost always leads to real kissing. Betty and Archie learned that the hard way when they locked lips for real in the musical episode. While practicing a song together — a ballad that Archie wrote for Betty, nonetheless — they share a passionate smooch (one of television's finest!), but since they are both in committed relationships, (er, Jughead and Veronica, anyone?) the guilt consumes them and they decide that being friends is the best course of action… for now. That's the perk of knowing the future, you know that they will end up together when the time is right. And timing, as they say, is everything.
Season 5 Episode 5 — "Homecoming
Okay, this may have been the absolute hottest scene between Archie and Betty like… ever. After several seasons, Riverdale finally gave fans the Betty and Archie moment they've been waiting for. The long-awaited and frankly highly-anticipated moment finally came via a steamy shower sex scene following a seven-year time jump. It was so hot that I found myself wondering if this kind of thing is even allowed on The CW. That steam wasn't from the hot shower, that's all I'm going to say! When these two reunited, sparks flew and caught fire.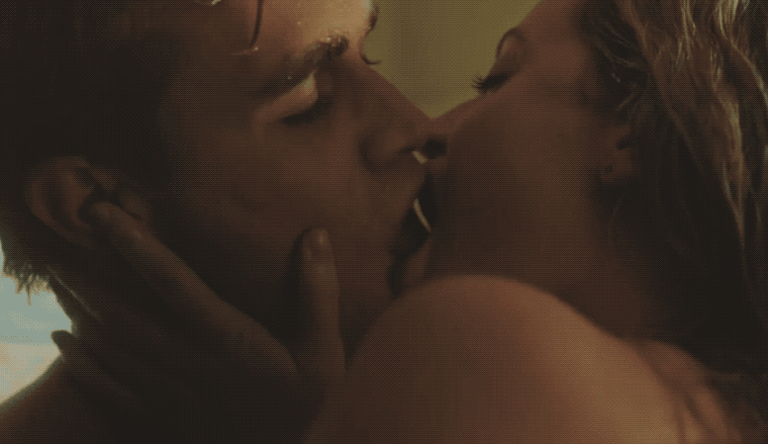 Season 5 Episode 6 — "Unbelievable"
The Titanic hook-up that's worthy of its very own Oscar! While things may not have ended so well for Jack and Rose, the odds are faring slightly better for Betty and Archie (aside from the whole bomb going off under the bed and creating some alternate dimension that has given them superpowers thing). The couple finally gave romance a try as adults, and since then, they haven't been able to keep their hands off of each other. The video is a lot, but hey, that's why you're here, right?
Season 6 Episode 17 — "American Psychos"
Okay, hear me out — passion and intimacy don't always have to be physical. It can be in the emotional, in the exchange of "I love you's" and the realization that the person you're with sees the parts of you that you don't see in yourself. All six seasons have been building up to this moment!
As Betty questioned whether her darkness was too consuming to allow her to be in a happy relationship with Archie, he reminded her that he knows exactly who she is and has always loved her for it. She's been so focused on the incident with her cat that she totally forgot about the time she saved a bird with Archie. Not only is it a reminder that darkness doesn't define her, but it's a reminder that they were friends before they were lovers, which ensures that they have an intimate and unbreakable bond. The relationship has been a long time coming, but it was always the right one. Even Veronica acknowledged it.
"I love you Betty."
"I love you too Archie."

Six seasons and one hundred and twelve episodes later and Archie Andrews finally told Betty Cooper he loves her!

6.17 © The CW – #Barchie #Riverdale pic.twitter.com/RrJ1HLfAQm

— BarchieScenes (@barchie_scenes) June 13, 2022
What scenes would you add to the list?
Best Shay Mitchell Movies and TV Shows to Watch
Shay Mitchell has amassed quite a following on social media with her hilarious and relatable TikTok videos, but on-screen is where she delivers the real gold and pours herself into the most challenging roles.
Here are the best movies and TV shows starring Shay Mitchell to add to your must-watch list:
Pretty Little Liars – Freeform
Shay became a household name after bringing Emily Fields to life in the ABC Family/Freeform mystery drama. Emily and her best friends attempted to solve the mystery surrounding their best friend's disappearance while fielding text messages from a digital stalker at every turn. Shay's portrayal was also pivotal as it brought to life one of the best LGBTQ characters for the network!
Dollface – Hulu
After being dumped, Jules (Kat Dennings) rekindles her female friendship with Madison (Brenda Song) and the eccentric Stella (Shay) and re-enters the world where your girlfriends trump romantic relationships. Each character brings a certain personality to the series, but Stella is definitely the most vibrant and worldly.
You – Netflix
In its first season of the psychological thriller, Shay tackled the role of Peach Salinger, the best friend of Joe's (Penn Badgley) first obsession Beck (Elizabeth Lail). And you know that any friend of Beck's is an enemy of Joe's.
The Possession of Hannah Grace – Sony Pictures
Shay flexed her horror muscle as cop-turned-morgue worker Megan Reed, who accepts a delivery of a disfigured cadaver during the graveyard shift and is plagued with horrifying visions as she's possessed by a demonic spirit.
Mother's Day
The film revolves around several different mother's day events, including one with Sandy (Jennifer Aniston), a single mom that finds out her ex-husband is marrying a younger woman, Tina, played by Shay.