Montana was weird.
I expected it to be weird … but not that weird.
When the season first kicked off and the writers revealed Michael's amnesia backstory, I was excited to explore a little piece of Jason's life.
But upon arrival in Montana on Jane the Virgin Season 5 Episode 7, I wanted nothing more than to go home and cuddle up to Rafael.
Turns out, so did Jane.
Yes, Jane finally made her choice between Team Michael and Team Rafael, but the journey towards her decision has been slightly offputting for fans.
For much of the episode, I wondered if the writers were drunk or if they were possibly trolling us.
Are the writers getting a kick out of dividing the fandom one last time and making us, and the characters, suffer?
I'm truly bewildered by everything that's happening this season.
While I personally didn't enjoy my time in Montana, it was a necessary trip for Jane to clear her head and figure out what the heart wants.
Getting away helped Jane and Michael answer some lingering questions and explore unresolved feelings.
It allowed them to test their relationship in its new shape without the pressure of old memories, Mateo, and most importantly, Rafael, weighing them down.
I also love that for the first time ever, Jane wasn't able to rely on Xo and Abuela's advice to help her formulate a decision.
She's always been so dependant on her family but without cell service, the decision was hers and hers alone.
And sorry Michael fans, it probably wasn't what you were expecting.
After spending just a bit of time together, it became clear that Michael and Jane are really good friends.
But that's all they are at this point. Friends.
The spark they had as a couple died probably when we thought Michael died.
Their manure fight in the stables proved that they work better as friends.
They know how to have fun with each other, they enjoy each other's company, but it's strictly platonic.
As we learned more about Michael-Jason's life in Montana, we understood that he's entered a new chapter. Despite getting his memories back, he was more Jason than he was Michael.
His life was Montana, not Miami.
And while it was sweet that Michael was willing to consider long distance for Jane, it wasn't exactly a set-up that could ever work.
Michael was hopeful, but only because he was still hanging on to what once was.
And Jane realized that she didn't fit into his life anymore.
I mean, I laughed out loud when she imagined moving out there and becoming a ranch wife. Girl, who are you kidding?
To be honest, I think Jane's known for a while that her spark with Michael fizzled out, yet she felt like she owed it to herself and to Michael to give their relationship a real shot.
After all, she'd spent so much time wishing that her husband would return, and now that he had, she felt like she was supposed to want things to return to what was once considered "normal."
But people grow apart and as Jane quickly learned, you can't force feelings.
The person you're supposed to be with is the one you can't stop thinking about.
Even though Rafael was hundreds of miles away, Jane couldn't get him out of her mind.
Out of sight doesn't mean out of mind and despite all the fun she was having with Michael, Jane's mind kept drifting back to her baby daddy.
Montana proved to Jane once and for all that her heart belonged to Rafael.
Telling Michael that she wasn't in love with him anymore was painful to watch.
How many times does Jane have to say goodbye to him?
But Jane's good with words and she summed it up perfectly; so many things changed during the four-year gap, the biggest change being her relationship with Raf.
She fell in love again.
He's the man who loved her unconditionally through her flaws, offered support, and held her up when she needed it most.
He's her family and her future.
Michael understood that because, as I said before, he too was trying to force something that once worked.
Sadly, Jane's realization came a little too late.
Read the full review at TV Fanatic!
Jane the Virgin – Chapter Ninety-Seven (5×16)
The central theme of Jane the Virgin has always been family, but there have been plenty of other themes interposed in between.
One of those themes is crime, especially as it relates to Sin Rostro.
On Jane the Virgin Season 5 Episode 16, that reoccurring theme was embraced as Jane worked it into her novel, decided to confront Sin Rostro, and then watched her life crumble around in a similar way it did when Mateo was kidnapped.
Jane just cannot seem to shake Rose.
And the series "rose" the stakes with the great escape.
And though Rose finally broke free — you didn't think she'd stay down for long, did you? —  we're still no closer to figuring out her masterplan.
I have a feeling we won't know until the very last moment. It's possible whatever she's cooked up will even interrupt Jane and Rafael's wedding.
I'd be lying if I said that Rose's escape was anything but electrifying.
Read the full review at TV Fanatic. 
Jane the Virgin – Chapter Ninety-Six (5×15)
As we speed towards the end, Jane the Virgin Season 5 Episode 15 and its characters look towards new chapters in their lives.
Jane finished her book and after a slew of rejections, finally received a call from an agent willing to represent her.
Thank god — we couldn't bear to witness Jane give up on her dreams of being a writer after spending so much time believing in herself and writing non-stop for weeks with only a brief pause for a pizza and a shower.
Considering there are only four episodes left, I think the mystery agent is going to be a TV producer who will offer to turn Jane's "multigenerational story" filled with "all of the darkness and all of the lightness" into a telenovela.
In other words, the same telenovela we are watching.
The narrator even referenced the series being a telenovela within a telenovela, and considering the emphasis on Jane's novel, this would only make sense.
The rejection stung, but as always, Jane found a way to rise above it.
She even found the silver lining as the book helped Mateo read.
Related: Jane the Virgin Season 5 Episode 13 Review: Chapter Ninety-Four
Rogelio also accepted that his acting career was slowing down.
Initially, he wasn't ready to be sidelined by the fresh meat on his passion project, but spending some time with Baby and witnessing her walk for the first time convinced him that maybe it's okay to take a break and slow things down.
His recent health scare also helped. For a second there, I thought they forgot Rogelio suffered a stress heart attack.
There was even mention of Xiomara accepting her new career move by preparing for nursing school, but why don't we get to see her journey?
We're down the wire when it comes to episodes and the momentum still feels a bit leisurely.
It's necessary for the character arcs to come full circle and begin wrapping up but all too often, the storylines that don't matter take precedence over what needs to be addressed.
It's great we finally got some movement on the Rose front, but instead of focusing so much on Rogelio's Duck Dynasty plan, couldn't they give us more insight into what she was plotting?
Even introducing River Field's daughter, PJ, felt misplaced this far into the game.
And did she just forget all about her obsessive crush on Rogelio?
Sometimes, it seems like Jane the Virgin is focusing on the wrong storylines in an effort to squeeze as much into what's left of the series.
If I'm being honest, I'd much rather spend these remaining moments with Alba and Xo, two characters who only made a brief appearance on Jane the Virgin Season 5 Episode 15.
Jane also found herself bonding with the twins in one of the more endearing storylines offered up on Jane the Virgin Season 5.
Anna and Ella don't get nearly as much screentime as Mateo and for valid reasons — this is and always has been Jane's story, and Mateo is her son.
Read the full review at TV Fanatic!
Jane the Virgin – Chapter Ninety-Five (5×14)
I don't know who was more stressed out on Jane the Virgin Season 5 Episode 14, me, Rogelio, or Xiomara.
Rogelio and Xiomara both had valid reasons for being on edge — a pilot pickup and waiting to hear if you got into nursing school are huge turning points in both of their careers.
But the narrator's warning of an upcoming storm that would potentially ruin Jane and Raf's episode loomed over the episode like a dark and stormy cloud.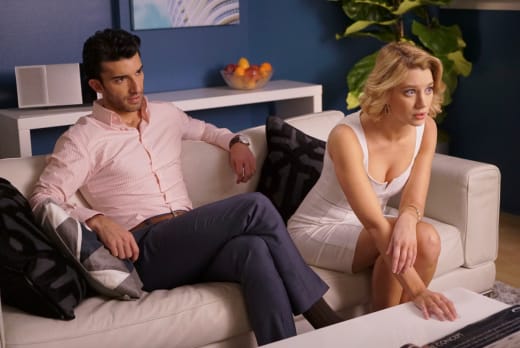 Thankfully, the storm never came. Not really.
We anticipated the worst, but Jane and Rafael did an incredible job at avoiding the bumps in the road and dodging all the curveballs.
Instead, the usual issues that would have lead to their demise were overcome by communication.
It's about damn time they learned to go with the flow, dance in the rain, and come out on the other side.
Related: Jane the Virgin Season 5 Episode 13 Review: Chapter Ninety-Four
When Jane's officiant plan fell apart, she didn't dwell on it, nor did she take his comments about Raf not being present or committed as a sign that they shouldn't get married.
Jane proved herself by defending her fiancee and celebrating how far he's come.
It's moments like these that highlight how strong this relationship would have been if they believed in each other from the beginning.
If they keep supporting each other and most importantly, learn how to talk things through, there won't be any dealbreakers; nothing will be able to get in the way of their big day.