As we speed towards the end, Jane the Virgin Season 5 Episode 15 and its characters look towards new chapters in their lives.
Jane finished her book and after a slew of rejections, finally received a call from an agent willing to represent her.
Thank god — we couldn't bear to witness Jane give up on her dreams of being a writer after spending so much time believing in herself and writing non-stop for weeks with only a brief pause for a pizza and a shower.
Considering there are only four episodes left, I think the mystery agent is going to be a TV producer who will offer to turn Jane's "multigenerational story" filled with "all of the darkness and all of the lightness" into a telenovela.
In other words, the same telenovela we are watching.
The narrator even referenced the series being a telenovela within a telenovela, and considering the emphasis on Jane's novel, this would only make sense.
The rejection stung, but as always, Jane found a way to rise above it.
She even found the silver lining as the book helped Mateo read.
Related: Jane the Virgin Season 5 Episode 13 Review: Chapter Ninety-Four
Rogelio also accepted that his acting career was slowing down.
Initially, he wasn't ready to be sidelined by the fresh meat on his passion project, but spending some time with Baby and witnessing her walk for the first time convinced him that maybe it's okay to take a break and slow things down.
His recent health scare also helped. For a second there, I thought they forgot Rogelio suffered a stress heart attack.
There was even mention of Xiomara accepting her new career move by preparing for nursing school, but why don't we get to see her journey?
We're down the wire when it comes to episodes and the momentum still feels a bit leisurely.
It's necessary for the character arcs to come full circle and begin wrapping up but all too often, the storylines that don't matter take precedence over what needs to be addressed.
It's great we finally got some movement on the Rose front, but instead of focusing so much on Rogelio's Duck Dynasty plan, couldn't they give us more insight into what she was plotting?
Even introducing River Field's daughter, PJ, felt misplaced this far into the game.
And did she just forget all about her obsessive crush on Rogelio?
Sometimes, it seems like Jane the Virgin is focusing on the wrong storylines in an effort to squeeze as much into what's left of the series.
If I'm being honest, I'd much rather spend these remaining moments with Alba and Xo, two characters who only made a brief appearance on Jane the Virgin Season 5 Episode 15.
Jane also found herself bonding with the twins in one of the more endearing storylines offered up on Jane the Virgin Season 5.
Anna and Ella don't get nearly as much screentime as Mateo and for valid reasons — this is and always has been Jane's story, and Mateo is her son.
Read the full review at TV Fanatic!
Jane the Virgin – Chapter Ninety-Five (5×14)
I don't know who was more stressed out on Jane the Virgin Season 5 Episode 14, me, Rogelio, or Xiomara.
Rogelio and Xiomara both had valid reasons for being on edge — a pilot pickup and waiting to hear if you got into nursing school are huge turning points in both of their careers.
But the narrator's warning of an upcoming storm that would potentially ruin Jane and Raf's episode loomed over the episode like a dark and stormy cloud.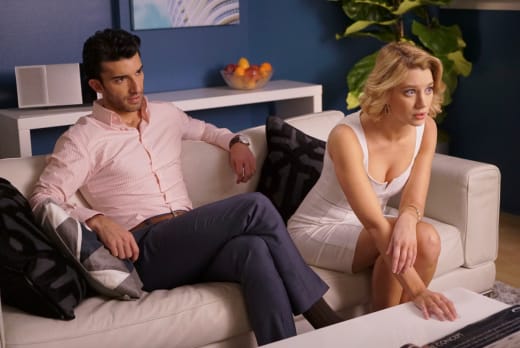 Thankfully, the storm never came. Not really.
We anticipated the worst, but Jane and Rafael did an incredible job at avoiding the bumps in the road and dodging all the curveballs.
Instead, the usual issues that would have lead to their demise were overcome by communication.
It's about damn time they learned to go with the flow, dance in the rain, and come out on the other side.
Related: Jane the Virgin Season 5 Episode 13 Review: Chapter Ninety-Four
When Jane's officiant plan fell apart, she didn't dwell on it, nor did she take his comments about Raf not being present or committed as a sign that they shouldn't get married.
Jane proved herself by defending her fiancee and celebrating how far he's come.
It's moments like these that highlight how strong this relationship would have been if they believed in each other from the beginning.
If they keep supporting each other and most importantly, learn how to talk things through, there won't be any dealbreakers; nothing will be able to get in the way of their big day.
Jane the Virgin – Chapter Ninety Four (5×13)
Fear was making everyone act irrationally on Jane the Virgin Season 5 Episode 13, but it's how they overcame their fears that really strengthened the episode and gave it weight.
To quote Jane, she and Rafael are "engaged, finally!"
It's been a long time coming, but the road hasn't been an easy one.
Rafael and Jane's relationship has been bumpy and filled with ups and downs, so it only made sense that their decision to get married was just the same.
In the span of an hour, Rafael proposed to Jane, they agreed to a courthouse wedding, attempted to plan something classier, settled for a next-day option, and eventually, postponed things altogether.
Related: Jane the Virgin Season 5 Episode 11 Review: Chapter Ninety-Two
And they even addressed the elephant in the room: Michael, which was overdue and necessary.
Jane and Rafael's reunion on Jane the Virgin Season 5 Episode 12 had the makings of a genuine JTV moment, even if the musical was a little too much, but the consensus from the fandom was that there wasn't enough build-up leading up to it.
One minute they were over and the next, they were madly in love again.
It was as if someone flipped a switch.
And it's so easy to get caught up in the romantics of it all, but it seemed like they wanted to gloss over all Jane and Raf's relationship issues as he got down on one knee and proposed to Jane.
But alas, Mateo brought them all down to reality again by admitting that he wasn't excited about a potential wedding because he didn't think it would actually happen.
So, it's not just us getting sick and tired of this pattern between #Jafael? Good to know.
Kids are much more receptive than we realize.
Mateo forced his parents to talk about what went wrong between them and admit why they were rushing the wedding in the first place.
Rafael wanted to lock things down with Jane because deep down inside, he was insecure and afraid she'd leave.
His feelings were valid, though, I wasn't interested in seeing him throw tantrums over Montana again. I thought we accepted that Jane needed to explore her feelings!
As for Jane, she agreed to a quickie wedding out of guilt; she didn't want to keep disappointing Rafael anymore than she already had.
There was nothing romantic about their desire to get married, which made it a recipe for disaster.
If Jane and Raf couldn't work through their issues before getting married, they'd never work after getting married.
It's not a magical cure. Marriage only works if the relationship works.
Everything about their upcoming nuptials was wrong.
The fact that Jane referred it to "just a quickie wedding" was enough to tell you that this shouldn't have been happening.
For someone who has grown up watching telenovela style fairytales, this wasn't the wedding Jane would ever want regardless if she previously had her big dream wedding.
Secondly, she's a planner for goodness sakes — you cannot spring up last minute situations on her and assume she's going to be cool, calm, and collected.
Rafael should have known better, and I'm slightly disappointed that he didn't.
She didn't even look happy on a day that's supposed to be one of the happiest in your life, probably only second to her first wedding.
When Jane and Raf eventually talked things through, they realized there was a lot to work on and rushing things wasn't going to fix them.
Raf needed to learn how to trust Jane again; Jane needed to own her decisions about Michael and Montana and stop feeling guilty about them.
As a #Jafael fan from the get-go, I let out of happy sigh of relief when they decided to postpone the wedding until they could properly plan it.
Though, I'm not reassured by the narrator hoping the "real wedding would go as smoothly" before adding that it "was not in the cards."
The series has purposefully pushed to the side every storyline concerning Sin Rostro and Luisa.
Read the full review at TV Fanatic!
Jane the Virgin – Chapter Ninety-Three (5×12)
It's love, love, love! Everyone, sing it with me now.
Who would have thought that Jane the Virgin Season 5 Episode 12 would top off the hour with the best musical number to ever grace our television screens?
I'm usually not a fan of musicals, but there was much to celebrate as Jane and Rafael finally got back together.
About damn time, right?
The writers even brought in Julie (guest starring the incredible Sophia Bush), Rafa's new girlfriend, to keep the suspense until the final moments.
I love me some Sophia, but I just couldn't get on-board with her stealing Raf away from our girl Jane.
And what was with the Rafa nickname?!
However, Julie needed to come into Rafael's life so that he could make sense of his feelings for Jane.
After Jane broke Raf's heart by exploring her feelings for Michael, Raf never got over her. At least not completely.
He buried his feelings and moved on in an effort to protect his heart.
It was the "perfect woman" list he crafted that led him to the realization that while he may find someone who checks off every single quality, they won't ever compare to Jane, the love of his life.
Read the full review at TV Fanatic!