Picking up where Chicago Fire left off, with Detectives Lindsay and Halstead en route to New York City after finding pornographic images in the house of a fire victim, Andrew Lewellen. In NYC, Benson finds a link between the images found in the fire and a known video ring that's been sex trafficking children for over a decade. The pedophilia club is still active and has updated to live streaming child abuse. The plan is to find Teddy to get more information, but he was last seen as a child.
At the National Center for Missing and Exploited Children, the team watches a video from the Chess & Checkers club of a boy handcuffed to a bed with an off-camera man telling club members they can call in special requests for what to do to Henry. The video is located on the deep web and is basically untraceable. Fin finds a mug shot that matches age-progressed photos of Teddy of a kid named Ted arrested five years back for solicitation. The last place he was seen was at a youth center. When Fin and Amaro speak with the center's director, she leads them to Jocelyn Hale, a girl Teddy was friends with. Rollins and Halstead track her down at her high school; she's a success story and has left the life of prostitution behind. She hasn't seen Teddy in years but last she heard he was still working the piers as a prostitute.
At the piers, Rollins and Amaro encounter a man dressed in club clothes and makeup. They bring him back to the station and Lindsay recognizes him as her brother. He's angry with her and doesn't want to talk but he is arrested for possession of drugs. Lindsay is wracked with guilt over not hunting for her brother when he first disappeared, but Benson reminds her she was only 15 years old – what was she supposed to do? Benson talks with Teddy and explains that the same people who did terrible things to him when he was 13 are doing the same things to other kids right now and she needs his help finding them. He refuses to talk, and when she mentions Jocelyn, he totally shuts down. So Rollins and Amaro revisit Jocelyn to try to get more info. When they tell her that he was a victim of a sex trafficking ring 10 years ago, she freaks out and runs off. They didn't just know each other from the streets – she was also a victim of the Chess & Checkers club. After going through footage of Jocelyn, the detectives realize one of the guys who raped her was none other than Teddy.
Teddy admits to SVU that he was the one in the video. But he also says it was his idea, he knew they would send in someone older and rougher if he didn't have sex with Jocelyn. She was his friend and he was trying to protect her. After that, they turned him out on his own because he aged out, which is how he ended up on the street. He doesn't remember much about where he was held and who held him, but he does recall one middle-aged white guy who everyone was scared of. He said the way they got to him in the first place was when he went to the youth center for the first time. George, the security guard, told him there was a way out.
The youth center director confirms that George has been working with the center for years and befriends the kids. He was especially close with a boy who he claimed ran away a week ago – Henry. Benson, Halstead and Lindsay chase him down, but during the chase, Lindsay collides with a biker and ends up in the hospital with a concussion. When she wakes up, Voight is there to send her back to Chicago. He meets with Benson to get caught up. They have only a few hours before the Chess & Checkers live show starts with Henry as its unwilling star. Amaro and Rollins are in the box interrogating George when Voight barges in to do things his way which means knocking out the guy till he bleeds. Benson pulls him out and puts him in his place. George finally admits he was paid to send young actorss to a guy who he doesn't know.
Later, Voight and Teddy come face to face and Voight apologizes for not taking better care of him. But there's no time to reminisce – they need to find the room Henry is being held in. Teddy is a dead end, and Jocelyn doesn't want to relive her abuse, so Voight suggests going undercover to guilt Jocelyn into talking. Benson and Voight pose as Henry's parents and beg Jocelyn to help the investigation. She reluctantly agrees. When Jocelyn and Teddy are reunited at the station, the memories start flooding back. Jocelyn recognizes the room Henry is being held in, and remembers driving over a long bridge to get there – likely in Staten Island. She recognizes the name of the live stream host as Bob and Teddy recalls his last name as Clinton. The team searches for Bob Clintons in Staten Island with grey SUVs as the live stream countdown ticks down.
Rollins sends Benson and Voight to follow up on a lead while she and Halstead watch the live stream as Henry is prepped for the show when the team breaks in and stops the show. Fin, Amaro, Benson and Voight bring in the four men running the live stream. But just when they think it's over, Rollins finds a new live stream scheduled to start tomorrow. The club is still in business – from another location. Voight and Benson interrogate Clinton, trying to find his boss, the snakehead. Clinton knows things, but refuses to help without full immunity. SVU is going to think about it, but until then, Clinton's heading to the Tombs.
The next morning, while waiting for the DA to discuss making a deal with Clinton, Benson gets a call. Clinton was killed while in protective custody in the Tombs by an inmate named Lester Davis. Lester's girlfriend made a call to him early in the morning and an hour later, Clinton was shivved. The night before, she got a call and then was wired money. Someone paid for her boyfriend to make sure Clinton couldn't talk. The call came from a throwaway cell, but they do know it was purchased in Chicago. Just then, Voight gets a call from Lindsay to inform him that Andrew Lewellen and the cop guarding him were both shot to death twenty minutes earlier.
This all leads to the final episode of the three part crossover series.
Chicago P.D. They'll Have To Go Through Me:
Chicago PD- They'll Have To Go Through Me (2×07) #crossoverweek
Follow CRAVEYOUTV on socials
Chicago PD Review – Kevin Atwater Gives 'Em Hell (8×02)
We're only two episodes into Chicago PD Season 8 and Atwater is not only carrying the show, but he's taking it to new heights.
The way he managed to turn the tables around on Kenny Nolan on Chicago PD Season 8 Episode 2 and push his back up against the wall, well, it was beautiful to watch.
Ever since owning his truth and standing up against racism, Atwater has been bullied and intimidated at every turn. When it began to affect his family, both at home and in Intelligence, he realized he could no longer stand back and wait.
Nolan was barking orders and hoping to break Atwater, and while he did look paranoid at times, I love that Atwater stood his ground.
The only way Atwater could regain the upper hand was to play Nolan at his own game.
I've never seen anything more satisfying than Atwater sitting at Nolan's dining room table giving him a play-by-play of how he'd go out of his way to ruin his whole life if he didn't back down.
When I say it may be the best scene on television that I've ever seen, I truly mean it.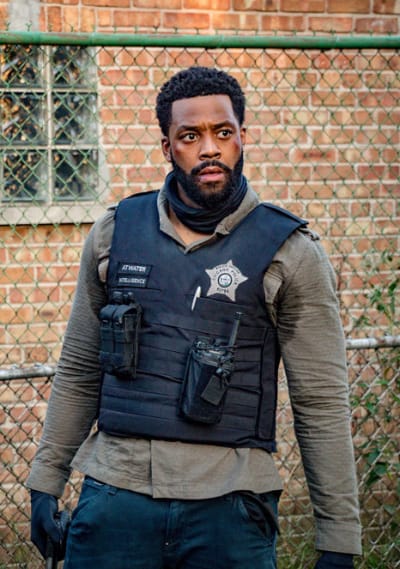 The good guys don't always win, but this time, the right guy did. No one messes with Atwater.
Atwater channeled his inner-Voight, but he did so in a way without using his fists.
The look of defeat on Nolan's face was priceless.
Obviously, the back-and-forth between Atwater and Nolan couldn't go on forever, but I was curious to see how the series would go about resolving it.
For a moment, I was terrified that the only solution would be for Atwater to give up his badge or accept that his career would never advance, but all those options included Atwater giving up and throwing in the towel.
And Voight was right — the moment Atwater stopped being a cop is the moment they would have won.
With the roles reversed, Atwater has successfully proven that he will always stand up for what he believes in.
He's making a change, albeit small, but it's a step in the right direction.
And if any good is to come of this "new world," then it better be karma hitting Nolan square in the forehead.
Atwater won the battle against the racist cops, but unfortunately, he's still losing the battle on the home front.
The scene with the kids refusing to take a basketball from him was heartbreaking, but hopefully, by doing the job differently, he'll make an impact that will lead to further positive changes.
The fight is far from over, but at least these kids have a good one looking out for them.
The purest thing on Chicago PD is the bromance between Ruzek and Atwater.
I know that they said everyone has Atwater's back, and it's true in theory, but Ruzek took an actual bullet for Atwater.
And then his reaction was basically "no sweat, bro." It was solid.
Though, the whole situation with patrol not responding was disturbing.
No one man should have enough power to bark such an order and endanger the lives of his blue brothers.
I wish more patrol stood up to Nolan, just as I wish there was more love given to Atwater from the rest of Intelligence.
Chicago PD Review – Fighting Ghosts (8×01)
Intelligence is back in action, but things are looking a bit different on Chicago PD Season 8 Episode 1.
Despite ending prematurely due to COVID-19, Chicago PD Season 7 segued perfectly into the police reform storyline brought upon by the death of George Floyd and the Black Lives Matter movement.
On PD, Shawn Paige, the man gunned down by Doyle, is Chicago's version of Floyd and allows the series to navigate the murky waters of Black cops versus the blue wall.
The episode led to some very heavy yet important conversations that made it clear that doing the "right" thing was going to test everyone's limits this season.
Atwater faces the biggest challenge, but per usual, Laroyce Hawkins bravely stepped up to the challenge and nailed every scene.
I've likely said this before, but I really mean it this time — give this man all the awards!
It's clear that sticking to his original statement was the right thing to do because he's telling the truth despite the pushback from Doyle's crew, who view Atwater's decision of painting Doyle as the aggressor in Paige's death as being a "snitch."
Apparently, there's nothing worse than turning on your fellow brothers in blue.
Except that they had no problem turning on him when they assumed he crossed the line and broke the code.
Ruzek wasn't lying when he said Doyle's crew played dirty. Not only did they jump Atwater to send a message, but they also planted heroin in his car.
Thankfully, he found it before it landed him in hot water, but all these antics tell you everything you need to know about these good and respectable cops.
It would have been nice if others stood united with Atwater and acknowledged that he wasn't just doing what he "thought" was right, but rather, doing what was right.
Atwater can't be the only one who realizes that things need to change.
He can't be the only one to ever deal with racist cops and feel cornered because there's corruption in every department.
He can't be the only one who hurts to see his own people suffer at the hands of injustice.
The only person who seemed to have Atwater's back was Ruzek, which was comforting to see, but it didn't do much in terms of protecting Atwater.
He's tough, but he shouldn't have to fight this battle alone.
Even Voight tried to sway him into altering his statement, and while it seemed to come from a place of real concern, it's not what Atwater needed or wanted from his Sergeant.
Atwater is clearly ready to fight. He'll do whatever it takes to bring about change and expose not only dirty cops but dirty tactics.
I mean, did you see the way he stood up to Voight and put him in his place?
In the heat of the moment, Voight would have thrown everything away. His anger got the best of him, but if he resorted to throwing Miguel in the cage, he wouldn't have been any better than the bad guys that he's trying to put away.
Voight will have the hardest time with these new world adjustments.
WATCH: #OneChicago Teams Tackle COVID-19 in New Promo Ahead of November 11
Wednesday's most watched dramas are planning their epic return.
Ahead of the November 11 premiere for Chicago Med, Chicago Fire, and Chicago PD, NBC revealed a teaser that shows the heroes tackling COVID-19 headfirst.
"When this community hurts, when it reaches out its hand, we pull it to its feet, and we respond," Battalion Chief Wallace Boden states in the promo.
Med's doctors jump into action as April tells ex Choi that she has to put her life on the line to help patients who are "sick, frightened, and alone."
Fire's paramedic's Brett and Mackey respond to a house call and run into some trouble when a man points a gun at them.
Meanwhile, PD's Atwater deals with the fallout of "snitching" on the police. While he explains he was doing "the right thing," the white cops don't seem to agree as Ray threatens to take his badge.
Check it out below:
Related Reads: Everything We Know About 'Chicago PD' Season 8 – Police Reform, COVID, and More!