Legacies Season 2 Episode 11 Tweets and Memes: Kai Parker, Handon fights and Stupid Cupid
This week's episode of Legacies got everyone excited for Kai's return next week and divided fans on their opinion of Hope and Landon's relationship.
Read our full review of the episode here!
the cupid laughing after hope said landon was her boyfriend #Legacies pic.twitter.com/hVNbRFpLyX

— rose (@hopesaItzman) January 31, 2020
Kai Parker nation for the next 3 weeks #Legacies pic.twitter.com/d73AqittiA

— T ♡ (@aGHOSTappeared) January 31, 2020
this was landon trying to fly throughout the whole episode #Legacies pic.twitter.com/elhjOwXXBv

— gabriela 127 (@wtfisakilo) January 31, 2020
no hosie or hizzie moments on tonight's episode pic.twitter.com/FlTsaGV9on

— rose (@hopesaItzman) January 31, 2020
"this is why i do everything myself" #Legacies pic.twitter.com/CueHPaySDp

— rose (@hopesaItzman) January 31, 2020
what the writers think handon is like vs what it's actually like pic.twitter.com/GAG1JXd8zl

— leonie (@likecvmets) January 31, 2020
Klaus and hayley died so hope could be reduced to a love interest for a bland chicken? pic.twitter.com/Bx4m6pYrGp

— gökay is on dm limit (@hxzziequake) January 31, 2020
OUR BAD BOY KAI IS BACK #legacies pic.twitter.com/BkcOKao1eO

— (@parksaltzman) January 31, 2020
pedro and wade at snack time seeing Handon fight again #legacies pic.twitter.com/LzbG9LCzzj

— (@parksaltzman) January 31, 2020
Kaleb seeing Alyssa and Mg kissing in the pool #legacies pic.twitter.com/XcTVmiVelX

— (@parksaltzman) January 31, 2020
Follow CRAVEYOUTV on socials
Feelin' generous? Support our site and podcast (Mimosa Talk) on Patreon and KoFi.
The Masked Singer Theory – Who Is The Astronaut?
Astronaut goes head-to-head with Turtle on the April 8 episode of The Masked Singer.
This puts one of the two strongest male competitors in danger of elimination.
Before this comes into fruition, here's my theory on who the Astronaut is:
[POTENTIAL SPOILERS AHEAD for those who want to keep the reveal a surprise]
Astronaut has been a popular performer in the show this season, and most fans claim to know his identity based on his singing voice alone.
But that assumption alone amounts very little to convince anyone, so let's look at the clues and the prevailing theories from the internet that support them.
I will be referencing things from the clue packages the Astronaut has had so far in the show, so here's a link to his first one:
BREAKDOWN:
In his 1st clue package, some of the objects that stood out were:
Hawaiian lei
Skeleton foot (or a loose foot)
Broom, possibly made of hay
Tools / toolbox
He also says "Code Blue"
In the 2nd:
Constellation of Orion's belt
Hologram of himself
He says "in the Wild"
French horn
He sings a song "from a dear friend" – Stevie Wonder
In the 3rd:
Coffee
Dice rolled to 10 (two 5's)
Bridge
In the latest clue package:
It shows a vinyl record that breaks, which Astronaut says "means the world to me"
THEORY:
Hunter Hayes is the consensus guess over the internet on the identity of the Astronaut. (Notice how both use their right hand when they sing!)
So here's how the clues line-up to Hayes according to fans:
The Hawaiian lei references his time in Hawaii where he performed, and toured on vacation.
The loose skeleton foot is a likely nod to his 2011 duet with Victoria Justice "Almost Paradise" which is featured on the Footlose re-make movie soundtrack.
The broom could either be a clever hint at Hayes' publicly admitted crush on Harry Potter star Emma Watson, or a simple clue to his last name since the broom seems to be made of hay (Hayes).
Tools or toolbox could refer to his onstage performance with Charlie Worsham's "Tools of the Trade," or the fact he knows how to play over 30 musical instruments.
"Code BLUE" in the first package, and "Into the WILD" in the second might refer to his upcoming album called "Wild Blue"
Orion, from the constellation clue, is called in Greek mythology as a "Hunter," thus, is a clue to his name.
He once performed on Jimmy Kimmel Live! with holograms of himself
The French horn signifies his ability to sing in French since he was young
He performed with his "dear friend", Stevie Wonder, on Dancing With The Stars
He is a well-documented coffee lover
He was born in Breaux Bridge, Louisiana
And finally, he broke a world record for doing 10 shows in 24 hours (look at the dice clue!)
So there it is!
Hunter Hayes is most definitely the Astronaut.
There are just too many clues to ignore, but if you think otherwise then please let us know!
Who else could he be?
The Masked Singer Theory – Who Is The Turtle?
Turtle faces-off with Astronaut on the April 8 episode of The Masked Singer.
As two of the strongest male singers in the show, their showdown will surely be one to watch.
So before either could be eliminated, let's take a guess at who's behind their respective masks.
Here's my theory on who The Turtle is:
[POTENTIAL SPOILERS AHEAD for those who want to keep the reveal a surprise]
Turtle has been a frontrunner to last on the show with each of his performances garnering praise and having great responses from the audience.
This means it could be a while before he is unmasked, and some people, like myself, just don't have the patience to wait.
His clue packages have been tough to crack, but his most recent "Super Clue" on episode 3 x 10 is what triggered a chain reaction that led to tracing the clues back.
Here is Turtle's latest hints featuring his "Super Clue" at about the 0:41 second mark of the video:
BREAKDOWN:
He shows a comic book priced at $10.13  with the title "The Amazing Adventures of Shellboy," and though the name of the comic itself is probably irrelevant, my mind immediately went to superheroes.
Turtle also said "this is not another TEENY clue," which made me think of Teenage Mutant Ninja Turtles, but that would be too easy, right?
Then it clicked in my head, he must be somehow connected to a teenage comic book character.
And the first character that popped in my head was Robin who is, of course, Batman's sidekick.
So I went back and watched every one of his clue packages in order, and I noticed he always had superhero-themed elements:
In his 1st clue package, he was in a starting line and a theme similar to The Dark Knight films was playing, and a starting gun with the phrase "BANG!" was shot.
This is a possible hint toward cartoon versions of The Joker, who has shot many similar guns.
Turtle can also be seen walking like a zombie in the video, which made me think of The Walking Dead. 
And, oh yeah, the very first song he sang was "Kiss From A Rose" by Seal, which is part of the 1995 film Batman Forever's soundtrack!
In the 2nd clue package, there is a soda can that reads "POP!" similar to the way the old Adam West Batman TV shows would show after the Caped Crusaders would hit someone.
Plus a huge clue where the Turtle writes the phrase "Don't Rave Ever At My School – Turtle" on the chalkboard (more on this later).
In the 3rd clue package, it showed a bat encased in glass that looked very similar to the symbol of Nightwing (a grown-up version of Robin), and then Seoul, Korea was also in focus.
THEORY:
Turtle is Jesse McCartney, and here's why:
The allusions to the superhero Robin is referencing McCartney's voice acting on Young Justice where he played the character.
The price of the comic book $10.13 is his initials "J" the tenth letter in the alphabet, and of course, "M" the thirteenth.
He had a memorable short stint on Fear The Walking Dead, which explains his zombie walk.
If you take the first letters of the phrase he wrote on the chalkboard in the 2nd clue package, they spell out "DREAM ST." (Dream Street), which was the name of McCartney's old boy band
Finally, the clue highlighting Seoul, Korea is most likely a reference to his most popular song as a teen pop singer, "Beautiful Soul".
Tell me he doesn't sound exactly like The Turtle?
You're welcome.
What do you think of this theory?
Am I on point or did I miss the mark completely?
Please feel free to chime in the comments section.
The Masked Singer Theory – Who Is The Night Angel?
Night Angel will face-off against Kangaroo on the April 8 episode of The Masked Singer.
One of them could be eliminated and unmasked at the end of the night, so why not take a guess at who they are?
Here's my theory on who the Night Angel is under the mask:
[POTENTIAL SPOILERS AHEAD for those who want to keep the reveal a surprise]
The Night Angel has been hailed by the panelists as someone who can "win it all" this season.
Good news for her, but bad news for us who want to find out who that amazing voice belongs to.
Her clue packages have been some of the trickiest to crack this season, and I figured a lot of them could be red herrings.
That is until I went back to her first clue package, and with some help from the internet, I believe I have cracked the case.
Here it is:
BREAKDOWN
The doors she opened in the video are numbered 4, 5, 6.
The 1st door contained

three

men with duck 

bills

on their noses.
The 2nd door had "

gangster grandmas

" as Robin Thicke puts it.
The 3rd door was a dance party where one of the men in black points at his watch.
At the end of the package, she says "and a little bit sweet, just like me."
The only overt clue that stumped me was the keys with the number 2 on it. (So feel free to enlighten me on this one)
Later clue packages would reference her being in her line of work since she was in high school, and found herself "lost" in a group and wanting more.
THEORY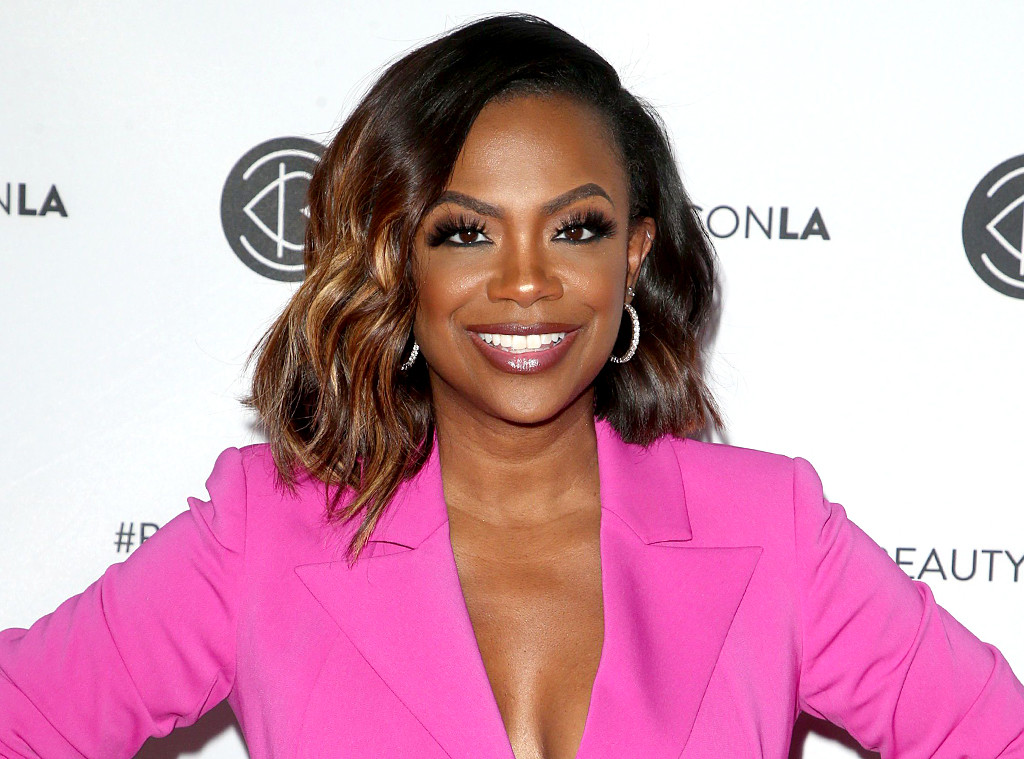 The Night Angel is Kandi Burruss, and here's why:
The numbers on the doors she opened stands for the song "4, 5, 6" which she co-wrote and performed with rapper Solé
The 1st door was a nod to her writing credits on the Destiny's Child song, "Bills, Bills, Bills"
The 2nd door is a hint about her

Atlanta

based restaurant called, "Old Lady Gang"
As the man in black pointed out, she was "Tardy for the Party" which is another song she wrote for her co-star on The Real Housewives of Atlanta, Kim Zolciak
"A little bit sweet" – What else is sweet? Well, CANDY (Kandi) of course!
In her youth, Burruss was also part of Xscape, a girl group during the 90s, which fits with her claim to have been in the business since a teenager.
Still not convinced? Here's her debut single as a solo artist, "Don't Think I'm Not." Where the distinct vibrato in her voice is clearly showcased, and sounds exactly like the Night Angel's.
And there it is, my theory on the Night Angel's identity.
Did I guess correctly?
Or did I miss something, and completely went off the wrong clues?
Let me know what you think.