PLL theories are swirling on the web. We all need answers. But more so, we all want to be the ones to crack this mystery once and for all. While I know there's still two more seasons of this torture (don't get me wrong I do enjoy it!), I can't stop thinking about the different possibilities following Tuesday's finale. My PLL obsessed friend sent this theory my way, and it really made so much sense. So, read it, let me know what you think and share your theories! 
Theory 1: Alison DiLaurentis is actually dead. That's why there was never any initial problems with the autopsy. She was buried alive. Bethany Young was Ali's twin. The night Ali was murdered, she escaped from Radley and killed her. This explains why Mrs. D was so shocked looking out the window and seeing her baby girl get clobbered in the head and why she protected Bethany. Ultimately, she couldn't protect her anymore and that's when Bethany killed Mrs. D. Bethany faked Ali's disappearance to get away with murder and took on her twin sister's persona. She's probably a socio, or has multiple personality disorder, just like Mona said, and was able to lie and pass the test that ultimately cleared her name. She was tormenting Ali since the very first Halloween episode and Ali was determined to find out who A was. She continued her charade to scare the liars and only came back to town because they started figuring out too much and someone had to take care of Mona, before she figured it all out. 
Mrs. D was having an affair with Bethany's father. That's what we figured out this week, at least. Either Mrs. D had multiple affairs, or Bethany's father is also Mr. Hastings. This would make sense considering the great lengths he went to cover up anything at Radley. They have one child together, what's to say that Ali and her twin aren't Mr. Hasting's children as well. That gives us the perfect Spencer connection! Maybe Bethany knew that Spencer was her half sister? Maybe she's always had it out for her and now, she threw her under the bus and that's why Spencer was arrested.
This whole theory makes quite a lot of sense if you think about it. There's obviously kinks that need to be worked out. Like was Bethany really buried alive? That's the story "Ali" told the girls and Grimwauld confirmed. Did Mona actually find "Ali" on the side of the road and help her leave town? How did Bethany know so much about her twin (if this is the case) when she was at Radley the whole time. And lastly, there has to be someone on the police force that's helping A/ Ali/Fake Ali/ whoever the hell is behind all of this.
Also a possibility, is that CeCe Drake is Bethany Young? Or Ali's fraternal twin. There's got to be more to CeCe. Why is she so close to Ali? They both look alike. Plus remember that CeCe had on the same/ similar yellow shirt as Ali that night!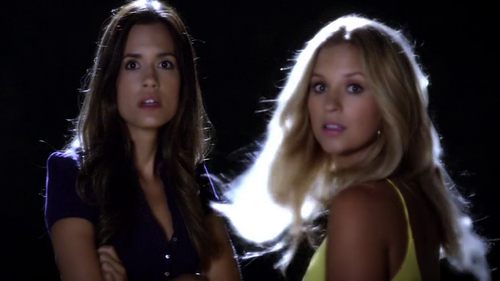 What do you think? Do you have any PLL theories we should know about? Please share them with us cause we're going crazy trying to figure out this mystery!!! Tweet us @CraveYouTV or like us on Facebook and comment away!
Photo Credit: Pretty Little Liars/ ABC Family
Follow CRAVEYOUTV on socials
Is Kim Cattrall in 'Emily in Paris' Season 3?
As fans eagerly await the upcoming third season of Emily in Paris, rumors are swirling that Kim Cattrall may be joining the cast in some capacity.
And those rumors only gained more traction when Samantha Jones herself walked the red carpet at the chic Parisian premiere of Emily in Paris Season 3. She even documented the appearance on Instagram!
However, the starlet remained tight-lipped about her involvement, which means that it could have either been a subtle confirmation of a possible appearance or she's just a fan of the show and there to support creator Darren Star, who also created Sex and the City and Younger.
There's no doubt that Cattrall would be an incredible addition to Emily in Paris, which follows the adventures of an American marketing executive who moves abroad to work at the Paris office.
The cast, led by Lily Collins as the titular character, featurs a strong female cast, including Philippine Leroy-Beaulieu as Sylvie and Grey's Anatomy star Kate Walsh as Madeline Wheeler.
Cattrall previously turned down a chance at appearing in the Sex and the City spinoff, And Just Like That, with the HBO drama explaining her character's absence with a move across the pond to London.
And London is just a short car, train, or plane ride from Paris. While nothing has been confirmed officially, I could absolutely see Cattrall appearing in Emily in Paris, or even bringing Samantha to the fabulous world of Emily Cooper. With all of the comparisons between the two shows, and fans calling Emily in Paris the modern-day SATC, it's almost like the cameo is just waiting to write itself.
Brian Tee's 'Chicago Med' Exit Explained
NBC is teeing up Brian Tee's final Chicago Med episode.
The actor will depart the series on the Dec 7 episode, which will also feature his wedding to longtime love and fiancee, April (Yaya DaCosta).
Now, we're getting some more insight as to how Ethan Choi will be written off.
Co-showrunner Andrew Schneider explained that after the wedding, Ethan and April will start a "mobile clinic so that together they can take first-rate medical care to underserved neighborhoods in Chicago."
We absolutely love this idea as it stays true to his character, and it falls in line with April's professional aspirations.
Schneider emphasized that the couple will be staying in the Windy City despite leaving Gaffney, which means that there is a chance for both Tee and DaCosta to return for a guest appearance in the near future if they choose. Tee has already been announced as a director of the upcoming 16th episode.
In the previous episode, Choi's co-workers at the hospital were all surprised to get an invitation to the wedding considering the couple was broken up for quite some time. And while it may seem abrupt and haste, Choi told Charles that losing his father put a lot of things in perspective for him, and he's finally ready to be the man that April always knew he could be.
We can't wait to see their beautiful wedding pan out on the fall finale of Chicago Med!
When Does 'Firefly Lane' Season 2 Part 2 Come Out?
The wait is almost over!
FireFly Lane Season 2 Part 1 debuted on Friday, December 2, 2022, at 12 a.m. PT (3 a.m ET and 2 a.m. CT) on the streaming service, and while that may be very late in the night, the good thing is you'll have all weekend to catch up with Tully (Katherine Heigl) and Kate (Sarah Chalke). Read our review of Firefly Lane Season 2 Part 1 right here!
It was revealed that Firefly Lane Season 2 Part 2, the final six episodes of the series, will arrive on June 8, 2023. The date was revealed in the credits of Part 1.
Why Is Kate Mad at Tully at the End of Firefly Lane Season 1?
The biggest question on everyone's mind is why is Kate so mad at Tully. At the end of the first season, it's revealed that Kate's father, Bud, died, but when her best friend Tully arrives at the church, Kate tells her that she has "some nerve showing up here." Season 2 Part 1 will hopefully answer what led to the rift between Kate and Tully in 2004/2005.
How Many Episodes in Firefly Lane Season 2 Part 1?
The season will have a total of nine episodes.
Part 2 of the season will grace screens in June 2023 with episodes 10 through 16—also the final six episodes.
Who Died on Firefly Lane Season 1?
Bud, Kate's father, passed away in the first season. Kate and Tully are at his funeral when it's revealed that they are not on speaking terms anymore despite a decades-long friendship.
Firefly Lane Season 2 Cast
The key cast of the upcoming second season includes:
Katherine Heigl – Tully Hart
Sarah Chalke – Kate Mularkey
Ali Skovbye – '70s Tully Hart
Roan Curtis – '70s Kate Mularkey
Ben Lawson – Johnny Ryan
Beau Garrett – Cloud/Dorothy Hart
Yael Yurman – Marah
India de Beaufort – Charlotte/Charlie
Greg Germann – Benedict Binswagner
Jolene Purdy – Justine Jordan
Ignacio Serricchio – Danny Diaz
Firefly Lane Season 2 Synopsis
What could possibly have ended the tight-knit thirty-year friendship of Tully and Kate, our "Firefly Lane Girls Forever?" We'll learn the answer this season — but first — Kate grapples with the painful aftermath of Johnny's ill-fated trip to Iraq, while Tully faces a lawsuit after walking away from her talk show, and must start her career over from the bottom. This leads her to search for answers about who she is and where she comes from — including a quest to find the father she never met, against the wishes of her secretive hippie mother, Cloud. In the '80s, we see Kate and Johnny first fall in love, creating more than a little drama in the newsroom where they work, as Tully's career rises and she spars (and flirts!) with cocky sportscaster Danny Diaz. She just might have met her match — that is, if they can stop arguing for five minutes. While in the '70s, teenage Kate and Tully struggle to keep their friendship together as Cloud goes to jail for dealing drugs and Tully goes to live with her grandmother, far away from Firefly Lane. As the girls face the tumult of high school apart, they know the one thing they really need is each other.
Firefly Lane Season 2 Trailer