PLL theories are swirling on the web. We all need answers. But more so, we all want to be the ones to crack this mystery once and for all. While I know there's still two more seasons of this torture (don't get me wrong I do enjoy it!), I can't stop thinking about the different possibilities following Tuesday's finale. My PLL obsessed friend sent this theory my way, and it really made so much sense. So, read it, let me know what you think and share your theories! 
Theory 1: Alison DiLaurentis is actually dead. That's why there was never any initial problems with the autopsy. She was buried alive. Bethany Young was Ali's twin. The night Ali was murdered, she escaped from Radley and killed her. This explains why Mrs. D was so shocked looking out the window and seeing her baby girl get clobbered in the head and why she protected Bethany. Ultimately, she couldn't protect her anymore and that's when Bethany killed Mrs. D. Bethany faked Ali's disappearance to get away with murder and took on her twin sister's persona. She's probably a socio, or has multiple personality disorder, just like Mona said, and was able to lie and pass the test that ultimately cleared her name. She was tormenting Ali since the very first Halloween episode and Ali was determined to find out who A was. She continued her charade to scare the liars and only came back to town because they started figuring out too much and someone had to take care of Mona, before she figured it all out. 
Mrs. D was having an affair with Bethany's father. That's what we figured out this week, at least. Either Mrs. D had multiple affairs, or Bethany's father is also Mr. Hastings. This would make sense considering the great lengths he went to cover up anything at Radley. They have one child together, what's to say that Ali and her twin aren't Mr. Hasting's children as well. That gives us the perfect Spencer connection! Maybe Bethany knew that Spencer was her half sister? Maybe she's always had it out for her and now, she threw her under the bus and that's why Spencer was arrested.
This whole theory makes quite a lot of sense if you think about it. There's obviously kinks that need to be worked out. Like was Bethany really buried alive? That's the story "Ali" told the girls and Grimwauld confirmed. Did Mona actually find "Ali" on the side of the road and help her leave town? How did Bethany know so much about her twin (if this is the case) when she was at Radley the whole time. And lastly, there has to be someone on the police force that's helping A/ Ali/Fake Ali/ whoever the hell is behind all of this.
Also a possibility, is that CeCe Drake is Bethany Young? Or Ali's fraternal twin. There's got to be more to CeCe. Why is she so close to Ali? They both look alike. Plus remember that CeCe had on the same/ similar yellow shirt as Ali that night!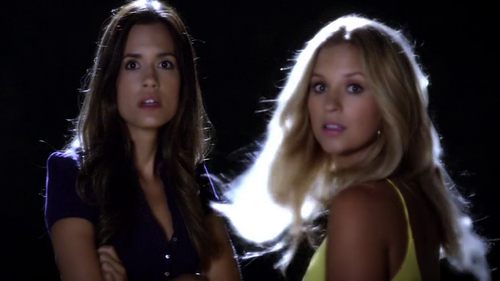 What do you think? Do you have any PLL theories we should know about? Please share them with us cause we're going crazy trying to figure out this mystery!!! Tweet us @CraveYouTV or like us on Facebook and comment away!
Photo Credit: Pretty Little Liars/ ABC Family
Follow CRAVEYOUTV on socials
Is 'Alaska Daily' Renewed for a Second Season?
Alaska Daily is one of the best and most refreshing shows coming out of this fall/winter TV cycle, with Hilary Swank as Eileen Fitzgerald, a disgraced journalist who finds a new home in Alaska, bringing coverage to the often overlooked (purposefully ignored) stories of murderer indigenous women alongside her partner-in-crime, Roz Friendly played by Grace Dove.
With the season finale scheduled to air on ABC on Thursday, March 30, marking the season's 11th episode, many fans are wondering if the network will renew the series for Season 2 and allow audiences to follow Eileen's adventures of pursuing truth and justice on a local scale.
So far, there's no word from ABC on whether or not a renewal is on the books, though a verdict is expected to come sometime after the Alaska Daily Season 1 finale airs.
But while the series has amassed a loyal and dedicated following—with many of you reaching out to me and noting that you wish the show received more publicity and promotion from the network itself—there might not be enough love for ABC to justify a renewal.
The series hasn't been able to build up the audience or gain the momentum it needs in its short primetime run, which honestly, is a shame because of the important storytelling and refreshing and diverse cast propelling meaningful conversations and calling for change and action.
As Deadline reports, the series has "sizable internal support but has not been able to break through in a meaningful way, making a Season 2 renewal unlikely."
Still, I remain hopeful that ABC will consider a renewal as ratings, though down a bit from the series premiere, bring in about 2.7 million viewers weekly, according to TVSeriesFinale.
When a decision about the fate of the series does eventually come down, we'll update this article accordingly!
When Is Season 3 of 'Ginny and Georgia' Coming Out?
Ginny and Georgia centers on the heartwarming yet extremely complicated bond between a mother and her daughter after they put down roots in a New England town.
With so many compelling storylines and incredible characters of all ages, it's no wonder that the coming-of-age drama has become a fan favorite among Netflix audiences.
The second season of Ginny and Georgia premiered on Jan. 5, 2023, which means that a third season is likely far off, especially considering Brianne Howey, who plays Georgia, just announced her first pregnancy, which will possibly delay filming.
View this post on Instagram

Of course, Netflix has to renew the series for a third season. As of March 28, 2023, it has not given the show a green light for additional episodes.
Fans shouldn't be too worried, however, as a renewal is very likely considering the show's performance, the rabid fan base, and the fact that season 3 ended on such a cliffhanger—Netflix knows that fans will be clamoring for another season to see how the situation resolves itself.
As for a premiere date, well, there isn't one just yet. Until the series is renewed and production begins, it's a bit too difficult to come up with a date for new episodes. The season could likely arrive in February 2024 if we're looking at the previous premieres for both seasons 1 and 2, which both debuted at the start of 2021 and 2023, respectively.
But with Howey's pregnancy thrown into the mix, that could delay things a bit, and it wouldn't be the worst thing if the series returned during the summer when there's a lull in content and fans are seeking out something to binge-watch and get invested in.
Either way, when Netflix makes an official decision, you'll be the first to know as we'll update this article accordingly!
Until then, you can gear up for the final season of The Marvelous Mrs. Maisel, Riverdale, and Firefly Lane!
ABC Summer 2023 Lineup: 'The Bachelorette,' 'Celebrity Family Feud,' and More Return
It's going to be a hot summer at ABC!
While many of your favorite shows are winding down for the summer, don't worry, there's no shortage of entertainment to keep you locked in.
The network unveiled its 2023 summer lineup, complete with refreshing takes on all of your favorite family-friendly gameshows, including Celebrity Family Feud.
Jeopardy Masters with Ken Jennings will take a bow in early May, running through May 24, which will be followed by The Prank Panel with Johnny Knoxville, Eric Andre, and Gabourey Sidibe.
Judge Steve Harvey, Generation Gap, Press Your Luck, and The Chase will all return for a second season.
Kevin and Franklin Jonas will also be back with Claim to Fame.
And no summer is complete without a Bachelor franchise addition, with The Bachelorette featuring Charity Lawson arriving in June and bringing plenty of drama.
Check out the full ABC summer 2023 lineup below:
Monday, May 8
8:00-9:00 p.m.: Jeopardy! Masters
Tuesday, May 9
9:00-10:00 p.m: Judge Steve Harvey
Wednesday, May 24
8:00-9:00 p.m.: Jeopardy! Masters (season finale)
9:00-10:00 p.m.: The Prank Panel (special preview)
Wednesday, June 14
8:00-9:00 p.m.: Judge Steve Harvey (new night/time)
9:00-10:00 p.m.: The Wonder Years (season premiere)
Monday, June 26
8:00-9:00 p.m.: Claim to Fame (season premiere)
9:00-11:00 p.m.: The Bachelorette (season premiere)
Thursday, June 29
8:00-9:00 p.m.: Press Your Luck (season premiere)
9:00-10:00 p.m.: Generation Gap (season premiere)
10:00-11:00 p.m.: The Chase
Sunday, July 9
8:00-9:00 p.m.: The Prank Panel (regular time-slot debut)
9:00-10:00 p.m.: Celebrity Family Feud (season premiere)
10:00-11:00 p.m.: The $100,000 Pyramid