PLL theories are swirling on the web. We all need answers. But more so, we all want to be the ones to crack this mystery once and for all. While I know there's still two more seasons of this torture (don't get me wrong I do enjoy it!), I can't stop thinking about the different possibilities following Tuesday's finale. My PLL obsessed friend sent this theory my way, and it really made so much sense. So, read it, let me know what you think and share your theories! 
Theory 1: Alison DiLaurentis is actually dead. That's why there was never any initial problems with the autopsy. She was buried alive. Bethany Young was Ali's twin. The night Ali was murdered, she escaped from Radley and killed her. This explains why Mrs. D was so shocked looking out the window and seeing her baby girl get clobbered in the head and why she protected Bethany. Ultimately, she couldn't protect her anymore and that's when Bethany killed Mrs. D. Bethany faked Ali's disappearance to get away with murder and took on her twin sister's persona. She's probably a socio, or has multiple personality disorder, just like Mona said, and was able to lie and pass the test that ultimately cleared her name. She was tormenting Ali since the very first Halloween episode and Ali was determined to find out who A was. She continued her charade to scare the liars and only came back to town because they started figuring out too much and someone had to take care of Mona, before she figured it all out. 
Mrs. D was having an affair with Bethany's father. That's what we figured out this week, at least. Either Mrs. D had multiple affairs, or Bethany's father is also Mr. Hastings. This would make sense considering the great lengths he went to cover up anything at Radley. They have one child together, what's to say that Ali and her twin aren't Mr. Hasting's children as well. That gives us the perfect Spencer connection! Maybe Bethany knew that Spencer was her half sister? Maybe she's always had it out for her and now, she threw her under the bus and that's why Spencer was arrested.
This whole theory makes quite a lot of sense if you think about it. There's obviously kinks that need to be worked out. Like was Bethany really buried alive? That's the story "Ali" told the girls and Grimwauld confirmed. Did Mona actually find "Ali" on the side of the road and help her leave town? How did Bethany know so much about her twin (if this is the case) when she was at Radley the whole time. And lastly, there has to be someone on the police force that's helping A/ Ali/Fake Ali/ whoever the hell is behind all of this.
Also a possibility, is that CeCe Drake is Bethany Young? Or Ali's fraternal twin. There's got to be more to CeCe. Why is she so close to Ali? They both look alike. Plus remember that CeCe had on the same/ similar yellow shirt as Ali that night!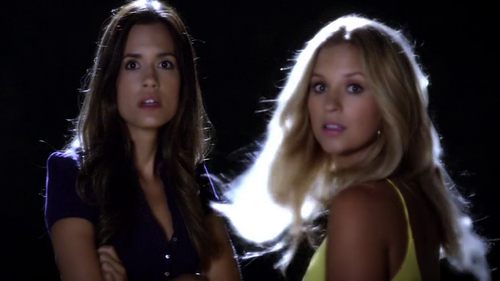 What do you think? Do you have any PLL theories we should know about? Please share them with us cause we're going crazy trying to figure out this mystery!!! Tweet us @CraveYouTV or like us on Facebook and comment away!
Photo Credit: Pretty Little Liars/ ABC Family
Follow CRAVEYOUTV on socials
When Does 'Upload' Season 3 Come Out?
Fans of Upload—starring Robbie Amell, Andy Allo, and Allegra Edwards—have been waiting patiently for any information about a potential third season, particularly as season 2 left off on quite a bit of a hangover, with Amell's Nathan Brown's life hanging in the balance.
But now, we finally have a premiere date along with a brand new trailer that mostly qualms all of those worries.
Upload Season 3 will be here sooner rather than later with an arrival date of October 20, 2023—that is, for the first two episodes. The next few episodes—a total of 8 for the season—will arrive weekly in pairs, with episodes 3 and 4 landing on Oct 27, episodes 5 and 6 on Nov 3, and episodes 7 and 8 on Nov 10.
Episodes release on Prime Video at 12:00 a.m. GMT on the date, which means 8 p.m. ET/7 p.m. CT.
The futuristic sci-fi comedy in which a man uploads to a digital life extension following his untimely death and forms a special bond with his angel (a customer service rep, in present-day terms) immediately built a dedicated fanbase for its comedic tone as it tackles serious issues.
In the trailer teasing the new season, fans see more of Brown's time on Earth with Nora following his download. While the final moments of season 2 kept his fate uncertain as he suffered a nosebleed, meaning there was a possibility he wasn't going to live for much longer, he's very much alive and well 26 days after the download. While they're still making good on their amazing connection, Nathan and Nora have also joined forces to shut down Freeyond, which has killed hundreds of innocent people in an attempt to rig the election.
But back at Horizon, Tinlsey, who noticed Nathan disappeared, rebooted him from a backup copy, meaning there's another Nathan that exists in the afterlife. Ingrid is making the most of this "second chance" to do this right as "new Nathan" has no memory of what happened, nor does he remember breaking up with her.
"Two Nathans, one Nora, Never fantasized about this before," Nora states as she pays a visit to Lakeview, where someone informs her that isn't cheating, it's just her boyfriend "6 months ago."
Ingrid then informs Earth Nathan that "his girl is hanging with my fake dude."
Will Nora get charmed by Lakeview Nathan? Has the real world taken a toll on their relationship? And is Ingrid really too into the afterlife while still having the opportunity to live a real life?
Check out the trailer and watch the new season starting Oct. 20.
When Does 'Bachelor in Paradise' Start?
Bachelor Nation—Thursday night is your night.
Following the premiere of The Golden Bachelor, Bachelor in Paradise returns for its 9th season.
The reality series finds former leads and contestants from The Bachelor and The Bachelorette—some fan-favorites, some controversial and least liked—coming together in the carefree setting of a tropical beach destination in Mexico's Playa Escondida resort to give their journey of finding love another (and hopefully successful) shot.
The contestants then spend roughly three weeks dating around in hopes of finding their soulmate, all while dodging drama and feuds. Some leave the beach engaged, some in committed relationship, and some stay single.
Jesse Palmer will host this season as Wells Adams returns to the bar.
The series will premiere with a 2-hour episode on Thursday September 28 at 9 p.m. ET right after the pilot episode of The Golden Bachelor. Those who can't catch it live will be able to stream it on Hulu the following day.
They will continue airing on Thursday nights weekly alongside The Golden Bachelor making Thursday's the new Monday/Tuesday.
Here's the upcoming cast:
Greer Blitzer of "The Bachelor" season 27
Brayden Bowers of "The Bachelorette" season 20
Aaron Bryant of "The Bachelorette" season 20
Peter Cappio of "The Bachelorette" season 20
Jessica "Jess" Girod of "The Bachelor" season 27
Eliza Isichei of "The Bachelor" season 26 and "Bachelor in Paradise" season 8
Katherine "Kat" Izzo of "The Bachelor" season 27
Samantha "Sam" Jeffries of "The Bachelor" season 26
Olivia Lewis of "The Bachelor" season 27
Sean McLaughlin of "The Bachelorette" season 20
Blake Moynes of "The Bachelorette" seasons 16 and 17
Mercedes Northup of "The Bachelor" season 27
Rachel Recchia of "The Bachelor" season 26 and "The Bachelorette" season 19
Kylee Russell of "The Bachelor" season 27
Aaron Schwartzman of "The Bachelorette" season 20
Will Urena of "The Bachelorette" season 18
Brooklyn Willie of "The Bachelor" season 27
Catherine "Cat" Wong of "The Bachelor" season 27
Anyone who is a fan of Bachelor in Paraside knows that additional contestants are introduced throughout the season, with talks of former Bachelorettes Katie Thurston, Charity Lawson, and Hannah Brown making appearances down the line.
What Time Does 'The Golden Bachelor' Start?
ABC is expanding its Bachelor franchise into a new age bracket with The Golden Bachelor.
Gerry Turner, described as a "charming 72-year-old patriarch from Indiana," will be the first to ever own the title as he sets out to find love amongst 22 hopeful bachelorettes.
The series synopsis notes, "One hopeless romantic is given a second chance at love in the search for a partner with whom to share the sunset years of life."
There's been a lot of interest across the board for the spinoff as it's a refreshing take on the franchise that many found has become quite predictable in recent years as it focuses on the same age group every time.
The new concept doesn't just pique the interest of longtime Bachelor fans, it's also enticing older viewers who have never given reality TV a chance, while also sparking interest from younger fans who want to see what kind of drama the older demographic is going to stir up (though Turner did call them the "sweetest" group of women ever).
Many also think that with an older-skewing cast, the focus will be more on finding love versus chasing social media clout as the contestants have all been through their fair share of life experiences and heartache.
"I want to fall in love," Turner previously explained of his interest in the franchise, noting, "I really want to find my person who can put me in my place when I need it and make me smile at it. The person who can lay down beside you at night, not have to say anything, and you feel it. That's love. That's what I want. And I know that person's out there."
He was married to his high school sweetheart for 43 years before she died in 2017, so it's fair to say he's putting himself out of his comfort zone by pursuing a new romantic connection.
The series will premiere on Thursday, Sept. 28 at 8 p.m. ET on ABC. You can stream the episodes the following day on Hulu.
It will continue airing on Thursday nights at 8 p.m. ET, followed by Bachelor in Paradise—who doesn't love back-to-back Bachelor shows?
2023 Fall TV Schedule—16 Reality TV and Game Shows That Are a Must-Watch