And they lived happily ever… until they didn't.
Mic and Zeke's wedding was a beautiful celebration, but their happiness was shortlived on Manifest Season 2 Episode 12 because their honeymoon was interrupted by the three looming shadow figures that have been threatening the Stone family for several episodes.
But before we get into the "disaster" that stemmed from Mic's decision to not follow the Callings, let's talk about the wedding.
It went off without a hitch aside from Mic's brief "cold feet" — and I love how Zeke worked that into a joke since he's actually freezing to death.
For #TeamZeke fans, the wedding was a celebration of life and love.
Mic hesitated a bit before the wedding because she was scared. Usually, weddings are supposed to celebrate the beginning of a long road ahead for a couple, but Mic couldn't envision a future with Zeke because they didn't have a cure for the death date.
He accepted that he was dying while she wanted him to fight for his life.
Mic wanted a "sign" to point her in the right direction, and she got it when Ben's Calling led him to a consignment shop where he found his mother's veil.
The veil confirmed what she already knew to be true: she wanted to marry Zeke more than anything.
For those of you that have been #TeamJared, well, you were in the same boat as Jared: you wanted to be happy for Mic, but it was hard to watch.
In the penultimate episode, Zeke only had 2 days left to live, which meant everything was expedited.
Jared was taken aback by Mic's announcement that she was getting married (likely because he was still holding out hope that they would get back together), but he figured that he would support her on her "big day."
Sadly, when he saw her in that wedding dress, you could see the pain it caused him. My heart broke for him.
He has wanted to be in Zeke's shoes for the longest time, and he couldn't stand by and watch the love of his life walk down the aisle and marry another man.
After the intimate celebration, Mic and Zeke got ready for their honeymoon, which also doubled as Zeke's hoorah. It's incredibly morbid, and I'm kind of glad it was interrupted.
They didn't get too far before they got the call that poor Cal was taken by the three meth heads.
Follow CRAVEYOUTV on socials
Will There Be a Season 3 of Manifest?
Manifesters have been patiently waiting on renewal news from NBC after an explosive and jaw-dropping season 2 finale!
The fate of Manifest hangs in the air as NBC has not confirmed whether a third season is in the cards.
While many argue that the network should've made a decision by now, the impending coronavirus pandemic has shuffled many things around for the networks.
With a halt in production on most shows, many show's had to cut their seasons short. Other shows haven't even begun filming, which could be beneficial for shows like Manifest and convince the network to give the third season the greenlight.
Fans are remaining hopeful as show creator Jeff Rake talked extensively with EW and TV Line about his plans for season 3 of Manifest. There's a lot more mythology, a lot surrounding the passengers and how they're perceived, the three shadow figures turned meth heads are set to return, and Saanvi wrestles with her guilt.
Those are all story avenues fans also want to explore. Rake also revealed he has the show mapped out for a six-season run!
NBC's track-record isn't as terrible as some other networks when it comes to pulling the plug on shows. The first season of Manifest was also held in limbo for a bit before scoring a renewal a little under two months after the finale.
Renewed or Canceled 2020: Which Shows Will Be Returning and Which Shows Are Saying Goodbye?
If we consider that timeline, NBC should have a decision around June, which means that we still have some waiting time.
Jack Messina, who plays Cal, also said the Upfronts in May might give fans some insight into a potential third season.
NBC canceled the live event, and will instead televise and stream the presentation on May 11 to "to ensure the safety of all participants while also reflecting the increasingly direct relationship between NBCUniversal, its fans and its partners," NBCU said. "This will now allow all audiences to tune in for a sneak peek at the future of NBCUniversal's programming."
The ratings play larger into whether or not a show gets renewed. The second season dropped significantly in ratings as its very much a serialized drama, however,
Manifes
t remains one of the top 10 most-watch scripted dramas.
Newsweek
reports its 7th on the list next to
Chicago Med, Chicago Fire, Chicago PD, This Is Us, New Amsterdam,
and
The Blacklist.
The series also has a dedicated fanbase that has been pushing #RenewManifest on social media.
Will it convince NBC? We hope so!
Interview: Jack Messina Talks All Things 'Manifest' Including Bromance with Zeke and Season 3
The characters on Manifest all carry the weight of being "the returned" passengers of Flight 828.
But no character has been more crucial to the storyline and the overarching mystery than Cal Stone played by the brilliant Jack Messina.
Despite being the 'holy grail,' the 11-year-old has infused Cal with depth, wit, and innocence resulting in one of the brightest young characters on television. On Manifest Season 2 Episode 13, he befriended and evaded his kidnappers, he's helped his father, Ben Stone, decode many Callings, and he's the reason Zeke is even in their lives.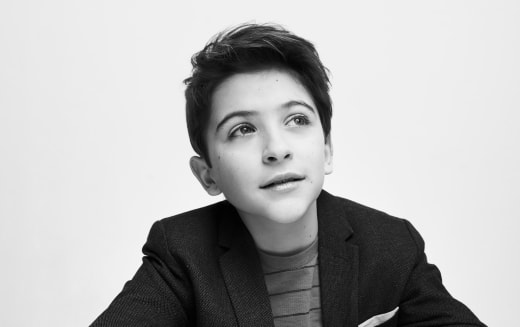 Cal may just be the answer to all of our burning questions.
Thankfully, off-screen, Messina's life is less focused on plane conspiracy theories and more rooted in enjoying his time on set, honing in on his craft, and schoolwork.
Check out the interview below:
The season finale of Manifest was wild and you did a great job as Cal! What insight have you gotten about where his storyline might go in season 3?
I have zero insight on where Cal's storyline might go. Every episode surprises me, and the cast is never told ahead of time what is going to happen. I can't wait to see though.
Where are we at on a season 3 renewal? Manifesters are hoping you have some good news for us!
I haven't heard anything yet about season 3, but the Upfronts are coming in May. We should know by then.
Cal initially brought Zeke to the Stone family through a Calling, and Zeke returned the favor by saving Cal from the kidnappers. Does their connection play deeper into the story?
I think it will. Cal and Zeke have a special bond. I'm sure it will continue.
Is the flash of light that saved Zeke the same one that affected Flight 828? Why did he survive?
I don't know for sure, but I think it's a good guess that the lightening is connected somehow. I think Zeke survived by saving Cal.
GRADE IT: Manifest Season 2 Best and Worst Moments
Manifest Season 2 was an adventurous season filled with complex mysteries and many loose ends.
While the purpose was to keep the audience in a state of suspense, those complex mysteries left us feeling slightly in the dark about what was really going on.
There are scientific elements merging with supernatural ones, and it's not entirely evident where the series is going.
Manifest Interview: Ellen Tamaki Talks Drea and Mic's Relationship, If She Can Be Trusted, and the X'ers
We're looking back at the season and finding what worked, what didn't, and what should have.
Let us know in the comments what grad you'd give Manifest Season 2 and share some of what you liked and disliked!
Cutest Moment: Cal Throwing Zeke a "Bachelor Party"
No other friendship compares to Zeke and Cal's. Cal was even Zeke's "best man" and threw him an epic bachelor party that included eating a bunch of junk food and playing Monopoly.
They share an unbreakable bond since the day that Cal saved Zeke in the cabin. Zeke repaid the favor in the season 2 finale by using his final moments to bring Cal to safety.
WTF Moment: The Cuban Ship Cliffhanger
This show has so many moments that make you go "wtf," but I have to go with the ending of the finale where we saw the ship in Havana, Cuba find a piece of Flight 828. There are many theories as to what went down and how the plane returned five years later, but this finding adds a new layer to the series.
How could parts of a plane that landed in one piece be floating around in the ocean when the passengers were alive? And why was Ben getting visions of the flight exploding when again, the passengers are very much alive.
Mystery That Went Nowhere: Graces Gargoyle Calling
Whatever happened to Grace's "open her eyes" Calling about Erika, the wife of Simon White, who we learned was the professor that gave Ben the job at the university.
It seemed like it was going to be a big storyline, especially after it was teased that they were both X'ers and planned to destroy Ben and his family for being passengers, but it fell flat. We never found out what Grace's Calling was about, and we never saw Ben's reaction to finding out White was the leader of a hate group.
It's possible "open her eyes" was directed at Grace so that she'd see that Erika was a danger, but it wasn't clear and didn't make much sense.
In the same vein, what happened to Ben's ex-girlfriend who got him the gig? She also seemed like she would play a bigger role in the series. It almost feels like the writers didn't know where to go with this storyline so they just said, "you know what? Forget it."
Biggest Letdown: Vance's Return
Bringing Vance back from the dead was a huge twist that had so much potential, but this fell flat because he didn't do all that much upon his return before going into hiding again and then coming back out to tell Saanvi to "play the long game," which she also ignored.
Best Villain: The X'ers
A hate group is equally as dangerous in reality as it is in the fictional world of Manifest. The X'er's were a group out for blood. They were willing to destroy anyone who got in their way including Mic.
Thankfully, Jared stopped it though he was so convincing that the audience questioned for weeks whether or not he was undercover. (Not to brag but I always believed in him.)
A close runner-up for the season's villain was Adrian. However, he didn't take the cake because of he for most of the time, he was oblivious as to how much harm and misinformation he was causing until the nightclub explosion.
A special shout out to Isaiah (check out our interview with Olli Haaskivi), who made sure this season was full of explosive moments.