The focus of the midseason premiere of 'Manifest' was on the Holy Grail and the Major.
If you're wondering "who" and "what" the Holy Grail and the Major are, well, you can shake hands with Ben.
The Major, as we found out, is the head honcho behind this whole government entity. And in a twist that surprised not only Ben but also Aaron, an 828-conspiracy podcaster that Ben met at Vance's funeral service, the Major is a woman!
Does anyone else think that the Major is Fiona? The captain piqued my interest when he mentioned that it may not be a coincidence she was on the flight. All of this could just be one major — no pun intended — experiment to help push her theory forward.
She's experienced absolutely no callings of her own, which raises some concern, especially since most of the passengers have.
Ben first stumbled upon the term Holy Grail while giving Aaron's podcast a chance. Aaron's mission was finding out what really happened to the flight so, despite Ben's initial hesitation, which was warranted, you knew they would eventually become good friends.
But it wasn't until  Autumn used the term that Ben really paid attention to it. Saanvi eventually realized the Holy Grail wasn't a thing, but a person. Red Hook was testing to find the passengers most sensitive to callings and there's no denying that the most sensitive passenger of them all is Cal.
So, as it stands, a secret entity of the government run by a woman named the Major is trying to get their hands on Cal.
Ben was swift is persuading NSA Agent Powell to do some digging for him. Though Powell was understandably not interested in getting involved at first, he knew Vance would have wanted him to. While he didn't get the Major's name, he did confirm she was on her way to New York.
And before you knew it, Powell was snatched by the Major's goons. After giving Ben the lead about what she'd overheard at the farmhouse, Autumn decided to ditch the government and her phone in the ocean. But in case you weren't clear on how dangerous these people are, Autumn was approached by an ominous man in a public coffee shop because the Major was requesting a word. Yep, everyone in the Major's way is screwed.
Ben finally went on record to talk openly about the government testing, the conspiracy, the Holy Grail and even the Major, much to Aaron's delight. But he made it clear that the recording wasn't allowed to go live. Ben's a smart dude and he saw this podcast as an insurance policy. If anything happens to him, which I'm thinking it will, Aaron can expose everything and raise some deeper, more public questions.
Imagine the guilt Grace would feel if something happened to Ben and she realized this whole time he was doing everything to protect his family. That is if Grace could ever think about anyone except for herself for like five minutes.
Ben's split from Grace didn't let up on the obnoxious family drama for one bit. Olive and Grace have been the worst to Ben and thus, Cal. Olive called Danny the moment Ben left because "it felt like they died again." Danny came rushing in despite Grace's wishes for him not to be there. Cal was obviously overwhelmed because, despite Olive's affinity for Danny, he's a complete stranger to Cal. Again, nobody seems to care.
Ben came rushing into an already chaotic scene and was viewed as the villain. Grace may have finally taken some of the blame and echoed what the viewers were thinking about her, but again positioned herself as the victim with her "nothing I do is good enough" speech. Get over yourself, woman! I had a soft spot for Danny because this isn't an easy situation for anyone but that went right out the door the moment he blamed Ben for the plane's disappearance and then re-emergence! I'm sorry, it's not like he wanted to disappear and abandon his family for five years. Dude, get out.
Grace then had the nerve to say that Ben expected to waltz back in like nothing had changed when it did. If I remember correctly, she didn't want to tell him she moved on and then went along with pretending everything was normal. If she was upfront about it, Ben wouldn't have had the allusion that things would be the same.
I felt for Ben, definitely, but even more for Cal who has been a complete afterthought. No one is checking up on his emotional well-being. He's an eight-year-old with cancer whose life was flipped completely upside-down. I'm sure it's not easy to assimilate.
And Grace and Olive pretend nothing is wrong, while Ben and the rest of the flight 828 passengers know Cal is in grave danger. Ben should have custody. How is he supposed to protect his son if he's not with him at all times? I'm a little upset Ben didn't try harder to take Cal with him as he clearly knows what's at stake and how uninformed and ignorant his wife is.
Michaela kept hearing a calling, though this one was more realistic and accompanied by visions of a blizzard. She assumed the "find her" was referring to Paul's wife, Helen, as the vision happened the moment she touched his hand. Helen never appeared at the hanger to pick up her husband, but tracking her down wasn't too difficult for Mic and Jared. Helen's story was a bit of a dead end — she didn't show because Paul was abusive. However, Paul didn't remember any of that so I guess it's a win-win for everyone. Unless there's more to his story and he's actually a danger to all the passengers.
The calling continued and throughout it, Mic kept seeing the blizzard and someone crawling. Eventually, she realized she was experiencing someone else's vision. Sure enough, Cal was seeing the same vision, though his revealed a person with grimy hands clutching a photo of Michaela.  While he was experiencing the calling, his hand also began turning blue from frostbite. Remember when I said he's in danger and his own mother has no idea? Yep, this is a prime example.
Who is the person in the calling? Is it another passenger? Why do they have a photo of Mic? And why is Cal experiencing these callings as well?
The juiciest part of the episode came when Jared finally professed his love for Mic. The back-and-forth tension between them has been accumulating since she returned. When Helen mentioned that the passengers' return was like a "wrecking ball" coming to destroy the new lives that they'd built, Michaela tried to distance herself from Jared. In her opinion, he'd found happiness and she didn't want to destroy that. But did she really believe that? I mean, these two are like magnets. And thus, Jared swung by the house later to tell Michaela that she was his soulmate and that he didn't come to the hangar because he'd never go home. "We didn't cheat death to live half a life,"  he said as they then cheated and fell into bed with each other.
And man, I can't say I blame them. Sure, I feel bad for Lourdes who was at home ovulating and waiting, but she's the other woman! Jared got back something that he thought he'd lost forever — the woman that he loved. That doesn't just go away. Lourdes knew she was a second choice so I'm surprised she hasn't picked up on it yet. Now, the only way this triangle intensifies is if there's a pregnancy involved. Jared and Lourdes have been trying so that would be more likely and the messier announcement because it would force Michaela to surrender her feelings. However, Mic being pregnant would force Jared to tell Lourdes and finally give him and Mic the happy ending they've been holding out for.
I definitely think the series took the cliche way out with these triangles and cheating scandals instead of digging in deep to the core of the story. Lourdes and Danny have been set up as the enemy/ the obstacles for the Stone's which isn't fair to either of them. There's so much to be explored with a 5-year-gap.
What are your thoughts? Are Grace and Danny the worst?
Who is the Major? Will she get her hands on Cal? Who is the "her" in Cal and Michaela's vision? Will Lourdes find out the truth about Jared and Mic? Is Cal really the Holy Grail? How are the test-subject passengers still being controlled? And what does the government really want from them?
We're still perplexed with questions, but it seems that this is exactly where Manifest wants us to be.
A promo for next week reveals the captain trying to re-create this occurrence with dark lightning. Does that mean whatever happened to them was manufactured? If so, it would go along with my theory that Fiona is behind all of this for her own science experiment.
And what about Adrian who was upset that they'd disrupted his life but then gave into the fascination of the 828  "Believers." It's a moment that had no real importance, but it's inclusion hints at future storylines. It may seem like Manifest is all discombobulated at times, but this proves the writers have a clear pathway and direction for what's to come.
Follow CRAVEYOUTV on socials
Will There Be a Season 3 of Manifest?
Manifesters have been patiently waiting on renewal news from NBC after an explosive and jaw-dropping season 2 finale!
The fate of Manifest hangs in the air as NBC has not confirmed whether a third season is in the cards.
While many argue that the network should've made a decision by now, the impending coronavirus pandemic has shuffled many things around for the networks.
With a halt in production on most shows, many show's had to cut their seasons short. Other shows haven't even begun filming, which could be beneficial for shows like Manifest and convince the network to give the third season the greenlight.
Fans are remaining hopeful as show creator Jeff Rake talked extensively with EW and TV Line about his plans for season 3 of Manifest. There's a lot more mythology, a lot surrounding the passengers and how they're perceived, the three shadow figures turned meth heads are set to return, and Saanvi wrestles with her guilt.
Those are all story avenues fans also want to explore. Rake also revealed he has the show mapped out for a six-season run!
NBC's track-record isn't as terrible as some other networks when it comes to pulling the plug on shows. The first season of Manifest was also held in limbo for a bit before scoring a renewal a little under two months after the finale.
Renewed or Canceled 2020: Which Shows Will Be Returning and Which Shows Are Saying Goodbye?
If we consider that timeline, NBC should have a decision around June, which means that we still have some waiting time.
Jack Messina, who plays Cal, also said the Upfronts in May might give fans some insight into a potential third season.
NBC canceled the live event, and will instead televise and stream the presentation on May 11 to "to ensure the safety of all participants while also reflecting the increasingly direct relationship between NBCUniversal, its fans and its partners," NBCU said. "This will now allow all audiences to tune in for a sneak peek at the future of NBCUniversal's programming."
The ratings play larger into whether or not a show gets renewed. The second season dropped significantly in ratings as its very much a serialized drama, however,
Manifes
t remains one of the top 10 most-watch scripted dramas.
Newsweek
reports its 7th on the list next to
Chicago Med, Chicago Fire, Chicago PD, This Is Us, New Amsterdam,
and
The Blacklist.
The series also has a dedicated fanbase that has been pushing #RenewManifest on social media.
Will it convince NBC? We hope so!
Interview: Jack Messina Talks All Things 'Manifest' Including Bromance with Zeke and Season 3
The characters on Manifest all carry the weight of being "the returned" passengers of Flight 828.
But no character has been more crucial to the storyline and the overarching mystery than Cal Stone played by the brilliant Jack Messina.
Despite being the 'holy grail,' the 11-year-old has infused Cal with depth, wit, and innocence resulting in one of the brightest young characters on television. On Manifest Season 2 Episode 13, he befriended and evaded his kidnappers, he's helped his father, Ben Stone, decode many Callings, and he's the reason Zeke is even in their lives.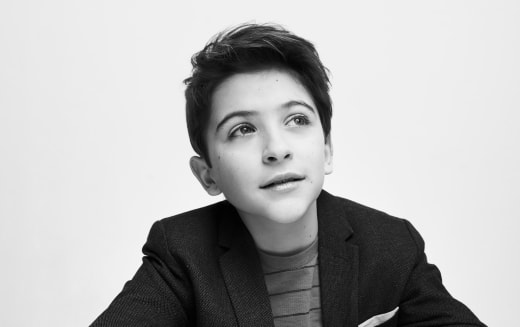 Cal may just be the answer to all of our burning questions.
Thankfully, off-screen, Messina's life is less focused on plane conspiracy theories and more rooted in enjoying his time on set, honing in on his craft, and schoolwork.
Check out the interview below:
The season finale of Manifest was wild and you did a great job as Cal! What insight have you gotten about where his storyline might go in season 3?
I have zero insight on where Cal's storyline might go. Every episode surprises me, and the cast is never told ahead of time what is going to happen. I can't wait to see though.
Where are we at on a season 3 renewal? Manifesters are hoping you have some good news for us!
I haven't heard anything yet about season 3, but the Upfronts are coming in May. We should know by then.
Cal initially brought Zeke to the Stone family through a Calling, and Zeke returned the favor by saving Cal from the kidnappers. Does their connection play deeper into the story?
I think it will. Cal and Zeke have a special bond. I'm sure it will continue.
Is the flash of light that saved Zeke the same one that affected Flight 828? Why did he survive?
I don't know for sure, but I think it's a good guess that the lightening is connected somehow. I think Zeke survived by saving Cal.
GRADE IT: Manifest Season 2 Best and Worst Moments
Manifest Season 2 was an adventurous season filled with complex mysteries and many loose ends.
While the purpose was to keep the audience in a state of suspense, those complex mysteries left us feeling slightly in the dark about what was really going on.
There are scientific elements merging with supernatural ones, and it's not entirely evident where the series is going.
Manifest Interview: Ellen Tamaki Talks Drea and Mic's Relationship, If She Can Be Trusted, and the X'ers
We're looking back at the season and finding what worked, what didn't, and what should have.
Let us know in the comments what grad you'd give Manifest Season 2 and share some of what you liked and disliked!
Cutest Moment: Cal Throwing Zeke a "Bachelor Party"
No other friendship compares to Zeke and Cal's. Cal was even Zeke's "best man" and threw him an epic bachelor party that included eating a bunch of junk food and playing Monopoly.
They share an unbreakable bond since the day that Cal saved Zeke in the cabin. Zeke repaid the favor in the season 2 finale by using his final moments to bring Cal to safety.
WTF Moment: The Cuban Ship Cliffhanger
This show has so many moments that make you go "wtf," but I have to go with the ending of the finale where we saw the ship in Havana, Cuba find a piece of Flight 828. There are many theories as to what went down and how the plane returned five years later, but this finding adds a new layer to the series.
How could parts of a plane that landed in one piece be floating around in the ocean when the passengers were alive? And why was Ben getting visions of the flight exploding when again, the passengers are very much alive.
Mystery That Went Nowhere: Graces Gargoyle Calling
Whatever happened to Grace's "open her eyes" Calling about Erika, the wife of Simon White, who we learned was the professor that gave Ben the job at the university.
It seemed like it was going to be a big storyline, especially after it was teased that they were both X'ers and planned to destroy Ben and his family for being passengers, but it fell flat. We never found out what Grace's Calling was about, and we never saw Ben's reaction to finding out White was the leader of a hate group.
It's possible "open her eyes" was directed at Grace so that she'd see that Erika was a danger, but it wasn't clear and didn't make much sense.
In the same vein, what happened to Ben's ex-girlfriend who got him the gig? She also seemed like she would play a bigger role in the series. It almost feels like the writers didn't know where to go with this storyline so they just said, "you know what? Forget it."
Biggest Letdown: Vance's Return
Bringing Vance back from the dead was a huge twist that had so much potential, but this fell flat because he didn't do all that much upon his return before going into hiding again and then coming back out to tell Saanvi to "play the long game," which she also ignored.
Best Villain: The X'ers
A hate group is equally as dangerous in reality as it is in the fictional world of Manifest. The X'er's were a group out for blood. They were willing to destroy anyone who got in their way including Mic.
Thankfully, Jared stopped it though he was so convincing that the audience questioned for weeks whether or not he was undercover. (Not to brag but I always believed in him.)
A close runner-up for the season's villain was Adrian. However, he didn't take the cake because of he for most of the time, he was oblivious as to how much harm and misinformation he was causing until the nightclub explosion.
A special shout out to Isaiah (check out our interview with Olli Haaskivi), who made sure this season was full of explosive moments.