Manifest Interview: Ellen Tamaki Talks Drea and Mic's Relationship, If She Can Be Trusted, and the X'ers
Ellen Tamaki, who some of you may recognize at Niko from Charmed, entered Manifest at the kickstart of season 2 as Drea, Michaela Stone's brand-new partner.
It didn't seem like a good fit at first as Mic was adamant about staying partnered up with Jared, her ex-boyfriend, but overtime, Drea began to prove herself as a trustworthy ally.
She would assist Mic in her cases and raids, cover for her when she needed to "handle something" related to the Callings, and stepped in when Mic went undercover as a druggie with Zeke.
All of that culminated on Monday's Manifest episode "Carry On" when the partners exchanged notes, surmised that Jared was an X'er, and Drea went undercover to scoop out the shady bar he attends to get more dirt.
We got to chat with Tamaki about her time on the NBC series, the dynamic between Drea and Mic, what it's like working with Melissa Roxburgh, and well, we tried our best to get as much scoop about the remainder of the season as possible.
Check out the interview below:
Your character Drea and Mic make a very dynamic duo… tell us a little about that. 
When I first came on the show it was a mystery. You know, we've wrapped the season, so I know what goes on for the rest of the season, but when it first started they wanted her [Mic] to have the new partner and they wanted some new faces in the precinct, and they're like well what better way to do that then to kind of like create like this new relationship for her [Mic] that isn't romantic.
I love seeing women on TV who have more relationships than just romantic ones, and I think there can be something so dynamic and professional about female friendships and that's kind of what we have been discovering throughout the season is the way that these two characters get along and learn from each other. Drea comes in at the beginning and is just so infatuated with Mic and is trying to get Mic to warm up to her a little bit.
Yeah, and I feel like that happened on this Monday's episode. They teamed up, but behind-the-scenes, you and Melissa were just in the car and you had all these snacks while you were filming. 
Yeah, well the thing is Melissa's my pal, so it was only a matter of time before that started to bleed into the scenes that we're shooting. The way that TV works is we were in that car for like four hours, there's a camera set up looking at both of us, there was one looking at me, there was one looking at her, and so, we got hungry, and we're cracking each other up, and yeah, we had a bunch of snacks, and I think I also tweeted something or maybe Jeff [Rake], our showrunner, tweeted it that we just started kind of ad-libbing at the end of the scene and editors kept it in because it fit our characters and gave it some kind of authentic like "Ellen and Melissa" banter as well.
So many veggie straws https://t.co/gxc0KB4vHq

— Melissa Roxburgh (@melissaroxburgh) March 3, 2020
It's funny because you guys had so much fun filming it but this scene and what was happening was very serious because they believe Jared is an X'er. 
Right.
It's such an intriguing storyline. Why are they so eager to believe that he's an X'er and to believe the worst in him?
It's been a long journey between the two of them [Mic and Jared] you know like everything they went through last season and so far this season. We can't deny that Mic knows Jared better than almost anybody and she's gonna know if something's up and if something's really wrong.
And inherently, these two women — we have to make the assumption that they're good at their job, they're good detectives, and they're good cops, and you have to have an intuition about that.  I think it's absolutely right of them to be really suspicious especially because it's this hate group… a  really dangerous group!
There's also this other side of Michaela that's protecting her family as well, and I think it's right of her to be cautious and for them to really seek out and sniff out what's really going on.
We really have a hard time getting along… Now who's bad n who's good?👮🏽‍♂️👮🏿😈👮🏼‍♀️👮🏽 @NBCManifest #Manifest pic.twitter.com/ag0TStQfQU

— JR Ramirez (@JR8Ramirez) February 5, 2020
There are many who believe — myself included — that Jared's undercover. I know you probably can't tell me… but…
Obviously, I can't say anything, nope. But with this show, anything is possible you know. If you've been keeping up on it at all, you know. But I also think, in the same vein, that it is possible that someone that you think you trusted for so long maybe not be who you thought they were.
Do you think it'll like negatively affect any of their careers? I mean, Mic went and told the Captain what she found. 
Well, I think what's so interesting about the dynamic of the precinct this season is that Captain Bowers showed up and was like "oh no, no, no," like "I am not here to stand for this undocumented kinda woo-woo way that you've been solving all of these cases" you know, and she kind of shows up and lays down the law in a certain way that's like "maybe this slid last year but not anymore."
And so I think the tap Mic wasn't allowed to place in the bar and all these things could have really serious repercussions down the line for her professionally or even for Drea professionally. I mean, Drea, keep in mind like I, Ellen, watch the show. I know about the Callings, but Drea has no clue about this huge side of her partner you know.
Right… which leads me into my other question… is she going to get sucked into this mystery more? Or is Mic going to open about these Callings to her?
Over the past couple of episodes, you see that Drea is willing to do anything to help the cause. The entire precinct has turned on Michaela and she's like you know "how do you know that you can trust the people? How do you know that someone not leaking?"
And turns out you know there is a leak somewhere, but she is just staying so loyal to her because I think, at the end of the day, Drea does have a good intuition and does care about her job and cares about the force and wants to do her best and is learning from who she believes is the best. And whether Michaela is the best because she's having these Callings or the best because she truly is an excellent, moral cop, I think it just makes Drea just want to stay by her side and do the right thing.
Ideally, I guess if, at the end of the day like to be really really close friends with someone, I think you do want to share a lot of special things about yourself, but the Callings are pretty insane, though. How do you know that you can trust someone with information like that? I don't know. If you had Callings, would you be able to share that with your work partner? I don't know.
And I feel like Mic did try to share that with Jared before but he never truly believed her, so maybe not…
Yeah, because if you open that part of yourself up to somebody and they reject it well then you're just gonna put another wall up. It's going to be even harder for you to open that part of yourself to someone new. I'm sure Michaela really needs to protect herself and protect her family.
On a show like this with so many complex mysteries and supernatural elements, you can't really trust anyone. And a lot of fans don't seem to trust Drea. 
laughs
Or that she has Mic's best interest in mind really… what's your take?
From what we've seen so far all she has done is have Mic's best interests in mind.
Before we even hear Drea speak, the first thing we kind of see of her is that she can't wait to get to Michaela, and she's always kind of watching her out of the corner of her eye, and so I understand, yeah totally, that is that people may think she may have ulterior motives, but I think up until now she's really proven herself.
She showed up right in the nick of time when it came to the bust when they go to meet the drug dealer. There's just been a lot of times when I feel like, "how many times does Drea have to prove that she's there with Mic's best interests in mind?"
I believe in her. She's a character that I really love to play because I think she really lays it out on the table and loves what she does and loves being a really good partner.
You work with Melissa a lot. Is there someone on the cast that you've been really wanting to work with more that you haven't gotten to share any scenes with?
Yeah.
And don't say everyone…
I mean, that's the judicious answer, right? To be like "everyone's amazing," but it's true, this is one of the greatest shows I've worked on, cast and crew and you know everybody involved, but the person who actually came to mind is Parveen, who plays Saanvi.
I ended up getting close to her hanging out New York and we were able to have like a couple of days on set together, but we didn't have to get to have a big story-arc. Our characters have two totally separate situations going on and they're really complicated stories, but I think it would be really cool to work with her and to see how these two women could maybe start figuring stuff out together.
We joked before that there is going to be like the "Drea and Saanvi" spinoff. But I would love to see where her science could meet his detective side of things and see an interesting subplot develop out of there.
She might need Drea's help because that cure she gave herself that eliminated the Callings seems to have some dangerous side-effects. 
Yeah, Drea to the rescue!
Do you/ did you have any of your own theories… since your a fan of the series?
Gah, it's hard because we did wrap, so I know what's coming in the next couple of episodes, but I remember when I was shooting kind of around now in the season, I love the way that the writers reveal information to us because I kind of was like rolling with it like a little bit, hanging on every word because I didn't know exactly where Drea was going, and at one point, I had a writer say to me, "well, we just had something really fun happen in the writers room." And I'm like what is it?" And she's like "we just changed a huge part of your storyline," and I was like "can you tell me what it is?" And she's like "no." And I'm like "can you tell me what it was?" And she's like "no." So, of course, I had a lot of theories about where Drea is headed and what that could be.
I also love thinking about the new baby and kind of how that baby's gonna come into play in terms of the Stone Family, and how Grace gets Callings now, and how the baby is now going to factor into the world of 828'ers.
We're close to the end of the season… can you sum up the rest of the season in one word?
Something I love about watching is that I never feel any lacking in mystery and exciting things, but what's different about shooting it and watching it is when I'm shooting, I'm really one-track mind. I'm only shooting scenes with Mic and the rest of the precinct, but then when I get the whole script and I see how it fits into the whole thing that really is what the season is about for me.
It's about how all of  these puzzle pieces fit together, so I guess the word that I would give for the rest of the season would be "jigsaw." To see how these puzzle pieces fit together to figure out this massive mystery, these big questions, and they find a good way to put all these pieces together in a really beautiful way at the end of the season.
You were on Charmed for a good chunk of the season and you played a detective on both the show and Manifest… what other types of roles are you really hoping to dig into?
It's really funny, but when Charmed came along, my family was cracking up about that like "oh, Ellen," cause in my day-to-day life, people who are closest to me have always just been like "you? A cop?" But when I got this second one people started going like, "okay, well, you're the oldest sister. I guess you're kind of bossy," and we were just joking around trying to figure out where the casting came from.
But when I think like into the future and the projects I want to work, I feel like I love and gravitate toward roles that are super grounded and driven and moral. I've read some scripts recently that are really fascinating about incoming new Congresswomen who want to evoke change in the government. Or maybe even in the vein of a detective, but the scrappy detectives who figures out that there's something wrong with the system and she goes on and tries to fix it.
But it's also acting and maybe one day I want to play someone that is in a ball gown and goes to the Met Gala. That's something that I just do love about acting is that you can go into all of these different very far reaches of a character where anything is possible.
I'd also love to work on something really physical. My training is in physical acting, and I once played Billie Jean King, the tennis player, and so I think that if there were something where I could use my physical acting training maybe like a superhero that I would love to dive into.
Catch Ellen Tamaki on Manifest on Monday's 10/9c on NBC! 
Follow CRAVEYOUTV on socials
Feelin' generous? Support our site and podcast (Mimosa Talk) on Patreon and KoFi.
Manifest Review – Mic and Zeke Get Married, But Do They Make It to Their Honeymoon? (2×12)
And they lived happily ever… until they didn't.
Mic and Zeke's wedding was a beautiful celebration, but their happiness was shortlived on Manifest Season 2 Episode 12 because their honeymoon was interrupted by the three looming shadow figures that have been threatening the Stone family for several episodes.
But before we get into the "disaster" that stemmed from Mic's decision to not follow the Callings, let's talk about the wedding.
It went off without a hitch aside from Mic's brief "cold feet" — and I love how Zeke worked that into a joke since he's actually freezing to death.
For #TeamZeke fans, the wedding was a celebration of life and love.
Mic hesitated a bit before the wedding because she was scared. Usually, weddings are supposed to celebrate the beginning of a long road ahead for a couple, but Mic couldn't envision a future with Zeke because they didn't have a cure for the death date.
He accepted that he was dying while she wanted him to fight for his life.
Mic wanted a "sign" to point her in the right direction, and she got it when Ben's Calling led him to a consignment shop where he found his mother's veil.
The veil confirmed what she already knew to be true: she wanted to marry Zeke more than anything.
For those of you that have been #TeamJared, well, you were in the same boat as Jared: you wanted to be happy for Mic, but it was hard to watch.
In the penultimate episode, Zeke only had 2 days left to live, which meant everything was expedited.
Jared was taken aback by Mic's announcement that she was getting married (likely because he was still holding out hope that they would get back together), but he figured that he would support her on her "big day."
Sadly, when he saw her in that wedding dress, you could see the pain it caused him. My heart broke for him.
He has wanted to be in Zeke's shoes for the longest time, and he couldn't stand by and watch the love of his life walk down the aisle and marry another man.
After the intimate celebration, Mic and Zeke got ready for their honeymoon, which also doubled as Zeke's hoorah. It's incredibly morbid, and I'm kind of glad it was interrupted.
They didn't get too far before they got the call that poor Cal was taken by the three meth heads.
13 Best Government Conspiracy Shows to Watch During Your Self-Quarantine
Feeling a little restless and bored at home during your self-quarantine? It's understandable. You didn't expect to be living and working from home a month or so.
While you're doing your part to flatten the curve and help prevent the spread of coronavirus, if you don't have something to keep you occupied, your mind begins to wander just a little bit.
That's honestly the only explanation I can think of for all the conspiracy theories I've been reading. While there's absolutely no basis to them, it made me think that maybe there's something there entertainment wise– people are craving a specific genre of television to help them through this tough time.
So, I've put together a list of shows surrounding government conspiracies that you might enjoy while you are cooped up inside.
Manifest (two seasons – currently airing)
Manifest is a mystery inside of a riddle that focuses on the return of Flight 828 five years after its initial disappearance. The plane's re-emergence shocks everyone because they assumed their loved ones were dead. As the passengers begin looking for the truth, they stumble upon a government conspiracy that's dangerous and frightening.
Emergence (one season so far)
Manifest made way for Emergence, a drama about a small-town cop who takes in a young girl at the site of a mysterious plane crash. The young girl begins exhibiting certain supernatural powers, and as high-ranking officials develop an interest in the girl, Jo realizes she's entangled in a mystery larger than she ever imagined.
Stranger Things (preparing for season 4)
When Will Byers goes missing, three best friends in the small town of Hawkins, Indiana begin their search for him along with his mother and police chief Hopper. The investigation leads them to unraveling a series of supernatural mysteries that lead to secret government experiments with an alternate universe.
God Friended Me (two seasons – currently airing)
Not all government conspiracy's have to be dark and dangerous, sometimes, they're feel-good shows! Miles is friended by the "God Account," a mysterious account on Facebook that allows him to help people in need. Miles and his friends try to figure out who is behind the all-knowing account, and the possibility of a government entity is high up on that list.
The Bodyguard (one season)
The British police thriller follows Police Sergeant David Budd, who is a war veteran suffering from PTSD. He currently works for the  Royalty and Specialist Protection Branch of London's Metropolitan Police Service and is assigned as security for Homeland Secretary, Julia Montague, who is rather controversial in the political landscape. It keeps you guessing until the very end over who did what and who knew what.
The Passage (one season)
The series, based on a trilogy of the same name, focuses on Project Noah, a secret medical facility where scientists test dangerous viruses that could potentially be a cure-all. However, there's a chance they could potentially wipe out the whole human race if they get into the wrong hands (this might be a little too on the nose). A federal agent grows to love a young girl who becomes a test subject and attempts to protect her at all costs… even human destruction.
Quantico
Alex Parrish is the one of the top recruits at Quantico, a training facility for only the best and brightest, but she's being set up of masterminding the deadliest attack on U.S soil since 9/11 — a bombing at Grand Central. Can she solve the conspiracy and clear her name before its too late?
Timeless
What's better than a show that combines time traveling to relevant, pivotal, and iconic moments in history with a government conspiracy? Timeless is an adventure series that places you in the middle fo all the actions as Lucy, a historian, Wyatt, a soldier, and Rufus, a scientist, get recruited to thwart a nefarious government institution that wants to change the world as we know it.
Prison Break (5 seasons)
Michael Scofield's brother, Lincoln Burrows, is convicted of a crime he didn't commit and put on Death row. Michael holds up a bank to get arrested and begins his elaborate plan of breaking them both out, which eventually leads into the reason he was framed and yeah, you guessed it, it's an intricate political conspiracy that's really messy.
24 (9 seasons)
Jack Bauer, Director of Field Ops for the Counter-Terrorist Unit of Los Angeles,  thwarts assassination attempts,  torture, traitors, and nuclear attacks, while hoping to save his nation from ultimate disaster.
Designated Survivor (3 seasons)
In a similar vein and also starring Kiefer Sutherland, low-level cabinet member Tom Kirkman ascends to the role of President of the United States after a devastating attack on the night of the State of the Union blows up the Capitol and kills the President and most of the top-reigning officials. Soon, it's revealed that Kirkman wasn't the designated survivor on accident as a government conspiracy unfolds.
The Event (one season)
Sean Walker, a seemingly regular man, begins to look into the mysterious disappearance of his fiancee and exposes one of the biggest cover-ups in American history.
Extant (2 seasons)
After a year in space, Molly Watts (our girl Halle Berry) returns to Earth and reconnects with her husband, a gifted scientist, and her son, Ethan, who has skills and powers that make him incredibly special. However, she begins to realize something isn't just right and the conspiracy that unfolds threatens her career and family. The thrilling drama hails from Steven Spielberg, so even if it's slightly overcomplicated, you know it's bound to be an adventure.
There's likely plenty of other shows… which ones would you add to the list? Share them with us in the comments or on Twitter @CraveYouTV!
Manifest Review – Are the Callings Good or Evil? Plus a Major Proposal! (2×11)
The pieces of the puzzle are beginning to fall into place on Manifest Season 2 Episode 11, but we still only have about 300 pieces to a 1000 piece puzzle.
Something is better than nothing, right?
It's incredible how Manifest has managed to uphold a mystery for two seasons while adding several questions to the docket each week. Props to them for keeping us all (even the characters) in a confused-state.
The latest mystery continues to question whether the Callings are good or bad.
Oh, and there's also been a four-month time-jump. Not only is baby Eden four months old and thriving (that's our girl!), but it means Ben has been digging into Adrian's theory for four months and has come up short.
It's unclear if anyone had any Callings during this time aside from Cal, but it seems like things went back to normal and then started back up one day again. It's an odd and frustrating way to live.
Ben seems to think that Adrian may have been onto something by thinking they are false prophets, but Mic insists that the Callings have only ever brought good things into their lives.
That is until she gets a Calling while trying to thwart a kid from robbing a bodega that tells her to "let him go."
She's thrown off by the request considering it's in her nature to bring everyone to justice but figures the Callings might have a greater purpose and wants her to catch the "bigger fish," so she reluctantly obliges.
However, you can't expect a good and curious cop to just look the other way, and when she begins to investigate alongside Jared, they unearth a much deeper mystery run by a dude named Chase, who was released from prison four months ago.
Long story short, Mic and Jared track down Chase and his men, who are making drugs in some sketchy basement. As she's about to make the arrest, she hears the Calling once again urge her to "let him go."
This time, Mic isn't convinced that the Callings have her best interest in mind, so she goes against them and arrests Chases and his men anyway.
Now, let's remember that the Al-Zuras journal said that the only way to stop the death date is to do as the Callings ask, so it's unclear how this will affect Mic, but at least we know the passengers still have free will
During the arrest, Chase says a series of questionable things including: "you know there will be hell to pay, pretty lady," "holy vengeance" and "this is bigger than the both of us," which means he knows something about the Callings or the core mystery.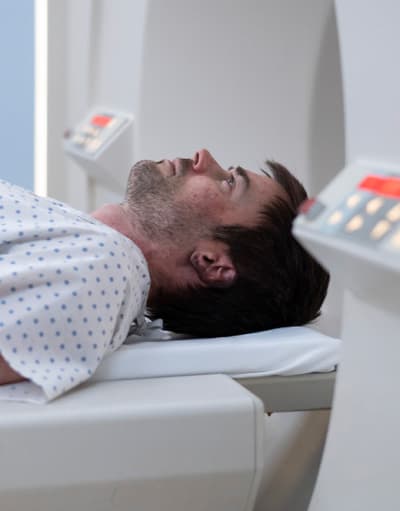 And if you had any doubt that they are involved, Chase and his two buddies are revealed as the three looming shadows haunting Cal and Adrian.
Admittedly, that revelation took me by surprise. I thought the figures would be more "biblical" and less "actual people we've never met before."
How do Chase and his men play into this? One of my theories is that they are somehow Alzuras' people reincarnated.
Another theory is that much like the passengers of Flight 828 and Zeke, the trio came back from the dead and have been experiencing Callings that want them to make drugs, though, I can't think of a reason why, but it would prove that the Callings may have a nefarious agenda.