When Adrian warned Isaiah that there would be "another miracle," he didn't realize how far his believer would be willing to go to prove that the miracle of Flight 828 exists on Manifest Season 2 Episode 7.
Every "save the passengers" Calling has been building up to this moment, and by the end of the hour, everyone's lives were affected and changed as a result.
Isaiah, who many of us believed was an X'er, turned out to be a devoted believer ready to die and transcend death to prove that what happened to Flight 828 is possible again.
In fact, he was so ready to prove it, he gathered all of the passengers in one place and blew the whole place up.
It was dark, twisted, and completely unexpected, but it also gave us some resolution to the Church of Believers storyline.
It was proof that the Church and its message was just as dangerous as Ben believed it was.
What I found frustrating was the lack of clarity from the Callings.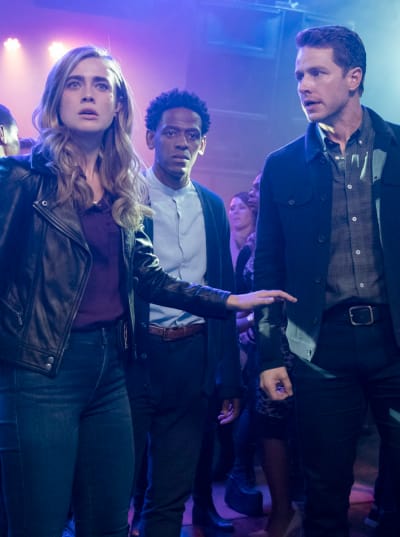 The way they manifested themselves made it seem like Ben and Mic were supposed to stop another flight from crashing, and yet, it turned out to be a warning about a party that happened to present itself in the confines of a plane.
Is this possibly a clue as to what happened to the real passengers? Why do they keep seeing everything through the lens of a plane crash?
The Callings would be much more useful if they actually gave detailed warnings with a place, a time, or heck, even a person.
Ben spent so much time pushing back against Adrian instead of pursuing the true villain. Though, Adrian isn't without fault as his ideologies did encourage this.
It didn't take long for Ben and Mic to realize that something was way off about the party as they spotted all passengers in attendance, but it was too late as Isaiah had set his plans into motion.
What followed after was a scene of chaos as people scrambled to find an exit out of the club and to safety.
While Mic and Ben managed to save most of the people with the help of Zeke and Jared, there were a few casualties.
Isaiah and TJ never made it out after the latter bravely sacrificed himself to save Olive from Isaiah's grasp.
Isaiah pulled Olive in and held a knife to her throat hoping she'd keep Ben and TJ around long enough because passengers needed to be among the fallen.
Olive suffered a great loss with TJ's death, which will likely force her to rethink everything she's believed in thus far.
She was so happy to believe in the miracle of Flight 828, but her beliefs put TJ and her family in harm's way.
I can see her going to a very dark place as a result and blaming herself for everything.
It was incredibly sad that just moments before his death, TJ told Olive he finally "found something to live for."
Many of us were suspicious of TJ's motivations and thought maybe he wasn't being fully honest, but at least this incident redeemed his character and proved that his only fault was wanting a family.
Another casualty of the explosion seemed to be Finn as the camera panned to him laying unconscious in the building moments before it blew up.
It could have been that they simply wanted to show us that Finn was in the same position as he was in the Calling, however, I found myself wondering about the significance of that scene.
Is it possible that they will all come back again because Isaiah died with two passengers? As messed up as his intentions were, maybe he was onto something?
I doubt so much emphasis would be placed on Finn if there wasn't more to the story.
While Ben and Mic were trying to help from the inside, Grace, Zeke, and Cal all shared a Calling together that warned them about the attack.
Again, the Calling didn't tell them where the party was happening, so it was up to them to figure it out using Olive's iPad. Seriously, these Callings need to step up their game.
Zeke helped Mic rescue Bethany, the flight attendant who was trapped under falling rubble. His strength was impressive in that scene, sure, but we need to talk about him lifting a flaming object with his bare hands.
The moment was incredibly odd until he got checked out by Saanvi at the hospital and learned his hands were covered in frostbite and not burns.
The death date is closing in on him and symptoms have begun manifesting themselves. If Ben and Mic don't figure out a solution soon, Zeke will slowly freeze to death just like he did in that cave.
Follow CRAVEYOUTV on socials
'Manifest' Canceled At NBC After 3 Seasons
Flight 828 has been grounded.
NBC canceled supernatural/sci-fi/plane drama Manifest after three seasons.
After the cancellation, showrunner Jeff Rake revealed he hopes that the series gets picked up by another outlet or streaming service.
"My dear Manifesters, I'm devastated by NBC's decision to cancel us," Rake posted on Twitter late Monday night. "That we've been shut down in the middle [of a planned six-season run] is a gut punch to say the least. Hoping to find a new home. You the fans deserve an ending to your story. Thanks for the love shown to me, cast, and crew. #savemanifest"
My dear Manifesters,

I'm devastated by NBC's decision to cancel us. That we've been shut down in the middle is a gut punch to say the least. Hoping to find a new home. You the fans deserve an ending to your story. Thanks for the love shown to me, cast, and crew. #savemanifest

— Jeff Rake (@jeff_rake) June 15, 2021
Many "828ers" might be hoping for the same if they want to find out what finally happened when the flight disappeared and reappeared five years later.
*** Spoilers Ahead ***
The third season wrapped up early this week and left fans with several cliffhangers: Grace died, Angelina kidnapped baby Eden, Cal returned as a teenager, and Captain Daly returned but only briefly before disappearing with the remnants of the flight that was being rebuilt in Eureka. Read our full review HERE!
Manifest's ratings weren't overly impressive. According to TVLine, the season averaged a little more than 3 million viewers weekly, which was down 21 and 31% from season 2.
The problem with broadcast television is that they are so quick to drop shows without giving them a proper conclusion.
Fans deserve better, especially if they've been following TV's biggest mystery for three full seasons.
Manifest is seeing a lot of buzz following its addition to Netflix, so maybe the streamer will be convinced to give it one more go?
And if no streaming service picks up the remaining seasons of the Warner Bros. production, maybe NBC will see how passionate the fanbase is and agree to a two-hour movie to wrap things up as they did with Timeless?
Please, don't leave fans hanging! #SaveManifest
Manifest Season Finale – [SPOILER] Dies (3×12 and 3×13)
Can someone please explain what just happened?
A rollercoaster of emotions was experienced on Manifest Season 3 Episode 12 and Manifest Season 3 Episode 13
This is the only show where so much can happen and yet, we get absolutely no clear answers.
I knew I shouldn't have believed them when they said we would find out what happened to Flight 828, but still, I watched week after week hoping for something . . . anything.
Instead, I was left with more questions.
NBC needs to renew the show now because the finale lefts us on several massive cliffhangers. And I don't want to see the fandom's reaction if those questions go unanswered!
Though I'm struggling to wrap my head around what happened, there's no doubt about it — time-travel is definitely involved!
There's also a possibility that alternate dimensions also exist.
Those final moments of the two-hour finale kept me on the edge of my seat.
After Ben and Saanvi cruised into the middle of an electrical storm and dumped the tail fin, it disappeared without a trace.
However, it didn't bring Cal back as they assumed it would.
Instead, they got a Calling, though this time, a very realistic one, which included Saanvi. Her Callings are back, and I'm thrilled that she's part of the action again.
Cal was also there, but he was simply passing by and wouldn't say more than that.
Honestly, why is it so hard for these people to just say what they mean? We don't have to speak in riddles. It would be so much easier if Cal would just come out and say what was about to happen.
Maybe then Grace would still be alive.
As things stand, Grace was left bleeding out on the ground after Angelina stabbed her. Can you believe she actually stabbed her?
Talk about biting the hand that feeds you.
When Grace saw Angelina, she went into momma bear mode and died protecting Eden.
Angelina is still on the kick that Eden is her guardian angel, and she took it even further by baptizing her. It was all so weird.
The fact that Eden saw fire when she looked an Angelina leads me to my initial theory that Angelina is the devil or a symbol of evil.
Manifest Review – Everyone Turns on the Passengers (3×11)
All eyes are on the passengers of Flight 828 on Manifest Season 3 Episode 11.
As the series propels towards a season finale, the stakes are being raised for the passengers, who are informed that they are being targeted by various governments all around the world.
But it's unclear what has triggered, or re-triggered, this sudden interest in the 828ers.
There was a time when every little thing they did was publicized and dissected, but that hasn't really been the case as of late.
It's possible that the resurgence of the tail fin and Ben's arrest may have thrust them back into the spotlight, but even then, why is it a global initiative to take them down?
I can't help but think that somehow The Major is behind this.
If you think about it, everything started when/because Saanvi killed her. That one action triggered the reappearance of the tail fin, which led to the experiments at Eureka, and thus, the natural disasters as a result of those experiments.
We know it's all connected, so I'm taking this as a sign that The Major is somehow involved in the government's newfound interest in the passengers.
Since Vance, the head of the NSA, wasn't even able to get Ben out of prison, there has to be a higher player in power.
Considering the show's use of biblical references, it almost feels similar to when everyone betrayed and turned their backs on Jesus. It's a classic case of "fear what you don't understand."
It's so serious that the government in Singapore even executed a passenger.
All of their crimes are being exaggerated in order to keep them locked up, which is making it much harder for them to follow the Callings and protect their lifeboat.
Ben made the mistake of adopting the "at all costs" mindset, which cost him his freedom.
After the clearly biased judge explained that she wasn't going to go easy on him because he was a passenger, he pleads not guilty and his bail was set at half a million making his release almost impossible.
Grace managed to pay it off, but even after being put on house arrested, Ben still wanted to beak out and do everything in his power to save the lifeboat.
Ben never learns.
Is it possible that by being so reckless and careless, he's the one actually sinking it?
While it's understandable that he's feeling the pressure of doomsday and wants to do anything he can to save himself and his loved ones, he needs to be realistic in what he's able to accomplish.
It's not going to help anyone if he's behind bars again.
Maybe Ben needs to learn that it isn't him against the world. He can and should count on the other passengers including Mick and Cal because they're all in this together.
Ben continues to think of Cal as a child, but that's ignorant considering Cal has been at the center of it all for years. He was forced to grow up and deal with the Callings, so why is he being brushed off now?