When Adrian warned Isaiah that there would be "another miracle," he didn't realize how far his believer would be willing to go to prove that the miracle of Flight 828 exists on Manifest Season 2 Episode 7.
Every "save the passengers" Calling has been building up to this moment, and by the end of the hour, everyone's lives were affected and changed as a result.
Isaiah, who many of us believed was an X'er, turned out to be a devoted believer ready to die and transcend death to prove that what happened to Flight 828 is possible again.
In fact, he was so ready to prove it, he gathered all of the passengers in one place and blew the whole place up.
It was dark, twisted, and completely unexpected, but it also gave us some resolution to the Church of Believers storyline.
It was proof that the Church and its message was just as dangerous as Ben believed it was.
What I found frustrating was the lack of clarity from the Callings.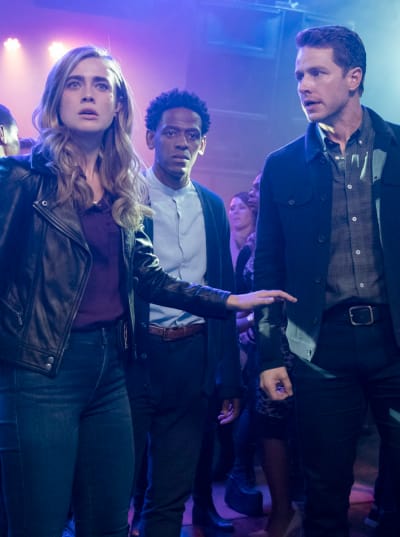 The way they manifested themselves made it seem like Ben and Mic were supposed to stop another flight from crashing, and yet, it turned out to be a warning about a party that happened to present itself in the confines of a plane.
Is this possibly a clue as to what happened to the real passengers? Why do they keep seeing everything through the lens of a plane crash?
The Callings would be much more useful if they actually gave detailed warnings with a place, a time, or heck, even a person.
Ben spent so much time pushing back against Adrian instead of pursuing the true villain. Though, Adrian isn't without fault as his ideologies did encourage this.
It didn't take long for Ben and Mic to realize that something was way off about the party as they spotted all passengers in attendance, but it was too late as Isaiah had set his plans into motion.
What followed after was a scene of chaos as people scrambled to find an exit out of the club and to safety.
While Mic and Ben managed to save most of the people with the help of Zeke and Jared, there were a few casualties.
Isaiah and TJ never made it out after the latter bravely sacrificed himself to save Olive from Isaiah's grasp.
Isaiah pulled Olive in and held a knife to her throat hoping she'd keep Ben and TJ around long enough because passengers needed to be among the fallen.
Olive suffered a great loss with TJ's death, which will likely force her to rethink everything she's believed in thus far.
She was so happy to believe in the miracle of Flight 828, but her beliefs put TJ and her family in harm's way.
I can see her going to a very dark place as a result and blaming herself for everything.
It was incredibly sad that just moments before his death, TJ told Olive he finally "found something to live for."
Many of us were suspicious of TJ's motivations and thought maybe he wasn't being fully honest, but at least this incident redeemed his character and proved that his only fault was wanting a family.
Another casualty of the explosion seemed to be Finn as the camera panned to him laying unconscious in the building moments before it blew up.
It could have been that they simply wanted to show us that Finn was in the same position as he was in the Calling, however, I found myself wondering about the significance of that scene.
Is it possible that they will all come back again because Isaiah died with two passengers? As messed up as his intentions were, maybe he was onto something?
I doubt so much emphasis would be placed on Finn if there wasn't more to the story.
While Ben and Mic were trying to help from the inside, Grace, Zeke, and Cal all shared a Calling together that warned them about the attack.
Again, the Calling didn't tell them where the party was happening, so it was up to them to figure it out using Olive's iPad. Seriously, these Callings need to step up their game.
Zeke helped Mic rescue Bethany, the flight attendant who was trapped under falling rubble. His strength was impressive in that scene, sure, but we need to talk about him lifting a flaming object with his bare hands.
The moment was incredibly odd until he got checked out by Saanvi at the hospital and learned his hands were covered in frostbite and not burns.
The death date is closing in on him and symptoms have begun manifesting themselves. If Ben and Mic don't figure out a solution soon, Zeke will slowly freeze to death just like he did in that cave.
Follow CRAVEYOUTV on socials
Manifest: Ben Stone Reveals He "Knows" What Happened to Flight 828 in New Trailer
Alright, time to give us the deets, Ben Stone.
In a new trailer hyping the return of Manifest Season 3 on April 1, the patriarch of the family tells former NSA agent Vance that he "knows what happened to Flight 828."
The trailer then shows Ben getting a reverse-vision (or Calling) of the plane blowing up as it nose dives into the water, which would make sense considering that in the final moments of season 2, fisherman pulled out what seems to be the tail fin of the doomed flight.
'Manifest' Season 3 Poster Teases the Tailfin Mystery: "The Truth Will Surface"
His theory: "I think we died on that flight."
Of course, that raises even more questions than it answers, though the trailer promises to "reveal the truth."
If they died, how are did they return five years later? Where did they go for those five years?
Are the Callings premonitions or memories and flashbacks? Is their time on back limited by a "death date" that we thought was avoidable?
Let's hope TV's biggest mystery answers our burning questions… but until then, re-watch this promo over and over as you try to drum up your own theory that would make Ben proud!
Make sure you've got all the facts before an all-new season begins on April 1. All episodes of #Manifest are now streaming. pic.twitter.com/HiR4rEqtKV

— Manifest (@NBCManifest) March 1, 2021
Related: 'Manifest' Season 3 Teaser Focuses on Tail Fin in the Water – What Happened to Flight 828?
Interview: Jack Messina Talks All Things 'Manifest' Including Bromance with Zeke and Season 3
'Manifest' Season 3 Poster Teases the Tailfin Mystery: "The Truth Will Surface"
If you've spent the past year wondering what happened to Flight 828, you're not alone.
But it looks like Manifest Season 3 will begin to divulge some answers and unravel the mystery. (At least we hope so.)
NBC released the first poster for the upcoming third season – which premieres on April 1, 2021 (no, not an April Fools joke) – and it focuses heavily on the tailfin fished out of the water in the final moments of Manifest Season 2.
For those that need a little refresher, a tailfin from a Montego Air flight was found by the fishermen in a massive body of water indicating that the flight that we saw land at the kickstart of season 1 did, in fact, crash five years ago.
Understandably, this raised so many questions… on top of the questions we already had. How did the plane return if it crashed? How are the passengers alive? Are the passengers even the passengers?
The season 3 poster focuses heavily on the tailfin and features the tagline: "the truth will surface."
With that in mind, it's safe to assume that the season will seemingly address the mystery of the tailfin and how it ended up underwater as it connects to Flight 828.
Show creator Jeff Rake seemed to confirm this by explaining: "From literally the opening shot of Season Three, we'll see the Tailfin lure our heroes even deeper into the mystery of Flight 828."
Of course, the first episode of season 3 is aptly titled "Tailspin." Is that a hint that the plane dived into the ocean?
Or will the episode and the mystery take us on a whirlwind of a descent?
And while no synopsis is provided for now, there is this photo of Josh Dallas who plays Ben Stone.
That's a very tropical outfit for Ben, wouldn't you say?
The mystery of the tailfin thickens because since Flight 828 landed five years after it took off from Jamaica, there's no reason for it to be underwater.
Plus, we saw the plane explode in front of all the passengers when they received a collective "calling."
There have been several theories about the existence of the tailfin, however.
There's a chance that the tailfin could belong to a decoy plane used by the government since we know they're involved. Could this be what exposes them?
Maybe they wanted people to think that the plane sunk and took the real thing to inspect? But the government wouldn't be reckless enough to dump the real thing in the ocean, would they?
'Manifest' Season 3 Teaser Focuses on Tail Fin in the Water – What Happened to Flight 828?
Users pointed out that when the plane exploded, it didn't actually show the tailfin getting destroyed, so it's possible it was dumped into the ocean to destroy evidence.
However, another interesting point is that the tailfin being pulled out of the water and the one from the exploding plane look different. It could be another side of the fin, it could be a filming continuity error, or it might not be the same tailfin at all.
Personally, I think it looks like it would be from an older model aircraft, so maybe it's from a plane that crashed prior?
I'm into the theory that it's from an alternate reality, but the fishermen are fully aware that Flight 828 returned, so we know that this timeline exists alongside the passengers and in the same dimension.
Rake had this to say about the tailfin if it offers you any insight: "We saw that plane land in New York. We saw that plane blow up on the tarmac at the end of the pilot. So how can a plane have landed and been exploded and then also be found at the bottom of the ocean? Once the entire world finds out about this tailfin, that's going to re-trigger the global scrutiny and paranoia about Flight 828 and its passengers."
Could it be that the passengers aren't even real? Rake has considered it: "Does this mean that the passengers are not the passengers? And if they're not the passengers, who are they? That's going to be a season-long, science-based, science meets mythology investigation. For those who have been feeling that the episodes have become a little science-light or investigation-light, they have a lot of good material coming down the pike."
Clearly, there's plenty of avenues for the series to take here.
Hopefully, the season gives us some answers to the central mystery at the core of NBC's most thrilling series.
We'll see you back here on April 1!
In the meantime, follow us on socials: Facebook, Twitter, and Instagram!
NBC Announces Spring Premiere Dates for 'Manifest,' 'Good Girls,' and 'Law & Order: Organized Crime'
Manifest and Good Girls fans, we have the news you've been waiting for!
After months of anticipation, NBC is unveiling its spring schedule.
Good Girls is set to return for season 4 on Sunday, March 7 at 10/9c. We'll reunite with Beth, Ruby, and Annie as "the stakes for everyone get higher and higher," the brand new logline teases.
Will Good Girls Be Renewed for Season 4? Here's What Would Have Happened With #Brio in Season 3
Ellen's Game of Games will make its official move from Mondays to Sunday on March 7.
Zoey's Extraordinary Playlist will also return to its former time-slot on Sundays on March 28.
Then, we'll be welcoming April with Manifest, which returns for season 3 on Thursday, April 1 at 8/7c.
Per the network, Manifest picks up more than a year since the mysterious and puzzling return of Flight 828.
"While the Stone family endeavors to keep their friends safe and make their enemies believe the unbelievable, new challenges will test their trust of the callings and each other. But sticking together is more important than ever, because no matter what happens, it's all connected," the description reads.
'Manifest' Season 3 Teaser Focuses on Tail Fin in the Water – What Happened to Flight 828?
The series will be followed by a two-hour Law & Order, which will include the series premiere of the Elliot Stabler-focused spinoff, Law & Order: Organized Crime.
Interview: Jack Messina Talks All Things 'Manifest' Including Bromance with Zeke and Season 3