When Adrian warned Isaiah that there would be "another miracle," he didn't realize how far his believer would be willing to go to prove that the miracle of Flight 828 exists on Manifest Season 2 Episode 7.
Every "save the passengers" Calling has been building up to this moment, and by the end of the hour, everyone's lives were affected and changed as a result.
Isaiah, who many of us believed was an X'er, turned out to be a devoted believer ready to die and transcend death to prove that what happened to Flight 828 is possible again.
In fact, he was so ready to prove it, he gathered all of the passengers in one place and blew the whole place up.
It was dark, twisted, and completely unexpected, but it also gave us some resolution to the Church of Believers storyline.
It was proof that the Church and its message was just as dangerous as Ben believed it was.
What I found frustrating was the lack of clarity from the Callings.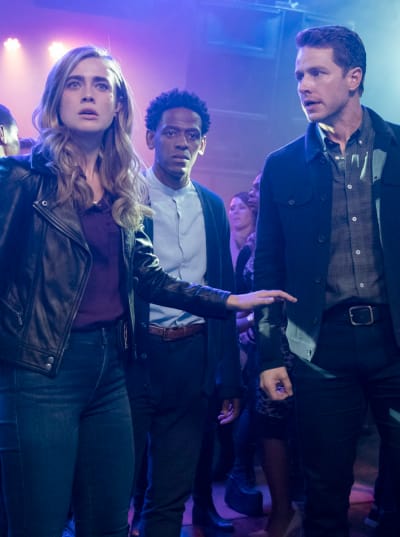 The way they manifested themselves made it seem like Ben and Mic were supposed to stop another flight from crashing, and yet, it turned out to be a warning about a party that happened to present itself in the confines of a plane.
Is this possibly a clue as to what happened to the real passengers? Why do they keep seeing everything through the lens of a plane crash?
The Callings would be much more useful if they actually gave detailed warnings with a place, a time, or heck, even a person.
Ben spent so much time pushing back against Adrian instead of pursuing the true villain. Though, Adrian isn't without fault as his ideologies did encourage this.
It didn't take long for Ben and Mic to realize that something was way off about the party as they spotted all passengers in attendance, but it was too late as Isaiah had set his plans into motion.
What followed after was a scene of chaos as people scrambled to find an exit out of the club and to safety.
While Mic and Ben managed to save most of the people with the help of Zeke and Jared, there were a few casualties.
Isaiah and TJ never made it out after the latter bravely sacrificed himself to save Olive from Isaiah's grasp.
Isaiah pulled Olive in and held a knife to her throat hoping she'd keep Ben and TJ around long enough because passengers needed to be among the fallen.
Olive suffered a great loss with TJ's death, which will likely force her to rethink everything she's believed in thus far.
She was so happy to believe in the miracle of Flight 828, but her beliefs put TJ and her family in harm's way.
I can see her going to a very dark place as a result and blaming herself for everything.
It was incredibly sad that just moments before his death, TJ told Olive he finally "found something to live for."
Many of us were suspicious of TJ's motivations and thought maybe he wasn't being fully honest, but at least this incident redeemed his character and proved that his only fault was wanting a family.
Another casualty of the explosion seemed to be Finn as the camera panned to him laying unconscious in the building moments before it blew up.
It could have been that they simply wanted to show us that Finn was in the same position as he was in the Calling, however, I found myself wondering about the significance of that scene.
Is it possible that they will all come back again because Isaiah died with two passengers? As messed up as his intentions were, maybe he was onto something?
I doubt so much emphasis would be placed on Finn if there wasn't more to the story.
While Ben and Mic were trying to help from the inside, Grace, Zeke, and Cal all shared a Calling together that warned them about the attack.
Again, the Calling didn't tell them where the party was happening, so it was up to them to figure it out using Olive's iPad. Seriously, these Callings need to step up their game.
Zeke helped Mic rescue Bethany, the flight attendant who was trapped under falling rubble. His strength was impressive in that scene, sure, but we need to talk about him lifting a flaming object with his bare hands.
The moment was incredibly odd until he got checked out by Saanvi at the hospital and learned his hands were covered in frostbite and not burns.
The death date is closing in on him and symptoms have begun manifesting themselves. If Ben and Mic don't figure out a solution soon, Zeke will slowly freeze to death just like he did in that cave.
Follow CRAVEYOUTV on socials
Feelin' generous? Support our site and podcast (Mimosa Talk) on Patreon and KoFi.
Manifest Season Finale Review – What Really Happened to Flight 828? (2×13)
What. Just. Happened?
Before I even kick off my review for Manifest Season 2 Episode 13, let me just say, if the series doesn't get renewed, I will be incredibly upset that we never found out what happened to Flight 828.
I had high hopes for the season finale and for the most part, it delivered, but it didn't come through on giving answers to the mysteries plaguing the series. (You can see all the questions I wanted to be addressed here.)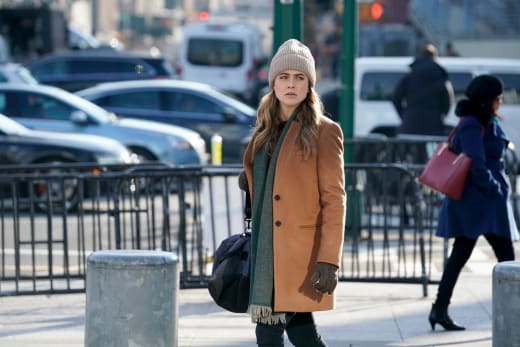 The finale should have given us some kind of closure to at least a few mysteries, but much like the rest of the season, Manifest left us with more questions than answers.
Way too much time was spent on the search for Cal and the Stone family blaming Mic for his kidnapping.
Ben and Grace were mad and thought Mic messed up by ignoring the Callings, which was understandable, but there didn't need to be multiple fights about it.
Mic was the reason Cal was kidnapped, but it wasn't like she wanted this outcome or even thought it would happen when she defied the Calling.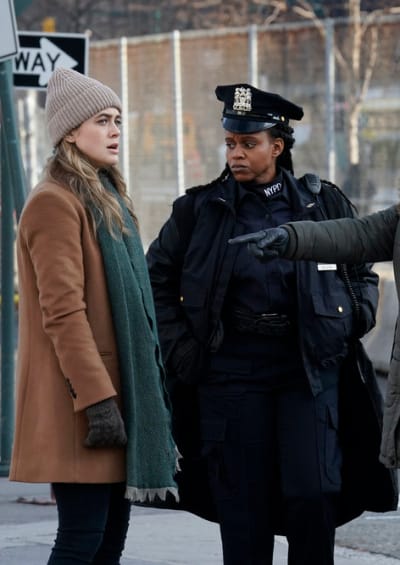 She was also beating herself up over it because she loves Cal as much as they do. She even ditched her honeymoon and traded in the last moments she could have spent with her dying husband to make things right and bring Cal to safety.
Let's give her a little bit of credit.
Ben blamed Mic for not following the Callings blindly, which wasn't fair. He's had his fair share of hypocritical moments, but this one takes the cake.
At some point this season, they've all questioned the validity of the Callings and whether or not they were a force for good or evil.
Mic's decision to follow her gut for once instead of relying on some weird voice in her heard wasn't entirely surprising. She's a good cop who wasn't willing to let a criminal go and do something that she doesn't agree with.
Too much time was also wasted on them trying to find Cal instead of giving the audience what they wanted — answers. Did I mention we wanted answers? Because we did.
Mic thought she could handle saving Cal all on her own, but she should know by now that these things are always a team effort.
Zeke and Olive were instrumental in locating Cal, and the callbacks served as a reminder of their close friendships.
Zeke's Calling to save Cal sweetly paralleled Cal's Calling to save Zeke in the snowy, cold cabin on Manifest Season 1.
Unfortunately, before we got to that promising rescue mission, we had to go through the first (and rather pointless and time-consuming) attempt, which found Mic and the dealers arranging a meet-up for the transaction — they get the meth, she gets Cal.
There was no doubt that the very public meeting place was going to cause some trouble, and the culprit was a pesky "good samaritan" who wouldn't back down even when Mic told her she was undercover.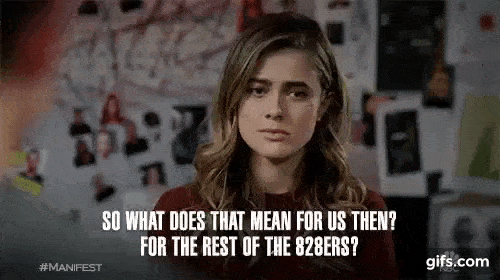 She ignored Mic's instructions to walk away and thus, botched the operation and got Chief Bowers involved. I've never wanted to punch anyone more in my life.
Mic didn't deserve this outcome, but the dealers did for their mediocre plan. How could they not realize it would be kind of difficult to leave a big 'ole duffel bag in the middle of a bustling area without anyone noticing.
However, this seemed to be what the Callings wanted to happen. Let's say it was "written in the stars."
Even before the attempted exchange, Zeke got visions of his "death," which we assumed were from his first death, but eventually figured out that it was a glimpse into the future from a Calling that would lead him to Cal.
Manifest Has So Many Mysteries It Needs to Wrap Up During Its Season 2 Finale
Manifest is a series that leans heavily into mystery and mythology, so there's a lot of pressure on the season 2 finale — which may potentially serve as the series finale — to answer the most burning questions. And there's a lot of them.
But will we get the answers we so badly want?
I hope so, otherwise, as the title of this editorial indicated, we riot.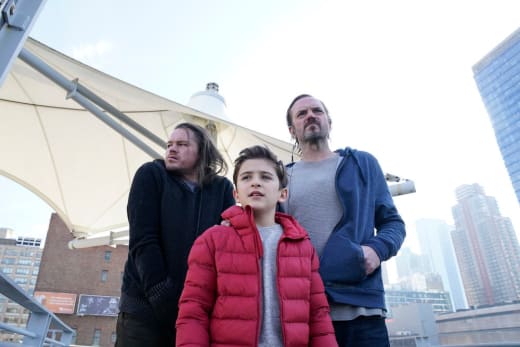 All jokes aside, it's likely that a lot of mysteries will remain open-ended and carry into the third season (pending a renewal).
Jeff Rake revealed that he has the series mapped out for a total of six seasons, which is a blessing and a curse depending on how you look at it and how confident NBC is in the series.
It's promising to know that there's an established direction that's been thought through and that each action has an intention and purpose, but at the same time, it's frustrating for fans because it likely means we'll be left in the dark about a lot of things.
One of the main mysteries propelling the series forward continues to be: what happened to Montego Air Flight 828?
The flight disappeared off the radar and returned five-and-a-half years later with the passengers still the same age as when they took off from Jamaica.
There's plenty of theories out there about what happened that involve time travel, aliens, alternate dimensions, and more, but none of that matters if we don't even get any fundamental answers to hinge a theory on.
As of now, we have no insight into what's behind the plane's disappearance or its re-emergence, and we don't know what happened to the plane or its passengers while onboard.
We know absolutely nothing in regards to the plane other than it departed and landed in the same condition, and I fear that if we don't get any insight soon, fans may start to taper off.
Questions about 828 also raise questions about Ben's terrifying Calling of the flight exploding into smithereens. Is that a future vision? Is that what really happened?
The Callings have been misleading before like when we believed the scorched plane Calling would connect to the 828 mystery but in reality, it alluded to a nightclub explosion. How much of this should we take at face value?
Which brings us to our next question: what is the purpose of the Callings and the death date?
Manifest Review – Mic and Zeke Get Married, But Do They Make It to Their Honeymoon? (2×12)
And they lived happily ever… until they didn't.
Mic and Zeke's wedding was a beautiful celebration, but their happiness was shortlived on Manifest Season 2 Episode 12 because their honeymoon was interrupted by the three looming shadow figures that have been threatening the Stone family for several episodes.
But before we get into the "disaster" that stemmed from Mic's decision to not follow the Callings, let's talk about the wedding.
It went off without a hitch aside from Mic's brief "cold feet" — and I love how Zeke worked that into a joke since he's actually freezing to death.
For #TeamZeke fans, the wedding was a celebration of life and love.
Mic hesitated a bit before the wedding because she was scared. Usually, weddings are supposed to celebrate the beginning of a long road ahead for a couple, but Mic couldn't envision a future with Zeke because they didn't have a cure for the death date.
He accepted that he was dying while she wanted him to fight for his life.
Mic wanted a "sign" to point her in the right direction, and she got it when Ben's Calling led him to a consignment shop where he found his mother's veil.
The veil confirmed what she already knew to be true: she wanted to marry Zeke more than anything.
For those of you that have been #TeamJared, well, you were in the same boat as Jared: you wanted to be happy for Mic, but it was hard to watch.
In the penultimate episode, Zeke only had 2 days left to live, which meant everything was expedited.
Jared was taken aback by Mic's announcement that she was getting married (likely because he was still holding out hope that they would get back together), but he figured that he would support her on her "big day."
Sadly, when he saw her in that wedding dress, you could see the pain it caused him. My heart broke for him.
He has wanted to be in Zeke's shoes for the longest time, and he couldn't stand by and watch the love of his life walk down the aisle and marry another man.
After the intimate celebration, Mic and Zeke got ready for their honeymoon, which also doubled as Zeke's hoorah. It's incredibly morbid, and I'm kind of glad it was interrupted.
They didn't get too far before they got the call that poor Cal was taken by the three meth heads.