The pieces of the puzzle are beginning to fall into place on Manifest Season 2 Episode 11, but we still only have about 300 pieces to a 1000 piece puzzle.
Something is better than nothing, right?
It's incredible how Manifest has managed to uphold a mystery for two seasons while adding several questions to the docket each week. Props to them for keeping us all (even the characters) in a confused-state.
The latest mystery continues to question whether the Callings are good or bad.
Oh, and there's also been a four-month time-jump. Not only is baby Eden four months old and thriving (that's our girl!), but it means Ben has been digging into Adrian's theory for four months and has come up short.
It's unclear if anyone had any Callings during this time aside from Cal, but it seems like things went back to normal and then started back up one day again. It's an odd and frustrating way to live.
Ben seems to think that Adrian may have been onto something by thinking they are false prophets, but Mic insists that the Callings have only ever brought good things into their lives.
That is until she gets a Calling while trying to thwart a kid from robbing a bodega that tells her to "let him go."
She's thrown off by the request considering it's in her nature to bring everyone to justice but figures the Callings might have a greater purpose and wants her to catch the "bigger fish," so she reluctantly obliges.
However, you can't expect a good and curious cop to just look the other way, and when she begins to investigate alongside Jared, they unearth a much deeper mystery run by a dude named Chase, who was released from prison four months ago.
Long story short, Mic and Jared track down Chase and his men, who are making drugs in some sketchy basement. As she's about to make the arrest, she hears the Calling once again urge her to "let him go."
This time, Mic isn't convinced that the Callings have her best interest in mind, so she goes against them and arrests Chases and his men anyway.
Now, let's remember that the Al-Zuras journal said that the only way to stop the death date is to do as the Callings ask, so it's unclear how this will affect Mic, but at least we know the passengers still have free will
During the arrest, Chase says a series of questionable things including: "you know there will be hell to pay, pretty lady," "holy vengeance" and "this is bigger than the both of us," which means he knows something about the Callings or the core mystery.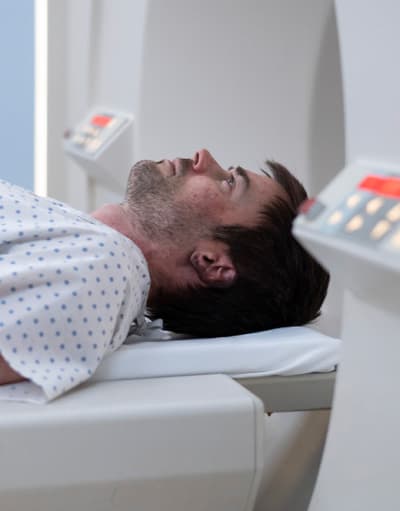 And if you had any doubt that they are involved, Chase and his two buddies are revealed as the three looming shadows haunting Cal and Adrian.
Admittedly, that revelation took me by surprise. I thought the figures would be more "biblical" and less "actual people we've never met before."
How do Chase and his men play into this? One of my theories is that they are somehow Alzuras' people reincarnated.
Another theory is that much like the passengers of Flight 828 and Zeke, the trio came back from the dead and have been experiencing Callings that want them to make drugs, though, I can't think of a reason why, but it would prove that the Callings may have a nefarious agenda.
Follow CRAVEYOUTV on socials
Manifest: Ben Stone Reveals He "Knows" What Happened to Flight 828 in New Trailer
Alright, time to give us the deets, Ben Stone.
In a new trailer hyping the return of Manifest Season 3 on April 1, the patriarch of the family tells former NSA agent Vance that he "knows what happened to Flight 828."
The trailer then shows Ben getting a reverse-vision (or Calling) of the plane blowing up as it nose dives into the water, which would make sense considering that in the final moments of season 2, fisherman pulled out what seems to be the tail fin of the doomed flight.
'Manifest' Season 3 Poster Teases the Tailfin Mystery: "The Truth Will Surface"
His theory: "I think we died on that flight."
Of course, that raises even more questions than it answers, though the trailer promises to "reveal the truth."
If they died, how are did they return five years later? Where did they go for those five years?
Are the Callings premonitions or memories and flashbacks? Is their time on back limited by a "death date" that we thought was avoidable?
Let's hope TV's biggest mystery answers our burning questions… but until then, re-watch this promo over and over as you try to drum up your own theory that would make Ben proud!
Make sure you've got all the facts before an all-new season begins on April 1. All episodes of #Manifest are now streaming. pic.twitter.com/HiR4rEqtKV

— Manifest (@NBCManifest) March 1, 2021
Related: 'Manifest' Season 3 Teaser Focuses on Tail Fin in the Water – What Happened to Flight 828?
Interview: Jack Messina Talks All Things 'Manifest' Including Bromance with Zeke and Season 3
'Manifest' Season 3 Poster Teases the Tailfin Mystery: "The Truth Will Surface"
If you've spent the past year wondering what happened to Flight 828, you're not alone.
But it looks like Manifest Season 3 will begin to divulge some answers and unravel the mystery. (At least we hope so.)
NBC released the first poster for the upcoming third season – which premieres on April 1, 2021 (no, not an April Fools joke) – and it focuses heavily on the tailfin fished out of the water in the final moments of Manifest Season 2.
For those that need a little refresher, a tailfin from a Montego Air flight was found by the fishermen in a massive body of water indicating that the flight that we saw land at the kickstart of season 1 did, in fact, crash five years ago.
Understandably, this raised so many questions… on top of the questions we already had. How did the plane return if it crashed? How are the passengers alive? Are the passengers even the passengers?
The season 3 poster focuses heavily on the tailfin and features the tagline: "the truth will surface."
With that in mind, it's safe to assume that the season will seemingly address the mystery of the tailfin and how it ended up underwater as it connects to Flight 828.
Show creator Jeff Rake seemed to confirm this by explaining: "From literally the opening shot of Season Three, we'll see the Tailfin lure our heroes even deeper into the mystery of Flight 828."
Of course, the first episode of season 3 is aptly titled "Tailspin." Is that a hint that the plane dived into the ocean?
Or will the episode and the mystery take us on a whirlwind of a descent?
And while no synopsis is provided for now, there is this photo of Josh Dallas who plays Ben Stone.
That's a very tropical outfit for Ben, wouldn't you say?
The mystery of the tailfin thickens because since Flight 828 landed five years after it took off from Jamaica, there's no reason for it to be underwater.
Plus, we saw the plane explode in front of all the passengers when they received a collective "calling."
There have been several theories about the existence of the tailfin, however.
There's a chance that the tailfin could belong to a decoy plane used by the government since we know they're involved. Could this be what exposes them?
Maybe they wanted people to think that the plane sunk and took the real thing to inspect? But the government wouldn't be reckless enough to dump the real thing in the ocean, would they?
'Manifest' Season 3 Teaser Focuses on Tail Fin in the Water – What Happened to Flight 828?
Users pointed out that when the plane exploded, it didn't actually show the tailfin getting destroyed, so it's possible it was dumped into the ocean to destroy evidence.
However, another interesting point is that the tailfin being pulled out of the water and the one from the exploding plane look different. It could be another side of the fin, it could be a filming continuity error, or it might not be the same tailfin at all.
Personally, I think it looks like it would be from an older model aircraft, so maybe it's from a plane that crashed prior?
I'm into the theory that it's from an alternate reality, but the fishermen are fully aware that Flight 828 returned, so we know that this timeline exists alongside the passengers and in the same dimension.
Rake had this to say about the tailfin if it offers you any insight: "We saw that plane land in New York. We saw that plane blow up on the tarmac at the end of the pilot. So how can a plane have landed and been exploded and then also be found at the bottom of the ocean? Once the entire world finds out about this tailfin, that's going to re-trigger the global scrutiny and paranoia about Flight 828 and its passengers."
Could it be that the passengers aren't even real? Rake has considered it: "Does this mean that the passengers are not the passengers? And if they're not the passengers, who are they? That's going to be a season-long, science-based, science meets mythology investigation. For those who have been feeling that the episodes have become a little science-light or investigation-light, they have a lot of good material coming down the pike."
Clearly, there's plenty of avenues for the series to take here.
Hopefully, the season gives us some answers to the central mystery at the core of NBC's most thrilling series.
We'll see you back here on April 1!
In the meantime, follow us on socials: Facebook, Twitter, and Instagram!
NBC Announces Spring Premiere Dates for 'Manifest,' 'Good Girls,' and 'Law & Order: Organized Crime'
Manifest and Good Girls fans, we have the news you've been waiting for!
After months of anticipation, NBC is unveiling its spring schedule.
Good Girls is set to return for season 4 on Sunday, March 7 at 10/9c. We'll reunite with Beth, Ruby, and Annie as "the stakes for everyone get higher and higher," the brand new logline teases.
Will Good Girls Be Renewed for Season 4? Here's What Would Have Happened With #Brio in Season 3
Ellen's Game of Games will make its official move from Mondays to Sunday on March 7.
Zoey's Extraordinary Playlist will also return to its former time-slot on Sundays on March 28.
Then, we'll be welcoming April with Manifest, which returns for season 3 on Thursday, April 1 at 8/7c.
Per the network, Manifest picks up more than a year since the mysterious and puzzling return of Flight 828.
"While the Stone family endeavors to keep their friends safe and make their enemies believe the unbelievable, new challenges will test their trust of the callings and each other. But sticking together is more important than ever, because no matter what happens, it's all connected," the description reads.
'Manifest' Season 3 Teaser Focuses on Tail Fin in the Water – What Happened to Flight 828?
The series will be followed by a two-hour Law & Order, which will include the series premiere of the Elliot Stabler-focused spinoff, Law & Order: Organized Crime.
Interview: Jack Messina Talks All Things 'Manifest' Including Bromance with Zeke and Season 3