Money Heist: Who Is Alicia Sierra and How Is She Connected to the Professor and the Overall Heist?
There's no shortage of intriguing and enigmatic characters on Netflix's Money Heist (La Casa de Papel), but season 3 of the crime drama introduced fans to Alicia Sierra (Najwa Nimri), lead police investigator in the Bank of Spain heist, and quite frankly, the most puzzling character to date.
Sierra is an exciting and worthy replacement for former police inspector Raquel Murillo aka Lisbon, who left her policing days behind to join the Professor's merry band of robbers following their first heist at the Royal Mint.
With a lollipop in hand, Sierra is ready to stop the robbery of the bank in its tracks and finally bring the criminals to justice. Her actions and decisions bring a new level of unpredictability to the series, which makes her a worthy opponent for the Professor. Raquel played by his rules, but Sierra has figured out his rules and kept up with them… almost too well.
She's in it to win it, and prior to her introduction, we hadn't seen anyone who was equally as cunning as the Professor.
She's defined by her brutality; while others would shudder at the thought of using family members as leverage, she's overjoyed to cross the line on multiple occasions including when she uses Nairobi's son and Raquel's ailing mother to manipulate them.
Sierra isn't just crazy good at her job, she's simply crazy… and that allows her to go head-to-head with the Professor, with or without the support of law enforcement. She's a sociopath, in her own way, that's equally as complex, ruthless, intelligent, and confident as both the Professor and Berlin.
There are also many parallels between her and Raquel as they've both been outsmarted by the Professor on a few occasions, they both lost the support of their team while working the heist investigations, they were both turned into scapegoats for agency, and they both used their instinct to successfully hunt the Professor down.
But there's a key difference that sets Sierra apart from Raquel — she's not in love with the Professor.
Raquel pursued the Professor, but she was also blinded by love. The trust they developed when she didn't know who he truly was made it easier for her to understand that, though flawed, his intentions behind the heist were noble.
Sierra, on the other hand, was motivated to find the Professor to finish a job. She never once lost sight of the prize, and one could say her dedication to the job and capturing the bad guys has been fueling and motivating her.
The dramatic season 4 cliffhanger, which ended with Sierra finding the Professor's hideout and ambushing him by pointing a gun at his head, proves we'll dig deeper into her character come season 5.
She may have the upper-hand as things stand now, but there's a huge chance the Professor will manipulate and outsmart her while giving us some much-needed background about her.
The vagueness about Sierra's villainous character has drawn much attention from fans who are theorizing how she'll play into the storyline moving forward.
All we know for certain is that she and Raquel attended police training together, her husband died a few months ago due to cancer (we don't even know who German is or if he's important to the story), and that she's pregnant (and even that's questionable).
The thought that Sierra may be faking her pregnancy crossed my mind while binge-watching the series.
Even before Sierra was roped into leading the investigation at the Bank of Spain, she was responsible for inhumanely torturing Rio through illegal tactics such as waterboarding and burying him alive.
Much of her actions indicate that she doesn't have much of a maternal bone in her body, and it's possible that she's faking her pregnancy to gain sympathy from the public in the instance that her sadistic actions come to light.
The sympathy card has worked on many occasions for the Professor and his robbers, and realistically, we're all less likely to judge a pregnant woman's action. It could be the reason why the agency attempted to place the blame solely on her when the Professor exposed their torture tactics on a civilian.
There have also been other moments where Sierra is seen smoking, gorging on junk food, and drinking caffeine. All of that compounded with the stress of the job cannot be good for a woman in such an advanced pregnancy.
One could chalk this up to personal quirks and Sierra's unhealthy coping mechanisms, or, it could be a huge red flag that the pregnancy isn't real. Don't even get me started about the stamina needed to spend hours interrogating someone or hunting down the Professor without any assistance.
There's an added level of suspense to having a pregnant maniac in charge — especially so far along in the pregnancy — because the audience is always wondering when she'll go into labor.
The most likely (and predictable) scenario lends itself to Sierra going into labor while pointing the gun at the Professor. It would catch her off guard, put her at a disadvantage, and force her to rely on the Professor to help her give birth. It would also allow the Professor to regain control of the situation.
Even though he has some of the most meticulously thought-out plans that anticipate every possible outcome, luck has a tendency of working in his favor.
But that's the key to all of this — anticipation. The Professor has played out every possible scenario in his head. Even the ones that have taken him by surprise have, at some point, crossed his mind, so it's unlikely that he'd be careless enough to leave behind a trail leading directly back to him.
If Raquel was able to find his first hideout, the chances are high that he would consider that another agent, one that isn't blinded by love and is more cutthroat than Raquel, would be able to track him down, too.
Not to mention the Professor also has an advantage this time around because Raquel knows Sierra personally and can predict how she'd act in certain situations.
By making Rio's torture private, he could've anticipated that the agency would try to save face by placing the blame on Sierra, like they did with Raquel, and thus, figured she would seek him out. It's entirely possible that the license plate and the footage of him threatening a cop that led Sierra to him was all part of the plan.
He laid the breadcrumbs and she fell into his trap thinking it was a victory. Maybe she's a necessary part of the plan to help the gang escape from the Bank of Spain alive and with the gold?
Follow CRAVEYOUTV on socials
Umbrella Academy Review – Season 2 Finale Ends In Shocking Twist (2 x 10)
Umbrella Academy wrapped up season 2 with the finale episode, "The End Of Something," which pitted the Hargreeves against the Handler and an entire army of Commission assassins. Vanya also saves Harlan, and shocking revelations about Lila come to the surface.
Plus, a shocking twist ending that has huge implications for season 3.
This season's finale ties together every story arc leading up to the end, and it's a thrilling ride that leaves a lot of future plotlines open for anything.
Public Enemy #1

Following the events from the previous episode, the Hargreeves become wanted criminals as they're used as scapegoats for JFK's assassination.
Each of them is inexplicably connected to a historical event or figure as Diego is suspected of being involved with Lee Harvey Oswald.
Luther's ties with Jack Ruby makes him a person of interest. Vanya is believed to be a Soviet spy. Allison's political activism labels her as a radical.
Finally, Klaus is described as a "controversial cult leader and known tax evader." (Which might be a political jab at our current POTUS)
Although Five is surprisingly only seen as an "innocent" hostage of the group, even though he committed the most horrible acts this season.
Also, Vanya confides the message Ben left for Klaus to him, and a burden seems to be lifted from his conscience.
After sensing Harlan is in trouble, Vanya then urges her siblings to go with her to save him.
At first, they're reluctant to do so but after Vanya goes off alone, the siblings join her one at a time, in a hilarious scene with each member squeezing into Vanya's not so spacious station wagon. Luther is the last to get on as the car's body sinks due to his weight.
Farm War
Ironically, out of all the places the siblings touched and interfered with during their time in the 1960s, Vanya getting involved with Harlan at the farm turns out to be the historical anomaly that the Handler detected, which prompted her to summon the full strength of the Commission's assassin army.
While Vanya is stuck trying to help Harlan overcome his uncontrollable powers, the rest of the Hargreeves try to fend off the Commission army.
One particularly awesome scene includes Diego channeling his inner Neo from The Matrix as he stops a barrage of bullets in mid-air to keep them from hitting Five, and he redirects them to a tractor which then explodes.
Eventually, the Hargreeves are backed into a corner as they're forced to take cover from the overwhelming gunfire.
The gunfire interferes with Vanya trying to talk Harlan down as a bullet penetrates the field of power circling around Harlan. He's knocked unconscious, so Vanya is forced to confront the army of assassins.
Vanya comes out of the barn floating and a white glow from her chest starts charging her power. In one move, Vanya disposes of the entire assassin army but when the dust settled, Lila and the Handler are untouched due to a mysterious force field.
Lila's Secret Powers
After Vanya's incredible display of power, Lila immediately retaliates using the same power against the Hargreeves siblings.
In a funny meta-commentary in response to her attack, Klaus says, "She destroyed, like, half the farm with a shock wave. So unoriginal"
Eventually, it's revealed that Lila is able to mimic and redirect the powers of anyone she encounters. Which makes the siblings theorize that she might be like one of them (a super-powered child born on October 1, 1989, as mentioned in season 1).
This is hilariously followed-up by Diego asking the question: "But she's not our biological sister, right?"
Having previously had sex with Lila, Diego worries he might have committed incest, but everyone just gives him a dumbfounded look.
Apart from mirroring Vanya's energy blast, she matches Luther's strength, reverses Allison's rumor, and blinks around like Five.
While Lila keeps the siblings busy, the Handler's true intention is revealed when she tries to convince Harlan to come with her.
Seconds, Not Decades
Lila divulges the details of Kill Order #743 to Five as she reveals that he killed her parents under the orders of AJ.
Five tells her the order was made by the Handler, but Lila doesn't believe him and she promises to kill him slowly.
This is when the rest of the Hargreeves siblings intervene, particularly Diego, who slowly tries to convince Lila to betray the Handler and join them instead because Lila is essentially their "sister."
This is when another funny dialogue is delivered when Luther makes an off-beat remark and says, "Well you know what, love shouldn't hurt this much."
Lila, justifiably, makes a puke gesture.
Shockingly, the Handler comes out of nowhere and shoots the siblings, killing all but Five and Lila. She then confronts the Handler but is killed as well because she knows the truth about her parents.
Then, in another shocking twist, the surviving Swede shows up and kills the Hander. As the Swede approaches Five about to kill him too, Five remembers his father's advice with time-travel ("Seconds, not decades"). He reverses time and saves everyone except for the Handler who the Swede still manages to kill. However, Lila escapes with a briefcase because Diego stop Luther from subduing her.
Five and the Swede then agree to leave each other alone as he says "Enough," which the Swede agrees to.
Klaus then comments "Who the hell was that guy?" referring to the Swede because Klaus had never actually seen him before.
Vanya is then finally able to save Harlan by reabsorbing her powers.
Aftermath:
After the events at the farm,
Herb the analyst is made head of the commission
Sissy tells Vanya she wants to stay in 1963 with Harlan
Allison leaves Ray an inspiring and encouraging letter that underscores the final moments of the episode with an incredible monologue saying:
"Keep faith. Believe that good things will happen because the fight for a better world is never over."
David gets shipped to boot camp.
The Swede is picked up by Klaus' cult, now lead by Keechie.
Harlan is shown to retain some of Vanya's powers
Finally Back In 2019 But…

After Five secures a briefcase, he and the other Hargreeves siblings succeed in going back to April 2, 2019, in a world still intact and apocalypse free.
However, they are shocked to find that Reginald Hargreeves is still alive, and has raised a different group of super-powered children called the Sparrow Academy.
Who are led by a still alive and kicking Ben Hargreeves who asks "Dad, who the hell are these assholes?"
Implying that the timeline has changed and they're once again in a lot of trouble. The episode ends with the Umbrella Academy collectively saying "Shit!"
VERDICT: 10/10
Unlike last season's more doom and gloom ending scene, this season's finale of Umbrella Academy almost seemed like it was headed in a positive direction but pulls the rug from under the audience at the very last second in the best way!
The tease of Ben's potential return in a different role has countless implications for season 3.
First of all, who are the other members of the Sparrow Academy!?
Since Reginald is alive, are Pogo and Grace back in the fold as well?
What's going to happen to the Commission now that the Handler and all its assassins are gone?
Is Lila going to be a factor? If so, will she be good or bad?
So many new questions waiting to be answered after a successful season toying with a mystery that unraveled spectacularly as the season went along.
The next season of Umbrella Academy can't come fast enough and we are all for it!
Is 'The Haunting of Bly Manor' Debuting October 2020 on Netflix?
Halloween may just be saved thanks to Netflix and a fan-favorite horror anthology.
With COVID cancelling Halloween festivities left and right (Salem, Massachusetts cancelled most of their celebrations and a number of upcoming horror films including Halloween, Candy Man, and The Forever Purge postponed indefinitely), fans of the spooky season need something, anything to look forward to.
And it seems like that may just Netflix's sequel to The Haunting of Hill House titled The Haunting of Bly Manor.
The series was originally set to premiere in 2020, but things became uncertain when COVID halted production nationwide.
However, in a July podcast episode on ReelBlend, creator Mike Flanagan revealed that the series wrapped production before pandemic-related shutdown. He also added that his production team was working to complete the season virtually.
HUZZAH! At least, #Halloween has been saved. @flanaganfilm confirmed on a @ReelBlend podcast that @Netflix's sequel to 'The Haunting of Hill House' will come out this year, without fail.

How eager are you to see 'The Haunting of Bly Manor'? pic.twitter.com/B9pe9Xy2VF

— MoviesMatrix 🍿 (@MoviesMatrix) August 6, 2020
"I don't expect to be delayed one bit. We didn't really miss a step," Flanagan said. "We've been jamming through [post-production]. It's been going great. It's definitely later this year. It's not going to get kicked off until 2021 or anything."
That's a wrap on THE HAUNTING OF BLY MANOR. Congratulations to the cast and crew, the familiar faces and the new, and congratulations to the filmmakers who came on board to make this season their own.

— Mike Flanagan (@flanaganfilm) February 21, 2020
There is no set premiere date as of yet, but it's looking like Bly Manor will take from the original and potentially debut as part of the October lineup.
The upcoming season of the anthology looks to another classic ghost story drawing inspiration from Henry James' classic 1898 horror novella The Turn of the Screw.
Here's the official plot for the novel:
On a Christmas Eve night during a gathering a friends, ghost stories are being shared. One of the guests, Douglas, begins to tell the tale of two children (Flora and Miles) and his sister's governess. A handsome bachelor hired the governess to take care of his niece and nephew at his country home in Bly. When strange events transpire on within the manor and the grounds the governess soon becomes convinced the estate is haunted.
Of course, it will be loosely based on the novel because Flanagan hopes to incorporate parts of several other of James' stories.
You guessed it. The HAUNTING OF BLY MANOR, a new chapter in the Haunting series based on the works of Henry James, is coming in 2020. pic.twitter.com/nvhRBEfH2E

— The Haunting of Hill House (@haunting) February 21, 2019
"I think of The Turn of the Screw as the backbone of this season — the through line that carries us from beginning to end. But we get to go off into The Jolly Corner and The Romance of Certain Old Clothes, and so many other of these wonderful ghost stories that people haven't seen adapted before," he told Games Radar. "It's all wrapped up in what seems to be familiar, but that familiarity goes away really early in the first episode. It says, 'We're off on a whole other road.'"
Come fall 2020, fans can expect to see creepy scenes that are bound to leave you afraid of the dark and hiding under the covers, especially since Flanagan is teasing that it will be somehow scarier than Hill House!
Umbrella Academy Review – [SPOILER] Makes Sacrifice To Save Vanya (2 x 09)
In Umbrella Academy's penultimate episode of season 2, "743," one of the Hargreeves willingly makes the sacrifice to save Vanya from triggering doomsday again.
Secrets are revealed at the Commission regarding kill order #743 as well as another cataclysmic anomaly, Five and Luther deal with Five's doppelganger, and Reginald Hargreeves shows his true face, literally.
This episode is a spectacular installment as several narratives fell into place and seemingly unrelated plot points are revealed to hold greater importance than they're made out to be, including clever connections from season 1 that paid off well in this episode.
The best highlight, however, belongs to Vanya and her unexpected savior, Ben.
Ben Saves Vanya And The World From Ending
Following Diego's discovery in the previous episode that Vanya once again triggers the apocalypse, he, Klaus, and Allison go to the FBI building she's detained at to try and prevent the explosion from happening. The three of them valiantly try but fail nonetheless as they can't get close enough to Vanya.
In one hilarious exchange of dialogue, Klaus fearing for their lives tells Diego just in case they don't live through this.
"You look like Antonio Banderas with the long hair," says Klaus, as Diego replies with a genuine face "Thanks, man."
The dialogue is a great way to undercut the dangerous situation and works well to set up Klaus' heroic attempt as he was the closest to reach Vanya.
After seeing his siblings fail to save Vanya, Ben decides to try as he's physically unaffected by Vanya's powers. He possesses Vanya's body and enters her mind.
He ends up in the hallucinated dream world that Vanya created where she trapped herself in as she remembers everything she did in season 1 and becomes depressed.
A heartbreaking dialogue between the two follows as Vanya says, "I'm a monster."
Ben, in the most emotionally captivating monologue this season that's worth watching over and over again, proceeds to encourage her sister.
One line in particular tugs at the heartstrings when he says, "You're not a monster, you're my sister."
His words reach Vanya and her powerful dispersal of energy in the real world begins to dissipate. However, soon after Ben reveals that her powers have taken their toll on his soul and he begins to disintegrate.
He bids a heartfelt farewell to Vanya and asks a simple request: "Can you hug me as I go?" (cue tears… damn ninjas cutting onions again!)
Vanya hugs her brother tightly as he slowly fades away, and right before Ben completely goes, he leaves a message with Vanya to tell Klaus.
Kill Order #743
Following Herb's act of mutiny in helping Diego escape from the Commission, the Handler intimidates Herb into telling Lila that Diego betrayed her.
Meanwhile, AJ who's trapped in a fishbowl manages to signal Herb to investigate the archives for Kill Order #743. Herb finds it and relays the information to Lila who proceeds to seemingly confront her mother about it.
However, Lila misinterprets the order as authorized by AJ when it was actually the Handler who gave the order.
The job is revealed to have been carried out by none other than Five to kill Lila's real parents (as shown in episode 4), which urges Lila to want revenge on him.
The Handler takes advantage of her daughter by manipulating her into believing that the Hargreeves brothers were conspiring from the beginning and that she was a pawn in their plan all along. Lila seems convinced.
In a bizarre scene, after realizing that AJ somehow alerted Herb of the order, she proceeds to eat the helpless goldfish alive.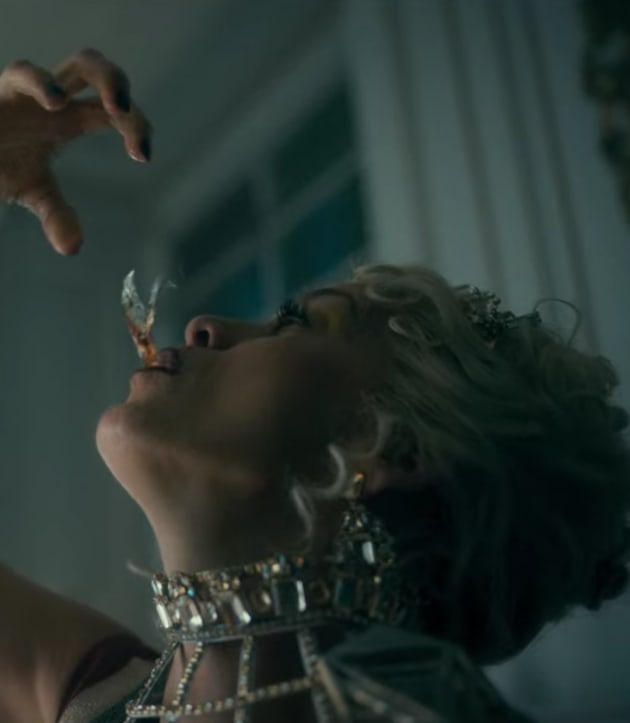 Meanwhile, an anomaly is detected by the Infinite Switchboard. The Handler is alerted and keeps it a secret, and proceeds to kill the employee who discovered it.
Before the episode ends, she ominously declares "Recall all personnel from the field… we're going to war!"
The scene then cuts to the farmhouse where Sissy and Harlan live as a powerful glow akin to Vanya's powers starts to shine. Setting up a final mystery for the finale.
Five Versus Five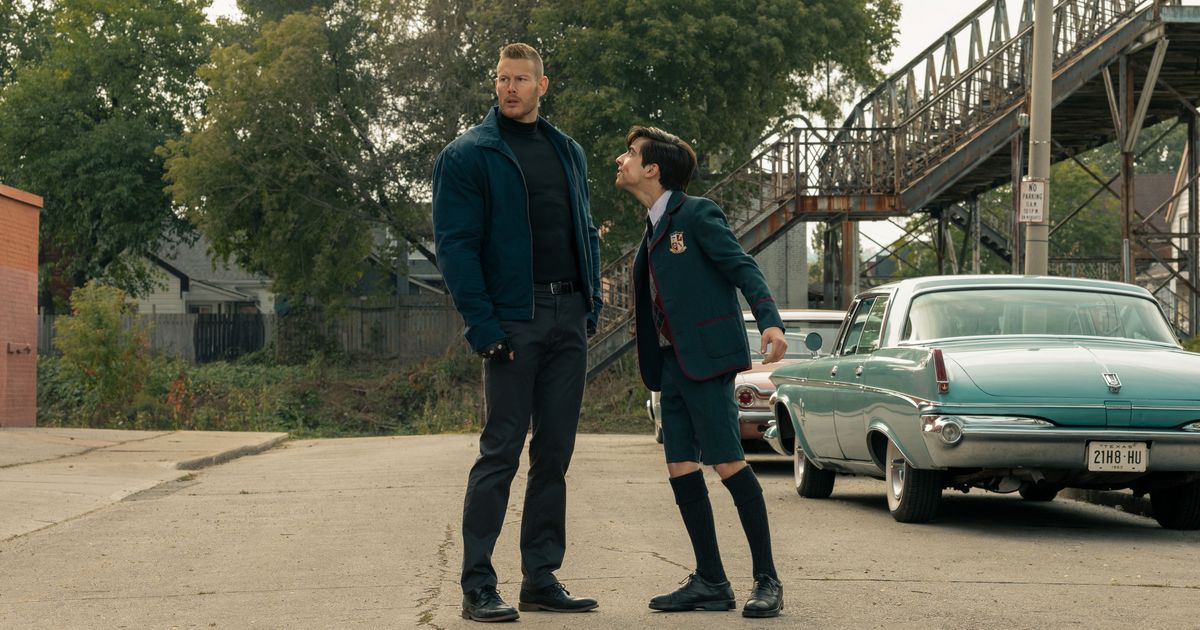 After Five and Luther find Five's doppelganger, they accompany him to the grassy knoll where he was supposed to ensure JFK's assassination.
Everything seems fine until both Fives succumb to the final stage of paradox psychosis, "Homicidal Rage."
The two Fives duke it out in an awesome slow-motion fight scene displaying their teleportation powers to the cleverly chosen tune of "Dancing With Myself" by Billy Idol.
Little Five also hilariously kicks Luther in the gonads to stop him from interfering with the fight.
In a classic twist, however, Luther manages to secure a rifle and has to choose which Five to shoot. He seemingly decides to shoot little Five but ultimately knocks the other Five out.
In a clever easter egg referencing a scene in episode 1 season 1, as little Five opens the temporal portal back to 2019 to get rid of his doppelganger, a fire extinguisher thrown by Klaus goes through the portal and knocks Luther out, which gives the other Five a chance to break free.
In the original scene, Klaus throwing the fire extinguisher only seemed like a throwaway gag for comedic relief, so for it to come back into play as a minor plot twist definitely paid off as a great nod to fans paying attention to every detail.
It also implies that the Umbrella Academy's timelines from season 1 and this season are part of a loop where the events that are happening have happened already, and are happening as they should. (I know that sentence is confusing but so is time-travel, so bear with me)
In the end, Five's older-looking doppelganger goes through the portal but in the process, the time-traveling briefcase is damaged and left unusable.
Other Notes:
Harlan is confirmed to possess some of Vanya's powers as he deflects a bullet accidentally shot by Carl while trying to pry the shotgun away from Sissy. The bullet ricochets off Harlan and accidentally hits and kills Carl.
Reginald is shown confronting the shadowy "Majestic 12" group after JFK's assassination and it's revealed that he did not want JFK to be killed as part of their deal. He tries to sever ties with them since he was lied to but a member of the organization threatens to expose him. An enraged Reginald then takes off his face, revealing that he's more than what he seems to be and kills the members of the organization – in the comics, he's an alien in disguise, which the show seems to be accurately adopting.
Diego is revealed to be the infamous man running across the grassy knoll in the JFK assassination footage as he tried to save the president from being killed.
Reginal, or rather his decoy, is implied to be the infamous "umbrella man" whom historical theorists also suspected had some ties to the JFK assassination.
VERDICT: 10/10
This episode was packed with so many great scenes and dialogue that takes the viewer on a great emotional ride. The action scenes with Five were also epic but Ben saving Vanya was definitely the impetus of the episode that followed through with a strong narrative and a mysterious ending to boot, which leaves the audience anxiously anticipating what the finale of this season has to offer!