One Tree Hill has always been home to me and although there isn't too much drama going on its still exciting to watch, because there is emotion, comical relief all tied together with history… but this weeks episode was so slow paced it was rather irrelevant. 
After much debate Alex let Chris Keller convince her that she will go on tour with her newest CD. Could Chase have pushed her to follow her dreams by letting his feelings for her show? I guess for a young actress living the fast life is what it is all about. She settled down with Chase, but how long can you keep a gorgeous, young and talented girl down? Sorry Chase but this looks to me like history is repeating itself and not only with the love triangle but also it looks like Keller might be heading onto a tour of his own, maybe joining Alex and becoming a power duo to boost both their careers. Taster Strudel just doesn't seem to cut it no more.  This time Haley is not involved though. The light-heartedness that Chuck brings to the show is absolutely wonderful. Instead of "Chucking" Chris Keller he ended up be-friending him in a way that drove Chase mad. Oh Chuck. 
The Clay and Quinn story still seems mighty irrelevant and is starting to sound more like a soap opera than the OTH I know. You get the pills you take the pills. After not flying out to Europe as originally planned you'd think Clay would just take his medication, seek some help and try to get back on the right track but nope. He's going to stretch this story line until it can be stretched no more. And that affects Nathan's life because once again he has to leave his family and go take care of business leaving Haley, Jamie and Lydia alone with…. Dan. Did you hear his "I'm not going anywhere Jamie" and see his sly smile? That man is up to something. At first I assumed maybe he had changed and he was on a better path but that was a mistake. He was definitely the one trying to break into the Scott household, he was the one who burned down his own little diner and now what? I say they call in some Deb Scott for re-inforcements. Haley is definitely going to need them.
Brooke gives way to many chances. Her father has been missing from this show for a good 9 years and all of a sudden he comes back and wants to be a part of her clothing line. Victoria deserves some huge props for what she said to her ex–husband. If he is trying to hurt he so be it, but their daughter is the one person who loves him without restraint, who believes that he cares for her not just because he see's her as a business investment. I would hate to see Brooke get burned on this. As for Julian, opening up a stage sound in North Carolina was probably a weak move. Not that I know much about movies and where they are filmed, but North Carolina… Really? 
The return of Mouth and Milly was not pleasant at all. No one can really say they missed Millie the crack-head but now Mouth is a fatty Mc fat fat stuffing his face with everything he can get his hands on? I always knew those chef's would add on pounds but this story line is WEAKER than the Clay and Quinn one. I'm starting to think that bringing OTH on board for another season wasn't such a good idea…. Lets hope that next week's episode brings much more to the table and changes my mind quickly.. 


"See even God needs the devil and I'm one hell of a friend"
Follow CRAVEYOUTV on socials
One Tree Hill: Why Haley and Lucas Were Friendship Goals
There are plenty of relationships fans can "ship" on One Tree Hill.
You can be #TeamBrucas, #TeamLeyton, or #TeamNaley, and they're all great in their own way.
But there's undoubtedly one relationship that trumps them all — Laley, aka Lucas and Haley.
As with all friendships, they've had a fair share of ups-and-downs.
They grew apart briefly, but despite the rocky road, they've always managed to come back to each other and never lose the love.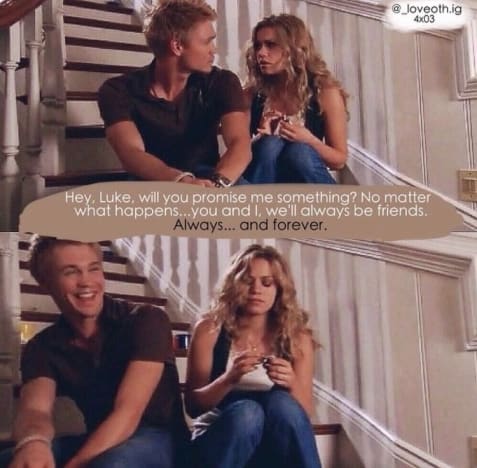 On One Tree Hill Season 4 Episode 3, Haley asked Lucas to promise her that "matter what happens, you and I will always be friends." And he kept that promise.
Significant others came and went, but Lucas and Haley remained best friends throughout the entirety of the series.
Even after Lucas and Peyton drove off into the sunset (Chad Michael Murray and Hilarie Burton exited the show on One Tree Hill Season 6), their friendship lived on off-screen.
When it comes to OTH relationships, Haley and Lucas's was the purest one.
It was the most enduring relationship in the series, having started in childhood.
When we met them on One Tree Hill Season 1 Episode 1, they already had an established connection that was built on a foundation of trust and memories.
Their dynamic would have allowed the writers to easily cross the line and give in to the played-out friends-to-lovers trope (and maybe that was even the plan at one point), but the best thing about Lucas and Haley is that they never crossed that line.
The fact that they remained best friends and never pursued each other romantically made them far more interesting than if they would have ever considered dating.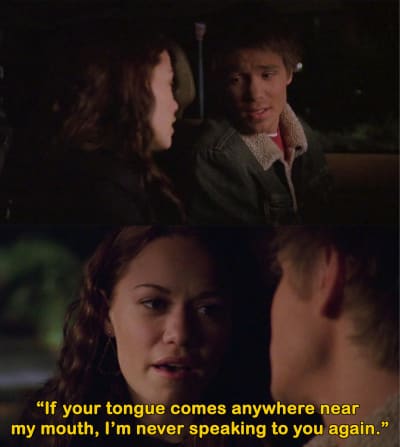 In a small town like Tree Hill, it's almost unheard of for a guy and girl to be "just friends."
But Haley and Lucas proved that members of the opposite sex could love each other platonically.
The writers may have steered the show towards some unbelievable and questionable plots, but they really got it right when it came to the bond between Luke and Hales.
These are some of our favorite things about them:
They Were Protective Over Each Other
We first begin to understand Lucas and Haley's relationship on One Tree Hill Season 1 Episode 1.
They're the outcasts that always stuck together and had each other's backs.
When Nathan starts cozying up to Haley after she offers to tutor him, Lucas gets protective and warns her against getting involved with his half-brother because he believes he's only getting close to her to get back at him.
While Lucas isn't entirely wrong, he also trusts Haley to make the right decision, even if he doesn't agree with it.
In turn, Haley's decision to tutor is fueled by wanting to protect Lucas. She offers Nathan her math tutoring services on the condition that stop bullying Lucas and leave him alone.
They Cheer Each Other Up
Though it would be easy for Lucas to point out that he warned Haley about Nathan's self-serving intentions, he never does. Instead, he's there for his best friend.
On One Tree Hill Season 1 Episode 7, when Haley believes that Nathan's been making fun of their relationship, she confesses that he showed her his true colors and she fell for it because she's "stupid," but Luke assures her that she's far from it.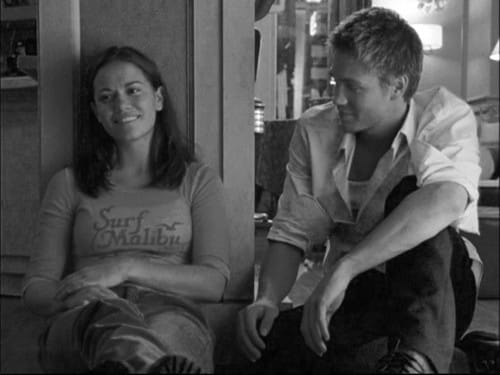 Instead of saying, "I told you so," he's supportive and lends her a shoulder to cry on.
On One Tree Hill Season 1 Episode 18, famously known as the "Boy Toy Episode," Haley taps into her savings from the cafe so that she can buy Lucas during the auction to spend time with him.
At the end of a fun-filled night, Lucas assures Haley that "If Nathan doesn't see how special you really are, then he's an idiot cause I think you're amazing."
He may not be fully supportive of the relationship, but he always wanted her to follow her heart and be happy.
One Tree Hill: Where Are They Now?
Teen drama One Tree Hill ended its nine-season run in 2012, and there hasn't been a show quite like it since.
Many of the actors catapulted into stardom thanks to the series and are now killing it on both the big and small screen. Meanwhile, others have removed themselves from the spotlight completely.
However, nothing bonds a group of strangers quite like a TV show. Their bond has remained strong, and they continue to hang out and keep in touch with fans at conventions which have also kept the legacy of the series alive for new and old fans alike.
There are even talks of a possible revival in the near-future.
So, let's return to Tree Hill and see what your basketball-loving, small-town actors have been up to since the series wrapped.
1. Chad Michael Murray – Lucas Scott
2. James Lafferty – Nathan Scott
Chad Michael Murray Adresses Rumblings of "One Tree Hill" Revival at Chicago Convention
In the spirit of revivals, fans were eager to find out if a season 10 of the hit show "One Tree Hill" is in the works.
"We were just talking about this actually," Stephen Colleti (bar manager Chase) said at the EyeCon convention this weekend.
"I'll do it," Antwon Tanner (Skills) added.
The story goes, Chad Michael Murray (Lucas Scott) approached James Lafferty (Nathan) after he heard "rumblings" of a possible One Tree Hill reunion/revival.
James, who is close to OTH creator Mark Schwahn, had not heard anything "official" but said he could "see it happening."
"We haven't heard anything substantial but we can agree with you guys, it's worthy" Stephen added to a room full of ecstatic fans.