"And who lives in hotels? People whose stay is temporary."
Leave it up to OTH to give us a cute and fun episode just to shatter our world in the last minute. For what its worth, every scene with Dan Scott pulls at my heart strings. I am fully aware of the fact that for 8 seasons we hated him for the way he treated Nathan, for abandoning Lucas and for killing Keith. I am also aware that he is probably up to so mischievous non-sense that we are not currently aware of. Yet every time I see his sad puppy dog eyes I feel bad for him. You have to hand it to the guy, as much as he sucked as a father, he is one heck of a chef and when Haley needed him most, he was there to help her. Haley is also not a dumb person so when someone made a scene about a "murderer" making their food, she surprisingly stood up for Dan. Although it wasn't expected from Haley, it was the right thing to do. Dan served his time in jail, he has been trying to recompense for his mistakes and he doesn't need strangers pointing that out to him. What did he poison your food? No. But of course every action has its consequence and this will mean that Haley might have just jeopardized her and Brooke's cafe, or should I say Karen's cafe. By kicking out all the business, their going to find a new place to go… Namely the new gourmet cafe that opened up right across the street. I wonder how Jaimie took the news that his grandfather is a murderer? Are the writers going to touch up on that? And seriously, when the hell is Nathan coming back?
Brooke Davis also breaks my heart because as powerful and determined as she is, she crumbles at the need of affection from her parents. And even when she gets that attention from her daddy it is only because she is used as a "bimbo" to score some deal and impress his friends. Sure she needed the financial backing from investors that her short skirt and kick-ass flirty personality got her, but she also needed quality time with her father. I guess you just cannot have it all can you?
Clearly, the Mouth and Milly storyline is still not making much sense. Although it gives for some humorous moments who cares if Mouth is fat? Milly is making this huge scene as if he's "going to eat himself to death." No he isn't Milly. He gained some weight, he isn't obese. There's clearly a difference and putting him on the spot like that in front of millions of viewers was highly unnecessary. Speaking of irrelevant story lines that brings me to Quinn and Clay. Now the writers are tying in the fact that Clay suffered after the shooting to him buying drugs off the street to those drugs being the cause of his sleepwalking? So basically he is a druggie cause he has been using his pain medication recreationally. That's why he didn't pick up his prescription? There must be some more depth to this story. It just doesn't seem believable that Clay would do all of this, jeopardize his relationship with Quinn and risk going to Europe because of an addiction. Next weeks promo's show us Clay who isn't capable of remembering anything that happened. As hazy as his memory is, the hazier this storyline gets. I need answers, quickly!
An unpredictable pairing we have with Chase and Chris Keller. Misery sure does love company huh? But did Alex actually break up with Chase or did she just leave to pursue her music career, cause those are two different things. Keller does have a point though, Alex was never a settle down forever kind of girl. Sure it seemed like she was for the little time they had together but let's look at her past. She was a suffering actress who thrived through Hollywood, slept with millions of guys and had a thing for Julian.  Everything for her is always temporary and she's always on to her next adventure in life. Who know's maybe she will come back after the tours done, but it would be stupid of her to risk an opportunity like that for a person she may or may not be with for the rest of her life. Truthfully, nothing is forever, even life is temporary…
Now the big story is Julian. Dude what the hell. I know Julian isn't the smartest of guys cause lets admit he's a little dopey, but to LEAVE YOUR KID IN THE CAR! Are you insane! There is no excuse. He was nervous about his studio being rented out, thats explainable. Than he got a call that they want to meet in person, so trying to impress your potential partners is also explainable, but in the midst of all of that how the hell do you forget you have a kid with you. When Brooke called Julian and all the windows were broken and they were rescuing a child from the car my blood pressure literally skyrocketed. I cannot even begin to imagine what Brooke's reaction the this might be. But the bigger questions: Did the baby die? Was it hot that day in Tree Hill? Will Julian have to go to jail? Are charges going to be pressed? How will this affect Brooke and Julian's relationship? I mean the girl couldn't have children and than she finally had twin boys and now your husband leaves one in the freaking car? Who cares about that deal you were just going to make. You can kiss all that goodbye. And if I was Brooke, you could kiss me goodbye as well…


Memorable Quotes
Victoria: Well i prefer him banned from picking up my grandsons but you know you can't have it all.

Haley: Trust me I know Chris Keller is not good for relationships.

Chris: You show up for work looking like that, which is really sexy, and you work for free?

Chris: Yeah occasionally we do our own video shoots and we might use you as an extra. So did you bring that bikini?

Chris: Do you know what I was doing before I woke up in those random places? Some random chick.

Haley: Don't shake his hand, you don't know where its been.

Brooke: I'll make my own coffee. Who am I kidding I still don't know how to use this thing. Would you mind? Your so good at it!

Chuck: Contrary to popular opinion, he doesn't speak for the both of us.

Chris: Who do I need to screw to get a burger around here? Please let it be you.

Chris: Chris Keller can do it all baby.

Chris: Alex is an actress we need constant affection and validation.
Music Makes the World Go Round — Twitter.com/CraveYouTV
Follow CRAVEYOUTV on socials
One Tree Hill: Why Haley and Lucas Were Friendship Goals
There are plenty of relationships fans can "ship" on One Tree Hill.
You can be #TeamBrucas, #TeamLeyton, or #TeamNaley, and they're all great in their own way.
But there's undoubtedly one relationship that trumps them all — Laley, aka Lucas and Haley.
As with all friendships, they've had a fair share of ups-and-downs.
They grew apart briefly, but despite the rocky road, they've always managed to come back to each other and never lose the love.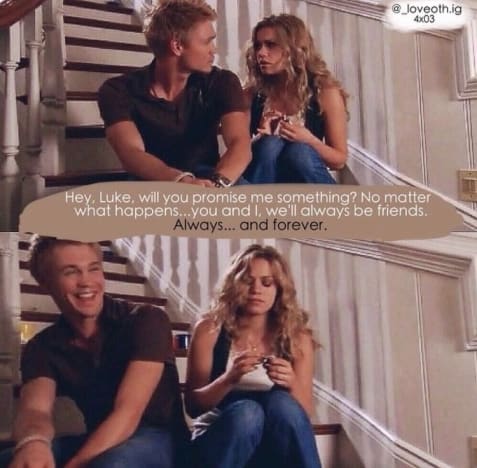 On One Tree Hill Season 4 Episode 3, Haley asked Lucas to promise her that "matter what happens, you and I will always be friends." And he kept that promise.
Significant others came and went, but Lucas and Haley remained best friends throughout the entirety of the series.
Even after Lucas and Peyton drove off into the sunset (Chad Michael Murray and Hilarie Burton exited the show on One Tree Hill Season 6), their friendship lived on off-screen.
When it comes to OTH relationships, Haley and Lucas's was the purest one.
It was the most enduring relationship in the series, having started in childhood.
When we met them on One Tree Hill Season 1 Episode 1, they already had an established connection that was built on a foundation of trust and memories.
Their dynamic would have allowed the writers to easily cross the line and give in to the played-out friends-to-lovers trope (and maybe that was even the plan at one point), but the best thing about Lucas and Haley is that they never crossed that line.
The fact that they remained best friends and never pursued each other romantically made them far more interesting than if they would have ever considered dating.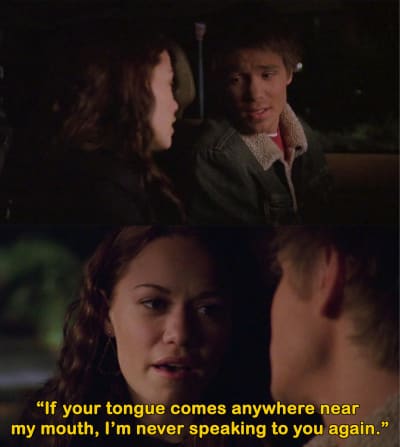 In a small town like Tree Hill, it's almost unheard of for a guy and girl to be "just friends."
But Haley and Lucas proved that members of the opposite sex could love each other platonically.
The writers may have steered the show towards some unbelievable and questionable plots, but they really got it right when it came to the bond between Luke and Hales.
These are some of our favorite things about them:
They Were Protective Over Each Other
We first begin to understand Lucas and Haley's relationship on One Tree Hill Season 1 Episode 1.
They're the outcasts that always stuck together and had each other's backs.
When Nathan starts cozying up to Haley after she offers to tutor him, Lucas gets protective and warns her against getting involved with his half-brother because he believes he's only getting close to her to get back at him.
While Lucas isn't entirely wrong, he also trusts Haley to make the right decision, even if he doesn't agree with it.
In turn, Haley's decision to tutor is fueled by wanting to protect Lucas. She offers Nathan her math tutoring services on the condition that stop bullying Lucas and leave him alone.
They Cheer Each Other Up
Though it would be easy for Lucas to point out that he warned Haley about Nathan's self-serving intentions, he never does. Instead, he's there for his best friend.
On One Tree Hill Season 1 Episode 7, when Haley believes that Nathan's been making fun of their relationship, she confesses that he showed her his true colors and she fell for it because she's "stupid," but Luke assures her that she's far from it.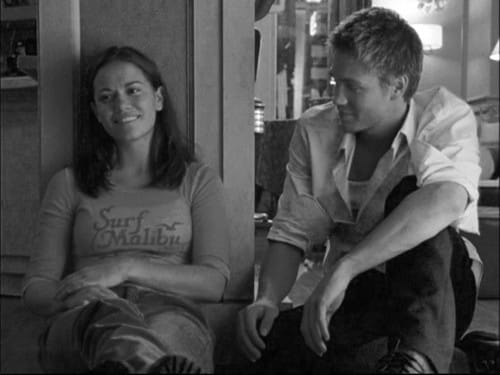 Instead of saying, "I told you so," he's supportive and lends her a shoulder to cry on.
On One Tree Hill Season 1 Episode 18, famously known as the "Boy Toy Episode," Haley taps into her savings from the cafe so that she can buy Lucas during the auction to spend time with him.
At the end of a fun-filled night, Lucas assures Haley that "If Nathan doesn't see how special you really are, then he's an idiot cause I think you're amazing."
He may not be fully supportive of the relationship, but he always wanted her to follow her heart and be happy.
One Tree Hill: Where Are They Now?
Teen drama One Tree Hill ended its nine-season run in 2012, and there hasn't been a show quite like it since.
Many of the actors catapulted into stardom thanks to the series and are now killing it on both the big and small screen. Meanwhile, others have removed themselves from the spotlight completely.
However, nothing bonds a group of strangers quite like a TV show. Their bond has remained strong, and they continue to hang out and keep in touch with fans at conventions which have also kept the legacy of the series alive for new and old fans alike.
There are even talks of a possible revival in the near-future.
So, let's return to Tree Hill and see what your basketball-loving, small-town actors have been up to since the series wrapped.
1. Chad Michael Murray – Lucas Scott
2. James Lafferty – Nathan Scott
Chad Michael Murray Adresses Rumblings of "One Tree Hill" Revival at Chicago Convention
In the spirit of revivals, fans were eager to find out if a season 10 of the hit show "One Tree Hill" is in the works.
"We were just talking about this actually," Stephen Colleti (bar manager Chase) said at the EyeCon convention this weekend.
"I'll do it," Antwon Tanner (Skills) added.
The story goes, Chad Michael Murray (Lucas Scott) approached James Lafferty (Nathan) after he heard "rumblings" of a possible One Tree Hill reunion/revival.
James, who is close to OTH creator Mark Schwahn, had not heard anything "official" but said he could "see it happening."
"We haven't heard anything substantial but we can agree with you guys, it's worthy" Stephen added to a room full of ecstatic fans.