The amazing cast and creators of Parks and Recreation returned with a half-hour special to help raise money for Feeding America's COVID-19 Response fund.
We got to see our favorite characters deal with quarantine and social distancing measures, and it was everything we could've dreamed of and more. Not only did the entire main cast return, but several fan-favorite guest stars made an appearance.
The episode starts out with a message from Bobby Newport, a.k.a. Paul Rudd, explaining the mission behind the special and what we can do to help. He was as charming as ever. Bobby Newport has always been a reflection of Americans who are completely out of touch with the world around them, so it's not surprising he has no idea what COVID-19 is. Hopefully, someone will explain it to him.
Leslie Knope, on the other hand, is well-aware of COVID-19 and the affects it's having on the world. She's closed all the parks in her jurisdiction and is taking her job very seriously. She's the perfect person to count on at a time like this. She's even set up a phone tree to make sure all of her best friends are being checked on during this time. Whether or not they want to be checked on is a different story, but it's impossible to say no to Leslie.
Everything about this special was so perfectly in character. The different ways people were experiencing the quarantine made perfect sense. The magic of Parks and Recreation was always its distinctive characters, and it's refreshing to see how well it holds up five years later. Time flies, but it feels like we never left Pawnee.
https://www.instagram.com/p/B_oFS6PFITW/
Most of the episode takes place in a video-call format, which lends really well to filming an episode about quarantine while everyone's actually in it. They had to be a bit creative to explain why the show's married couples weren't in the same room, but they pulled it off.
Andy locked himself in his shed and refused to ask for April's help getting out. That's very typical Andy Dwyer. Bert Macklin would never accept defeat. I wish we got to see more of April in the special, but a thirty-minute time slot kept most characters' appearances pretty short.
Chris Pratt also reprised his role as Johnny Karate, beloved Pawnee children star. We may not be able to karate chop the virus away, but at least he's still trying to motivate the kids! Johnny Karate assured us that things will get back to normal eventually, anywhere from a week from now to a couple of hundred years or so. Hopefully, the former.
Parks and Recreation explained that Ann and Chris were quarantined in separate parts of their home because Ann had gone back to work as a nurse. The healthcare system needs all the help they can get, so it adds up that Ann would be back out on the front lines. Chris is quite literally the healthiest man alive, but he wouldn't want to risk exposure for him or their children. Especially since he's now been selected for testing to help build the vaccine. His red blood cells are apparently so large they can be seen with the naked eye, so if we could bottle his immunity, we'd all be set. Sadly, Chris Traeger isn't real, but maybe Parks and Rec is onto something about Megan Rapinoe…
Ben and Leslie's separation was a bit harder to explain, but it ended up being boiled down to Leslie's need to work during this pandemic. She does her video calls from the office whenever she gets a break, while Ben's at home with the kids. Unfortunately, this isolation has taken a toll on Ben. That's right, he's making more claymation.
Requiem for a Tuesday was a cry for help if I've ever seen one, so it's safe to say the quarantine was affecting his mental state. He comes around by the end of the special, but Leslie might need to keep an eye on him! It was genius for the writers to bring back claymation and The Cones of Dunshire to show how Ben's doing. His short film is one of the most referenced jokes from the show's seven-season run, and it was inevitable that all of this time alone would make Ben revert back to his most useless habit. We've all found ourselves reaching new levels of boredom the longer quarantine goes on, but I beg, please do not make a claymation film.
Tom and Donna's parts in the special showed the two are still treating themselves the best they can in a pandemic. They're pretending to go on a beach vacation now, but I'm sure they'll go on a real one as soon as this all ends.
Ron ran away to his cabin with Dianne and the kids when Tammy II shows up. It's convenient that Ron and Tammy II's actors are married in real life, so they were able to be a bit more creative with that storyline. Their violent relationship has always been horrifying to watch, but it's nothing if not hilarious. And Ron's right, the wolves should be scared if she's loose in the woods.
We also got to see brief appearances from recurring characters like Joan Callamezzo, Perd Hapley, Jean-Ralphio, and more. It's nice how many actors came back for the special on such short notice.
And of course, it wouldn't be a Parks and Recreation special without Li'l Sebastian. Ron got the whole gang together (virtually) to surprise Leslie with Mouse Rat's hit single, "5,000 Candles In The Wind." The tribute song would make anyone cry (unless you're Ben), and it certainly warmed Leslie's heart, as well as the rest of ours.
Parks and Rec came back exactly when we needed it most. It was such a special show, and hopefully, this won't be the last time the cast reunites. Under better circumstances, another reunion special would be a great idea. We miss you, Pawnee!
Oh, and as for Jerry's appearance-
Follow CRAVEYOUTV on socials
The Resident Review – [SPOILER] Is Pregnant! (4×02)
There are so many relationships doing so many things on The Resident Season 2 Episode 2.
The decision to move past the coronavirus pandemic has allowed the characters (and show) to do something most of us haven't been able to do since mid-March — move on with our lives.
Instead of being stuck in a world where everything is limited and social distancing is mandated, the series can tackle the aftermath of surviving a pandemic, which includes plenty of fallouts (some deserved) and new realizations.
Relationships are able to thrive and wane all in the same breath, while new journey's are welcomed without a crippling fear of the future. It's refreshing and inspiring to see as many of us look forward to a world where we can finally close this chapter and live again.
But despite our desire to get past this, what has happened has affected everyone in some way. And sadly, not everyone is able to pick up the pieces and move on, especially after experiencing a huge loss at the hands of a deadly and highly-respiratory virus.
Let's start with the happy news first, shall we?
Nic and Conrad are in their honeymoon phase, and though I wouldn't peg them as Key West people, I am a bit bummed that we didn't get to see any part of their honeymoon. Most of the action takes place in the hospital setting, so it would have been nice to see them enjoying their freedom. However, I imagine that would've been hard to film these days.
Their romance is still on level 10, which is a welcome change for Nic and Conrad, who haven't always been on the same page. Hearing her refer to Conrad as her husband is something we're all going to have to get used to, but it does have a nice ring to it.
If you saw the teaser for the episode, you likely weren't surprised by Nic's grand reveal that she's pregnant. We all saw it coming from a mile away. But what does this truly mean for the series and the relationship? In real-life, having children is typically the natural next step step as a relationship progresses, but on television, a pregnancy isn't always in the best interest of characters.
I wish the series would've waited a bit and allowed them to simply be happy together for a bit instead of pushing towards the next big-thing. However, it's also an opportunity for the show to present a couple that is able to juggle having children while not losing themselves in the process or having the children become an afterthought somewhere off-screen.
Since I'm not one of those people that's opposed to characters having children, I hope the series incorporates the storyline and emphasizes the joys and hardships of being a working mother.
Are you thrilled by this next step for #Conic? Or do you think it's too soon?
The Resident Premiere Review – Conrad and Nic Get Married as COVID-19 Hits Chastain (4×01)
Then we have Mina and the Raptor and boy, that relationship is even better than I ever could've imagine. They compliment each other so well and allowing them to be fully into their feeling brings a new dynamic that's exciting and spontaneous. Even when they're disagreeing and having their first fight as a couple, everything about them is still intoxicating.
Since they are both extremely confident and driven, it's going to be much harder for them to separate their personal and professional relationship. If anyone can do it, it's #Minator, but they're also seeing first-hand that it's not going to be easy, especially when it involves disagreements about such fundamental differences.
Cain is a mixed bag, but generally, you're either supporting him or against him. Mostly everyone at Chastain — and those watching offscreen — are against him. And up until now, there wasn't a bone in my body that could justify Cain's actions, but after gaining some insight into the "why" behind his ego does paint him in a new light.
There's no excuse for Cain's behavior, but at least now there's an explanation, which humanizes him. Cain refuses to fail because the system is set up to see him fail. His actions are a byproduct of a failed system. Of course, one could argue that it's simply an excuse as there are others of color like Mina and AJ that have found success without sacrificing patients, and that too is valid.
But it does give us a better understanding as to where Cain is coming from. And as AJ pointed out, if it's a learned survival instinct, it's not something we can fault him on. His logic is that if he keeps billing high and proving that he's profitable then they can't get rid of him.
And this allows us to understand why AJ doesn't want to completely destroy the man's career even despite all the terrible things he's done.
BLM has been a contested topic in 2020 and the early stages of 2021, and The Resident found a natural way to work it into the narrative.
We're also seeing multiple sides of the coin from the people affected by systemic racism.
There doesn't seem to be a right or wrong answer here as both Mina and AJ make valid points. Mina's concerns about Cain's approach are valid, especially as he knowingly put patients at risk during a pandemic including a patient who got COVID from a surgery that he was misled about, which spurred a string of health incidents.
Both Mina and AJ followed their gut, and while AJ asked Mina to respect his wishes, she acted on principle; she's never been a fan of Cain's, but this time, she couldn't forgive him for putting a patient in danger simply for his own advancement.
The scene where they both "agreed to disagree" and took a 3-day break from the mind-blowing sex proves that they have a mutual respect for each other.
However, if I had to pick a side, I'd say that AJ can't protect Cain from his self-destructive ways no matter how much he believes that change is possible.
But the truth is, Cain i's damn good at his job. so no matter what, so he'll always find a way to justify his actions because he performs miracles that others can't. It's a complex situation that is fascinating to peel back. I'm invested and can't wait to see how this all pans out.
Of course, being "damn good" at a job hasn't always meant much to the machine that is Chastain, a hospital that has put profits over people time and time again, even amid a pandemic.
Just look at what happened to Logan Kim, one of the victims of the coronavirus pandemic. There's no denying that Kim had it coming. As Conrad said, he allowed the disease that is Red Rock to swallow him up whole. And the moment the company no longer needed him or saw that he wasn't in their best interest, they chewed him up and spit him out without a second thought.
However, his warning that something even worse is coming is concerning. What could ever be worse than Cain and Kim? I shudder at the thought of finding out.
Kit was doing her best to get information, but does the vague answer she got about no one replacing Kim as CEO mean that Chastain won't be operational for much longer?
It's one of the "better" hospitals when compared to the experience Pravesh's late father had at a low-income hospital in a mostly brown neighborhood that was understaffed.
But if Chastain can't find a way to turn profit with all that it has to offer, what does that say for everyone else? Or the state of the industry?
Devon is going to need some time to come to terms with his father's death, but at least he opened up about the pain and the guilt to Conrad. Keeping that bottled up inside was toxic; he was lashing out at patients, which is never okay. Plus, it prevented him from fully grieving the loss.
Bell's storyline wasn't my favorite. It's always exciting to delve into a character's backstory, and it's obvious that Bell has plenty of stories to tell and layers to peel back, but introducing a long lost child is cumbersome.
Bell's guilt isn't doing anyone any favors — not himself and definitely not Jake, who was pretty accurate in his assessment that Bell's reason for reaching out wasn't genuine.
Instead, it was the fear of dying alone that was creeping up on Bell. Their encounter was completely unrealistic considering Bell last saw him when he was 12.
Here's the thing — Bell doesn't need a forced redemption arc because he's already been redeemed. He's done a complete 180 since The Resident Season 1, and seeing him make amends with his staff like Nic and Conrad has been more powerful than his attempts with Jake.
If Bell were to die, he might not have many blood relatives by his side, but he would have his family. I'd much rather invested all this time seeing Bell explore a relationship with Kit, who has always been there for him and seen the good in him.
I'd like to say the series was going to let this one go, but considering Jake is a surgeon, I foresee him somehow getting wrapped up in the politics of Chastain and being introduced as an integral character.
What did you think about the episode, Cravers? What did you love and what did you hate?
Sound off in the comments section below. We'd love to hear your thoughts!
Batwoman Premiere Review – What Happened to Kate Kane? (2×01)
The Batwoman Season 2 premiere answered two pressing questions: "What happened to Kate Kane?" and "Who is Ryan Wilder?"
When Ruby Rose announced that she was leaving the show, many fans questioned how the series would move on without its main heroine, especially when all the plotlines leading up to season 2 were heavily revolved around her.
Those questions only intensified when it was announced that Javicia Leslie was cast as Ryan Wilder, a woman who embraces the cowl and cape of Gotham's masked crusader.
Though my hopes weren't high for the series, it seems that hitting the "reset" button during the premiere episode was in the show's best interest. Seeing all the familiar faces brought a sense of familiarity, but introducing Wilder's backstory into the existing narrative still gave the series a fresh vibe. It may look like the same show, but things are shifting in the right direction. All the series needs to do is ensure that it continues on that trajectory and doesn't fall into the same manholes as the freshman season.
Ryan's character brought me to a realization I hadn't had prior — I didn't care for Kate Kane. Despite being the titular character, Batwoman can and did exist without her; the series didn't feel incomplete without her likely because the supporting cast has always done much of the heavy lifting while Rose coasted by.
Rebooting a series, however, always posed the question of how they were going to write Kate off. While death by plane crash wasn't exactly what I expected, it's a sure-fire way for the series to move on permanently while providing fans with much-needed closure. (As I said to myself during the episode: "that's one way to do it.")
Some in Gotham may think that Kate's still alive somewhere out there, and usually, I tend to err on the side of caution because the rule of television is no body = no death, but considering the batsuit was on the ground at the scene of the crash, it's safe to say Kate wasn't wearing it and didn't survive the impact of the crash. Realistically, it wouldn't make sense to have the audience hoping for her survival when Rose made it very clear she's no longer interested in the role.
Ryan was at the right place at the right time and was the first at the scene of the accident, which meant that she found the batsuit and immediately saw it as an opportunity to turn her life around.
Amid the grieving and mourning of Kate's death and the tying of loose ends, the series never lost sight of Ryan's story, and the way they factored her into the narrative felt believable.
There's not much that make Ryan your all-American hero; she's a victim of a broken system, she's been let down, and she's flawed. But she also has a good heart and a passion to change the world for the better, which already makes her the perfect choice to carry the mantle, not to mention compelling and way edgier than Kate.
She doesn't exude Kate's level of entitlement and even acknowledges that she doesn't deserve to wear the suit if her only goal is revenge. She realizes that being a hero is more than the outfit, and while it's unclear if the show will take its time to properly carve out a heroine with Wilder, she already seems to have the spunk and fire that Gotham needs.
Through flashbacks, we learn that Ryan's biological mother died while giving birth to her and her adoptive mother, who kept her grounded, was killed by a group of squatters that ran with Alice.
Right off the bat (pun intended), she already has it out for Alice, which gives her something in common with Kate. She's also impressed with all that Kate's done for the LGBTQ community.
And there's no one who understands the anger of losing a mother to Alice than Mary, which may be why the latter is silently rooting for her by the end of the episode.
Ryan's desire for revenge reveals how Alice will remain an integral part of the story without Kate around.
A concern that surrounded the introduction of a new lead was that there would be no use for certain characters anymore or ways to fit them into the story organically, which would be a huge loss with Alice, who is one of the strongest parts of the series. It would be damaging to lose her, so I'm glad that there's still someone in Gotham who she'll be able to bump heads with.
And with Kate out of the picture, we'll at least get to see a different side of Alice's deliciously unhinged mind. Kate always had a soft spot for Alice despite everything she did, but that won't be the case with Ryan. Consider Alice enemy number one.
Referring to Alice as "unhinged" is a bit of an understatement. We've seen her in some pretty deranged moments, but she truly spiraled after Kate's death, which is hilarious if you think about it considering her whole plan with giving Tommy Elliot Bruce Wayne's face was to kill Kate.
She wasn't upset by the fact that Kate was dead so much so as she was upset that she wouldn't be able to execute her psychotic plan. And I'd have to agree, it is a shame. I would have loved to see the Commander shoot Batwoman with the Kryptonite only to find out he killed his daughter.
With Kate gone, Alice wasn't going to let all the plotting be a complete waste, so she clued her dad in on Batwoman's identity by simply spelling it out for him. And crushing him with the realization that his daughter died as he was waging a war against her will have to suffice for Alice (and me).
Somehow, I feel like he always knew the truth deep down inside. As did Sophie. Come on, learning that Kate was Batwoman in the goodbye letter couldn't have been such a shocker or much of an "aha-moment." If it was, that's the series dumbing down an agent we know is highly intelligent and skilled.
I guess that was the only way to bring closure to the Kate and Sophie relationship with Kate off-screen, but I just wish it was a more impactful moment on Sophie's part.
Also, it's a bit of a low blow that her final interaction with the love of her life is Kate confessing that she's been lying to her this time. Sorry, my bad.
Hopefully, this allows Sophie to embrace her feelings for Julia fully because they make a good couple and could really do some damage in town with their badassery. And they'll need each other if they're going to go after Saifya.
Safiya introduction doesn't just give Julie and Sophie a new purpose, but it also gives Alice a new arch-enemy – aside from Ryan – as she has taken responsibility for Kate's demise.
Alice will want vengeance for not getting to kill her sister, and we know how dedicated she becomes when she sets her sights on something…. or someone.
Also, yeah, she was totally cuddling up to Mouse's dead and decaying body as if it was completely normal. That's our Alice!
Tommy Elliot's arc as "Bruce Wayne" was short-lived, which I'm pretty content with. Kate's disappearance gave Bruce Wayne a legitimate excuse to return after all these years, but Tommy should have been better prepared if this was meant to be a long-term ruse.
I was curious who the first person to figure out that Bruce wasn't as he seemed, and let's be honest, Luke should have caught on when Bruce didn't know how to get into the batcave. However, I'm willing to give him some slack because he did just find out about Kate's death.
But it made sense that Julia got to the bottom of it almost immediately. She is a spy of the Special Reconnaissance Regimen… it's literally her job.
Not only did she follow her gut feeling, she acted on it by running his prints and wrapping up the whole case.
Tommy/Bruce's showdown with Ryan/Batwoman was interesting and paralleled each other as they were both pretending to be someone they weren't. The only difference is that Ryan proved in that moment that she has what it takes to be Gotham's new hero. And though she may not have had the suit down pat — it's not like it came with instructions or anything — but her martial arts skill sure came in handy.
And that wound from the kryptonite, well, it'll bring Ryan right back to Wayne Enterprises to continue her journey.
Batwoman Season 1 tried and tried again to find its footing, and while there were some gems, it always remained the least liked of the DC/CW shows.
Rose's exit as Kate offers the series a much-needed clean slate. And if the premiere episode is any indication, that's for the best.
What did you think of the Batwoman Season 2 premiere?
Chicago PD Review – Is Burgess Ready to Be a Mom? (8×03)
Intelligence is kicking off 2021 on a high note.
Following Atwater's powerful storyline, Chicago PD Season 8 Episode 3 shook things up and reminded fans of the good old days when the focus remained largely on the case-of-the-week.
It's been a while since we've seen the team go full-in on a case, especially one as compelling as the murder of Makayla's entire family.
While gang retribution was the go-to motive, the case took a surprising twist when it was revealed that all three family members died protecting the little girl from her father, Tareek, who was recently released from prison.
The case was interesting even without a personal connection, but hinging the plot on a young, innocent girl not only provided an emotional hook, it also allowed the narrative to circle back to Burgess' miscarriage from Chicago PD Season 7.
Voight was determined to nail down a suspect and get justice for the family, so the "by the book" police reform storyline kind of went out the window. Sometimes, I wonder if the series even remembers the plotlines it's introducing.
There wasn't even any reference to Atwater's situation with the racist cops; it's almost as if it never happened.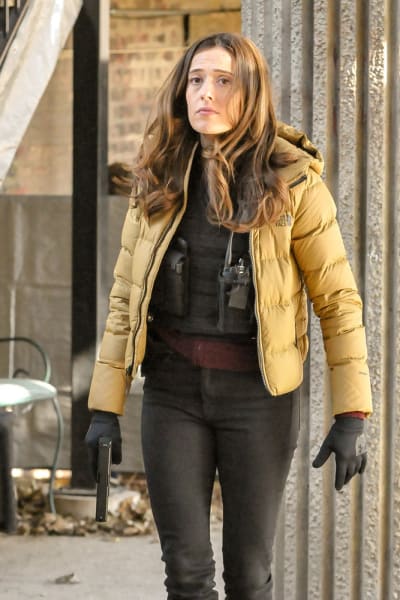 However, it was nice to see that Burgess was still dealing with the aftermath of the miscarriage.
Following such a traumatic experience, Burgess convinced herself that she didn't want children. It was a tactic to protect herself from getting hurt again.
But after forming a personal connection with Makayla, she began to see the possibilities that she could have it all: a family and a career.
Her motherly instincts kicked in when she saw that the girl was in danger — motherly instincts she didn't even know she had.
It was such a treat to see her in "mama bear" mode.
Their bond never seemed forced either as Burgess genuinely cared for the young girl and found her purpose in protecting her. She even put her job on the line to ensure that she could stay by Makayla's side until they found the people hunting her down.
But it begs the question . . . what happens next? Was this the show's way of warming everyone up to the idea of a Burzek baby again?
They already let us down once; I don't want to get ahead of myself and get my hopes up again.