We're just 2 days away from the premiere of PLL season 5 and today's spotlight is on Ashley Benson, who plays Hannah Marin!
Haleb
Fans are dying to know what will happen on the Haleb front now that Caleb is returning from Ravenswood.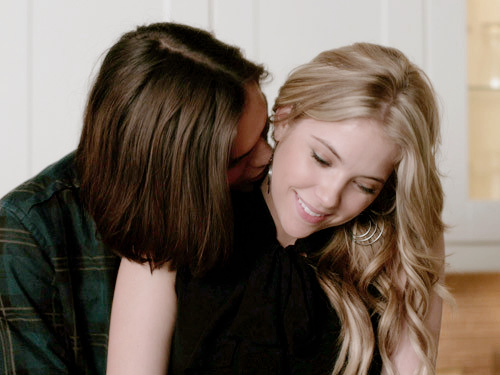 E! Online caught up with Ashley Benson, who admitted that things are going to be pretty rocky for the couple!
"I think in the beginning it's going to be a little bit difficult," Benson explained. "Caleb now knows that Travis is her boyfriend, and for Hanna, she finally moved on and accepted that she can be with somebody else."
But relationship or not, that doesn't mean we won't have some really great Haleb moments to look forward to in season 5. Benson teased that the exes will share a very "fun" story line together. Actor Tyler Blackburn reveals that it will be very much like "Batman and Robin."
Hmm… does that mean Caleb will come back to town, realize Ali is alive and jump right into trying to help his ex find out who A is? Will he even deal with what happened while he was in Ravenswood. Will Miranda's death be brought up at all? And what about his feelings for the ghost? I feel like everything needs to be put out in the open before fans can accept the idea of these two getting back together as a couple. But I don't mind some fun for the duo. They've had such a tough year, maybe crime solving like superhero's will be a good change of pace!
Either way, the cards are in your favor Haleb shippers as Benson also wants Caleb and Hannah to get back together already!
Dark Hannah
As for Hannah's character, she's going to take a dark turn now that Alison is back in town.
"This year she's going to go through kind of a dark phase. She kind of loses who she is and doesn't really know who she is. She tried to be like Alison and now that Alison's back she doesn't want to be like that anymore. She feels like she's been putting on a front for the past few years," Benson explained to Ok! Magazine, adding that her character will turn to drinking as an alternative.
"I love [playing the edgier Hanna] because I want to be in jeans, a t-shirt, and boots, and flats, and shoes rather than heels running around in the jungle about to break my ankle," she said. Although it might be a little hard for viewers to get used to this new girl without her pumps and her floral prints.
Keeping Up With Ashley Benson
The starlet is gearing up for the premiere of season 5 by doing lots of press. She caught up with HLN recently and played their deal breakers game. Some of her dating deal breakers are guys who don't put down the seat, screen her calls, don't get along with her friends, forget her birthday, or lack a sense of humor.
She doesn't mind guys who don't watch PLL, don't follow her on Twitter, look better than her, or have a lot of girlfriends.
She was also spotted roaming the streets of L.A with on-again-off-again boyfriend Ryan Good. Unfortunately, she was too engrossed in her phone to give him any sort of attention, which he didn't seem to mind. Business is business and we're sure the ex-Justin Bieber stylist understands!
Follow CRAVEYOUTV on socials
Netflix Passes on Renewing Canceled NBC Drama 'Manifest'
Manifest will not fly again.
Netflix has officially passed on renewing the Manifest, according to Deadline.
The plane drama was abruptly canceled after three seasons leaving fans with absolutely no answers as to what led to the disappearance of Flight 828.
It's a surprising move considering the series has been steadily holding at #1 after being added to Netflix.
Fans also rallied on social media with the #SaveManifest campaign, but sadly, all efforts were unsuccessful.
Sources say that since Netflix opted to pass on saving the drama, Warner Bros. Television, the studio responsible for the series, has concluded efforts to rehome it as it's reportedly too complicated with rights and cast contracts.
For now, reps for Netflix and WBTV declined to comment.
However, it seems to be a done deal as series creator Jeff Rake seemed to confirm the solemn news tweeting: "Manifest Gratitude, Final Edition Thank YOU, our fans. You became the Manifesters at Comic-Con 2018. Ever since, you've watched religiously, parsed every word, cried a lot, laughed a little, puzzle-solved, and never, ever, wavered in your support. I'll never forget it."
Manifest Gratitude,
Final Edition

Thank YOU, our fans. You became the Manifesters at Comic-Con 2018. Ever since, you've watched religiously, parsed every word, cried a lot, laughed a little, puzzle-solved, and never, ever, wavered in your support. I'll never forget it. 🙏❤️

— Jeff Rake (@jeff_rake) June 22, 2021
The third season ended early this month with several cliffhangers, which makes this cancellation and failed rescue mission all the more heartbreaking.
It's unclear if NBC is totally against giving the series a wrap-up movie as it did with Timeless, but man, don't fans deserve closure?
The series was initially pitched as a six-season drama, which means there's plenty more story to tell.
Even Rake agreed that fans deserve answers. After all, we didn't spend three years of our lives tuning in weekly to find out what happened to the plane just to be left hanging.
We all know what happens to those who ignore Callings — it's not good.
'Friends' Actor James Michael Tyler Opens Up About Stage 4 Prostate Cancer
James Michael Tyler, who played Gunther, the Central Perk manager on the classic sitcom Friends, opened up about his Stage 4 Prostate Cancer on the Today show Monday morning.
After receiving the grim diagnosis in September 2018, the then 56-year-old actor was put on hormone therapy. It worked for a while before eventually spreading to his spine leaving him paralyzed in his lower body.
He revealed that he's "been dealing with that diagnosis for almost the past three years…It's stage 4 [now] late-stage cancer. So eventually, you know, it's probably going to get me."
'Friends' actor James Michael Tyler, who played Gunther, shares prostate cancer diagnosis https://t.co/s4uReICrfn

— TODAY (@TODAYshow) June 21, 2021
During the recent HBO Max Friends reunion, Tyler had originally planned on attending in person but chose to join virtually, so as to not bring a downer on the happy moment.
"It was bittersweet, honestly. I was very happy to be included," he said.
Now, he's using his platform as a way to provide the important message to all men to get screened early, saying that "there are other options available to men if they catch it before me. Next time you go in for just a basic exam or yearly check-up, please ask your doctor for a PSA test."
"I don't want people to have to go through what I've been going through," he said. "This is not…an easy process."
The CW Fall 2021 Premiere Dates: See When 'Riverdale,' 'Nancy Drew,' 'All American' and More
Summer may be in full swing, but The CW is already looking forward to the fall… and all the upcoming premiere dates!
The network dropped a lineup of premieres for their hit shows including Riverdale, All American, Nancy Drew, Batwoman, Walker and more.
Newcomers Legends of the Hidden Temple and 4400 also snagged premiere dates.
Nancy Drew moves to Friday's for its third season.
The Flash and Riverdale will grace Tuesday nights starting November 16.
Walker and Legacies will resume on October 28 in their usual Thursday night spots.
Check out the CW's fall 2021 lineup below:
Friday, October 1
8-9 p.m. ET/PT Penn & Teller: Fool Us (Season 8 premiere)
Friday, October 8
8-9 p.m. Penn & Teller: Fool Us (Original episode)
9-10 p.m. Nancy Drew (Season 3 premiere)
Saturday, October 9
8-8:30 p.m. Whose Line Is It Anyway? (Season 10 premiere)
8:30-9 p.m. Whose Line Is It Anyway? (Original episode)
9-9:30 p.m. World's Funniest Animals (Season 2 premiere)
9:30-10 p.m. World's Funniest Animals (Original Episode)
Sunday, October 10
8-9 p.m. Legends of the Hidden Temple (New series premiere)
9-10 p.m. Killer Camp (Season 2 premiere)
Wednesday, October 13
8-9 p.m. DC's Legends of Tomorrow (Season 7 premiere)
9-10 p.m. Batwoman (Season 3 premiere)
Thursday, October 14
8-9 p.m. Coroner (Original episode)
9-10 p.m. Legacies (Season 4 premiere)
Monday, October 25
8-9 p.m. All American (Season 4 premiere)
9-10 p.m. 4400 (New series premiere)
Thursday, October 28
8-9 p.m. Walker (Season 2 premiere)
9-10 p.m. Legacies (Original episode)
Tuesday, November 16
8-9 p.m. The Flash (Season 8 premiere)
9-10 p.m. Riverdale (Season 6 premiere)