We're continuing our Pretty Little Liars week! We have 4 more days left until the epic and explosive season finale and we just cannot wait! Today's spotlight is on Lucy Hale, who plays Aria Montgomery! 
Could romance be brewing for co-stars offset? Not exactly, but Lucy Hale did recently tell US Weekly that she used to have a secret crush on one of her co-stars. "Its not who you think," Hale admitted. Well, we can just cross Ezra off the A for Aria list. 
So who is the lucky guy who caught Hale's eye? Could it be Tyler Blackburn? Keegan Allen? Ryan Guzman? Brendan Robinson?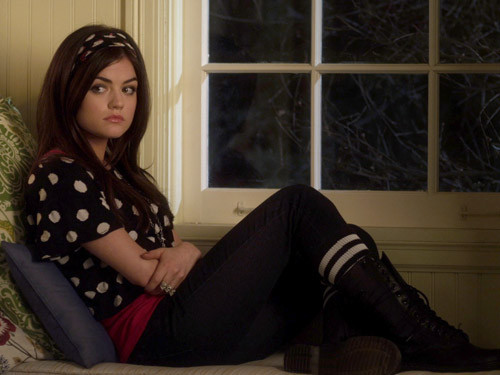 Unfortunately, the brunette is not telling!  Sheesh, talk about keeping secrets on and off the show!
"My song 'Lie A Little Better' is about that experience," she admitted, which led us down the obvious road of googling the lyrics to see if we could spot some clues.  While she doesn't reveal a name, it doesn't sound like a "little crush" either. It sounds like a full-blown "crap, I've fallen hard." But see for yourselves little liars!
I'm fumbling over the words I
Don't feel a bit like me these days

I would be a liar if I said I was fine
But I cant help being honest
And I know now is not the time

The truth is I'm fallin to pieces
Anytime that you're around
Trouble is the truth keeps slippin out

Cant seem to hide what I'm feelin
Cant believe what I'm sayin out loud
Truth is theres no turnin back now
I guess I shoulda learned how to lie a little better

Been trying to cover
This heart out on my sleeve
Been set on playing this down but
I think your catchin on to me
She probably doesn't even have much time to be sad over lost loves. I mean she's on a hit T.V show and her album just debuted at no. 2 on the Country Billboard Chart, trailing only Miranda Lambert.
"Balancing two worlds has been my life the last couple of years," Hale told NY Daily News. 
The musician who acts (as she likes to put  it) admitted that fans of the show probably expected her to go a totally different route, but she grew up on country music and it's always been her passion.
"The show shoots for nine months a year," Hale says, "so I'd fly to Nashville on weekends to work on the record." Her reward was a piece of art that was completely personal. 
Hale, who turns 25 next week, also graced the cover of Flare magazine where she opened up about her scary it was to be so open and vulnerable. 
When asked if she would go in Taylor Swift's footsteps she responded, "I don't really keep in touch with many of my ex-boyfriends, but there are some digs in the album for sure. Taylor made country quote-unquote 'cool.' And she made it OK to talk about your problems. And be vulnerable. And talk sh*t about your ex-boyfriend. That's so fun! Everyone wants to do that."
Photo: Pretty Little Liars/ ABC Family
Follow CRAVEYOUTV on socials
Feelin' generous? Support our site and podcast (Mimosa Talk) on Patreon and KoFi.
Kobe Bryant Dies in Helicopter Crash at 41
Kobe Bryant has passed away, according to TMZ.
The former Lakers player reportedly died in a helicopter crash in Calabasas on Sunday morning.
Per TMZ:  Kobe was traveling with at least 3 other people in his private helicopter when it went down. A fire broke out. Emergency personnel responded, but nobody on board survived. 5 people are confirmed dead. We're told Vanessa Bryant was not among those on board.
The 5-time NBA champion and "Dear Basketball" star is survived by his wife and four daughters.
The LA Times reports that the "helicopter crashed and burst into flames on Sunday morning" due to foggy conditions.
According to reports, there were multiple fatalities.
27 Best Secret Siblings on Television
There are a lot of secret siblings on television.
Plenty of TV shows tend to build their foundation on common tropes such as the cringe-worthy love triangle trope and the long lost sibling trope.
If you need to stir up some drama, especially in a campy teen series, there's no better way than by bringing in a secret sibling that's jealous, scorned, vengeful, broken, betrayed, looking for a family, or all of the above.

Some secret siblings are introduced in a sensical way with the serious laying some breadcrumbs leading up to the introduction.
Other reveals come out of left field and frustrate audiences by appearing as mere plot devices thrown in for the sake of it.
And sometimes, the trope works well as the secret siblings become pivotal to the storyline and the main character's development.
We're looking back at some of our favorite secret siblings on television. Which ones would you add to the list?
Chic/ Charles – Riverdale
On Riverdale, Betty and Jughead's first half brother (yes, they're still dating), Chic, was a poser but stirred up enough drama to make the fandom collectively hate him. Eventually, we meet the real Charles, an FBI agent, who bonded with Betty over her mother's time at The Farm.
Unfortunately, Charles turned out to be just as crazy as Chic. The two were revealed to be lovers who are plotting something against the family that abandoned them.

Scott Rosson – Gossip Girl
Scott appeared in the second season of Gossip Girl as the love child of Lily van der Woodsen and Rufus Humphrey thus making BF and GF Serena and Dan half-siblings.
Everyone tried to keep Scott a secret for as long as they could but eventually, the secret sibling was outed by the one and only Gossip Girl. XoXo.

Adam – Dynasty
Adam, the kidnapped child of Blake Carrington and Alexis Carrington, appeared early on in Dynasty but was quickly revealed to be a fake hired by Alexis to get her hands on the Carrington money.
The real Adam Carrington makes his way to the Manor, though, he's equally as deranged and way more dangerous as his predecessor. He had his brother, Steven, committed in Europe after thinking he was having "hallucinations," shoved his mother's face into the fireplace, and continues to sabotage his half-sister, Fallon, daily all while hoping to gain his father's love.

Ari and Ziva – NCIS
After Ari murdered NCIS agent Kate Todd, everyone believed that Ziva David was simply his Mossad control officer. It's only after Ziva kills Ari to save Gibbs that we find out that he was her half-brother.
It's a storyline that took place during NCIS Season 3 and has had repercussions that have lasted until present day NCIS Season 17!

Zelena – Once Upon a Time
Zelena, aka the Wicked Witch of the West (from the Wizard of Oz), arrives in Once Upon a Time Season 3. She is Regina Mills' (the Evil Queen) half-sister, who was abandoned as a child and wished dearly for a family. Her jealousy over Regina consumed her and led to plenty of magical wars before the sisters mend their relationship and lived happily ever after.

Anezka – Jane the Virgin
Yael Groblas pulled double duty on Jane the Virgin to portray the main character Petra and her long lost twin, Anezka. Anezka was a "shy mouse" who grew up in an orphanage in the Czech Republic before being brought to America by their evil mother, Magda.
Though it seems like she wants a genuine relationship with Petra, she's later revealed to be conspiring with Magda to steal Rafael's money and flee the country.

Maggie and Meredith – Grey's Anatomy
In the Grey's Anatomy Season 10 finale, we learn that Maggie and Meredith are half-sisters. Their mother, Ellis, had a fling with Richard when Meredith was very young.
They put Maggie up for adoption, but when she got older, she learned her late mother was a top-notch surgeon at Grace Seattle Hospital. While the sisters had a strange relationship at first, they later came around and developed a friendship.
Adam- Supernatural
Adam was revealed to be John Winchester's son on Supernatural, yet it was more shocking to find out that John was actually a better father to Adam than our boys, Dean and Sam. It's no surprise that they left him in hell. The resentment is real.

Wally – Flash
The Flash Season 2 introduces us to Wally, who is revealed to be Iris' long lost brother from her estranged mother. Wally hesitates to embrace the familial unit, but eventually joins Team Flash and becomes Kid Flash
Alex Drake – Pretty Little Liars
The PLL family tree was more complicated than the Game of Thrones one and there was plenty of surprise sibling reveals including Alex Drake as "AD" in the series finale.
Alex is the daughter of Mary Drake and Peter Hastings, and Spencer's identical twin sister. While Spencer was given to her biological father and his wife, Alex was given up for adoption to an orphanage in the UK where she plotted her insanely complex revenge.

Charlotte DiLaurentis – Pretty Little Liars
Like I said, the family tree is very complicated. Charlotte was born "Charles" and transitioned into the character we know as CeCe. Though she is the biological daughter of Mary Drake and Pastor Ted, she was adopted by Jessica and Kenneth DiLaurentis (Jessica's sister is Mary).
This makes her Alison and Jason's biological cousin and adoptive sister (and she had a romantic relationship with Jason!), and also, the biological half-sister of Spencer Hastings.

Derek – One Tree Hill
In yet another case where we meet the "fake" secret sibling before meeting the real one, a deranged and broken man named Ian poses as Peyton's half-brother, Derek, to get close to her.
When fake Derek realizes that he's losing Peyton, he tries to rape her but thankfully, Lucas and her real brother, Derek, a US Marine, come to her rescue.

Chilling Adventures of Sabrina Season 3 Trailer: Being The Queen of Hell is Hard Work
If you can't contain your excitement for the season 3 of Chilling Adventures of Sabrina, join the club.
The new trailer for the series premiering on January 24 (soon) on Netflix introduces us to Sabrina: the Queen of Hell.
"You know what you have to do, Sabrina. Claim the throne," a voice begins as Sabrina realizes she has to make the ultimate sacrifice to "save her precious Greendale" and her boyfriend, Nicholas Scratch, who sacrificed himself in season 2 to save his girl.
With the balance off in hell, heaven, and Earth, things are a little wonky yet also much darker than in previous seasons. There's also new demons, cheerleading practice, and Sabrina wearing a lot of white colors.
"Hell's under new management now," Sabrina declares confidently.
Though, Sabrina's decision doesn't sit well with Aunt Zelda who informs her "being Queen of Hell" isn't a summer job.
"You're putting the whole coven in peril just so you can see your boyfriend."
Watch the trailer above.
According to the Netflix synopsis: "Part Three finds Sabrina reeling from the harrowing events of Part Two. Though she defeated her father Lucifer, the Dark Lord remains trapped within the human prison of her beloved boyfriend, Nicholas Scratch."
The series also put out this fun and twisted music video. It's catchy — you've been warned.