We're continuing our Pretty Little Liars week! We have 4 more days left until the epic and explosive season finale and we just cannot wait! Today's spotlight is on Lucy Hale, who plays Aria Montgomery! 
Could romance be brewing for co-stars offset? Not exactly, but Lucy Hale did recently tell US Weekly that she used to have a secret crush on one of her co-stars. "Its not who you think," Hale admitted. Well, we can just cross Ezra off the A for Aria list. 
So who is the lucky guy who caught Hale's eye? Could it be Tyler Blackburn? Keegan Allen? Ryan Guzman? Brendan Robinson?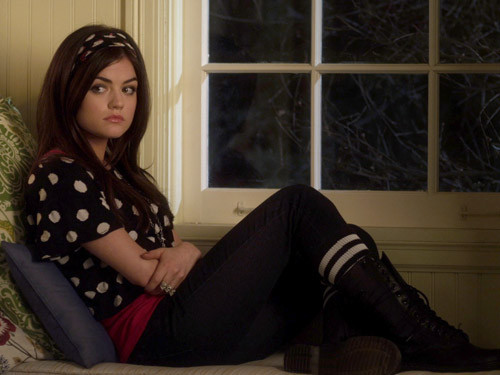 Unfortunately, the brunette is not telling!  Sheesh, talk about keeping secrets on and off the show!
"My song 'Lie A Little Better' is about that experience," she admitted, which led us down the obvious road of googling the lyrics to see if we could spot some clues.  While she doesn't reveal a name, it doesn't sound like a "little crush" either. It sounds like a full-blown "crap, I've fallen hard." But see for yourselves little liars!
I'm fumbling over the words I
Don't feel a bit like me these days

I would be a liar if I said I was fine
But I cant help being honest
And I know now is not the time

The truth is I'm fallin to pieces
Anytime that you're around
Trouble is the truth keeps slippin out

Cant seem to hide what I'm feelin
Cant believe what I'm sayin out loud
Truth is theres no turnin back now
I guess I shoulda learned how to lie a little better

Been trying to cover
This heart out on my sleeve
Been set on playing this down but
I think your catchin on to me
She probably doesn't even have much time to be sad over lost loves. I mean she's on a hit T.V show and her album just debuted at no. 2 on the Country Billboard Chart, trailing only Miranda Lambert.
"Balancing two worlds has been my life the last couple of years," Hale told NY Daily News. 
The musician who acts (as she likes to put  it) admitted that fans of the show probably expected her to go a totally different route, but she grew up on country music and it's always been her passion.
"The show shoots for nine months a year," Hale says, "so I'd fly to Nashville on weekends to work on the record." Her reward was a piece of art that was completely personal. 
Hale, who turns 25 next week, also graced the cover of Flare magazine where she opened up about her scary it was to be so open and vulnerable. 
When asked if she would go in Taylor Swift's footsteps she responded, "I don't really keep in touch with many of my ex-boyfriends, but there are some digs in the album for sure. Taylor made country quote-unquote 'cool.' And she made it OK to talk about your problems. And be vulnerable. And talk sh*t about your ex-boyfriend. That's so fun! Everyone wants to do that."
Photo: Pretty Little Liars/ ABC Family
Follow CRAVEYOUTV on socials
'Scream Queens' Star Billie Lourd Welcomes Baby Boy – See the Name That Pays Tribute to Carrie Fisher
Billie Lourd surprised fans on Thursday morning when she welcomed her son into the world.
The Scream Queens actress kept her pregnancy under wraps before revealing a photo of her baby boy's feet on Instagram.
https://www.instagram.com/p/CFie3M8HhNb/?utm_source=ig_embed
She also revealed she named him Kingston Fisher Lourd Rydell; his name pays tribute to Lourd's late mother and Star Wars' Princess Leia Carrie Fisher.
Lourd is engaged to Austen Ryden, the child's father.
Mark Hamil, her mother's co-star, celebrated the good news on Twitter writing, "Congratulations to #BillieLourd & #AustenRydell on the arrival of their firstborn child: Kingston Fisher Lord Rydell!!! I can't think of another baby with both "KING" AND "LORD" in their name. Nice."
Congratulations to #BillieLourd & #AustenRydell on the arrival of their firstborn child: Kingston Fisher Lord Rydell!!!
I can't think of another baby with both "KING" AND "LORD" in their name. Nice. 👍👶🎂♥️ pic.twitter.com/BJrvh8pARe

— Mark Hamill (@HamillHimself) September 25, 2020
Congratulations to the happy couple.
Just yesterday, This Is Us actress Mandy Moore announced she's expecting a baby boy in early 2021.
And pretty soon, Lourd will be able to have play dates her Scream Queen's co-star Emma Roberts, who is also pregnant!
'Schitt's Creek' Launching in National Syndication Following Emmys Sweep
The small town of Schitt's Creek is going nationwide!
After sweeping the Emmys on Sunday, September 20, the half-hour sitcom is coming to a TV near you.
You'll be able to watch the fan-favorite comedy anywhere as it's being launched into national syndication across U.S broadcast markets starting on September 28, per the press release from Lionsgate's Debmar-Mercury, who owns the domestic broadcast rights.
Prior to Sunday's show, the Pop TV original had zero Emmy's, but now, it's being referred to as a nine-time Emmy Award-winning comedy. Talk about bragging rights.
During the 2020 virtual show, it won all seven of the major comedy categories and became the first to win all four comedy-acting categories in one year.
The cast includes Emmy Award winners Eugene Levy, Catherine O'Hara, Daniel Levy, Annie Murphy and Chris Elliott. Rounding out the cast are Emily Hampshire, Jennifer Robertson, Noah Reid, Sarah Levy, Karen Robinson, Dustin Milligan, John Hemphill, Rizwan Manji, and Tim Rozon.
Schitt's Creek centers on an outrageously wealthy video store magnate, Johnny Rose (Eugene Levy); his former soap-star wife Moira (Catherine O'Hara); and their two adult children – the self-described black sheep of the family David (Daniel Levy) and career socialite Alexis (Annie Murphy). When the family suddenly find themselves broke, they have no choice but to move to Schitt's Creek, a small-town Johnny once bought as a joke. Forced to live out of a motel, with their pampered lives a memory, they struggle to find jobs and relationships and, most importantly, figure out what it means to be a family in the loveable town they've reluctantly come to call home.
Debmar-Mercury Co-Presidents Ira Bernstein and Mort Marcus, commented, "What begins as a fish-out-of-water story quickly develops into a nuanced love letter to family, delivered with warmth, humanity and perfect comedic timing. With a gifted cast and whip-smart writing, it's easy to see why 'Schitt's Creek' appeals to Emmy voters, critics and viewers, and has built a loyal and passionate fan base. We are excited to bring the Emmy Award-winning series to broadcast television stations and introduce the iconic Rose family to a new audience."
Previously, Schitt's Creek was available for streaming on Netflix.
'This Is Us' Season 5 Moves Up Premiere Date – Find Out When You Can Reunite with the Pearsons!
The wait for new episodes of This Is Us is almost over.
The show's fifth season will premiere on Tuesday, October 27, a few weeks ahead of its previously announced November 10 premiere.
NBC made the announcement during a commercial that ran during the season finale of America's Got Talent on Wednesday.
The show's official social media accounts also revealed the good news writing: "We just couldn't wait any longer, but we have a feeling you won't mind."
The reunion with the Pearsons will be a two-hour event, which will hopefully answer some burning questions left behind by season 4 like who Madison's doctor is and why Nicky was by Rebecca's bedside instead of Miguel.
Oh, Baby! 'This Is Us' Actress Mandy Moore Pregnant With First Child
The series has about a month to turn over new episodes as TVLine notes that the series is set to start production this week following a mandatory hiatus brought on by the COVID-19 pandemic.
Like many shows including FOX's The Resident, the season isn't shying away from reality but will instead tackle the pandemic "head-on," series creator Dan Fogelman revealed on Twitter.
Some vague #ThisIsUs answers (sorry)

– Not sure yet on production start.
– Not sure when new eps will air.
– Yes on Covid. We've decided to attack things head on. Very proud of @ThisIsUsWriters
– Same planned ending. Same route to get there.

Hope that's (somewhat) useful? https://t.co/gx0YJQxq5f

— Dan Fogelman (@Dan_Fogelman) August 17, 2020
It's unclear how the public health crisis will play into the show's narrative or how it'll affect the tight-knit Pearson clan. Maybe that's why Randall and Kevin haven't seen each other for years? Yes, we're trying to pretend that big explosive fight in the This Is Us Season 4 finale never happened!
Turning it over to you, Cravers. Are you excited for the return of This Is Us?