We're continuing our Pretty Little Liars week! We have 4 more days left until the epic and explosive season finale and we just cannot wait! Today's spotlight is on Lucy Hale, who plays Aria Montgomery! 
Could romance be brewing for co-stars offset? Not exactly, but Lucy Hale did recently tell US Weekly that she used to have a secret crush on one of her co-stars. "Its not who you think," Hale admitted. Well, we can just cross Ezra off the A for Aria list. 
So who is the lucky guy who caught Hale's eye? Could it be Tyler Blackburn? Keegan Allen? Ryan Guzman? Brendan Robinson?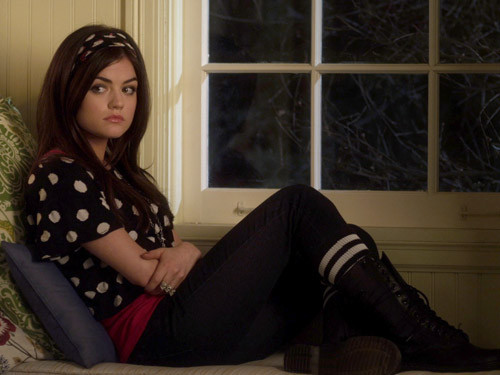 Unfortunately, the brunette is not telling!  Sheesh, talk about keeping secrets on and off the show!
"My song 'Lie A Little Better' is about that experience," she admitted, which led us down the obvious road of googling the lyrics to see if we could spot some clues.  While she doesn't reveal a name, it doesn't sound like a "little crush" either. It sounds like a full-blown "crap, I've fallen hard." But see for yourselves little liars!
I'm fumbling over the words I
Don't feel a bit like me these days

I would be a liar if I said I was fine
But I cant help being honest
And I know now is not the time

The truth is I'm fallin to pieces
Anytime that you're around
Trouble is the truth keeps slippin out

Cant seem to hide what I'm feelin
Cant believe what I'm sayin out loud
Truth is theres no turnin back now
I guess I shoulda learned how to lie a little better

Been trying to cover
This heart out on my sleeve
Been set on playing this down but
I think your catchin on to me
She probably doesn't even have much time to be sad over lost loves. I mean she's on a hit T.V show and her album just debuted at no. 2 on the Country Billboard Chart, trailing only Miranda Lambert.
"Balancing two worlds has been my life the last couple of years," Hale told NY Daily News. 
The musician who acts (as she likes to put  it) admitted that fans of the show probably expected her to go a totally different route, but she grew up on country music and it's always been her passion.
"The show shoots for nine months a year," Hale says, "so I'd fly to Nashville on weekends to work on the record." Her reward was a piece of art that was completely personal. 
Hale, who turns 25 next week, also graced the cover of Flare magazine where she opened up about her scary it was to be so open and vulnerable. 
When asked if she would go in Taylor Swift's footsteps she responded, "I don't really keep in touch with many of my ex-boyfriends, but there are some digs in the album for sure. Taylor made country quote-unquote 'cool.' And she made it OK to talk about your problems. And be vulnerable. And talk sh*t about your ex-boyfriend. That's so fun! Everyone wants to do that."
Photo: Pretty Little Liars/ ABC Family
Follow CRAVEYOUTV on socials
The CW Fall 2021 Premiere Dates: See When 'Riverdale,' 'Nancy Drew,' 'All American' and More
Summer may be in full swing, but The CW is already looking forward to the fall… and all the upcoming premiere dates!
The network dropped a lineup of premieres for their hit shows including Riverdale, All American, Nancy Drew, Batwoman, Walker and more.
Newcomers Legends of the Hidden Temple and 4400 also snagged premiere dates.
Nancy Drew moves to Friday's for its third season.
The Flash and Riverdale will grace Tuesday nights starting November 16.
Walker and Legacies will resume on October 28 in their usual Thursday night spots.
Check out the CW's fall 2021 lineup below:
Friday, October 1
8-9 p.m. ET/PT Penn & Teller: Fool Us (Season 8 premiere)
Friday, October 8
8-9 p.m. Penn & Teller: Fool Us (Original episode)
9-10 p.m. Nancy Drew (Season 3 premiere)
Saturday, October 9
8-8:30 p.m. Whose Line Is It Anyway? (Season 10 premiere)
8:30-9 p.m. Whose Line Is It Anyway? (Original episode)
9-9:30 p.m. World's Funniest Animals (Season 2 premiere)
9:30-10 p.m. World's Funniest Animals (Original Episode)
Sunday, October 10
8-9 p.m. Legends of the Hidden Temple (New series premiere)
9-10 p.m. Killer Camp (Season 2 premiere)
Wednesday, October 13
8-9 p.m. DC's Legends of Tomorrow (Season 7 premiere)
9-10 p.m. Batwoman (Season 3 premiere)
Thursday, October 14
8-9 p.m. Coroner (Original episode)
9-10 p.m. Legacies (Season 4 premiere)
Monday, October 25
8-9 p.m. All American (Season 4 premiere)
9-10 p.m. 4400 (New series premiere)
Thursday, October 28
8-9 p.m. Walker (Season 2 premiere)
9-10 p.m. Legacies (Original episode)
Tuesday, November 16
8-9 p.m. The Flash (Season 8 premiere)
9-10 p.m. Riverdale (Season 6 premiere)
'Cruel Summer' Renewed for a Second Season at Freeform Ahead of Finale
Cruel Summer may be airing its season finale tonight, but fans can already look forward to more spine-tingling thrills.
Freeform has picked up the psychological drama for a second season, according to TVLine.
"Renewing Cruel Summer for a Season 2 was an easy decision," Freeform President Tara Duncan said.
"It's the biggest series debut in Freeform's history and the audience response has been overwhelmingly positive. [Executive producers] Jessica [Biel], Michelle [Purple] and [showrunner] Tia [Napolitano] did a phenomenal job telling an addictive story that's tapped into the cultural zeitgeist. I'm excited to see where they take the series next," she added.
Napolitano also noted: "Collaborating with Iron Ocean, our dedicated crew, charismatic cast, and our partners at Freeform and eOne has been the best first showrunning experience I could ask for. I am beyond grateful and excited by the amazing fan response to our show! Continuing to bottle Cruel Summer magic for a Season 2 is an absolute dream come true."
The freshman drama stars Olivia Holt (Kate Wallis) and Chiara Aurelia (Jeanette Turner) whose worlds collide when Kate goes missing and later accuses Jeanette of knowing who kept her captive and not telling the police. Jeanette is adamant that she never saw Kate in captivity. The story is told over three timeliness in 1993, 1994, and 1995.
The mystery is set to be resolved in tonight's finale.
Per Deadline, Biel revealed that the mystery could return with a new story and the same characters or feature a new cast of characters.
You can recap all of the Cruel Summer reviews below!
2021-2022 TV Schedule: Find Out Which Shows Have Been Canceled or Renewed
We're entering the season of refreshing the page to see if your favorite shows have been renewed for the upcoming 2021-2022 TV season.
Since COVID-19 affected production on many shows and delayed their premieres, the criteria for what gets the green light and what ends up on the chopping block has become more stringent this go-around.
As usual, The CW gave an early renewal for most of their shows including Nancy Drew, Riverdale, Walker, Batwoman, and more.
In a shocking twist, Grey's Anatomy has been renewed for season 18 along with sibling series Station 19.
Unfortunately, not every show shared the same fate as Prodigal Son on FOX was given the ax after two seasons.
Check out the list below to see which shows on ABC, NBC, CBS, FOX, and The CW have been renewed, canceled, or on the bubble. (TBD means that a show has not yet gotten news about its upcoming season, so check back soon!)
NBC
Renewed
The Blacklist
Chicago Fire
Chicago Med
Chicago P.D.
Kenan
Law & Order: SVU
Mr. Mayor
New Amsterdam
This Is Us
Transplant
This Is Us
Young Rock
Law & Order Organized Crime
Canceled
Connecting
Manifest
Debris
Zoey's Extraordinary Playlist
Final Season
Brooklyn Nine-Nine
Superstore
TBD
Good Girls
ABC
Renewed
Big Sky
The Good Doctor
Grey's Anatomy
Station 19
The Conners
The Goldbergs
Home Economics
A Million Little Things
The Rookie
Canceled
Stumptown
United We Fall
For Life
Rebel
Call Your Mother
American Housewife
mixed-ish
Final Season
black-ish
The CW
Renewed
All American
Batwoman
Charmed
Coroner
DC's Legends of Tomorrow
DC's Stargirl
Dead Pixels
Dynasty
The Flash
In the Dark
Kung Fu
Legacies
Nancy Drew
Riverdale
Roswell, New Mexico
Superman & Lois
Stargirl
Two Sentence Horror Stories
Walker
Canceled
Burden of Truth
Pandora
Trickster
Bulletproof
Final Season
Black Lightning
Supergirl
TBD
Republic of Sarah
Devils
The Outpost
FOX
Renewed
Bob's Burgers
Call Me Kat
Duncanville
Family Guy
The Great North
The Simpsons
9-1-1
9-1-1: Lone Star
The Resident
The Moodys
Canceled
Bless the Harts
Filthy Rich
Next
Prodigal Son
Final Season
Last Man Standing
CBS
Renewed
Blood & Treasure
Blue Bloods
Bob Hearts Abishola
Bull
The Equalizer
Evil
FBI
FBI: Most Wanted
Magnum P.I.
NCIS
NCIS: Los Angeles
The Neighborhood
S.W.A.T.
Young Sheldon
B Positive
SEAL Team (Paramount+)
United States of Al
Canceled
MacGyver
Mom
NCIS: New Orleans
All Rise
Clarice
The Unicorn