BREAKING NEWS:
Rachel Bilson is a mommy-to-be.
The Hart of Dixie star is pregnant with her first child with longtime boyfriend Hayden Christensen, US Weekly reported.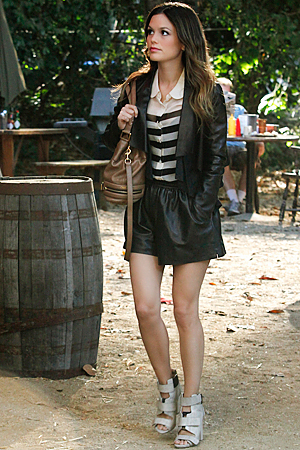 According to an insider, the two have talked about this for quite some time and are super excited to become parents.
And it's true. In an interview with Cosmopolitan in May 2013, Bilson admitted,  "I definitely have family on the brain. Having kids is something I want to see in my future – I hope."
More recently the O.C alum told the June issue of Health Magazine about wanting to start a family.
"I can just see this little toddler waddling around the house," she said explained.
She then went on to joke about looking really young.
"When I have a baby, everyone's going to be like, 'Awww, poor teen mom. Poor girl.' And 'Teen Mom' is my favorite show. … I know, pathetic. But it's true," she said.
Well, 32 isn't really teen mom anymore!!! Plus, we'd like to think of it as a hip/trendy mom!! Just look at her carrying her girlfriends newborn! She fits perfectly in the mommy role! 
The couple met on the set of Jumper in 2007. They got engaged in December 2008, only to call it off in August 2010, but reconcile shortly after.
Bilson's CW show, Hart of Dixie was just renewed for another season.
Congrats to the parents-to-be!
Photo Credit: The CW/Hart of Dixie
Follow CRAVEYOUTV on socials
Netflix Passes on Renewing Canceled NBC Drama 'Manifest'
Manifest will not fly again.
Netflix has officially passed on renewing the Manifest, according to Deadline.
The plane drama was abruptly canceled after three seasons leaving fans with absolutely no answers as to what led to the disappearance of Flight 828.
It's a surprising move considering the series has been steadily holding at #1 after being added to Netflix.
Fans also rallied on social media with the #SaveManifest campaign, but sadly, all efforts were unsuccessful.
Sources say that since Netflix opted to pass on saving the drama, Warner Bros. Television, the studio responsible for the series, has concluded efforts to rehome it as it's reportedly too complicated with rights and cast contracts.
For now, reps for Netflix and WBTV declined to comment.
However, it seems to be a done deal as series creator Jeff Rake seemed to confirm the solemn news tweeting: "Manifest Gratitude, Final Edition Thank YOU, our fans. You became the Manifesters at Comic-Con 2018. Ever since, you've watched religiously, parsed every word, cried a lot, laughed a little, puzzle-solved, and never, ever, wavered in your support. I'll never forget it."
Manifest Gratitude,
Final Edition

Thank YOU, our fans. You became the Manifesters at Comic-Con 2018. Ever since, you've watched religiously, parsed every word, cried a lot, laughed a little, puzzle-solved, and never, ever, wavered in your support. I'll never forget it. 🙏❤️

— Jeff Rake (@jeff_rake) June 22, 2021
The third season ended early this month with several cliffhangers, which makes this cancellation and failed rescue mission all the more heartbreaking.
It's unclear if NBC is totally against giving the series a wrap-up movie as it did with Timeless, but man, don't fans deserve closure?
The series was initially pitched as a six-season drama, which means there's plenty more story to tell.
Even Rake agreed that fans deserve answers. After all, we didn't spend three years of our lives tuning in weekly to find out what happened to the plane just to be left hanging.
We all know what happens to those who ignore Callings — it's not good.
'Friends' Actor James Michael Tyler Opens Up About Stage 4 Prostate Cancer
James Michael Tyler, who played Gunther, the Central Perk manager on the classic sitcom Friends, opened up about his Stage 4 Prostate Cancer on the Today show Monday morning.
After receiving the grim diagnosis in September 2018, the then 56-year-old actor was put on hormone therapy. It worked for a while before eventually spreading to his spine leaving him paralyzed in his lower body.
He revealed that he's "been dealing with that diagnosis for almost the past three years…It's stage 4 [now] late-stage cancer. So eventually, you know, it's probably going to get me."
'Friends' actor James Michael Tyler, who played Gunther, shares prostate cancer diagnosis https://t.co/s4uReICrfn

— TODAY (@TODAYshow) June 21, 2021
During the recent HBO Max Friends reunion, Tyler had originally planned on attending in person but chose to join virtually, so as to not bring a downer on the happy moment.
"It was bittersweet, honestly. I was very happy to be included," he said.
Now, he's using his platform as a way to provide the important message to all men to get screened early, saying that "there are other options available to men if they catch it before me. Next time you go in for just a basic exam or yearly check-up, please ask your doctor for a PSA test."
"I don't want people to have to go through what I've been going through," he said. "This is not…an easy process."
The CW Fall 2021 Premiere Dates: See When 'Riverdale,' 'Nancy Drew,' 'All American' and More
Summer may be in full swing, but The CW is already looking forward to the fall… and all the upcoming premiere dates!
The network dropped a lineup of premieres for their hit shows including Riverdale, All American, Nancy Drew, Batwoman, Walker and more.
Newcomers Legends of the Hidden Temple and 4400 also snagged premiere dates.
Nancy Drew moves to Friday's for its third season.
The Flash and Riverdale will grace Tuesday nights starting November 16.
Walker and Legacies will resume on October 28 in their usual Thursday night spots.
Check out the CW's fall 2021 lineup below:
Friday, October 1
8-9 p.m. ET/PT Penn & Teller: Fool Us (Season 8 premiere)
Friday, October 8
8-9 p.m. Penn & Teller: Fool Us (Original episode)
9-10 p.m. Nancy Drew (Season 3 premiere)
Saturday, October 9
8-8:30 p.m. Whose Line Is It Anyway? (Season 10 premiere)
8:30-9 p.m. Whose Line Is It Anyway? (Original episode)
9-9:30 p.m. World's Funniest Animals (Season 2 premiere)
9:30-10 p.m. World's Funniest Animals (Original Episode)
Sunday, October 10
8-9 p.m. Legends of the Hidden Temple (New series premiere)
9-10 p.m. Killer Camp (Season 2 premiere)
Wednesday, October 13
8-9 p.m. DC's Legends of Tomorrow (Season 7 premiere)
9-10 p.m. Batwoman (Season 3 premiere)
Thursday, October 14
8-9 p.m. Coroner (Original episode)
9-10 p.m. Legacies (Season 4 premiere)
Monday, October 25
8-9 p.m. All American (Season 4 premiere)
9-10 p.m. 4400 (New series premiere)
Thursday, October 28
8-9 p.m. Walker (Season 2 premiere)
9-10 p.m. Legacies (Original episode)
Tuesday, November 16
8-9 p.m. The Flash (Season 8 premiere)
9-10 p.m. Riverdale (Season 6 premiere)