I have no idea where Riverdale's crazy train express is heading, but I do know that I'm fully on board.
Choo-choo.
Honestly, once you embrace that mess that Riverdale is, you start enjoying the episodes for every sliver of ridiculousness.
There were some grade-A moments on Riverdale Season 6 Episode 14 as the sad superhero squad attempted to wield their powers against Percival. A battle for Riverdale's soul is imminent, and while they've all been graced with superpowers, none of them have been able to see them as a true blessing. Until now.
The episode also reunited some old couples — and yes, there's definitely some nostalgia about those OG romances, even if you are a present-day Barchie fan.
Archie's attempt at eliminating palladium as his weakness wasn't working at first. In fact, it was killing him. He turned to Cheryl for some help in making himself immune to the palladium, but micro-dosing was actually killing him even quicker.
Eventually, Cheryl turned to the ancient alchemists for a solution and decided that the best option was to forge Archie. I didn't really catch onto what the plan entailed, but basically, it boiled down to Archie chanting a Latin alchemical spell while Cheryl used her powers of pyrokinesis for the foraging.
It was — dramatic, to say the least, but it seemed to do the trick.
Archie was forged, and he became the most powerful being in Riverdale. And hopefully, more impervious to anything that Percival could conjure up on his end.
The decision to pan from a fiery-red, potentially deathly spell over to a product placement for Smartfood popcorn was quite hilarious.
It was yet another subtle reminder that Riverdale can get away with anything and none of us will even question it.
There seems to be a lot of product placement going on this season — don't worry, Canva, we see you! — and I wonder if that's how the series was able to secure another season at The CW amid mass cancellations. I'm not complaining in the slightest.
Also turning to Cheryl for some wisdom was Veronica, whose "power" was the kiss of death. It definitely didn't present as a power at first, but once she got a handle on her abilities and knew that if she kept her chill, she wouldn't accidentally kill anyone with her venom, she was able to turn it into her power.
The Kiss of the Spiderwoman — any Katy Keene fans here?
The raven-haired goddess — as Cheryl referred to her — rocked those goth looks, and as someone who despises musicals, I quite enjoyed her dark rendition of "Toxic." Hopefully, Britney Spears enjoyed it as much as Archie did. When have we ever seen him let loose like that? Immortality looks good on him.
Archie's new power was also able to help Veronica get back to her main character energy. If I'm understanding correctly, he sucked the venom out of her when he kissed her? Betty's quip was also a subtle way of acknowledging fans who have been slightly peeved that Veronica, a former main character, was sidelined this season. They see you, they feel you.
Since Archie and Veronica fell back into old ways, so did Betty and Jughead as they teamed up once again to solve a mystery.
Seeing them back in action reminded me of how much I missed these two working cases together. I love Tabitha, don't get me wrong, but Jughead and Betty are the OG's.
Anyway, Betty wanted Jughead to use his powers to get into her subconscious and help her answer any lingering questions about her father.
Jughead sifting through Betty's mind was cleverly presented as him looking through the Betty comics — it's always sweet to see the show acknowledge its roots.
Upon entering the darkest abyss of her mind, he unearthed that Hal Cooper was grooming Betty to be a killer since birth. He also found out that Alice has the serial killer gene and knew all about her husband's penchant for killing. In one specific instance, he threatened to kill her if she didn't help him bury the body of a deputy who came to investigate his crimes.
Admittedly, I'm not really interested in exploring Betty's darkness anymore. I feel like most of the characters have moved on from their previous storylines, but they keep pushing this aspect of Betty down our throats. I'd love for her to fully grow into who she is now because honestly, it almost feels like two different characters and personalities sometimes. The Betty we see grabbing drinks with Vee and having a romantic night with Archie is not the same woman we see exploring this darkness. They have to pick one and stick to it.
Throughout the episode, particularly with Jughead and Betty, flashes of previous memories kept flickering through what seemed to be the fabric of the universe. Is this proof that the memories of the characters in an alternate reality are blending with the characters of this reality?
Even Archie experienced somewhat of deja vu when Jughead said "I contain multitudes" in reference to his comics. Was the multitudes a slight nod to multiverses?
And finally, Cheryl reconnected with Heather, who blew into town in spectacular fashion. She's a librarian in Greendale now, and from the promo, seems to be dabbling in magic of her own, which isn't surprising considering our dear friend Sabrina Spellman also resides in Greendale.
I know the consensus among fans is that Cheryl and Toni have to get back together, but I'm not opposed to exploring Cheryl's past if it allows us to make a full circle and reunite the soulmates down the line.
Other Musings
Cheryl has the power of pyrokinesis and yet she trusts a Magic 8 Ball to make decisions about her love life.
I love the shade Cheryl and Nana continuously throw at each other. There's love there somewhere.
Betty telling Jughead that he "banged around" in her subconscious had to be a bone that the writers threw Bughead fans.
It almost seemed like the cast had fun with this episode and just basked in the insanity of their characters.
What did you think of the episode? And where do you think we're heading this season? Does the Riverdale four (+ friends) have what it takes to stop Percival now that they are fully in control of their powers?
Follow CRAVEYOUTV on socials
Riverdale Review – Biblical (6×18)
Percival Pickens is stoking the fire and pressing the gas on his plans to destroy Riverdale.
And, unfortunately, his plans were on a collision course with Toni and Fangs' wedding.
It's unfair that the one and only true wedding we've ever gotten on the series ends with the death of all first born's in town, but it's also quite fitting for the wicked town.
And the group had to have known that something was bound to go wrong as Percival continuously cursed them with various Biblical plagues leading up to the "I do."
I don't think it's entirely justified to say that they underestimated Percival because they were all very much aware that he's a powerful and dark sorcerer, but on some level, I think they just assume this is the kind of threat that they've faced before and overcome, which is absolutely not the case.
The residents of Riverdale have a lot going for them, but they have absolutely no idea of the kind of forces they are dealing with.
They are sharp and skilled, I'll give them that, but it's no match for the powers that Percival possesses. I mean, the guy is building a ghost train for crying out loud, why would they ever assume that his only ability was mind control? The guy has a whole arsenal of powers that he's just waiting to use when the time comes.
It was clever to use Cheryl and Heather's powers of invisibility to plan an ambush on Percival and put him in the stockade that rendered his powers useless, but why did they think it was a good idea to take their eyes off of him? They should have been taking turns watching Percival to ensure that he wasn't up to anything.
Instead, they all decided to pretend that everything is fine for a night and enjoy themselves, and while they did briefly, the good times were fleeting as they resulted in one of the direst plagues: the death of their loved ones.
With Archie, Fangs, and most of the town dead, including Jughead, it's up to the women + Kevin and Moose, to put Percival in his place and save Riverdale.
Heather, however, realized that the scope of the situation was far above her pay grade, so she suggested looping in a Necromancer (no, The CW fans, not that one) — Sabrina Spellman.
Betty, Veronica, Cheryl, and Tabitha in a coven of their own run by Sabrina (Kiernan Shipka)? Pinch me, I'm dreaming.
I don't want to celebrate the death of the men, but if there's anyone that can save Riverdale's soul, it's the women who make it a worthy place to save, to begin with.
Sabrina Spellman would also be the only witch strong enough to stand a chance against Percy. Dark magic recognizes dark magic. And he likely didn't foresee this ace up their sleeves. I was going to say that she already dealt with thwarting the implosion of two universes, but I believe the timeline is off here and that hasn't happened just yet.
It's important to note that all the events of the last Rivervale implosion also took place at a wedding, though Archie and Betty's, so maybe this is just history repeating itself only in a slightly altered?
The women on Riverdale have always been powerful, but we can't discredit the men entirely.
Prior to their deaths, Archie and Jughead played a significant role, and without them, pieces of the puzzle are missing.
Archie was more so the muscle of the operation, but Jughead was critical in connecting with the other author, another version of himself — our Jughead — to write the stories that needed to be written.
It's kind of confusing to explain, but as the worlds continue to bleed into one another, it seems Jughead's writing was essential to saving the universes. He was told "keep writing" via a message through the portal in the bunker, just like we know that our Jughead was writing to save Riverdale. Maybe it's the same idea that this Jughead must write to save Rivervale?
That said. I do think our Jughead saved Parallel Jughead in some way. The Pop's burger couldn't have been just a peace offering. I think our Jughead knew what was going to happen, so he gave PJ some kind of anecdote early on (which is why he got so sick after eating it) so that he will wake up ready to do his part in destroying Percival once and for all. But our Jughead also seemed pretty puzzled by what was happening to his counterpart, so maybe he didn't anticipate any of this at all?
I could've sworn that we've seen the scene about the cast discussing baby Anthony's fate mirrored the ones in Rivervale and trying to protect the child from La Llorona, which is further proof of the twin-versus. There was a lot of mirroring going on, quite frankly, and while I can't remember everyone who died in the Rivervale timeline, it seems as though the same is happening now as they prepare for the big fight. Even Sabrina's arrival mirrors her arrival in Rivervale to help Cheryl and Nana Rose before the final battle.
We've seen all of these moments, again slightly altered, before.
And the characters are beginning to realize it to.
Everyone is having dreams, memories, vision — you name it, they're having it. It's clearer by the minute that something very strange is happening, and no one is able to deny it any longer.Just like Betty's vision of being the Harlot, something she vividly remembers the TBK calling her. Who knew the TBK would somehow be connected to whatever Percival is planning?
Also, we still have no indication of TBK's identity despite Betty vanquishing him, so that's a little frustrating.
The mystery of this season has been gripping, albeit confusing, but the slow pace of the answers has always been one of the show's biggest flaws.
It's truly a shame that all of this took away from Toni and Fangs' wedding because again, it was a sliver of happiness that this town so desperately need.
Furthermore, Toni and Fangs deserved a moment where they could just bask in their happiness without a care in the world with baby Anthony by their side. I hate when promising character moments are overshadowed by a show's darkness almost as if the wedding is just a plot device to bring on the reckoning or what not.
Both Cheryl and Toni are very mature in how they are handling this new phase in their relationship. It was bold of Toni to ask Cheryl to marry her and Fangs, but even bolder of Cheryl to say yes. There's still so much love between them, and they are both able to recognize it and be happy for each other regardless.
It also seems like #Varchie isn't over just yet. While #Barchie looked totally smitten with each other, Veronica, who was totally in her feels about being single, seemed to admit that maybe she's not quite over her ex just yet. While everyone seemed to know what they were fighting for, Veronica felt lost and confused. Eventually, she realized that she was fighting for her friends, but it might just be that she was fighting to be more than friends with Archie.
And naturally, this would complicate everything. When she asked Tabitha about who is "endgame" since she's seen the future, she was about to find out if Archie's future heart pines for her or for Betty when everyone started collapsing and dying.
My thing is — if Tabitha has seen that far into the future, why didn't she see this plague coming? Or that Jughead was going to have this experience with his other self? It doesn't track.
At least going into the upcoming episode (which will air July 10), we have some hope with Sabrina's arrival. If she's able to resurrect the rest of the squad, they might just beat Percival at his own game.
Other Musings
Baby Anthony, despite being an only child, is still very much alive, but that's a very bad sign because it means Percival has big plans for him.
Is Nana Rose gone for good? I can't believe Percival just snuffed her like that after everything the poor lady has been through.
Kevin finally came to his senses when he saw just how dark and twisted Percival truly is. And that convinced him to put an end to the custody battle over baby Anthony. Of course, now, with Fangs and Toni gone, he's baby Anthony's sole caretaker. Funny how that worked out.
Jughead's love for burgers knows no bounds.
Veronica's solo was… well, it definitely wasn't wedding-appropriate.
Things got so biblical that Sweet Water River turned blood red. The strangest things happen in Riverdale and the citizens don't even seem phased half the time.
We know the bomb explosion between Riverdale and Rivervale wasn't supposed to happen, so is that the catalyst for the world's bleeding into each other?
Or are these characters two halves that are going to morph into one fully realized version?
It's all confusing, but hopefully, the answers aren't too far off. It's hard to fully comprehend what's going on or where the show is headed when Rivervale feels like it aired so long ago and our recollections of those events are choppy at best.
What did you think of the episode? Do you have any theories as to what's happening to Riverdale? The curse of the first born's was to be the last plague, but what next? What's Percival's ultimate chess move is going to be?
Sound off in the comments below!
5 Hottest Moments Between Betty and Archie on 'Riverdale'
There are a handful of ships on Riverdale that make fans go wild, but when it comes to Betty, you're either team #Bughead or team #Barchie.
While #Bughead had some really fantastic moments, many fans will argue that #Barchie was always meant to be — I think the proper term for that is "soulmates"!
In celebration, we're looking back on a few of Betty and Archie's steamiest moments on Riverdale!
Season 4 Episode 15 — "To Die For"
Fake dating? Don't have to ask them twice. When Jughead fakes his death in order to solve the Stonewall Prep mystery, Betty and Archie pretend to be a couple. And in order to sell it to everyone, they share a kiss in the music room. But the only people they seem to be fooling are themselves because there's so much chemistry and feelings wrapped up in that one moment that they begin to question everything.
Season 4 Episode 17 — "Wicked Little Town"
Okay, so fake kissing almost always leads to real kissing. Betty and Archie learned that the hard way when they locked lips for real in the musical episode. While practicing a song together — a ballad that Archie wrote for Betty, nonetheless — they share a passionate smooch (one of television's finest!), but since they are both in committed relationships, (er, Jughead and Veronica, anyone?) the guilt consumes them and they decide that being friends is the best course of action… for now. That's the perk of knowing the future, you know that they will end up together when the time is right. And timing, as they say, is everything.
Season 5 Episode 5 — "Homecoming
Okay, this may have been the absolute hottest scene between Archie and Betty like… ever. After several seasons, Riverdale finally gave fans the Betty and Archie moment they've been waiting for. The long-awaited and frankly highly-anticipated moment finally came via a steamy shower sex scene following a seven-year time jump. It was so hot that I found myself wondering if this kind of thing is even allowed on The CW. That steam wasn't from the hot shower, that's all I'm going to say! When these two reunited, sparks flew and caught fire.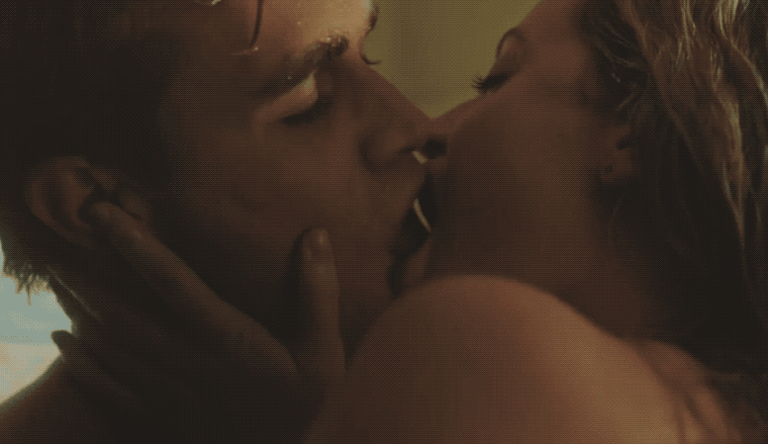 Season 5 Episode 6 — "Unbelievable"
The Titanic hook-up that's worthy of its very own Oscar! While things may not have ended so well for Jack and Rose, the odds are faring slightly better for Betty and Archie (aside from the whole bomb going off under the bed and creating some alternate dimension that has given them superpowers thing). The couple finally gave romance a try as adults, and since then, they haven't been able to keep their hands off of each other. The video is a lot, but hey, that's why you're here, right?
Season 6 Episode 17 — "American Psychos"
Okay, hear me out — passion and intimacy don't always have to be physical. It can be in the emotional, in the exchange of "I love you's" and the realization that the person you're with sees the parts of you that you don't see in yourself. All six seasons have been building up to this moment!
As Betty questioned whether her darkness was too consuming to allow her to be in a happy relationship with Archie, he reminded her that he knows exactly who she is and has always loved her for it. She's been so focused on the incident with her cat that she totally forgot about the time she saved a bird with Archie. Not only is it a reminder that darkness doesn't define her, but it's a reminder that they were friends before they were lovers, which ensures that they have an intimate and unbreakable bond. The relationship has been a long time coming, but it was always the right one. Even Veronica acknowledged it.
"I love you Betty."
"I love you too Archie."

Six seasons and one hundred and twelve episodes later and Archie Andrews finally told Betty Cooper he loves her!

6.17 © The CW – #Barchie #Riverdale pic.twitter.com/RrJ1HLfAQm

— BarchieScenes (@barchie_scenes) June 13, 2022
What scenes would you add to the list?
Riverdale Meets Rivervale in New Promo – Will Jughead Figure Out The Parallel Universe?
Is the veil between Riverdale and Rivervale merging?
The new promo for Riverdale Season 6 Episode 18 is definitely giving off vibes that a return to the supernatural parallel universe isn't too far off. And that means… all hell is bound to break loose.
Rivervale was first introduced in a five-episode event that ultimately ended up with Archie waking up from a strange dream when a bomb in his house was set off. However, the events from that alternate reality have been bleeding through into the "real world," and it seems like we're about to find out why!
There's speculation that the alternate reality has to do with Percival's — who some believe is a resident of Rivervale — plans to build a ghost train where Pop's used to be — in order to utilize the celestial properties of Bailey's comet.
Some characters have also experienced vague flashbacks to Rivervale events, but no one has actually made any sense of it.
But Jughead just might.
When he began to hear voices in his mind, he secluded himself in the bunker in order to silence them, which is when he heard his own conversations with the alternate reality versions of his friends
Now, the promo finds him coming face to face with
La Llorona
, a legend from Mexican folklore that appeared in a Rivervale episode. The episode ended with Toni becoming the vengeful ghost in order to save Baby Anthony, so it's possible her appearance in Riverdale is a warning about the child.
There are other monsters and supernatural attacks on the horizon likely as part of Percival's promised "
biblical punishment
" against Archie, Betty, and friends for standing in his way of destroying Riverdale.
As Betty herself notes, "it's another plague" with rivers running red, flies, and frogs.
Unfortunately, we'll have to wait a bit to see how Archie and friends will weather this storm as the episode Riverdale Season 6, Episode 18 will air on Sunday, June 26, at 8 p.m. ET on The CW.
https://www.youtube.com/watch?v=a89wzStjRGs&t=5s