SHERLOCK/Penguins of Madagascar
Benedict Cumberbatch made his first trip to Comic Con to talk about the new season of Sherlock coming to PBS in 2016 and his work in the new animated spin off from Madagascar.
Avengers: Age of Ultron
This will be the final film as part of Phase 2 of the Avengers Initiative. Coming Early May of 2015. The last few days these posers were revealed as part of one poster. More to come this weekend. Here's a look at the four released so far.
Under The Dome
The hit summer series is back for its second season, bigger than ever with higher stakes and catastrophic developments that leave no one safe under the dome. The inhabitants of Chester's Mill must decide who to rally behind as Big Jim continues to fight for the town's trust and allegiance, all while resources dwindle and the post-apocalyptic conditions continue to intensify. There are new faces, bigger mysteries, betrayal of alliances, and monumental revelations about the dome, which will lead to a shocking discovery of what is behind it. Journey back under the dome, where you can't always believe what you see and nothing is impossible. An exclusive sneak preview at what's to come in season 2 will be followed by a panel discussion with the cast: Mike Vogel (Bates Motel), Dean Norris (Breaking Bad), Rachelle Lefevre (Twilight),Alexander Koch, Colin Ford, and Mackenzie Lintz, along with executive producer Neal Baer.
http://www.cbs.com/shows/under-the-dome/news/1002857/
Toy Story: That Time Forgot
A New holiday special will debut called, Toy Story That Time Forgot. Executive producer Galyn Susman (Toy Story OF TERROR!), director Steve Purcell (Brave), and head of storyDerek Thompson (WALL•E) give you an exclusive inside look at the sketches, storyboards, and concepts that went into the making of this Disney•Pixar special!
Scorpion
Discover the new CBS drama coming this fall, based on the true story of Walter O'Brien, an eccentric genius with the world's fourth highest IQ who has created a company of brilliant misfits who use their mental muscle to defend the planet against complex high-tech threats of the modern age. In this high-octane thrill ride from the makers of Star Trek, Transformers, The Amazing Spider-Man 2, and The Fast and the Furious, O'Brien's team uses their exceptional brainpower to solve the nation's crises, while also helping each other learn how to fit in. The world premiere screening of the pilot episode will be followed by a panel discussion with the real-life Walter O'Brien, along with series stars Elyes Gabel (World War Z), Robert Patrick(Terminator 2), and Katharine McPhee (Smash),and executive producers Nick Santora,Nicholas Wootton, Alex Kurtzman, Roberto Orci, and Justin Lin.
The Giver
Twenty years in the making, fans of the novel can rejoice: The Giver is coming to the big screen. The Weinstein Company and Walden Media will premiere exclusive footage from the upcoming film with stars Jeff Bridges, Brenton Thwaites, Odeya Rush, director Phillip Noyce, and bestselling author Lois Lowry.
Community
For all those fans that saved the show, you got your wish. Problem is you'll have to wait till the holidays when it premieres.
Teen Wolf
MTV's hit drama Teen Wolf returns to Comic-Con for the fifth consecutive year. The pack of Tyler Posey, Dylan O'Brien, Tyler Hoechlin, Holland Roden, and new cast members Shelley Hennig and Dylan Sprayberry, along with executive producer Jeff Davis, share secrets, debut a new mid-season trailer, and answer fan questions. Moderated by Buzzfeed senior editor Jarett Wieselman.
Witches of East End
Darkness is rising! Get an exclusive look at what's in store as season two unfolds, plus an audience Q&A with the entire star-studded cast: Julia Ormond, Jenna Dewan-Tatum, Rachel Boston, Mädchen Amick, Daniel DiTomasso, and Eric Winter, plus executive producers Rich Hatem (Supernatural, Grimm) and Maggie Friedman(Eastwick).
Sharknado 2: The Second One
Yes, there is a second one premiering soon. Starring Ian Ziering (Fin Shepard), Tara Reid (April Wexler), Kari Wuhrer(Ellen Brody), and Judah Friedlander (Bryan) and director Anthony C. Ferrante take you into the eye of the social media and pop culture storm of the century. Get exclusive details on Syfy's global blockbuster, which will ravage nearly 90 countries, this July. Moderated by Adweek reporter Sam Thielman.
"Creative Commons San Diego Comic Con International Logo" by Gage Skidmore is licensed under CC BY- SA 2.0
The 2019 AMAS Were All About Statements and Nostalgia
"Less is more" was the takeaway of the 2019 American Music Awards.
The night celebrated the years most popular songs and artists, but it was the oldies that made the show resonate with audiences both inside the Microsoft Theatre in Los Angeles and watching worldwide.
There was plenty of nostalgia going around starting with Kesha's first performance in 6 years that included her latest single "Raising Hell" but also her 2011 hit "Tik Tok."
She was finally granted permission to sing her old songs following a public battle with Sony and producer Dr. Luke.
The crowd also had warm reactions to these oldies but goodies: "Green Day's 1994 "Basket Case," Toni Braxton's 1996 "Unbreak My Heart," and Shania Twain's 1997 classic "I Feel Like a Woman."
Plenty of statements were also made at the AMAs as artists proved that they were no longer afraid to stand up to the status quo.
The biggest statements of the night came from the three pop powerhouses, Taylor Swift, Halsey, and Kesha.
All three ladies aimed their jabs at the music industry.

Halsey's powerful speech shaded the GRAMMY Awards following her absence from the nominees that were announced early last week.
"I am so thankful to the AMA's because they are the world's largest fan-voted awards show," she said emphasizing the fan aspect.
Read the full review at TV Fanatic.
God Friended Me Sneak Peek Clip: Does Arthur Make the Right Decision?
Is the God Account pulling the strings for everyone in Miles' life?
On God Friended Me Season 2 Episode 5, was tasked with decision that would alter the course of his future.
After Bishop Thompson resigned from the church leaving the position of Bishop of New York, the opportunity fell into the retired reverend's lap.
Thompson suggested that Arthur was the only qualified person to fill the role.
The offer would have been a dream come true for Arthur just a few months ago when he and Thompson ran against each other. Obviously, Thompson one.
But since then, Arthur has taken a break from the church; he's in a new phase in his life.
God Friended Me Season 2 Episode 5 Review: The Greater Good
Being retired allows him time to play tennis and hang out with his soon-to-be-wife, Trish, who isn't exactly thrilled to see him recommit to the church.
And still, Arthur continues to be drawn to it because it's his destiny.
Therefore, this decision is momentous.
Does he listen to his fiance's advice and pass or does he accept a position that he's worked towards his whole life?
Luckily, TV Fanatic has an exclusive clip from God Friended Me, which revealed that Arthur doesn't think twice about accepting this second chance.
Watch the clip HERE!
Dynasty's Adam Huber on Liam's Amnesia, #Falliam Future & That Kid Storyline
Adam Huber plays the uber dreamy Liam Ridley, the latest addition to the Dynasty cast.
Huber scored the title of series regular ahead of Dynasty Season 3.
But even without the coveted upgrade, the heartthrob has been a fan favorite since his debut on Dynasty Season 1 Episode 15, you know, the episode where he married Fallon, a complete stranger, on a whim.
Since then, Fallon and Liam have had a tumultuous yet epic relationship.
Nothing about their relationship has been conventional.
After they overcame a love triangle with Culhane, a messy situation with Liam's uncle, a divorce, and Fallon's attempts at winning him back from Ashley, it seemed liked things were going to work out.
Dynasty Season 3 Episode 1 Review: Guilt Trip To Alaska
Fallon proposed to him on the Carrington lake, and despite losing the ring in the water, Liam still said 'yes."
But their happiness was short-lived when her tyrannical brother, Adam, clobbered Liam upside the head and locked him in the pool closet.
After regaining consciousness, Liam crawled over to the pool, fell in, and woke up with amnesia, which is where we left off when I spoke with Huber.
Huber dished about Liam's amnesia, what's next for their relationship, his possible revenge on Adam, and the storyline he's dying like to explore.
Dynasty is back and with it returns all of that Carrington craziness!
Sure.
Amidst all of that, you've been up to series regular. Congrats. Were you expecting it? 
No, I honestly wasn't.
There have been other people. Wakeema, whose on the show and plays Monica Colby. You know, me and her were kind of doing the same thing we were just recurring, and you kind of go until you book another show or they give you a contract.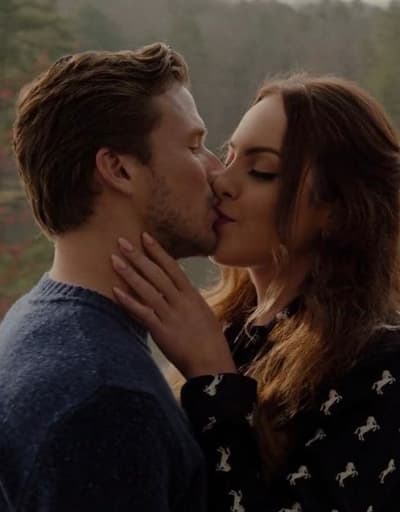 And I was testing actually on another show, NYPD Blue is doing a reboot. I got very close to that. And right around the same time, they asked me to be a series regular.
So, you know, it worked out well. I wasn't getting on PD Blue, so they had me a series regular. No, I was expecting it. I was just kind of chilling. I was just happy to be there.
It's a great role to have. 
Right?
Has the way you approach and prepare for the character changed now that he does have a deeper storyline and is so loved by audiences?
I have been putting, I think, more work into it. I mean, I've always put work into it, and definitely just trying to stay fresh and just trying to understand him.
We're very similar, but we're also different. You want to keep his story fresh. I have a journal that I do character journaling in.
I take what I know, and then just create a story around him.
Like, what was the relationship like with my dad? What is the relationship like with my uncle who is on the show played by C. Thomas Howell? And I do that with all the other people in his life. Does that make sense?