Mike Johnson and Smirnoff hosted a viewing party for the finale of most dramatic season of The Bachelor on Tuesday night at Rannali's in Chicago. (If you're in the area, check them out cause the pizza was delicious.)
Throughout the night, Johnson, who was a contestant on Hannah Brown's season of The Bachelorette, was spotted working the room with a Smirnoff Seltzer in one hand (his favorite is the raspberry flavor) and roses for the ladies in the other hand.
During a one-on-one chat with Erin, our Bachelor expert, he was asked the hard-hitting questions including if he would ever consider becoming the Bachelor.
"Right now, to be honest, I'm just focused on Peter. That's my boy, I want to make sure he's good," he said," adding, "if the opportunity presents itself in obviously I'm single then I would love to."
Did you hear that Bachelor producers?
Related: The Many Faces of Barb Weber on 'The Bachelor' Finale
Mike is in and his smile (which he said he got from his grandma) is ready.
He also explained that he's excited for Clare Crawley's season of The Bachelorette.
Crawley will officially become the oldest Bachelorette in the franchise, and many fans are pumped because they think it'll bring a new level of maturity to the series that may have been missing from Weber's season.
Mike admitted that the thinks Crawley's a woman who knows exactly what she wants.
"Hannah was young but definitely mature for her age. And I think Clare is definitely a cute woman. I can't wait to see Claire because she told us already what she is going to do. She knows exactly what she wants, she ain't playing no games and I can't wait for it. She's a really strong woman and that's what Claire exudes," he explained.
As for the three words he'd use to describe this season? One of those words was definitely rollercoaster!
You can listen to the full interview right here!
Follow CRAVEYOUTV on socials
Interview: Jack Messina Talks All Things 'Manifest' Including Bromance with Zeke and Season 3
The characters on Manifest all carry the weight of being "the returned" passengers of Flight 828.
But no character has been more crucial to the storyline and the overarching mystery than Cal Stone played by the brilliant Jack Messina.
Despite being the 'holy grail,' the 11-year-old has infused Cal with depth, wit, and innocence resulting in one of the brightest young characters on television. On Manifest Season 2 Episode 13, he befriended and evaded his kidnappers, he's helped his father, Ben Stone, decode many Callings, and he's the reason Zeke is even in their lives.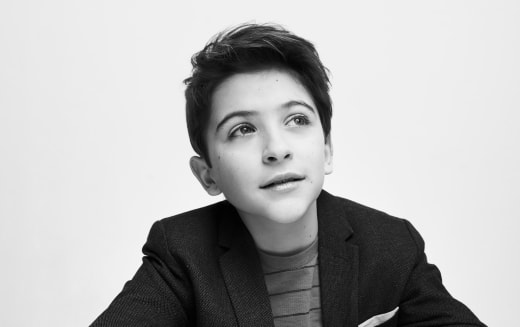 Cal may just be the answer to all of our burning questions.
Thankfully, off-screen, Messina's life is less focused on plane conspiracy theories and more rooted in enjoying his time on set, honing in on his craft, and schoolwork.
Check out the interview below:
The season finale of Manifest was wild and you did a great job as Cal! What insight have you gotten about where his storyline might go in season 3?
I have zero insight on where Cal's storyline might go. Every episode surprises me, and the cast is never told ahead of time what is going to happen. I can't wait to see though.
Where are we at on a season 3 renewal? Manifesters are hoping you have some good news for us!
I haven't heard anything yet about season 3, but the Upfronts are coming in May. We should know by then.
Cal initially brought Zeke to the Stone family through a Calling, and Zeke returned the favor by saving Cal from the kidnappers. Does their connection play deeper into the story?
I think it will. Cal and Zeke have a special bond. I'm sure it will continue.
Is the flash of light that saved Zeke the same one that affected Flight 828? Why did he survive?
I don't know for sure, but I think it's a good guess that the lightening is connected somehow. I think Zeke survived by saving Cal.
Manifest Interview: Ellen Tamaki Talks Drea and Mic's Relationship, If She Can Be Trusted, and the X'ers
Ellen Tamaki, who some of you may recognize at Niko from Charmed, entered Manifest at the kickstart of season 2 as Drea, Michaela Stone's brand-new partner.
It didn't seem like a good fit at first as Mic was adamant about staying partnered up with Jared, her ex-boyfriend, but overtime, Drea began to prove herself as a trustworthy ally.
She would assist Mic in her cases and raids, cover for her when she needed to "handle something" related to the Callings, and stepped in when Mic went undercover as a druggie with Zeke.
All of that culminated on Monday's Manifest episode "Carry On" when the partners exchanged notes, surmised that Jared was an X'er, and Drea went undercover to scoop out the shady bar he attends to get more dirt.
We got to chat with Tamaki about her time on the NBC series, the dynamic between Drea and Mic, what it's like working with Melissa Roxburgh, and well, we tried our best to get as much scoop about the remainder of the season as possible.
Check out the interview below:
Your character Drea and Mic make a very dynamic duo… tell us a little about that. 
When I first came on the show it was a mystery. You know, we've wrapped the season, so I know what goes on for the rest of the season, but when it first started they wanted her [Mic] to have the new partner and they wanted some new faces in the precinct, and they're like well what better way to do that then to kind of like create like this new relationship for her [Mic] that isn't romantic.
I love seeing women on TV who have more relationships than just romantic ones, and I think there can be something so dynamic and professional about female friendships and that's kind of what we have been discovering throughout the season is the way that these two characters get along and learn from each other. Drea comes in at the beginning and is just so infatuated with Mic and is trying to get Mic to warm up to her a little bit.
Yeah, and I feel like that happened on this Monday's episode. They teamed up, but behind-the-scenes, you and Melissa were just in the car and you had all these snacks while you were filming. 
Yeah, well the thing is Melissa's my pal, so it was only a matter of time before that started to bleed into the scenes that we're shooting. The way that TV works is we were in that car for like four hours, there's a camera set up looking at both of us, there was one looking at me, there was one looking at her, and so, we got hungry, and we're cracking each other up, and yeah, we had a bunch of snacks, and I think I also tweeted something or maybe Jeff [Rake], our showrunner, tweeted it that we just started kind of ad-libbing at the end of the scene and editors kept it in because it fit our characters and gave it some kind of authentic like "Ellen and Melissa" banter as well.
So many veggie straws https://t.co/gxc0KB4vHq

— Melissa Roxburgh (@melissaroxburgh) March 3, 2020
It's funny because you guys had so much fun filming it but this scene and what was happening was very serious because they believe Jared is an X'er. 
Right.
It's such an intriguing storyline. Why are they so eager to believe that he's an X'er and to believe the worst in him?
It's been a long journey between the two of them [Mic and Jared] you know like everything they went through last season and so far this season. We can't deny that Mic knows Jared better than almost anybody and she's gonna know if something's up and if something's really wrong.
And inherently, these two women — we have to make the assumption that they're good at their job, they're good detectives, and they're good cops, and you have to have an intuition about that.  I think it's absolutely right of them to be really suspicious especially because it's this hate group… a  really dangerous group!
There's also this other side of Michaela that's protecting her family as well, and I think it's right of her to be cautious and for them to really seek out and sniff out what's really going on.
https://twitter.com/JR8Ramirez/status/1225128697419784193?s=20
There are many who believe — myself included — that Jared's undercover. I know you probably can't tell me… but…
Obviously, I can't say anything, nope. But with this show, anything is possible you know. If you've been keeping up on it at all, you know. But I also think, in the same vein, that it is possible that someone that you think you trusted for so long maybe not be who you thought they were.
Do you think it'll like negatively affect any of their careers? I mean, Mic went and told the Captain what she found. 
Well, I think what's so interesting about the dynamic of the precinct this season is that Captain Bowers showed up and was like "oh no, no, no," like "I am not here to stand for this undocumented kinda woo-woo way that you've been solving all of these cases" you know, and she kind of shows up and lays down the law in a certain way that's like "maybe this slid last year but not anymore."
And so I think the tap Mic wasn't allowed to place in the bar and all these things could have really serious repercussions down the line for her professionally or even for Drea professionally. I mean, Drea, keep in mind like I, Ellen, watch the show. I know about the Callings, but Drea has no clue about this huge side of her partner you know.
Right… which leads me into my other question… is she going to get sucked into this mystery more? Or is Mic going to open about these Callings to her?
Over the past couple of episodes, you see that Drea is willing to do anything to help the cause. The entire precinct has turned on Michaela and she's like you know "how do you know that you can trust the people? How do you know that someone not leaking?"
And turns out you know there is a leak somewhere, but she is just staying so loyal to her because I think, at the end of the day, Drea does have a good intuition and does care about her job and cares about the force and wants to do her best and is learning from who she believes is the best. And whether Michaela is the best because she's having these Callings or the best because she truly is an excellent, moral cop, I think it just makes Drea just want to stay by her side and do the right thing.
Ideally, I guess if, at the end of the day like to be really really close friends with someone, I think you do want to share a lot of special things about yourself, but the Callings are pretty insane, though. How do you know that you can trust someone with information like that? I don't know. If you had Callings, would you be able to share that with your work partner? I don't know.
And I feel like Mic did try to share that with Jared before but he never truly believed her, so maybe not…
Yeah, because if you open that part of yourself up to somebody and they reject it well then you're just gonna put another wall up. It's going to be even harder for you to open that part of yourself to someone new. I'm sure Michaela really needs to protect herself and protect her family.
On a show like this with so many complex mysteries and supernatural elements, you can't really trust anyone. And a lot of fans don't seem to trust Drea. 
laughs
Or that she has Mic's best interest in mind really… what's your take?
From what we've seen so far all she has done is have Mic's best interests in mind.
Before we even hear Drea speak, the first thing we kind of see of her is that she can't wait to get to Michaela, and she's always kind of watching her out of the corner of her eye, and so I understand, yeah totally, that is that people may think she may have ulterior motives, but I think up until now she's really proven herself.
She showed up right in the nick of time when it came to the bust when they go to meet the drug dealer. There's just been a lot of times when I feel like, "how many times does Drea have to prove that she's there with Mic's best interests in mind?"
I believe in her. She's a character that I really love to play because I think she really lays it out on the table and loves what she does and loves being a really good partner.
You work with Melissa a lot. Is there someone on the cast that you've been really wanting to work with more that you haven't gotten to share any scenes with?
Yeah.
And don't say everyone…
I mean, that's the judicious answer, right? To be like "everyone's amazing," but it's true, this is one of the greatest shows I've worked on, cast and crew and you know everybody involved, but the person who actually came to mind is Parveen, who plays Saanvi.
I ended up getting close to her hanging out New York and we were able to have like a couple of days on set together, but we didn't have to get to have a big story-arc. Our characters have two totally separate situations going on and they're really complicated stories, but I think it would be really cool to work with her and to see how these two women could maybe start figuring stuff out together.
We joked before that there is going to be like the "Drea and Saanvi" spinoff. But I would love to see where her science could meet his detective side of things and see an interesting subplot develop out of there.
She might need Drea's help because that cure she gave herself that eliminated the Callings seems to have some dangerous side-effects. 
Yeah, Drea to the rescue!
Do you/ did you have any of your own theories… since your a fan of the series?
Gah, it's hard because we did wrap, so I know what's coming in the next couple of episodes, but I remember when I was shooting kind of around now in the season, I love the way that the writers reveal information to us because I kind of was like rolling with it like a little bit, hanging on every word because I didn't know exactly where Drea was going, and at one point, I had a writer say to me, "well, we just had something really fun happen in the writers room." And I'm like what is it?" And she's like "we just changed a huge part of your storyline," and I was like "can you tell me what it is?" And she's like "no." And I'm like "can you tell me what it was?" And she's like "no." So, of course, I had a lot of theories about where Drea is headed and what that could be.
I also love thinking about the new baby and kind of how that baby's gonna come into play in terms of the Stone Family, and how Grace gets Callings now, and how the baby is now going to factor into the world of 828'ers.
We're close to the end of the season… can you sum up the rest of the season in one word?
Something I love about watching is that I never feel any lacking in mystery and exciting things, but what's different about shooting it and watching it is when I'm shooting, I'm really one-track mind. I'm only shooting scenes with Mic and the rest of the precinct, but then when I get the whole script and I see how it fits into the whole thing that really is what the season is about for me.
It's about how all of  these puzzle pieces fit together, so I guess the word that I would give for the rest of the season would be "jigsaw." To see how these puzzle pieces fit together to figure out this massive mystery, these big questions, and they find a good way to put all these pieces together in a really beautiful way at the end of the season.
You were on Charmed for a good chunk of the season and you played a detective on both the show and Manifest… what other types of roles are you really hoping to dig into?
It's really funny, but when Charmed came along, my family was cracking up about that like "oh, Ellen," cause in my day-to-day life, people who are closest to me have always just been like "you? A cop?" But when I got this second one people started going like, "okay, well, you're the oldest sister. I guess you're kind of bossy," and we were just joking around trying to figure out where the casting came from.
But when I think like into the future and the projects I want to work, I feel like I love and gravitate toward roles that are super grounded and driven and moral. I've read some scripts recently that are really fascinating about incoming new Congresswomen who want to evoke change in the government. Or maybe even in the vein of a detective, but the scrappy detectives who figures out that there's something wrong with the system and she goes on and tries to fix it.
But it's also acting and maybe one day I want to play someone that is in a ball gown and goes to the Met Gala. That's something that I just do love about acting is that you can go into all of these different very far reaches of a character where anything is possible.
I'd also love to work on something really physical. My training is in physical acting, and I once played Billie Jean King, the tennis player, and so I think that if there were something where I could use my physical acting training maybe like a superhero that I would love to dive into.
Catch Ellen Tamaki on Manifest on Monday's 10/9c on NBC! 
Exclusive Interview: What's Next for Best Friend Bill from 'The Circle'
Netflix has swiped right on reality television.
In recent months, the streaming giant has deepened their connection with audiences with the addition of some addicting reality TV offerings including dating series Love Is Blind and The Circle. 
For those unfamiliar with Netflix's The Circle, the series is described as Big Brother meets Catfish, where contestants all move into the same apartment building but never meet face-to-face as they're all confined to their own apartment.
Instead, they get to know each other exclusively through their profiles on the Circle social media app.
CraveYouTV had the chance to catch up with Bill Cranley, also known as "Best Friend Bill" from Chicago, Illinois, who entered the game during episode 6.
Not only did he gives us the scoop about his time on the series, but he also talked about his recent guest appearance on Chicago PD and disclosed what's next for Best Friend Bill!
The Circle… that was one hell of an adventure, right?
Such a wild experience! The show did a great job at keeping all the contestants "in the dark" with how the entire process worked. Coming in, I had no idea what to expect or even how to work the Circle app!
How did that casting process work?
The casting process was very long, spanning over 6 months. They first held an in-person interview in Chicago just discussing who I was, what I did for a living, and what strategy I would use to become the winner of The Circle. About 5 Skype interviews later they flew us all out to LA for a final interview which consisted of a trial version of The Circle and chatting with other "contestants" via voice chat.
What do you wish went differently/ what would you do differently?
Honestly, I wish I was brought on to the show from the very beginning. Getting brought on so late I could tell that there was a slight disconnect from me to the other players, compared to what they had with each other. I didn't get the opportunities to chat with the players that I wanted to and my time spent on the show went by so quickly. My strategy to be "authentic" didn't play out because I didn't get to truly build any type of relationship in that short of time.
https://www.instagram.com/p/B7PGusAhvxV/
What was your favorite part about being on the show?
I loved having my own apartment! They stocked my fridge with all of the groceries I asked for and was a nice break from the real life.
What did you learn about reality TV?
I learned that even if you're building real relationships with others, when you're on TV it's all one big competition.
What do you want to say to your fans?
All of you have been awesome! For real so many people have reached out understanding my strategy and where I am coming from, and even though my time in the show was short-lived, all my fans have been so cool. I've already hung out with a few fans in Chicago!
At the same time, you were gaining exposure from The Circle, you appeared on Chicago PD. How was that gig?
Unreal! Chicago PD is very different from the circle and reality tv in general. Just as fun though.
How did you land the role?
I act in Chicago and go to auditions! I was asked by my agency to audition, and it turns out I'm really good at getting shot to death 😀
https://www.instagram.com/p/B7t9VYiBQmB/
What's it like being an actor in Chicago? What are the steps to getting a speaking role on a TV show like Chicago PD?
Being an actor in Chicago is so much fun with little pressure to fight against other actors for a spot. All of my actor and model friends are always so supportive of each other, talking about different ways to get booked or ways to become a better actor. From what I hear it's not as cutthroat as LA, and always happy to help out a fellow actor.
The steps to land a speaking role is all about the hustle! It's going to 10 auditions in a week not landing a gig, and then having the strength to do it all over again the next week! You get used to hearing "no," and that's not a bad thing. I see it as motivation to keep going and getting better at what you do.
What's next for Best Friend Bill? 
Good question! I'm still pursuing acting and modeling in Chicago and hope to land more roles over this next year. I definitely want to travel more this year as well and start up a fun project of documenting the most interesting people, places, and things; hopefully checking off a few things on my bucket list!
If you're reading this and you have a unique/interesting hobby or lifestyle, hit me up; would love to experience it with you!
You can find Bill on Instagram @BillCranley!