The Baker and the Beauty Review – Natalie Comes Out, Noa Meets the Family (1×04)
Life as everyone knew it was changed forever thanks to one heck of a dinner party on The Baker and the Beauty Season 1 Episode 4.
Meeting the parents is always hard, and that's without the scorned ex-girlfriend, the sister coming out of the closet, and a slew of paparazzi waiting to snap the million-dollar photo into the mix.
Things were bound to get awkward for Noa and Daniel.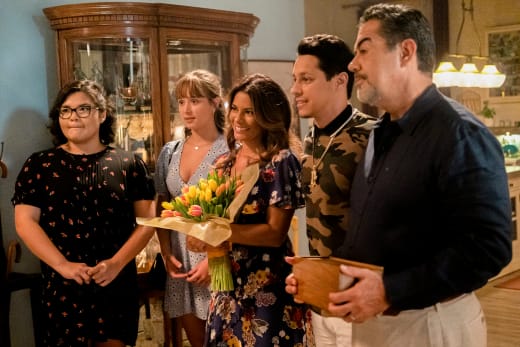 Much of the action took place in the Garcia's dining room, but that didn't stop it from being the most action-packed episode this season.
This is proof that the series doesn't need to charm audiences with beautiful islands or lavish parties — if the writing is there and the cast is vibing, we're naturally hooked.
This was also the episode that pulled the most from a telenovela to bring all the juicy twists and drama.
Noa had no idea what she was getting into when she agreed to meet Daniel's family. She was excited to have dinner with a "real family," and boy, she got what she was looking for.
Daniel's family wanted to make a good impression, but they didn't pretend to be something they weren't to impress her — Noa got the full Garcia family experience in one sitting.
For the most part, Daniel's family was excited to meet Noa. Rafael was skeptical and approached with caution. It's evident that Rafael hasn't had a good experience with celebrities and harbors resentment for all of them collectively.
However, Noa may be the one to change his mind. She was able to charm him and by the end of the night, he even caved in and helped her after realizing that she's kind-hearted, down-to-earth, and truly cares about Daniel.
Noa shares Rafael's concerns about fame and celebrity being toxic and ruining people; she doesn't want that for Daniel.
Which is why she has tried to keep their relationship in the "bubble" for so long. She knows what's waiting for him out there once the bubble pops.
But the bubble was inevitably going to pop.
They couldn't sneak around hiding in Noa's lavish hotel forever. What kind of life is that?
Sooner or later, they would have to face the music. And Noa was living in a fantasy if she thought she could sneak around and date a "normal" man without the media catching wind of it.
It's surprising how long it took the photo to leak following their trip to Puerto Rico. And once it did, why did the media struggle to identify Daniel? He was by Noa's side the whole night at the charity gala and was even tagged on her Instagram!
It shouldn't have been that difficult of a mystery to solve.
It was Lewis of all people who let deets of Noa's personal love life slip so carelessly. He's been so uptight about Noa being careful and expressing no-PDA with Daniel, and all it took was a few drinks during his date for everyone to know Noa's whereabouts.
Poor Lewis didn't even know that he was, unintentionally, the source of the leak.
Follow CRAVEYOUTV on socials
'The Baker and the Beauty' Fails to Find a New Home After Getting Cancelled by ABC
We have some sad news for The Baker and the Beauty fans — despite petitions and pleas from the cast and crew to give the series another chance, the ABC series has failed to find a new home.
According to TV Line, efforts to save the rom-com drama by getting it picked up by another, more appropriate network including Netflix, Peacock, and Prime Video were unsuccessful.
Upon the show's cancellation, the show's leading lady, Nathalie Kelley (Noa Hamilton) explained that the decision to cancel the series was "tone deaf" during a time "when the public is marching in the streets demanding representation and diversity."
Save 'The Baker and the Beauty': Nathalie Kelley, Eva Longoria Support Petition to Renew the Show for Season 2
Lisa Vidal, who plays Daniel's mother Mari, took to Instagram to emphasize how much a show with a mostly Latinx cast is necessary. "There are over 500 television shows on air, and ZERO latino shows on network TV right now, and only a handful on streaming. The Baker and the beauty is a well written diverse show about a Latin family preppers denting our Latino culture in a positive light. It pretty much is for every family to watch," she wrote.
https://www.instagram.com/p/CBgr61YHV2U/?utm_source=ig_embed
The series found love in a hopeless place as Daniel, a baker working at his families Cuban bakery, struck up an unlikely romance with Noa, a very famous model-turned-fashion mogul, that turned their worlds upside-down.
Season 1 concluded with a two-hour finale in June, but instead of offering resolutions, it provided fans with some huge cliffhangers: Daniel and Noa got back together and engaged, Daniel's brother, Mateo, confessed to having feelings for Daniel's ex, Vanessa, and the family contemplated selling the bakery.
The least a network could do is renew the series for one more season to give it a proper ending!
The series was cancelled due to low-ratings, but in its short run, it built up a dedicated fan base and proved that it was a summer romance that deserved a second shot.
Relive the great moments by reading our reviews of the first season of The Baker and the Beauty here.
Nathalie Kelley Releases Statement Calling Out ABC for 'The Beauty and the Baker' Cancellation
Fans aren't the only ones upset about the cancellation of The Baker and the Beauty.
Nathalie Kelley, who stars as lead Noa Hamilton, released a statement about ABC's decision to cancel a show centered around a solely Latinx family after one season.
Earlier in the week, the cast took to social media to share their thoughts about the network's decision stating that they are shopping around the series to the "right" network.
The series was canceled after one season just like Eva Longoria's Latinx-focused series Grand Hotel last summer.
Read Nathalie Kelley's full statement below:
Now more than ever, the world is waking up to the importance of diversity and representation on our televisions. We want networks to commit wholeheartedly to ensuring that BIPOC, LATINX and LGBTQ+ people, and other marginalized groups, get a chance to tell our stories. Baker and The Beauty was a show that embodied the themes of unity, empathy, and compassion, all of which are so needed in our national discourse right now.
For years, Latinx stories were limited to drug cartels, maids and the 'spicy latina' sex object. I credit ABC for letting us tell the story of a loving, wholesome and hilarious Cuban-American family on network TV. I praise them for allowing the youngest daughter Natalie's LGBTQ storyline be central to our show. I am also forever grateful to them for casting me, an Indigenous woman, as the lead female role. Noa Hamilton was not written for a woman of color, but they cast me anyway. And I could not be prouder of what we all did and the show we created.
These stories create empathy, and there is nothing that we need more in these times than unity, empathy and compassion. That is why it was especially sad to not see them follow through on their support for our beloved series. Nevertheless I remain hopeful that there is a platform out there that will jump on the opportunity to give this show a new home. A chance to send a meaningful message to our communities that they hear our passion, our voices coming from our streets, demanding visibility and justice. The Baker and the Beauty is a beautiful show, one that means so much to so many people. It's full of love, laughter, inspiration, and comfort. And I cannot think of anything more necessary during these times.
Sincerely,
Nathalie Kelley
You can sign RIGHT HERE petition now.
Karey Burke, president of ABC Entertainment, told Deadline that ratings were "primarily" the reason for the cancellation.
Save 'The Baker and the Beauty': Nathalie Kelley, Eva Longoria Support Petition to Renew the Show for Season 2
Eva Longoria took to Instagram to share how upset she is about another Latino-focused series getting the boot from ABC.
The network cancelled The Baker and the Beauty after just one season earlier this week.
The series, adapted from an Israeli show, focuses on a Latino family, the Garcia's, as they navigate their sons new relationship with Hollywood fashion mogul, Noa Hamilton (played by Nathalie Kelley).
'The Baker and the Beauty' Canceled After Season 1 at ABC But Might Find 'Right Home'
The first show centered around a Latino family was Longoria's summer drama Grand Hotel, which was pulled after one season.
"This is bad news for the Latino community! Why doesn't @abcnetwork give it more of a chance for our gente to find the show?! And "gente" where are you guys? Show up and get loud. Representation matters on television! This was a sweet show about a good family! And one of the only Latino shows out there! We need this show to find another home! Show your support with the hashtags below and let's flex our community power! ✊🏽✊🏽," she wrote on Instagram.
https://www.instagram.com/p/CBhM-sfplgw/
The cast, including Kelley and Lisa Vidal, shared that they are hopeful the series will get picked up by a network that's more fitting.
"There are over 500 television shows on air, and ZERO latino shows on network TV right now, and only a handful on streaming. The Baker and the beauty is a well written diverse show about a Latin family preppers denting our Latino culture in a positive light. It pretty much is for every family to watch. It would be tragic if this show just disappears at a time when the diversity issue in our country is front and center. When the lack of inclusion is at an all time high as well. We have two weeks to find a new home for our beautiful show the Baker and the Beauty…. please help support us and bring attention in anyway you can to help us save our show… we love you guys and we are grateful for you," Vidal wrote.
https://www.instagram.com/p/CBgr61YHV2U/
Kelley shared a petition on Change.org to save the series. It's amassed more than 25,000 signatures overnight.
Kelley acknowledged that the show was an underdog, didn't have the right amount of promotion from the network, and wasn't supported as much as it should be by the Latino community.
"From the beginning we were the underdog. Nobody expected we would get picked up, everyone was surprised when we got great reviews. While many of our Latin community did show their support for the show, the majority didn't (You know who you are. Sadly jealousy in our community is a real issue but that's what happens when your people have never been given a seat at the table) There wasn't much network support or enough advertising, yet we persevered, promoted the show on our own, organized campaigns, watching parties, saw a ratings bump for our finale – but it was still not enough and now we're in the position of having to fight for the survival of our show. I now know how most Latinos in this country feel – made to do all the hard work and still overlooked! And this is despite universally positive reviews and a fan base that is more engaged than anything any of us has worked on. I won't say anything negative here about the network that was gracious enough to put us on the air. I want to find another home with a platform that understands the need for a show like this right now," she wrote."
If you're a fan of the series, you can sign the petition right here! Also share it on socials with the hashtag #savethebakerandthebeauty.
I initially imagine the show would be a summer fling that lasts once the cool breeze begins floating in, but I was wrong, The show had heart, it made Miami a character, it gaves us diversity, it broke down stereotypes; it was a summer fling that was meant to last more than one season.
So, Netflix, Hulu, Amazon Prime, HBO Max, someone — STEP UP!
You can read all our The Baker and the Beauty reviews right here.