I have a pet peeve.
I can't stand it when people turn a TV show on to play in the background. It eats away at me that they aren't putting their full attention to the piece of art on the screen, and are missing jokes or character moments because they're browsing the internet or doing something awful like playing with their cat.
My annoyance isn't fair or justified. Everyone is allowed to enjoy whatever content they want in whatever way they want. No matter how you enjoy something, odds are someone else will enjoy it differently. That can be hard to accept; we tend to want other people to extract the same level of enjoyment out of something as we extract ourselves, and we assume we know the best way to do this.
Like when you take your best friend to your favorite burger place, where they have the best toppings and secret sauce, and your friend gets a plain, topping free, sauceless burger.
"No," you say as politely as you can mustard, "you have to try the secret sauce. You need to get the whole experience."
"No thanks," your friend says, in the least aggressive way possible.
"Why did I even bring you here?"
This is how I feel when someone makes a grocery list while watching TV. This is how I feel almost every time someone watches The Good Place Season 2 Episode 10 "Best Self," even if they're paying attention. 
***Spoilers for The Good Place Below***
The Good Place is hilarious. Because it's funny and charming, it makes a great background show to throw on while you're dusting your living room.
It has a unique setting and plot as well, which also makes it fantastic viewing for those who like to sit and pay more attention.
But there is a third layer to the series. It's deep and philosophic and is available to be analyzed and digested by those who want to do so.
I want to do so. To my devastation, my friends don't always want to do so. So I'm going to do it for them!
"Best Self" is the most deeply human episode of television I've ever seen. Peel away the clever jokes and gags, and the next layer of the intricate plot, and you get to a core that is all of life packed into 22 minutes.
The episode starts with reformed demon Michael telling our heroes Eleanor, Chidi, Tahani, and Jason that they are finally all going to head to the real Good Place together. The four humans have one last round of fro-yo together and fantasize about the heaven that awaits them.
Watch The Good Place Best Self Right Here
Once their magic balloon arrives, they have to pass the magic gate that only opens if they've become the best version of themselves. Of course, Chidi can't get on because he isn't sure that he's his best self.
Then Michael confesses that he lied, that the magic balloon won't work even if they all pass the gate, and he has no idea how to get them into the actual Good Place. They're stuck in the neighborhood, and by morning the Bad Place demons will come and get them, dragging them into an eternal hell of torment and torture. No matter what they have done or what they do now, they're screwed.
That's life.
Every single living organism on this planet, in this universe, is screwed. No matter what it knows or does, each living thing is going to eventually die, and there is absolutely nothing that can be done about that. In this way, every living thing is equal; no life is better or more valuable than any other life because, in the end, it won't be life at all.
Most life, though, can't actually perceive or understand the finality of our dooms, and our ability to do so is what separates us and makes us definitively human. It's the same reason Michael couldn't truly understand humans until he understood death in "Existential Crisis." This ability to understand the finality of life is what allows us to truly live.
The Best Forking Gifts to Buy a "Good Place" Fan 
So that's what the humans decide to do on their last day. Eleanor orders a ton of alcohol from Janet, and they begin to party. The friends dance, get drunk, talk about their feelings and their fears, and take comfort in the only thing they can take comfort in; each other.
If you just watch this episode as another chapter in a story about a crazy afterlife that houses demons who have holiday weekend Ikea as an entire department of torture, it's honestly a little boring. Very little happens, as basically the cast just hangs out in a single location for 22 minutes, making it a bottle episode. It's fine, but it's no "Dance, Dance, Resolution," with its insane 300 mph pace, or "Michael's Gambit" with an incredible twist.
Analyze a little deeper, though, and you'll find an episode of television that perfectly encapsulates human existence.
The unrealistic hope they display at the start as they fantasize about the perfect Good Place, the heartbreak Eleanor feels when Chidi dreams about meeting his soulmate, the pain Michael experiences when he disappoints his friends after revealing he lied to them about getting into the Good Place; the range of emotions captured by these characters in such a short time reminds you of the rollercoaster that is human emotion.
The humanity doesn't end there. The silly jabs at each other during their toasts are funny character jokes, but also a display of how we cope with our own and each others' faults. They're a display of love between people who have shared the trials of (after)life together. There is a comfort we feel when someone truly knows us well enough to point out the specifics of our personalities, and what is human life but trying to create that kind of bond with others?
And then there is Michael's Human Starter Kit. Made an honorary human, the demon Michael gratefully opens his gift and pulls out car keys, band-aids, a stress ball, and a Dr. Oz diet book; all "garbage that [he has] no real use for."
And yet he does find a use for them. By assigning meaning to the objects as they pertain to people and as they relate to him as a gift from his friends, Michael finds value in something meaningless. "Welcome to being human," Eleanor tells him.
The episode immediately shifts to the friends doing the same thing, as they create meaning in their last day by dancing and having fun with each other. They take what's left of their lives and they live it. Tomorrow they will be doomed forever, but for now, they are free. Free to laugh, free to cry, free to feel, and free to dance.
In the end, after discussing what their personal Bad Place will be (a nice contrast to the start of the episode where they discuss their Good Place), the friends decide to do the most human thing of all.
"Attempt something futile, with a ton of unearned confidence, and fail spectacularly."
We cannot win. We can't escape our own doom, and we can't create some transcendent meaning to our lives. All of our attempts at it will fail, but my goodness, we are going to keep trying.
"Best Self" packs in so much about human existence and reminds us that even if we don't have a larger purpose, we're responsible for creating the meaning in our lives, and we do so through each other. We can't stop the end from coming, but we can make the time we have left worth something to us and the people around us. We can find meaning in the void.
"In a way, the Good Place was inside the Bad Place all along."
My Good Place is shutting the lights off and over analyzing everything I see on screen, but everyone's Good Place is different, and no one's way is right. So if you want to do the dishes while watching TV, go for it. Have it on while you vacuum the floor, put together the furniture you got over the holiday weekend at Ikea, and cook up a plain, topping free, sauceless burger. It doesn't matter, we're all doomed anyway, so watch TV, and live, in whatever way makes you feel alive.
Be your "Best Self" and watch here
!
Follow CRAVEYOUTV on socials
7 Most Anticipated Shows Coming in the Spring of 2021
As the days get longer, snow begins to melt, and flowers begin to bloom, you'll likely find yourself emerging from a winter slump and ready to warm up your soul.
And what better way than with some exciting television blooming this spring?
While there's plenty of shows returning from hiatus (you can find all the must-watch shows and movies premiering in March right here), there's also a slate of new shows hoping to melt your cold exterior and warm their way into your heart.
Here's everything that we're looking forward to watching in the spring of 2021:
Debris – March 1 (NBC)
Network television loves its sci-fi! Debris finds two agents, one from the CIA and one for MI6, teaming up to travel the U.S. looking for remnants of an alien spacecraft to find out where it's from, what it wants, and what it's effects are on the human population. Think X-Files meets Fringe meets Extant.
The Falcon and the Winter Soldier – March 19 (Disney+)
Disney+ is expanding the world of Marvel with yet another addition to the small screen. Following Wandavision, The Falcon and the Winter Soldier is a six-episode comedy about Sam Wilson (Anthony Mackie), who is now Captain America, and Bucky Barnes (Sebastian Stan), which picks up after the events of Avengers: Endgame.
The Irregulars – March 26 (Netflix)
You know the story of Sherlock Holmes, but do you know the story of Dr. Watson and the Baker Street Irregulars? All you need to know is that it's a gang of street teens manipulated into working for Watson to protect London from supernatural elements.
Law & Order: Organized Crime – April 1 (NBC)
The series marks Elliot Stabler's (Christopher Meloni) overdue (due to COVID-19) return to television and the Law & Order franchise. Stabler stars up again with the NYPD and even reunites with Olivia Benson (Mariska Hargitay) in the spinoff drama! Thursday's just got so much better!
Cruel Summer – April 20 (Freeform)
Hailing from producer Jessica Biel, this psychological thriller – that's also a '90s throwback – examines the lives of two young women, one of whom mysterious disappears. Kate Wallis (Olivia Holt, "Cloak & Dagger") is a popular girl who goes missing, and Jeanette Turner (Chiara Aurelia), is the girl deemed responsible.
The Mighty Ducks: Game Changers – March 26 (Disney+)
Polish those skates, because the Mighty Ducks spinoff is skating to the small-screen. When the powerhouse team turns away 12-year-old Evan, a potential new member, he and his mom Alex (Lauren Graham) decided to build their own team. The 10-episode series marks the return of Emilio Esteves as Coach Gordon Bombay.
Shadow and Bone – April 23 (Netflix)
Set in an alternate version of tsarist Russia called Ravka and based on the hit fantasy book series, sinister forces plot against a young soldier after she is found to have magical powers that may help unite the world.
The 2021 Golden Globes: Complete Winners List
Awards Season kicked into high gear tonight with the 2021 Golden Globes!
Honoring the best in film and television, Tina Fey and Amy Poehler co-hosted the event.
Below is the complete list of nominees, with winners being updated live! Let us know what you think of the winners in the comments.
(Winners are listed in bold)
Film
Best Motion Picture-Drama
The Father
Mank
Nomadland
Promising Young Woman
The Trial of the Chicago 7
Best Motion Picture-Musical or Comedy
Borat Subsequent Moviefilm
Hamilton
Music
Palm Springs
The Prom
Best Performance by an Actor in a Motion Picture-Drama
Riz Ahmed, Sound of Metal
Chadwick Boseman, Ma Rainey's Black Bottom
Anthony Hopkins, The Father
Gary Oldman, Mank
Tahar Rahim, The Mauritanian
Best Performance by an Actress in a Motion Picture-Drama
Viola Davis, Ma Rainey's Black Bottom
Andra Day, The United States vs. Billie Holiday
Vanessa Kirby, Pieces of a Woman
Frances McDormand, Nomadland
Carey Mulligan, Promising Young Woman
Best Performance by an Actor in a Motion Picture-Musical or Comedy
Sacha Baron Cohen, Borat Subsequent Moviefilm
James Corden, The Prom
Lin-Manuel Miranda, Hamilton
Dev Patel, The Personal History of David Copperfield
Andy Samberg, Palm Springs
Best Performance by an Actress in a Motion Picture-Musical or Comedy
Maria Bakalova, Borat Subsequent Moviefilm
Kate Hudson, Music
Michelle Pfeiffer, French Exit
Rosamund Pike, I Care a Lot
Anya Taylor-Joy, Emma.
Best Supporting Actor in a Motion Picture
Sacha Baron Cohen, The Trial of the Chicago 7
Daniel Kaluuya, Judas and the Black Messiah
Jared Leto, The Little Things
Bill Murray, On the Rocks
Leslie Odom, Jr., One Night in Miami…
Best Supporting Actress in a Motion Picture
Glenn Close, Hillbilly Elegy
Olivia Colman, The Father
Jodie Foster, The Mauritanian
Amanda Seyfried, Mank
Helena Zengel, News of the World
Best Director
Emerald Fennell, Promising Young Woman
David Fincher, Mank
Regina King, One Night in Miami…
Aaron Sorkin, The Trial of the Chicago 7
Chloé Zhao, Nomadland
Best Screenplay
Emerald Fennell, Promising Young Woman
Jack Fincher, Mank
Aaron Sorkin, The Trial of the Chicago 7
Florian Zeller and Christopher Hampton, The Father
Chloé Zhao, Nomadland
Best Original Score
Trent Reznor, Atticus Ross, and Jon Batiste, Soul
Trent Reznor and Atticus Ross, Mank
James Newton Howard, News of the World
Alexandre Desplat, The Midnight Sky
Ludwig Göransson, Tenet
Best Original Song
"Fight for You," Judas and the Black Messiah
"Hear My Voice," The Trial of the Chicago 7
"Io sì (Seen)," The Life Ahead
"Speak Now," One Night in Miami…
"Tigress and Tweed," The United States vs. Billie Holiday
Best Animated Film
The Croods: A New Age
Onward
Over the Moon
Soul
Wolfwalkers
Best Foreign Language Film
Another Round (Denmark)
La Llorana (Guatemala/France)
The Life Ahead (Italy)
Minari (USA)
Two of Us (France/USA)
Television
Best Television Series-Drama
The Crown
Lovecraft Country
The Mandalorian
Ozark
Ratched
Best Television Series-Musical or Comedy
Emily in Paris
The Flight Attendant
The Great
Schitt's Creek
Ted Lasso
Best Miniseries or Television Film
Normal People
The Queen's Gambit
Small Axe
The Undoing
Unorthodox
Best Performance by an Actor in a Television Series-Drama
Jason Bateman, Ozark
Josh O'Connor, The Crown
Bob Odenkirk, Better Call Saul
Al Pacino, Hunters
Matthew Rhys, Perry Mason
Best Performance by an Actress in a Television Series-Drama
Olivia Colman, The Crown
Jodie Comer, Killing Eve
Emma Corrin, The Crown
Laura Linney, Ozark
Sarah Paulson, Ratched
Best Performance by an Actor in a Television Series-Musical or Comedy
Don Cheadle, Black Monday
Nicholas Hoult, The Great
Eugene Levy, Schitt's Creek
Jason Sudeikis, Ted Lasso
Ramy Youssef, Ramy
Best Performance by an Actress in a Television Series-Musical or Comedy
Lily Collins, Emily in Paris
Kaley Cuoco, The Flight Attendant
Elle Fanning, The Great
Jane Levy, Zoey's Extraordinary Playlist
Catherine O'Hara, Schitt's Creek
Best Performance by an Actor in a Miniseries or Television Film
Bryan Cranston, Your Honor
Jeff Daniels, The Comey Rule
Hugh Grant, The Undoing
Ethan Hawke, The Good Lord Bird
Mark Ruffalo, I Know This Much Is True
Best Performance by an Actress in a Miniseries or Television Film
Cate Blanchett, Mrs. America
Daisy Edgar-Jones, Normal People
Shira Haas, Unorthodox
Nicole Kidman, The Undoing
Anya Taylor-Joy, The Queen's Gambit
Best Supporting Performance by an Actor in a Series, Miniseries, or Television Film
John Boyega, Small Axe
Brendan Gleeson, The Comey Rule
Dan Levy, Schitt's Creek
Jim Parson, Hollywood
Donald Sutherland, The Undoing
Best Supporting Performance by an Actress in a Series, Miniseries, or Television Film
Gillian Anderson, The Crown
Helena Bonham Carter, The Crown
Julia Garner, Ozark
Annie Murphy, Schitt's Creek
Cynthia Nixon, Ratched
Let's Talk About What #Barchie's Steamy Shower Scene on 'Riverdale' Means for the Ship
It finally happened, #Barchie fans!
If you're a #Bughead fan, you might want to stop reading at this point because this is a full post dedicated to the Betty and Archie hook-up!
After several seasons, Riverdale finally gave fans the Betty and Archie moment they've been waiting for.
This moment has been a long time coming.
There were some close calls through the years, though mainly, fans were left disappointed and wondering if the pairing would ever see the light of day.
At the end of season 4, the duo shared a romantic kiss but ultimately decided to bury their feelings out of respect for their significant others.
But you don't just write a love ballad for someone and forget about them!
The long-awaited and highly-anticipated moment finally came via a steamy shower sex scene following a seven-year time-jump. It was so hot, I found myself wondering if this is even allowed on The CW. That steam wasn't from the hot shower, that's all I'm going to say!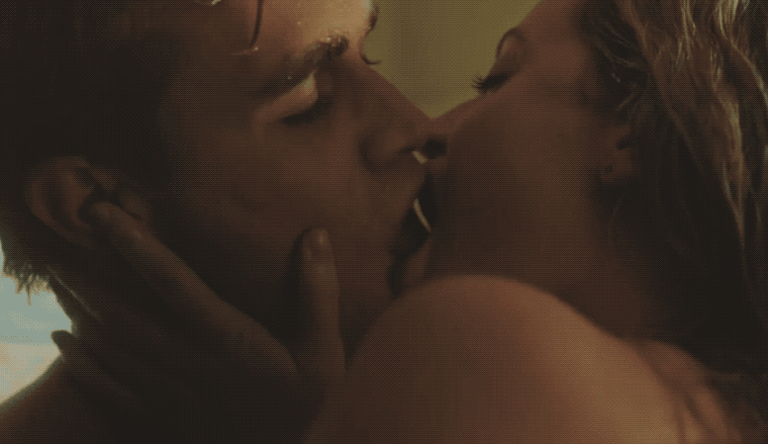 Archie, who survived a war, and Betty, who has been catching serial killers while training to be an FBI agent at Quantico, reunited and fell right back into their old feelings without even realizing it.
Post hook-up, when Archie questioned what just happened between them, Betty informed him that it's something "we've been wanting to do since high school but never got around to it." And you have to appreciate her honesty here.
Since they're both mature and single adults — Archie's ex Veronica is "happily" married, while Betty hasn't been with Jughead for years — they decided to keep the moment of passion under wraps.
Riverdale can be a bit ridiculous at times, but this was the smartest decision these two ever made. They don't owe anyone, including Veronica and Jughead, anything.
This moment singlehandedly changed the Betty and Archie relationship forever.
And when I tell you fans were thrilled, I mean they were straight geeking out on Twitter.
"Something we've been wanting to do since high school but never got around too."

THIS SCENE WAS EVERYTHING!
The chemistry between KJ & Lili is everything! Truly one of riverdales best! Can't wait to see where this story goes! #BARCHIETIMEJUMP #Riverdale pic.twitter.com/yAPo86hhkN

— Barchiedaily (@Barchiedaily) February 18, 2021
The lip bite makes a return 10 years later #Barchie #Riverdale pic.twitter.com/E3zegfrWzR

— Barchiedaily (@Barchiedaily) February 18, 2021
But what does this mean for #Barchie moving forward? Was it a one-time thing that they needed to get out of their system?
Based on the glowing aftermath, methinks not. The chemistry and sexual tension is there, and they're clearly into each other. And for the first time, they're both in a place where they can pursue a relationship.
Well, there is the small issue of Betty's boyfriend, Glen, back in Virginia, but I doubt that will pose much of a problem since she seemed to forget all about him. She didn't even call him to inform him she decided to stick around for a while and teach at her old high school, which tells you everything you need to know!
And while Archie and Jughead's new roomie situation may make things a bit more complicated and awkward, I think Archie and Betty owe it to each other to explore these longtime feelings.
They've never been given the opportunity to figure what these feelings truly mean — is it love or is it just lust? — because they've always repressed them out of respect for others.
There's no better time like the present to put them to the test.
Though, if I'm being completely honest, I don't see it lasting long. I'd love the idea of #Barchie babies, but with the core four back in each other's orbits, they're bound to fall into old habits.
Jughead and Betty don't seem like they're going to get back together anytime soon, but based on their conversation, they never got closure following their abrupt breakup. With a new mystery in tow, I see their paths merging again, though, I am really digging that Betty and Archie have been working together on the "Polly mystery."
As for Ronnie, she may be married, but it's not going to last long. She and Chadwick are already having marital issues that stem mainly from his insecurities and jealousy. I wouldn't rule out a post-divorce reunion for Archie and Veronica.
She's always wanted someone who can handle her Lodge independence, and Archie has always been that man.
So, while Betty and Archie might not be able to keep their hands to themselves in the short-term, I don't think that there's potential for them in the long run. And that's okay too.
Sometimes the best thing before settling down is the fling you've always fantasized about!
At the end of the day, I'm rooting for the ships that will bring each other happiness — whoever that may be!
Don't forget to check out our full review of Riverdale Season 5 Episode 5 now!