Main characters can be overrated. There, I said it.
The problem with main characters is that there's so much pressure placed on them to be likable.
Sometimes the added pressure works in a character's favor, but other times, the extra attention turns what could have been an admirable lead into one that either falls flat or appears too overdeveloped.
That's rarely the case with sidekicks as they are quite literally created with the intention of propping up said main character
Now, that isn't to say the role of a sidekick is easy; their job is especially difficult as they bear a handful of responsibilities. They're known as supporting and secondary characters that assist the main character, break the ice in tense situations using comedic relief, give advice, and clean up messes.
They also have the ability to raise the stakes of a show without outshining the lead.
Except here's the thing — many of the sidekicks listed here do just that.
Actors who portray sidekicks have the ability to play with a role and make it their own often leading to a character that resonates with audiences in more significant ways than the main character.
More often than not, the secondary characters become much more than just "sidekicks."
Gone are the days when they weren't supposed to have a life outside of the protagonist's plot. Now, they take on lives of their own with backstories, flaws, conflicts, and successes.
They are so vital to the success of a show, in fact, that there's a whole award show category dedicated to "supporting actors."
The truth is, without the sidekick, the main character — no matter how great — is incomplete.
And every true TV fan knows that main characters are only as great as the sidekicks that they surround themselves with.
We're taking a look at some memorable sidekicks who have etched their way into our hearts and inevitably, and sometimes unintentionally, elevated the show to greater heights.
There are so many different types of sidekicks, but one of the most common ones is the brains behind the operation.
These sidekicks act as a foil by being filling a void left behind by the main character and possessing characteristics that the lead lacks.
One of my personal favorite sidekicks and admittedly, the one that inspired this piece, is Susie on The Marvelous Mrs. Maisel.
There would be no Mrs. Maisel without Susie Meyerson (Alex Borstein).
She helped discover Midge's talent, she held her hand throughout the whole process, she groomed her from dinky club act to main stage performer, she vouched for her and stuck her neck out for her, and she continues to champion her in a male-dominated industry.
Their friendship and partnership carries the series, and while Midge may be the talent, she likely wouldn't have gotten this far without the perseverance of her manager.
Revenge's Nolan (Gabriel Mann) completes Emily Thorne/Amanda Clarke and is the reason why her intricate revenge plot never fell apart.
Emily/ Amanda wouldn't have been able to accomplish half of what she did without his hacker expertise.
Nolan was eager and willing to help, he had no problem breaking the rules, and he did whatever Emily/Amanda wanted without question. And when he did ask questions, she trusted him enough to tell him the truth.
Nolan promised Emily/Amanda's father that he would protect her no matter what, and not once did he stray from that promise.
Their bond was unbreakable; Nolan would risk his life for that girl in a heartbeat.
Sidekicks are oftentimes loyal to a fault because of the friendships that they've built up with the lead.
Another example is Peter Quinn (Rupert Friend) on Homeland, who remained loyal and true to Carrie until the very end.
In cliche terms, he was quite literally her "ride or die." He was equally as compelling, and some would say, far more likable than Carrie as he radiated a quiet, stoic, strong presence.
There are times where sidekicks may be responsible for choices that put the main character on the right path.
This happens with Evan Lawson (Paulo Costanzo) from Royal Pains. Without Evan, the lead character, Hank, wouldn't have become a concierge doctor in the Hamptons. He is directly responsible for helping kickstart the business and finding the clients.
Many sidekicks complete and even complement the main character while also carving their own path.
Mo (Alex Newell) from Zoey's Extraordinary Playlist is Zoey's neighbor and a fan-favorite that, dare I say, is liked more than Zoey at times.
On the surface, the gender nonconforming sidekick is witty and fun and gives magical advice, but the character's strengths lie in the moments when the series embraces deeper issues of faith and sexuality.
Not all sidekicks take themselves seriously. One of the most common secondary characters is the jokester that provides comedic relief with witty one-liners and zingers.
However, even a "funny" sidekick can steal the spotlight if done right.
Niles (Daniel Davis) from The Nanny was a butler who worked for the Sheffield family, but he's revered for his snarky (and sometimes borderline cruel) comments towards C.C. Babcock.
His motivations come from a place of loyalty to not only the family but to the nanny named Fran.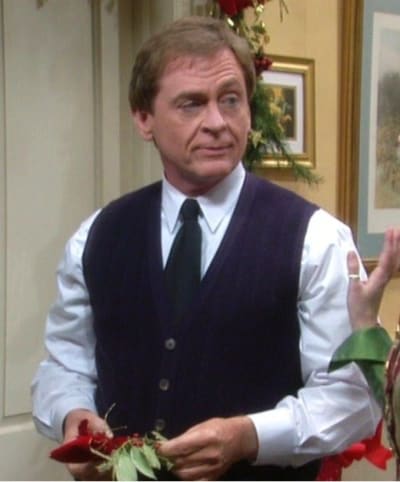 It's that protective and kind attitude that morphs him into one of the best characters on the series, though, we'd be lying if we said we weren't also fans of the manipulative and diabolical attitude.
For nearly 30 years, DJ Tanner's sidekick has been Kimmy Gibbler (Andrea Barber), the outlandish and wacky neighbor whose spirit perfectly compliments the straight-laced eldest Tanner daughter.
Through her eccentric personality, Kimmy has given more than just laughs, she's provided the assurance that it's okay to be different; she's become the spirit animal of so many fans.
Follow CRAVEYOUTV on socials
Found Season 1 Episode 10 – Missing While Indoctrinated
M&A suffered minor setbacks on Found Season 1 Episode 10 when the team's license was revoked following Melissa's death, with Mallory egging on the narrative in the media.
That, however, didn't stop Gabi in the slightest—it fueled her to do what was right by Tony despite everyone trying to push her away from the case, including his father, who didn't trust her after Tony was shot while trying to save Matthew from being turned over to sex traffickers.
Tony's father's reaction was understandable considering he was just trying to do the right thing for his son—and the right thing wasn't exactly clear in this situation—but when the cops showed up mere moments after Tony opened his eyes from a monthlong coma and placed handcuffs on him, it was clear that he didn't have much of a choice. If he wanted to help his son, he needed to place his trust in Gabi's hands.
Gabi naturally went above and beyond to ensure a good outcome for Tony, yet he was also reluctant to help her out. Tony didn't trust anyone, especially Gabi as he, too, blamed her for accidentally getting shot, so it wasn't exactly a surprise when he used the bathroom excuse to give them the slip.
The investigation hit much closer to home than Gabi initially anticipated, but being forced to confront her past so head-on is ever so slightly helping her work through the trauma she endured. And most importantly, she can put herself in the shoes of the victims, knowing exactly what needs to be said or done to assure them that she's on their side.
In an attempt to find Tony, they brought in his estranged mother, who admitted to being scared of her son and wanting nothing to do with him in order to protect her two other children. It was actually heartbreaking to witness her stance toward Tony, however, Matthew's mom managed to persuade her to stand by her boy and not give up on him. Despite Tony's involvement in Matthew's kidnapping, she was able to forgive him when he stopped by with an apology, realizing that he was just a good boy who was being taken advantage of, and who was also lost and scared.
M&A figured that it was possible that Tony was trying to get back into the game and recruit other students when he returned to school, yet that didn't track with his apology tour. And it turns out, he was at the school to get revenge on those who ruined his life, namely Finn, the one who recruited him and straight up lied to Gabi's face, along with the principal, Chloe, who prided herself on lowering the truancy rate. It wasn't overly obvious that she was involved, but there was something off about her from the start. Not to mention they always say that kidnappers tend to be someone you know and trust, and aside from parents, kids trust their teachers and friends the most, so it tracks.
Gabi got very emotional when she figured that one of the teachers at school might be responsible, even before pinpointing Chloe as the one leading the trafficking ring (who, after her arrest, sang like a canary, according to Trent), and it led to one of the biggest revelations about Sir to date—he was her English teacher.
I've always suspected that he knew Gabi in some shape, way, or form prior to her kidnapping as it couldn't have been random, and this makes so much sense now, especially all of their forced literature discussions. The clues were always there.
Gabi was having additional flashbacks throughout the episode that involved a girl who tried to help her. The girl first knocked on the door having claimed that her car broke down, however, she later returned to promise Gabi that she would get help. In a follow-up flashback, Sir informed Gabi that he took care of the girl who was threatening their future, and Gabi pieced two-and-two together and realized it was Sir's previous victim, Annie, who was also one of his former students. Annie risked her life to come back and offer her help, but she was never seen again. And since then, Gabi has been looking for Annie, promising Sir that it's the last piece of the sick saga before she ends it all. Sir insists she won't find Annie because he didn't kill her, but Gabi isn't listening to a word he says. Of course, this sparks curiosity as to what actually happened to Annie as there's a chance that Sir is telling the truth.
As Gabi tries to heal, she's also caught in the constant cat-and-mouse game, holding Sir prisoner and trying to make sense of the trauma he inflicted on her, all while doing the exact same thing that the monsters she despises are doing. She may be ridding the world of an evil man, but he also brought up a fair point when questioning why Gabi didn't feel like he was worthy of redemption as some of the other people she's dealt with.
Obviously, this case is the most personal to Gabi, and she views him as the worst man in the world, so she doesn't consider there to be any good in him, but we know that monsters aren't just born, they are made. His cruel mother, who was abusive to him during his childhood, made him this way, and while that's no excuse, it's something I do hope the writers dive into deeper.
As for Gabi, there's no getting rid of this pressure, which means she can't open herself up to love from Trent, who is there, patiently waiting and willing to be with her at the drop of a hat. He loves her, even when she's being exceptionally cold and rude to him, because he cares about her—and he made sure that she knew he wasn't going to apologize for that. Thankfully, she apologized to him for the way she's been treating him before suggesting that he get his job back at the DCPD because they need him as "he's one of the good guys." Being a cop, a good cop, is his purpose and all that he's ever wanted, plus it will help them in the long run.
Gabi may have landed a win with Tony's safe return in the loving arms of both his parents (yes, his mother came around finally), all the people she saved rallying behind her on public television to change the narrative about M&A, and finally, in getting her license back, but she's constantly losing because she can't get out of that basement or be honest with the people she loves.
The rest of M&A is doing the work to make sure they can heal and become the best versions of themselves, including Margaret who, with her therapist's help, moved back the time of her train station arrival an hour. They may be baby steps to her in the grand scheme of things, but they are massive to her.
Elsewhere, Zeke called in a request to his estranged father to get the license reinstated, informing him that he never asks for anything, while making it clear how much he relied on the purpose that M&A gave him. His father stopped by later, having successfully done what Zeke asked, and it was a small breakthrough in their frought relationship, one that happened after Zeke was taken. Lacey was on hand to support Zeke during the moment, and let's just say, I'm excited to see them take their relationship to the next level.
What did you think about the episode? Are you surprised about what we learned about Sir?
Who Is Lark on 'Virgin River'?
Lark (Elise Gatien) made her debut on Virgin River Season 5, specifically, during the episodes that tackled the wildfires that ravaged parts of the picturesque town.
Warning – this post has spoilers from the Virgin River holiday episodes.
After Jack and Brady risked their lives to save Lark's daughter, Hazel, who went missing from the campsite during the fire evacuation, the single mom began to bond with the latter, extending her gratitude to him for going out of his way to prioritize her daughter's safety.
When Brady found out that Lark and Hazel were squatting, he offered them up a place in one of the lumber yard trailers, a selfless gesture that speaks to his big heart.
Lark definitely set her sights on Brady, especially on the heels of his generosity, and a connection sparked around the time that Brady's relationship with Brie crumbled and he was looking for some companionship. Lark also helped Brady see the better parts of himself, as Brie held his lies (even though he couldn't tell her anything about being an informant) against him and made him feel guilty.
One thing led to another and eventually, Lark and Brady began a relationship after his romance with Brie ended. It was also helpful that Hazel really took to Brady, and thus, he became a bit of a stepfather figure in her life.
Fast forward a few months to the timeline of the holiday episodes, Brady and Lark are going strong, fully embracing their romance and sweet little family together. Lark even invited Brady to meet her mother, though he claims that's a little too fast-paced for him, which is understandable considering he still harbors strong feelings for Brie, who has currently moved on with Mike.
However, Brady seems to be in a good place in life, particularly as everything with Melissa Montgomery's money laundering/drug smuggling at Emerald Lumber has finally settled down. He's finally able to move past the nightmare that started when he was roped in by Calvin when he was young and reckless, or so fans thought. In retrospect, I guess we should've been more suspicious of Lark's attempts at inserting herself into Brady's life, though she definitely made it seem so natural.
In the final moments of Virgin River Season 6 Episode 12, Lark sneaks off to pick up a call from Hazel's father, who turns out to be Jimmy, who is serving time in prison. Lark informs him that "Brady doesn't suspect a thing," which shows that this is Jimmy's form of getting close enough to Brady to get revenge.
It's an awful and disappointing twist considering all the progress Brady has made to turn over a new leaf and hit refresh. He can't seem to shake this whole Emerald Lumber fiasco, no matter how hard he tries. Bad luck just seems to follow him based on one bad decision he made way back when—and it's cost him so much, including his friendships and his romance with Brie.
I'm hoping that Lark realizes just how good of a guy Brady is and how much he's sacrificed for her and Hazel and decides not to go through with whatever she and Jimmy have planned.
Lord knows that Brady deserves some sliver of good news and positivity in his life, along with a storyline far removed from the lumber yard.
ExMas Movie Review – Robbie Amell and Leighton Meester Make a Holiday Bet
While most holiday movies this time of year are centered around one's Christmas wish, ExMas takes a different approach.
Beware—spoilers from the movie ahead!
Imagine the worst possible situation that can occur when you come home on Christmas…. is it your parents inviting your ex-fiancée, who broke your heart into a million pieces, over for Christmas dinner after you told them you weren't coming into town due to previous work commitments but then decided at the last minute on a change of plans as part of a surprise? If so, that's the exact plot of Robbie Amell (a treat for all of us Upload fans) and Leighton Meester's (Gossip Girl) new Freevee movie.
And let me tell you, it brings plenty of comedic moments and jokes, sprinkled into what turns out to be a heartfelt plot about owning up to your mistakes and apologizing for shortcomings in a failed relationship, all while expertly capturing the chaos that is going home for the holidays. You know the former couple will find their way back to each other in the end—this is a Christmas movie after all—but it's less about the destination and more about the journey that gets them to the "aha" moment.
It's a fa-la-la-oh-my-god-is-this-really-happening situation that Amell's Graham and Meester's Ali turn into a competitive bet to see which one will win over the family's love and which one will be kicked out before Christmas day.
Along the way, Graham and Ali realize that they aren't over each other one bit, while also admitting their own faults led to the demise of their relationship. Graham explains that he was doing what he thought Ali wanted—working more so he could work his way up the corporate food chain to make enough money to provide them with the perfect life. However, all Ali ever needed was for him to be there for her, present and willing, though she didn't voice it either because she was scared he was going to walk away, so, she walked away first.
It all comes down to a lack of necessary communication in a relationship—which happens far too often to couples these days that are caught up in the hustle and bustle of life—but there's no shortage of time to talk it out when you're forced to spend the holidays under the same roof.
Graham's reaction upon walking into his childhood home and seeing the woman who broke his heart standing at the top of the stairs was to freak out, naturally. And who wouldn't? This is a huge betrayal of trust from the people who are supposed to love you unconditionally and side with you, no matter what. As he tries to make them see the issue, their argument is that she's been part of the "family for a very long time."
When he realizes that Ali has ingrained herself into the family by playing Wordle with his sister and helping his brother study for his exams, he realizes that he can't just up and leave, he has to show the family how "evil she is" by making them dislike her to "save his family" and "save Christmas."
Admittedly, it's a pretty extreme retaliation, but one that delivers plenty of good fun, especially since Graham knows her faults and weaknesses—like her competitive streak—and can easily exploit them. And that's a two-way street as Ali is also able to sabotage Graham, making her the perfect and worthy opponent. Graham leverages Ali's irrational fear of goats to ruin the dealership's Christmas party, while she deliberately moves a sign in the bathroom to ensure that he floods it when flushing, allowing her to be the toilet bowl plunger hero. Of course, these are just two adults acting silly so that they don't have to confront the harsh reality of their former relationship, but it's all in good fun.
They both try to make the other jealous with new crushes—and she tries to sabotage his relationship with Jess by telling her that he has problems in the bedroom (though that short-lived romance tanks all on its own when Jess suggests a threesome with her roommate/special friend), while he allows her to invest in Brady knowing that it will eventually end with him trying to sell her a car during the date.
But it also emphasizes that the dating scene is a scary, scary place, and once you've found your person, you have to hold on to them tight and never let go.
It also becomes evident why the family gravitated toward Ali instead of Graham in the first place—and why the duo inevitably broke up—as Graham isn't present most of the time; he doesn't care to ask about his family members' personal lives or keep up a relationship as he's too busy with work. His sister, Heather, assures him that Ali was always there at every event when he wasn't.
The Christmas season, which starts off to be the stuff of nightmares, helps Graham reprioritize what's important as he begins to see that he took everything that mattered for granted, his family and Ali included.
When Graham's father suffers a sudden cardiac arrest following a competitive, yet friendly, game of hockey during the holidays, that's when he really starts to understand just how much time he'd invested into the wrong thing. Of course, a career is just as important as anything else, but it shouldn't take precedence over the things that truly matter–and he was working for a boss who expected him to meet a Christmas Day deadline and had no qualms about calling and demanding more from him even when he was in the hospital following a family member's health scare. At that moment, Graham takes a leap of faith and quits—the start of his new life on the horizon. (This may or may not be a Horizen pun, I'll let you decide.)
There were several other factors that brought him to the finish line, where he realized he screwed up and couldn't live without Ali, including a heart-to-heart with his mom, a night of amazing drunk sex with Ali, and saying goodbye to her after they both forgave each other for the pain they inflicted.
Once she was out the door, Graham and his family couldn't shake the feeling that something was missing—and in true Christmas movie fashion, they all ran to get the girl, trying to fit into a vehicle that wasn't up to par for the journey. As they made their way to the other car, Graham found Ali standing at the front door and immediately poured his heart out to her, only for her to explain that she only came back because she forgot her phone.
Obviously, that was the last cruel joke she played on him as the two made up and sealed the deal with a kiss. Admittedly, there wasn't undeniable chemistry between Amell and Meester as actors—they sold the friendship more—but the plot was believable enough that you found yourself rooting for them regardless. It's actually quite nice for the chemistry to feel more grounded and realistic rather than the kind always portrayed in holiday movies that can sometimes feel unattainable for the average couple.
Fast forward to the next holiday, at their home in Los Angeles, Graham came through on his promise to help her start up her bakery truck, proving that his priorities are finally in order, as yet another time jump two years later, revealing that they welcomed a baby together.
And just because so much time had passed, doesn't mean Graham didn't have revenge on his mind as he invited his sister's ex, Heather, for the holidays because they remained such good friends after the breakup.
As they say, payback's a bitch, but if Graham's situation is any consolation, maybe Mindy (Veronika Slowikowska) and Heather's story will have a happy ending. After all, isn't that the magic of the holidays?
The film also stars Michael Hitchcock, Kathryn Greenwood, Steven Huy, Thomas Cadrot, and Donna Benedicto. It's available to stream now on Freevee.
9 Holiday Movies You Need to Watch to Make the 2023 Christmas Season Bright