Main characters can be overrated. There, I said it.
The problem with main characters is that there's so much pressure placed on them to be likable.
Sometimes the added pressure works in a character's favor, but other times, the extra attention turns what could have been an admirable lead into one that either falls flat or appears too overdeveloped.
That's rarely the case with sidekicks as they are quite literally created with the intention of propping up said main character
Now, that isn't to say the role of a sidekick is easy; their job is especially difficult as they bear a handful of responsibilities. They're known as supporting and secondary characters that assist the main character, break the ice in tense situations using comedic relief, give advice, and clean up messes.
They also have the ability to raise the stakes of a show without outshining the lead.
Except here's the thing — many of the sidekicks listed here do just that.
Actors who portray sidekicks have the ability to play with a role and make it their own often leading to a character that resonates with audiences in more significant ways than the main character.
More often than not, the secondary characters become much more than just "sidekicks."
Gone are the days when they weren't supposed to have a life outside of the protagonist's plot. Now, they take on lives of their own with backstories, flaws, conflicts, and successes.
They are so vital to the success of a show, in fact, that there's a whole award show category dedicated to "supporting actors."
The truth is, without the sidekick, the main character — no matter how great — is incomplete.
And every true TV fan knows that main characters are only as great as the sidekicks that they surround themselves with.
We're taking a look at some memorable sidekicks who have etched their way into our hearts and inevitably, and sometimes unintentionally, elevated the show to greater heights.
There are so many different types of sidekicks, but one of the most common ones is the brains behind the operation.
These sidekicks act as a foil by being filling a void left behind by the main character and possessing characteristics that the lead lacks.
One of my personal favorite sidekicks and admittedly, the one that inspired this piece, is Susie on The Marvelous Mrs. Maisel.
There would be no Mrs. Maisel without Susie Meyerson (Alex Borstein).
She helped discover Midge's talent, she held her hand throughout the whole process, she groomed her from dinky club act to main stage performer, she vouched for her and stuck her neck out for her, and she continues to champion her in a male-dominated industry.
Their friendship and partnership carries the series, and while Midge may be the talent, she likely wouldn't have gotten this far without the perseverance of her manager.
Revenge's Nolan (Gabriel Mann) completes Emily Thorne/Amanda Clarke and is the reason why her intricate revenge plot never fell apart.
Emily/ Amanda wouldn't have been able to accomplish half of what she did without his hacker expertise.
Nolan was eager and willing to help, he had no problem breaking the rules, and he did whatever Emily/Amanda wanted without question. And when he did ask questions, she trusted him enough to tell him the truth.
Nolan promised Emily/Amanda's father that he would protect her no matter what, and not once did he stray from that promise.
Their bond was unbreakable; Nolan would risk his life for that girl in a heartbeat.
Sidekicks are oftentimes loyal to a fault because of the friendships that they've built up with the lead.
Another example is Peter Quinn (Rupert Friend) on Homeland, who remained loyal and true to Carrie until the very end.
In cliche terms, he was quite literally her "ride or die." He was equally as compelling, and some would say, far more likable than Carrie as he radiated a quiet, stoic, strong presence.
There are times where sidekicks may be responsible for choices that put the main character on the right path.
This happens with Evan Lawson (Paulo Costanzo) from Royal Pains. Without Evan, the lead character, Hank, wouldn't have become a concierge doctor in the Hamptons. He is directly responsible for helping kickstart the business and finding the clients.
Many sidekicks complete and even complement the main character while also carving their own path.
Mo (Alex Newell) from Zoey's Extraordinary Playlist is Zoey's neighbor and a fan-favorite that, dare I say, is liked more than Zoey at times.
On the surface, the gender nonconforming sidekick is witty and fun and gives magical advice, but the character's strengths lie in the moments when the series embraces deeper issues of faith and sexuality.
Not all sidekicks take themselves seriously. One of the most common secondary characters is the jokester that provides comedic relief with witty one-liners and zingers.
However, even a "funny" sidekick can steal the spotlight if done right.
Niles (Daniel Davis) from The Nanny was a butler who worked for the Sheffield family, but he's revered for his snarky (and sometimes borderline cruel) comments towards C.C. Babcock.
His motivations come from a place of loyalty to not only the family but to the nanny named Fran.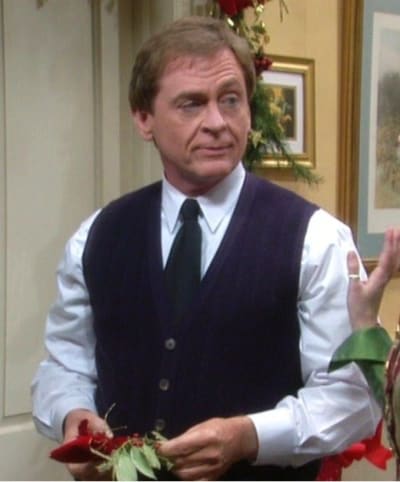 It's that protective and kind attitude that morphs him into one of the best characters on the series, though, we'd be lying if we said we weren't also fans of the manipulative and diabolical attitude.
For nearly 30 years, DJ Tanner's sidekick has been Kimmy Gibbler (Andrea Barber), the outlandish and wacky neighbor whose spirit perfectly compliments the straight-laced eldest Tanner daughter.
Through her eccentric personality, Kimmy has given more than just laughs, she's provided the assurance that it's okay to be different; she's become the spirit animal of so many fans.
Follow CRAVEYOUTV on socials
9 TV Shows to Watch After Thanksgiving Dinner
Thanksgiving is a time for reconnecting with friends and family and indulging in some delicious meals.
But after all the turkey, sides, and pie is cleared off the plate, the only acceptable activity is binge-watching some feel-good TV shows.
Here are some post-Thanksgiving dinner show suggestions:
You'll be just as surprised as Mel to fall in love with the picturesque town of Virgin River. Come for the views, stay for Jack.
Hart of Dixie
Dr. Zoe Hart arrives in Alabama looking for a fresh start and learns that the Southern way of living might actually be what's best for her.
Gilmore Girls
An unbreakable mother and daughter bond, a charming town that would make any Lifetime movie jealous… plus, an unspoken love for coffee? Say no more.
Selena + Chef
You might know her as a Disney Channel actress and pop star, but now, she's adding chef to her resume. And since Thanksgiving is all about food, this is one show you don't want to pass up.
You might think it's odd that a mafia crime drama made the list, but at its core, the series is about family and how far two dedicated and loving moms would go for their family. It's a thrill from beginning to end!
The modern-day update to the Chuck Norris classic hones in on family above everything, with a side of roundhouse kicks.
A Million Little Things
A group from Boston bond under the unlikeliest of circumstances and get a much-needed wake-up call following the death of a close friend.
Though it falls into the "sci-fi mystery" category, La Brea hinges on a family determined to find their way back to each other despite all the obstacles standing in their way and all the sacrifices needed to be made.
Dream Home Makeover
If there's ever a time to get inspired for a home makeover, it's after the holidays (and during Black Friday when everything is on sale!) And the McGee family is the cherry on top!
This is… a no-brainer. No show captures the essence of what it means to be a complicated, loving, flawed, and fulfilled family more than this NBC drama.
Angel the Series: Why The Series is The King of Found Family Shows
When Is 'Dead to Me' Season 3 Coming Out?
There's been a lot of buzz about the upcoming third season of Dead to Me, which will, unfortunately, also be the final season of the Christina Applegate and Linda Cardellini-led comedy drama.
When Will Dead to Me Season 3 Premiere?
Well, the wait is thankfully almost over because the series is set to hit Netflix on Thursday, Nov. 17, 2022.
And that means, you'll have the whole entire weekend to binge watch all 10 episodes to see how Jen Harding and Judy Hale's adventures come to an end.
It's been a bit since new episodes aired, however, with Dead to Me Season 2 dropping on the streaming giant in May 2020. The COVID-19 pandemic along with Applegate's MS (multiple sclerosis diagnosis) delayed the upcoming season significantly, so it's understandable if you don't actually remember where things left off.
How Did Dead to Me Season 2 End? Let's Recap!
For starters, a dog digs up Steve Wood's body with his brother, Ben, getting the dreaded call. Judy and Jen find the money that Steve was laundering for the Greek mafia behind the frames of Judy's art paintings, which allows them to buy out the house and get a new car for Charlie with a shiny new bow on top. Unfortunately, on their way home, they get into an accident with another vehicle… and it's revealed that the driver that hit them is Ben, who has an empty bottle of liquor by his side. He's a little banged up, but he drives away. This is honestly messy, so I'm glad we're on the cusp of the new season. And on top of all of that, Charlie finds the letter that Jen wrote (and Judy didn't destroy), which probably includes way too much information about what's going on.
Dead to Me Season 3 Trailer
Applegate on Filming the Final Season
Applegate, who recently received her much-deserved star on the Hollywood Walk of Fame, told Variety that while filming the new season of the Emmy-award winning drama amid her MS diagnosis was challenging (she had to use a wheelchair to get to set because walking was difficult and painful), she remained dedicated to finishing out the story for fans, which we truly admire and are grateful for.
When the creative forces behind the show asked if she wanted to pull the plug since they felt like they were "torturing her," she replied, "But I was like, 'No, no, no, no, no, no: We have to finish this story. It's too important to our hearts; too important to our souls. And we have to give this gift, not only to ourselves — there are people that love these characters, and we've got to let them have their closure too.' So, if that meant me having to take a break in the middle of the day so I could go sleep — or me just leaving because I couldn't do anymore — then that's what we had to do."
And knowing how much dedication went into it will make watching this season so more rewarding and gratifying.
7 Adan Canto Movies and TV Shows to Watch
You're probably here, looking for Adan Canto movies and TV shows, because of The Cleaning Lady. And if that's the case, welcome!
And if that isn't the case, well, what are you waiting for? Go watch The Cleaning Lady! Canto is exceptional in the crime series as Arman Morales opposite Elodie Yung's Thony De La Rosa.
However, if you're all caught up with the FOX drama and looking for more Canto to grace your TV screen, check out some of his other projects below!
Designated Survivor – Netflix
Canto starred in the ABC-turned-Netflix drama as the National Security Advisor to the President of the United States and Vice President-elect of the United States, played by Kiefer Sutherland.
Agent Game – Netflix
In this indie spy thriller, Canto is a member of a team of operatives tasked to bring in a CIA officer on a mission to detain and relocate foreign nationals for interrogation. The film also starred Mel Gibson, Katie Cassidy, and Jason Isaacs.
2 Hearts – Netflix
Based on a true inspirational movie, Canto plays Jorge, a Cuban exile who overcomes a hardship in life while falling in love with a flight attendant, Leslie, played by Radha Mitchell.
Bruised – Netflix
Halle Berry stars as Justice, a disgraced MMA fighter looking to find redemption and courage to face her demons. Canto stars as Justice's boyfriend and manager, Desi.
X-Men: Days of Future Past – Disney+
Canto thrilled as the Brazilian mutant Robert Da Costa aka Sunspot.
The Following – The CW
Canto starred as Paul Torres, also known as Billy Thomas, was one of Joe's Followers, who found himself in a complex love triangle.
Blood & Oil – Apple TV
In the short-lived series, Canto starred as AJ Mendendez, a role he took over from Yan Gellman, who appeared in the pilot. AJ was a geologist working with oil tycoon Happ Briggs and developed a romantic relationship with his daughter, Carla. The star-studded series, that was prematurely canceled, also starred Don Johnson, Chace Crawford, and Rebecca Rittenhouse.