Main characters can be overrated. There, I said it.
The problem with main characters is that there's so much pressure placed on them to be likable.
Sometimes the added pressure works in a character's favor, but other times, the extra attention turns what could have been an admirable lead into one that either falls flat or appears too overdeveloped.
That's rarely the case with sidekicks as they are quite literally created with the intention of propping up said main character
Now, that isn't to say the role of a sidekick is easy; their job is especially difficult as they bear a handful of responsibilities. They're known as supporting and secondary characters that assist the main character, break the ice in tense situations using comedic relief, give advice, and clean up messes.
They also have the ability to raise the stakes of a show without outshining the lead.
Except here's the thing — many of the sidekicks listed here do just that.
Actors who portray sidekicks have the ability to play with a role and make it their own often leading to a character that resonates with audiences in more significant ways than the main character.
More often than not, the secondary characters become much more than just "sidekicks."
Gone are the days when they weren't supposed to have a life outside of the protagonist's plot. Now, they take on lives of their own with backstories, flaws, conflicts, and successes.
They are so vital to the success of a show, in fact, that there's a whole award show category dedicated to "supporting actors."
The truth is, without the sidekick, the main character — no matter how great — is incomplete.
And every true TV fan knows that main characters are only as great as the sidekicks that they surround themselves with.
We're taking a look at some memorable sidekicks who have etched their way into our hearts and inevitably, and sometimes unintentionally, elevated the show to greater heights.
There are so many different types of sidekicks, but one of the most common ones is the brains behind the operation.
These sidekicks act as a foil by being filling a void left behind by the main character and possessing characteristics that the lead lacks.
One of my personal favorite sidekicks and admittedly, the one that inspired this piece, is Susie on The Marvelous Mrs. Maisel.
There would be no Mrs. Maisel without Susie Meyerson (Alex Borstein).
She helped discover Midge's talent, she held her hand throughout the whole process, she groomed her from dinky club act to main stage performer, she vouched for her and stuck her neck out for her, and she continues to champion her in a male-dominated industry.
Their friendship and partnership carries the series, and while Midge may be the talent, she likely wouldn't have gotten this far without the perseverance of her manager.
Revenge's Nolan (Gabriel Mann) completes Emily Thorne/Amanda Clarke and is the reason why her intricate revenge plot never fell apart.
Emily/ Amanda wouldn't have been able to accomplish half of what she did without his hacker expertise.
Nolan was eager and willing to help, he had no problem breaking the rules, and he did whatever Emily/Amanda wanted without question. And when he did ask questions, she trusted him enough to tell him the truth.
Nolan promised Emily/Amanda's father that he would protect her no matter what, and not once did he stray from that promise.
Their bond was unbreakable; Nolan would risk his life for that girl in a heartbeat.
Sidekicks are oftentimes loyal to a fault because of the friendships that they've built up with the lead.
Another example is Peter Quinn (Rupert Friend) on Homeland, who remained loyal and true to Carrie until the very end.
In cliche terms, he was quite literally her "ride or die." He was equally as compelling, and some would say, far more likable than Carrie as he radiated a quiet, stoic, strong presence.
There are times where sidekicks may be responsible for choices that put the main character on the right path.
This happens with Evan Lawson (Paulo Costanzo) from Royal Pains. Without Evan, the lead character, Hank, wouldn't have become a concierge doctor in the Hamptons. He is directly responsible for helping kickstart the business and finding the clients.
Many sidekicks complete and even complement the main character while also carving their own path.
Mo (Alex Newell) from Zoey's Extraordinary Playlist is Zoey's neighbor and a fan-favorite that, dare I say, is liked more than Zoey at times.
On the surface, the gender nonconforming sidekick is witty and fun and gives magical advice, but the character's strengths lie in the moments when the series embraces deeper issues of faith and sexuality.
Not all sidekicks take themselves seriously. One of the most common secondary characters is the jokester that provides comedic relief with witty one-liners and zingers.
However, even a "funny" sidekick can steal the spotlight if done right.
Niles (Daniel Davis) from The Nanny was a butler who worked for the Sheffield family, but he's revered for his snarky (and sometimes borderline cruel) comments towards C.C. Babcock.
His motivations come from a place of loyalty to not only the family but to the nanny named Fran.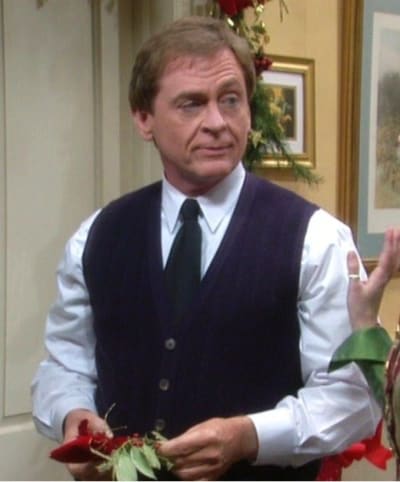 It's that protective and kind attitude that morphs him into one of the best characters on the series, though, we'd be lying if we said we weren't also fans of the manipulative and diabolical attitude.
For nearly 30 years, DJ Tanner's sidekick has been Kimmy Gibbler (Andrea Barber), the outlandish and wacky neighbor whose spirit perfectly compliments the straight-laced eldest Tanner daughter.
Through her eccentric personality, Kimmy has given more than just laughs, she's provided the assurance that it's okay to be different; she's become the spirit animal of so many fans.
Follow CRAVEYOUTV on socials
What to Watch December 2020: 'Selena: The Series,' 'Blue Bloods,' 'Shameless, 'Sabrina' and More!
The holidays are upon us and with that, some much-needed time to just sit back and relax with loved ones.
And there's no better way to bond with others than by watching TV!
Here are all the exciting additions coming to primetime, cable, and streaming in December?
What are you adding to your binge-watch list?
SEAL Team – CBS (December 2)
Season 4 returns with a 2-hour season premiere with the team's potential shakeup. Per the synopsis: "Bravo Team enters enemy territory in the snowy Spin Ghar Mountain Range to capture Al-Hazred, the leader of a terrorist group and son of the terrorist leader that Jason took down early in his career and made him Bravo One."
Selena: The Series – Netflix (December 4)
The spirit of Selena Quintanilla comes to life in Netflix's biopic starring Christian Serratos. Re-live the story of the Tejano music and iconic Mexican-American pop star. We interview Madison Taylor-Baez, who plays young Selena in the series. Check it out now.
The Hardy Boys – Hulu (December 4)
The Hardy Boys are back… and they're on the case. To fill the Nancy-Drew sized void in your life, Hulu is rebooting the mystery series that will deliver action packed twists you didn't see coming!
The Great British Baking Show: Holidays – Netflix (December 4)
There's nothing like getting into the holiday spirit with some tasty treats. The third season of the baking competition finds former bakers competing in holiday-themed challenges.
MacGyver, Magnum P.I., and Blue Bloods – CBS (December 4)
The trio of veteran CBS dramas returns on the first Friday of the month for season 5, season 3, and season 11, respectively.
Shameless – Showtime (December 6)
The final season (season 11) is upon us. It's time to say goodbye to the Gallagher family after nearly 10 years together.
Euphoria – HBO (December 6)
While this isn't a second season announcement, HBO will air two special episodes bridging the gap between season 1 and 2, which has been halted due to the coronavirus pandemic.
Part 1: Rue pic.twitter.com/DZvGVZvBNz

— Zendaya (@Zendaya) November 26, 2020
Grinch the Musical – NBC (December 9)
Your heart might grow three sizes when you see Matthew Morrison take on the cynical creature in the theatrical event.
High School Musical: The Musical: Holiday Special – Disney+ (December 11)
Celebrate the holiday with the cast of HSMTMTS as they sing their favorite joyful songs and recall some holiday memories.
Bridgerton – Netflix (December 25)
Shondaland is here to give you your next obsession. Shonda Rhimes' first Netflix show following her transition from ABC is based on the popular best-selling book. It follows eight children of the late Viscount Bridgerton in Regency in the early 1800s England.
Letterkenny – Hulu (December 26)
The comedy sitcom about the residents of Letterkenny, a small community in Canada, returns for its ninth season!
Chilling Adventures of Sabrina – Netflix (December 31)
It's time to say goodbye to the Spellman clan, but not before one last hurrah. The fourth and final season of the Riverdale spinoff premieres on the final day of 2020. According to the synopsis,"The Eldritch Terrors descend upon Greendale [and] the coven must fight each terrifying threat one-by-one (The Weird, The Returned, The Darkness to name a few), all leading up to… The Void, which is the End of All Things.
Movies
Godmothered – Disney+ (December 4)
Based on the trailer and the fact that Isla Fisher stars in the film, it's giving me Enchanted vibes, which is a great thing. Jillian Bell stars as Eleanor, an inexperienced fairy godmother-in-training hoping to help Mackenzie Walsh (Fisher).
The Prom – Netflix (December 11)
Ryan Murphy return to the streaming giant with a musical, based on the critically acclaimed 2018 Broadway musical. It follows a star-studded cast (Meryl Streep, Nicole Kidman, Keegan-Michael Key, James Corden and Andrew Rannells) of Broadway stars who visit a small-town in Indiana to help a high school girl named Emma attend to prom with her girlfriend.
The Midnight Sky – Netflix (December 23)
Times are bleak, but this post-apocalyptic space thriller hopes that you'll indulge anyway. It follows George Clooney's Augustine, a lonely scientist in the Arctic, hoping to contact astronauts to warn them against returning home tp Earth, where a mysterious catastrophe has taken place. Meanwhile, the astronauts, led by Felicity Jones, wonder why contact with Mission Control has seized.
Soul – Disney+ (December 25)
The highly-anticipated Pixar film arrives as a treat from Santa. After its theatrical release was delayed due to the COVID pandemic, the film will hit the streaming service with its star-studded cast of Jamie Foxx, Tina Fey, Daveed Diggs, Phylicia Rashad, Angela Bassett, and Graham Norton.
5 Biggest Moments from 'Virgin River' Season 2
Netflix dropped Virgin River Season 2 as a Black Friday gift for fans, and there's so much to unpack!
You can read all of our episodic reviews here.
Or, check out the 5 biggest moments from the 10-episode season below:
1. An Accidental Death
After her abusive ex comes to town, Paige is terrified for her and Christopher's safety, especially since he punished her for running away. He tells Paige to pack up their things, but when she refuses, the two get into a tussle and she accidentally pushes him down the stairs. Since Wes, a decorated cop, made it so that Paige would never be able to win in court, she knows that "self-defense" won't hold up. Preacher helps her skip town and takes care of the body. Connie puts two-and-two together when she learns that Wes is an official missing person. As someone who lost her mother to an abusive father, she vows to help Preacher come up with a solid alibi in case they find the body. Preacher refuses, and when he learns that Wes' partner turned on him and there's no a warrant for his arrest, he thinks his problems are over. That is until he sees Wes show up at his bar. Turns out, it's his identical twin brother, Vince, who is hellbent on getting revenge.
2. Twins!
Charmaine's high-risk pregnancy poses problems for Jack, who does not want to be with her romantically. This is only intensified when Mel confirms that Charmaine is pregnant with twins. Charmaine goes out of her way to get Jack to fall in love with her, but when she realizes that it's never going to happen, she punishes him by telling him that she's going to get married one day and that man is going to be the father of her babies and not Jack.
3. An Engagement
After a whole season of sneaking around and trying to get it right, Doc finally proposes to Hope, who initially turns him down because she thinks he was sneaking around with another woman, Muriel. When Doc reveals that Muriel helped put him in touch with a vintage jeweler to reset Hope's ring, she says "yes," and agrees to have a vow ceremony and reception. Doc then decides to tell Hope about his illness, but before he gets to tell her what's troubling him, they're surprised by an engagement party.
4. Brady's Mess with Calvin
After getting fired from Jack's, Brady picks up a job working for Calvin. He immediately realizes that something shady is going on, but the idea of making a lot of money entices him. That is until Calvin tasks him with shooting Spencer, one of his men who was trying to rat him out to Jack. Brady pretends to shoot Spencer, but instead, helps him and his family get out of town so that Spencer can testify against Calvin to bring down the whole operation.
5. Jack, can you hear me?
Calvin warned Jack not to get involved in his business. When he felt like Jack was overstepping, he sabotaged his bar and got dozens of customers sick. While it's unclear who shot Jack, it's believed that it was either one of Calvin's men after Mel paid a visit to Emerald Lumber to talk to Brady. Mel had just opened up to the idea of pursuing a relationship with Jack after pushing back for months because of her fear of getting hurt again. She wanted to prove that Brady didn't kill Spencer to ease Jack's conscience, but she may have ended up making things worse. That is unless someone else is to blame for the shooting.
All of this means that we need season 3 of Virgin River now more than ever!
Things We're Thankful For At CraveYouTV: 2020 TV Edition
2020 has put a lot in perspective.
While it's easy to say that it's been a terrible year, it's also been a year that has allowed us to reflect on and appreciate all that we have.
It's the kind of year where we recognize all that we're thankful for… and really mean it.
To celebrate the holiday, CraveYouTV has put together a list of some of the TV-related things we're grateful for this year:
For shows slowly but surely coming back after the COVID hiatus. It was a hard few months without new content, but we're grateful they've found safe ways to resume filming.
For McDreamy's brief return on Grey's Anatomy. Honestly, that alone could've made 2020 somewhat bearable.
For the second season of Virgin River coming to bless us this Thanksgiving.
For Tayshia Adams taking over the reigns from Clare Crawley and making The Bachelorette more tolerable this season.
For 15 grand years with Sam and Dean on Supernatural. The finale wasn't to everyone's liking, but it gave us all closure. It was bittersweet to say the least.
In general, for the ability for shows to have proper endings and finales. It's always nice when a network lets a show sign off on its own terms.
For the ability to watch older shows! With less airing on TV and streaming, it's given us a chance to re-watch some oldies but goodies.
For the well-crafted mysteries on The CW's Nancy Drew.
For medical shows tackling the real-life COVID pandemic to raise awareness.
For Rio (and Manny Montana) on Good Girls.
For Emma Corrin's portrayal of a young and troubled Princess Diana on The Crown. The role came with plenty of criticism, but she took it in stride and gave an outstanding performance.
For Atwater's powerful stance against racist cops on Chicago PD. He's one of the best characters to grace our screen.
For Netflix expanding its holiday movie universe and giving fans some hope at a possible holiday movie crossover in the future. We're looking at you Princess Switch 2!
For The Masked Singer putting the fun back in masks!
For a two season renewal of Cobra Kai returning in January 2021.
For The Mandalorian season 2, and Baby Yoda in general! We can't get enough of the little guy.
For the Star Wars Lego Christmas special on Disney+.
For a second season of The Boys, a series that continues to intelligently skewer super hero fads while simultaneously reveling in what makes them fun.
For a new season of The Great British Bake Off to heat things up.
For the new trend of movies being released on streaming and in theaters at the same time.
For The Good Place endings its four season run on a beautiful, melancholy note.
For the entire Rose family on Schitt's Creek. And that they finally got the recognition they deserved during the Golden Globes.
For the 40th season of Survivor, which gave us some of the best gameplay with the greatest players ever!
For Netflix's revival of Money Heist, which let the thrilling adventures of The Professor and his gang continue!
In general, for Netflix allowing us to watch TV shows from all over the world and in many different languages!
For Fallon Carrington's wit, sass, and style!
We'd love to hear from you! What are you grateful for? What would you add to the list?
And now, we hope you don't take this personally, but we're going to take this day off to enjoy a delicious meal and some much-needed R&R with our immediate families. We hope you do the same!
Happy Thanksgiving from all of us at CraveYouTV!