Since its inception, The Bold Type has boldly gone where few shows have dared to go before.
The series has never shied away from controversial topics, but rather, fiercely and fearlessly tackled them head-on.
Much like Freeform — a network determined to prove it's no longer the family-friendly predecessor, ABC Family — The Bold Type pushes the envelop further each season in its attempt to stir up conversations that other networks won't dare to address without guilt or shame.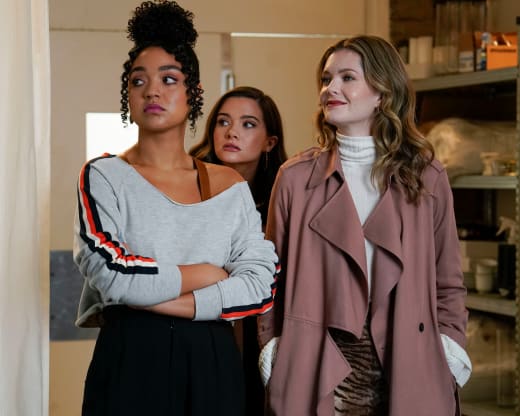 The Bold Type Season 4 reached peak boldness as it tapped into some taboo topics that needed to be normalized while putting sex at the forefront as something important, necessary, and nothing to be ashamed of.
The result was an enlightened season that encouraged characters and audiences to be themselves, value themselves, and enjoy themselves.
Most importantly, it touched upon powerful messages with its signature humor and established characters who attempted to topple the outdated patriarchy.
Let's take a look at some of the biggest lessons and boldest moments:
When you accept a job at Scarlet Magazine, I'm convinced your welcome package includes a vibrator.
On The Bold Type Season 4 Episode 3, everyone in the office was embracing the act of self-pleasure, including Editor-in-Chief, Jacqueline. The normalcy with which they were talking about it was refreshing. The series wants you to know that it's normal — everyone does it, and there's no point in pretending otherwise.
However, female pleasure is rarely as encouraged as male pleasure, a point that was also honed in on when a billboard for the brand was shut down while viagra advertisements were allowed to air during primetime.
Double-standards don't sit well with the ladies of The Bold Type, so much of the season focused on fighting the patriarchy's established "norms" that have been ingrained in us since we were children.
Related: 'The Bold Type' Announces Season 4 Return in June with New Teaser
Kat's fight included her bold decision to peg her current partner. She wasn't comfortable with it at first and initially rejected the proposition only to realize that she was afraid because it was different and not something that was ever encouraged.
Her hesitation stemmed from a fear of being dominant or powerful, two adjectives rarely associated with women.
Kat was always told that "men are powerful, women are submissive."
When she broke through those beliefs, she realized that not only did she like the power, but the act was more intimate than she ever imagined. Being open to change brought her and Cody closer together.
It also helped her discover more about her sexuality, which has been a focus since The Bold Type Season 1 when she began her journey as a lesbian. Her encounter with Cody made her open to dating men and thus, she updated her label to "bi."
Through this, Kat also learned that lesbian women can often ostracize women who play for both teams because they're using it as an excuse "not to pick one." The moment reminded her that she'll never be shamed for loving who she loves and wanting to be herself unapologetically.
Follow CRAVEYOUTV on socials
9 TV Shows to Watch After Thanksgiving Dinner
Thanksgiving brings together friends and family for a shared meal.
But after all the turkey, sides, and pie is cleared off the plate, the only acceptable activity is binge-watching some feel-good TV shows.
Here's what you should watch post-Thanksgiving dinner!
You'll be just as surprised as Mel to fall in love with the picturesque town of Virgin River. Come for the views, stay for the Jack.
Hart of Zoe
Dr. Zoe Hart arrives in Alabama looking for a fresh start and learns that the Southern way of living might actually be what's best for her.
Gilmore Girls
An unbreakable mother and daughter bond, a charming town that would make any Lifetime movie jealous, and an unspoken love for coffee? Say no more.
Selena + Chef
You might know her as a Disney Channel actress and pop star, but now, she's adding chef to her resume. And since Thanksgiving is all about food, this is one show you don't want to pass up.
There are only nine episodes available, but the NBC series has gripped audiences as it ponders how much impact one small choice can have on the rest of your life.
The modern-day update to the Chuck Norris classic hones in on family over everything with a side of roundhouse kicks.
A Million Little Things
A group from Boston bond under the unlikeliest of circumstances and get a much-needed wake-up call following the death of a close friend.
Though it falls into the "sci-fi mystery" category, La Brea hinges on a family determined to find their way back to each other despite all the obstacles standing in their way and all the sacrifices needed to be made.
Dream Home Makeover
If there's ever a time to get inspired for a home makeover, it's after the holidays (and during Black Friday when everything is on sale!) And the McGee family is the cherry on top!
This is… a no-brainer. No show captures the essence of what it means to be a complicated, loving, flawed, and fulfilled family more than this NBC drama.
Angel the Series: Why The Series is The King of Found Family Shows
Ghosts Recap – Flower's Article (1×07)
Ghosts Season 1 Episode 7 dived into Flower's groovy backstory.
And though her bank robbery store hit a bit of a snag halfway through the episode, there was a happy ending for all.
Sam was hesitant about pitching Flower's bank robbery story to her editor, but when he didn't like any of her other pitches, she had no choice but to run with it.
And he loved it.
Of course, this was "not groovy" with Flower because she explicitly forbid Sam from pursuing the story.
Alberta and Isaac found themselves particularly interested in what was fueling the pushback from Flower, who told the bank robbery story at least once a week.
Further prodding revealed that Flower wasn't proud of this big moment in her life because she always left out one little part — she stole the stolen money from the commune.
Flower explained that she took the stolen cash along with her boyfriend Ira after the members of the commune took too long to figure out what to do with it.
She wanted to open up a fair trade coffee shop, however, Ira wanted to buy a house.
Before they could come to an understanding, she was mauled by a bear.
Flower kept that part of the story a secret because she felt like a fraud for not donating the money to help people.
However, in an uplifting turn of events, Sam realized that Ira kept his promise to Flower and opened up a franchised coffee shop called Daisy's (Flower's nickname).
A note on the coffee cups even honored her by donating proceeds to underprivileged communities and towards bear safety.
First Sam reunited Pete with his wife and family, and now, Sam was able to help another one of the ghosts find closure.
Unfortunately, it didn't matter with Flower because all that acid meant she was in and out of reality.
And she forgot the feel-good vibes of the story almost immediately.
During her meeting with the editor, Sam ran into two ghosts, including Shikin, a woman from the same tribe as Sass.
Sass revealed that he was in love with Shikin once upon a time but she never returned his feelings.
This got Jay really riled up as he attempted to help Sass get the girl by playing the game.
Although Jay can't see the ghosts, it's fun that he's so active in all the ghostly business through Sam.
Also, how funny was it when the other two ghosts at the paper discovered that Sam could see them? That's not something they ever expected.
I'm surprised she didn't get more strange look as she stood in the office essentially talking to herself.
Supergirl Series Finale Review – The Last Gauntlet and Kara (6×19 and 6×20)
A wedding, a funeral, a visit from some beloved familiar faces, and finally, and most importantly of all, the destruction of Lex and Nyxly.
Everything came full-circle on Supergirl's series finale when the Super Squad — complete with an assistant from the Legion and the people of National City — banished Lex and Nyxly to the Phantom Zone.
Okay, fine. Technically the duo banished themselves after Lex unleashed the phantoms and they preyed on their fears and insecurities.
But I'll admit, it was pretty satisfying to see them get swept up thanks to their own plan.
It only made sense that the final showdown would include Lex. He was the one true villain that caused this world too much harm over the years.
And the fact that he was "in love" didn't change the fact that he was a ruthless sociopath that was willing to do whatever was necessary to become the all mighty and powerful.
The man was willing to sacrifice an innocent child for crying out loud.
He deserved everything that came his way.
And at least he was banished to the Phantom Zone with the love of his life! They have all the time in the world to figure out their relationship.
Of course, I definitely felt a little bad for Nyxly as she was fueled by the desire to get revenge on those that wronged her.
Her need to get revenge took over her rational thinking, so she too got what was deserved, but it's unfortunate that instead of moving on and finding peace, she's now going back to the place that nightmares are made of.
All of this could've turned out very differently for her, especially since she had potential. She could've joined the side of good, been a "friend" to Supergirl, and maintained that independent spirit that saw through Lex's nonsense in the first place.
To the two of them, I say, good riddance.
Good always prevails. And in the process, Supergirl was able to empower the rest of the world into believing in themselves and each other.
The series has always been about hope and humanity, so the message was fitting.
I'm also glad that the series acknowledge all that in the first place, including all the beloved characters that were a huge part of the show at one point.
And I'm also happy that it spent the final 30 minutes dedicated to the future — we want to know that our characters will be okay — and Alex and Kelly's happily ever after.
Typically, shows tend to gloss over weddings, but this one got its deserved moment.
Fans know just how long Alex's journey to happily ever after has been. Not only has she struggled to live authentically, but she's also had so much heartbreak.
It was necessary to honor the life that she's built with Kelly and Esme.
Speaking of living authentic lives, Kara found herself struggling with her two identities.
Leading a double life is hard work. Kara was tired of lying to everyone, and as she watched everyone around her step into their power, she felt weak.
After Cat Grant offered her the job of Editor-in-Chief at CatCo (which she bought back from Andrea Rojas!), Kara found herself even more torn about how to proceed and live authentically.
Feeling like a fraud simply doesn't vibe with the message that Supergirl inspires.
While bringing back Cat Grant simply to appease fans would've been just fine, the series made her return purposeful.
When "Keer-ah" didn't accept the position, she reached out and admitted that she always knew that Kara Danvers was Supergirl.
Honestly, I was more impressed with the fact that she knows Kara's name and still chooses to call her Keer-ah.
It was a sweet nod to the relationship Kara and Cat always had, but also, to the fact that nothing gets past Cat Grant!
And it's fitting that Cat would be the one to inspire Kara to finally take off the glasses by suggesting that she could be so much more powerful if she became one integrated being.
Also, thank god that someone else called out the glasses for being a terrible cover. Someone had to say it!
Living your truth couldn't have been a better theme for the series finale of Supergirl.
In the end, Kara accepted the gig as EIC and her first major story — introducing herself to National City as Supergirl. A Cat Grant exclusive!
We also had a little walk down memory lane as James Olsen and Wynn shared a scene with Kara and reminisced about their humble beginnings at CatCo.
The original Super Friends carved a truly impressive path for themselves.
Other Major Moments
Mon-El crashed the party to help the Super Squad defeat Lex and Nyxly. He was inspired by Supergirl's speech to the people, which he said changed the course of history. I know that a relationship was never in the cards for these two, but it was nice to see Mon-El's final visit to this timeline.
Maybe the fact that Kara is owning her destiny means that she'll finally make room for romance!
Esme is the cutest and sweetest little kid ever.
Game nights are a thing again, and I'm living for it!
Papa J'onn! Wynn mentioned that J'onn and M'ghann have a son!
The DEO was reinstated as a place of peace, not violence. They are now civil servants instead of vigilantes!
Lena Luthor finally embraced the life she wanted following Lillian's confession on her deathbed. Lena might not have gotten a goodbye from her birth mother, but at least she found peace and closure with her adopted one.
Wynn and Kara's singing was perfection!
Brainy returned from the future to be with his one true love, Nia Nal! It's unclear how that will impact the future, but I love that for them!
Overall, it was a perfect series finale.
Supergirl has had some rocky seasons, but when all is said and done, it's been an incredible journey with one of the best found family's on television!