Since its inception, The Bold Type has boldly gone where few shows have dared to go before.
The series has never shied away from controversial topics, but rather, fiercely and fearlessly tackled them head-on.
Much like Freeform — a network determined to prove it's no longer the family-friendly predecessor, ABC Family — The Bold Type pushes the envelop further each season in its attempt to stir up conversations that other networks won't dare to address without guilt or shame.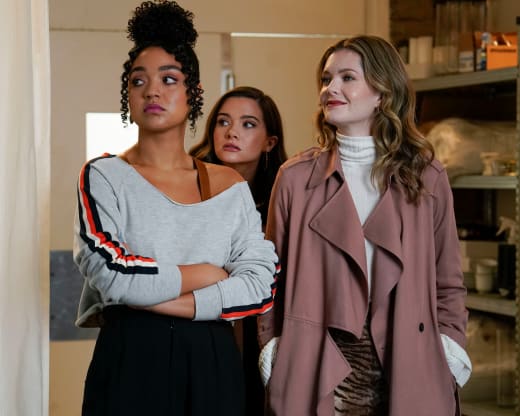 The Bold Type Season 4 reached peak boldness as it tapped into some taboo topics that needed to be normalized while putting sex at the forefront as something important, necessary, and nothing to be ashamed of.
The result was an enlightened season that encouraged characters and audiences to be themselves, value themselves, and enjoy themselves.
Most importantly, it touched upon powerful messages with its signature humor and established characters who attempted to topple the outdated patriarchy.
Let's take a look at some of the biggest lessons and boldest moments:
When you accept a job at Scarlet Magazine, I'm convinced your welcome package includes a vibrator.
On The Bold Type Season 4 Episode 3, everyone in the office was embracing the act of self-pleasure, including Editor-in-Chief, Jacqueline. The normalcy with which they were talking about it was refreshing. The series wants you to know that it's normal — everyone does it, and there's no point in pretending otherwise.
However, female pleasure is rarely as encouraged as male pleasure, a point that was also honed in on when a billboard for the brand was shut down while viagra advertisements were allowed to air during primetime.
Double-standards don't sit well with the ladies of The Bold Type, so much of the season focused on fighting the patriarchy's established "norms" that have been ingrained in us since we were children.
Related: 'The Bold Type' Announces Season 4 Return in June with New Teaser
Kat's fight included her bold decision to peg her current partner. She wasn't comfortable with it at first and initially rejected the proposition only to realize that she was afraid because it was different and not something that was ever encouraged.
Her hesitation stemmed from a fear of being dominant or powerful, two adjectives rarely associated with women.
Kat was always told that "men are powerful, women are submissive."
When she broke through those beliefs, she realized that not only did she like the power, but the act was more intimate than she ever imagined. Being open to change brought her and Cody closer together.
It also helped her discover more about her sexuality, which has been a focus since The Bold Type Season 1 when she began her journey as a lesbian. Her encounter with Cody made her open to dating men and thus, she updated her label to "bi."
Through this, Kat also learned that lesbian women can often ostracize women who play for both teams because they're using it as an excuse "not to pick one." The moment reminded her that she'll never be shamed for loving who she loves and wanting to be herself unapologetically.
Follow CRAVEYOUTV on socials
What Happened to Levi on 'La Brea'?
La Brea Season 2 returned from its midseason hiatus on Jan. 31, but fans were quick to point out that one major character was missing from the double-dose of episodes: Levi Delgado (played by Nicholas Gonzalez).
Immediately after the episode aired, questions began to pour in with fans asking what happened to Levi and if we'll see him again.
The answer—maybe….possibly. After all, anything is possible on La Brea, right?
As for what happened to Levi, well, if you'll recall during the La Brea fall finale, Levi and Eve (Natalie Rea) parted ways in 1988. Eve's heart has been torn between Levi and her estranged husband, Gavin (Eoin Macken) for quite some time, especially after it was revealed that Gavin's visions—the one that led to their split and pushed her into Levi's arms—were real all along. This caused a lot of guilt for Eve, and that guilt eventually played into her decision to leave Levi behind and follow her family back to 10K B.C.
In the final moments spent in 1988, Gavin's mother informed him that they had to go back to 10K B.C. to upload a virus that would shut down the portal that was causing catastrophes like the sinkholes, including the one set to open in Los Angeles in just a few days.
Of course, if they damaged the time machine, they would never be able to leave 10K B.C. again, which meant everyone had a pretty tough choice to make. Except for Eve, who didn't really have a choice. Choosing to stay behind with Levi meant that she would be turning her back on her family and potentially never seeing them again. All her kids have ever wanted was the family back together, so her decision was made with them in mind. While I'm sure on some level, she also considered her relationship with Gavin, she ultimately made the jump back to keep her family intact.
And that meant leaving behind Levi, who decided he was going to stay in the '80s and make a life for himself. If you think about it, it was the only decision that made sense for him considering there was a slim chance of living a decent life in 10K B.C. And it wouldn't be wise to go back down there and risk your life with a woman who was one foot into the relationship and one foot out. It would be a huge sacrifice to make for Eve without any guarantee that they'd end up together.
Both Levi and Eve seemed in agreement that their romance was over and they parted ways graciously.
At the time of the finale, fans were under the impression that Gavin, Eve, and co. were going to destroy the time machine, which meant destroying any chance of ever seeing Levi again. This was a permanent goodbye in their eyes.
However, once they got back down to 10K B.C., Gavin couldn't go through with uploading the virus after seeing a vision of Eve dying. His father, James, convinced Gavin that he had a way to fix the portal so that they could use it without causing any more harm to the environment, which also meant that he had a chance at saving Eve from death in the prehistoric ages. Gavin's love for her has always been very evident, so it's not surprising that he chose this route.
But his decision also keeps the door open for Levi to return down the line in future episodes.
If there is still a portal to travel between time periods, Levi may not be out of the game just yet.
It's unclear how or why he would come back to 10K B.C—maybe he'll come back with more information about the sinkholes and portal, maybe he'll return after feeling guilty for leaving his friends (Gavin included) behind, or maybe he'll miss Eve so much that he takes the leap at the first chance he gets.
It's even possible that Eve finds a way to communicate with him while he's in 1988, which would keep him around but not in the same time period. Talk about a long-distance relationship.
The point is, I wouldn't count Levi out just yet. The actor was a huge draw for the show, and while not everyone loved his romance with Eve or the love triangle, I don't think they'd write him off so quickly, especially without giving Eve and Levi proper closure. If it really is over, Eve needs to be sure of her decision, and again, she only chose to return to 10K B.C. for her family.
There seems to be a hint about Levi's return with the upcoming episode, set to air on Tuesday, Feb. 14, called "The Return." The title seemingly alludes to Levi's return, but the synopsis makes me think that it's a surefire guarantee.
"A ruthless enemy holds the clearing captive, threatening to kill a beloved survivor if their demands for an unexpected item aren't met; Gavin and Sam lead the rescue attempt, aided by an old friend whose return holds more questions than answers."
Who could this old friend be? Does Levi swoop in to save the day?
And then there's the teaser trailer which shows a man coming through the portal… and it definitely looks like Levi.
We'll have to tune in and see!
6 Sexy Shows to Watch for Valentine's Day
Valentine's Day can be celebrated in all sorts of different ways.
Some people bake cookies, others go out for a romantic date, while some do a fun activity with their significant other.
However, this is the first Valentine's Day under COVID-19 restrictions, which means that you likely don't have as many fun and romance-filled options as in years prior.
That's where TV comes in! Regardless if you're spending February 14 with a significant other or your besties, these are some of the sexiest and steamiest shows to watch on the day that's all about celebrating L-O-V-E (for friends, family, significant others, and, most importantly, yourself!)
Bridgerton
Romance, scandal, drama… Bridgerton has it all! Dubbed the Regency-era Gossip Girl, Netflix's smash hit and most-watched series is a brilliant and entertaining period piece with enough sex scenes to make you blush. And Regé-Jean Page isn't bad on the eyes.
Emily in Paris
Emily in Paris, which was just surprisingly nominated for a Golden Globe, hails from Sex and the City creator Darren Star. It's an airy flick about a millennial named Emily who travels to Paris for a dream job and becomes enamored with the City of Love and the men that want to show her all that it has to offer.
Modern Love
Falling in love requires you to be open, honest, and vulnerable. The American rom-com anthology web series, based on a weekly column published by the New York Times, explores themes of love (romantic, platonic, friendly) with a star-studded cast. The 30-minute episodes are standalone and easily digestible, which makes them the perfect viewing on a night like Valentine's Day.
Younger
What happens when Liza, a 40-year-old single mom, decides to be 26-years old in order to re-enter the working world and falls in love with not one but two very different men? An exciting journey through the world of publishing and heartbreak. As Liza tries to find herself, she does everything in her power to hide her true self from those she's become most intimate with. It's another whip-smart Darren Star creation!
Good Girls
Two sisters, Beth and Annie, along with best friend Ruby find themselves embroiled in a dangerous life of crime after robbing a grocery store. Beth, specifically, falls victim to a crime of passion with one sexy "gang friend" that pulls her further and further into his world.
Elite
If Gossip Girl and Pretty Little Liars had a baby, it would be this Spanish-language drama. A private school becomes the scene of a murder after a clash between the rich and poor students. There's plenty of sexual tension and unexpected turns as detectives try to narrow down the list of suspects.
** Article originally published in February 2021**
Is Bruce Greenwood Leaving 'The Resident'?
After The Resident Season 6 Episode 9, many fans have been wondering if Bruce Greenwood, who plays Dr. Randolph Bell, is exiting the FOX medical drama.
While there has been no official word about a potential exit, it's a fair question to ask considering the nature of his most recent storyline.
In the latest episode—which aired on November 29—Bell, who found himself as the target of Governor Betz's smear campaign, finally admitted to himself, and to his wife, Dr. Kitt Voss, that his MS is progressing.
After Bell exposed Betz's corruption while trying to secure funding for Chastain, Betz decided that the only way to teach him a lesson and make an example out of him was through revenge. Betz ordered a hit piece on Bell that painted him as a dangerous doctor to Chastain, which, in turn, tainted the hospital's image.
Of course, while some parts of it were true at one point in Bell's career, it was largely exaggerated and sensationalized to paint him in a bad light, and it didn't take into account all the work Bell has done to become a better man and doctor.
The stress of all the negative press caused Bell's MS to flare up, triggering a variety of symptoms like a high-pitched ringing in his ears, seeing double, and dizziness, which made him realize that he was pushing off the inevitable.
This time around, instead of operating when he shouldn't, he acknowledged that he no longer felt confident in his abilities, nor did he trust himself to perform any future surgeries. When he told Kit that he needed to go back to the clinical trial, it was a shock, but ultimately, she was supportive because she knew that's what he needed.
But what now? How will The Resident keep incorporating Bell's character into the storyline? Will we just see him communicating with Kit from the trial in the same way we did earlier this season? Or will he slowly get phased out and written off?
The trial could prove to be successful again, and all of Bell's worries could have been for nothing. After he prioritizes his health and the whole thing with Betz blows over, it's possible we could see Bell return to surgery for many more years—back to his previous glory.
Losing Greenwood would be a huge blow to the series, especially since he's been part of the series since its inception, however, it remains unclear which direction The Resident will go with this storyline.
Hopefully, we'll find out in the upcoming season 6 finale, which is set to air on December 6, but as of right now, there's no indication that Greenwood is exiting the drama.