In The Boys season 2 episode 7, "Butcher, Baker, Candlestick Maker" ends with a cliffhanger that literally blows everyone's brains out.
Also, Billy Butcher's parents make their first appearance on the show, Hughie and Lamplighter rescue Starlight from Vought Tower, Homelander basically kidnaps his son, and a bunch of other crazy s**t happens.
From the start, things get a bit too real when an unnamed social media-radicalized gunman (played by Charley Koontz AKA "Fat Neil" from Community) shoots a store clerk he suspects is a Supe terrorist.
Typically, when shows try to tackle political subjects like this, it comes off clumsy and out of touch, but The Boys takes a nuanced approach that gets the message across without seeming preachy.
For example, the whole bit with Homelander and Stormfront reiterating sending their "thoughts and prayers" with less than sincere intent is a sublime critique on the whole practice in real life and is subtly done with sprinkles of satire.
With that said, this episode ends in a cliffhanger that sort of mirrors real-life political events as well when a Congressional hearing is held against Vought International and its Supes.
And, simply put, it doesn't end well…
Minds Are Actually Blown Away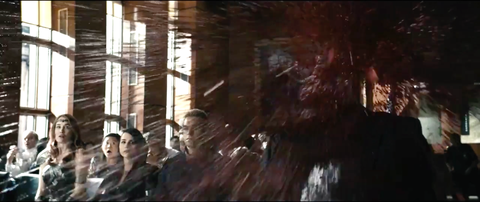 During said Congressional hearing, right as the star witness, Dr. Jonah Vogelbaum (John Doman), is about to out Vought for all its criminal activities, his head mysteriously explodes after swearing himself in.
Soon after, a bunch of other people's heads starts exploding as chaos ensues and Vought, once again dodges a bullet.
The shocking scene is dark and violently gratuitous (as per usual on this show) and watching it is stressfully nerve-racking.
No major character seems to have suffered from head explosions, conveniently enough, which suggests that the attack was made to look like a random act of violence.
So hopefully the assailant is revealed in next week's season finale.
Lamplighter & Hughie Watch Parody Movies
Superhero parody adult films, to be more precise. Among these titles include "Translucent The Invisible C**k", "Queen Maeve Pleasure Slave" and "Big Black Noir." (Super classy titles, obviously.)
As if Lamplighter wasn't already messed-up before, his odd collection of movies just shows how he couldn't give any less of a fuss.
Unfortunately, this is also the last episode Lamplighter appears in as he commits suicide at Vought Tower by burning himself in front of Hughie after the two infiltrate the building to try and rescue Starlight, who was captured by Black Noir earlier in the episode.
Shawn Ashmore's performance was magnificent and quite funny in his short stint on the show, and hopefully, we get to see more of him in flashbacks at some point in future seasons.
His character though was still able to help rescue Starlight in the end as his flaming body triggered the emergency system that enabled Starlight to escape, and his severed hand (chopped by Hughie) was useful in letting Hughie get around Vought Tower with relative ease.
So in the end, Lamplighter died heroically, albeit under the context of committing suicide but still, the point is, Hughie, Starlight, and her mom were saved because of him.
Stormfront Helps Homelander Brainwash His Son
Yup. That's right. Homelander steals another win in this episode as he successfully brainwashed Ryan Butcher, his son with Becca, to leave his mother and fly away with him.
What began as a seemingly harmless scenario of daddy introducing his new girlfriend to his son, quickly turned into a manipulative abduction as the two twisted Supes turn Ryan against Becca by showing him the fake world he's been living in.
Before that though, a few clever nods were thrown in that referenced The Blind Side movie with Sandra Bullock, which Ryan made a LEGO animated version of.
Then Stormfront mentions a bunch of movies that Homelander has starred in including "Homelander: Brightest Day" and "Homelander: Darkest Night," which is a clear easter egg for the DC Comics superhero Green Lantern who says the phrase "In brightest day, in blackest night" when activating his powers.
The aftermath of this episode leaves a lot of questions about where Becca ends up though – Does she go to Billy now? Or will she do something else to get her son back?
Other Key Events:
Meet the Butchers
A bit of a Lord of The Rings reunion happens in this episode as John Noble plays Billy's dad, while Downtown Abbey alum Lesley Nicol portrays his mum. Noble, of course, was Denethor and Karl Urban was Eomir in the Oscar award-winning high fantasy adventure film series.
Karl Urban probably says the C-word a record number time in this episode as he goes off on his character's dad, who has a strained relationship with Billy.
Kimiko & Serge AKA Frenchie Bond Again
Kimiko finally opens up again to Serge during this episode when she begins to teach him the unique sign language she and her deceased brother used to communicate.
Black Noir's Tree Nut Allergy
The Almond Joy jokes from a couple of episodes ago come back to pay off in this episode big time when Maeve uses one to subdue the brutally powerful Black Noir by stuffing an Almond Joy in his mouth when he was choking Starlight out. Black Noir hilariously tries to pull out his inhaler but Maeve just kicks it out of his hand and leaves him to struggle, giving Starlight a chance to escape.
A-Train and The Deep Still Doing Nothing
Nothing much going on with these two, they just go to a birthday party for the leader of the Church of the Collective. A-Train gives The Deep a goldfish, so there's that.
Episode Rating: 10/10
It's very rare for me to drop a perfect score for an episode, but the ending for this one is just too crazy to ignore, so this rating is well-deserved.
The Boys season 2 finale streams next Friday on Amazon Prime Video.
Follow CRAVEYOUTV on socials
The Santa Clauses Season 2 Episode 5 Review – B-E-T-T-Y
The Santa Clauses Season 2 Episode 5 finally gave fans insight into the Betty-led coup against Mad Santa thousands of years before his resurgence in Illinois, Scott Calvin's old stomping grounds, with a vengeance.
Of course, we know that Magnus Antas was turned into a nutcracker—before coming back alive with a sprinkle of Santa magic at Santapolis—by the elves, but what we didn't know is that Betty and La Befana teamed up to make sure he got what he deserved.
Betty, returning to the North Pole early from her Kribble Krabble, turned in her resignation upon telling Santa Scott the full story, but he didn't care about any of the clauses/rules, adamantly calling her a "hero" for her sacrifice.
Nothing that Betty told Santa Scott was all that shocking to audiences, though he was definitely taken aback by the news, he didn't have much time to sit with it because Cal ventured out of the North Pole to retrieve his vest from Magnus Antas, not fully understanding the level of danger he was putting himself in. Cal's naivety is his best asset and his greatest flaw, all at the same time.
On the other hand, you have to pride him on his bravery because he walked in without a plan and tried to handle it himself without any fears… well aside from his fear of heights and flying the sleigh, which he somewhat conquered.
Mad Santa turned Cal into a puppet after he called his dad the greatest Santa of all time, and was surprised by how much Santa magic he possessed, which means that Scott may get his wish of keeping it in the family business after all.
After they locked all the vortexes and portals coming in and out of the North Pole, Scott and Carol had to find a more unique means of transportation back to the Windy City to save Cal from Mad Santa, while Sandra hung back with La Befana to keep the North Pole safe. Having a witch in the family came in hand!
As for Betty, I'm a bit bummed we didn't get to see any of her adventures in the real world, and it feels like a missed opportunity to have her not come face-to-face with Mad Santa and Olga, however, I did genuinely like the moment where Noel stood up for his wife and made sure that Magnus Antas knew who she was—her name is B-E-T-T-Y, don't forget it because she's the one who managed to take you down and save Christmas for everyone! The North Pole was functioning without her, but it wasn't thriving, so it's a good thing she's finally back.
As for the second season of The Santa Clauses, I feel like it would've benefitted from being a movie rather than a limited series because it does feel like the storyline is being dragged out unnecessarily at this point… and it's starting to lose its magic.
Also, poor Kris, who just wanted to run his little Santa village and earn his father's love, and now he's stuck in the royal battle between Mad Santa and Santa Scott. But at least he'll have one heck of a story to tell, if they don't dust him when all of this is finally over.
Sullivan's Crossing Season 1 Episode 9 Review – Can't Help Falling
Sullivan's Crossing Season 1 Episode 9, which also served as the series' penultimate episode (Dec 13th marks the season finale), definitely raised heart rates as Maggie jumped into action to use her expertise to save Jackson following a fall while climbing.
Here's the thing—I like the show, and I know that I'm signing up for melodramatic storylines, but would I be asking too much for the acting to be just a smidge more believable? I don't have a problem with the core three—Maggie, Cal or Sully—as they've got this down, but Jackson's fall encroached into bad soap opera territory. It was cringeworthy. And I get that they don't have the same budget as Virgin River or streaming shows, but it was so brutal that I struggled to get into the storyline, all the while knowing that everything would turn out just fine.
Jackson's fall was utilized as more of a tool for Maggie to learn a bit more about herself and her abilities.
She didn't hesitate when it came to saving Jackson's life, though there was a moment of doubt when she heard Mrs. Markiff's voice in her head blaming her for her son's death, but it was temporary, and she knew that if she didn't proceed with drilling the holes in Jackson's skull to alleviate the pressure, he likely wouldn't survive.
It was also helpful that Cal was there to assist as he provided an additional layer of assurance.
Operating on someone she knows reframed the trial for Maggie as she suddenly put herself in the shoes of the parents, thinking how Connie and Tom's world would come crashing down if they lost their son. There's a reason why doctors aren't allowed to treat people they know as the personal connection can prove to be troubling, however, in this case, I think it gave Maggie some needed perspective. And now that her lawyer called that the trial has been moved up, her experience will likely shape how she proceeds in court.
In a promo for the finale, Maggie's empathy seems to go against her lawyer's best judgment, which may actually be helpful in a situation where the judge assigned to the case typically sides against doctors. If they see that Maggie is a human who shows remorse despite doing everything right to save a life, maybe she'll be able to sway the judge's mind.
Jackson's fall may have been a terrible accident, but it also mended a lot of fractured relationships. Not only did his parents put aside their differences and apologize for all the pain they've caused each other, but Maggie was also able to have a breakthrough with her father, who saw her in action for the first time and thought she was incredible. It's the first time Sully ever disclosed that he was proud of her, something Maggie's been waiting a majority of her life to hear. I love that she and Sully are finding their footing once again.
My biggest gripe with this scene was that Lola was just standing there, scoffing at Maggie's reunion with Sully, and no one seemed to notice she was there. How? And why is she so mad about a daughter and a father putting aside their differences after she just hit refresh on her friendship with Maggie? It doesn't mean that Sully is going to have less space in his life for her as he's gone out of his way to be there for her and take care of her over the years. The whole dynamic is just so weird, but everything about Lola has been kind of off since the beginning.
Sully's money woes might bring him and his daughter even closer as I can imagine Maggie will go above and beyond to help him save Sullivan's Crossing and pay off his debts, not that she needs another thing to worry about at the current moment. Whatever Sully's plan is, he has to act fast as the foreclosure notice gave him just over 30 days to set the record straight.
Sully also called Phoebe to thank her for all that she's done for Maggie's career and ask Walter to fight like hell to save Maggie's license because she belongs in Boston helping people. While it was very big of Sully, the truth is that it's up to Maggie to decide where she belongs—but she's proven that she can help people wherever she is.
Then there's the Cal of it all—he's always there, willing to help, encourage, and lend a shoulder to cry on. He's the perfect guy, so it's no surprise that multiple women in Sullivan's Crossing have a thing for him. Lola is pining over him even though he's not interested in the slightest.
Maggie adamantly denied any feelings when she mentioned the kiss to Syd, despite not being able to stop thinking about it. And maybe it's for the best for now because it doesn't seem like Cal is ready just yet.
When Maggie finally brought up the elephant in the room, Cal dismissed their kiss as something that occurred due to the emotions of the day, without letting her weigh in. It's clear that he has feelings for her, but he's grappling with the idea of moving on following Lynne's death, as I'm guessing Maggie is the first woman he's kissed after his wife, and the X's on the calendar were a countdown to the one-year anniversary of her passing.
Syd and Rob's storyline has been one I've struggled to get into, even as they find themselves disagreeing about how to run the diner. Syd was right that Rob should spend more "fun" time with his son, who is clearly still dealing with the loss of his mother (and the "goodnight mom" scene to Syd was heartbreaking). He also wasn't wrong about wanting to hire help so that they could both get some of their lives back, but he should've discussed it with her since she's just as involved in the diner as he is and should get a say in the process.
What did you think of the episode?
I can't wait till we move past this case and get to see a version of Maggie that isn't weighed down by guilt, fear, and anger. When her license is reinstated and she has every opportunity at her feet, what will she choose? Will she go back to Boston or stay in Sullivan's Crossing?
I think she's made strides during her time in Sullivan's Crossing and she won't be able to shake them, especially her feelings for Cal, which she'll be able to pursue once she gets some proper closure with Andrew. Will Cal go with her to the trail? And if so, how will Andrew react when he sees him? Will it reaffirm to him that Caliente (I still can't get over the moment where he drunkenly called him that) is here to stay?
Virgin River Holiday Episodes Season 5 Episode 11 and 12 Review – Father Christmas
Virgin River is getting into the spirit of the holidays!
While most of Virgin River, including Mel and Jack, were under the impression that this was the "best Christmas ever," even despite a few hiccups with the "extraordinary" family dinner they planned, if you've ever seen an episode of this series, you were likely waiting for the other foot to drop.
**Warning—spoilers from the episodes ahead!**
Things on Virgin River are typically perfect—until they aren't, but it's also a very accurate reflection of real life; it's made up of a blend of good and bad moments, many of which help you realize just how lucky and thankful you are.
Virgin River Season 5 Episodes 11 and 12, titled "The More the Merrier" and "Father Christmas," gave fans the very first Christmas in the quaint and charming town, and, if you'll believe it, Mel and Jack's first Christmas together. Is it just me or is the timeline exceptionally slow on this show?
Then again, Charmaine made a pointed joke about the length of her pregnancy, which honestly feels like it has spanned decades at this point, so the birth of her twins, which yes, finally happens during this momentous episode, ends up feeling slightly rushed.
The fact that she has a quick labor isn't just great for her—it's a blessing for Mel and Doc as it allows them to get back to all their Christmas Eve shenanigans without missing a beat.
Despite all that transpired between Mel, Charmaine, and Jack, Charmaine still finds a source of support within them, especially Mel, who stands up for her when Calvin arrives at the clinic when Charmaine goes into labor. Mel might be the only person in town now who knows the identity of the father of Charmaine's twins, and she's all too content with keeping it to herself. Personally, I'd be as bad of a secret keeper as Hope, blabbing the news to Jack at the earliest convenience. But Mel is a trusted source who can keep a secret, especially with the patient confidentiality at play. Though, hopefully, Charmaine decides what she's going to do about her little Calvin problem sooner than later because he seems adamant about being part of those boys' lives. It's true that parenthood changes people, sometimes for the better, but Calvin's caused so much pain in town that I don't know if it's possible for him to turn over a new leaf.
The good news is that come Virgin River Season 6, Charmaine won't be pregnant anymore, and we can close the book on the longest TV pregnancy ever.
Mel's quest to find her biological father was a huge part of the Christmas episodes. Through love letters unearthed by her sister Joey, Mel found out that her mother had a secret love affair with a man named "Champ" in Virgin River, thus making her connection to the town much more significant.
Together with Jack and her new bangs (love 'em!), she set out on a merry scavenger hunt to uncover her dad's identity, eventually learning that he won the 1976 Lumberjack Games in town before finding his name: Everett Reid. If you're slightly disappointed that this isn't someone we already know, well, join the club. It feels like a missed opportunity… for now, though I'm waiting to hear Everett out fully before I officially cast my judgment. While he initially denied being Mel's father when she first approached him, even though it was obvious that he was lying, Mel didn't question it, simply focusing on the people who chose to be in her life—her chosen family.
And there are plenty of them, including Doc, who agreed to walk Mel down the aisle during her wedding to Jack.
However, at the end of the episode, Everett arrived at the cabin and changed his mind about wanting to be in Mel's life. He explained that the initial shock of seeing her—his daughter who looked just like the woman he loved and lost—threw him for a loop. And it's understandable considering Mel essentially ambushed him without any warning. He needed time to process and think about what it was that he wanted out of this new relationship.
Everett then says that he has to tell her something, but naturally, the episode ends right before he gets the chance, leaving fans on a cliffhanger till next season. What could it be? Is Everett dying? Has he been following Mel's whole life from a distance? Did he know she was in Virgin River?
And how is it that there is someone in Virgin River who has managed to keep his identity a secret? Living in a secluded cabin has its benefits, but how has he managed to fly under the radar for so long? The fact that no one knows him is kind of a hard sell for me… at the moment, at least.
Jack and Brie were dealing with family matters head-on as their parents, fresh off of a divorce, came to town and immediately started bickering. Brie was running interference before Jack stepped in and basically used one of their old plays against them—sit in your room and don't come out until you've talked through everything. By the end, they emerged as friends, with dad accepting of mom's new relationship with Javi, as they both acknowledged that they needed to make an effort to bring the family back together. It was a sweet moment showcasing that things don't always pan out the way we hope in life, but we have to be open to making things work for the sake of the children, even when they are grown adults.
In the end, the big family dinner that Mel wanted was able to happen—and everyone enjoyed themselves.
Mel not only got the gift of jewelry this year, but Jack also went out of his way to give her the gift she's been asking Santa for ever since she was a little girl—a pony! A dog named Pony that is.
Maybe it was the spirit of Christmas but Jack was so fun, silly, and cheery throughout the episode. He wasn't carrying the weight of his past and trauma, and it was refreshing to see him almost act like a little boy again around everyone he loved and trusted. I need more of this Jack in the future, please.
The biggest mistake that the series has ever made was driving Brie and Brady apart. I mean, why? What was it for? No one benefitted from it. Brie and Mike just don't have the same chemistry, unfortunately. They are cute, but it's nothing compared to the electricity between Brady and Brie, even when they see each other in passing.
Brady makes a great family man with Lark and Hazel, but I couldn't get invested in the relationship either, and it turns out that there was a good reason for it—Lark is playing him completely.
In the final—and biggest twist—of the episodes, Lark answers a call from Hazel's dad, Jimmy. Yep, you know it's bad news when Jimmy, from prison, calls to check in on how things are going and Lark informs him that "Brady doesn't suspect a thing." I hate everything about this, solely because of how hard Brady's been trying to become a better man and distance himself from this life. He thought he was finally coming out on the other side after helping to take down Calvin and Melissa, but all of that is about to blow up in his face because he let his guard down.
Lizzy and Denny are expecting a baby girl, a genuinely uplifting storyline that has warmed the hearts of everyone in town, except Lizzy's mother, who was initially distraught by the news and assumed her daughter was throwing away her life. Lizzy managed to convince her mother that this is what she wanted—to be a mom and have a fulfilling career, and from where I'm standing, Lizzy has a good head on her shoulders. She's come a long way from the girl who arrived in town initially. And quite frankly, she cut her mother way too much slack!
Doc figured that the annual tree decorating competition was the perfect time to repropose to Hope—and their love definitely inspires everyone around. There's so much to celebrate these days!
Muriel and Cameron are going strong, with everyone in town acknowledging their deep connection and chemistry. However, when Cameron's ex fianceé blew into town as part of her apology tour during her recovery process, it forced Muriel to look at their relationship a little differently. If Cameron stays with Muriel, he's giving up the possibility of having a family and children in the future. And while he says he's okay with that, Muriel wants him to be sure as she doesn't want him to resent her for it in the future. Nothing would break her heart more than taking this opportunity away from him. Cameron promises he'll think about it, but it definitely seems like he's made up his mind about what he wants out of life and who he wants to spend it with. The life he imagined with his former fianceé once upon a time is long gone now that he's met Muriel—but I'm glad that she's prioritizing his happiness rather than being selfish, proving that she's a mature adult who just wants to be realistic about their relationship rather than allowing herself to get swept up in the moment. These are real issues that need to be addressed.
And finally, Wes' death is about to blow up Preacher's life now that the body has been identified. In case you need a refresher, he helped bury the body after Paige accidentally pushed her abusive husband down the stairs in self-defense. Had they just reported his death at the time, it would've likely been a lot less problematic than what they are facing now, but considering that Wes was a respected cop with a lot of pull on the force at the time, the self-defense claim might've not held up at the time either.
Kaia realizes something is wrong based on the call and questions him about it immediately, though it's unclear if Preacher will come clean to her. She is the fire chief now, so it's likely better for him to tell her upfront in the privacy of their home, but will she be receptive? This is a huge bomb dropping on their otherwise idyllic relationship, particularly after she accepted a new job to stay in town and be with him. Do you think she'll stand by his side or will this be the demise of their relationship?
What did you think of the holiday episodes? Did you enjoy the festivities? Do you think everything with Mel's dad will turn out okay? Share your thoughts!