The Boys season 2 finale tied multiple storylines in a neat bow but had to kill off one of the show's pivotal characters in order for the heroes and some villains to grow for the better.
This season has been a wild ride, to say the least, as the political angles the show tackled and the introduction of new Supes has added to the show's twisted universe.
Unfortunately, Billy Butcher's quest to rescue his wife Becca ended in tragedy as Ryan fatally wounds his own mother with his laser vision while trying to rescue her from the clutches of Stormfront.
Speaking of whom, Stormfront has been an amazingly polarizing character this season, and to see her demise in the finale is a little bittersweet, but a much-needed conclusion to her story arc. She may not actually be dead yet but it's doubtful that she'll rear her Nazi head again anytime soon.
Becca's loss, however, signals a significant shift in character growth for Billy as Becca's dying wish is for him to protect Ryan from turning into his demented Supe dad, Homelander.
This change in Butcher also steers The Boys in several new directions for season 3, which should mean refreshing new takes on each of the show's amazing cast.
"Only The Good Die Young"
As the episode ends, Billy Joel's "Only The Good Die Young" plays as it cleverly echoes the death of Becca, who was essentially the only "good" character left on the show.
Shantel VanSanten's performance this season was amazing, and she will be sorely missed on the show, even though canonically she's only met The Boys this season, it seems that the team will miss her presence as well because she's one of the few people in the world who makes Billy Butcher look like a lost puppy dog, relatively speaking.
It's kind of cruel for the showrunners to finally have a moment of bonding between Becca and the rest of Billy's crew like that, and then immediately take her away. (Not nice at all)
Still, her death was emotionally stirring, and Karl Urban's tear-jerking performance upon Becca's death was as good as it gets.
On the bright side, Ryan is basically Butcher's son now, and he's already rubbing off on him the right way as he imparts sage advice on the young Supe: "Don't be a c**t"
Which, of course, Ryan repeats when Billy asks "Remember what I told you."
In the end, Ryan is kept safe by the FBI and should be out of reach from Homelander or Vought until whatever unfolds in season 3.
Stormfront Did Nazi That Coming
Oof. Talk about rough. Stormfront got her butt handed to her in the finale. Which was quite well-deserved because, after all, she was a racist Nazi psychopath whose only redeeming quality is her dank meme game.
First, she's publicly outed by A-Train, Hughie, and Starlight as a 100-year old Nazi who was secretly the wife of the deceased founder of Vought. Which, of course, pisses her off and basically makes her worthless to Vought.
Then she receives an oh-so-satisfying beatdown from Starlight, Kimiko, and Maeve that sends her cowering away flying.
Finally, she gets laser-visioned to bits by Ryan, which leaves her muttering incoherently in German.
As much as I initially liked Stormfront and the nuanced nature of her character, it's definitely a good thing that she's now locked away – hopefully never to be seen again.
Kudos to Aya Rachel Cash, however, for slaying this villainous role because she made me legitimately hate her with a passion despite being so cool upon her introduction.
The Deadliest Supe on 'The Boys' Is NOT Homelander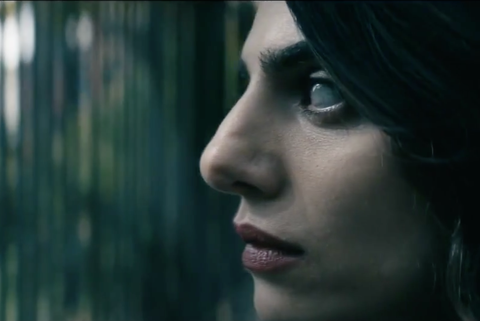 In a shocking last-second twist, The Boys decided to throw a major curveball by revealing that goodie-two-shoes Congresswoman Victoria Neuman (Claudia Doumit) was actually the Mind-blowing Supe from the penultimate episode this season, who caused a legendary courtroom murder scene that rivals (I daresay) the infamous Red Wedding from Game of Thrones.
Looking back, it's kind of a mystery why she killed the people she killed, and that just makes waiting for season 3 that much more painful!
Plus, Hughie decides to work for her on her campaign committee, and now she's given the power to head an entire department dedicated to keeping tabs on Supes.
The jury is still out on whether Victoria is actually evil, or is just a tragically misguided hero. But it's probably safe to assume that unwrapping the mystery surrounding her should be a big part of season 3.
Other Key Events:
Homelander actually showed he might actually care about Ryan after all because he acted like a real dad for the first time in this episode. However, that image faded quickly when he murdered a bunch of Vought militia, which resulted in this bloody mess:
Homelander also got blackmailed to submission by Maeve, and he was forced to make a public speech that made him acknowledge both Maeve and Starlight as his "trusted friends." Clearly, not all is right with Homelander as he is seen masturbating on top of a building in the middle of the night literally trying to gain release from his frustrating predicament.
The Boys finally get a series of W's after getting screwed for most of the season:

They're cleared of criminal charges by Colonel Mallory and the FBI
Hughie and Starlight officially resume their relationship – Starlight also rejoins The Seven to keep an eye on Homelander.
Frenchie and Kimiko run off into the sunset together
MM finally goes back to his family
Billy, albeit in tragic fashion, finally finds some kind of peace.
A-Train is reinstated in The Seven due to his efforts in helping expose Stormfront as a Nazi.
The Deep got screwed by The Church of the Collective and has apparently been receiving unsatisfactory oral stimulation from his fake wife (poor guy). He's also not back with The Seven.
Black Noir is still hospitalized after his allergic reaction (beware of Almond Joys!).
Compound V is off-limits to the public indefinitely, as stated by Stan Edgar himself.
Maeve is finally free from Homelander's torment and is able to freely pursue her romance with Elena. Plus, she was a total badass in this finale and basically saved everyone's butts.
Episode Rating: 9.5/10
While not exactly as shocking as the penultimate episode, this final installment of The Boys season 2 is almost perfectly executed. It ties all the storylines building up all season and finishes in a frenzy of controlled chaos that changes the dynamics for nearly every character for upcoming arcs.
All episodes of The Boys season 2  is now streaming on Amazon Prime Video.
Follow CRAVEYOUTV on socials
The Marvelous Mrs. Maisel Series Finale Review – Four Minutes (509)
Four minutes is all it took for Midge Maisel's life to change forever—to go from a household name to the world's biggest star.
I dread series finales… but not because the show is ending. Naturally, I'm sad that this will be the last episode of my favorite series ever—or until they decide to reboot the show years down the line—but I dread them most because series finales are damn near impossible to get right. There's always something missing; and the could've, should've, would've, I wish they had's, immediately start settling in the moment the episode concludes.
And that curse lived on for The Marvelous Mrs. Maisel Season 5 series finale, with my biggest gripe being that there was so much left unsaid, unshown, and undone.
The final season threw a lot at audiences with the various timelines, but there was a lot of promise that we'd get a fully fleshed conclusion to the series. Instead, it was kind of left up to your own interpretation, despite the writers and creators having so much to go off of and bring closure to.
In general, I'm not a fan of "own interpretation" endings because I feel cheated, but with Maisel, it was especially jarring because I've gotten used to following her every move. Audiences have followed Midge's career trajectory very closely over the years, with the finale even giving us a play-by-play of her big break on The Gordon Ford Show right down to the minute—and through every outfit change—so call me crazy for expecting just a bit more from those final future scenes. Jumping into 2005 for a brief final scene, even if it was poetic to see it end with Midge and Susie just shooting the shit, just didn't feel like it was enough in the grand scheme of things.
Did Midge and Joel ever re-marry? There's a shot of their wedding photo on her desk (their first one), which leads me to believe that he was always her greatest love, but what happened after he got out of jail? Did he ever get out of jail? Did he die in jail? And did they reconnect as lovers or simply remain good friends? I'm also assuming he's dead simply because Midge is all alone in that big house. Surely, if he was alive, he'd be around, but so much time has passed that it's also possible that they just live separately.
It's also to be believed that both of Midge's parents—along with Joel's—died, but there's no confirmation on the how's and when's. Did mama Rose succumb to her illness? Did Abe die of old age? Did he ever see Esther become a prodigy for the family?
And what happened to Lenny Bruce? Are we to believe that he went the path of the real Lenny Bruce and died of an overdose? It seems that his troubled past and addiction finally caught up with him, so I'm glad we didn't get to see his tragic death, but it would've been nice to acknowledge it and to see Midge's reaction. Though, I am thrilled we got one final look at Lenny Bruce—along with a sentimental and pivotal scene between them right before Midge's big break—even if it was the demise of his career and painful to watch.
It was even promising that Midge didn't tie herself down to a sinking ship, clearly acknowledging that you can't help someone who doesn't want to be helped, but it pained her to turn her back on someone who did so much for her and her career. Lenny was the one who believed in her, coached her, inspired her, and helped her nurture her craft, particularly when no one else took her seriously. He saw her potential, so he never gave up on her, so it was tough to see him give up on himself.
There were a lot of great loves in Midge Maisel's life, including three pivotal men who helped shape her larger-than-life career, and they all got their flowers in the finale.
In addition to Lenny, there was Joel, who was the catalyst for Midge getting up on the Gaslight stage in the first place and unlocking a passion that she never knew she had. He fueled the fire, and championed her in the end, allowing her to roast him on live television. His support and love helped redefine Joel in the eyes of the audience, giving him a redemption arc of sorts. If it wasn't for his cheating, Midge would've never gotten to this point in her life, so she couldn't hold any resentment.
The moments between him and Midge when she was gearing up to take The Gordon Ford stage—and then the moment immediately after when she blew him a kiss—were so genuine and proof that he was always the one. Not to mention she left him tickets under "the one that got away." As I said, there simply needed to be more closure for this relationship. There was so much to wrap up, and most of it was glossed over.
Another great love that helped Midge Maisel become marvelous? Gordon Ford himself. He played such an immense role this season, and though he wanted to be a love interest for her, he was so much more after essentially giving Midge the spotlight on national television to do her act. We've always just referred to her as the marvelous Mrs. Maisel, but we finally got insight into the origin of that name, with Ford being put under her spell on live TV.
Some might not realize why convincing Gordon to give her a shot was such a big deal, but back then, there was no social media, meaning you couldn't just show off your talent on TikTok to get noticed. The only way was to get through to the masses via the program that everyone tuned into every single night. There was so much focus on this because it was her one and only shot.
Gordon never wanted to put Midge on the air—and there's a lot to that because he didn't want someone to outshine him—but he was also even more peeved Midge and Susie went around him and enlisted his wife Hedy to get it done. He tried to block Midge at every single turn, but there was no denying the immense talent sitting on that stool. And eventually, Midge took it into her own hands, essentially giving herself the big break.
There wasn't much to lose at this point. She didn't care for the job as a writer, so she just went all in, hoping for the best but preparing for the worst. Next to hopping on the Gaslight stage, it was the best decision she's ever made. In mere moments, she had everyone in tears of laughter, Gordon included. Everyone she loved was there, sitting in that room, supporting her unconditionally, for what may have been the first time ever.
It was her moment, the moment she's been preparing for her entire life, and she owned it. All of Susie's sacrifices were worth it and finally paid off, including asking Hedy for a favor. It's unclear if Hedy and Susie ever crossed paths again, but at least she was no longer a sour memory for her but a life-changing one. As Midge's career propelled to new heights, so did Susie's. Hopefully, Hedy is now a distant but fond-ish memory in the grand scheme of her life.
Comedy has always been Midge's greatest love, but her greatest relationship was the one built with Susie! They were—and continue to be—the dynamic duo. There is no Midge without Susie and vice-versa… they were always the love story. And they couldn't have done it without each other.
In the flash-forward scene in 2005, it's evident that they aren't just business partners, they are lifelong friends. I'm genuinely happy that they found their way back to each other after their big fight (another scene I wish we would've gotten to see), and from the looks of it, all they now have is each other and a lifetime of memories and adventures to look back on.
Admittedly, Midge's 2005 look was quite jolting, but Susie rocking those long gray locks and a boho outfit in her tropical oasis was a complete vibe. It just made sense.
Seeing the two of them just watching Jeopardy! together and laughing up a storm into old age—despite being millions of miles apart—was poetic in a sense. When the lights go down and the crowds disappear, it really only matters who you have around you. Midge had a lot of people that cared for her in life, but she cultivated a unique relationship with Susie, one of the only people who ever really knew the real her, including the person she was before became famous.
But despite all of the success, there was also something so lonely about this scene, which may speak to the isolation celebrities in general feel going into their old age when they are no longer the "hot thing" around.
These two did it—there was so much to be proud of in terms of reflecting on how far they've come, how much they achieved, and how many obstacles they jumped over to get there—but it somehow felt empty; as if all of the good parts were over and coming to an end. It was symbolic of the end of the episode.
Midge had big dreams for her life—dreams she achieved and then some—but this very scene of her walking around her ginormous house all by herself was a reminder to enjoy the journey rather than the destination… and that's essentially what we all did while watching this story pan out for five seasons.
And while they were so focused on those goals, the best days were pre-fame when she and Susie were hustling and grinding together.
Midge gave up so much to get so much, but loneliness seems to come with the territory. It was the price Midge paid, willingly, and while it's again, up to one's own interpretation, I don't think she ever regretted a thing. She lived the grand life she envisioned for herself—and Susie was that constant reminder of it.
The Marvelous Mrs. Maisel series finale may have been disappointing in some ways as it wasn't the cliché happy ending I hoped for, nor did it give us all the closure we were looking for, but in other ways—particularly in the scenes leading up to Midge's big break—it was absolutely perfect and marvelous and exactly the show we fell in love with; from Midge's monologue to her leaps of faith and everything in between. So, while I craved more and wasn't a fan of the unknowns fluttering around, there was also a beauty to the simplicity, and I can appreciate it for what it was—incredible storytelling that brought us this visually compelling, hilarious, witty, and inspiring series in the first place.
It's sad to see it all come to an end, but the least we can do is make Midge and Susie proud by going through our lives with the "tits up" attitude, enjoying the journey just as much as the destination.
Thank you (writers, creators, and everyone working in front of the cameras and behind the scenes) and goodnight.
Riverdale Review – Betty & Veronica Double Digest (709)
Does anyone feel like we're not getting any momentum this season of Riverdale?
Riverdale Season 7 Episode 9 focused way too intensely on Betty's sex life—through the lens of therapy with creepy Dr. Werthers—and Veronica's ambition to make the Babylonium a destination movie theater simply to spite her parents.
And while there's nothing wrong with the storylines, per se, it just seemed to consume the whole hour of television, leaving no room to touch base with the other characters or to address the two lingering murder mysteries—in addition to the overall mystery of how everyone makes it out of the '50s and back to the present day before the curtains close.
In general, there's just too much of a focus on Betty's sexual desires, almost to a point of obsession. I'm sure it has something to do with Dr. Werthers, who, I imagine is also somehow connected to the milkman murders, but it also wasn't necessary. There's no reason to paint Betty as this sexually-charged teen in every single episode. However, I did like how she stood up for herself, pointing out that tapping into her desires was more her way of finding out who she is and what she wants. It was her way of getting to know herself and nothing to be ashamed about, which, in the '50s is quite a radical ideology.
Even the fact that Betty questioned whether she wanted to start a family, noting that she wants to make something of herself, was such inspired and modern thinking for a woman back in the day. She has no interest in being a trapped housewife like her mother.
It's possible that glimmers of who these characters were in the present day are starting to poke through in this timeline.
When Betty finally stood up for herself, and to Dr. Werthers, she also begged her overbearing and controlling mother to just talk to her, suggesting that maybe she's unhappy with her life. It seemed as though Betty was close to a breakthrough with Alice, however, her father quickly jumped in and made sure to remind Betty that she was being ungrateful for all of her mother's sacrifices. The next morning, Alice declared that since Betty has all the answers, she was no longer her mother. It was bizarre behavior but one that seemed to stem from an abusive relationship. We know that Hal has never been a good husband in the past, so you can't convince me that his behavior is any different in this decade. Unfortunately, answers about what's really going on in the Cooper household are few and far between.
Veronica, on the other hand, poured everything into the Babylonium after she/it were blacklisted by all the major movie studios because of her parents, who wanted to force her into selling it back to them so they could build a parking structure. We know Veronica is tenacious, so she wasn't going to go down without a fight, creating a business plan that introduced a revolutionary "4D experience" that put the small town theater on the map. Of course, in the process, she infuriated her parents, who kicked her out of the Pembroke. She didn't mind as being on her own was proving to be quite fruitful. Veronica always had a business mindset, so it's not surprising this is the trajectory of her '50s character.
All of this took away time from the investigation into Brad Rayberry's death, Jughead's mentor and friend. He mourned him on his own terms by re-reading all of his novels and declaring that he was finally going to move on just as Sheriff Keller walked into Pop's and asked for his help solving the "suicide." This is just the thing that Jughead is good at, however, and it will hopefully provide some clarity into the murder of Ethel's parents as the same milkman in question is responsible. Though, it's funny that the police can't solve a crime on their own and need a teen to help them out, especially one who had to hide his interest in true crime and disturbing comics.
Many of the major players storylines this season were sidelined on "Betty and Veronica Double Digest," which makes sense considering the episode's title, but Reggie did get some screen time as a love interest pursuing Veronica. Those two always had a special connection so it was a shame when their relationship became toxic in the present day format. Maybe they'll finally get a shot together in this decade? And it would be cool if they kept these memories when they eventually got back to their era.
Betty's sex-track-mind scenes allowed the writers to once again pair up Betty with, well, everyone, so we saw her making out with Fangs, naked in the shower with Reggie, and even locking lips with Veronica. It was a lot, but it's clear Riverdale likes playing with the pairings this season, even in imaginary and dreamlike settings. Archie is still the one as he's the person her brain defaults to whenever she's asked who the person she most frequently dreams about is, so hopefully that means we'll get some movement on their relationship soon enough.
What did you think of the episode? Do you feel like the episodes have been repetitive? Would you rather they focus on plots that move the storyline along?
Chicago PD Season Finale Review – A Better Place (1022)
That was a heavy episode of Chicago PD—and it was a heavy case for the Intelligence unit, one that has been building to this point all season.
Chicago PD Season 10 Episode 22 did not play out as I thought it would, but I think it's safe to say that it didn't pan out the way any of the officers thought it would, including Adam Ruzek.
Ruzek was working this undercover case for months—and it was grueling, taking a toll on his mental health and wellbeing.
He dedicated so much of his time, spending day in and day out with Richard, Sam and her son, Callum, and away from his own family, only to have absolutely no new information or details about this "plan."
All he really knew was that Richard was a white supremacist who was trying to push his views onto his grandson, and he was orchestrating some kind of massive plan that would include multiple targets and casualties—it was later revealed the targets were Black elementary school children.
And it was all going to be set into motion one morning when Sam frantically called to tell him she was skipping town because her father moved up the date to that morning. I think Ruzek should've realized that it was strange that Richard didn't call him since he was supposed to be running point on the plan, but he was also so invested that he was desperate to get any information. He knew that this man was dangerous and he needed to stop him at any cost.
So, when Sam threatened to go rogue, he jumped in and blew his cover, which wasn't ideal, but it was the only option he had at that moment. If he let Sam go, so would his shot at getting any information.
The unfortunate thing is that Ruzek wasn't paying attention to Callum, or, rather, he underestimated him because he was just a child. He knew Richard was trying to influence Callum, but he didn't realize the hold he had or how deeply manipulative Richard actually was. Richard also seemingly didn't trust Ruzek as much as Ruzek thought he did, so there were a lot of hiccups that may have been eliminated if he just kept a closer eye on them. That being said, I can't imagine living two lives and trying to make sense of all of it in the limited downtime you have left. Ruzek was pulling double duty and he was feeling the pressure of it all.
The only thing that convinced Sam to talk was immunity for her and her son, but again, she was also naive to what was going on with her son when it came to her father. She wanted to protect Callum and do what was best for him, but she didn't realize that her father had already dug his claws into that boy in a way that was not going to end well.
Sam was suspicious of everyone except her own child, who was the easiest target for Richard as he had his undivided attention and trust and could brainwash him without even lifting a finger.
When they proposed going away for a trip, it was my first thought to follow Callum upstairs to make sure he wasn't making contact with his grandfather. Why did that not occur to Ruzek? Again, I think he just underestimated that boy because he's a child, but as Sam mentioned, hate is a thing that's taught. Callum was taught all these ideologies that his grandfather truly believed, and he didn't know any better, so he believed them as well.
And when confronted by Ruzek, he sensed danger and took the shot. It was the hardest thing to watch because Ruzek was genuinely trying to help that boy.
He believed in them, he believed in Sam—he stood up for her when everyone suggested that she needs to be punished for her role the plan—and when it came down to it, not only did her son shoot him, but she turned her back on Ruzek and left him there to die.
I was convinced that maybe there was a redemption arc here for Sam, but while she knew what her father was doing was wrong, there was no hope for her. She was already a monster. Her intentions were to protect her kid, but she went about it the wrong way. She made an enemy out of the people that were doing her a huge favor.
It's true that Adam lied to her, but if she put those feelings of betrayal aside, she'd realize that leaving him there to potentially bleed out would not end well for her, nor was it the way to keep her son safe.
And the real enemy, her father, was out there and on his way to claim her son, the son that Ruzek vowed to protect above anything else. Why in the world would she ever think she could outrun the truth and that it would somehow make this already terrible situation better?
Thankfully, Adam was able to wipe the blood off of his fingers and reach Kim, though it was tense there for a second and I was, admittedly, very worried about him.
Ruzek went into surgery immediately, and while there's no word on his condition, I'm of the mindset that if Burgess survived her near-death experience, he will too. And now, they'll be able to bond over this as I'm sure the trauma of what happened will stick around with him for a while. Kim has already done all the work, so she'll be able to be a source of support.
Before losing consciousness, Ruzek made Burgess promise that she'd get to Callum before Richard, and she made sure to do right by that promise.
Ruzek has a big heart, and honestly, it's his Achilles Heel sometimes. That being said, it's also the reason we love him—Ruzek extends so much care and concern for the children in his life. He bonded with Callum, he saw how special he was, and he couldn't let anything happen to him.
Unfortunately, the situation got messy rather quickly as Sam took way too long to surrender, and by that time, Richard already found them. Again, I don't know what lead to such poor decision-making on her part and why she wasted so much time when her father was a constant imminent threat.
Voight arrived in the knick of time to stop Richard from escaping with Callum, but it was clear that this wouldn't be an easy win for the cops. Usually, when someone is being held hostage, they don't actually want to go with the person, but Callum did want to go with his grandfather. We saw the extent of how effective Richard's brainwashing was as Callum agreed that he was ready to die for the cause and had pure hatred in his eyes while staring down the cops who were threatening his grandfather.
And then it happened—the final blow, a shot taken by Atwater. It was a necessary and valid shot, but unfortunately, it also cemented all of Richard's beliefs right in front of Callum's eyes.
His grandfather was shot, with no remorse, by a Black police officer. It reinforced everything he's been taught because all he saw was race. It lit a hatred inside Callum unlike any other. And it was eerie because you could see all of it happening through sheer glances. If looks could kill, Callum's would burn a hole through Atwater.
It's going to be hard to reset Callum's way of thinking now, which is unfortunate. I could see him restarting his grandfather's operation and finishing what he started, and that's a terrifying thought.
It's unclear if this is the last we've seen of them, but I hope it isn't. I hope we see what happens to Sam. Will they walk back the immunity deal? And how will they handle Callum since he did shoot a cop intentionally? The "he's a child" excuse can only go so far, but it's evident that this might not be a one-off behavior. Will therapy be able to reverse the damage? I doubt Ruzek would ever press charges, but it's also a security issue if Callum is simply let go to let all that hatred fester. And where will he go if his mom is arrested? There are a lot of lingering questions.
As for Ruzek, well, I genuinely hope he pulls through. This is not the way to go out, especially after he just made things official with Burgess.
I do, however, think this moment will inspire Burgess to get married to Ruzek when he finally gets better. It's not only the "life is short" realization (though that surely comes into play), but since she wasn't his wife, she wasn't given any information nor was she allowed to go any further. You could see that really took a toll on her considering the strength of their bond.
What did you think of the episode? Are you surprised with how things ended with Richard? Do you think Ruzek will survive?