The Boys season 2 finale tied multiple storylines in a neat bow but had to kill off one of the show's pivotal characters in order for the heroes and some villains to grow for the better.
This season has been a wild ride, to say the least, as the political angles the show tackled and the introduction of new Supes has added to the show's twisted universe.
Unfortunately, Billy Butcher's quest to rescue his wife Becca ended in tragedy as Ryan fatally wounds his own mother with his laser vision while trying to rescue her from the clutches of Stormfront.
Speaking of whom, Stormfront has been an amazingly polarizing character this season, and to see her demise in the finale is a little bittersweet, but a much-needed conclusion to her story arc. She may not actually be dead yet but it's doubtful that she'll rear her Nazi head again anytime soon.
Becca's loss, however, signals a significant shift in character growth for Billy as Becca's dying wish is for him to protect Ryan from turning into his demented Supe dad, Homelander.
This change in Butcher also steers The Boys in several new directions for season 3, which should mean refreshing new takes on each of the show's amazing cast.
"Only The Good Die Young"
As the episode ends, Billy Joel's "Only The Good Die Young" plays as it cleverly echoes the death of Becca, who was essentially the only "good" character left on the show.
Shantel VanSanten's performance this season was amazing, and she will be sorely missed on the show, even though canonically she's only met The Boys this season, it seems that the team will miss her presence as well because she's one of the few people in the world who makes Billy Butcher look like a lost puppy dog, relatively speaking.
It's kind of cruel for the showrunners to finally have a moment of bonding between Becca and the rest of Billy's crew like that, and then immediately take her away. (Not nice at all)
Still, her death was emotionally stirring, and Karl Urban's tear-jerking performance upon Becca's death was as good as it gets.
On the bright side, Ryan is basically Butcher's son now, and he's already rubbing off on him the right way as he imparts sage advice on the young Supe: "Don't be a c**t"
Which, of course, Ryan repeats when Billy asks "Remember what I told you."
In the end, Ryan is kept safe by the FBI and should be out of reach from Homelander or Vought until whatever unfolds in season 3.
Stormfront Did Nazi That Coming
Oof. Talk about rough. Stormfront got her butt handed to her in the finale. Which was quite well-deserved because, after all, she was a racist Nazi psychopath whose only redeeming quality is her dank meme game.
First, she's publicly outed by A-Train, Hughie, and Starlight as a 100-year old Nazi who was secretly the wife of the deceased founder of Vought. Which, of course, pisses her off and basically makes her worthless to Vought.
Then she receives an oh-so-satisfying beatdown from Starlight, Kimiko, and Maeve that sends her cowering away flying.
Finally, she gets laser-visioned to bits by Ryan, which leaves her muttering incoherently in German.
As much as I initially liked Stormfront and the nuanced nature of her character, it's definitely a good thing that she's now locked away – hopefully never to be seen again.
Kudos to Aya Rachel Cash, however, for slaying this villainous role because she made me legitimately hate her with a passion despite being so cool upon her introduction.
The Deadliest Supe on 'The Boys' Is NOT Homelander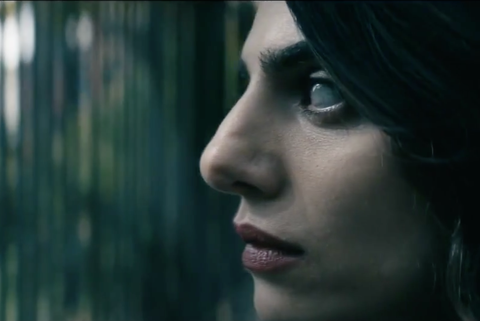 In a shocking last-second twist, The Boys decided to throw a major curveball by revealing that goodie-two-shoes Congresswoman Victoria Neuman (Claudia Doumit) was actually the Mind-blowing Supe from the penultimate episode this season, who caused a legendary courtroom murder scene that rivals (I daresay) the infamous Red Wedding from Game of Thrones.
Looking back, it's kind of a mystery why she killed the people she killed, and that just makes waiting for season 3 that much more painful!
Plus, Hughie decides to work for her on her campaign committee, and now she's given the power to head an entire department dedicated to keeping tabs on Supes.
The jury is still out on whether Victoria is actually evil, or is just a tragically misguided hero. But it's probably safe to assume that unwrapping the mystery surrounding her should be a big part of season 3.
Other Key Events:
Homelander actually showed he might actually care about Ryan after all because he acted like a real dad for the first time in this episode. However, that image faded quickly when he murdered a bunch of Vought militia, which resulted in this bloody mess:
Homelander also got blackmailed to submission by Maeve, and he was forced to make a public speech that made him acknowledge both Maeve and Starlight as his "trusted friends." Clearly, not all is right with Homelander as he is seen masturbating on top of a building in the middle of the night literally trying to gain release from his frustrating predicament.
The Boys finally get a series of W's after getting screwed for most of the season:

They're cleared of criminal charges by Colonel Mallory and the FBI
Hughie and Starlight officially resume their relationship – Starlight also rejoins The Seven to keep an eye on Homelander.
Frenchie and Kimiko run off into the sunset together
MM finally goes back to his family
Billy, albeit in tragic fashion, finally finds some kind of peace.
A-Train is reinstated in The Seven due to his efforts in helping expose Stormfront as a Nazi.
The Deep got screwed by The Church of the Collective and has apparently been receiving unsatisfactory oral stimulation from his fake wife (poor guy). He's also not back with The Seven.
Black Noir is still hospitalized after his allergic reaction (beware of Almond Joys!).
Compound V is off-limits to the public indefinitely, as stated by Stan Edgar himself.
Maeve is finally free from Homelander's torment and is able to freely pursue her romance with Elena. Plus, she was a total badass in this finale and basically saved everyone's butts.
Episode Rating: 9.5/10
While not exactly as shocking as the penultimate episode, this final installment of The Boys season 2 is almost perfectly executed. It ties all the storylines building up all season and finishes in a frenzy of controlled chaos that changes the dynamics for nearly every character for upcoming arcs.
All episodes of The Boys season 2  is now streaming on Amazon Prime Video.
Follow CRAVEYOUTV on socials
Big Brother All-Stars Review: The Road to Finale Night (22×36)
Two episodes left of one of the most boring seasons of Big Brother to date. One predictable eviction after another, and we are at the end. By Wednesday, either Enzo, Nicole, or Cody will walk out the door half a million dollars richer. But before that can happen, 3 more competitions need to be played.
This penultimate episode was odd, to say the least. They treated it like a live episode (it wasn't), but was filmed like one. Julie introduced each segment, and there was even a segment showcasing the members who were eliminated pre-jury, and therefore could watch the entire gameplay out. This kind of stuff usually happens on finale night, so it's quite possible they will have new things planned for then. If not, we're gonna have a long two hours come Wednesday.
The first third of the episode was showing 5-minute segments of the final 3 and how they got to the final 3. Starting with Enzo, he talked about his impeccable social game, and how everyone would pick him for the Veto competitions, how no one wanted to target him, and just how people had a lot of trust in him. He talked about his early alliance with Cody from day 1, called The Root, plus the Wise Guys alliances he was a part of with Memphis. He even talked about his biggest regret in the game, which was not evicting Nicole during the Triple Eviction, sending David out instead. He reminisced about his time during season 12 where he got third place, and how he wants to avoid that this year. Truthfully, I think he's going to get third again. That's another topic for later.
For Cody's turn, he talked about why he wanted to go all out this time, so he doesn't get second place again like he did in season 16. He talked about his seven competition wins, his social game, and being a part of The Root and The Committee alliances that got him to the end. He feels like he has run the place, manipulating people on both sides and taking out the people that were the biggest threats to his game. This is pretty true, Cody has played probably the strongest overall game, but I personally don't think that he has done a good job at jury management this year. Again, more on that later.
Now we get to Nicole. Winner of season 18, and surprisingly very close to taking it all again. She feels like she was very underrated this season, flying under the radar, and winning competitions when she wanted to. This was the exact strategy that won her the game four years ago, so history could repeat itself. She acknowledged her day 1 alliance with Cody, having been on the same season together, her alliance with Ian as former winners, and her friendship with Dani, working behind the scenes in the Committee. She talked about how she didn't like having to vote out Ian but didn't want to stand out, and then she was on the block next to Dani. She thinks that she has the strength and jury pitch to be the first person to win the game twice.
My favorite segment of any season is when they show the people evicted pre-jury discuss the season. They get to see the entire thing, feeds and all. Remember Keesha, Nicole Anthony, Janelle, Kaysar, and Bayleigh? They're back, and ready to discuss the season through Zoom. In a perfect world, these people would've made the jury phase over half the people in the jury now. They showed the pros and cons of each person, and they brought up a great point: this jury could lead to Cody's downfall. A lot of the jury is bitter, and a lot of the bitterness is geared at Cody. They respected Enzo's gameplay by creating social relationships with everyone, and how that could get him the check at the end. Even Janelle had respect for Nicole Franzel making the final 3 as a winner, but definitely downplayed how she got there. The consensus was clear: if Enzo and Nicole win the final HOH and cut Cody, that person should be the one to win, by making probably the biggest game move of the season.
It's now time to begin the first part of the final HOH competition. The final HOH competition is broken into 3 parts: the winner of part one advances to part three, and the people remaining compete in part two, and the winner of that round faces the winner of part one in part three on finale night.
Standing by tradition, the first part of the HOH competition is an endurance competition. True to the spirit of Halloween, the set is decorated like a graveyard, and the finalists are dressed as zombies. All they have to do is stand on a small disc and hold onto a rope as they spin around and around, running into obstacles. The obstacles included a giant half-crescent moon, and a haunted house. Not only that, but they are sprayed with "witches potion," trying to get them to slip off of their ropes. To make matters worse, they continue to spin faster and faster like an out of control merry-go-round. The speed of the wheel is what causes Enzo to be the first person to fall off his rope, leaving Cody and Nicole hanging for dear life. They even lower the ropes so that they run into the obstacles with full force. Because of the way he was positioned on the ropes, Cody slipped and fell, giving Nicole the win. Tiny Nicole Franzel just won an ENDURANCE competition. Honestly, props to her, and she anxiously awaits for Cody and Enzo to compete in part two, which will take place on finale night.
I have to be real, I kind of enjoyed this retrospective on the final 3. I hope that this is something that they continue to do every year from now on, hopefully in a more entertaining season. That said, it was a cool way to see how the finalists made it so far.
Who Will Win Big Brother All-Stars?
I sadly have to pick one. I know Enzo is my winner pick, but I really do not see any possibility that he wins, unless Cody takes him to the end and the jury is bitter. I just don't see it happening. That said, I see a world that Nicole becomes a two-time winner and Cody is a two-time second-place finisher. It's hard to solidify who will win because it all comes down to the jury. We don't really know how they will vote or what their mindset will be when they face the final 2.
Here's how I'll do it: I'll do a winner pick of each scenario because I honestly can't decide where to lean at this point in time.
Cody vs. Nicole: Nicole wins 6-3
Nicole vs. Enzo: Nicole wins 5-4
Cody vs. Enzo: Cody wins 6-3
Again, I don't see a situation of an Enzo win, but all of this will be shown Wednesday as this long season will come to a close. Oh, and before I forget: Da'Vonne for America's Favorite HouseGuest!
Big Brother All-Stars Review: A Look Back (22×35)
Remember yesterday, when Julie said that we would get a special episode? Well that episode is the annual retrospective episode. This happens every year at the final 3 mark, where the finalists get to feast on lobster, drink champagne, and reflect on the game so far. This has happened every year and serves as a staged filler episode, where true "acting chops" are shown, because all of the dialogue is set up. Things like "Wow, what a CRAZY journey this has been," and "Hey, remember when THIS happened?" It's not an ideal episode, especially with the finale so close, but hey, it's done every year, and sometimes new footage is shown, that was on the feeds, but never made the edit.
Nicole, Enzo, and Cody sit at the table and begin their celebratory feast. The first reflective segment showcased various pranks that happened throughout the season. Dani pranking Cody, Enzo pranking Cody to the point that Nicole peed her pants, Cody pranking Memphis, etc., etc. Enzo then said his favorite "prank:" when Nicole made Janelle a Have-Not solely because she doesn't like her. That wasn't much of a prank more than it was strategy, and also very personal, but it was nice to show that scene again, with Janelle being very passive-aggressive to Nicole. The queen of BB still makes an impact to this day.
Enzo, while eating steak at the feast, forgot for a minute that he became a vegan in the house, which lead to a moment I wanted to make the edit and didn't! Flashback to day 48, where David nearly burned the house down trying to make French Fries. This happened on the feeds, and it was hilarious. It was mostly great to watch David's dumbfounded face as he stared at the destruction that he almost caused.
Then we got to a moment that tore my heartstrings: Janelle and Kaysar, AKA Jaysar. Two best friends who met 15 years ago on BB6 and BB7, and now playing together again on BB22. It was an entire segment about their friendship, how it's grown, and how amazing it is that they can play the game one more time with their best friend. These two are two of the most popular HouseGuests of the season (Da'Vonne with them), so it's sad we will probably never see either of them play again. They were a great addition to this overall slow season.
Cody then reveals that he didn't know what the word "ripe" meant until this season. I have no words beyond that. I'm just going to let that hang there.
There then was a segment where different HouseGuests were shown in the Diary Room requesting things from the producers. Wanting drinks, the AC to be turned off, the hot tub on, new insect repellent. A pretty okay segment, since they can't do the shopping themselves.
They three then reflect on their fallen comrades. They mostly talk about Ian, and how open he was about being on the autism spectrum, and how it has affected his life since winning BB14. While the moment they showed was inspirational, because I love Ian, but I couldn't help but think of the moment that Memphis, Nicole, Dani, and Christmas made of him for that on the live feeds. It was atrocious, inhumane, and I hope they understand what they did to him after the show is over.
They replayed the moment of Kaysar talking to Da'Vonne talking about racial injustice in the country, and what playing this game means to them, and the platform that they represent to inspire change. Da'Vonne subtly called out the fact that not many people of color are on the show every year, which inspires her to come back whenever she gets the call.
A segment gets played showing off all of the punishments from the season, from Ian performing space movie scenes, to Nicole's slop costume, to Janelle's star costume. And how could we forget Christmas' all-star babies? They also showed (f0r the first time) Bayleigh's triathlete punishment that she got during a Veto competition, where she had to do 500 laps around the yard on a tricycle. This punishment was shown on the feeds, but never made the edit, which I found weird because regardless of the punishment, they almost always show punishments on the edits. Bayleigh even finished the laps with one pedal, since one fell off, but celebrated with the HouseGuests after it was over.
While talking about things they will miss about the house, Nicole points out that she will not miss crying in the Diary Room, which prompted a full 2 minutes of the HouseGuests crying in the Diary Room with melodramatic violin music playing. I know the game is shown online 24/7, but that moment felt the most intrusive. I was uncomfortable watching it.
Before the episode ended, each finalist shared their thoughts on the end. Nicole wants to be the first two-time winner, Cody wants to avenge his BB16 loss, and take the win, and Enzo wants to win the game for his dad. The first part of the final HOH competition begins Monday, with finale night coming next Wednesday!
Cody, Nicole, and Enzo. The final 3. Not the final 3 I would've wanted, not in the slightest. These three were probably the most boring final 3 in recent years, probably sitting close with last year's atrocious season. It was an all-star season, and we're getting some all-duds getting to the end. If I had my way (and I'm sure the BB fans would agree), we would see Janelle, Da'Vonne, and Kaysar sitting with each other on finale night. Alas, we get these three. Maybe next year. Anyway, Da'Vonne for America's Favorite HouseGuest!
Big Brother All-Stars Review: The Thirteenth Eviction (22×34)
One spot remains in the final 3, and either Nicole or Christmas is going to take it. Cody has the only vote to evict this evening, and whoever stays will join Enzo and Cody on finale night. The other falls short and joins the jury.
As Julie introduces the night, we get a segment where Enzo tries to get Christmas to stay in the house in the final 3. Enzo believes that he has a better chance of winning with Christmas in the final 3, since Cody and Nicole are so tight and aligned, and Enzo might be on the outs. Christmas agrees with him, and wants to fight until the end to stay, though she has a belief that she's done.
Nicole then points out that she has spent 230 days in the Big Brother house over 3 seasons, passing fan favorites like Janelle, and BB18 and BB19 alum Paul Abrahamian. She then believes that if she makes it to the end, she could win again. This should fuel Cody to get Nicole out now, because then no one can have the honor of being the first two-time winner. Enzo even went to Cody and said that Christmas could be easier to beat in the final HOH competitions. Cody then said privately that Enzo is terrible at competitions, which isn't totally false. He's got 2 HOH comps, a Veto, and a Safety Suite, so it's a solid resume.
Oooh, we got a little drama too! Enzo said to Cody and Nicole, "Hey, don't we make a good final 3?" What he didn't know, is that Christmas was in the other room, and heard everything. She's been hurt by Enzo before, so this shouldn't be a surprise. Christmas hasn't even been campaigning to Cody this week, only to Enzo, buy Cody is the only one with a vote, so she's going to the wrong person.
As if she heard me, Christmas went to Cody, saying that Enzo is not a loyal person, and that if she stays, she will bring Cody with her to the final 2 no matter what. She did a good campaign to throw Enzo under the bus, saying that he flipped his vote last second during the Triple Eviction, and that he's been gunning for Nicole ever since. I'm pretty sure this went in one ear and out the other with Cody, but he did acknowledge that she's putting up a good fight.
Nicole, after daydreaming to herself that she's winning the game, goes to Cody to campaign. She did a less than average pitch to him, with her main argument being that no matter what, Christmas will not take him to the final 2, and threatened her jury vote with it. This gave Cody flashbacks to BB16, when he had a choice between either the person he knew he could beat, or the person that he was loyal to from day 1. He took the person he was loyal to, and lost.
We then get a new jury house segment, which showed the newest addition of Memphis. Each juror shared who they wanted to join them in the jury house, and of course each one gets to say different opinions of different people left. When Memphis entered the house, the rest of the group was SHOOK. The happiest person there was David, who said that he doesn't respect him at all, and is more than happy that he's out. The jurors recognize that Nicole is playing a similar game to that of her winning season, where she laid low for several weeks, then started winning comps. Ian then says that if anyone clips Cody at the final 3, then that person would get his jury vote. David started making a point about Nicole and Enzo's game, and Dani interrupted him, which was insanely rude, but Kevin jumped to his defense. It's just so hard, as a fan, to want anyone left in the house to win. Yes, Cody is playing the best game, so he would be a solid win, but the way he did his game hasn't earned my respect.
Christmas and Nicole then made their final arguments to Cody before he makes his vote. Christmas was SAVAGE to Enzo, saying "Enzo, congratulations on making third place!" This was…accurate. There's a strong chance that Enzo is going to reprise his BB12 season by getting third place, because the bond between Cody and Nicole might be closer than he thinks. Nicole was pretty easy-going in her speech, just being nice to everyone. Cody then stood and cast his sole vote for….Christmas. No surprise, but he did say that she put up a good fight.
Christmas said a kind goodbye, and walked out to meet Julie. She said that she saw this eviction coming a mile away, but gave a great fight, which is definitely something worth recognizing. She said that she was truthful in her pitch to Cody, and that she would've cut Enzo at final 3, and that she could beat any one of them in the final 2. That statement was a stretch, but the confidence is key. The goodbye messages to her spilled all the information of Nicole and Cody's alliance, and Cody's final 2 deals with Nicole and Enzo. Cody also revealed the other Wise Guys alliance that was made and that Enzo told him all about it. Christmas wasn't surprised by this, but respects the gameplay.
We have a final 3! In just 6 days, someone will be walking out the door with $500,000 in their pocket. Before the episode signed off, Julie surprised the final 3 with special messages from home. Cody got one from his girlfriend, Nicole her fiancé Victor, and Enzo his two kids. These sorts of moments are always great to see in games like BB, because they don't get to see or talk to their families the entire time they're in there.
Julie then teased a special episode tomorrow, and that the final three-part HOH competition will be set to begin! Voting also opened for the annual America's Favorite Player competition, where the public awards $25,000 to their favorite player of the season. All I got to say is, Da'Vonne for AFP!
Who I Hope Makes Final 2: 
This is a little hard, but in thinking about total game, I would like to see Enzo and Cody. I feel like if Cody wins the final HOH, he will take Nicole. We'll see. A lot can happen with less than a week to go!