The Boys season 2 finale tied multiple storylines in a neat bow but had to kill off one of the show's pivotal characters in order for the heroes and some villains to grow for the better.
This season has been a wild ride, to say the least, as the political angles the show tackled and the introduction of new Supes has added to the show's twisted universe.
Unfortunately, Billy Butcher's quest to rescue his wife Becca ended in tragedy as Ryan fatally wounds his own mother with his laser vision while trying to rescue her from the clutches of Stormfront.
Speaking of whom, Stormfront has been an amazingly polarizing character this season, and to see her demise in the finale is a little bittersweet, but a much-needed conclusion to her story arc. She may not actually be dead yet but it's doubtful that she'll rear her Nazi head again anytime soon.
Becca's loss, however, signals a significant shift in character growth for Billy as Becca's dying wish is for him to protect Ryan from turning into his demented Supe dad, Homelander.
This change in Butcher also steers The Boys in several new directions for season 3, which should mean refreshing new takes on each of the show's amazing cast.
"Only The Good Die Young"
As the episode ends, Billy Joel's "Only The Good Die Young" plays as it cleverly echoes the death of Becca, who was essentially the only "good" character left on the show.
Shantel VanSanten's performance this season was amazing, and she will be sorely missed on the show, even though canonically she's only met The Boys this season, it seems that the team will miss her presence as well because she's one of the few people in the world who makes Billy Butcher look like a lost puppy dog, relatively speaking.
It's kind of cruel for the showrunners to finally have a moment of bonding between Becca and the rest of Billy's crew like that, and then immediately take her away. (Not nice at all)
Still, her death was emotionally stirring, and Karl Urban's tear-jerking performance upon Becca's death was as good as it gets.
On the bright side, Ryan is basically Butcher's son now, and he's already rubbing off on him the right way as he imparts sage advice on the young Supe: "Don't be a c**t"
Which, of course, Ryan repeats when Billy asks "Remember what I told you."
In the end, Ryan is kept safe by the FBI and should be out of reach from Homelander or Vought until whatever unfolds in season 3.
Stormfront Did Nazi That Coming
Oof. Talk about rough. Stormfront got her butt handed to her in the finale. Which was quite well-deserved because, after all, she was a racist Nazi psychopath whose only redeeming quality is her dank meme game.
First, she's publicly outed by A-Train, Hughie, and Starlight as a 100-year old Nazi who was secretly the wife of the deceased founder of Vought. Which, of course, pisses her off and basically makes her worthless to Vought.
Then she receives an oh-so-satisfying beatdown from Starlight, Kimiko, and Maeve that sends her cowering away flying.
Finally, she gets laser-visioned to bits by Ryan, which leaves her muttering incoherently in German.
As much as I initially liked Stormfront and the nuanced nature of her character, it's definitely a good thing that she's now locked away – hopefully never to be seen again.
Kudos to Aya Rachel Cash, however, for slaying this villainous role because she made me legitimately hate her with a passion despite being so cool upon her introduction.
The Deadliest Supe on 'The Boys' Is NOT Homelander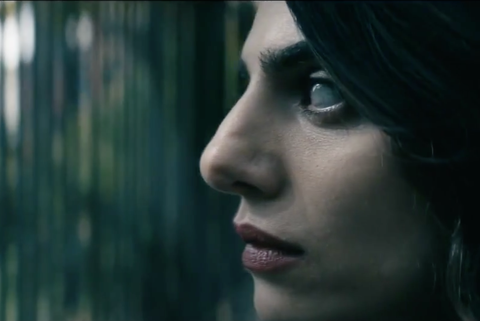 In a shocking last-second twist, The Boys decided to throw a major curveball by revealing that goodie-two-shoes Congresswoman Victoria Neuman (Claudia Doumit) was actually the Mind-blowing Supe from the penultimate episode this season, who caused a legendary courtroom murder scene that rivals (I daresay) the infamous Red Wedding from Game of Thrones.
Looking back, it's kind of a mystery why she killed the people she killed, and that just makes waiting for season 3 that much more painful!
Plus, Hughie decides to work for her on her campaign committee, and now she's given the power to head an entire department dedicated to keeping tabs on Supes.
The jury is still out on whether Victoria is actually evil, or is just a tragically misguided hero. But it's probably safe to assume that unwrapping the mystery surrounding her should be a big part of season 3.
Other Key Events:
Homelander actually showed he might actually care about Ryan after all because he acted like a real dad for the first time in this episode. However, that image faded quickly when he murdered a bunch of Vought militia, which resulted in this bloody mess:
Homelander also got blackmailed to submission by Maeve, and he was forced to make a public speech that made him acknowledge both Maeve and Starlight as his "trusted friends." Clearly, not all is right with Homelander as he is seen masturbating on top of a building in the middle of the night literally trying to gain release from his frustrating predicament.
The Boys finally get a series of W's after getting screwed for most of the season:

They're cleared of criminal charges by Colonel Mallory and the FBI
Hughie and Starlight officially resume their relationship – Starlight also rejoins The Seven to keep an eye on Homelander.
Frenchie and Kimiko run off into the sunset together
MM finally goes back to his family
Billy, albeit in tragic fashion, finally finds some kind of peace.
A-Train is reinstated in The Seven due to his efforts in helping expose Stormfront as a Nazi.
The Deep got screwed by The Church of the Collective and has apparently been receiving unsatisfactory oral stimulation from his fake wife (poor guy). He's also not back with The Seven.
Black Noir is still hospitalized after his allergic reaction (beware of Almond Joys!).
Compound V is off-limits to the public indefinitely, as stated by Stan Edgar himself.
Maeve is finally free from Homelander's torment and is able to freely pursue her romance with Elena. Plus, she was a total badass in this finale and basically saved everyone's butts.
Episode Rating: 9.5/10
While not exactly as shocking as the penultimate episode, this final installment of The Boys season 2 is almost perfectly executed. It ties all the storylines building up all season and finishes in a frenzy of controlled chaos that changes the dynamics for nearly every character for upcoming arcs.
All episodes of The Boys season 2  is now streaming on Amazon Prime Video.
Follow CRAVEYOUTV on socials
Riverdale Review – Things That Go Bump in the Night (6×15)
Saving Riverdale goes hand-in-hand with saving Pop's. The friendly neighborhood ghosts ensured that Tabitha Tate was well aware of that on Riverdale Season 6 Episode 15.
As the small but mighty town prepares for a full-on good versus evil with Percival Pickens at the helm of the bad team, Tabitha attempted to salvage her family's business first and foremost.
But every time they tore down Pop's iconic facade, something went awry. When she saw a ghostly flashback, she tapped Cheryl and Heather, a self-proclaimed witch schooled by a coven in Greendale (hmm sound familiar) for help communicating with the spirit. It was then that she clued into the fact that the diner has been a refuge not only for the living but also for the dead, who were also very much aware of Percival's plans.
Percival also knew that the spirits were standing in his way by bearing witness to the eldritch evil that they referred to as a ghost train.
It was complicated, even by Riverdale standards, but it confirms that Percival is some kind of evil entity that knows all too much. And the eldritch terrors, well, we've come across those in Greendale, so it's a good thing that they have Heather on hand for intel and information.
The introduction of Heather also bridges the gap between Cheryl and the supernatural. She's dabbled in it, but the fact that she's a witch has never been established out loud until now. Heather's confession about herself prompted Cheryl to be very open about her involvement in the supernatural. Cheryl has pretty much been guiding her powers of pyrokinesis all on her own — sans a few texts from her robust library — so it'll be nice to have a guide who can help her lean into those powers.
And, of course, Heather is a librarian, so she'll be able to lend a hand with Cheryl's idea of expanding Thornhill into a local library. After all, plenty of people already use the location as a source of information.
Am I shipping Heather and Cheryl? I'm not convinced just yet, but maybe it's because I'm still holding out hope — like many fans — that a Choni reunion is coming. However, I do think that Heather and Cheryl's interests align better than Choni's ever have, so that's an exciting shakeup.
Toni has her hands full in her fight for custody of baby Anthony. She and Fangs are going up against Kevin, and since they are open "gangbangers," there isn't much working in their favor. But when the lawyer informed Toni that a healthy family front could persuade the judge, Toni decided to propose to Fangs despite being more and more aware that they aren't soulmates.
As a mother, I totally understand where Toni is coming from. A mom would do anything for her child, and if that means she has to see eye to eye with Fangs and make him believe that they are destined to be together, so be it.
Fangs is trying his best. I can't say I agree with his choice to go work for Percival knowing the danger that he poses to the town, but his actions are coming from a place of love, just like Toni's. He wants to be there for baby Anthony and provide for his family, and Percival's offer is allowing him to do it. The idea seems to be that he's selling his soul to take care of his loved ones, but it's possible having a personal tether can keep him safe from any mind control.
We should all be blaming Kevin for starting this mess to begin with.
We rarely see Jughead and Veronica team up, but boy was it incredibly fun. Veronica came up with a brilliant plan to bring in more revenue to the casino and stick it to the shareholders that were doubting her.
Listen, when you have a friend that can read minds, why not exploit it for profit? And thus, Forsythe the Fantastic — The Seer of the South Side was born. Everyone loves a good magic trick, and this act surely delivered.
And naturally, the haters wanted a piece as well. Reggie immediately hit up Veronica and attempted to blackmail her if she didn't give him a cut of the profit.
Reggie dangled the fact that Veronica ordered the hit on her father against her, which isn't entirely fair considering he was only privy to that information on a personal level.
Veronica wasn't here for any of it, so she called up Jughead to see if his abilities extended to memory wipes as well. Sure enough, Jughead was eager to strengthen his powers, and before Reggie could even say "blackmail," he forget exactly what he had against Veronica.
Unfortunately, he was aware that he lost a crucial bit of information, so he told Percival, who is now aware that Jughead's powers are intensifying.
And based on what went down with Frank and Archie, he's also aware that Archie figured out a way to become invincible.
Having Frank try to undercut Archie clearly underscores just how dangerous Percival's manipulations are. Frank was always Archie's biggest cheerleader, so there's no way he would willingly try to sabotage his nephew's business. And despite Archie's best efforts, Frank wasn't strong enough to use Fred's memory as a tether.
Archie wouldn't even know Frank was pulling a fast one on him if it wasn't for Betty's ability to see people's auras. When Betty saw Frank glowing in a red hue, she knew that he wasn't being truthful about his decision to call a truce.
Betty tried to hone in on her abilities so that she could determine why she was able to see some dangerous auras and not others.
She confided in an FBI agent — Drake — who was definitely helpful, but her help was also slightly concerning. Why didn't she question anything Betty was saying? Why did she ask Betty if she's happy living with her boyfriend? It was strange. Why didn't Betty see any red flags there?
Betty initially thought that her blindspot was anyone with the serial killer gene, but when she tested Dagwood and Juniper, she realized that one of the twins had the gene, but it wasn't the one glowing in red. I'm glad they are incorporating the twins into the mystery, but I truly don't want them to be the inhabitants of evil. And I'm really glad Betty saved that cat before Butterscotch met the same fate as Caramel.
Alice dug into Betty when she realized she took the twins from her, and her tirade ended with her informing Betty that she was the villain and has always been bad.
Betty definitely seemed shocked and hurt by the outburst, but it was also leaning into her own biggest fear as she saw a red aura around herself in the mirror.
Who does Betty pose a threat to? Herself? Her loved ones? Juniper and Dagwood? The town? And does Drake know more than she's letting onto?
Overall, it was an intense night of Riverdale that laid a lot of the groundwork for the final battle.
It's pretty clear that Percival is going to come for Veronica and Jughead for their little "act," and will likely take a stab at Pop's new setup at the El Royale, but if they keep being one step ahead of him and keeping him on his toes, maybe they have a shot at winning this after all?
What did you think of the episode? Share your thoughts in the comments below!
Dynasty Review – There's No Need to Panic (5×12)
Only Alexis would design a panic room equipped with a tanning bed and a 25k wine fridge that didn't actually have the capability to send an SOS during an emergency.
On Dynasty Season 5 Episode 12, Alexis was targeted by robbers because of her social media posts, which allowed her to spend some quality time with Fallon.
The two didn't see eye-to-eye for much of the time spent inside the panic room, but they eventually poured their hearts out to each other before the housekeeper arrived to reset the power and let them out.
Fallon was feeling extra prickly about the whole situation because she thought she was pregnant. She kept questioning why her mother didn't just give up the jewelry the robbers were after in order to buy their freedom, but what she failed to realize was that the ring had significance as her mother was going to use it to propose to Dex.
It was actually heartbreaking to hear Alexis say that she was going to pop the question simply because she didn't want to be abandoned and alone.
Alexis isn't the easiest person to deal with, but she deserves happiness. I loved that Fallon suggested that she reconsider the real reason behind her desire to marry Dex. At that age, you should only get married because you're absolutely sure that you've found "the one." No one has time for sham marriages.
Fallon rarely gives her mother solid advice, but it was key to helping Alexis determine her worth.
When they were finally free, Alexis chose not to chase Dex to the airport, but, in a moment of fate, he waltzed through the door and plopped down on one knee. The timing was right — and for the right reasons.
With The CW announcing Dynasty's cancelation, the episode was pretty bittersweet. On one hand, it definitely seems like they are running out of storylines, but on the other hand, I'm hoping we get to see Alexis's big day.
Fallon confided in her mother about the potential pregnancy, but when she eventually made it to the doctor, she was told that it was a false positive.
And that wasn't the worst of it. The doctor informed Fallon that she wouldn't be able to have children ever because of the scar tissue from where she got shot.
Seeing how hard Fallon and Liam tried for a child, this isn't the news they were hoping for. But all hope isn't lost just yet — there are so many options nowadays, especially if you have the kind of money Fallon and Liam have.
They could get a surrogate — Amanda or Kirby! — or they could adopt. If they are still dedicated to starting a family, there are plenty of options that would also make for a great storyline.
Though, admittedly, it put a bit of a damper on a celebratory evening.
At least Liam finally wrapped up his movie so he'll be able to focus on expanding the family moving forward.
We've seen Liam and Culhane work closely together ever since he took the job as a producer on the indie film, but I'll be honest, the whole plot was pretty bland.
I know men don't talk, but I honestly don't buy that either of them would still be triggered by something that happened years ago, even if they didn't talk it out.
Culhane has moved on from Fallon, and she's happy with Liam, so there's no point in bringing any of this up again. And as Culhane pointed out, Fallon wasn't "stolen" from anyone, she's always done exactly what she wanted and she ended up with the person she was meant to be with.
The tension between Amanda and Adam was exciting at the beginning, but they are both going a little overboard. It's clear that they don't like each other, but they work at the same hospital, so they could at least tolerate each other instead of constantly wanting to pull one over the other.
It's so petty. I'd expect it from Adam, but I thought Amanda was above that kind of behavior. It sucks to see her get dragged down to that level.
I am, however, enjoying the progression of her relationship with Kirby. Kirby hasn't had the best luck in her dating life, but it seems that Amanda might be the real deal.
Well, that is if she doesn't keep pulling Kirby into her feud with Adam. It wasn't fair of her to ask Kirby to spy on her ex-boyfriend. What an awkward position to put Kirby in!
As for Cristal — she is finally owning her power and putting it to use. I love to see it.
Cristal and Blake definitely exude power couple vibes, but it's true that Blake is used to being the alpha; the superior one in the relationship.
He likes to yield all the power when the truth is, Cristal is actually more powerful. She doesn't need him to sign off on anything because she holds the. majority of the shares. Blake was definitely taken aback by her bold stance, but he didn't seem to mind it. I think he's very aware that Cristal has great instincts and he should trust them. Just imagine how great they could be if he treated her as his equal.
What did you think of the episode? How are you holding up after finding out that Dynasty is coming to an end?
Big Sky Season Finale Review – Catch a Few Fish (2×18)
The Big Sky season 2 finale was — and I hate to say this — uneventful.
There were some high moments, but overall, it was a bit of an anticlimactic outcome to a seriously twisted and dark season.
Why is that?
Most of the major storylines were wrapped up, but it was too neat for the magnitude of the storylines delivered over the course of 18 episodes.
I'll start with Scarlett as she's been the overarching connection to Ronald Pergman for two seasons.
She may have been a sociopath, but there's no denying that Scarlett was a mother that cared deeply about her daughter. She would've done anything for Phoebe.
So, when it became abundantly clear that Cassie was right — she'd never outrun the syndicate and be "safe" — she dropped Phoebe off at Cassie's apartment, along with the drive detailing all the info on the sex trafficking ring.
It's the smoking gun as that drive is the exact reason that the syndicate is after her.
Of course, the fact that Scarlett witnessed the dangers that this lifestyle poses to Phoebe firsthand likely impacted her decision to give up her daughter, along with Phoebe's declaration that she no longer wants to live life on the run.
After everything she's been through and witnessed — including her mother killing a man with her bare hands — Phoebe was strangely okay when she was handed over to Cassie and Lindor. Scared and unsure? Yes. But she was already thriving in a home setting more than she ever was around her mother and Ronald. The poor girl just needs stability and a hot meal. Scarlett never could've provided her with that, so good on her for doing the right thing by her baby even if it completely broke her. Over the course of the season, she lost the only two people she ever cared about, so on some human level, I feel bad for the girl.
We've seen the dangers the syndicate poses firsthand as they've come after Ronald, Scarlett, and Wolf, so it's only a matter of time before they set their sights on Dewell and Hoyt. After all, they unlocked the drive, which means that they already know too much.
I was genuinely expecting something to come of that drive — at least a warning to the detective agency from the syndicate member or something. They are clearly tying up loose ends, so why wouldn't they be more careful about trying to open encrypted files?
Again, it felt anticlimactic, though, I know we'll explore this more in season 3.
The Bhullar storyline also came to a close, and with it, Travis's quest for answers and revenge. Well, sort of.
Veer Bhullar wasn't just a problem for Travis. It turns out that a lot of people wanted him dead, including his own girlfriend and children.
Alicia was right when she predicted that he would die at the hands of his son, but she failed to mention that Ren would be stoking the flames. After his father seemed all too comfortable with having his son killed, Jag returned the favor and mustered up the courage that his father never believed he possessed.
Truthfully, Veer did this to himself. He pushed his own children away, and he pushed them towards hatred and wanting to steal the family business away from him.
Once Ren realized that her father was pretty much a monster, she allowed Travis to get his hands on Veer. It's the very reason why she kept him around because she knew he had what it took to eliminate him if it came to it.
Travis seemed promising throughout the season. I mean, I know that he got in way over his head, but it always seemed like he had some kind of plan if the moment ever arrived.
And then, when it finally did, Travis was a complete mess. He took Veer to where he previously kept T-Lock locked up and just laid in the punches until Veer got to talking. There was no strategy at play, which was disappointing.
Like what if Veer didn't talk? Would he just kill him and destroy the possibility of getting answers?
Veer ended up confessing that Kate Garza was still alive, but he's a deceptive man who stares down danger and doesn't flinch, so who knows if he's telling the truth.
Jenny and her new partner, Beau (Jensen Ackles), arrived on the scene just in time to stop Travis from actually killing Veer.
Of course, that allowed Jag to deliver the final blows via a hospital pillow.
Veer never saw it coming, but he almost asked for it with all the gaslighting and instigating that he did. I mean, how many times did he put Jag down and basically deny giving Mason the A-ok to shoot his son? It really shouldn't have come as a surprise to him.
And it surely didn't to Alicia. She was plotting and making moves for this very outcome from Day 1.
The "insurance" paperwork that she had Veer sign actually gave her power of attorney over the business, so she was able to make off with a huge chunk of cash.
Alicia was always in it for the hustle, and it just goes to show you how much Veer's ego blindsided him.
I genuinely enjoyed the moment between Alicia and Tonya. They are, in a way, kindred spirits, and the advice not to die on Montana is sound.
Tonya has always been in over her head, but she's now addicted to this lifestyle, so I don't see her breaking away from Ren ever.
It definitely seemed like a curtain call on the Bhullar siblings, but it's unclear if we'll see their operation become a problem in the future.
Big Sky has a tendency to reinvent itself and the mysteries with each season, so my guess is that even if they are in the picture still, they'll be in the background.
It's also unclear how Travis plans to find Kate with zero information and resources. Ren and Jag have no idea where she is, and the only person who had any intel is dead.
What's his plan?
Though, it was big of Jenny to take the empathetic approach and give Travis the chance to finish what he started. He was so passionate and dedicated, that if his whole life is about to wither away in prison, at the very least, it should all mean something.
Do you think Kate's actually alive?
I wasn't exactly digging Beau's energy when he first showed up — his Texas was showing, and it was a lot.
But by the end of the episode, he definitely grew on me. It honestly feels like he's Cordell Walker's counterpart/brother, which is fitting considering the renovated Walker is Ackles' Supernatural co-star Jared Padalecki.
Beau is a nice addition to the two-woman show that is Jenny and Cassie. He seems to be a buffer between their personalities. Plus, he definitely knew exactly what to expect for Jenny, and he trusts her enough to believe that she knows what she's doing when she makes her calls.
Tubb was a bit of a hardass on her and was constantly pushing back, so Beau's approach of letting her do her thing and having her back is refreshing. Admittedly, Jenny does need to be reigned in sometimes, so I hope that he'll be the checks and balances that she needs from a partner.
With Denise, Jerrie, Lindor, and Beau to complete the squad, D&J has a pretty solid lineup going into next season.
And that's not even including Reba McEntire, who is joining the cast!
If there's one thing Big Sky knows how to do, it's build out the squad.
To sum it all up: Phoebe is safe, Scarlett is on the run, the syndicate is after her and likely after J&D+ team for having access to the drive, Travis has gone rogue to find Kate, Veer is dead, the Bhullar siblings are closer than ever and running the cartel show, and Beau is Hoyt's new partner. And he can throw a punch that can knock the wind out of Donno, so for that, he's impressive.
What did you think of the finale? It wasn't terrible because everything that happened made sense, but it simply wasn't the jaw-dropping, OMG-moment-inducing finale that I expected either.
Do you have any hopes for season 3? Share them in the comments below!