The Boys season 2 finale tied multiple storylines in a neat bow but had to kill off one of the show's pivotal characters in order for the heroes and some villains to grow for the better.
This season has been a wild ride, to say the least, as the political angles the show tackled and the introduction of new Supes has added to the show's twisted universe.
Unfortunately, Billy Butcher's quest to rescue his wife Becca ended in tragedy as Ryan fatally wounds his own mother with his laser vision while trying to rescue her from the clutches of Stormfront.
Speaking of whom, Stormfront has been an amazingly polarizing character this season, and to see her demise in the finale is a little bittersweet, but a much-needed conclusion to her story arc. She may not actually be dead yet but it's doubtful that she'll rear her Nazi head again anytime soon.
Becca's loss, however, signals a significant shift in character growth for Billy as Becca's dying wish is for him to protect Ryan from turning into his demented Supe dad, Homelander.
This change in Butcher also steers The Boys in several new directions for season 3, which should mean refreshing new takes on each of the show's amazing cast.
"Only The Good Die Young"
As the episode ends, Billy Joel's "Only The Good Die Young" plays as it cleverly echoes the death of Becca, who was essentially the only "good" character left on the show.
Shantel VanSanten's performance this season was amazing, and she will be sorely missed on the show, even though canonically she's only met The Boys this season, it seems that the team will miss her presence as well because she's one of the few people in the world who makes Billy Butcher look like a lost puppy dog, relatively speaking.
It's kind of cruel for the showrunners to finally have a moment of bonding between Becca and the rest of Billy's crew like that, and then immediately take her away. (Not nice at all)
Still, her death was emotionally stirring, and Karl Urban's tear-jerking performance upon Becca's death was as good as it gets.
On the bright side, Ryan is basically Butcher's son now, and he's already rubbing off on him the right way as he imparts sage advice on the young Supe: "Don't be a c**t"
Which, of course, Ryan repeats when Billy asks "Remember what I told you."
In the end, Ryan is kept safe by the FBI and should be out of reach from Homelander or Vought until whatever unfolds in season 3.
Stormfront Did Nazi That Coming
Oof. Talk about rough. Stormfront got her butt handed to her in the finale. Which was quite well-deserved because, after all, she was a racist Nazi psychopath whose only redeeming quality is her dank meme game.
First, she's publicly outed by A-Train, Hughie, and Starlight as a 100-year old Nazi who was secretly the wife of the deceased founder of Vought. Which, of course, pisses her off and basically makes her worthless to Vought.
Then she receives an oh-so-satisfying beatdown from Starlight, Kimiko, and Maeve that sends her cowering away flying.
Finally, she gets laser-visioned to bits by Ryan, which leaves her muttering incoherently in German.
As much as I initially liked Stormfront and the nuanced nature of her character, it's definitely a good thing that she's now locked away – hopefully never to be seen again.
Kudos to Aya Rachel Cash, however, for slaying this villainous role because she made me legitimately hate her with a passion despite being so cool upon her introduction.
The Deadliest Supe on 'The Boys' Is NOT Homelander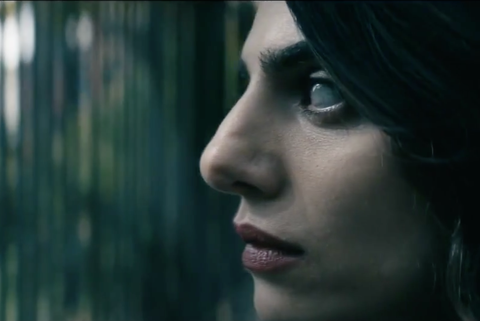 In a shocking last-second twist, The Boys decided to throw a major curveball by revealing that goodie-two-shoes Congresswoman Victoria Neuman (Claudia Doumit) was actually the Mind-blowing Supe from the penultimate episode this season, who caused a legendary courtroom murder scene that rivals (I daresay) the infamous Red Wedding from Game of Thrones.
Looking back, it's kind of a mystery why she killed the people she killed, and that just makes waiting for season 3 that much more painful!
Plus, Hughie decides to work for her on her campaign committee, and now she's given the power to head an entire department dedicated to keeping tabs on Supes.
The jury is still out on whether Victoria is actually evil, or is just a tragically misguided hero. But it's probably safe to assume that unwrapping the mystery surrounding her should be a big part of season 3.
Other Key Events:
Homelander actually showed he might actually care about Ryan after all because he acted like a real dad for the first time in this episode. However, that image faded quickly when he murdered a bunch of Vought militia, which resulted in this bloody mess:
Homelander also got blackmailed to submission by Maeve, and he was forced to make a public speech that made him acknowledge both Maeve and Starlight as his "trusted friends." Clearly, not all is right with Homelander as he is seen masturbating on top of a building in the middle of the night literally trying to gain release from his frustrating predicament.
The Boys finally get a series of W's after getting screwed for most of the season:

They're cleared of criminal charges by Colonel Mallory and the FBI
Hughie and Starlight officially resume their relationship – Starlight also rejoins The Seven to keep an eye on Homelander.
Frenchie and Kimiko run off into the sunset together
MM finally goes back to his family
Billy, albeit in tragic fashion, finally finds some kind of peace.
A-Train is reinstated in The Seven due to his efforts in helping expose Stormfront as a Nazi.
The Deep got screwed by The Church of the Collective and has apparently been receiving unsatisfactory oral stimulation from his fake wife (poor guy). He's also not back with The Seven.
Black Noir is still hospitalized after his allergic reaction (beware of Almond Joys!).
Compound V is off-limits to the public indefinitely, as stated by Stan Edgar himself.
Maeve is finally free from Homelander's torment and is able to freely pursue her romance with Elena. Plus, she was a total badass in this finale and basically saved everyone's butts.
Episode Rating: 9.5/10
While not exactly as shocking as the penultimate episode, this final installment of The Boys season 2 is almost perfectly executed. It ties all the storylines building up all season and finishes in a frenzy of controlled chaos that changes the dynamics for nearly every character for upcoming arcs.
All episodes of The Boys season 2  is now streaming on Amazon Prime Video.
Follow CRAVEYOUTV on socials
4400 Review – If You Love Something (1×06)
That was one intense prison break on 4400 Season 1 Episode 6.
But it was necessary. Scary things are happening at Ypsi Med. Jharrel and Keisha, who are aware that the 4400 have superpowers, were trying to find a way to connect with them and protect them from being found out by the government, but it's much too late for that.
Ypsi Med — likened to Hawkins National Laboratory — sealed off a wing of the hospital in order to run experiments on their "subjects."
After breaking in, LaDonna, Hayden, and Dr. Andre found that had specialized cells to keep the prisoners and cuffs to dampen their powers.
Among the prisoners were Mildred and Noah, who sparked the whole rescue mission, a "bird lady" with impressive wings, and a man who was literally on fire.
As Andre later pointed out, it's clear that the government has a plan for them beyond just setting them free, and with Jharrel and Keisha on the inside, it's important that they find out everything they can.
Keisha was pretty shocked to hear about what was going on inside Ypsi Med considering Jessica works there. Could her girlfriend be such a soulless monster?
Or is she clueless about what's happening as well?
Mildred was definitely channeling her inner-Eleven, and while her anger was justified, it was also very clear that she was no longer the same girl at the Bois Blanc Hotel.
She was forever changed by her experience and the tests that they conducted on her.
And that's why despite putting himself in the line of danger to save her, Hayden had to let her go.
I love that through this rescue mission, he found his power and he found a way to advocate for himself.
Hayden was a leader and a hero, but he also knew that asking Mildred to stay would be selfish and only best for him and not necessarily for her.
The present-day tied into Hayden's backstory beautifully as we learned a little bit more about the sensitive boy from the 1930s.
In flashbacks, we saw that Hayden's mother, Ruth, was a gentle soul who loved her sweet boy and did her best to help him cope with his anxiety.
When he had a panic attack, she calmed him down and found a way to channel his energy into something more positive.
She was always working on coping mechanisms in order to ensure that Hayden was set up for success in the event that she wasn't around.
And he was. In the present day, Hayden used all the tools his mother gave him to believe in himself and stand on his own.
His backstory was heartbreaking, however, as we saw that his insistence on getting Mildred and Noah out of that place stemmed from his own experience.
After his mother passed, Hayden's uncle — who previously called him an "odd duck" and used violence against him — had him committed to a ghastly and dark place just like Ypsi Med that conducted experiments on him.
The poor kid was traumatized and saw the "green zap" as a saving grace rather than an unwelcome intrusion.
The episode also honed in on seeing things from someone else's perspective.
While Shanice and some of the other 4400 were thrilled to be getting released, the same couldn't be said for the Reverand or Andre as they didn't have anywhere to go.
Even with a stipend and some housing, they were in a world all too unfamiliar to them without any friends or family.
The Reverand explained to Shanice that at the hotel, they created a family of people who are "the same" and going through the same experiences.
It only made sense that they would want to stick together with their community.
Of course, Shanice offered up a brilliant solution to turn the hotel into a place of worship therefore legally allowing them to stay as long as they like.
I don't think Mr. Greene expected the 4400 to be as quick-on-their-toes, but I think he appreciates whenever an opportunity presents itself.
The Reverand is not only power-hungry, but he loves a theatrical spectacle. These are the same qualities I see in Mr. Greene, which is why I wouldn't be surprised if they struck up a deal.
Shanice also had some drama with Andre when she saw into his memories, particularly when he covered her with a blanket and she called him Logan.
Things got even more awkward when Logan got roped into the rescue mission because of Mariah and defended the 4400 for their bravery instead of scolding them as Shanice did.
I get that Logan wants to stick it to Shanice and keeps mentioning that he raised Mariah instead of her, but he has to eventually come to the understanding that Shanice was robbed of being a parent.
She didn't willfully walk away and give up raising her daughter; she never had the chance in the first place. It's disgusting to throw that back in her face even if he doesn't agree with how she's handling a situation.
With each passing episode, things for the 4400 are growing more and more dangerous, but at the very least, they have each other and a solid team of allies.
Will they find a way to rescue Noah? Will Andre explore his healing powers, which are so fitting for a doctor who has always wanted to heal the sick?
Will they get out into the real world? Or will the mystery continue to haunt them? And also, how great was it that LaDonna basically shape-shifted into anyone she wanted to be? I could see that coming in handy on many occasions!
Let us know your thoughts in the comment section!
The Resident Review – Chastain's Most Eligible Bachelor (5×08)
The lesson from The Resident Season 5 Episode 8? It's never too late to change.
And change came for Chastain's best in a variety of different ways.
Dr. Pravesh dealt with a corrupt system that wouldn't offer help to a retired couple struggling to take care of themselves.
Pravesh has always wanted to change the system, but now, more than ever, he wants to do something meaningful.
It's what pushed him to talk to Kit Voss about embracing clinical trials.
He wants to be part of the solution that ensures there is adequate treatment for those who really need it.
George and Celeste were a sweet couple, but it was clear the weight of taking care of her husband was getting to her. Eventually, it was important for Celeste to prioritize her own health in order to ensure that he would also be taken care of in the long run.
I'm always supportive of a woman advocating for herself. Though I'll be honest, I love that we also got to see the other side of the coin with George explaining that he hates that his needs made his wife sick. I'm sure it's not easy for a man, who is always considered the caretaker, to put all that pressure solely on his wife.
Kit hired DeSoto to coach Chastain's self-proclaimed Kings of Surgery, and their egos were definitely a little bruised.
Bell and AJ spent much of the surgery gassing themselves up, so it was definitely painful to learn that Kit thought they could use coaching.
Even worse — DeSoto had a lot of notes about how they could improve, which meant that their technique wasn't flawless after all.
While Bell was a little more adaptive, AJ pushed back on a lot of DeSoto's suggestions because he felt he knew better.
However, once Bell applied the notes and excelled in surgery, AJ acknowledged that he probably could be more strategic in surgery.
And, if I'm interpreting the situation correctly, he also asked DeSoto to stick around to continue challenging him because he has a huge crush on her, right?
There was also Dr. Conrad better known as the hospital's most eligible bachelor.
All the nurses were fawning over him, and while he definitely noticed, he wasn't really comfortable with it.
It's been years since Nic's death, but Conrad still doesn't feel like it's the right time to move on.
However, with Billie's blessing, he did indulge Marion, a daycare worker that Gigi loved.
Am I crazy or did it seem like Billie regretted giving Conrad the green light to move on from Nic because she has feelings for him?
That would be complicated. But she's right that Nic wouldn't want Conrad to be alone forever — she would want him and Gigi to find someone that could make them complete again.
Plus, I love how he manages to keep Nic's memory alive. Gigi may not have known her mother, but you'd never tell by the way she talks about her mommy.
Admittedly, I don't know if I'm ready for Conrad to move on mainly because I was so devoted to his relationship with Nic, but Marion seems like a really great person with a good heart.
If Conrad is going to move on, it better be with someone worthy of his and Gigi's heart!
What did you think about the episode? Let us know in the comments below!
Riverdale Review – La Llorona (6×02)
Did I just watch an episode of Nancy Drew on Riverdale?
It almost felt like "Ghost Stories" was the perfect crossover opportunity to bring our favorite supernatural Horsehoe Bay detective to Rivervale.
But don't be fooled — Betty, Toni, and Cheryl did a fine job handling La Llorona.
You have to give it up for the series for embracing Latin American culture for this one, while also making a poignant point about the sacrifices of motherhood.
La Llorona was summoned by Darla, a Ghoulie, whose son was accidentally killed by Toni.
The ghostly spirit, who was drowned in Sweetwater River along with her babes, was coming for the soul of Baby Anthony, however, Toni didn't think her innocent son should pay the price for her mistakes, so she sacrificed herself by taking on La Llorona's suffering.
As she descended underwater, she handed baby Anthony to Betty and urged her to protect him, which is fitting considering La Llorona erased Betty's pregnancy.
It's funny that these women are devoted to finding a murderer when just last week, they willingly sacrificed Archie to make the maple trees more fruitful.
Honestly, this show gets weirder and weirder.
And since it's set in Rivervale, which I'm guessing is simply an alternative universe of Riverdale, it's hard to really get invested in any of the storylines.
It seems like a cheat to introduce and get away with the wackiest storylines.
Admittedly, it did feel weird watching an episode without Archie, but the hour was so jam-packed, he was barely missed.
The series claimed its second victim with Toni, so it doesn't seem like many of our favorites will live to see another day by the time the five-episode event is finished.
Tabitha and Jughead dealt with their own relationship woes as they found out that they were living in the apartment plagued by a couple's murder-suicide.
When they discovered a hidden room, they seemingly unleashed the couple's spirits and began turning on each other. Tabitha wanted to bash Jughead's head in on a few occasions, but thankfully, she stopped herself and realized that their relationship was stronger than murder.
Good for them, I guess?
As for Ronnie and Reggie, well, their storyline felt pretty forced. Reggie bought back the car he had in high school in hopes of reliving the glory days.
That was fine and dandy until Veronica realized that Bella was a tribute to his driver's ed teacher who was fired for having inappropriate relations with students.
Reggie denied the whole thing, and Ronnie felt terrible for smashing his car considering his father just died.
However, it turns out Reggie lied about the abusive relationship? Or, at least, it seems like it.
It's unclear why this was such an important storyline to tell, but I'm also at the point where it doesn't seem like any of these storylines hold any merit at all.
Did Riverdale sell you on its ghost stories? Or do you think it should be left to the professionals?