Episode 5 of The Boys Season 2 "We Gotta Go Now," ends shockingly with Homelander and Stormfront joining together in more ways than one.
Stormfront, who's actually a Supe formerly known as Liberty, with a history of Neo-Nazism (or some other kind of superiority complex) got under Homelander's skin in the previous episode by killing Kimiko's brother Kenji and scores herself some points on her public image.
Meanwhile, Homelander has been on edge and has increasingly become frustrated with everything that's going on at Vought and the Compound V scandal.
And things take a turn for the worst for the diabolical Suped-up villain when this happens . . .
Watch Where You're Pointing Those Laser Eyes!
As shown in the above video, Homelander accidentally kills an innocent bystander while haphazardly dealing with a Supe-terrorist. Consequently, this drops his approval rating by a whopping 9 and 1/2 points, which definitely doesn't sit well with him.
He struggles to repair public perception regarding the incident and nearly loses his cool at a rally protesting him when he imagines just cutting everyone down with his laser vision.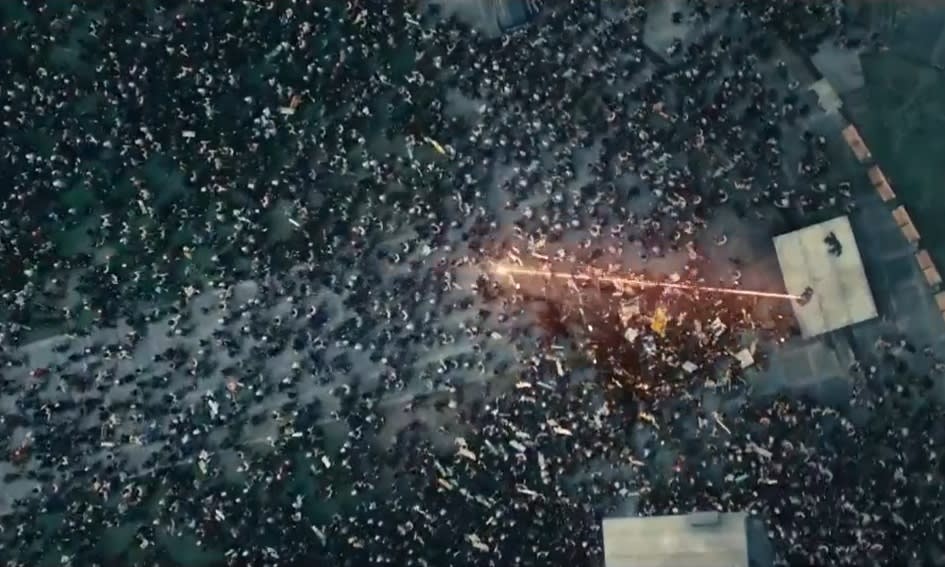 He manages to keep a level-head but his attempt to appease people doesn't go as planned, so he reluctantly seeks the help of Stormfront and her army of meme lords and queens.
As a result, Homelander's approval rating jumps back up 5 points, and he thanks Stormfront for the assist. She then sarcastically asks how he's going to pay her back, and the scene that follows is straight bonkers.
Homelander and Stormfront Get . . . Super-Kinky
What can only be described as a match made in superhero hell, the two deviant Supes engage in some intense, gratuitously masochistic, and superhumanly physical sex.
Their unlikely union has some hellish implications that could lead to some diabolical misdeeds, which means bad news for everyone. How this situation shakes things up is definitely one of the must-see dynamics to look forward to in the series.
Other Key Events In This Episode
Billy goes back to his aunt Judy's home where he leaves his dog, named Terror, for safekeeping. Terror, of course, comes straight from the comic books and his likeness to the source material counterpart is uncanny.
The "Dawn of the Seven" movie (a clear reference to the DC Extended Universe film– there's even a Joss Whedon reshoot joke throw in) is underway that doubles as a sort of farewell performance by A-Train as well as a way for Homelander to mess with Maeve by backhandedly complimenting her sexual orientation and parading her to the public as an LGBTQ+ symbol along with Elena, who gets forcibly roped into the public relations campaign.
On top of that, Starlight and Stormfront have growing tensions on set as both know each other's secrets and blatantly threaten to expose each other. Though neither do so just yet and both continue to bear with the "Girls Get It Done" propaganda.
Billy, in a depressive state after failing to rescue Becca, tries to sacrifice himself to save Hughie, MM, and his aunt Judy against Black Noir, who has tracked them down and set his sights on assassinating Billy. They only escape their demise when Billy issues a clever bluff – exposing Homelander raping his wife and hiding his son Ryan from public view.
Kimiko becomes a hitwoman for hire as a way to cope with her brother's loss, and Frenchie (unsuccessfully) tries to comfort her. The two come at odds and Frenchie walks out on her. That might be the smart move for now because Kimiko is on a rampage and is doing things like, well, this . . .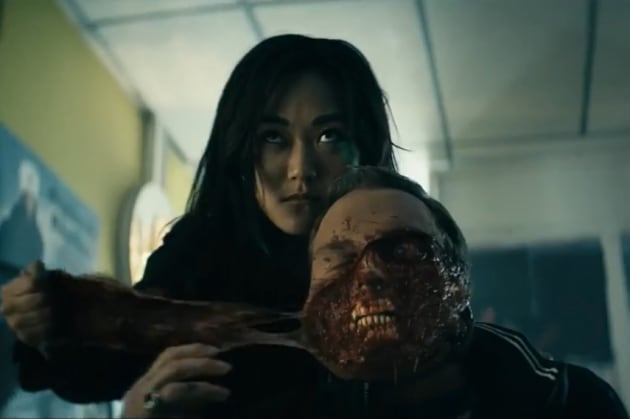 The Deep is married now but it's all so obviously fake. He even goes on an interview with Katie Couric to publicize the relationship all in an ill-conceived attempt to rejoin The Seven.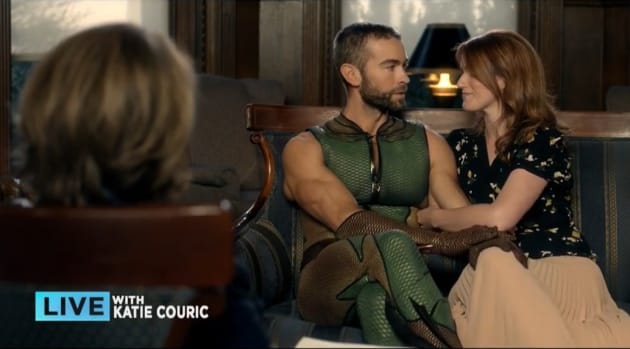 Shawn Ashmore (better known as Bobby Drake/Iceman from the X-Men films) makes a brief appearance having a phone call conversation with Stormfront. He's rumored to be playing Lamplighter, another Supe from the comics.
Episode Rating: 9.0/10
The Boys new season 2 episodes stream on Fridays on Amazon Prime Video.
Follow CRAVEYOUTV on socials
Debris Review – The Clone Wars (1×02)
There's no doubt about it: Debris isn't afraid to get to get weird.
The pilot episode was intriguing as it set the scene and introduced audiences to a world plagued by piece of falling debris with powers and energies that had the ability to control mankind, but the second episode hyper-focused on those circumstances.
Pulling audiences into yet another middle America small-town, this time, Finola and Bryan were dealing with spacecraft debris that was producing clones on top of clones. Any The Vampire Diaries fans want to say "hello, my shadow-self" upon seeing David Alpay?
Though the episode touched upon the mystery of George Jones, Finola's dead-possibly-undead father, and some emotional beats with both the agents, it was more grounded in the mystery-of-the-week.
Instead of floating humans, the agents encountered floating pieces of metal that were forming a circle around the town in an attempt to trap the clones it was creating.
Eric King (Alpay), and the subsequent versions of him that they encounter throughout town, has zero recollection of who he is or what he's supposed to be doing.
Finola surmises that each clone seems to be a fragment of a personality rather than a whole. The cloning abilities are equal parts impressive and terrifying, yes, but the fact that each clone is theoretically incomplete shows that even the debris is limited in its powers and abilities.
Debris Series Premiere Review – A Sci-Fi Mystery with Family Drama (1×01)
Eric isn't the only one to fall victim to the cloning.
In a case of the clone wars, Bryan comes face-to-face with himself after getting too close to the debris, and though most people would likely hesitate to shoot themselves, he pulls the trigger almost immediately.
I would've enjoyed seeing Bryan and his clone interact a bit more or maybe put Finola to the test to figure out which one is the real Bryan (you know, to see how well she knows her partner), but the fact that clone Bryan was crying and clutching a photo of a woman tells me that the clone manifested a part of Bryan that he'd like to keep under-wraps, at least for now.
Bryan and Finola have eased into a comfortable rhythm in terms of their partnership, and that's despite the fact that they're knowledge of each other is limited and they're harboring plenty of secrets.
Those secrets never get in the way of their bonding and snacking (and I guess when you're in the middle of nowhere, Peeps are deemed a delicious snack… don't come for me Peeps people!), but you can tell that it's not sitting well with Bryan that he has to lie to his partner.
It's a particularly uncomfortable situation as George Jones' death still seems very raw for Finola; she's still trying to come to terms with it and make amends with her estranged sister. She's also being pretty transparent with him about her father's death, which shows that she trusts him, and yet, he's keeping this life-changing information from her.
Of course, one could argue that it's pointless to say anything until you have something concrete to share. All Bryan knows is that George was spotted working with some group, known as the influx, that sells debris artifacts on the black market. But was it really George?
Maddox mentions that something happened to George's eye, so there's a chance it's not actually him, right? Furthermore, Finola claimed to sit with her father's body at the morgue after his suicide.
It's almost naive to ask "how is this possible" on a series that blatantly makes the impossible possible… and particularly after an episode that deals with clones.
If George came into contact with debris, there could be several supernatural explanations as to his existence.
Despite Finola's rift with her sister, Dee Dee doesn't seem convinced her father would have committed suicide, and maybe she's onto something? They wouldn't just throw in a shadow of doubt if it wasn't going to measure up to something in the long run.
What if George was forced to fake his death by the influx so that they could use him and his knowledge? After all, Maddox states that they have to assume that the group knows what they have and what they're trying to build since George had the whole playbook. They could be leveraging his knowledge. And the person funding them — since they have "independent financing" — may be behind it all.
Could there be a hidden message in his final text, which read "you are not alone"?
While that mystery seems to be a longer-arc for the series, in the immediate, the agents locate the real Eric King's body, which was dragged the city circle in his car, just as the team shuts down the debris.
When he wakes up from his unconscious state, it's revealed that holding onto the love of his life — his heart — kept him alive and saved him.
This is the second time we see that the debris thrives on human emotion and connection. In the pilot episode, it latched onto a mother's grief, and this time, it clung to love and, in a way, to loss. It's a novel concept for a sci-fi thriller that I'm looking forward to explore. And maybe that explains why Finola and Bryan, two people with clear emotional baggage, have been chosen to lead the investigation into the debris!
While each episode is technically standalone as Finola and Bryan solve the case within the hour, I'm hoping that these cases are alluding to a bigger picture about the mystery of the debris and the impact it has on humanity. What's the aliens motivation? What does he want? And where does it draw the line?
Of course, with shows like Manifest that keep the mystery at the forefront and seldom provide answers, the vagueness of the series (and yes, I know it's only episode 2) may be a cause for concern.
We know audiences like concrete answers, but even with a case marked as solved, the answers don't form a full picture.
If it remains ambiguous, it may lose eyeballs before it even gets to explore its full potential.
Here's hoping that doesn't happen because as of right now, the series has promise, intrigue, and all the elements that could make this a sci-fi success.
What did you think of the episode? Let us know in the comments below!
Good Girls Review – One Night in Bangkok (4×01)
The Good Girls are back, and they are up to their old shenanigans.
Despite an almost yearlong break, Good Girls Season 4 picked up right where it left off with Beth gearing up to open Boland Bubbles in order to wash Rio's money.
The pressure is on to get things up and running after a dog digs up poor Lucy's foot and brings it to its owner alerting the police to her death.
When Beth finds out, she quite literally has a panic attack that lands her in the hospital because she knows that Rio has the power to make her go down for murder. In case you forgot, she touched the gun and her prints were all over it.
She needs to make herself useful to Rio, and the only way to do that is by selling some jacuzzis.
At this point, Beth doesn't do anything by the book. She and Dean even pay off the inspector to look the other way on everything that isn't up to code.
But hey, desperate times call for desperate measures!
Beth's biggest issue with Rio is that she never knows where she stands with him. He has an incredible poker face and therefore, you can never get a good read on him. He never reveals exactly what he's thinking, feeling, or planning to do.
The whole time he could have been messing with Beth by pretending that he was going to turn over the gun and incriminate her.
After all, it wouldn't make much sense for him in the long run as she's vital to his criminal empire.
Personally, I still think Rio likes watching Beth squirm and wants to see what'll she'll do when her back is against the wall. Their partnership has lasted this long because he believes in her.
And Beth came through by getting his prints all over the counterfeit money. She backed him into a corner and now they're on an even playing field. You could see Rio was annoyed but impressed at the same time.
Beth never backs down from a fight even if she has moments of weakness where she contemplates moving to Russia.
She always comes out on top – just look at how she managed to make the traditional Thai dessert for the fundraiser theme "One Night in Bangkok," which is fitting for the episode in and of itself.
The title lends itself to the song of the same name, which continues "and the world is your oyster." It refers to the ability to achieve anything you want in life because you have the opportunity and ability to do so.
Beth and the ladies continue to creating these opportunities for themselves, and while Beth may think she figured out a clever way to keep the empire running, she's completely in the dark about the fact that the FBI is closing in on her.
I mean, they're hot on her trail. So hot that she's basically sweating on the agent, who is moonlighting as a park district boot camp instructor.
Agent Phoebe knows what she's doing and she's nailed it down (see what I did there? The nail polish…) to Ruby's bestie.
And Beth definitely fits the bill as she desperately tries to sell jacuzzi's to anyone in her class that will budge.
Of course, when the head honchos fly down – and Phoebe has an epic meltdown in front of them – they ignore her and decide to put a tail on Dean. It's incredible to see someone so confident in her abilities completely crumble when facing her boss! She's never survive a day in Beth's shoes.
Again, Beth is right in front of them, and yet, they can't fathom the idea that a woman could be running this whole operation. It must be a man!
We don't want Beth to get caught, but how dare they undermine her efforts?
And though I'd never root for Phoebe, a part of me wants to see her proven right because it means she didn't base the case on stereotypes but actually did her due diligence.
Still, tailing Dean will eventually lead them to Beth unless she figures out that they're onto her sooner rather than later.
And let's hope for all of their sakes, they figure it out.
With the FBI closing in on them, Beth and Rio need a united front more than ever.
Instead, she's still very much interested in eliminating him, but her hitman hasn't been returning her calls.
That is until he comes back from a job overseas and informs her that he's been delaying the job because he's smitten with her.
It's a bit of an awkward scene because there wasn't much leading up to this moment that would warrant his behavior, but it seems as though all the men, particularly the bad men, are really into Beth's resourcefulness.
She will likely agree to have dinner with him if it means he's finally deliver on eliminating Rio, however, is that what she really wants?
She's clearly just as addicted to this lifestyle as he is.
I also enjoyed the moment where Beth realized the impact of her actions and how she's inadvertently responsible for Lucy's death even if she didn't actually pull the trigger.
However, it's not enough to convince her to turn herself in, but it does make me wonder if there will be a point where she's going to get so fed up she just puts an end to it all. Her anxiety attack may have been temporary, but it's exhausting to constantly have to watch your back.
How many people will have to get hurt before she gives it all up?
Aside from the money laundering plot, Ruby and Annie were both going through their fair share of life's hiccups.
Harry's goofing off in class (and penchant for drawing penises on everything) made the teacher suggest getting a test for ADHD.
It's awesome that Ruby and Stan didn't immediately side with the teacher and assume that something was wrong with their kid. Sure, it was partially denial and fear, but it was also simply trusting that they would've recognized the signs.
When they could no longer ignore the problem, they took him to get tested and it turns out, it isn't ADHD — the little man is a second grader operating at an eighth-grade level. He's a freaking genius, as Ruby put it, and his acts of rebellion stem from being under-stimulated in class.
Typically, when parents have to dish out a lot of money for schooling, it's because their kids are falling behind, so it's refreshing to see a situation in which they have to find the funds to send their kid to a more advanced school.
You'd think that Harry would be able to get a scholarship or some kind of stipend considering he's gifted, but it's more probably that the situation will push Ruby to do more bad things to help her little guy.
Annie's storyline with Ben was heartbreaking. Her relationship with him has always been super solid. Even if she was always struggling to get it together, they always had each other to rely on.
But now Ben is lying to her and keeping her at arm's length. She thought he didn't have any friends and that's why he didn't want a birthday party only to find out he threw a 100-person rager at Gregg and Nancy's place.
She then finds out that Ben is really into lacrosse, and when she tries to suggest she'll come to one of his school functions, he completely shuts her down.
Annie feels left out of Ben's "new secret fancy life," but maybe Ben simply doesn't want her to feel bad? Or doesn't want to disappoint her that he's become this new person that enjoys private school.
Regardless, it's upsetting to watch considering everything Annie has done for him. All of her life-decisions have always motivated by wanting to do better by him.
Do you think she'll eventually confront Ben about all the lies?
She should also definitely find a new therapist because their personal feelings for each other are obviously problematic.
I'm concerned that they won't be able to resist temptation and Annie will dig herself an even bigger hole.
Overall, the season 4 premiere was promising. It's still not at the level of greatness of season 1, but it may just improve on what season 3 lacked – momentum.
What did you think of the episode?
What are your hopes/dreams for the season? And if you say more scenes with Rio, I'll say I 100% agree!
Let us know in the comments!
Superman & Lois Review – Embracing Krypton's Heritage (1×02)
After a solid pilot, Superman & Lois Season 1 Episode 2 picks up with the Clark, Lois, and the family putting down their roots in Smallville.
And despite trying their best, they're having a hard time flying under the radar – pun intended.
If they keep this up, Clark Kent's glasses won't be able to hide the "S" on his chest for much longer.
Initially, the twins brought attention to themselves by surviving two near-death experiences in a short period of time. Jonathan's first day at his new high school doesn't go any better as the football team is hellbent on destroying his life and making him pay the price for his brother's decision to smooch Sarah.
It's all very juvenile, which is the point – this is high school, and high school kids are mean bullies.
Jonathan has made plenty of sacrifices for Jordan, the biggest one is uprooting his whole life and moving to Smallville. I'm surprised he didn't make a bigger fuss about it, but it seems as though we may have misjudged Jon a bit at first. He wants his brother to succeed and find his place in the world, even if it pains him to see him get to go flying with dad while he gets the short-end-of-the-stick.
However, it's Jordan's time to shine, and for a while, it seems like he's genuinely embracing the idea of his new abilities.
Clark struggles to figure out what his son needs. Parenting stumps the best of us – even superheroes don't have all the answers when it comes to raising their kids and doing right by them.
But he's trying, and that has to count for something.
Clark takes him to the fortress so that he can learn all about his Kryptonian heritage, but when the hologram of his grandfather (hologramp!) informs Kal-L that Jordan doesn't have the strength to manifest his powers on command, it sets Jordan back again.
As Jordan doubts himself, Jonathan promises to help him figure out what's going because he believes he's different. And it's a good thing that they aren't giving up because personally, I wouldn't take the word of a hologram.
This is also the first time we see the brothers get along despite their contrasting personalities; the progress is promising.
We've already seen two instances – both of which Jordan was put into fight or flight mode – where he's activated his powers.
Maybe they'll only bubble up to the surface when he's in distress or worried about someone he loves? Whatever it is, it's going to be exciting to explore what exactly it is that makes Jordan special.
For now, he's back to navigating the complex realities of being a teenager while crushing on the popular girl that's just beyond his reach.
To be fair, he didn't get the wrong impression as Sarah continues to give off the vibe that she's smitten with him.
Jonathan was right when he asked her what she sees in a bully like Sean… especially when she's clearly formed an emotional attachment to Jordan. They have a lot in common and their conversations flow naturally.
It's hard to root for her and Sean when we haven't seen much of him or these redeeming qualities she speaks of.
The bullies were out in full swing in the second installment as Superman continued his battle with Captain Luthor, who we now know is Alex Luthor.
We learn that he wants Superman to pay for destroying his Earth the way he did Krypton.
At first, it's unclear what he means by that considering Superman literally drops everything to save the people of this Earth, but once he reconnects with General Sam of the DOD, we see that Luthor believes this Earth's Superman is just as dark and dangerous as the Evil Superman on his planet who tried to kill him and that reality's General Sam along with other soldiers.
Will the series explore multiple worlds and Earth's?
Lois and Edge's rivalry comes to a head in a gripping way, and honestly, I'm more invested in this storyline than I am Superman vs. Luthor.
Edge is hailed by locals as a hero – including by Lana's husband Kyle – because he's one of the few who have taken an interest in a withering town by promising to bring back jobs. Yet, Lois remains unconvinced by the "broken promises" and calls him out publicly during a City Hall meeting, which again, alienates her from the locals and paints her as a villain.
Kyle is of the mindset that any job is better than no job even if it's underpaid, but Lois isn't a fan of the Edge's blatant attempt at hiring desperate people for cheap labor.
These days, you can see both sides of the coin. People who have been out of work will take any income and any job even if it's demeaning, but there's nothing wrong with Lois trying to fight for a better life and better wages.
She's not against the people of Smallville. In fact, it's the opposite as she wants better for them and believes that the town shouldn't be wrapped up in a greedy man's plans.
But Edge knows all the right things to have people hanging onto his last word, especially a group of people who want to believe that there's someone out there who has their best interest at heart. Plus, Edge is the only one delivering "solutions" at this point.
And Kyle still holds a grudge against Clark for "abandoning" the town.
Of course, we'll eventually hit a point where Edge rips off the mask and his true intentions begin to show.
Lois's decision to publish her scathing piece of Edge in the Smallville Gazette likely won't sit well with her neighbors either.
It's telling how money controls the media. After Edge bought out the Daily Planet, her unbiased reporting wasn't welcome anymore and she had to find independent sources to report the truth, which should actually tell Kyle everything he needs to know about the kind of man Edge is. If he has nothing to hide, why not allow your best reporter to publish her piece and prove her wrong?
When Edge rewrite Lois's piece to paint himself in a "better light," she one-ups him and quits as the series emphasizes that's she's every bit the unshakeable badass that her reputation would have you believe.
She's going to be a great addition to the Smallville Gazette, and I'm eager to see what she and former one-woman show, Chrissy, are able to accomplish.
These days, the journalist/reporter job falls into many cliches that include inaccurate and glamorous portrayals on shows like The Bold Type and even Supergirl at times, though they did make a valid point by showcasing that these money-hungry companies truly only care about pageviews and focus on clickbait.
However, it's refreshing to see two women who care about journalistic integrity lead the charge and restore the belief that media can make a change when it doesn't fall into the wrong hands.
The moral of the story? Don't mess with Lois!
Do you think her role will cause problems for the family as they settle into town?
And in a side-note, am I the only one that found it weird that Lois has to continuously explain to the twins that their dad had to go take care of something? Now that they know he's Superman, they know he's out saving the world. Why would they be mad he skipped a barbecue to do something meaningful?
He can't just abandon the world. Shouldn't they be proud instead of constantly thinking they're the ones being abandoned all the time?
What did you think of the second episode? Are you hooked on Superman & Lois? What do you think of Luthor?
Let us know in the comments below!