Episode 5 of The Boys Season 2 "We Gotta Go Now," ends shockingly with Homelander and Stormfront joining together in more ways than one.
Stormfront, who's actually a Supe formerly known as Liberty, with a history of Neo-Nazism (or some other kind of superiority complex) got under Homelander's skin in the previous episode by killing Kimiko's brother Kenji and scores herself some points on her public image.
Meanwhile, Homelander has been on edge and has increasingly become frustrated with everything that's going on at Vought and the Compound V scandal.
And things take a turn for the worst for the diabolical Suped-up villain when this happens . . .
Watch Where You're Pointing Those Laser Eyes!
As shown in the above video, Homelander accidentally kills an innocent bystander while haphazardly dealing with a Supe-terrorist. Consequently, this drops his approval rating by a whopping 9 and 1/2 points, which definitely doesn't sit well with him.
He struggles to repair public perception regarding the incident and nearly loses his cool at a rally protesting him when he imagines just cutting everyone down with his laser vision.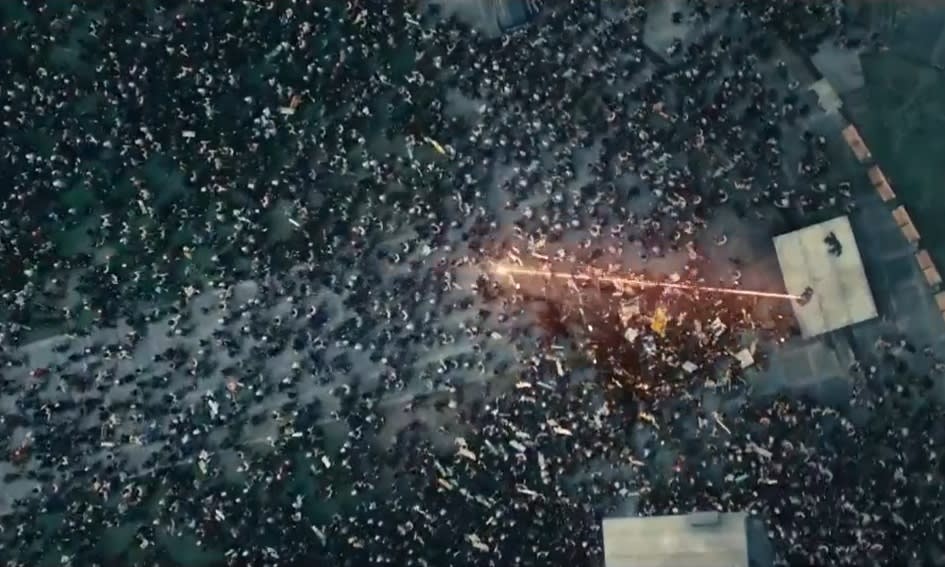 He manages to keep a level-head but his attempt to appease people doesn't go as planned, so he reluctantly seeks the help of Stormfront and her army of meme lords and queens.
As a result, Homelander's approval rating jumps back up 5 points, and he thanks Stormfront for the assist. She then sarcastically asks how he's going to pay her back, and the scene that follows is straight bonkers.
Homelander and Stormfront Get . . . Super-Kinky
What can only be described as a match made in superhero hell, the two deviant Supes engage in some intense, gratuitously masochistic, and superhumanly physical sex.
Their unlikely union has some hellish implications that could lead to some diabolical misdeeds, which means bad news for everyone. How this situation shakes things up is definitely one of the must-see dynamics to look forward to in the series.
Other Key Events In This Episode
Billy goes back to his aunt Judy's home where he leaves his dog, named Terror, for safekeeping. Terror, of course, comes straight from the comic books and his likeness to the source material counterpart is uncanny.
The "Dawn of the Seven" movie (a clear reference to the DC Extended Universe film– there's even a Joss Whedon reshoot joke throw in) is underway that doubles as a sort of farewell performance by A-Train as well as a way for Homelander to mess with Maeve by backhandedly complimenting her sexual orientation and parading her to the public as an LGBTQ+ symbol along with Elena, who gets forcibly roped into the public relations campaign.
On top of that, Starlight and Stormfront have growing tensions on set as both know each other's secrets and blatantly threaten to expose each other. Though neither do so just yet and both continue to bear with the "Girls Get It Done" propaganda.
Billy, in a depressive state after failing to rescue Becca, tries to sacrifice himself to save Hughie, MM, and his aunt Judy against Black Noir, who has tracked them down and set his sights on assassinating Billy. They only escape their demise when Billy issues a clever bluff – exposing Homelander raping his wife and hiding his son Ryan from public view.
Kimiko becomes a hitwoman for hire as a way to cope with her brother's loss, and Frenchie (unsuccessfully) tries to comfort her. The two come at odds and Frenchie walks out on her. That might be the smart move for now because Kimiko is on a rampage and is doing things like, well, this . . .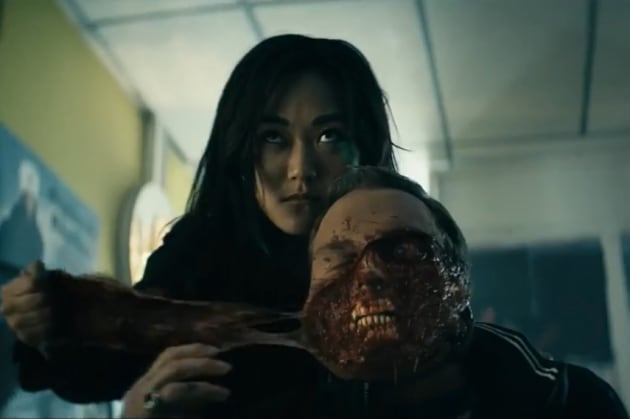 The Deep is married now but it's all so obviously fake. He even goes on an interview with Katie Couric to publicize the relationship all in an ill-conceived attempt to rejoin The Seven.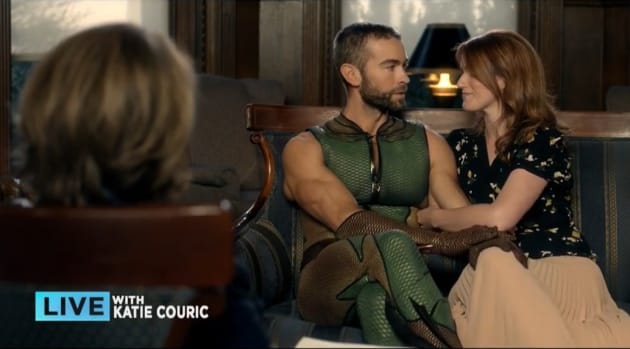 Shawn Ashmore (better known as Bobby Drake/Iceman from the X-Men films) makes a brief appearance having a phone call conversation with Stormfront. He's rumored to be playing Lamplighter, another Supe from the comics.
Episode Rating: 9.0/10
The Boys new season 2 episodes stream on Fridays on Amazon Prime Video.
Follow CRAVEYOUTV on socials
The Bold Type Review- Big Wins For All (5×05)
The penultimate episode of The Bold Type Season 5 Episode 5 left big wins for all, some personal and some professional. Yet successful all the same.
Jane's left to run Scarlett by herself as Jacqueline enjoys the vacation time she most certainly deserves. She's put her entire life into building up an incredibly successful company and now she gets to watch her star employee take control.
Although a difficult decision, Jacqueline's ready to begin writing the next chapter in her life: retirement. No matter how unrealistic Jane's promotion to editor-in-chief after only four years at the company is, it's also empowering.
The show's focus on female leadership is a breath of fresh air and important in mainstream media to portray women at the top. Especially in media, where it's totally overrun by men, young women need to see themselves represented on screen.
Of course, with its flaws. Jane's rudely awoken to the reality of the number of meetings the editor-in-chief is required to sit through. But, she's aspired to uphold Jacqueline's legacy for so long, so she welcomes the challenge with open arms.
Meanwhile, Sutton started therapy and admits that the reason she drinks is to numb the pain.
Just as she's making a breakthrough, the one and only Richard calls asking to meet to sign the divorce papers.
First of all, a fancy meal to sign divorce papers? Ouch.
Initially, seeing Richard made me angry for Sutton. All the pain he's put her through, and then he has the audacity to casually sit across her smiling like nothing's hurting him.
But, once he opens up about his choice to adopt as a single man, the anger went away. Just like that, Sutton's reminded of the biggest reason they didn't work out and it looks like she'll be able to walk away from him knowing that she means just as much to him as he means to her.
I'm happy they finalized the divorce on paper before they enjoyed one last rendezvous together. It was good to see Richard because it would've been a cheap blow for them not to bring him back one last time.
While Richard and Sutton are hopefully not getting back together, Kat and Adena very much looked like they're going to get back together!!
Yes, I squealed. But how could I not! Even Jacqueline said she was happy to see them back together. They had the proper break required for exes to forge their own path separately and to mature apart.
The way Adena looked so longingly at Kat every time they were together was true love. And I agree Kat's a better version of herself when she's with Adena. She just needed some time apart to realize that.
Also, a round of applause for Kat's new venture. She's rehired! It wouldn't feel right for Kat to not work her way back to Scarlet. It's true, the trio will one day run the company.  However, for now, Kat will run her very own mini-company.
With the women set up for success, this episode set the groundwork for next week's final episode. I'm not ready. Please don't make me! I'll just be crying in the corner. So, why don't you leave your thoughts in the comments below.
Stray Musings:
Can I just say, the classic slow pull away that Kat and Adena exhibited really showed the chemistry between Nikohl and Aisha. That's one thing I'd like to give props to this show for, its chemistry. The three leads have a beautiful friendship on-screen, it'd be hard to believe it wasn't the same off-screen.
Jacqueline's hair this episode–flawless, not a single strand was out of place. Whoever does her hair and costuming, please come to my house?
Poor Andrew, left in the dust. His jealousy of Jane is so apparent. Maybe he'll get promoted, Jane already relies on him as much as Jacqueline does!
Richard's aged beautifully, there I said it. He's a silver fox, giving me soft Grey's Anatomy McSteamy vibes.
Loki Review – A Moon On The Brink (1×03)
The third episode of Loki has arrived, and we're now starting to get into the meat of the show. The last episode left us when Loki escaped through a portal with Lady Loki, now we know where they ended up. Let's dive in!
After all his longing to be free from the TVA, Lady Loki's portal leads them…back to the TVA. Bit of a letdown for him.
Lady Loki, who we learn goes by Sylvie, has a plan that involves finding the Time-Keepers and fighting anyone who gets in her way. This includes Loki who shows up trying to propose they form a team. I mean I don't know if I'd want to team up with someone who keeps trying to kill me, but that's just me.
But, of course, Judge Renslayer appears with Minutemen, and Loki uses the TemPad to open another portal, which he and Sylvie escape through.
This is where the bulk of the episode really happens, on a moon called Lamentis-1 in 2077–in the middle of its destruction.
Throughout the episode, we learn a lot of kernels of information about Sylvie and her mission against the TVA.
Like the fact, they have different powers. Loki, as we know, can change his appearance, and hide things through magic–like the TemPad that needs recharging so they can escape. Whereas Sylvie's power is more about enchanting people's minds to retrieve information.
I kind of feel like she has the cooler power because being able to get inside people's minds? Very useful. I mean Loki turning into people is sweet too, but he can't also access their memories so it's not ideal.
Loki seems particularly interested in her power, asking for clarity about how it works multiple times in the episode. But she finally breaks it down for him, and in the process, we get some vital information!
My prediction from episode 2, about something being off at the TVA was correct. I won't brag, don't worry. We learn the Minuteman she enchanted, Hunter C-20, had memories of an Earth life before the TVA.
So the Time-Keepers didn't create everyone. In fact, everyone at the TVA is a variant. The lies! And no one at the TVA even knows! Their previous memories are clouded. Which begs the question: What is going on?!
I have a feeling that Judge Renslayer knows more than others at the TVA, and I hope that gets revealed soon. I'll give Mobius a pass because he seems like a true naive believer, and everyone else seems equally indoctrinated.
Sylvie kinda supports this theory by referring to the TVA as "oppressive time police". Oppressive as in they intentionally keep the timeline the same? The "Sacred Timeline" has always felt a bit grand and cheesy. Maybe it can be changed. Maybe. We'll find out.
But besides the vital information Sylvie is pumping out, this episode heavily develops the relationship of the two Loki's.
Of course, they start by fighting each other, but by the end of the episode, they're fighting side by side trying to get off Lamentis-1.
This journey totally gets them on the same page as they try to recharge the TemPad. Nothing like impending death to make everyone get along.
But my gosh they have the worst luck. Every single plan keeps unraveling!
Need a power source? Use the ship leaving. Can't get on the train to the ship? Use your powers. Thrown off the train for being drunk and blowing your cover and in the process break the TemPad? Try and hi-jack the ship. But of course! The moon is being bombarded by flaming rocks! So the ship gets destroyed.
Not looking good for these two. They better hope that the TVA find where they are so they can be rescued. They'll definitely be arrested, but hey, you'll be alive.
We'll have to wait until the next episode to find out, but we KNOW they'll survive because otherwise…there's no show.
Other key moments? Just in time for Pride Month, we finally got a major confirmation of Loki's bisexuality. I feel like they've alluded to it throughout the movies, and it's in the comic books, so it only makes sense to come all the way out with it.
Also, Sylvie and Loki are adopted, but unlike him, she doesn't really remember her mom. So they have overlapping life events but not everything is exactly the same. So what makes a Loki a "Loki"? If she's not a God, then what makes them the same? Besides an affinity for green?
They definitely share a passion for trickery (although she seems to lean into violence easier) as she tried to get the TemPad from Loki multiple times. So can she be trusted? I feel like her mission's driven by a deeply personal reason, so if it's in danger of failing, she may betray Loki.
And he may betray her.
It's hard to know because Tom Hiddleston does a good job of layering on the charm this episode. We get an overall more fun Loki instead of a tortured and broody one. Instead, Sylvie is the serious one dedicated to her mission. But this episode does a good job of pushing and pulling them together and apart. Who knows where they'll end up in their–relationship? Friendship? Partnership?
Hopefully off this crumbling moon.
I personally can't wait for next week's episode, because I need answers! What do you think will happen with these two?
Superman & Lois Review – Fire and Ice (1×11)
John's prophecy is coming true after all.
Episodes focused on origin stories are typically boring (especially since we know how they pan out), but there was nothing wasted about this one.
Not only was Clark and Lois's meet-cute interesting in itself, but it also tied into the broader storyline involving Superman's brother, Morgan Edge, and his desire for world domination.
On Superman & Lois Season 1 Episode 11, Edge followed a weekend Superman to the Fortress of Solitude where he tapped into his memories in hopes of understanding why he would turn his back on a Kryptonian brother.
What he found was that Superman had a family of his own… a human family.
And well, Edge wasn't too fond of that.
In my previous Superman & Lois reviews, I stated that I didn't think that this world's Superman would ever turn into the Dark Superman that John warned about, but that was clearly before Edge threatened Clark's family and to expose his secret to the world.
Clark would sacrifice himself before he'd let anything happen to his wife and children.
And right about now, it's really good that the DOD has weapons that can neutralize Kryptonians because if what happened on John's planet happens on this planet, they're going to need some serious reinforcements.
Clark submitted to Edge and was taken to Edge's Fortress — located in the desert rather than in the icy arctic (a clear tell of their polar opposite personalities) — where his father began the processing of breaking him down and essentially turning him into a soulless villain just like Edge.
A quick glimpse at Edge's relationship with his father and it's obvious he's been conditioned to see the negative in everything since day one.
He believes that Superman had a chance to be a man of greatness and chose to be less, but his definition of less clearly differs widely from Clark's.
And it does seem like there's a part of him that envies all that Superman was able to achieve on this planet. They were both given the same opportunities, and while Superman chose to make the best of his new life while carrying on the legacy of Krypton to do good and become a champion of the humans, while Edge grew up and chose violence.
I would hope that Superman won't be as easily broken as Edge and his father believe — after all, he has a link to his humanity in the twins and Lois, so I can see him clinging to that.
The DOD and John are going to play a huge role in stopping Dark Superman and Edge, but I also think this is where Jordan's powers are going to come into play.
He's going to need to step up and be the hero his family needs while his father is gone. Unfortunately, that means he's going to have to hone in on his powers all on his own now that Edge destroyed the Fortress and Jor-El's hologram.
All of this comes at a time when Smallville needs Superman more than ever as the locals are reeling from Edge's attack.
If Kyle is any indication, the others who were "body-snatched" are likely very disoriented by recent events. And he actually knows the full extent of what happened.
This incident has rehabilitated Kyle's character as he apologized to Lois for pushing her aside and deeming her the villain while putting Edge on a pedestal.
Kyle may be a solid guy after all.
Will he and Lana return the favor and help the Kent family in their time of need?
Also, how will everything affect Jordan and Sarah's relationship? They finally made it official — Sarah made the first move! — but it came after she thanked the twins for being honest with her no matter what.
While Jonathan was honest with her about what was going on with her father, Jordan is still keeping his alien abilities a secret.
Will she find out about them with the emergence of Dark Superman?
What did you think of the episode? Are you excited to see what happens when Superman turns into the enemy? Will Clark be able to fight it?
Share your thoughts in the comments below! We'll see you back here on July 13!