The Boys season 2 premiered on Prime Video, Friday, September 4  with the first three episodes following-up on the insane cliffhanger from last season.
[SPOILER ALERT: Season 1 & 2 details henceforth]
As revealed in season 1, Becca, Billy Butcher's wife who was believed to be dead, is alive and has been raising the bastard son of Homelander at a secret remote location. After the events of the finale, Billy is framed for the murder of Madelyn Stilwell and must find a way to overcome the overwhelming influence of The Seven and Vought International.
Elsewhere, A-Train is hospitalized, Starlight is working as a mole in The Seven, The Deep is stuck in Sandusky, Ohio, and The Boys are in hiding because they're on everyone's most-wanted list.
Will they be able to pull through and pull something out of their butts this time around?
Well, if the first three episodes are any indication of where things are going this season, then strap in for a helluva ride.
EPISODE 1: "The Big Ride" (Rating: 8.5/10)
The much-anticipated appearance of Giancarlo Esposito (Breaking Bad, The Mandalorian) happens right off the bat as his character is revealed to be Stan Edgar, the big boss above Madelyn Stilwell, who ran Vought International behind-the-scenes and is now at the forefront.
Aside from Esposito's character reveal, a couple of blink-and-you'll miss it celebrity cameos happen in this episode with Seth Rogen appearing as a fictionalized version of himself talking about a new superhero movie franchise regarding the fallen Translucent, who was killed by Hughie Campbell in season 1.
There's also another Star Wars-related reference when Alden Ehrenreich(Solo: A Star Wars Story) is quickly mentioned in a conversation between Hughie and Starlight.
Then Chris Hansen appears as himself as a host of a television report show portraying a poorly re-enacted scene from last season's finale.
As for the episode itself, it's a wild ride filled with a couple of twists and turns that reminds viewers just how much the world of The Boys is painted in the gray area of the moral ambiguity of both its superheroes (who most are ironically the villains on the show) and the criminals aka "The Boys," who are the brutally violent vigilantes trying to fix everything.
The show's satire on the superhero mythos is still deeply entrenched within its world and has even become worse as the narrative is twisted by Vought International's PR and damage control.
Aside from the usually messed-up story arcs continuing from season 1, a couple of notable scenes cleverly played out to reference comic book characters as well as introduce new cast members.
One is a new hero named Eagle the Archer (Langston Kerman), who's an obvious parody of Green Arrow and Hawkeye, who bails a drunken Deep out of jail.
Another is Blindspot (Chris Mark), a Daredevil knock-off, who is killed by Homelander in a dark-humor scene (which is equally disturbing and somewhat hilarious in an off-beat way) by bashing his ears, which renders him useless.
Finally, Gecko (David Thompson), Starlight's former childhood friend, who has accelerated regenerative healing factor is introduced as an S & M worker for hire who lets people mutilate him for money as a side hustle.
Stormfront Joins The Seven
The episode also introduces the newest member of The Seven, Stormfront (Aya Cash) who first shows up by going on an Instagram Live feed while crashing a commercial shooting with Homelander and Maeve.
Her character is quite endearing, and refreshing at first, as her sarcasm and bluntness don't conform with the PR and media pandering the other members of The Seven adhere to.
However, she soon takes a dark turn toward the end of episode 3 where she shows violently sinister tendencies.
Other Important Details:
CIA Deputy Director Susan Raynor is killed when she pieces together the mysterious appearance of a Super Terrorist with Vought International and it's Compound V.
Stan Edgar lectures Homelander about the real history of Frederick Vought, the founder of Vought International, who's revealed to be a Nazi geneticist responsible for inventing Compound V, which is implied to have been tested on the Holocaust victims.
Hughie Campbell references multiple high fantasy coming-of-age movies as he compares himself to John Conner, Harry Potter, and Katniss Everdeen (who Frenchie is apparently a fan of).
Soldier Boy, a new character who is reported to be played by Supernatural actor Jensen Ackles, is mentioned by Stan Edgar.
EPISODE 2: "Proper Preparation and Planning" (Rating: 9.5/10)
After Billy Butcher returns in episode 1, he immediately puts The Boys to work on his latest diabolical plan. This time, however, he tries to keep his motives hidden since his main agenda is to reunite with his wife, Becca.
For guest appearances, Patton Oswalt (Agents of SHIELD) voices the Deep's gills during a hallucinogenic tea-induced trip that eventually leads to Oswalt and the Deep singing a hilariously sad rendition of "You Are So Beautiful."
Also, the Deep is apparently a huge fan of the Goo Goo Dolls as he plays the song "Iris" in the background when he is locked in a room.
Kimiko's brother Kenji Miyashiro (Abraham Lim) is introduced in this episode and is shown to possess powerful telekinetic abilities. He is, however, brainwashed by the terrorist group Shining Light Liberation Army, which makes him misguided and dangerous.
This is justified to an extent though because he's seeking revenge for an unnamed superhero's attack (presumably Homelander) on his and Kimiko's home village.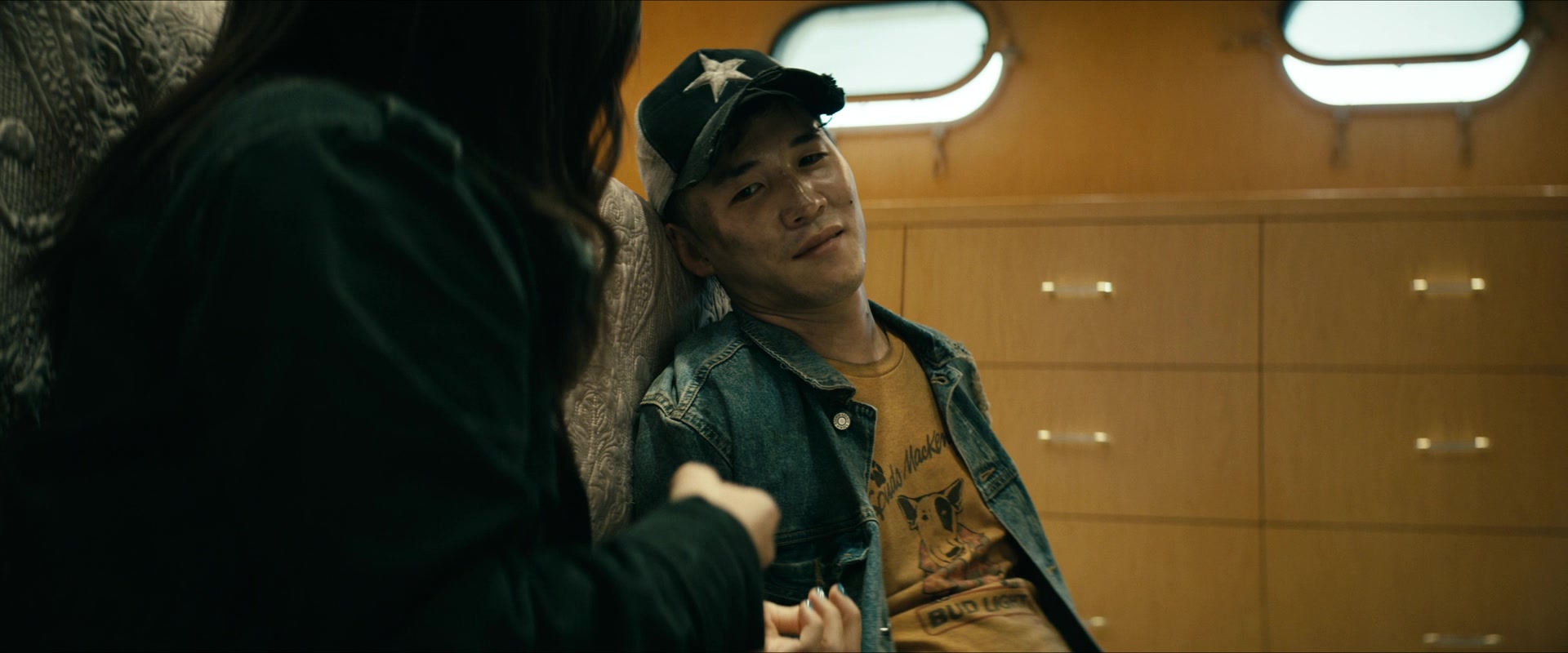 It's also revealed that he and Kimiko communicate through a unique sign language that only they can understand as Frenchie tries to coax him into teaching it.
In the end, Kimiko is forced to put his own brother in a sleeper hold as he threatened to put himself and the team in danger as he's being targetted by both the CIA and The Seven as a "Super Terrorist" whose been smuggled into the country illegally.
Other Important Details:
A-Train wakes up from his coma and threatens to expose Starlight but she learns to blackmail him back for killing Popclaw in season 1.
Stormfront, during her press tour with Maeve and Starlight, delivers this great comedic line:

"let's finish d***-tickling these half-wits so we can finally do our real jobs"
She also goes on a long rant about Pippi Longstocking, her favorite superhero.

Becca goes to a mysterious gated facility to speak with the mysterious Dr. Park about protecting her and her son, Ryan, from Homelander — her plea is ignored.
Maeve confides to Elena about Homelander's secret violent side.
Gecko manages to get a sample of Compound V to Starlight.
Homelander gives his son a smartphone so they can keep in touch but Ryan is hesitant to bond with his estranged father.
EPISODE 3: "Over the Hill with the Swords of a Thousand Men" (Rating: 9/10)
The episode begins with the exposure of Compound V to the general public, thanks to the efforts of Starlight and Hughie. However, Vought International manages to deny all ties with the drug and claims Madelyn Stilwell was responsible for its creation and dissemination.
The episode then revolves around Kenji, who was subdued by The Boys during episode 2 and is about to be surrendered to the CIA for protection. Kenji doesn't trust the word of anyone on the team, however, including his own sister who is trying to look out for his safety. He tries to escape and almost kills the team but accidentally destroys a police helicopter instead.
This, of course, puts them on The Seven's radar, and the sinister superheroes go after them.
Unfortunately, Kenji's reluctance to cooperate would lead to his demise as The Seven catches up to his and The Boys' location and a violent encounter with Stormfront happens where the supposed superhero maliciously murders Kenji and calls him by a racist slur.
Stormfront, beforehand, was also shown to kill innocent African-American bystanders, which strongly suggests that she has racist tendencies that belie her generally relaxed attitude. This characterization, however, stays true to her comic book counterpart who is a Neo-Nazi.
These scenes are definitely not for the faint of heart or those who are easily offended but it works as brilliant satire for the show.
To add insult to injury, Stormfront then spins the story in front of the media by saying Kenji and Kimiko were responsible for the deaths of the innocent bystander. Her actions, however, catch the attention of Homelander who sees her as a threat to the status quo he has maintained.
Stan Edgar then follows-up with a press conference saying that the Vought International family sends their "thoughts and prayers" to the victims of the "terrorist attack" further cementing their image management and disassociation with Compound V.
As for clever references, the show once again mentions a few off-hand including a nod to the movie Batman v. Superman: Dawn of Justice, which is parodied in a movie pitch about The Seven entitled Dawn of the Seven, which is fittingly accented by a Hans Zimmer score.
Lin Manuel Miranda (Hamilton) is also mentioned as the potential voice actor for Translucent and Michael Bay's Transformers is referenced.
Other Important Details:
Billy Butcher kills The Deep's whale, Lucy, by ramming a boat through it, exposing its guts in all its bloody glory. It's a particularly shocking scene that's definitely not fit to be seen by animal lovers. Also, Black Noir is apparently the only member of The Seven with a soft spot as he's the only one visibly affected by the dead animal.
Starlight is almost forced to kill Hughie as Homelander threatens to kill them both if she does not do so. They're only saved by Kenji, who is released by Billy to momentarily disable Homelander.
Homelander pushes his son Ryan off a roof to try and force him to use his powers. He faints upon falling but soon recovers after Becca wakes him up. However, a frustrated Homelander does manage to coax his son's powers out of him by getting physical with Becca, which prompts Ryan to become angry as he pushes Homelander to the ground.
The end scene shows The Boys watching the broadcast covering the events that transpired during their latest encounter with The Seven, and each of them appears to be once again united in seeking vengeance.
The Boys is exclusive on Prime Video with new episodes to be released for streaming on Fridays.
Follow CRAVEYOUTV on socials
Superman and Lois Review – In Cold Blood (303)
We're only three episodes in, but Superman & Lois Season 3 is hands down the best one yet.
Truthfully, I was skeptical about Lois' cancer storyline at first, but the creative forces have tackled it with such grace, and it has added life to the narrative, deepened my love for these characters, and grounded the series. The superhero aspects of the show are still fun, but there's just something about seeing these people who have dealt with near-apocalypses and bad guys who mean them harm facing the worst villain yet—an aggressive diagnosis.
That very sentiment was portrayed so beautifully on-screen with Clark's recurring night terrors.
His fear and helplessness upon not being able to save Lois, no matter how hard he tried, manifested in the nightmares.
And it's a very valid feeling considering he's Superman after all. If anyone can save her, it should be him, and yet, stage 3 breast cancer is something that no one can do anything about except for maybe the doctors and the chemo, which Lois seemed to avoid at all costs.
That very fear and helplessness that Clark felt spread through all of Lois' loved ones as they found out what was going on, and then eventually, Lois owned up to those feelings as well.
As she pursued every lead and angle in the Bruno Mannheim story, she was using it as an excuse and distraction so that she wouldn't have to admit that she was sick. I love that the series emphasized a very real reaction from people who have dealt with similar situations. Even the strongest and bravest people in the world struggle to come to terms with a potentially incurable disease that will steal their time and energy.
Much like Clark Kent, Lois has tracked down, pursued, and faced some of the world's most dangerous criminals, but this is her greatest battle.
Thankfully, she has a very good support system, not only in Clark, but in her children, their friends, and the extended family.
Natalie's decision to give Lois her mother's watch was beautiful as it somehow brought things full circle. Nat couldn't be there for her mother in her final moments, but she can be a beacon of strength and light for Lois. In a way, it kind of gave Nat the closure she always needed. While Henry Lyons wasn't on board with Nat's idea initially, when he saw how moved Lois was upon receiving the watch, he knew that his daughter made the right call and admitted that the only reason that he was so against it was because of his fear of losing Lois… again. She may not be his wife, but that doesn't make it hurt any less—it was just an excuse to stop the hurt from settling in.
Lois gave everyone quite a scare with the cancer announcement, and she doubled down by putting herself in even more danger by following a lead to a medical facility where she and Chrissy got locked up in a freezer filled with blood. The place was lined with kryptonite so it blocked her distress signal, so it seemed like they were going to be trapped forever.
Eventually, when the foot soldiers came to clear the unit out, Lois devised a sneaky plan that allowed her to ping Superman for assistance in the knick of time.
The biggest reveal from that situation—other than the irony of Lois putting herself in a near-death situation to avoid chemo—was that the blood inside the facility belonged to Clark Kent. Is Mannheim trying to create an army of Superman-like beings? He's definitely trying to give the terminally ill patient's he's spared some superpowers, but what's his endgame?
Clark can't really stay mad at Lois when she uncovered such a vital piece of information that allows them to build a better case against Mannheim.
And if there's one thing she's going to see through, it's bringing down Mannheim once and for all. I don't agree with Lois' decision to keep rescheduling chemo, but I do understand wanting to get there on your own terms, just as much as I understand the desire to still prioritize a job that's meant everything to you for most of your life and that remains the one and only thing still keeping you sane and feeling like yourself.
Everyone copes in different ways, and Lois' way just happens to be throwing herself into work… it's not exactly shocking. She's this season's superhero!
It's also nice to see the Kent boys and Nat get into a little action of their own. The family is dealing with a lot now, but this is a superhero series after all, so it would be a shame not to utilize that, especially when there are super teens in the mix. So far, Nat has helped save the world on a few occasions, but Jordan has been sidelined to complete his training, never really breaking free to do his own thing without his dad's assistance.
But when Jonathan's truck gets stolen and they realize that the culprit is his girlfriend Candice's father, they decide to take matters into their own hands and get it back without involving the police.
There was a lot to love about this storyline, including Jonathan's desire not to get Candice's dad arrested because he knew that would just make things worse for her. I also love that they didn't leave Jonathan out of it despite not having any powers. Instead, Jordan and Nat both supported and protected him while he made a beeline for his truck. I hope that eventually, Nat creates a suit for Jonathan that will allow him to fight alongside his loved ones.
As for Candice, she apologized for insinuating that Jonathan lied about her father being a thief, while Jonathan seemingly came clean about kissing his ex, Eliza, at a party. A lot is working against them, but it seems like he loves her and wants to make things work, so I'm keeping my fingers crossed that they figure it out. There was a time Jonathan was selfish and self-centered, but he's come into his own this season.
And then there's the unfortunate fallout between Sarah and Lana. Lana has had a lot on her plate recently, and taking on the Mayor gig just added to her stress and workload. Sarah is also trying to establish her independence, and she feels stifled by her mom, who hasn't been prioritizing her or taking into account her feelings. And it all culminated in the fight where Sarah called her mom selfish and made a snarky cheating comment that triggered Lana, who responded by slapping her daughter. They were both in the wrong, but Lana's behavior crossed a line. We later see her apologizing for the slap, and she notes that she feels especially bad because she grew up with an abusive mom, but sadly, the damage has been done as Sarah snuck out to go meet with her dad.
This seems like a turning point in the mother-daughter relationship, and I can see Sarah's next step being a request to move in with Kyle instead.
While I can see the teenager's perspective on this, I do also feel for Lana as she's painted as the villain by her child, who doesn't truly understand what her mom has taken on or is going through. In addition to the divorce, Lana was the target of a freaky attack. She never really processed it or accepted it, and then Kyle lit the fuse by questioning her about a security system, which stemmed from a jealous place versus a genuine one. It made Lana feel insecure and as though her privacy was invaded because she thought her ex was snooping around and trying to dig up information.
It's heartbreaking to see how quickly this family fell apart, and how they are continuing to lose their way without each other. However, I am rooting for a Lana and Henry romance, and Kyle and Chrissy are also pretty cute. They both need someone to lean on and confide in now that they don't have that relationship with each other anymore.
What did you think about the episode?
We appreciate your support as we aim to become your #1 destination for the TV shows you crave!
How I Met Your Father Season 2 Midseason Finale Review – Swish, Daddy
How I Met Your Father aired two back-to-back episodes on March 28—titled "I'm a Swish" and "Daddy," respectively—and a huge focus was on the daddy. Not that daddy…. but Sophie's daddy.
If you'll recall, a huge overarching and lingering mystery is the identity of Sophie's birth father, who she very briefly *but very seriously* considered to be her new, older boyfriend, Robert, the chef she met during a gala she attended for the Flubber musical.
Robert, played by Sex and the City's John Corbett, was the first normal and unproblematic relationship for Sophie, so it was a shame when she eventually identified a potentially huge problem when he reminisced on his time at the first Lollapalooza. Sophie recalled an almost identical story from her mother, also noting that she was conceived at that very Lolla, so the red flags were all there—and even more concerning when he pulled up a photo with Sophie's mother from that day in 1991.
Sophie, understandably, bolted from his country home, desperately trying to get ahold of her mother for answers about Robert. Her mother *thankfully* shut down the idea that Robert was Sophie's father—phew, that's a close one—but she revealed that they explored their bodies with their mouths, and that was a revelation that Sophie and Robert's relationship could, unfortunately, never get over.
The damage had been done, so they parted ways. Robert telling Sophie to "say hi to her mom was simply adding salt to the wound.
However, a lot of good stemmed from Sophie's relationship with Robert. For starters, she realized that she wasn't his "swish"—Robert did actually like Sophie and they connected on a deeper level. It was one of her healthiest relationships… until it wasn't. She felt what it was like to genuinely be loved. And it led her to the realization that she wants to make a real effort to find her father.
Part of me secretly wished that Neil Patrick Harris was somehow Sophie's biological dad, but admittedly, that would be a little too far-fetched.
Fans did get insight into their meeting, with the scene from the HIMYF season premiere, finally playing out in its entirety on the screen. Turns out, Sophie didn't have to pay for the damages she caused after she crashed into Barney Stinson's car because she delighted him with a juicy story about how she almost dated her father.
There were plenty of laughs when it came to Stinson's return, but there was also a deeper, more heartfelt connection between him and Sophie as he popped up at a crucial moment in her life and revealed that he understood all too well what it was like to want to find your birth father. While Sophie definitely had some hesitations—what if her dad was a prop comic or something?–there was an outcome where finally meeting him would prove to be everything she's ever wanted, just as it did for Barney. His success story with reconnecting with his father inspired Sophie to seek hers out.
With so much time having passed since HIMYM, creators attempted to make Barney less crass, or at least make it a point that he's a work in progress. In the initial moment after Sophie crashes into his car, he reads off a very long list of apologies thinking that she's a scorned ex looking for revenge. When she assures him he's not, all of his dirty jokes fall flat as the recovering serial womanizer reveals he wears an STD, shock therapy device, that he describes as an "experimental new electroshock treatment for guys like me."
"This sucker is programmed with 10,000 problematic words and phrases," he further reveals, trying to make it through the body shocks.
Barney also reveals that he's a father to a beautiful little girl named Ellie, so again, the series did a great job merging heartwarming while staying authentic to Barney's character and making many callbacks to the original series that likely tickled fans.
There were plenty of other non-Sophie-related developments, the biggest of which includes Valentine's engagement to Swish, a college student that she met on a dating app after Sophie's relationship with an older man inspired her to expand her age range. I don't think that's exactly what Sophie meant, but since Valentina is just in it for fun, it's also not a huge deal…. until it is. Valentina agrees to Swish's marriage proposal because she "didn't want to hurt his feelings."
She assumed Swish's proposal wasn't serious, suggesting that his generation has such a short attention span that he'll forget about it the next day, but Swish was smitten with a capital S. Instead of forgetting about the proposal, he was getting his grandmother's ring and planning a real future with her, which adult Sophie, played by Kim Cattrall, emphasized to audiences as it will likely become a major storyline in upcoming episodes.
Other Noteworthy Moments
Ellen isn't the only one who knows that Jessie still harbors some serious feelings for Sophie as Valentina found the love song he wrote for her in the bar's Lost and Found bin. She promised to keep it a secret, but when Sophie announced that she broke up with Robert, she tucked the song back in the box hoping that the next time around, Sophie would fish it out and realize what was right in front of her this whole time.
Sid met a woman on a plane who was also in a long-distance relationship with someone in Los Angeles, and the duo bonded over how challenging and lonely it could be. Taylor, guest starring Caitlin Thompson from This Is Us, and Sid hit it off, and I think she might be the woman that comes between him and Hannah. I love Sid and Hannah, don't get me wrong, but the setup is just not working. And it definitely seemed like Sid made that very realization because he looked pretty defeated when he arrived at Hannah's apartment. I think actually connecting with someone other than Hannah in such a meaningful way made quite an impact on him.
After seeing how supple and glowing Robert's skin was, Sid and Charlie got wrapped up in trying to prevent the aging process so that they could look just as good in the future. And they learned the hard way that botox, cryotherapy, and chemical peels aren't all that they're cracked out to be. Bless their souls.
It was an eventful midseason finale of How I Met Your Father, but I definitely think the storylines elevated the series and reinvigorated the audience. New episodes will return on May 23 so stay tuned on how it all evolves.
Walker Review – False Flag Part One (314)
Walker delivered a riveting part one of its season 3 finale, setting the scene for a showdown between Cordell and Kevin.
If you remember, Kevin Golden was revealed to be the leader of Grey Flag. And no matter how many times the Rangers, the FBI, and Cordell think that they are one step ahead of the terrorist organization, they end up learning that they've been wrong this whole time the hard way.
They were confident that they would be able to thwart the attack at the medal ceremony while ambushing the Grey Flag compound in the process, but things took a bit of a nasty turn.
One thing led to another and a shootout ensued in the ground floor parking lot, forcing Barnett to give up the act and own up to being a ranger to protect Captain James. He tried to play it as best as he could, but there was no stopping these guys once they went rogue. They come from the belief that some must die for the greater good, so there's no reasoning with them.
Turns out, the medal ceremony was the distraction this whole time as Kevin was aware that Trey was undercover. It was a good attempt, but there's no way in hell someone as slick as Kevin would believe that Trey would turn his back on the Rangers and his friends.
The nexus of everything seems to be Cordell Walker. Grey Flag has made it very clear that he's their target, as was evident when the C-4 actually exploded at the FBI safe house where Cordell met Julia. Kevin used Julia as a Trojan Horse, and while she was completely unaware of his nefarious intentions, she led Grey Flag right to it. And the C-4 was presumably planted in her vehicle, exploding just as Cordell got the call that the target was not the medal ceremony as previously intended.
The attack took Cordell and Julia by surprise, and at this point, it's unclear if she survived though things did not look too promising for her. Why is Cordell constantly losing love interests? It's a huge shame because Julia was Cordell's most trusted confidante—one who escaped this Grey Flag hell once before.
Kevin planted some doubts in Julia's mind about Cordell, which is essentially his goal. He's been playing a game this whole time, schmoozing up to Cordell's family by securing the new horse rescue donations and funding, which Julia revealed are coming from a shady government agency that makes it seem as though Cordell is working for them. Kevin framed Cordell in one fell swoop, and no one even saw it coming cause they were so focused on simply figuring out Grey Flag's game.
A lot is still unclear about Kevin's motivations, however. He wants to create change by dismantling a system that he believes doesn't work, but why is Cordell at the center of it all? Why did he go after his whole unit?
And how is Coop involved? They are missing a key piece of information to see the full picture and make the connection.
I'm guessing that Coop is Kevin's father, though that still doesn't explain his obsession with Walker.
Hopefully, the second half of the season final will clue us in and it will all start to make sense. The weirdest thing is that if Kevin wanted Cordell dead, he had ample opportunities to make it happen. And yet, he never did, instead getting closer to Cordell's family than ever, which is just terrifying.
The Walker family somehow always ends up as the victim of Cordell's job. At some point, he's going to have to make a choice because this is no way to live. They thought they were being hospitable and making a good friend who was simply using them this whole time.
Barnett did his best to help out the Rangers, but sometimes, even your best isn't good enough. There was just too much working against him.
Cassie was definitely caught off guard by the revelation that Kevin was behind Grey Flag, but she also had a gut instinct about him and knew she couldn't trust him. Women just know when something is off. I can't imagine the trust issues she's going to have coming off of this.
The good news is that she's finally proving that she needs to follow those vibes and see them through because she's not been wrong once… and unfortunately, that's not something to be proud of when you always expect the worst.
What did you think of the episode? Will Julia survive? Is Kevin in the wind? How will Cordell find his way out of this one? Will it result in a team-up with Coop for old-time's sake? And how will Cordell move forward ensuring his family's protected once and for all? Is Lana safe?