The Boys season 2 premiered on Prime Video, Friday, September 4  with the first three episodes following-up on the insane cliffhanger from last season.
[SPOILER ALERT: Season 1 & 2 details henceforth]
As revealed in season 1, Becca, Billy Butcher's wife who was believed to be dead, is alive and has been raising the bastard son of Homelander at a secret remote location. After the events of the finale, Billy is framed for the murder of Madelyn Stilwell and must find a way to overcome the overwhelming influence of The Seven and Vought International.
Elsewhere, A-Train is hospitalized, Starlight is working as a mole in The Seven, The Deep is stuck in Sandusky, Ohio, and The Boys are in hiding because they're on everyone's most-wanted list.
Will they be able to pull through and pull something out of their butts this time around?
Well, if the first three episodes are any indication of where things are going this season, then strap in for a helluva ride.
EPISODE 1: "The Big Ride" (Rating: 8.5/10)
The much-anticipated appearance of Giancarlo Esposito (Breaking Bad, The Mandalorian) happens right off the bat as his character is revealed to be Stan Edgar, the big boss above Madelyn Stilwell, who ran Vought International behind-the-scenes and is now at the forefront.
Aside from Esposito's character reveal, a couple of blink-and-you'll miss it celebrity cameos happen in this episode with Seth Rogen appearing as a fictionalized version of himself talking about a new superhero movie franchise regarding the fallen Translucent, who was killed by Hughie Campbell in season 1.
There's also another Star Wars-related reference when Alden Ehrenreich(Solo: A Star Wars Story) is quickly mentioned in a conversation between Hughie and Starlight.
Then Chris Hansen appears as himself as a host of a television report show portraying a poorly re-enacted scene from last season's finale.
As for the episode itself, it's a wild ride filled with a couple of twists and turns that reminds viewers just how much the world of The Boys is painted in the gray area of the moral ambiguity of both its superheroes (who most are ironically the villains on the show) and the criminals aka "The Boys," who are the brutally violent vigilantes trying to fix everything.
The show's satire on the superhero mythos is still deeply entrenched within its world and has even become worse as the narrative is twisted by Vought International's PR and damage control.
Aside from the usually messed-up story arcs continuing from season 1, a couple of notable scenes cleverly played out to reference comic book characters as well as introduce new cast members.
One is a new hero named Eagle the Archer (Langston Kerman), who's an obvious parody of Green Arrow and Hawkeye, who bails a drunken Deep out of jail.
Another is Blindspot (Chris Mark), a Daredevil knock-off, who is killed by Homelander in a dark-humor scene (which is equally disturbing and somewhat hilarious in an off-beat way) by bashing his ears, which renders him useless.
Finally, Gecko (David Thompson), Starlight's former childhood friend, who has accelerated regenerative healing factor is introduced as an S & M worker for hire who lets people mutilate him for money as a side hustle.
Stormfront Joins The Seven
The episode also introduces the newest member of The Seven, Stormfront (Aya Cash) who first shows up by going on an Instagram Live feed while crashing a commercial shooting with Homelander and Maeve.
Her character is quite endearing, and refreshing at first, as her sarcasm and bluntness don't conform with the PR and media pandering the other members of The Seven adhere to.
However, she soon takes a dark turn toward the end of episode 3 where she shows violently sinister tendencies.
Other Important Details:
CIA Deputy Director Susan Raynor is killed when she pieces together the mysterious appearance of a Super Terrorist with Vought International and it's Compound V.
Stan Edgar lectures Homelander about the real history of Frederick Vought, the founder of Vought International, who's revealed to be a Nazi geneticist responsible for inventing Compound V, which is implied to have been tested on the Holocaust victims.
Hughie Campbell references multiple high fantasy coming-of-age movies as he compares himself to John Conner, Harry Potter, and Katniss Everdeen (who Frenchie is apparently a fan of).
Soldier Boy, a new character who is reported to be played by Supernatural actor Jensen Ackles, is mentioned by Stan Edgar.
EPISODE 2: "Proper Preparation and Planning" (Rating: 9.5/10)
After Billy Butcher returns in episode 1, he immediately puts The Boys to work on his latest diabolical plan. This time, however, he tries to keep his motives hidden since his main agenda is to reunite with his wife, Becca.
For guest appearances, Patton Oswalt (Agents of SHIELD) voices the Deep's gills during a hallucinogenic tea-induced trip that eventually leads to Oswalt and the Deep singing a hilariously sad rendition of "You Are So Beautiful."
Also, the Deep is apparently a huge fan of the Goo Goo Dolls as he plays the song "Iris" in the background when he is locked in a room.
Kimiko's brother Kenji Miyashiro (Abraham Lim) is introduced in this episode and is shown to possess powerful telekinetic abilities. He is, however, brainwashed by the terrorist group Shining Light Liberation Army, which makes him misguided and dangerous.
This is justified to an extent though because he's seeking revenge for an unnamed superhero's attack (presumably Homelander) on his and Kimiko's home village.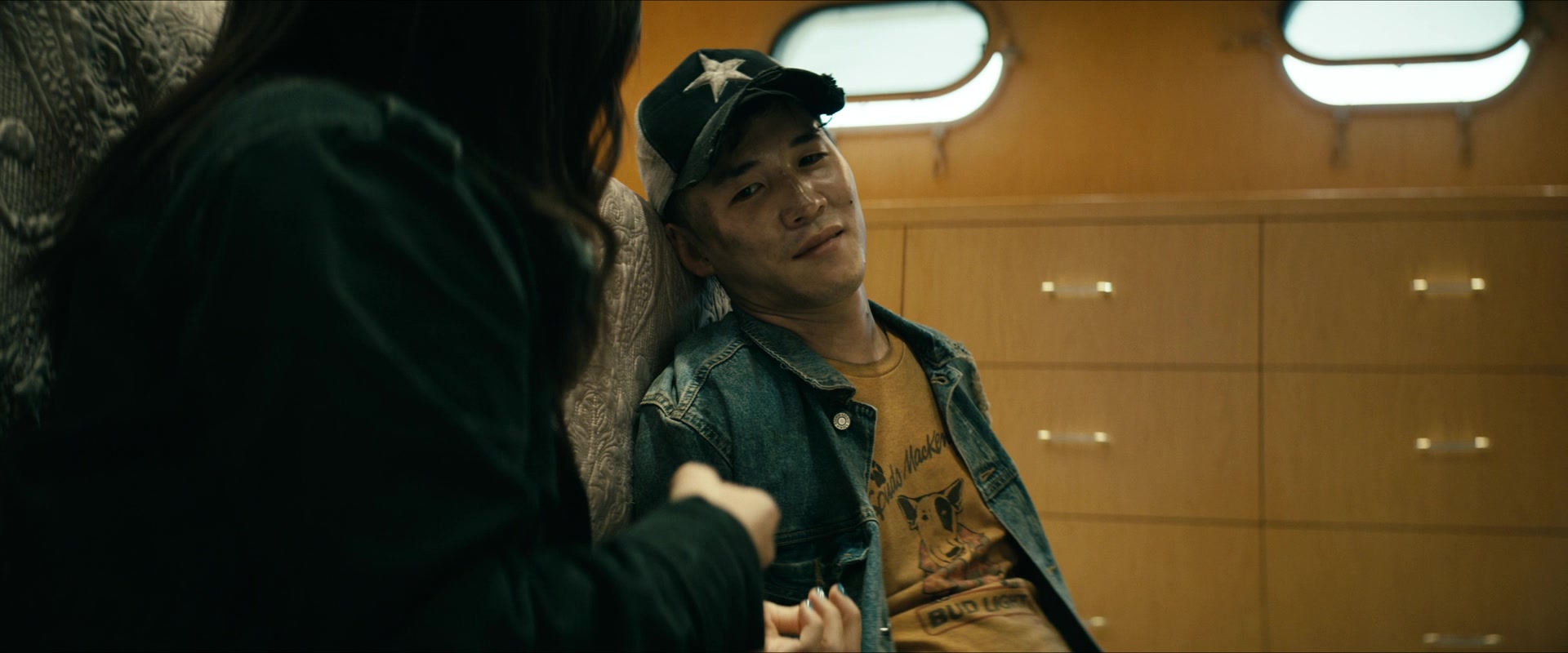 It's also revealed that he and Kimiko communicate through a unique sign language that only they can understand as Frenchie tries to coax him into teaching it.
In the end, Kimiko is forced to put his own brother in a sleeper hold as he threatened to put himself and the team in danger as he's being targetted by both the CIA and The Seven as a "Super Terrorist" whose been smuggled into the country illegally.
Other Important Details:
A-Train wakes up from his coma and threatens to expose Starlight but she learns to blackmail him back for killing Popclaw in season 1.
Stormfront, during her press tour with Maeve and Starlight, delivers this great comedic line:

"let's finish d***-tickling these half-wits so we can finally do our real jobs"
She also goes on a long rant about Pippi Longstocking, her favorite superhero.

Becca goes to a mysterious gated facility to speak with the mysterious Dr. Park about protecting her and her son, Ryan, from Homelander — her plea is ignored.
Maeve confides to Elena about Homelander's secret violent side.
Gecko manages to get a sample of Compound V to Starlight.
Homelander gives his son a smartphone so they can keep in touch but Ryan is hesitant to bond with his estranged father.
EPISODE 3: "Over the Hill with the Swords of a Thousand Men" (Rating: 9/10)
The episode begins with the exposure of Compound V to the general public, thanks to the efforts of Starlight and Hughie. However, Vought International manages to deny all ties with the drug and claims Madelyn Stilwell was responsible for its creation and dissemination.
The episode then revolves around Kenji, who was subdued by The Boys during episode 2 and is about to be surrendered to the CIA for protection. Kenji doesn't trust the word of anyone on the team, however, including his own sister who is trying to look out for his safety. He tries to escape and almost kills the team but accidentally destroys a police helicopter instead.
This, of course, puts them on The Seven's radar, and the sinister superheroes go after them.
Unfortunately, Kenji's reluctance to cooperate would lead to his demise as The Seven catches up to his and The Boys' location and a violent encounter with Stormfront happens where the supposed superhero maliciously murders Kenji and calls him by a racist slur.
Stormfront, beforehand, was also shown to kill innocent African-American bystanders, which strongly suggests that she has racist tendencies that belie her generally relaxed attitude. This characterization, however, stays true to her comic book counterpart who is a Neo-Nazi.
These scenes are definitely not for the faint of heart or those who are easily offended but it works as brilliant satire for the show.
To add insult to injury, Stormfront then spins the story in front of the media by saying Kenji and Kimiko were responsible for the deaths of the innocent bystander. Her actions, however, catch the attention of Homelander who sees her as a threat to the status quo he has maintained.
Stan Edgar then follows-up with a press conference saying that the Vought International family sends their "thoughts and prayers" to the victims of the "terrorist attack" further cementing their image management and disassociation with Compound V.
As for clever references, the show once again mentions a few off-hand including a nod to the movie Batman v. Superman: Dawn of Justice, which is parodied in a movie pitch about The Seven entitled Dawn of the Seven, which is fittingly accented by a Hans Zimmer score.
Lin Manuel Miranda (Hamilton) is also mentioned as the potential voice actor for Translucent and Michael Bay's Transformers is referenced.
Other Important Details:
Billy Butcher kills The Deep's whale, Lucy, by ramming a boat through it, exposing its guts in all its bloody glory. It's a particularly shocking scene that's definitely not fit to be seen by animal lovers. Also, Black Noir is apparently the only member of The Seven with a soft spot as he's the only one visibly affected by the dead animal.
Starlight is almost forced to kill Hughie as Homelander threatens to kill them both if she does not do so. They're only saved by Kenji, who is released by Billy to momentarily disable Homelander.
Homelander pushes his son Ryan off a roof to try and force him to use his powers. He faints upon falling but soon recovers after Becca wakes him up. However, a frustrated Homelander does manage to coax his son's powers out of him by getting physical with Becca, which prompts Ryan to become angry as he pushes Homelander to the ground.
The end scene shows The Boys watching the broadcast covering the events that transpired during their latest encounter with The Seven, and each of them appears to be once again united in seeking vengeance.
The Boys is exclusive on Prime Video with new episodes to be released for streaming on Fridays.
Follow CRAVEYOUTV on socials
Good Girls Series Finale Review – I'm the Boss (4×15 and 4×16)
Beth finally did it. She finally became the boss.
But it cost her a whole lot.
On Good Girls Season 4 Episode 15 and 16, (which sadly served as the series finale after NBC canceled the show) Beth ran for City Council and won. She also did her best to bring down Nick before realizing that it was one of the goals she and Rio had in common.
I'm not going to lie — that final moment of Rio and Beth sitting on a bench together was a pretty perfect ending. Beth finally realized what was pretty obvious all along: she was never going to enjoy Nevada. Her dream of Nevada proved that they could never outrun their problems because they weren't external, they were internal issues.
Rio pushed the hair out of her face and acknowledged that she finally leveled up the way he always wanted and expected her to. By doing so, he also admitted that he had real feelings for her. I'm not okay.
If the series continued on, it would have been great to see what they would accomplish next as equals… well, technically, she was his boss now. We would have seen #Brio happen. I'm so mad that the show wasn't renewed, but I'm also somehow content at least knowing that the two of them will continue ruling the world together.
Beth always needed to stop fighting who she was in order to step into her glory.
However, as I said before, becoming who she really was cost her, including her husband Dean. (Okay, let's be honest, she wasn't even that distraught by any of it because she got the job, the boss life, and Rio!)
After Beth was shot and refused to tell the police who did it, Dean realized that he couldn't do this anymore and left her.
The dream of utopia — Nevada — died for Annie also when she was arrested.
I'm kind of unclear about what happened here, so maybe someone can explain it to me.
Mick shot Beth to teach her that there are consequences for her actions. It was clearly a call made by Nick, which is odd since Mick is Rio's boy. But I guess since they were all on Nick's payroll, it made sense?
Anyway, once Beth brought it up, Annie realized she was in some trouble and forfeited her dream of leaving for Nevada with Kevin and Ben. What did she have to do with the gun that I'm assuming was the same one that was linked to Lucy's death and thus, had Beth's and only Beth's prints on it.
How was it pinned on Annie?
And wouldn't Beth be able to get her out with the new powers her gig gave her? That is unless Nick was able to get Annie's prints off of the keycard she stole from his assistant and framed her that way.
If someone has an explanation here, I'm all ears!
Why is Annie going to jail and what does the gun Beth got shot with have to do with it?? Someone pls explain cause I'm lost #GoodGirls pic.twitter.com/dXTLFNAMob

— Brooke Nicole 🦋 (@notebrookepaper) July 23, 2021
If Annie was framed as payback, it would explain why he said that he "hit her where it hurts." But how would Annie know she was being framed?!
In the end, the siblings were the ones to take the fall while Beth and Rio came out on top.
And Ruby was forced to choose between being loyal to Beth and Annie or to her family.
She hesitantly chose her family, and honestly, it's probably for the best.
Beth has chosen Rio and a life of crime, but Ruby doesn't need to be dragged down any further. She was loyal this whole time, but she can move on.
My hope for Ruby is that she successfully gets out of town and opens up her own Hill's Nails with Stan!
It's possible that the storyline with Vance would have continued on into Season 4, but nothing was actually resolved with him in this episode. It's unfortunate as the series spent so much time investing in his character.
I would've loved to see Dean and Stan take him down for manipulating them. He deserved it.
Dean has never been my favorite character, but he was exceptionally dense this season. I know Beth's lifestyle can be a handful, but she's always been in Dean's corner. She may be the reason he got arrested, but she was also trying to remedy that situation. Somewhere along the lines, his house arrest stopped being a thing, so I'm guessing that she took care of it by partnering up with the FBI again on the low? Point is, Beth had his back, while he didn't have hers.
Dean wanted so badly to trust someone that he ended up being made a fool of by Vance, who was using him this whole time.
No wonder Dean has such trust issues.
Admittedly, the fact that Vance wanted to blackmail Beth into plugging his face cream was a bit of a letdown, but it would be something so trivial that got Dean all caught up.
And that's yet another reason why I'm so glad Beth ended up with Rio by her side. He always believed in her, and while his methods of pushing her were questionable, he never left or turned his back on her.
If there's any truth to the rumors that NBC canceled Good Girls because Manny Montana wouldn't take a pay cut are true, it makes sense. How could the show continue on without him when he's now closer to Beth than ever before? They are the A-team, so there's no show without him.
The FBI storyline also felt watered down. It's unclear how they were able to take down Nick since they were never there on official business, but I like that the storyline revealed that all the money laundering accounts were in grandma's name.
Rio knew that Nick would never let granny go down for it.
Beth and Rio made it very clear to Nick that he couldn't get away with playing them. Nick tried to use Beth as a scapegoat, but Rio didn't allow it because that's his girl. No one messes with her.
But I don't think for a second that Nick would've stayed in prison for long. My guess is if that the show continued, it would have been Beth and Rio versus Nick.
Overall, I like where the storyline ended up, but the final few episodes felt so choppy that I kept wondering if I missed something.
The road was also frustrating.
Season 1 was a massive success because the show was so thrilling and revolutionary, however, everything that came after was a bit "meh" because Beth and the ladies constantly got caught up in the same problems over and over. They kept making the same mistakes and never seemed to learn their lesson.
But now, Beth finally reached her full potential. It would've been interesting to see it manifest on screen, and it's a shame we never will.
What did you think of the Good Girls two-hour series finale?
Walker Review – Dig (1×17)
If you thought the mystery of Emily Walker's death was resolved, think again.
There were a lot of moving parts on Walker Season 1 Episode 17 that fit together seamlessly by the end of the hour!
When a bomb threat thwarted the District Attorney debate, Stan and Liam made up for lost time with beers and BBQ.
Since the bomb threat was also Cordell's first time officially back on the job, he was taking the whole "reformed ranger" approach to heart, especially after Micki promised him that she would be by his side the whole way through.
I love those honest and deep moments between Cordell and Micki. It's rare that we get a well-written true platonic friendship on television, but when we do, it's like we've struck gold.
When the man who made the bomb threat explained that he simply wanted to be heard despite his past mistakes, Cordell decided to get some closure by paying Carlos Mendoza, Emily's "alleged" killer, a visit at the hospital.
Anger aside, I'm pretty sure he's happy he did as Mendoza revealed that Cali was in cahoots with Stan, who was always in charge, in framing him for Emily's murder.
Cordell's outrage was and is warranted. The man that his family welcomed into their home and treated like one of their own is directly responsible for the death of his wife!
This is the second time Cordell has been blindsided by someone that has been considered a friend.
They really need to cut it out with that Southern hospitality.
And not that I'm in any way defending Stan, but why did he ever think that Carlos wouldn't talk? A man that's dying has nothing to lose.
When I say that Stan was having a really terrible day, I'm not even exaggerating!
On top of realizing that Cordell figured out that he was connected to Emily's death and in cahoots with North Side Nation, he also just killed a man.
Byron's death was an accident, but it wasn't an accident that Stan chose to cover it up.
And let's be honest, he probably always intended on killing him, he was probably just going to pay his guys to take care of it.
Byron sealed his fate by pursuing the story and getting too close to the truth.
In a surprising twist (as if none of the other twists were surprising), Stan called in his goons, who ran Cordell off the road and then brought him to where Byron was killed so that he would dig the grave.
It seems as though the point was to bury Byron and Cordell in that grave — which I have a weird feeling is on Walker's property since Stan was in and out of their house in between — but they clearly underestimated Cordell's abilities.
It's not like he's a Texas Ranger or anything.
When he saw the opportunity, Cordell shot both of the goons and then pointed that gun right at Stan.
Now, the old Walker might have shot him on the spot, but the new Walker will likely let the legal process do the work. At least I hope so.
Killing Stan would be too easy; he needs to be publically exposed and tried.
And honestly, justice for Byron!
What do you think Cordell will do?
Will someone find him before he makes a bad decision?
On a lighter note, the kids celebrated Spirit Week at the Side Step snacking on wings. Spirit Week had a whole different meaning back when I was in high school!
All those high school problems, like your first crush, seem so trivial, but we've all been there. Matters of the heart are important at any age, but especially in a teen drama!
However, after the year that Stella and Auggie had, they deserve some trivial problems.
Auggie is really mature for his age. He's been crushing hard on Ruby the whole school year, but when the opportunity finally presented itself, he realized that the moment had passed.
I'm sure the fact that Ruby didn't give him any signs contributed to it, but it's also obvious that Auggie was completely blindsided by his feelings for Bel.
When he was in the moment with Ruby, he really wanted it to be with Bel.
Though, I don't know why that was such a late realization for him since it was totally obvious during the episode where he set up the fireworks show to help cheer her up.
Ah, young love.
Stella was less focused on her love life — a break up with a boy whose father wanted to kill your father in a fit of revenge and then killed your uncle will do that to you.
Instead, she was trying to figure out what her summer break was going to be about. I think a little trip to Mexico with Bel would allow her to clear her head and break away from all the trauma that she endured back at home, but with Cordell's current situation, it seems unlikely.
Geri and Cordell's romance is happening but it's moving at a very glacial pace.
Cordell needs to deal with everything concerning Emily's death before he can fully move on. It wouldn't be fair to him or Geri otherwise.
But I can't say I hate the flirtatious texting between the two of them.
Their relationship works because there's a history between them, and we've been clued into that history.
When it comes to Emily, I can understand Cordell's grief because I understand the overall idea of losing a spouse, but I'm less invested in the story because we never got to see all the magic between them.
At least Geri is around to deal with the Side Step while Cordell is off fighting crime.
Micki and Trey had the "will we have kids" conversation. When his mother blew into town and brought it up .5 seconds into coming inside (you know how moms are!), I was concerned that it might cause some friction between the couple, especially when she suggested they might not be on the same page.
Thankfully, that doesn't seem to be the case. While Micki is understandably concerned about having kids and how it'll affect her work-life balance, she's not against having them. Her concerns are valid as she just made it as a ranger and wants to prove herself before being forced to step away for a moment.
And speaking as someone who just had a baby, it changes your life. Even if you want to continue on with your career, it's completely different, as is your mindset. Being a ranger comes with dangerous territory, which you have to take into consideration when becoming a parent along with the hours and a world of other things.
I hope Micki eventually makes the right choice and not one she's being pressured into.
Bonham's cancer also needs to be addressed. He's been keeping it quiet as to not cause even more stress for the family, but an illness is not something to keep from your loved ones.
Anything could happen, and they would be heartbroken if they found out when it was too late.
What did you think of the episode? Would you agree that it was one of the best Walker installments to date?
Big Brother Recap: Eviction Night #2 (23×07)
16 days into the game, and this season has been better than the entirety of last year. Frenchie's first HOH reign will go down in the BB history books as one of the wildest use of power the show has ever seen. Julie even said this was the most "enormous fall from power" she's ever seen. And it came to an end on tonight's live eviction.
The opening minutes of the show showed two very different nominees. Frenchie continues to flop around, saying he's given up, while also referencing the infamous Dan Gheesling's strategy of moping around while he's on the block. He's not very good at acting, and he tries to campaign to a lot of the house. On the other hand, you have Britini, who's optimistic personality has gotten onto the good sides of the house, as they all talk about how much they love her. Sometimes you have to just be yourself and ignore the game, and odds are it'll save you.
Sarah Beth opened up to Kyland tonight about her relationship with her father, who passed away from COVID last year. I've grown to really like Sarah Beth as the game has progressed, and her opening up about her story helped us see the real Sarah Beth; she looks like such a down-to-earth person.
With the eviction pretty much secured, Kyland starts to think ahead to the future. With the Slaughterhouse, well, slaughtered, the soon-to-be outgoing HOH gathered all the teams together to see where everyone's head are at, and the formation of a brand new alliance was born. The Kings and Queens team formed together to make the Royal Flush. Consisting of Kyland, Claire, Tiffany, Christian, Alyssa, Sarah Beth, Xavier, and the wild card of Derek X., this group is ready to take on the post-Frenchie game. The general consensus lands on Brent, who over the last week has been shown to be a real sexist. His belief is because two guys are targets, then two women should be targeted, just to "even it out." That's the mildest part of what he's done, compared to the feeds…I agree he should be the next target.
Britini rapped her eviction defense speech, which was something we've never seen. It certainly was interesting, but I hope that doesn't become a trend. Frenchie kept his speech fairly tame, saying that he wants to stay and continue the memories so far. Not much of a defense from the messy country boy, but he knew he was done.
The votes were made, and the votes were counted, and shockingly Britini went home!!
I'm just kidding, but wouldn't that have been insane? I would've thrown my computer out the window if that were the case.
Derek F. decided to ruin his game and throw one vote, making him the only person who has yet to be on the majority side of the vote.
By an 11-1 vote, Frenchie was the second person evicted from the house. The man kept it classy, making everyone do a group hug, then proceeded to hug everyone. Julie asked him about his gameplay, and he proceeded to do his usual pandering, saying he wanted to not send the old guy home first, because he wanted to "make a change, and not send the old guy home first. Oh well, guess the old guy can go second!
Kyland is officially no longer HOH, and it's time to crown a new one! This competition was the first question and answer competition of the season, and it featured comedian and former Celebrity Big Brother contestant Tom Green doing a Billy on the Street like videos, talking to people on the street about the show. The players then had to answer questions based on the videos, and if they were wrong, they were out. It came down to Derek X., Hannah, Alyssa, Sarah Beth, and Xavier, but one questioned caused all but one to be eliminated, and now Xavier is the new Head of Household! This also means the entire Kings team is safe, leaving Christian, Sarah Beth, and Alyssa immune for the week.
Before signing off, Julie revealed the new Wild Card twist could throw the teams into disarray, but didn't fully disclose, because we have wait until Sunday to know the full details.
Who will Xavier Nominate?
He's part of the Royal Flush alliance mentioned earlier, so it's possible that he'll continue on the path that everyone wants, and target Brent. There's also a target on Whitney's back from the Frenchie association, so it could be the two of them. I personally would even consider Derek F., but with him aligned with Xavier in the Cookout alliance, his safety seems pretty secure.