The Boys season 2 premiered on Prime Video, Friday, September 4  with the first three episodes following-up on the insane cliffhanger from last season.
[SPOILER ALERT: Season 1 & 2 details henceforth]
As revealed in season 1, Becca, Billy Butcher's wife who was believed to be dead, is alive and has been raising the bastard son of Homelander at a secret remote location. After the events of the finale, Billy is framed for the murder of Madelyn Stilwell and must find a way to overcome the overwhelming influence of The Seven and Vought International.
Elsewhere, A-Train is hospitalized, Starlight is working as a mole in The Seven, The Deep is stuck in Sandusky, Ohio, and The Boys are in hiding because they're on everyone's most-wanted list.
Will they be able to pull through and pull something out of their butts this time around?
Well, if the first three episodes are any indication of where things are going this season, then strap in for a helluva ride.
EPISODE 1: "The Big Ride" (Rating: 8.5/10)
The much-anticipated appearance of Giancarlo Esposito (Breaking Bad, The Mandalorian) happens right off the bat as his character is revealed to be Stan Edgar, the big boss above Madelyn Stilwell, who ran Vought International behind-the-scenes and is now at the forefront.
Aside from Esposito's character reveal, a couple of blink-and-you'll miss it celebrity cameos happen in this episode with Seth Rogen appearing as a fictionalized version of himself talking about a new superhero movie franchise regarding the fallen Translucent, who was killed by Hughie Campbell in season 1.
There's also another Star Wars-related reference when Alden Ehrenreich(Solo: A Star Wars Story) is quickly mentioned in a conversation between Hughie and Starlight.
Then Chris Hansen appears as himself as a host of a television report show portraying a poorly re-enacted scene from last season's finale.
As for the episode itself, it's a wild ride filled with a couple of twists and turns that reminds viewers just how much the world of The Boys is painted in the gray area of the moral ambiguity of both its superheroes (who most are ironically the villains on the show) and the criminals aka "The Boys," who are the brutally violent vigilantes trying to fix everything.
The show's satire on the superhero mythos is still deeply entrenched within its world and has even become worse as the narrative is twisted by Vought International's PR and damage control.
Aside from the usually messed-up story arcs continuing from season 1, a couple of notable scenes cleverly played out to reference comic book characters as well as introduce new cast members.
One is a new hero named Eagle the Archer (Langston Kerman), who's an obvious parody of Green Arrow and Hawkeye, who bails a drunken Deep out of jail.
Another is Blindspot (Chris Mark), a Daredevil knock-off, who is killed by Homelander in a dark-humor scene (which is equally disturbing and somewhat hilarious in an off-beat way) by bashing his ears, which renders him useless.
Finally, Gecko (David Thompson), Starlight's former childhood friend, who has accelerated regenerative healing factor is introduced as an S & M worker for hire who lets people mutilate him for money as a side hustle.
Stormfront Joins The Seven
The episode also introduces the newest member of The Seven, Stormfront (Aya Cash) who first shows up by going on an Instagram Live feed while crashing a commercial shooting with Homelander and Maeve.
Her character is quite endearing, and refreshing at first, as her sarcasm and bluntness don't conform with the PR and media pandering the other members of The Seven adhere to.
However, she soon takes a dark turn toward the end of episode 3 where she shows violently sinister tendencies.
Other Important Details:
CIA Deputy Director Susan Raynor is killed when she pieces together the mysterious appearance of a Super Terrorist with Vought International and it's Compound V.
Stan Edgar lectures Homelander about the real history of Frederick Vought, the founder of Vought International, who's revealed to be a Nazi geneticist responsible for inventing Compound V, which is implied to have been tested on the Holocaust victims.
Hughie Campbell references multiple high fantasy coming-of-age movies as he compares himself to John Conner, Harry Potter, and Katniss Everdeen (who Frenchie is apparently a fan of).
Soldier Boy, a new character who is reported to be played by Supernatural actor Jensen Ackles, is mentioned by Stan Edgar.
EPISODE 2: "Proper Preparation and Planning" (Rating: 9.5/10)
After Billy Butcher returns in episode 1, he immediately puts The Boys to work on his latest diabolical plan. This time, however, he tries to keep his motives hidden since his main agenda is to reunite with his wife, Becca.
For guest appearances, Patton Oswalt (Agents of SHIELD) voices the Deep's gills during a hallucinogenic tea-induced trip that eventually leads to Oswalt and the Deep singing a hilariously sad rendition of "You Are So Beautiful."
Also, the Deep is apparently a huge fan of the Goo Goo Dolls as he plays the song "Iris" in the background when he is locked in a room.
Kimiko's brother Kenji Miyashiro (Abraham Lim) is introduced in this episode and is shown to possess powerful telekinetic abilities. He is, however, brainwashed by the terrorist group Shining Light Liberation Army, which makes him misguided and dangerous.
This is justified to an extent though because he's seeking revenge for an unnamed superhero's attack (presumably Homelander) on his and Kimiko's home village.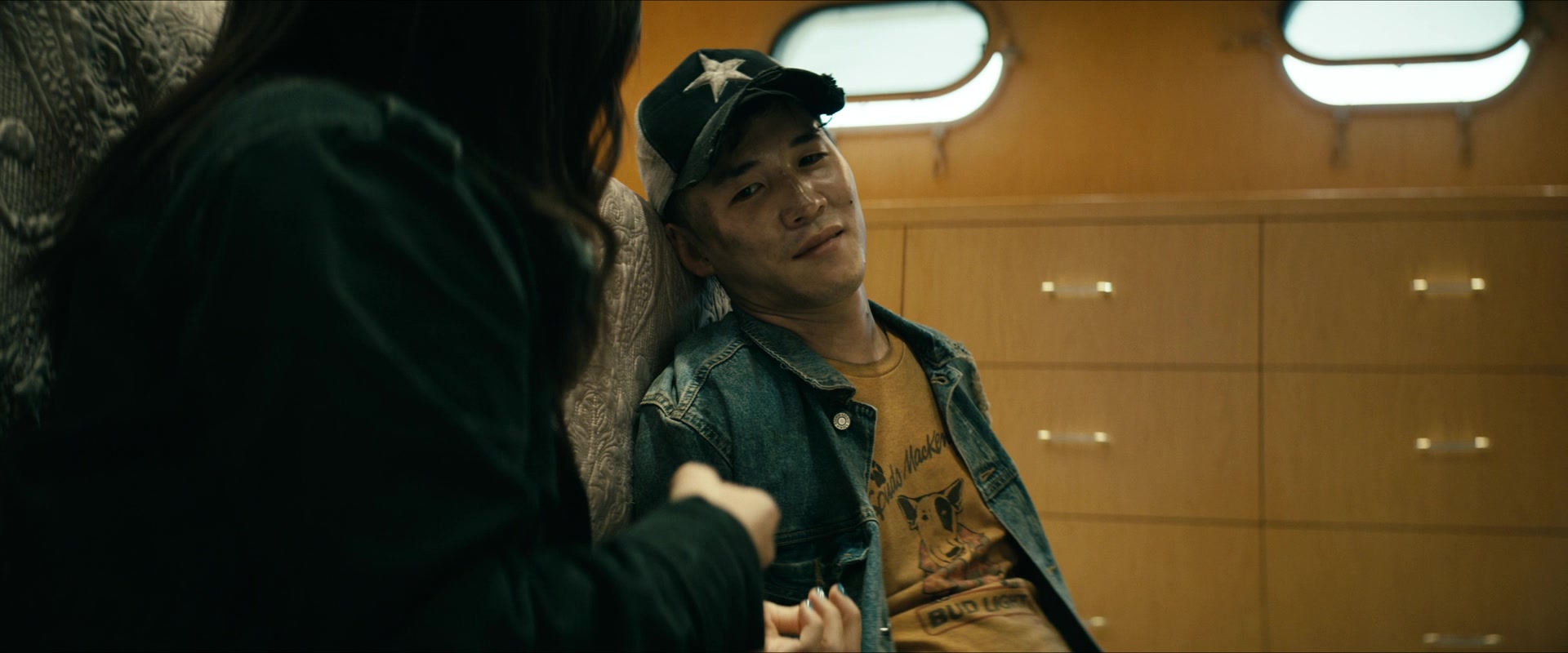 It's also revealed that he and Kimiko communicate through a unique sign language that only they can understand as Frenchie tries to coax him into teaching it.
In the end, Kimiko is forced to put his own brother in a sleeper hold as he threatened to put himself and the team in danger as he's being targetted by both the CIA and The Seven as a "Super Terrorist" whose been smuggled into the country illegally.
Other Important Details:
A-Train wakes up from his coma and threatens to expose Starlight but she learns to blackmail him back for killing Popclaw in season 1.
Stormfront, during her press tour with Maeve and Starlight, delivers this great comedic line:

"let's finish d***-tickling these half-wits so we can finally do our real jobs"
She also goes on a long rant about Pippi Longstocking, her favorite superhero.

Becca goes to a mysterious gated facility to speak with the mysterious Dr. Park about protecting her and her son, Ryan, from Homelander — her plea is ignored.
Maeve confides to Elena about Homelander's secret violent side.
Gecko manages to get a sample of Compound V to Starlight.
Homelander gives his son a smartphone so they can keep in touch but Ryan is hesitant to bond with his estranged father.
EPISODE 3: "Over the Hill with the Swords of a Thousand Men" (Rating: 9/10)
The episode begins with the exposure of Compound V to the general public, thanks to the efforts of Starlight and Hughie. However, Vought International manages to deny all ties with the drug and claims Madelyn Stilwell was responsible for its creation and dissemination.
The episode then revolves around Kenji, who was subdued by The Boys during episode 2 and is about to be surrendered to the CIA for protection. Kenji doesn't trust the word of anyone on the team, however, including his own sister who is trying to look out for his safety. He tries to escape and almost kills the team but accidentally destroys a police helicopter instead.
This, of course, puts them on The Seven's radar, and the sinister superheroes go after them.
Unfortunately, Kenji's reluctance to cooperate would lead to his demise as The Seven catches up to his and The Boys' location and a violent encounter with Stormfront happens where the supposed superhero maliciously murders Kenji and calls him by a racist slur.
Stormfront, beforehand, was also shown to kill innocent African-American bystanders, which strongly suggests that she has racist tendencies that belie her generally relaxed attitude. This characterization, however, stays true to her comic book counterpart who is a Neo-Nazi.
These scenes are definitely not for the faint of heart or those who are easily offended but it works as brilliant satire for the show.
To add insult to injury, Stormfront then spins the story in front of the media by saying Kenji and Kimiko were responsible for the deaths of the innocent bystander. Her actions, however, catch the attention of Homelander who sees her as a threat to the status quo he has maintained.
Stan Edgar then follows-up with a press conference saying that the Vought International family sends their "thoughts and prayers" to the victims of the "terrorist attack" further cementing their image management and disassociation with Compound V.
As for clever references, the show once again mentions a few off-hand including a nod to the movie Batman v. Superman: Dawn of Justice, which is parodied in a movie pitch about The Seven entitled Dawn of the Seven, which is fittingly accented by a Hans Zimmer score.
Lin Manuel Miranda (Hamilton) is also mentioned as the potential voice actor for Translucent and Michael Bay's Transformers is referenced.
Other Important Details:
Billy Butcher kills The Deep's whale, Lucy, by ramming a boat through it, exposing its guts in all its bloody glory. It's a particularly shocking scene that's definitely not fit to be seen by animal lovers. Also, Black Noir is apparently the only member of The Seven with a soft spot as he's the only one visibly affected by the dead animal.
Starlight is almost forced to kill Hughie as Homelander threatens to kill them both if she does not do so. They're only saved by Kenji, who is released by Billy to momentarily disable Homelander.
Homelander pushes his son Ryan off a roof to try and force him to use his powers. He faints upon falling but soon recovers after Becca wakes him up. However, a frustrated Homelander does manage to coax his son's powers out of him by getting physical with Becca, which prompts Ryan to become angry as he pushes Homelander to the ground.
The end scene shows The Boys watching the broadcast covering the events that transpired during their latest encounter with The Seven, and each of them appears to be once again united in seeking vengeance.
The Boys is exclusive on Prime Video with new episodes to be released for streaming on Fridays.
Follow CRAVEYOUTV on socials
Superman & Lois Review – Embracing Krypton's Heritage (1×02)
After a solid pilot, Superman & Lois Season 1 Episode 2 picks up with the Clark, Lois, and the family putting down their roots in Smallville.
And despite trying their best, they're having a hard time flying under the radar – pun intended.
If they keep this up, Clark Kent's glasses won't be able to hide the "S" on his chest for much longer.
Initially, the twins brought attention to themselves by surviving two near-death experiences in a short period of time. Jonathan's first day at his new high school doesn't go any better as the football team is hellbent on destroying his life and making him pay the price for his brother's decision to smooch Sarah.
It's all very juvenile, which is the point – this is high school, and high school kids are mean bullies.
Jonathan has made plenty of sacrifices for Jordan, the biggest one is uprooting his whole life and moving to Smallville. I'm surprised he didn't make a bigger fuss about it, but it seems as though we may have misjudged Jon a bit at first. He wants his brother to succeed and find his place in the world, even if it pains him to see him get to go flying with dad while he gets the short-end-of-the-stick.
However, it's Jordan's time to shine, and for a while, it seems like he's genuinely embracing the idea of his new abilities.
Clark struggles to figure out what his son needs. Parenting stumps the best of us – even superheroes don't have all the answers when it comes to raising their kids and doing right by them.
But he's trying, and that has to count for something.
Clark takes him to the fortress so that he can learn all about his Kryptonian heritage, but when the hologram of his grandfather (hologramp!) informs Kal-L that Jordan doesn't have the strength to manifest his powers on command, it sets Jordan back again.
As Jordan doubts himself, Jonathan promises to help him figure out what's going because he believes he's different. And it's a good thing that they aren't giving up because personally, I wouldn't take the word of a hologram.
This is also the first time we see the brothers get along despite their contrasting personalities; the progress is promising.
We've already seen two instances – both of which Jordan was put into fight or flight mode – where he's activated his powers.
Maybe they'll only bubble up to the surface when he's in distress or worried about someone he loves? Whatever it is, it's going to be exciting to explore what exactly it is that makes Jordan special.
For now, he's back to navigating the complex realities of being a teenager while crushing on the popular girl that's just beyond his reach.
To be fair, he didn't get the wrong impression as Sarah continues to give off the vibe that she's smitten with him.
Jonathan was right when he asked her what she sees in a bully like Sean… especially when she's clearly formed an emotional attachment to Jordan. They have a lot in common and their conversations flow naturally.
It's hard to root for her and Sean when we haven't seen much of him or these redeeming qualities she speaks of.
The bullies were out in full swing in the second installment as Superman continued his battle with Captain Luthor, who we now know is Alex Luthor.
We learn that he wants Superman to pay for destroying his Earth the way he did Krypton.
At first, it's unclear what he means by that considering Superman literally drops everything to save the people of this Earth, but once he reconnects with General Sam of the DOD, we see that Luthor believes this Earth's Superman is just as dark and dangerous as the Evil Superman on his planet who tried to kill him and that reality's General Sam along with other soldiers.
Will the series explore multiple worlds and Earth's?
Lois and Edge's rivalry comes to a head in a gripping way, and honestly, I'm more invested in this storyline than I am Superman vs. Luthor.
Edge is hailed by locals as a hero – including by Lana's husband Kyle – because he's one of the few who have taken an interest in a withering town by promising to bring back jobs. Yet, Lois remains unconvinced by the "broken promises" and calls him out publicly during a City Hall meeting, which again, alienates her from the locals and paints her as a villain.
Kyle is of the mindset that any job is better than no job even if it's underpaid, but Lois isn't a fan of the Edge's blatant attempt at hiring desperate people for cheap labor.
These days, you can see both sides of the coin. People who have been out of work will take any income and any job even if it's demeaning, but there's nothing wrong with Lois trying to fight for a better life and better wages.
She's not against the people of Smallville. In fact, it's the opposite as she wants better for them and believes that the town shouldn't be wrapped up in a greedy man's plans.
But Edge knows all the right things to have people hanging onto his last word, especially a group of people who want to believe that there's someone out there who has their best interest at heart. Plus, Edge is the only one delivering "solutions" at this point.
And Kyle still holds a grudge against Clark for "abandoning" the town.
Of course, we'll eventually hit a point where Edge rips off the mask and his true intentions begin to show.
Lois's decision to publish her scathing piece of Edge in the Smallville Gazette likely won't sit well with her neighbors either.
It's telling how money controls the media. After Edge bought out the Daily Planet, her unbiased reporting wasn't welcome anymore and she had to find independent sources to report the truth, which should actually tell Kyle everything he needs to know about the kind of man Edge is. If he has nothing to hide, why not allow your best reporter to publish her piece and prove her wrong?
When Edge rewrite Lois's piece to paint himself in a "better light," she one-ups him and quits as the series emphasizes that's she's every bit the unshakeable badass that her reputation would have you believe.
She's going to be a great addition to the Smallville Gazette, and I'm eager to see what she and former one-woman show, Chrissy, are able to accomplish.
These days, the journalist/reporter job falls into many cliches that include inaccurate and glamorous portrayals on shows like The Bold Type and even Supergirl at times, though they did make a valid point by showcasing that these money-hungry companies truly only care about pageviews and focus on clickbait.
However, it's refreshing to see two women who care about journalistic integrity lead the charge and restore the belief that media can make a change when it doesn't fall into the wrong hands.
The moral of the story? Don't mess with Lois!
Do you think her role will cause problems for the family as they settle into town?
And in a side-note, am I the only one that found it weird that Lois has to continuously explain to the twins that their dad had to go take care of something? Now that they know he's Superman, they know he's out saving the world. Why would they be mad he skipped a barbecue to do something meaningful?
He can't just abandon the world. Shouldn't they be proud instead of constantly thinking they're the ones being abandoned all the time?
What did you think of the second episode? Are you hooked on Superman & Lois? What do you think of Luthor?
Let us know in the comments below!
The Resident Review – Surgical Glory (4×07)
How is it possible that The Resident keeps getting better with each passing week?
Even a week where there's less focus on personal storylines and more of an emphasis on the medical-aspect of the series, I'm still glued to the TV in awe of Chastain's finest.
The most personal storyline of the week involved Conrad and his former commanding officer in Afghanistan, Captain Hill, who was injured in a free climbing accident.
He immediately called Conrad knowing that he'd mobilize the Search and Rescue team.
It's been a while since we've seen Conrad work with them, but anytime he ventures outside of the hospital, it's a joy to watch.
His quick thinking kept Hill alive until backup arrived and transported him to Chastain where AJ Austin was waiting to operate.
The storyline also gave us some insight into Conrad's time at war. He remained loyal and committed to saving Hill because Hill took a bullet for him when he made the questionable decision to disobey a command.
While the operation went smoothly, Conrad grew concerned when they couldn't find a bullet that he knew for a fact was lodged in Hill's spine.
Considering the amount of shared respect between Conrad and Austin, I was a little surprised that Austin chose to wait for medical records instead of performing the CT to find the bullet.
Conrad may have had a personal connection to the case, but he wasn't letting it cloud his judgment. Why didn't Austin take his word for it?
When Hill suffered a mini-stroke, I was sure that we'd see a confrontation between Conrad and Austin as early action and detection could've likely prevented it.
Thankfully, they caught it in time and avoided a massive stroke, but still, I'm surprised Conrad didn't press the issue further.
With Hill on the mend and the bullet dislodged from his neck, both of the men could begin the healing process.
While Hill's decision to jump in and save Conrad was noble, he's been harboring resentment as it ruined his tenured career in the army.
Meanwhile, Conrad had been harboring all that guilt for ignoring an order, almost getting his captain and friend killed, and singlehandedly ending his military career.
The bullet represented all that pent-up guilt and anger, so the act of physically throwing it away was so powerful.
Conrad rarely talks about his service so the flashbacks were a nice touch to give audiences an understanding of what he went through and what makes him such a headstrong doctor.
Nic continues to recover from the stabbing, so while she sat out a lot of the action at Chastain, she still managed to have Conrad's back and was there for him when he needed her. Conic is the best, plain and simple.
Mina and the Raptor were gearing up for a once-in-a-lifetime surgery that has only been done by a handful of surgeons, but when AJ was personally requested to help Conrad's patient, she successfully completed the surgery on her own.
What a badass! If that's not a reason to renew her visa, I don't know what is!
The U.S. would be silly to let go of such an impeccable and impressive surgeon. The woman works miracles.
The surgical feat also meant that she was ready to fly the coop – AJ had taught her everything he could and she was ready to stand on her own!
I was particularly fond of Pravesh's storyline because it proved that Chastain and its doctors are not like the others.
Despite Chastain becoming a public hospital, they prioritize patient care.
Pravesh was faced with a difficult situation because he had a patient who needed a hip replacement but didn't want one because of the potential other risks as a result of her sickle cell anemia.
It was hard to watch because you knew Pravesh was simply trying to help and doing what he thought was right.
Even when things got difficult and she had a reaction post-surgery, Pravesh stuck to his gut; he knew that the surgery was her best option even if there were moments where he wavered in his decision.
In the end, Rose received blood that was compatible, she got a new hip, and she made it to her dance recital… well, the dance recital came to her.
It was such a sweet gesture on Pravesh's part as it showed that he actually listens to his patients and cares about their well-being. He went the extra mile when it wasn't required of him.
So, when Kit says that there isn't a place for Cain at Chastain in the previews, I'm not entirely surprised.
Everyone at Chastain goes above and beyond for patients and never lets their egos get in the way. The same cannot be said for Cain.
And while Kit seems to be a firm believer of the ideology that everyone deserves a second chance and people can change (that's what she told Bell's former step-son Jake), it doesn't seem like that's going to factor into rehiring Cain, who woke up from his procedure just as arrogant as ever.
When he told her "we're done here," I couldn't believe that this man still had the audacity to act that way after everything his colleagues did for him and even now when Kit was there sacrificing her time to visit him.
Thankfully, she was able to hit right back by informing him that he was chatting with the new CEO of Chastain. Wasn't that look on his face priceless?
I feel for the guy, I really do. Finding out that you might never be able to operate again when that was the only thing to ever bring you joy and fulfillment is a tough pill to swallow, but he also makes it so difficult to root for his success.
When his lawyer came, he basically kickstarted a witchhunt to find the person willing to testify against him at Chastain.
And, of course, we know that person is Mina. With her immigration status on the line, this is a terrible, very bad, no-good combo. Cain could easily hurt Mina's chances of getting a visa, and you know he'd do it without even batting an eyelash.
Prepare for a showdown of epic proportions because all of Chastain is going to fight for Mina with everything they have.
I'll be the one to say it yet again – can Bell and Kit get together already?
There's no one that believes in Bell more than Kit, who even vouched for him to Jake.
Of course, erasing all that pain is going to take some time, but at least Jake seems to be open to the idea by agreeing to grab coffee with his former step-son.
I'm glad that Jake didn't immediately give in to Bell's requests as it wouldn't have been realistic. He has every right to cling to his reservations after being abandoned by a man who he considered a father figure.
Just because Bell wants back in his life doesn't mean that he deserves it.
And considering that Jake and Gregg are going to adopt, Jake is also looking out for his child as he doesn't want him to experience the same feelings of abandonment.
Of course, we know that Kit is right because season 4 Bell is not the same as season 1 Bell, so it's unlikely he'd squander another chance.
What did you think of the episode? Let us know in the comments.
Be sure to follow us on socials: Facebook, Twitter, and Instagram!
We appreciate your support as we aim to become your #1 destination for the TV shows you crave!
Debris Series Premiere Review – A Sci-Fi Mystery with Family Drama (1×01)
If you're in the market for a new sci-fi series with a central mystery that will likely keep you theorizing about what's happening for several seasons, don't snooze on Debris.
NBC's latest drama is drawing comparisons to Fringe and Almost Human, and that's not a coincidence as creator J.H. Wyman worked on both of them.
After watching the pilot, the series also emanates X-Files vibes with the two leads, American CIA Bryan Beneventi (Jonathan Tucker) and British MI6 agent Finola Jones (Riann Steele), giving off Mulder and Scully vibes as they navigate a tricky partnership and a "will-they-or-won't-they" tension that will likely only escalate with more episodes.
It helps to understand the premise of the series before diving into the episode: The duo team up to track down pieces from a mysterious spaceship wreckage that when pieced together will hopefully give them answers about what it is, where it came from, and what it's capable of. And they're doing this while trying to protect the pieces from falling into the wrong hands of the "bad guys." Cue Billie Eilish's song.
With that in mind, the pilot drops audiences in right in the middle of the action and we can barely catch our breath amidst the jargon and lingo of the situation.
A man is selling a mysterious item on the Black Market, but amid the transaction, the buyers – two English – are tipped off that the Feds have arrived and make a break for it.
A chase ensues with the Brits disappearing through some kind of portal, while the man selling the artifacts leaps from the balcony and falls to his death in what seems to be an apparent suicide.
Before he takes the plunge, however, he hides the item in the hotel hallway where a maid locates it. When she removes the artifact from the bag, she's plunged 14 floors down where she smashes through a table to her death.
Her lifeless body is still clutching the mysterious item when the agents find her, and Finola explains the piece seems to have the same properties as other objects found in debris field 707 in Manchester.
Yeah, that's enough to get your attention.
However, not much insight is provided about the case as the duo embarks to Kansas where another debris event has been reported.
This time, they find a woman floating around and defying gravity in a field. The awe with which Bryan observes this phenomenon is the same one we're experiencing at home. How'd they get suspended like that?
Prior to this moment, audiences see the woman, Amy Morrison, driving her son who is playing with a toy monkey.
As the monkey begins to clap, she begins to bleed from her eyes and loses consciousness.
The agents discover that Amy isn't the only person floating around in the field – there's a group of people caught in the vortex.
But why? How? And more importantly, where is the debris that they've come in contact with?
Despite seeming dead, a doctor reports that they all still have brain connectivity, so somehow, they're alive.
As Bryan and Finola begin to look for a connection between several of the victims, they learn that Amy never had a child despite being last seen with a young boy.
Soon, they realize that James Vanderberg's family is the only one that hasn't returned any calls about his disappearance.
Upon a trip to the property, they find his wife also floating in a field with the debris that caused the anomaly floating around near her body.
At this point, I can't help but wonder how Bryan is able to get near the debris without being affected by its powers, especially since Finola later gets near it and sees it manifest her mother.
But that's the point and hook of the series for now – not knowing how the debris works and what it's truly capable of. All we know is that it has some powerful properties.
A quick glance inside the house reveals that the boy seen with Amy is the Vanderbergs' son. They locate his sister, Isla, who is at boarding school just a few miles away, and she reveals something that makes the whole situation even more sinister: her brother, Kieran, died seven months ago.
Bryan and Finola put together a theory that the mother's grief is responsible for what's happening. The debris likely manifested as her late son and is using people as batteries by draining them of energy to stay alive.
Again, it's unclear what the "it" actually is, but considering the premise, it's safe to say it's due to some kind of alien life form aboard the ship that crashed.
However, it's also unclear why the supernatural entity is using people and re-enacting Kiernan's death with each victim. What is the ultimate goal?
None of those explanations are given even as Bryan figures out that Isla needs to snap her mother out of it so that everyone can regain consciousness. The mind-control aspect of it all reminds me a bit of Extant.
But since Bryan doesn't seem to know what they're dealing with, how did he know what the solution was or that it would work?
The series is embracing a half-procedural, half-serialized tone so that it doesn't lose viewers completely, but solving this case within the hour seemed rushed for the sake of wrapping things up. It doesn't allow audiences to full wrap their brains around what is happening. Again, that might be the point?
The episode would've been stronger had it established the rules for the series and elaborated a bit on what Finola and Bryan have already encountered/ the extent of their supernatural knowledge.
DEBRIS — "Pilot" Episode: 101 — Pictured: (l-r) Jonathan Tucker as Vryan Benventi, Riann Steele as Finola Jones — (Photo by: James Dittiger/NBC)Per the synopsis, we know the wreckage from the spacecraft has a mysterious effect on humankind, but does it vary based on the pieces you come into contact with?
How long have they been working together? Has this happened before so that Bryan knew exactly what needed to be done? It didn't seem like a situation Bryan and Finola were familiar with, so again, how were they so sure of the solution?
The pilot was engrossing enough that I want to know more, but it would've been more effective had it painted a fuller picture as a baseline for audiences. The "case of the week" stuff can come into play later once we get a sense of what to expect.
The only positive is that the series, unlike many other sci-fi dramas that tend to get lost in their own convoluted mysteries, seems to have a mythology that it can build upon and a sense of direction for where it wants to go and what story it wants to tell.
This was made clear in the final moments when Bryan was debriefing with his boss about the death of one of the British men.
The duo kept popping up throughout the episode at random sites where the debris was located. The agencies seem to be keeping this under wraps from the general population as not to cause alarm, but these guys were very well informed and knew what they were looking for.
Plus, they had an advantage by having a piece that allowed them to teleport.
However, the one man whose teleportation wasn't successful was identified as former SAS, which I'm guessing refers to the British Army?
And in a rather promising twist that hooks fans and entices them to return for future episodes, Finola's "late" father is spotted on surveillance arriving at JFK with the two men… very much alive. Talk about a "WTF" moment!
Bryan is told to keep this information from her as they don't have that established trust yet, but that's a huge secret to keep from your partner! Finola made it clear that her father's death inspired her to follow in his footsteps and make him proud.
He's regarded as a legend, but this might throw that all into question as he seems to be working with a nefarious organization – the same people Finola is working to stop. She's clearly more of a by-the-book lad and explains early on that she believes this technology, in the right hands, can do a lot of good. But what if it ends up in the wrong hands?
Meanwhile, Bryan, a vet, who recently returned from Afghanistan, is more sly and will likely venture off the beaten path for answers. (Let's be honest, half of us are only watching because of Tucker!) He believes this is his way of contributing to humanity and society. From his interactions with Isla about saying what she needs to say to her mother before it's too late, he's likely harboring a lot of hurt and regret that we'll get to explore in future episodes.
The family drama, which is introduced early on, seems to be the "humanity" and anchor of the series that's otherwise heavily focused on strange anomalies and supernatural entities.
In just one episode, we were exposed to defying gravity, portals, and alien mind control as a result of the wreckage. The series has promise, but it's hard to get too invested considering we know how it typically ends for overly ambitious sci-fi dramas.
As it stands, I'll be tuning in again… how about you?
What were your thoughts on the pilot? Let us know in the comments below!