The Boys season 2 premiered on Prime Video, Friday, September 4  with the first three episodes following-up on the insane cliffhanger from last season.
[SPOILER ALERT: Season 1 & 2 details henceforth]
As revealed in season 1, Becca, Billy Butcher's wife who was believed to be dead, is alive and has been raising the bastard son of Homelander at a secret remote location. After the events of the finale, Billy is framed for the murder of Madelyn Stilwell and must find a way to overcome the overwhelming influence of The Seven and Vought International.
Elsewhere, A-Train is hospitalized, Starlight is working as a mole in The Seven, The Deep is stuck in Sandusky, Ohio, and The Boys are in hiding because they're on everyone's most-wanted list.
Will they be able to pull through and pull something out of their butts this time around?
Well, if the first three episodes are any indication of where things are going this season, then strap in for a helluva ride.
EPISODE 1: "The Big Ride" (Rating: 8.5/10)
The much-anticipated appearance of Giancarlo Esposito (Breaking Bad, The Mandalorian) happens right off the bat as his character is revealed to be Stan Edgar, the big boss above Madelyn Stilwell, who ran Vought International behind-the-scenes and is now at the forefront.
Aside from Esposito's character reveal, a couple of blink-and-you'll miss it celebrity cameos happen in this episode with Seth Rogen appearing as a fictionalized version of himself talking about a new superhero movie franchise regarding the fallen Translucent, who was killed by Hughie Campbell in season 1.
There's also another Star Wars-related reference when Alden Ehrenreich(Solo: A Star Wars Story) is quickly mentioned in a conversation between Hughie and Starlight.
Then Chris Hansen appears as himself as a host of a television report show portraying a poorly re-enacted scene from last season's finale.
As for the episode itself, it's a wild ride filled with a couple of twists and turns that reminds viewers just how much the world of The Boys is painted in the gray area of the moral ambiguity of both its superheroes (who most are ironically the villains on the show) and the criminals aka "The Boys," who are the brutally violent vigilantes trying to fix everything.
The show's satire on the superhero mythos is still deeply entrenched within its world and has even become worse as the narrative is twisted by Vought International's PR and damage control.
Aside from the usually messed-up story arcs continuing from season 1, a couple of notable scenes cleverly played out to reference comic book characters as well as introduce new cast members.
One is a new hero named Eagle the Archer (Langston Kerman), who's an obvious parody of Green Arrow and Hawkeye, who bails a drunken Deep out of jail.
Another is Blindspot (Chris Mark), a Daredevil knock-off, who is killed by Homelander in a dark-humor scene (which is equally disturbing and somewhat hilarious in an off-beat way) by bashing his ears, which renders him useless.
Finally, Gecko (David Thompson), Starlight's former childhood friend, who has accelerated regenerative healing factor is introduced as an S & M worker for hire who lets people mutilate him for money as a side hustle.
Stormfront Joins The Seven
The episode also introduces the newest member of The Seven, Stormfront (Aya Cash) who first shows up by going on an Instagram Live feed while crashing a commercial shooting with Homelander and Maeve.
Her character is quite endearing, and refreshing at first, as her sarcasm and bluntness don't conform with the PR and media pandering the other members of The Seven adhere to.
However, she soon takes a dark turn toward the end of episode 3 where she shows violently sinister tendencies.
Other Important Details:
CIA Deputy Director Susan Raynor is killed when she pieces together the mysterious appearance of a Super Terrorist with Vought International and it's Compound V.
Stan Edgar lectures Homelander about the real history of Frederick Vought, the founder of Vought International, who's revealed to be a Nazi geneticist responsible for inventing Compound V, which is implied to have been tested on the Holocaust victims.
Hughie Campbell references multiple high fantasy coming-of-age movies as he compares himself to John Conner, Harry Potter, and Katniss Everdeen (who Frenchie is apparently a fan of).
Soldier Boy, a new character who is reported to be played by Supernatural actor Jensen Ackles, is mentioned by Stan Edgar.
EPISODE 2: "Proper Preparation and Planning" (Rating: 9.5/10)
After Billy Butcher returns in episode 1, he immediately puts The Boys to work on his latest diabolical plan. This time, however, he tries to keep his motives hidden since his main agenda is to reunite with his wife, Becca.
For guest appearances, Patton Oswalt (Agents of SHIELD) voices the Deep's gills during a hallucinogenic tea-induced trip that eventually leads to Oswalt and the Deep singing a hilariously sad rendition of "You Are So Beautiful."
Also, the Deep is apparently a huge fan of the Goo Goo Dolls as he plays the song "Iris" in the background when he is locked in a room.
Kimiko's brother Kenji Miyashiro (Abraham Lim) is introduced in this episode and is shown to possess powerful telekinetic abilities. He is, however, brainwashed by the terrorist group Shining Light Liberation Army, which makes him misguided and dangerous.
This is justified to an extent though because he's seeking revenge for an unnamed superhero's attack (presumably Homelander) on his and Kimiko's home village.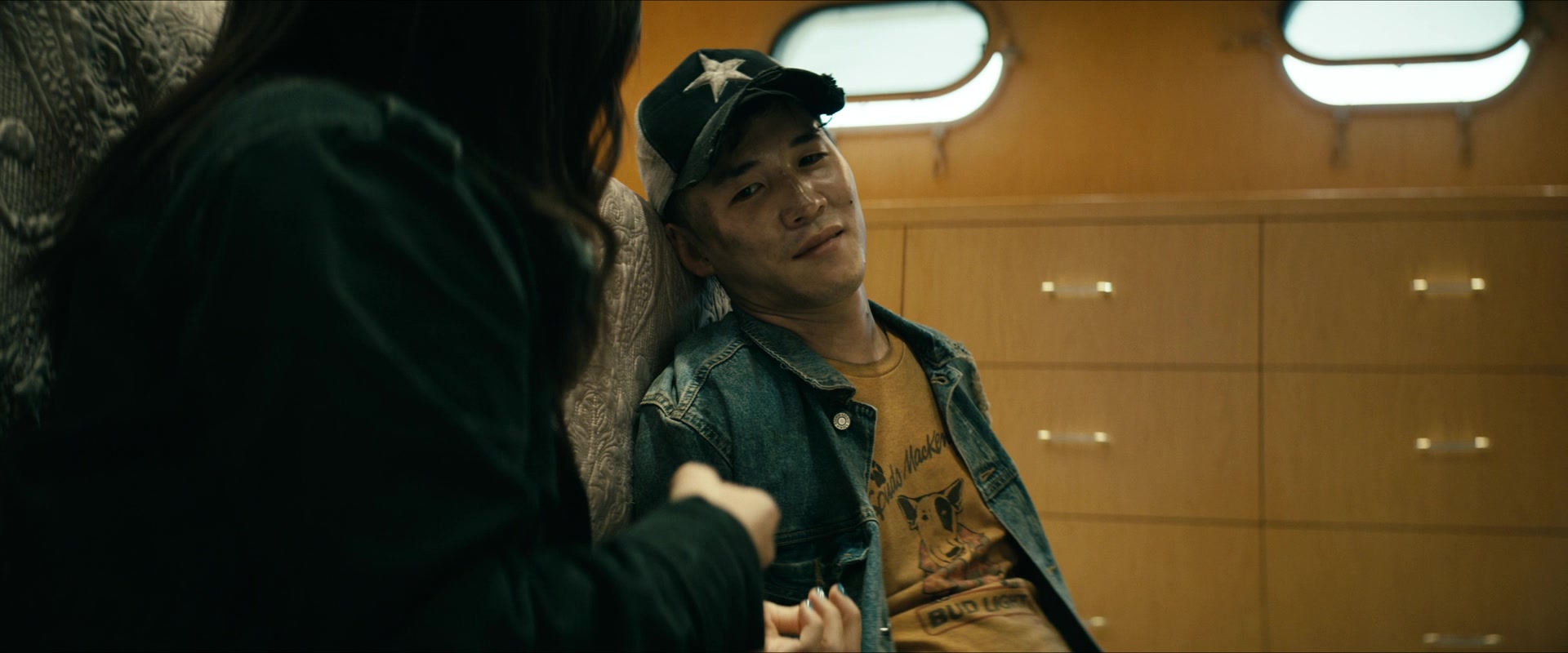 It's also revealed that he and Kimiko communicate through a unique sign language that only they can understand as Frenchie tries to coax him into teaching it.
In the end, Kimiko is forced to put his own brother in a sleeper hold as he threatened to put himself and the team in danger as he's being targetted by both the CIA and The Seven as a "Super Terrorist" whose been smuggled into the country illegally.
Other Important Details:
A-Train wakes up from his coma and threatens to expose Starlight but she learns to blackmail him back for killing Popclaw in season 1.
Stormfront, during her press tour with Maeve and Starlight, delivers this great comedic line:

"let's finish d***-tickling these half-wits so we can finally do our real jobs"
She also goes on a long rant about Pippi Longstocking, her favorite superhero.

Becca goes to a mysterious gated facility to speak with the mysterious Dr. Park about protecting her and her son, Ryan, from Homelander — her plea is ignored.
Maeve confides to Elena about Homelander's secret violent side.
Gecko manages to get a sample of Compound V to Starlight.
Homelander gives his son a smartphone so they can keep in touch but Ryan is hesitant to bond with his estranged father.
EPISODE 3: "Over the Hill with the Swords of a Thousand Men" (Rating: 9/10)
The episode begins with the exposure of Compound V to the general public, thanks to the efforts of Starlight and Hughie. However, Vought International manages to deny all ties with the drug and claims Madelyn Stilwell was responsible for its creation and dissemination.
The episode then revolves around Kenji, who was subdued by The Boys during episode 2 and is about to be surrendered to the CIA for protection. Kenji doesn't trust the word of anyone on the team, however, including his own sister who is trying to look out for his safety. He tries to escape and almost kills the team but accidentally destroys a police helicopter instead.
This, of course, puts them on The Seven's radar, and the sinister superheroes go after them.
Unfortunately, Kenji's reluctance to cooperate would lead to his demise as The Seven catches up to his and The Boys' location and a violent encounter with Stormfront happens where the supposed superhero maliciously murders Kenji and calls him by a racist slur.
Stormfront, beforehand, was also shown to kill innocent African-American bystanders, which strongly suggests that she has racist tendencies that belie her generally relaxed attitude. This characterization, however, stays true to her comic book counterpart who is a Neo-Nazi.
These scenes are definitely not for the faint of heart or those who are easily offended but it works as brilliant satire for the show.
To add insult to injury, Stormfront then spins the story in front of the media by saying Kenji and Kimiko were responsible for the deaths of the innocent bystander. Her actions, however, catch the attention of Homelander who sees her as a threat to the status quo he has maintained.
Stan Edgar then follows-up with a press conference saying that the Vought International family sends their "thoughts and prayers" to the victims of the "terrorist attack" further cementing their image management and disassociation with Compound V.
As for clever references, the show once again mentions a few off-hand including a nod to the movie Batman v. Superman: Dawn of Justice, which is parodied in a movie pitch about The Seven entitled Dawn of the Seven, which is fittingly accented by a Hans Zimmer score.
Lin Manuel Miranda (Hamilton) is also mentioned as the potential voice actor for Translucent and Michael Bay's Transformers is referenced.
Other Important Details:
Billy Butcher kills The Deep's whale, Lucy, by ramming a boat through it, exposing its guts in all its bloody glory. It's a particularly shocking scene that's definitely not fit to be seen by animal lovers. Also, Black Noir is apparently the only member of The Seven with a soft spot as he's the only one visibly affected by the dead animal.
Starlight is almost forced to kill Hughie as Homelander threatens to kill them both if she does not do so. They're only saved by Kenji, who is released by Billy to momentarily disable Homelander.
Homelander pushes his son Ryan off a roof to try and force him to use his powers. He faints upon falling but soon recovers after Becca wakes him up. However, a frustrated Homelander does manage to coax his son's powers out of him by getting physical with Becca, which prompts Ryan to become angry as he pushes Homelander to the ground.
The end scene shows The Boys watching the broadcast covering the events that transpired during their latest encounter with The Seven, and each of them appears to be once again united in seeking vengeance.
The Boys is exclusive on Prime Video with new episodes to be released for streaming on Fridays.
Follow CRAVEYOUTV on socials
4400 Review – Great Expectations (1×09)
The 4400 hit the ground running after the winter hiatus.
Jharrel got fired, Keisha quit, and Soraya seemingly betrayed Andre and partnered up with Jess — all in one hour!
4400 Season 1 Episode 9 picked up with the aftermath of Mildred's outburst that saw Bill plummeting several stories on live television.
The narrative was pretty clear: the 4400 have powers, so that makes them a threat to the public.
We've seen this narrative play out countless times throughout history typically with minorities, but now we're seeing what fuels the fire and ignites the flames.
This is exactly what the government wanted. They wanted to instill fear so that they could justify stripping the 4400 of their rights and keeping tabs on the all in the name of public safety.
And the paranoid public was all for it. In fact, they eagerly called the tip line to report any suspicious behavior.
We saw firsthand the dangers of a tip line as the security guard Steve got mistaken for a 4400 and his whole persona was destroyed online simply by a false report.
And while you would think that Steve, who has experienced discrimination and unjust profiling because he's asian, would know better, Soraya explained that he was also acting from a place of fear and self-preservation. He didn't want this situation to harm him or his family, so he chose to side with the security guards who felt as though "round them up" was a sound idea.
It's honestly a vicious cycle. Hate breeds hate and fear.
It's incredibly heartbreaking, but it's wonderful that the 4400 has found a way to put a spotlight on these issues while still sticking to their core plot and providing entertainment.
And just when the 4400 thought they won by gaining refugee status as time travelers, they unearthed a world without the government's protection.
It's a lose-lose situation, honestly. With the government poking and prodding, they were nothing more than prisoners, animals, and test subjects, but without the government, they have become exposed to the world's wrath.
Of course, in the final moments, we find out that this is yet another step in the governments big plan.
The idea here is that the 4400 will experience all the hatred of the world and round themselves up, ergo, doing all of the heavy lifting before the government swoops in once again.
Plus, they already have a handful of the returned that they are running their tests and experiments on.
It's comical to think that a skinny white woman in a pantsuit and heels is one of television's biggest villains, but then again, it also kind of tracks.
And she is. Jess is pure evil. I don't know why Keisha wasted any of her time and energy trying to find the good in Jessica because it was clear that it didn't exist.
Jess prided herslef on making the 4400 targets; she truly believes they are evil people and that the government is protecting the vulnerable public.
I found myself simultaneously cheering and wondering "what's next" when Keisha quit. She and Jharrel have been on Team 4400 since the beginning, however, with Jharrel fired, she was the only one on the inside.
Now that they are both gone, they won't be able to have any inside intel, which seems like a disservice to the people they are trying to protect.
Of course, there was bound to be a breaking point where Keisha was going to have to choose sides rather than straddling the middle line.
Jess' power moves extended beyond Jharrel's firing as in the final scene, he is arrested for stealing government property.
What?!
Why do Jess and Bill have it out for him? The poor guy is just trying to find his missing brother, Manny.
I'll be honest, I think Jharrel is onto something with the idea that Manny is trying to send him a message. Manny is the glue in all of this.
Though, I can't figure out if he's sending this message from the future or if his power is invisibility.
Either way, I think it'll be up to Keisha and Claudette (where has she been?!) to solve this mystery as he deals with the government.
With the reality so wacky, why wouldn't Keisha even consider the possibility that Jharrel is onto something with his Manny theory?
It's not that far-fetched when you have a bunch of time travelers with super powers surrounding you.
I need Keisha to get on board and help Manny out!
If he is from the future, his information could be crucial as he can help them stop the events from happening and change the course of history.
Could you imagine what a win that could be for the 4400?
Another character whose actions were a complete letdown? Soraya.
Much like Steve, Soraya has felt like a target numerous times, including when she the government suspected her of leaking LaDonna's video.
It's not entirely surprising that she would now do anything the government wants in order to protect herslef, however, I can't see her just betraying them by turning over all the stolen files from Ypsi Med.
Soraya strikes me as someone that's trustworthy and wants to be on the right side of history, so it's one thing to say no copies of a flashdrive were made, but it's another thing to actually follow through on it.
She's a tex-pert — there's no way she just turned over crucial information to the government, especially when it contains information about ZMT, the anomaly found in all of their blood.
My guess is that Soraya is keeping her friends close and her enemies closer. And with Jharrel and Keisha on the outs, she's going to be the one with one foot in at all times. Her intel is definitely going to come in handy.
Otherwise, if I'm wrong about her, that's the ultimate betrayal and my heart can't take it.
We got to see a more human side to the Rev finally. It's easy to be mad at him for having all of the returned sign a contract that basically gave the government conservatorship over them, but it's another to hear him out as to why he did it.
And the sad truth is that he trusted the wrong people. He thought he was helping his people and doing right by them, but instead, he led them right into the lion's den.
What's important is that he truly tried to make up for it by working with Shanice to find a way out for everyone.
He also admitted that he didn't think he could be the leader anymore because his power was that he could strip the returned of their powers. It didn't seem right for someone who champions the powers given to them by god.
However, Shanice helped him reframe his thinking by showing him that he's giving the returned something they never had.
And her choice was that she no longer wanted to be burdened by these invasise powers.
Do you think the Rev really took her powers away? Or was it a temporary fluke?
Is Soraya going to betray Andre? Will we ever see LaDonna again? What's Jharrel's next move? What does he know tha the government wants? How is Manny involved? And what is he trying to tell his brother?
Who is patient 48 that Bill is referring to? Is it Soraya? Or Keisha's sister? And what is Jess' plan with the Ypsi Med files?
What did you think of the episode? Let us know in the comments below!
Nancy Drew Review – The Spellbound Juror (3×11)
Isn't it such a relief that Nancy Drew is onto Temperance Hudson?
It was a bit concerning that Nancy couldn't see through Temperance's shady act, but it was only a matter of time before she caught figured it all out. Nothing gets past Nancy.
It was a coincidence that Ryan Hudson just so happened to be auctioning off pieces from the Hudson estate, which included a briefcase belonging to Charity Hudson. In that briefcase was a letter to Beckett's mother detailing the very plan to prevent her mother from unleashing holy hell on Earth to reunite the pieces of her soul.
From there, it was simply a game of who could figure out who the Copperhead's next victim was first.
Admittedly, the Drew Crew did much of the heavy lifting with Nick figuring out that the victim was part of the trial he was serving jury duty for.
In order to protect the Copperhead's victim, Bess leaked the news that Carson Drew and DA Dawson were dating, which apparently is big news on Horsehoe Bae's Twitter. Why is that name so genius?
The romantic news forced the judge to sequester the jury, but that was only a temporary fix.
The Drew Crew figured out that the victim was Lev just before he began displaying symptoms of the Copperhead's trance.
When he was dismissed, it was up to them to find him and protect him from the Copperhead's wrath.
Here's the thing though — either the Copperhead gets to the victim and destroys their soul or Temperance does and gets what she wants.
There's no good solution here.
Nancy and the crew thought they found it, but once again, Temperance outsmarted them. Why do they all keep forgetting she's a powerful witch that has years of experience? Not to mention she's been planning this for a very long time. She's had time to think through every potential flub.
Lev was taken into police custody, but when dealing with the supernatural, that doesn't mean much. Temperance was able to use her powers to knock them both unconscious.
And she sent Nancy a note to celebrate her win — the card of the hanged which stands for sacrifice.
Nancy understood what it meant immediately, and thus, the battle for the soul of Horseshoe Bay (and Charity) wages on.
After Temperance put the hex on the children at Nick's youth center, you would think that would've been a focal point of the episode, but instead, he invested all his time to stop the Copperhead.
It was nice to see Nick right in the center of the action without being tied to George or Nancy. He jumped into the case all on his own and proved that he has what it takes to handle things.
It's only a matter of time before his friends find out about the whole ordeal with Temperance.
Seeing Drew and DA Rosario square off was also a welcome change of pace. We know Carson is a lawyer, but we rarely see him at work. It's nice to see his cases connect to the current events of the episode.
And I'm really digging the idea of George becoming Carson's assistance and pursuing a career in law.
She's always been bound by her home life and upbringing, but she has what it takes to carve a new path for herself.
Not to mention that having her work with Carson directly connects him to the supernatural storyline. There's plenty to explore here for the writers.
George and Nick might be hurting from the break-up, but they are embarking on exciting new paths that may one day lead them back to each other as fully realized partners.
Elsewhere, Bess took the role of Ace's wing-woman to heart. Their friendship is so pure, and I'm convinced she's one of the only people who fully understands the real Ace.
When she realized that he didn't tell Nancy about his feelings, she kept pushing him to come clean and take a leap of faith.
Ace explained that he didn't think he was good enough for Ace, which was heartbreaking. He is so much more than a dishwasher, and Nancy has never cared about Ivy League educations and any of the other stuff he was bringing up.
Plus, it's not like Nancy has it all together herself either.
She didn't go to college, she also works at the Claw as a waitress, and she's working without pay as a neighborhood liaison.
While there's nothing wrong with any of those things, it's not fair for Ace to put himself down in the way that he was.
If anything, they are connected by their shared passion for solving crimes, keeping the town safe, and all things supernatural.
Eventually, Bess convinced him that he needed to shoot his shot regardless of Nancy's new relationship with Park. It's not like Ace to be afraid of a little competition.
And then he did it — he finally told her.
I was like a school girl squealing on my couch when he just laid it all out there. "I have feelings for you." Ace — a man that does not mince words.
Nancy looked like her soul left her body for a second. I mean, she was frozen in place without any idea how to react.
And who knows what would've happened if Ryan Hudson didn't interrupt them. Seriously, dude, read the room.
I was truly expecting Nancy to just leap into Ace's arms, but understandably, that likely won't happen for at least a few more episodes as she'll likely be conflicted by his confession.
She seems to really have a thing for Park, but I doubt he'll be around for much longer. Once they crack the case of the Frozen Heart's Killer aka the Copperhead, his time in Horseshoe Bay is over.
I think Nancy just has to come to terms with the realization that Ace feels exactly the same way she feels. She's also equally as scared to pursue something with him not only because it puts their friendship on the line but also because she doesn't think she's good enough for Ace.
They both have to figure out if these feelings are worth acting on and risking a friendship over.
But if George and Nick can remain cordial, I think love is always worth a shot.
And, at the very least, it's all out there in the open now. What a relief.
What did you think of the episode? Are you happy Ace told Nancy the truth?
Were you surprised Temperance pulled a fast one on Nancy?
Are you digging Carson's new relationship? Let us know in the comment section below!
Walker Review – [SPOILER] Gets Shot (2×07)
Why does Walker always wait till the very last minute to bring in the action?
Much of Walker Season 2 Episode 7 felt like a wash as everyone just spent time talking about their feelings.
It's fine sometimes, but this was overkill to the point that I found myself tuning out.
The moments that connect back to Emily Walker fall flat because she's not a main character. We know she means a great deal to Cordi and the Walker kids, but it's hard to feel the nostalgia or sentiment when we don't have any memories with her.
The rest of the hour was mostly spent on Serano's lawyers, Liam getting way too drunk, Stella questioning her future, and Trey moving on from Micki.
Trey isn't the only one hurt by Micki's decision — the viewers are feeling the fallout of Lindsey Morgan's exit just as much.
I've enjoyed the series, even with its flaws, for two full seasons, but it felt empty without Micki.
Was she the glue holding the show together?
After her departure, the whole situation with Serano seems overly confusing. I'll admit, I don't even know what they want anymore.
All I know is that Liam called in a false police report on the Davidsons, which made things pretty difficult for Cordi's case.
Serano's lawyers wanted a statement from Liam, but when he chose not to participate, they seemed all too thrilled.
That's when he, in his intoxicated state, realized that they were going to use Cordell's misconduct against him to throw the case away, so he decided that it was wise to show up at the headquarters drunk.
It led to a really strange and awkward exchange with Serano's lawyers, and eventually, a tender moment between brothers.
Cordell and Liam fight, but they always have each other's back, and that's the sweetest part.
Liam admitted that he's been feeling pretty lost and embarrassed by his actions, so hopefully, this is his wake-up call to get back on track. If he does, he could even get back together with Brett, who also came to support him through this trying time.
Stella struggled with making a decision about her future, though, eventually, she landed on possibly going to college in Maine. Considering all that she's been through this semester alone, maybe it's not such a bad idea for her to get out of town.
The series keeps stressing the relationship between Abeline and Colton's late grandfather. There's definitely a connection to the barn there, I just don't know what it is. Were they having an affair the night of the fire?
Is that why Auggie found a lantern in the barn with his family's brand?
And for the most shocking moment — Serano's men tried to take out Trey and got the Cap instead.
Based on where the Cap was shot, I think he'll be just fine. It'll be a long road to recovery, but he's not going to die.
However, it definitely underscores just how dangerous Serano is.
I'm just glad they didn't get Trey. Could you imagine literally getting shot while you're trying to mend a broken heart?
And Trey was only on Seran's radar because he went to visit Micki, which is totally unfair.
As I mentioned previously, the episode was pretty dull until that final shooting, which jolted me out of the couch.
Will Cordell find a way to make this case even more personal even though he was told to stay out of it?
Will Captain Larry pull through? How are the Davidson's connected to all of this? And will the real story about what caused the rift between their families finally come to light!
Sound off in the comments below! Are you starting to lose interest in Walker? Is it starting to lose the little bit of edge that it had?