The Boys season 2 premiered on Prime Video, Friday, September 4  with the first three episodes following-up on the insane cliffhanger from last season.
[SPOILER ALERT: Season 1 & 2 details henceforth]
As revealed in season 1, Becca, Billy Butcher's wife who was believed to be dead, is alive and has been raising the bastard son of Homelander at a secret remote location. After the events of the finale, Billy is framed for the murder of Madelyn Stilwell and must find a way to overcome the overwhelming influence of The Seven and Vought International.
Elsewhere, A-Train is hospitalized, Starlight is working as a mole in The Seven, The Deep is stuck in Sandusky, Ohio, and The Boys are in hiding because they're on everyone's most-wanted list.
Will they be able to pull through and pull something out of their butts this time around?
Well, if the first three episodes are any indication of where things are going this season, then strap in for a helluva ride.
EPISODE 1: "The Big Ride" (Rating: 8.5/10)
The much-anticipated appearance of Giancarlo Esposito (Breaking Bad, The Mandalorian) happens right off the bat as his character is revealed to be Stan Edgar, the big boss above Madelyn Stilwell, who ran Vought International behind-the-scenes and is now at the forefront.
Aside from Esposito's character reveal, a couple of blink-and-you'll miss it celebrity cameos happen in this episode with Seth Rogen appearing as a fictionalized version of himself talking about a new superhero movie franchise regarding the fallen Translucent, who was killed by Hughie Campbell in season 1.
There's also another Star Wars-related reference when Alden Ehrenreich(Solo: A Star Wars Story) is quickly mentioned in a conversation between Hughie and Starlight.
Then Chris Hansen appears as himself as a host of a television report show portraying a poorly re-enacted scene from last season's finale.
As for the episode itself, it's a wild ride filled with a couple of twists and turns that reminds viewers just how much the world of The Boys is painted in the gray area of the moral ambiguity of both its superheroes (who most are ironically the villains on the show) and the criminals aka "The Boys," who are the brutally violent vigilantes trying to fix everything.
The show's satire on the superhero mythos is still deeply entrenched within its world and has even become worse as the narrative is twisted by Vought International's PR and damage control.
Aside from the usually messed-up story arcs continuing from season 1, a couple of notable scenes cleverly played out to reference comic book characters as well as introduce new cast members.
One is a new hero named Eagle the Archer (Langston Kerman), who's an obvious parody of Green Arrow and Hawkeye, who bails a drunken Deep out of jail.
Another is Blindspot (Chris Mark), a Daredevil knock-off, who is killed by Homelander in a dark-humor scene (which is equally disturbing and somewhat hilarious in an off-beat way) by bashing his ears, which renders him useless.
Finally, Gecko (David Thompson), Starlight's former childhood friend, who has accelerated regenerative healing factor is introduced as an S & M worker for hire who lets people mutilate him for money as a side hustle.
Stormfront Joins The Seven
The episode also introduces the newest member of The Seven, Stormfront (Aya Cash) who first shows up by going on an Instagram Live feed while crashing a commercial shooting with Homelander and Maeve.
Her character is quite endearing, and refreshing at first, as her sarcasm and bluntness don't conform with the PR and media pandering the other members of The Seven adhere to.
However, she soon takes a dark turn toward the end of episode 3 where she shows violently sinister tendencies.
Other Important Details:
CIA Deputy Director Susan Raynor is killed when she pieces together the mysterious appearance of a Super Terrorist with Vought International and it's Compound V.
Stan Edgar lectures Homelander about the real history of Frederick Vought, the founder of Vought International, who's revealed to be a Nazi geneticist responsible for inventing Compound V, which is implied to have been tested on the Holocaust victims.
Hughie Campbell references multiple high fantasy coming-of-age movies as he compares himself to John Conner, Harry Potter, and Katniss Everdeen (who Frenchie is apparently a fan of).
Soldier Boy, a new character who is reported to be played by Supernatural actor Jensen Ackles, is mentioned by Stan Edgar.
EPISODE 2: "Proper Preparation and Planning" (Rating: 9.5/10)
After Billy Butcher returns in episode 1, he immediately puts The Boys to work on his latest diabolical plan. This time, however, he tries to keep his motives hidden since his main agenda is to reunite with his wife, Becca.
For guest appearances, Patton Oswalt (Agents of SHIELD) voices the Deep's gills during a hallucinogenic tea-induced trip that eventually leads to Oswalt and the Deep singing a hilariously sad rendition of "You Are So Beautiful."
Also, the Deep is apparently a huge fan of the Goo Goo Dolls as he plays the song "Iris" in the background when he is locked in a room.
Kimiko's brother Kenji Miyashiro (Abraham Lim) is introduced in this episode and is shown to possess powerful telekinetic abilities. He is, however, brainwashed by the terrorist group Shining Light Liberation Army, which makes him misguided and dangerous.
This is justified to an extent though because he's seeking revenge for an unnamed superhero's attack (presumably Homelander) on his and Kimiko's home village.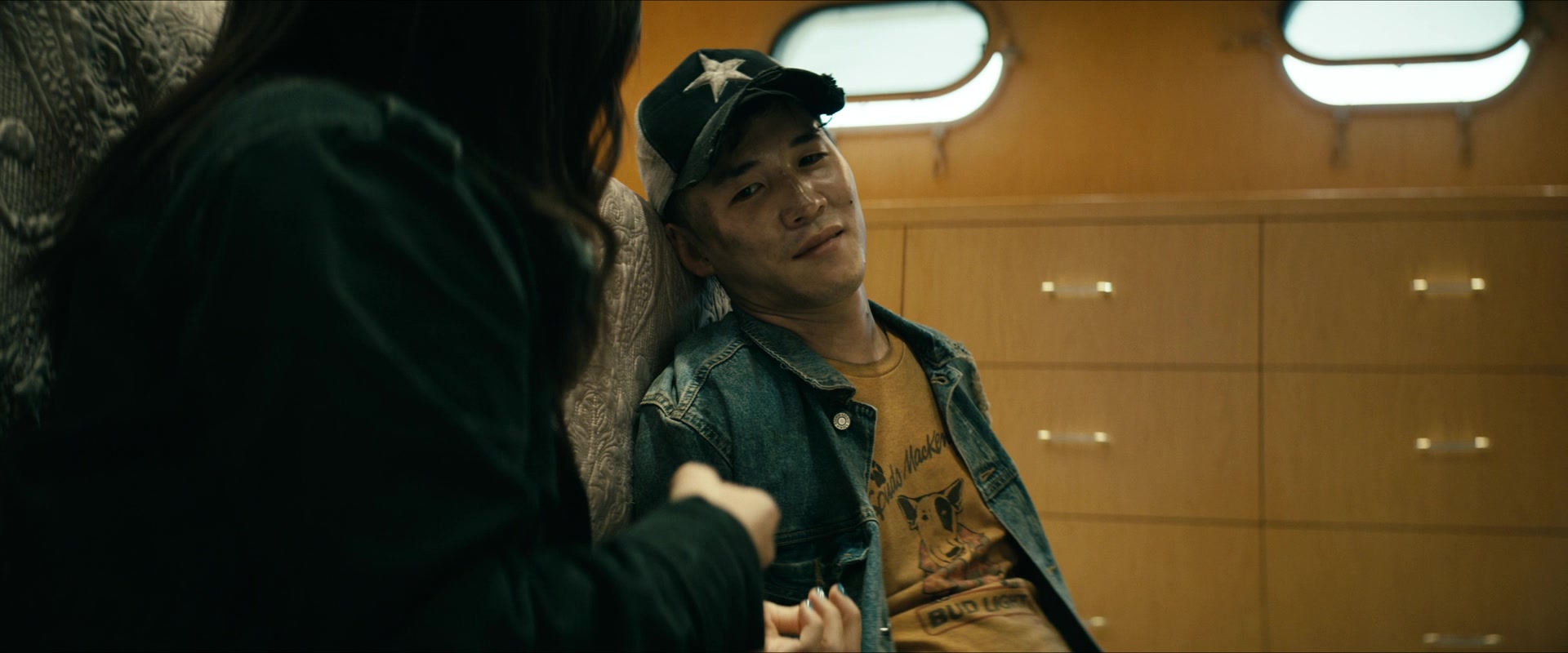 It's also revealed that he and Kimiko communicate through a unique sign language that only they can understand as Frenchie tries to coax him into teaching it.
In the end, Kimiko is forced to put his own brother in a sleeper hold as he threatened to put himself and the team in danger as he's being targetted by both the CIA and The Seven as a "Super Terrorist" whose been smuggled into the country illegally.
Other Important Details:
A-Train wakes up from his coma and threatens to expose Starlight but she learns to blackmail him back for killing Popclaw in season 1.
Stormfront, during her press tour with Maeve and Starlight, delivers this great comedic line:

"let's finish d***-tickling these half-wits so we can finally do our real jobs"
She also goes on a long rant about Pippi Longstocking, her favorite superhero.

Becca goes to a mysterious gated facility to speak with the mysterious Dr. Park about protecting her and her son, Ryan, from Homelander — her plea is ignored.
Maeve confides to Elena about Homelander's secret violent side.
Gecko manages to get a sample of Compound V to Starlight.
Homelander gives his son a smartphone so they can keep in touch but Ryan is hesitant to bond with his estranged father.
EPISODE 3: "Over the Hill with the Swords of a Thousand Men" (Rating: 9/10)
The episode begins with the exposure of Compound V to the general public, thanks to the efforts of Starlight and Hughie. However, Vought International manages to deny all ties with the drug and claims Madelyn Stilwell was responsible for its creation and dissemination.
The episode then revolves around Kenji, who was subdued by The Boys during episode 2 and is about to be surrendered to the CIA for protection. Kenji doesn't trust the word of anyone on the team, however, including his own sister who is trying to look out for his safety. He tries to escape and almost kills the team but accidentally destroys a police helicopter instead.
This, of course, puts them on The Seven's radar, and the sinister superheroes go after them.
Unfortunately, Kenji's reluctance to cooperate would lead to his demise as The Seven catches up to his and The Boys' location and a violent encounter with Stormfront happens where the supposed superhero maliciously murders Kenji and calls him by a racist slur.
Stormfront, beforehand, was also shown to kill innocent African-American bystanders, which strongly suggests that she has racist tendencies that belie her generally relaxed attitude. This characterization, however, stays true to her comic book counterpart who is a Neo-Nazi.
These scenes are definitely not for the faint of heart or those who are easily offended but it works as brilliant satire for the show.
To add insult to injury, Stormfront then spins the story in front of the media by saying Kenji and Kimiko were responsible for the deaths of the innocent bystander. Her actions, however, catch the attention of Homelander who sees her as a threat to the status quo he has maintained.
Stan Edgar then follows-up with a press conference saying that the Vought International family sends their "thoughts and prayers" to the victims of the "terrorist attack" further cementing their image management and disassociation with Compound V.
As for clever references, the show once again mentions a few off-hand including a nod to the movie Batman v. Superman: Dawn of Justice, which is parodied in a movie pitch about The Seven entitled Dawn of the Seven, which is fittingly accented by a Hans Zimmer score.
Lin Manuel Miranda (Hamilton) is also mentioned as the potential voice actor for Translucent and Michael Bay's Transformers is referenced.
Other Important Details:
Billy Butcher kills The Deep's whale, Lucy, by ramming a boat through it, exposing its guts in all its bloody glory. It's a particularly shocking scene that's definitely not fit to be seen by animal lovers. Also, Black Noir is apparently the only member of The Seven with a soft spot as he's the only one visibly affected by the dead animal.
Starlight is almost forced to kill Hughie as Homelander threatens to kill them both if she does not do so. They're only saved by Kenji, who is released by Billy to momentarily disable Homelander.
Homelander pushes his son Ryan off a roof to try and force him to use his powers. He faints upon falling but soon recovers after Becca wakes him up. However, a frustrated Homelander does manage to coax his son's powers out of him by getting physical with Becca, which prompts Ryan to become angry as he pushes Homelander to the ground.
The end scene shows The Boys watching the broadcast covering the events that transpired during their latest encounter with The Seven, and each of them appears to be once again united in seeking vengeance.
The Boys is exclusive on Prime Video with new episodes to be released for streaming on Fridays.
Follow CRAVEYOUTV on socials
Only Murders in the Building Review – Framed (2×02)
Mrs. Gambolini needs to tell us everything she knows!
Only Murders in the Building Season 2 Episode 2 ended with the talking parrot dropping quite a cliffhanger: she knows "who did it." Is the "it" she's referring to Bunny's death? If so, we need her to spill the tea!
But that wasn't the only jaw-dropping moment throughout the episode. As Charles, Oliver, and Mabel began to investigate Bunny's death for the podcast in an attempt to clear their own names, they unraveled a mystery within a mystery with Charles Savage at the center of it all.
When Mabel found Bunny impaled, she heard her say "savage," which either referred to Charles or the painting that had his last name written on the back likely referring to the fact that Charles' father was the subject in the pricy piece of Rose Cooper erotica that went missing and turned up in his apartment shortly after.
After stating that the killer is likely in possession of the painting on the podcast, the trio knew they needed to get rid of the art so that they didn't look like murderers, but by trying to sneak the painting back into Bunny's apartment during a neighborly memorial for her, they simply managed to draw more attention to themselves.
Of course, the plan got totally botched forcing them to leave behind the painting in the dumpster, after which it ended up in Amy Schumer's penthouse. Oliver learned that she wanted to turn the first season of the podcast into a movie starring in the role of Jan.
To be quite honest, Schumer's addition might provide some slight comical relief, and I know she's supposed to be over-exaggerated, but in comparison to the rest of the trio who are just naturally funny, it comes off too forced.
The real treat was Leonora, Bunny's mother, who arrived at the memorial declaring that the Rose Cooper painting belonged to her.
Leonora was a wild spirit who loved coconut liquor and could literally sniff out the killer… or, better yet, who wasn't the killer. And Charles, Oliver, and Mabel were not killers — though, they did know something. I wish that held up with the police!
She confided in Charles, and a heart-to-heart between the two tapped into some of his childhood trauma involving his father. The painting was such a distraction for him that it was nice he got some answers, even if they weren't the ones he was looking for.
Turns out, this whole time, he thought his father was an aspiring actor who could never land a role, but instead, his dad was paying off a bellhop to watch his son while he was stepping out on his wife with other women, including Rose Cooper and Leonora.
Rose's story ended in a "mysterious death," and though it's unclear what actually happened to her, Charles recalls his father getting arrested outside of her apartment building. As he emerges from the building in a bloody tank, it's a fair assumption that he was somehow involved with Rose's death. That is unless Rose and Leonora are the same person. My gut tells me they might be.
The fear and confusion on young Charles' face is heartbreaking, but it also explains why he has held onto his dreams of living at the Arconia and acting for all these years. His whole life was based on a lie.
While none of this explains why Bunny was murdered outright, it does paint a deeper and more painful picture of Charles. It also connects him to Bunny more intimately as they may have been siblings this whole time! Leonora married a Folger, so it's possible that Bunny was a love child between her and Charles' father, but she kept it a secret from her husband.
Charles may be the reason why they are all getting framed!
Another character I'm not too keen about is Alice Bank, but I think that has to do more with my personal indifference towards Cara Delevigne than anything else because I don't mind Mabel finding someone she connects with who also wants to help her work through her trauma and provide her an outlet from all this darkness.
I'm even rooting for Mabel to find love, so yeah, I just don't feel the chemistry between Delevigne and Selena Gomez.
The episode also introduces us briefly to Nina Lin, the new board president, but we don't know much about her aside from Howard's interpretation that she's even worse than Bunny was.
Other clues that will likely come into play at some point
The painting is a reproduction and not the original so either Bunny or the killer had it made.
Ursula dumping a ton of paper into the dumpster. I'm not sure if there's any significance, but it definitely seemed like she was trying to get rid of a trail.
Charles says his father died when he was young, but did he?
Why did Howard have a black eye? I don't buy the cat story at all!
Bunny's grandfather was the architect of the Arconia, and he created a bunch of secret entrances and exits because he was a peeping tom. Men..
What did you think of the second episode? Do you have a theory? If so, drop it in the comments below!
Only Murders in the Building Season 2 Premiere Review – Bloody Mabel
Superman & Lois Season Finale Review – Waiting for Superman (2×15)
Superman may have been rendered powerless, but it was never going to keep him down for long.
The world's savior went to great lengths to restore his abilities on Superman & Lois Season 2 Episode 15 because, without him, Ally Alston and her lesser-half would have likely completed the merge and destroyed both worlds as we know it.
Everyone did their best to save the planet, but no one was as powerful or as skilled as Superman.
Now, that's not to say that they didn't hold things down until he recharged either.
Hope is a powerful thing when you have nothing left. While it would have been easy for everyone to just give up and accept their fate, that's not the kind of approach that creates heroes.
Tal decided to make up for all the damage that he did in the past — including his attempt to also destroy the world — by trying to save it this time.
When he quickly learned that he was foolish for thinking he could ever be a match for the all-powerful Ally, Jordan lent a hand and saved his life. And honestly, it was impressive considering Jordan is just coming into his powers.
Nat and John Henry were also willing to sacrifice everything for the greater good as the former followed her father into the void to help stop Ally.
Since John Henry's message from the void came through a bit choppy, Nat didn't realize that her father wanted her to bring X-K into the pod, so they improvised and depleted all the energy from their exosuits to power the pod and allow it to blow up Ally's tether between world's, which left them powerless.
Thankfully, at that exact moment, Superman gained full power by throwing himself directly into the sun (talk about a sunburn) to recharge his cells.
It may have been an extreme measure, but it was once that effectively allowed him to save both worlds from Ally's madness.
And everyone, even Ally's devoted followers, were grateful for it.
There's something so captivating about apocalyptic shows and storylines, and Superman & Lois approached it with a fresh take as we saw the worlds bleeding into each other.
Lois was sadly pulled into the Bizarro world and never blipped out, which was terrifying and lonely. She encountered a few people along the way, including her father and Kyle, who all made it back to their worlds eventually. Kyle, in particular, felt as though this was karma for cheating on Lana and breaking up the family, which was heartbreaking. Yes, he may have made some bad choices, but no one deserves to be alone and scared.
I was worried that Lois would end up stranded in the Bizarro version of Smallville when she was standing on the street all alone, but thankfully, that wasn't the case.
Once Superman regained his abilities, everything we back to normal.
Kyle, unfortunately, didn't get his happy ending. When you're on the verge of losing someone, it puts a lot of things into perspective. While Lana spent much of her "final moments" looking for Kyle, who blipped out into the other reality, it made her realize that she's not over the hurt he caused her and likely never would be. Admittedly, I was a little stunned by this realization as I thought it would help them patch things up, but I acknowledge that Lana has enough self-respect to stand her ground and follow her gut.
It would make it a lot easier to forgive Kyle and reconcile the family, but if she's not ready to trust him, it won't make either of them happy in the long run. Sometimes, there's no going back to how things were, there's just moving forward, and at least these two are mature enough to remain friends and co-parent.
Superman's identity is still the world's biggest secret, but the circle of people who are privy to it has grown just a smidge. Of course, Lana and Sarah are both aware, but Lois also confided in Chrissy, who was completely floored by the realization. As a journalist, you'd think she would put two and two together or see the resemblance, but she was sure that Lois was kidding at first.
The way she stared at Clark Kent after was hilarious. But I'm glad she's in the circle of trust. After Lois visited the Bizarro world, we learned that Chrissy is a good person on every planet. She's someone you can trust and confide in. Superman's secret has come between her and Lois one too many times, and if they are going to work together, she deserves to know. Why is this the only moment that made me truly emotional?
I'm happy that the series arrived at the point where all the people that have always deserved to know the truth about Superman are finally clued in.
The world may have been ending, but it also gave Sarah a lot of time to process. When she finally had a moment to talk to Jordan about it, they both acknowledged that there wasn't one issue that led to their failed romance — it was on both of them. Sarah never thought about Jordan's feelings, while Jordan never shared his feelings with Sarah. They weren't ready to give everything up just yet, but they were ready to press "reset" and start over. And opening up that line of communication will make a world of difference for them. Sarah won't have to doubt if Jordan is telling her the truth, and he won't have to hide who he is or what he's doing anymore. I'm excited for what their future holds! I'm also happy Sarah acknowledged the weight of the secret that Jordan had to carry.
Post-Armageddon, everyone decided to catch a break. The Lane family patched things up, which was so awesome. They finally got their Lucy back — not brainwashed by Ally. I'm surprised Lucy didn't want to see Ally one last time to chew her out, but it's for the best. Lois made the visit instead simply to understand if Ally ever accomplished her goal of feeling complete. The two Ally's informed her that they did not, but I'll be honest, there was something eerie about that whole interaction. It seemed as though Lois was feeling empty and wanting answers as to how to fill the void, and when the two Ally's held hands, it made me think there was yet another part of the plan that they hadn't tried yet.
Maybe I'm just being overly cautious about the whole situation because John Diggle arrived to introduce the next season's new mystery/villain: Bruno Mannheim.
Burno is the Intergang crime boss and one of Superman's enemies who dabbles in money launder and human trafficking. He's also the man who killed this planet's John Henry, and Diggle wants to know why.
There's no better man for the job than John Henry! And after such a stellar season that really ramped things up in the final episode, I have full confidence in the writers for whatever they have planned next.
And it's probably a good thing that Superman, clad in a hygge white chunky sweater, has rebuilt his fortress for his family. If this near-Armaggedon has taught us anything, it's that dangers loom at every corner and they need to be able to find a place of solace, solitude, and safety.
Jordan needs somewhere to train, Jonathan deserves to get to know his grandmother and experience some of the super perks even without powers, and Lois, well, she deserves the world for enduring all that stress day-in-and-day-out.
Other sweet moments:
Nat referring to Jon and Jordan as her "brothers" was everything. She finally found a place for herself here, and I hope the series hones in on this special relationship because Nat and John feel like natural inclusions in the superfamily.
Tal turning over a new leaf, thanking and apologizing by getting the boys new trucks that Clark was absolutely against, and Tal looking for his wife in the other world.
Also, Tal and Clark's brotherly moment. The brother's bond is strong! I'll miss him!
What did you think of the season finale? Are you happy the Ally Alston storyline was put to rest? Do you think it is the last we've seen of her?
Share your thoughts and comments below — and I'll see you all back here next season!
Only Murders in the Building Season 2 Premiere Review – Bloody Mabel
They will not go gently or quietly into the night.
The season 2 premiere of Only Murders in the Building was chock full of everything that made the first series such a smash success — witty one-liners, a mysterious death, an array of suspects, and three determined Arconia residents willing to stop at nothing until they figured out the case and made a killer podcast along the way.
Of course, I'm talking about Mabel, Oliver, and Charles, though, when the series kicks off, their mugshots are splashed smack dab across every paper in town.
The tables have turned as they are now the suspects in the murder investigation of Bunny, who was found stabbed to death (eight times, might I add) with a knitting needle/knife.
The bottom line is that someone is framing our trio, and it's earned Mabel, who appeared on the front pages in a bloody white shirt, the nickname "Bloody Mabel." Say that three times into a mirror. Just kidding, don't. I don't want to be held accountable for whatever happens.
Initially, Mabel heeds Detective Williams' warning to get a hobby — any other hobby — than solving this mystery as they are still person's of interest, but it doesn't take long for the threesome to get all wrapped up in the cozy crime-solving.
Cinda Canning's podcast, Only Murderers in the Building, actually pushes them to pursue their own investigation in order to clear their names. After all, they've done this before and solved a murder that the police weren't even close to untangling.
And, not to mention, they all have plans for a future that doesn't involve sitting behind bars.
Charles is offered a role in the reboot of Brazzos, only this time, he's tapped for Uncle Brazzo's, a sidekick to his niece, a refresh of the beloved character. He's not totally pleased with it, but it is a series regular role, so he's optimistic about it.
Oliver continues to live in the whimsical world he's created for himself. He's the only one rejoicing at all the paparazzi attention post-arrest, and when he meets Amy Schumer (starring as Amy Schumer), he's totally on board to talk about selling the rights to his podcast so she can turn it into a streaming show. Also, I don't want to point fingers immediately, but there's something really suspicious about Amy, right? Like the fact that she likes murder and calls it cozy? Let's remember — everyone and anyone you meet is a suspect on this show.
And then there's Mabel, who is trying desperately to have a life away from death. The poor girl has been through enough. Bunny literally died in her hands. There's trauma there, which is why her memory is so hazy from that night.
As she begins to process, she starts to remember small things, including the fact that Bunny said two things to her before she succumbed to her injuries: "14" and "savage."
None of those things make much sense out of context, but it would be wise to remember them as they will likely come into play the more that the trio investigates.
Mabel also has a desire to tap into her artistry, which is a welcome change of pace for her considering she was all about laying low last season.
When Alice Banks (Cara Delevigne) reaches out as a fan of Mabel's mural and invites her to a gallery opening, Mabel quickly jumps on the opportunity.
But — hold on. While we're all eager for Mabel to have a friend and close confidante around, again, everyone is a suspect.
Isn't it a little convenient that Alice reaches out to capitalize on Mabel's newfound internet fame? She has to know that if Mabel shows up at the gallery, it'll be all over social media in minutes.
There's also the fact that when Charles, Oliver, and Mabel break into Bunny's apartment (only because they heard her voice, which turned out to be her pet parrot, who will likely provide some clarity on what transpired the night of Bunny's death, I'm sure), they overhear Uma and Howard discuss a painting that was stolen from her apartment that's worth millions.
It can't be a coincidence that an art gallery owner expresses interest in Mabel around the same time she's framed for the murder of the owner of a pricy piece of art. There's also the note Oliver finds informing Bunny that someone wanted the painting. Could it be Alice? Or Amy? Or Cinda? Everyone has something to gain from keeping this murder investigation going!
The trio eventually escapes via a secret, hidden elevator in Bunny's closet without getting caught sneaking around the dead woman's apartment, which would have made them guilty, but you've got to wonder why they didn't even hesitate to take an old and unknown elevator down to an unknown exit? What if it got stuck? Am I being too practical?
The hidden elevator is a surprising development, sure, but it likely isn't the only hidden entryway/exit the Arconia has to offer. That place is a maze, and those residents know way more than they are letting on.
And it would explain how so many things go unnoticed. Like the fact that the expensive art piece ended up hanging on Charles' apartment wall.
Why does the killer want to frame him? And furthermore, why did Bunny have a nude painting of Charles' father in her house? Despite Bunny's death, we're going to find out way more about her, and hopefully, many of the other residents. There are so many characters living in that massive structure, it's time to get to know them on a deeper level.
I have a lot of questions after this episode, but that only means it was an intriguing and captivating installment in yet another promising and twisted season of this refreshing murder mystery series.
What did you think of the episode? Weigh in below with thoughts, comments, and theories!