We finally make it to the Good Place and it is everything that's been promised. Unfortunately, everything that's been promised isn't necessarily everything one would hope.
Nor was this episode "Patty" exactly what I had hoped, so let's start at the beginning.
The front half of this season is too slow. I mentioned in my review for "Help is Other People" that the show seemed to be treading some water the first half of the season, and now with "Patty" under our belt, I've even more reason to feel this way.
This show needed another episode dedicated to discovering the Good Place. Some of what happened in "Patty" is what I referred to in my review for "You've Changed, Man," when I discussed the potential pitfalls of the humans coming up with their new afterlife plan too quickly. That episode avoided those pitfalls by having the crew take the length of the episode to debate and discuss the best plan moving forward.
"Patty" does not avoid those pitfalls. It barely raises its problem before offering the solution, and therefore greatly undercuts the drama.
The problem is that the Good Place isn't quite all it's cracked up to be, as the residents there lose their passion and joy and lead meaningless lives. Turns out that everlasting perfection tends to get boring, resulting in brains becoming mush and hopes and dreams becoming empty.
Good ol' Eleanor Shellstrop comes up with a solution, though; let people leave. For good. Let them walk out a door and let their existence in the universe end, AKA permadeath. The idea behind this solution is that an ending will give the residents' afterlives meaning again, and being allowed to leave once they feel they've accomplished everything will give them peace.
Let me be clear here – the solution to the Good Place is perfect for this series. I absolutely love it. It makes me sad and happy all at the same time. It's a commentary on life and on stories, and is a culmination of the series' messages and ethos.
But damn, if it isn't a quick turnaround.
Due to the fast pace of this episode, the story has to plow through the set up of the problem. Hypatia of Alexandria, AKA Patty, ends up mostly telling the characters what the problem is instead of letting them, and us, naturally find it.
If there had been an extra episode dedicated to the Good Place, we could have not only seen more of Eleanor, Chidi, Tahani, and Jason's fantasies come true, but started to piece together that something isn't quite right on our own.
Jason would have been the perfect vehicle for this as well. His impulsiveness makes him the perfect candidate to encounter the Good Place's soul draining euphoria, as he would have burned through each of his fantasies quickly, leaving him the first to feel the emptiness of eternal heaven.
The episode tries to do this with Jason, but his entire journey happens off screen, and by the time he returns we already know what the problem is so his journey is inconsequential.
Imagine if the reveal at the end of season one happened three episode into the show. There would be too little time for the characters and audience to build up their own interpretations of the environment before the reveal. This is what I feel happened in "Patty." We barely spend any time in the Good Place, and don't get to discover for ourselves what it is about before we're told what it is about.
I wish the experiment at the start of season four would have ended an episode sooner. That time could have been used to journey around the Good Place with our characters, giving them time to settle into their paradise only to feel something was off and for us to discover that with them.
As for Eleanor's solution; it comes too quickly. There is no build up to her revelation and no input from any other character. I also feel this solution maybe should have come from Michael.
Michael has grown so much and learned all about what it means to be human, it would have been a very touching moment had he been the one to recall his lessons from Eleanor and realize what the people of the Good Place need.
Despite my gripes, the problem of the Good Place and the solution provided are excellent.
Providing the lifeless eternals an avenue for what is essentially true death is a haunting and beautiful sentiment. I wish there was more time spent with the rumination of this concept, because it really hits the themes of the show out of the park.
The Good Place has a plot about characters in the afterlife trying to avoid eternal damnation to achieve eternal bliss, but it's always been about the connections the characters make with each other during this journey.
Based on the The Good Place's philosophy, being a person is about making these connections and trying to be a better person today than you were yesterday. If you have eternal tomorrows, though, what drives you to improve? What drives you to do anything?
"Patty" posits that the gift of time is only a gift if there is a limited amount of it (even if that limit is decided by you). What you do with your time is only valuable if there is only so much time you have to fill. It makes what you choose to fill it with important.
I love this concept so much it hurts, and it makes me super salty that we didn't get more time to explore this idea with these characters.
Take away "Employee of the Bearimy" and add in another episode of the characters in the Good Place so the plot here has time to thicken and build some tension. Let the humans personally begin to feel the lackluster bliss of the Good Place and have Michael's tenure as the head honcho of the Good Place force him to reflect on his time becoming human.
Maybe we even could have been given enough time with one of the Good Place residents to develop an attachment to them, and experience the elation they feel when Eleanor announces the ability to leave.
As it stands, though, I feel "Patty" is a great concept slightly muddled by some imperfect execution.
There is one episode left, and just as I said about "Mondays, Am I Right?" it's hard to completely judge "Patty" without knowing what is coming next, since the ending of this episode's storyline feels very finite.
"Mondays, Am I Right?" gets a minor bump upwards in my viewing due to this episode. The team's success at creating a system that will push more people into the Good Place provides some good tension for this episode, since soon, due to their new system, more people will end up in the Good Place and suffer the same soul sucking paradise that's been plaguing the Good Place for centuries.
Anyway, salt aside, there is a lot to love in "Patty." The Good Place feels fully realized and milkshakes are made of stardust. Tahani talks about caviar on Jello-O shots and Chidi has never been more excited than he is meeting Patty.
Beautiful touches such as the squad walking arm and arm into their perfect party together and Jason realizing that he'd rather be with his friends than go-karting with animals are examples of what has made the series sing over the past four years. The story of these characters is here, and it coalesces nicely with the plot of the episode.
As time passes I know I will look back at this episode and be happier with what it provides instead of being disappointed in what I feel was left on the table. The story here is excellent; it's just a bit too quick.
For now, though, I wish their time this season was a bit better spent.
Other Musings:
Janet slips up and says she was born.

I thought Michael's anxiety over being in the Good Place was going to be his focus in the episode. This would have been a GREAT storyline if there was an extra episode here.

Michael's line about never signing his name before pulled at my heartstrings for some reason. I wish there was more time for moments like these.

Michael's robe is ridiculous and classic Good Place visual comedy.

Love that they rebuild the neighborhood. Gave me some Lost vibes, as the most important time in their lives was the time they spent together, so their paradise is a return to their original afterlives.
NEW MUSIC CUE ALERT – I believe we finally have a new major music cue for when Eleanor reminds Michael that he is in charge of the Good Place and can make a door that allows residents to move on. This is my favorite moment of the episode and a reminder at how essential music is to make your moments land. This cue almost saves the moment from not having enough build up. Almost.
Follow CRAVEYOUTV on socials
Feelin' generous? Support our site and podcast (Mimosa Talk) on Patreon and KoFi.
The Resident Season Finale Review: Will Conrad Accept Kim's Offer (3×20)
Dr. Barrett Cain does have a heart. But it's just a little too late at this point.
The premature season finale of The Resident gave fans a bit of background about Cain while also attempting to humanize him by bringing in an ex-girlfriend who became his patient.
Unfortunately, even when Cain wanted to do his best to take care of Justine, his hubris got in the way.
Cain was pulled in two directions and he did the right thing by agreeing to operate on Derek, Kit's son-in-law.
Derek was a fighter who survived the chemo and was on the mend when the candida auris, a superbug, knocked him back down.
While it's not Cain's fault that his patient Dawn had the superbug, it was his fault that he neglected to inform everyone and as a result, Derek ended up with a ventilator that belonged to Long.
I was waiting to see who would make the connection and was so glad when Pravesh figured it out thanks to Derek's daughter Josie.
If it hadn't been for Cain wanting to protect himself at all costs, Derek might not have become infected.
Instead, Derek woke up and immediately realized something was wrong because he'd lost his eyesight. The infection had spread to his bloodstream.
Conrad attempted to find a quick solution to the drug-resistant bacteria, and when that didn't work, he realized the abscess had spread to Derek's spine thus requiring a surgery that only Cain specialized in.
Isn't it ironic that the only man who could save Derek was the man who got him sick in the first place?
Funny how life works.
Cain's decision to honor Bell and Conrad's request to operate on Kit's son-in-law came from his ability to recognize the consequence of his own actions.
It was incredibly impressive that Cain could acknowledge his mistake and man up to fix it, though, it shouldn't have been something that Bell and Conrad needed to advocate for.
However, Cain is still the ego-driven doctor who doesn't listen to reason or anyone else's advice.
He said that he would take on both Derek and Justine's case, and when Conrad pointed out the dangers of waiting to operate on Justice, he didn't want to hear it.
Had Cain simply handed off Justine to Reynolds and checked in after he was done operating on Dawn, there's a huge chance that she would have survived.
Instead, he wasted precious time, and by the time he got to her, she was too far gone and he was frazzled.
Cain has treated hundreds if not thousands of patients and his rule of thumb is that no one dies in his OR, but the one person that mattered to him personally couldn't make it out alive.
It was a huge blow to Cain's ego, revealed that he wasn't the God he's led everyone to believe he is, and it happened just after we realized that he's a human with feelings.
It's why Nic stuck around and fell for him. She saw most of Cain's interactions with Justine and knew there was this other side to him that he wasn't allowing anyone to see. And through Justine, she'd learned the real reason why Cain was the way he was and it all stemmed to the anger and loss he felt when his chance at playing professional football was shuttered because of an injury.
He was never the same after that.
Cain's luck only got worse because someone leaked the news about medical staff withholding information about the superbug to the media and it was a bad look for Chastain.
As Cain pointed out, a cover-up as worse than the virus itself because it strips Chastain of any transparency and accountability for its patient.
Who would want to get treated at a hospital that doesn't tell them about the risks and dangers to their health?
It wasn't clear who leaked it to the media, and it may not be important, but given that Conrad reconnected with Marshall in the scene prior and commented about becoming part of the system he was fighting by covering up the superbug, it makes me feel like it has their name written all over it.
It's possible Marshall was only there to give his son moral support, but it's unlikely, especially since Marshall always has an agenda. Where they just catching up or did Marshall want intel?
Had the season not been cut shorts, it's likely Marshall may have played a bigger role in the following episodes, but instead, this felt like a standalone moment. Marshall's advice may just play a role in Conrad's acceptance of Kim's offer of becoming the face of the hospital.
Things between Cain and Kim turned nasty real quick when the former no longer served the latter's agenda.
Kim wanted Cain to fall in line, but the dynamic between them has been changing for a bit now to where Cain finally put his foot down and alleged that Kim was to blame about everything that happened. I'd say they were both responsible in some way, but it's no secret that Kim is a snake who doesn't have an honest bone in his body.
It seems the war is no longer between the employees and Red Rock, but between Cain and Kim.
Kim is an opportunist who is always playing an angle that will make him look better. He realized Cain was no longer his poster boy, so he turned to Conrad by apologizing and offering him the opportunity to be the face of Chastain.
It's incredible how quickly Kim will change sides whenever it benefits him and how quickly Conrad went from being Chastain and Red Rock's biggest adversary to their saving grace.
Conrad wasn't sold on the idea because he's not the type of doctor who ever seeks glory and praise, but Cain did figure out a way to get to him by offering Conrad a way to invoke real change at Chastain, which is what Conrad has always wanted.
He's always fought the good fight to prioritize patient care over anything else and accepting Cain's offer would wield him the power to do so.
However, we know that power always comes at a price. Is Conrad willing to pay it?
Is he willing to get in bed with the devil?
And was his chat with Marshall about doing good not being a black or white area but a shade of grey a bit of foreshadowing?
Will Conrad accept the offer and then lose himself to the system he's been trying to fix?
In a sweeter and more lighthearted lane, the Raptor and Mina helped Miguel, a pro salsa dancer who was suffering from heart failure.
Miguel was in denial about the severity of his condition because he was scared it would cost him his career.
And for a moment there, it seemed like it would before the super duo took a second look and realized they could ablate a part of the heart that was causing the problem.
Once they did that, Miguel was good as new, though, a little skeptical about getting back on the dance floor, which prompted a full out salsa party in his room.
Mina was standing on the outside looking in at the sweet moment, but she realized she was also on the outside looking in at AJ's relationship.
She's grown so accustomed to their working relationship and prefers him over anyone else because they're so similar in beliefs and ideals. She wants him to be her plus one, but she doesn't want to admit it.
And while she didn't think anything of it when AJ turned the offer down because it was his parents 45th anniversary, she was taken aback when she realized it was also when he was introducing his parents to Andrea.
At that moment, it kind of clicked for Mina that AJ wasn't her man and the one she could always lean on. It's a tough realization, but one that was bound to happen.
How will move forward? Mina isn't one to break up a relationship, especially one that's as serious as AJ and Andrea, but her feelings are not something she's going to be able to bury for much longer.
The Resident did its best to deliver a cohesive season finale that touched upon many of the season's moments, and they succeeded even if it wasn't exactly what they had in mind when mapping out the trajectory of the season.
There's always next season to tell all the stories that were intended.
Till then, stay safe, happy, and don't do anything Conrad Hawkins wouldn't do.
Manifest Season Finale Review – What Really Happened to Flight 828? (2×13)
What. Just. Happened?
Before I even kick off my review for Manifest Season 2 Episode 13, let me just say, if the series doesn't get renewed, I will be incredibly upset that we never found out what happened to Flight 828.
I had high hopes for the season finale and for the most part, it delivered, but it didn't come through on giving answers to the mysteries plaguing the series. (You can see all the questions I wanted to be addressed here.)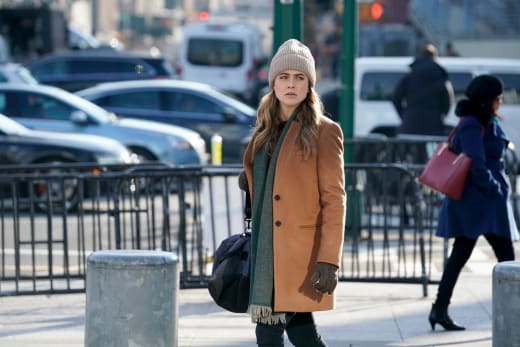 The finale should have given us some kind of closure to at least a few mysteries, but much like the rest of the season, Manifest left us with more questions than answers.
Way too much time was spent on the search for Cal and the Stone family blaming Mic for his kidnapping.
Ben and Grace were mad and thought Mic messed up by ignoring the Callings, which was understandable, but there didn't need to be multiple fights about it.
Mic was the reason Cal was kidnapped, but it wasn't like she wanted this outcome or even thought it would happen when she defied the Calling.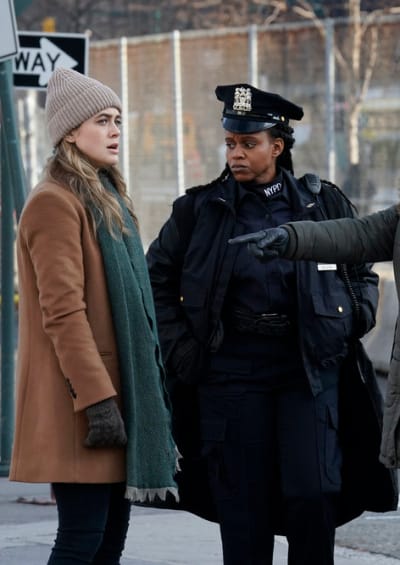 She was also beating herself up over it because she loves Cal as much as they do. She even ditched her honeymoon and traded in the last moments she could have spent with her dying husband to make things right and bring Cal to safety.
Let's give her a little bit of credit.
Ben blamed Mic for not following the Callings blindly, which wasn't fair. He's had his fair share of hypocritical moments, but this one takes the cake.
At some point this season, they've all questioned the validity of the Callings and whether or not they were a force for good or evil.
Mic's decision to follow her gut for once instead of relying on some weird voice in her heard wasn't entirely surprising. She's a good cop who wasn't willing to let a criminal go and do something that she doesn't agree with.
Too much time was also wasted on them trying to find Cal instead of giving the audience what they wanted — answers. Did I mention we wanted answers? Because we did.
Mic thought she could handle saving Cal all on her own, but she should know by now that these things are always a team effort.
Zeke and Olive were instrumental in locating Cal, and the callbacks served as a reminder of their close friendships.
Zeke's Calling to save Cal sweetly paralleled Cal's Calling to save Zeke in the snowy, cold cabin on Manifest Season 1.
Unfortunately, before we got to that promising rescue mission, we had to go through the first (and rather pointless and time-consuming) attempt, which found Mic and the dealers arranging a meet-up for the transaction — they get the meth, she gets Cal.
There was no doubt that the very public meeting place was going to cause some trouble, and the culprit was a pesky "good samaritan" who wouldn't back down even when Mic told her she was undercover.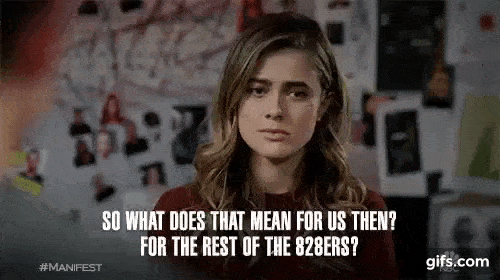 She ignored Mic's instructions to walk away and thus, botched the operation and got Chief Bowers involved. I've never wanted to punch anyone more in my life.
Mic didn't deserve this outcome, but the dealers did for their mediocre plan. How could they not realize it would be kind of difficult to leave a big 'ole duffel bag in the middle of a bustling area without anyone noticing.
However, this seemed to be what the Callings wanted to happen. Let's say it was "written in the stars."
Even before the attempted exchange, Zeke got visions of his "death," which we assumed were from his first death, but eventually figured out that it was a glimpse into the future from a Calling that would lead him to Cal.
Roswell, New Mexico Review – What If God Was One of Us? (2×04)
We finally found out what happened to Nora, Michael Guerin's mother on Roswell, New Mexico.
Guerin and Alex Manes teamed up to do some digging into the mysterious fire at the Logan farm back in 1948 and found out that what happened there seemed fairly straightforward. It's almost hard to believe that it's taken them this long to unearth the truth.
Nora and her friend, Louise, got help from a foreman, Roy Bronson, and a little boy named Walt. The US Air Force believed the foremen when he said he wasn't hiding any women, but hunted Nora for a year before he took her to Caulfield.
It's unclear what happened to Louise, the foreman, and Walt, but it's believed they all perished in the explosion set by Tripp. You the cardinal rule of television — no one is dead until you see a body!
During their time on the farm, Nora and Louise were building a ship to go back to their home. She kept Guerin in her pod because she never believed it was safe to bring him out, which in turn, saved his life and gave him a future. Now, that's what you call a mother's intuition.
Alex was disgusted by his family's involvement in destroying Guerin's family as Tripp was a Manes, so he gave Guerin the ship that he's been holding onto out of fear that he would leave.
He couldn't let history repeat itself and be yet another Manes t0 stand in his way.
Truthfully, the storyline fits into the "it is what it is" bucket. It's unclear how this newfound knowledge will effect Guerin or shape his character. It's not like he can get his mother back, so it's really just comforting to know that she cared about him until the very end.
There's also speculation that Isobel and Max's mother was Louise, but again, it's unclear how that fits into the storyline or if it'll do anything for the siblings unless she's still alive somewhere and survived the blast.
"What If God Was One of Us" seemed to allude once again to the fact that Max is a God. In the Roswell, New Mexico Season 1 finale, Noah told him he was a "savior" and more powerful than he ever knew, and that seems to be true with the title of the episode aligned with Isobel's suggestion that every planet has its own God.
Could this be the reason why Max doesn't want to be revived? In the upcoming teaser, he says that he's dangerous, but what does that mean?
And why did he short-circuit Michael's invention and open his eyes? Did he become too powerful? Is he trying to stop himself from pulling power?
Liz is doing everything in her power to save Max and she's relying heavily on Kyle, which is giving him mixed messages.
While most fans are pulling for Liz and Max, there's something so natural and fitting about her and Kyle. Maybe it's their level of comfort with each other, but they just vibe in a way that Liz and Max never have.
It wasn't just the kiss in the closet that made Kyle feel some type of way, but it also how sweet she was with him during breakfast.
Being around her makes him feel alive, and he even said it himself that he'd do anything for her as long as it made her happy because he enjoys being her rock.
It's important that Kyle acknowledges that his feelings aren't being reciprocated and that he deserves better.
But it's unfair to expect your ex to put his life on hold to save your boyfriend even if it is a medical breakthrough.
Kyle won't ever be able to move on if he's never allowed to let go, and he deserves to.
He definitely has a spark with Stef as the two have a nerdy doctor banter going already.
And he's clearly smitten with her as he tried to apologize for kissing another girl when they aren't even an item. They barely even went on a date!
Isobel felt a weight lifted off her shoulders after she successfully eliminated her pregnancy with Noah.
She took it upon herself to spruce up the Crashdown Cafe's social media and decided to repay Liz for her dedication to saving Max by attempting to reunite her family.
She figured the only way to help Arturo accept Rosa's return is to present it as a miracle that not only is he deserving of, but Rosa's also deserving of as well. It's fitting to show a religious man a resurrection and call it a miracle as we head into Easter week.
Though, it felt a bit like a cop-out for the series to not have to address Rosa's return with Arturo. If a dead family member walked into my restaurant very much alive, I would have some questions. I wouldn't just celebrate it without wanting to know more about it.
And while Arturo may be accepting of Rosa's return from the dead, what about the rest of the town?
The series presented the overdue reunion in such an unbelievable way that it was hard to feel any type of happiness or bliss from it.
There was a brief mention of the possibility that Mimi Deluca was abducted, and while we didn't see any more movement on that front, something similar happened to Jenna while she was heading out of town.
After meeting with Jesse Manes to get intel about her sister, she found out that her sister was released from prison. According to him, she was in a much more dangerous situation now than she was while in federal lockup, and there was some talk about the research she was doing to create a bioweapon that could have been used for mass destruction. Essentially, she found a way to only harm intended targets and if it got into the wrong hands, like Jesse's, it would have been very dangerous.
Did he tell her the truth about her sister this time?
And what happened to her while trying to leave Roswell? What was the deer she encountered? Did she become possessed?
Is that what happened to Mimi too and she simply can't remember?
Other Thoughts
Kyle is doing his best to steer his mom into thinking Noah's death was an act of God, but she doesn't seem convinced. She knows something shady happened there because she knows her husband's death was no accident.
Rosa's description of her mood swings confirms she's bipolar. The series has an opportunity to explore a storyline that resonates in the real world and is rarely addressed on shows.
What did you think of the episode?
Do you think they'll be able to perform a heart transplant to bring Max back?