"You've Changed, Man" rumbles through a whole lot of ideas in quick succession. The newly zen Chidi, who shall now be referred to as Zen Chidi, pulls out his trusty blackboard and writes out several new, better versions of the afterlife to try out.
Zen Chidi is great. He is a totally different man – he's confident, smooth, good at making decisions – but Zen Chidi doesn't feel like a falsity. Our Chidi is definitely still in there, as we see his face light up when he does spins on his roller skates, and talking philosophy still gets his engine running.
On the way to appeal to the judge, the crew jumps from location to location, not doing much more than talking, and the episode does meander a bit. I find it tempting to criticize it for that, since by the end of the episode all of the initial ideas presented by the humans to save the afterlife essentially become meaningless, but if the crew had found an answer right away, I would be criticizing it for making the solution too simple.
I suppose this is a lose-lose situation in that regard, and if I had to lean towards a side, I'd choose the version where we see them constantly pitch different afterlives because it helps the episodes on two levels.
One, the search for the perfect afterlife is a good parallel to Judge Gen's search for the Earth reset button; our crew journeys across the afterlife to propose different afterlife styles, and Gen journeys through the Janets for the button. The journey through the Janets is a ton of fun. Despite being revealed very recently, Disco Janet fits right into this world, and I 100% believe Gen would get distracted by Disco Janet's rad void. Gen has always been a bit flighty and casual, so instead of feeling like a stretch to extend her search, this diversion just feels like a natural extension of her personality. (Somehow, neutral Janet's was still my favorite void, though.)
Check Out Our The Good Place Gift Guide for All Your Afterlife Swag
The other reason I don't criticize the meandering A-Plot is that I think it's important to see the process of creating a new afterlife because it makes their final solution feel more earned.
The show has earned this moment as well, as the plan for the afterlife is one that reflects one of the greatest lessons of the show so far; learning. Instead of being punished forever for their sins, Zen Chidi and the gang suggest that every human should be placed within a particular test to see if they can overcome their shortcomings, and if they fail, they'll be rebooted over and over again until they can get it right.
I love this idea, and I love the message that it sends to viewers. Try over and over again to improve, and eventually, you will. When Judge Gen and Timothy Olyphant question the validity of this process, Jason accurately points out that it's already worked. (More than once, of course, if we count good ol' Brent as well).
Gen isn't the only one who needs to be convinced to reboot the afterlife instead of Earth, though. Head demon Shawn also has a vote (so do the Good Place Committee, but they'll say yes to anything), and unlike Gen, Shawn is not impartial. One would assume this would make him harder to convince, but instead, it becomes the key to winning him over.
Shawn has always enjoyed torture and has always been shown as a demon who runs his office with a hammer. He despises Michael for betraying him and constantly reminds him of how successful "good old fashioned torture" is.
With these traits, I was quite nervous during the final proposal that he'd disagree. He has been so opposed to everything the humans do I thought that he would say no to any idea that didn't have him coming out on top, so the way the show hinted at his change of heart didn't ring true to me.
To my initial relief, he didn't agree, but soon Michael is back at it convincing him. This time it works, and for a moment I felt the character of Shawn had been slightly betrayed.
Then Michael says one very important line, "You wouldn't have let me try the original experiment if you knew things were working."
I always had found it a little odd that Shawn green-lit the original experiment and allowed a reboot, and then became an immediate antagonist who was against the neighborhood. I passed it off as a slight character adjustment as the show developed, but now it seems (even if just by luck) that his characterization has been more consistent than I had given credit for.
Shawn himself was getting bored with normal torture, so he agreed to allow Michael to try something new. When it failed he refused to accept any part of the failure and put it all on Michael, and found a new joy in tormenting them. Michael realizes this and uses it to his advantage, first by getting Shawn to admit that he'll be bored once he can't torment Michael anymore. Then he tells Shawn that this time, instead of just watching the new experiment, Shawn can be part of it.
There is no reasoning the judge will listen to, but Shawn, because of his personal investment in not just torture, but keeping his life engaging, decides to try something new. He comes full circle here, completing an arc that happened under his human suit all series, and displays true character growth by admitting these feelings and shortcomings to Michael.
Was this character arc for Shawn preplanned? Maybe. I have a suspicion they just found a way to make it all work here at the end -and it does work.
But ya know what? Right now, everything on this show is working.
Other Musings:
Loved our quick spread of philosophy this episode. There are a lot of fascinating concepts and ideas to dive into, but if you do so, don't forget to strap on some roller-skates.

I got a bit nervous the series was going to take us to a place where the humans come up with an afterlife that still sent people to be punished for eternity, and I am so glad they come up with something better and more in line with the show's messages.

Disco Ball marble is A+ writing.

A puppy cannon is so wrong. I love it.

Timothy Olyphant is a great stand-in for the audience asking all the questions at the New Afterlife Proposal. They could have just had Gen ask all of these, but it is more fun bringing in a fresh face for a moment instead (and in a way natural to the show).

Chidi is just the idea guy.
Follow CRAVEYOUTV on socials
The Boys Review – Lamplighter's Debut Answers Burning Questions (2 x 06)
In The Boys season 2 episode 6, "The Bloody Doors Off," Lamplighter (Shawn Ashmore) makes his first full appearance where he sheds some light on the mysterious Sage Grove Center, his connection with Stormfront, and the tragic history he shares with Frenchie.
As usual, there's a lot of gratuitously bloody violence involved in this episode as well as some shocking scenes (one of which involves someone getting choked by an elongated phallus) and game-changing revelations about Vought International.
The main focus of the episode revolves around the Sage Grove Center which is being used by Vought as a testing center for stabilizing Compound V with the goal of creating an army of Supes by injecting them into adults instead of infants.
The Boys Visit Mysterious Loony Bin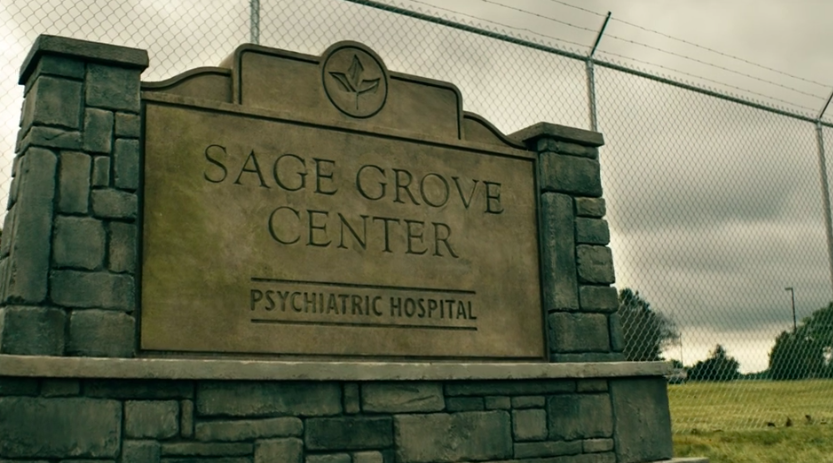 As it turns out, the hospital is run by Stormfront on behalf of Vought where she supervises Lamplighter, who is ordered to burn test subjects when they're no longer needed.
This is a startling revelation, along with the fact that Stormfront admits to Homelander that she was born on 1919 in Berlin, Germany during the Nazi regime. During which she fell in love and married Frederick Vought and learned everything he knew.
She then became the first successful test subject for Compound V – essentially making her the original Supe, which explains why she is so powerful and able to manipulate her way around Vought so easily.
Moreover, her Nazism has extended throughout her time behind the scenes, and sees Homelander as "everything [she and Frederick Vought] dreamed of." Implying that the goal of Compound V coincides with Nazi values – Yikes!
Fortunately for Billy and The Boys, Lamplighter is more amiable than they expected and is willing to atone for his sins and work with them.
Lamplighter and Frenchie's Traumatic History
After the patients of Sage Grove Center accidentally break out, Lamplighter, MM, Frenchie and Kimiko find themselves trapped in the hospital with a bunch of unstable and dangerous Supes. One of which is a patient named Cindy who shows considerably dangerous psychokinetic powers – she is shown at the end of the episode hitchhiking and could be a factor later in the season.
On a more humorous note, MM has an unpleasant encounter with a Supe patient who has the unseemly power to control his elongated elastic phallus, which he wraps around MM while trying to choke him out. (So yeah, this show is basically pure insanity at this point.)
The main takeaway from their time at the hospital, however, is the confrontation between Lamplighter and Frenchie who are finally able to discuss face-to-face a traumatic event from their shared past that has haunted both of them for years.
During Lamplighter's time with The Seven, he is blackmailed by Colonel Mallory and The Boys to be their mole at Vought Tower. Their association ends in tragedy, however, when Lamplighter attempts to assassinate Mallory in her sleep to try and get out of their arrangement but instead mistakenly burns her innocent grandchildren instead.
To make things worse, Mallory tasked Frenchie to track Lamplighter on the night of this event but he is sidetracked into rescuing his best friend from overdosing and was unable to prevent Lamplighter from committing the horrible act.
So essentially, both Frenchie and Lamplighter blame themselves for the deaths of the children.
Other Key Events In This Episode
Starlight removes the chip implanted by Vought on her with the help of Frenchie, and she has a heartfelt hug with Kimiko.
The Deep invites A-Train to join the Church of the Collective.
Elena discovers a video (dropped off by Deep) of Maeve and Homelander abandoning the falling airplane from season 1, which Maeve plans to use as blackmail against Homelander.
Starlight accidentally kills someone while trying to commander his vehicle when she and Billy needed to take Hughie to the hospital after he sustained injuries caused by one of the escaped Supes from the Sage Grove Center.
Frenchie is a huge fan of The Golden Girls and considers himself as a Betty White type. And, of course, the episode ends with The Golden Girls theme song.
Episode Rating: 9.5/10
The Boys new season 2 episodes stream on Fridays on Amazon Prime Video.
Big Brother All-Stars Review: The Seventh Eviction (22×22)
Misreads and miscommunication continue to plague the house, and it all culminates in tonight's latest eviction, where either Da'Vonne or Kevin will be shown the door, and join Ian in the jury house.
At the Veto meeting, Tyler decided not to use the power, leaving Memphis' nominees the same. Da'Vonne figured that this would happen, but felt very optimistic that Dani and Nicole could work with her to gather the four votes needed to evict Kevin. The frequent thing that caused Da'Vonne stress was confirming whether or not Nicole voted to evict Tyler or Ian in the previous week. Nicole lies to her face saying she voted to evict Tyler (she didn't), but said quietly that she will tell Day the truth, but has to find the right moment to do so.
Head of Household Memphis decides to shift his focus onto the next phase of the game, and created two sub-alliances within the Committee. He lets Enzo know that he is going to form two final 3 deals, but have Enzo in both, so that his final 2 deal is with Enzo. That way if the Committee crumbles, he has people to back him up. Enzo takes this deal, thinking that he can beat Memphis in the final 2 should they get that far, and decides to work with Memphis. The first group has Memphis, Enzo, and Cody, and the other has Memphis, Enzo, and Christmas. Memphis calls both alliances "The Wise Guys." All I have to say is that even though Memphis should not win this game, this is pretty smart. He has a feeling that the Committee is falling apart, so finding smaller groups to take to the end could help him. I hope it all falls in his face, because that jerk (putting it lightly) needs to go now.
Dani believes that keeping Da'Vonne is what's best for her game, so she starts going around trying to get the votes. Christmas sees right through the campaign, and believes that Dani, Nicole, and Day are working together to destroy the Committee from the inside. She then goes to David and lets him know that she knows that David voted out Tyler, and that Nicole is lying to Day, so that Day can target him, and the only way to stop it is to send her out. David is happy that someone finally agrees with him, since his vote was seen as a lie throughout the entire week. Now David wants to work with Christmas which is dumb, because Christmas is a horrible player, and she'll vote him out without losing any sleep.
Before the vote, Da'Vonne gave a brilliant speech about how no Black women has ever won this game, except for Tamar Braxton, who won the celebrity version of Big Brother a few years back. She declared that she wants to continue to fight to be the first African-American woman to win the show and credits previous HouseGuests Cassandra (season 1), and Danielle Reyes (season 2), as some of the greatest influences to her, and why she loves the game she's played three times. Kevin had to keep his speech short for time, but had a similar speech, saying that companies and corporations need to do more than a Zoom representation and diversity training, and start practicing what they preach. Both speeches were incredible, and I'm glad that these two took the opportunity of this platform to spark conversations in a world that is much bigger than the house.
Powerful speeches aside, Da'Vonne was evicted from the house by a 5-2 vote. Dani and Nicole were the two votes for Kevin. After Nicole almost tore Day's earring out while giving her a hug goodbye, she put on her mask and joined Julie outside. When Julie asked how she was feeling, Day said that she was relieved because she was sick of those people. My reaction to that: me too, Day. Me too. When Julie showed the goodbye messages, Nicole revealed that she is a part of a big alliance, and that she voted to evict Ian to protect the alliance. In that moment, Da'Vonne lost all respect for Nicole, saying that if she had just told the truth from the get-go so she didn't have to attack David, she would've been okay with the decision. She now heads off to join Ian in the jury house, where they will wait the next evictee.
Before the episode ended, Julie revealed not one, but two large twists coming for the week. As teased, a BB legend is moving in next door, and that legend was revealed to be Dr. Will Kirby, the winner of season 2, and one of the first villains to play the game. He said he's living next door, and will be tempting the HouseGuests with power and prizes, and it'll be up to them to decide what they want. I'm very excited for this, because Dr. Will is a great player, and will hopefully bring some drama and tear up the house.
Julie then revealed a twist that has never happened before. A week from today, the first ever TRIPLE eviction will occur in a special 2-hour episode. That's right, 3 people will be sent out the door next week, which will cause a lot of stress through the house. I can't WAIT for this. Double evictions happen every year, but a triple is a first. I hope this will be a time for someone from the Committee (cough, cough, MEMPHIS) to go home.
My New Winner Pick: 
Because I changed my winner pick to Da'Vonne, I now have to pick a new prediction for the winner of BB22. With so few people I genuinely want to root for, the pickings are slim. However, my pick is going to lie with Enzo. He has great relationships with everyone, and joined the Wise Guys with Memphis. He also has won competitions, and no one has come for him in any capacity. I think he has a good place in the house, and I think he could take it to the end.
The 100 Review- Only One More To Go (7×15)
The penultimate episode of a series will tell you everything you need to know about the finale. Will there be enough time to wrap everything up? Are characters headed towards endings that make sense for them? Is the message the show is trying to leave us clear? Based on this week's episode of The 100, next week's series finale will likely not meet any of those criteria.
An hour that should've been spent on wrapping up relationships arcs and setting up the last big obstacle our characters have to face included a lot of filler moments. Over the years The 100 has introduced way too many new characters that they don't know what to do with. Any effective character development ended after season four, and we're now left with a plot that's too ambitious that we have no emotional connection to.
This Could've Been Avoided
And unfortunately, these final episodes are tainted by the loss of male lead Bellamy Blake. It's not lost on the audience that every other character is getting a death scene surrounded by the people they love and a traveler's blessing. It leaves a bad taste in your mouth. It's hard not to imagine how Bellamy would've been able to save Madi from her fate. The only reason he wasn't in that room with Cadogan and Levitt is because Clarke wasn't able to trust him. It would've been nice if she could've at least tried to understand where he was coming from. She wouldn't be completely alone if she did.
It's incredibly frustrating to see Clarke continuously push the blame for Bellamy's death on anyone but herself. His faith didn't kill him, she did. His death is not comparable to anyone else she's lost. This wasn't a Finn or an Abby situation. He was still himself and she had many other choices. It doesn't make narrative sense to show us Bellamy crying and begging Clarke to trust him and telling her that all he wants to do is protect everyone only for all of his friends to agree that he was too far gone to be saved. If they wanted to write a brainwashed Bellamy, they should've done it. But instead, Clarke seems heartless and out of character. It's a shame that Bellamy was only worth anything to the people he loved when he agreed with them.
Octavia only wants to honor the memory of the brother that would give up anything for her. She won't acknowledge the man who developed a sense of agency and found something that brought him comfort and peace. Even in death, he's still mistreated.
Under The Rubble
The only good parts of the episode were involving Emori. I'm really hoping she pulls through. She's the hidden gem of The 100, and it would be a shame for her to not get a happy ending.
Murphy and Emori are easy to root for. They're a great match. It's been nice seeing Murphy care for someone other than himself. His desperation to find her underneath the rubble was the most in-character thing we've seen this season. The conversation they shared while Jackson was cauterizing her wound was adorable.
I especially liked the part where Emori was describing how happy she was in Sanctum and how she finally felt like she mattered, only for Murphy to intercept saying that she always mattered to him. Who would've thought John Murphy would end up being apart of the only good couple left?
Raven and Emori's friendship was a bit more developed than the rest of the relationships built on Skyring, so their moments together also felt meaningful. Everyone's become so self-sacrificial lately but hopefully Raven continues to be stubborn and Emori & co. travel to Sanctum instead of Bardo.
What's The Point?
The entire final sequence was sickening to watch. It's disturbingly written, and the way it's shot makes your skin crawl. The 100 brands itself as a series that pushes boundaries and isn't afraid to face the dark sides of humanity. But there comes a point where enough is enough. The show's become another egregious example of what happens when you become addicted to making your characters suffer and just end up creating torture porn. What's the message you're trying to give your audience? That no matter what you do, you can never be happy? That there will always be worse things ahead?
Isolating your protagonist from everyone she's ever loved isn't bold storytelling, it's just bad. It's exhausting to watch. And to show a child left behind in that kind of state? There's no shock value or benefit to going to such a dark place. It just upsets your audience without adding anything to the narrative.
There's not much else to say about it.
Stray Thoughts:
Clarke and Gaia's scenes felt hollow. Their relationship isn't developed enough for any of their moments to have meaning. Same can be said for Octavia and Levitt.
On the other hand, Gaia's moments with Indra felt well-earned. They've fought over faith for a long time, and they've come a long way.
Should we be expecting Clarke to go full Daenerys in the finale? Without Madi, she apparently has nothing left to fight for.
Jordan always feels out of place. They never really figured out what to do with him.
I pray I never hear the words "go float yourself" again.
Clarke humming the same song she hummed to Atom in 1×03 when she mercy killed him would've been really powerful in any other instance.
What did you think of the episode? Let us know in the comments below!