"Mondays, Am I Right?" starts and completes the human's new afterlife plan. Michael and Shawn begin working together, Vicky and insecure Chidi return, and Janet reveals her dirtiest secret.
The return of insecure Chidi is a little surprising, since he seemed so fully transformed in the previous episode. I feel like this storyline maybe should have happened earlier in this season, but that wasn't feasible due to Chidi's erased memories. At worst, it felt like a regression of his character, but on the better side, it reminds us that the Chidi we've spent the last four seasons with is still in there and still has fears. Just because Chidi is his "best self" doesn't mean he's his "perfect" self, and he shouldn't be. Nobody is perfect and we all have fears.
Jason, on the other hand, proves his worth by knocking some sense back into Chidi. Jason (for probably the first time in the series) slightly grated on my nerves last week, as he played no major part in creating the new afterlife system and his dimwittedness actively interrupted their planning. He seemed prepped to continue on this track at the start of "Mondays, Am I Right?" when he is helping Eleanor and Chidi sort out good people. He quickly names the Kool-Aid Man a top person (which isn't necessarily a wrong choice), and then leaves Eleanor and Chidi to do all the work.
Instead of being superfluous, though, Jason gets to not just help Chidi with sound advice, but show genuine irritation at everyone's assumption that he's a total idiot. I really wish he would have been a more integral part of the creation of their new system because this moment would have landed even better, but as it stands, his reference to Romeo and Juliet and the offense he takes to Chidi being shocked he read it reminds us that Jason is a product of his environment and not necessarily just a dope.
Tahani hasn't had much to do this season, but she gets a good showing this episode. Not only does she participate in the training of the demons, but her experience in swallowing her pride makes her a natural fit to encourage Michael to bring Vicky back. Her and Janet's assumptions as to Michael's motivations may have been wrong, but they display growth none the less. Janet's growth comes from her admittance that asking for help is necessary sometimes, not because she ever had trouble asking for help, but because she's grown human enough to realize that even she needs help sometimes. I can't imagine what Alexa knows that Janet doesn't, though.
Michael's journey is the heart of this episode, and as it has in the past, parallels the show's own journey. Michael, throughout the series, has been a demon with a purpose; whether that be torture, redeem, or save humans, he's always had a task driving him forward.
With the completion of the new afterlife system, and having found someone who can run it better than he can (which is Vicky), he's essentially out of tasks. He doesn't know what his purpose moving forward will be, and the purposelessness scares him. What's eternity mean if you're doing nothing with it, anyway?
I don't know. Not even Janet knows. But Michael does the right thing and places Vicky in charge, sacrificing his purpose for the betterment of all humans.
The rock has been pushed up the hill. By Michael, yes, but by The Good Place as well. "Mondays, Am I Right?" basically completes the show's storyline, but we still have two episodes left.
So what's next?
The team ends the episode sailing upwards towards the real Good Place, and having completed the overhaul of the afterlife, there seems to be no goal left for them to chase after. So some sort of conflict must arise once they get there.
"Mondays, Am I Right?" will be difficult to have a fully formed opinion on until that new conflict starts. The episode seems underwhelming, but its position in the narrative implies that this isn't the endgame, and therefore it will be naturally underwhelming so close to an unknown finale. What sort of conflict will this system lead to? Will it end up not working? Will it continue to work perfectly and the final storyline only be tangentially related?
The other reason it feels underwhelming is it doesn't lead anywhere. There is no implied next chapter within the episode. All there is is Janet telling Michael that he'll just have to find out what is next. Once again, Michael's journey reflects the show.
The fate of humanity may be solved, but what is next on The Good Place will determine the fate of this series. Until we can see where it goes, my understanding of this episode's design is limited.
I'm optimistic, though.
Other Musings:
"It's the way it's always been done" is my least favorite reason for anything.

Vicky's use here pleased me. I don't know why, since I don't feel she ever did anything to deserve getting her dream of being in charge, but it seems as though she chilled out once she felt someone trusted her. Maybe that's just me trying to find a reason I liked her here.

1.28 Jeremy Bearimy later, so we have zero idea of how much time passed.

The golden balloon is back!

FOLES!!!
Follow CRAVEYOUTV on socials
The Boys Review – Homelander hooks up with Stormfront?! (2 x 05)
Episode 5 of The Boys Season 2 "We Gotta Go Now," ends shockingly with Homelander and Stormfront joining together in more ways than one.
Stormfront, who's actually a Supe formerly known as Liberty, with a history of Neo-Nazism (or some other kind of superiority complex) got under Homelander's skin in the previous episode by killing Kimiko's brother Kenji and scores herself some points on her public image.
Meanwhile, Homelander has been on edge and has increasingly become frustrated with everything that's going on at Vought and the Compound V scandal.
And things take a turn for the worst for the diabolical Suped-up villain when this happens . . .
Watch Where You're Pointing Those Laser Eyes!
As shown in the above video, Homelander accidentally kills an innocent bystander while haphazardly dealing with a Supe-terrorist. Consequently, this drops his approval rating by a whopping 9 and 1/2 points, which definitely doesn't sit well with him.
He struggles to repair public perception regarding the incident and nearly loses his cool at a rally protesting him when he imagines just cutting everyone down with his laser vision.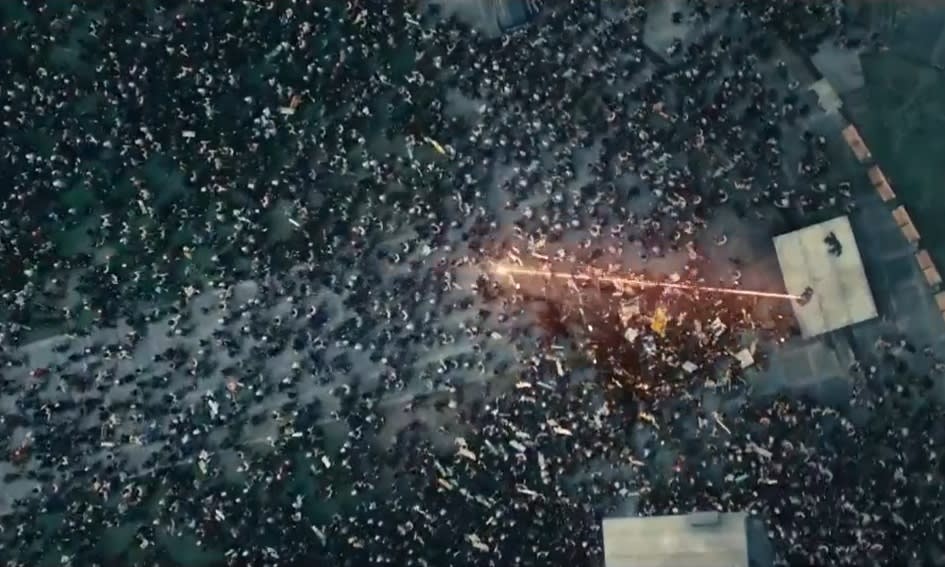 He manages to keep a level-head but his attempt to appease people doesn't go as planned, so he reluctantly seeks the help of Stormfront and her army of meme lords and queens.
As a result, Homelander's approval rating jumps back up 5 points, and he thanks Stormfront for the assist. She then sarcastically asks how he's going to pay her back, and the scene that follows is straight bonkers.
Homelander and Stormfront Get . . . Super-Kinky
What can only be described as a match made in superhero hell, the two deviant Supes engage in some intense, gratuitously masochistic, and superhumanly physical sex.
Their unlikely union has some hellish implications that could lead to some diabolical misdeeds, which means bad news for everyone. How this situation shakes things up is definitely one of the must-see dynamics to look forward to in the series.
Other Key Events In This Episode
Billy goes back to his aunt Judy's home where he leaves his dog, named Terror, for safekeeping. Terror, of course, comes straight from the comic books and his likeness to the source material counterpart is uncanny.
The "Dawn of the Seven" movie (a clear reference to the DC Extended Universe film– there's even a Joss Whedon reshoot joke throw in) is underway that doubles as a sort of farewell performance by A-Train as well as a way for Homelander to mess with Maeve by backhandedly complimenting her sexual orientation and parading her to the public as an LGBTQ+ symbol along with Elena, who gets forcibly roped into the public relations campaign.
On top of that, Starlight and Stormfront have growing tensions on set as both know each other's secrets and blatantly threaten to expose each other. Though neither do so just yet and both continue to bear with the "Girls Get It Done" propaganda.
Billy, in a depressive state after failing to rescue Becca, tries to sacrifice himself to save Hughie, MM, and his aunt Judy against Black Noir, who has tracked them down and set his sights on assassinating Billy. They only escape their demise when Billy issues a clever bluff – exposing Homelander raping his wife and hiding his son Ryan from public view.
Kimiko becomes a hitwoman for hire as a way to cope with her brother's loss, and Frenchie (unsuccessfully) tries to comfort her. The two come at odds and Frenchie walks out on her. That might be the smart move for now because Kimiko is on a rampage and is doing things like, well, this . . .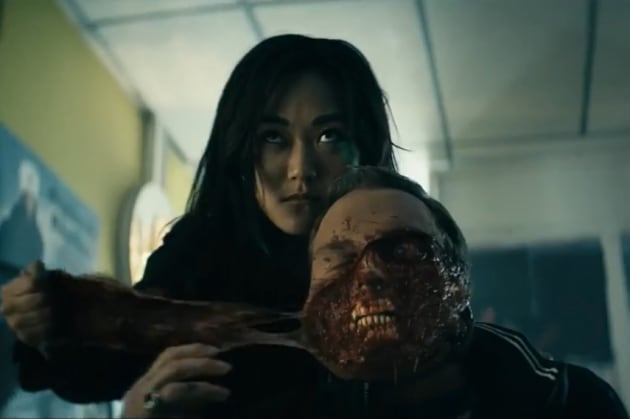 The Deep is married now but it's all so obviously fake. He even goes on an interview with Katie Couric to publicize the relationship all in an ill-conceived attempt to rejoin The Seven.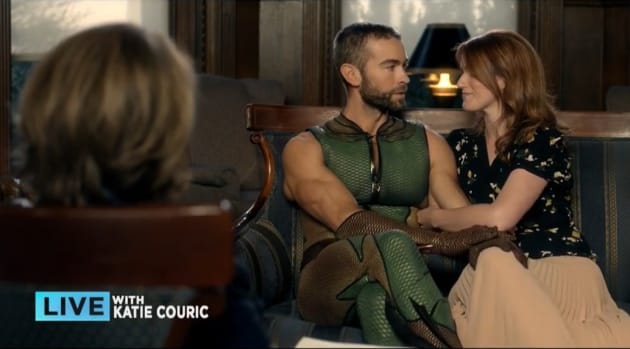 Shawn Ashmore (better known as Bobby Drake/Iceman from the X-Men films) makes a brief appearance having a phone call conversation with Stormfront. He's rumored to be playing Lamplighter, another Supe from the comics.
Episode Rating: 9.0/10
The Boys new season 2 episodes stream on Fridays on Amazon Prime Video.
Big Brother All-Stars Review: The Sixth Eviction (22×19)
A former winner and a BB legend face their Housemates, and one of them will be evicted from the Big Brother house and become the first member of the jury. Things have been crazy the last 48 hours in the house, and NONE of it made the CBS edit, which lead to an anti-climatic eviction, and further proof that the power alliance called the Committee take no chances in the game, leading this to be the most boring All-Star season of any show ever.
Winner of BB 14, and BB 20 runner-up Tyler sit on the block, after David used his Disruptor power to remove himself, and Da'Vonne used the Power of Veto on Kevin, leading to these powerhouses facing eviction. Dani said from the start of her HOH reign that she wants to possibly backdoor Tyler, but all the powers and Veto wins messed up her goal, leaving her to nominate 4 total people this week, which is a lot of pressure. Ian was already a target for The Committee, since he was not in the alliance, and as a former winner, it's an easy target. However, Dani didn't want to send him out right away. Ian knew that he only needs 4 votes to cause a tie, so he has been campaigning hard to everyone to possibly cause a rift and force a tie. I consider Ian one of the best players of all time, and he is good at campaigning, so I was hoping something would come out.
CBS then aired a segment where they show the other winner in the house, Nicole, cry hard over the fact that her best friend might go home. It was never shown that Nicole was one of the people making fun of Ian behind his back, making herself cry before going into a room with him, and lying to his face that she was going to keep him. Nicole is a bold-faced liar, and yes, that's a part of the game, but she's being rude behind his back to the point of attacking him personally. Thank the live feeds for exposing the 99% of what we don't see on the edits.
Ian is convinced that he has the 4 votes needed to tie the vote, and have Dani's support if she has to cast the deciding vote. Dani thinks in the Diary Room that if she had to break a tie, she actually might send Tyler packing, since he is more likely to win the entire game compared to a previous winner. She also talks to the rest of the Committee to possibly keep Ian, but Cody, Enzo, and Memphis are not phased by this and are more than willing to vote out the former winner before an alliance member. Okay, guys, just keep telling yourselves that until you see Julie give Tyler a check $500k.
At the live vote and eviction, Ian spoke about having more to give to the game that he loves so much, and Tyler plugged his jewelry company and his girlfriend's cookbook. At the end of the vote, Ian was evicted on a 5-3 vote. Da'Vonne, David, and Kevin were the 3 votes. Nicole distributed more fake tears to vote out Ian, then quickly regained her composure and went back to the group. Ian hugged everyone, wished everyone luck, and joined Julie outside the house, mask and all. Julie gave Ian a really uncomfortable eviction interview, pausing every few words, and stopped mid-question, and changed questions. Not sure if she was given the right set of question cards or technical difficulty, no idea, but it was odd and I felt bad for Ian. He will be the first member of the jury, and will be in the jury house where he and 8 others will vote for the winner at the end of the season.
Before the Head of Household competition, Julie revealed that Dani did not use her BB Basement power, which could give her the ability to play in the next HOH competition, so she is not competing for power. Good move by her, especially with the week she had. For the competition, the players have to make a 3D puzzle of a fire hydrant, but they have to run back and forth to get pieces. The winner was not shown on the episode, but it will be announced on the live feeds shortly.
Right as she was signing off for the night, Julie revealed that next Thursday, a Big Brother legend will be moving into "the neighbor's house," which could really mean anything. I'm hopinIg it's a legend that could mess with the game, or break up the Committee, cause I'm bored of them.
Who Will Be Nominated?
It all depends on who wins the HOH competition. If it's anyone in the Committee (Memphis, Tyler, Nicole, Enzo, Christmas, Cody), then they will put up a combination of David, Da'Vonne, and Kevin (eye roll, for several reasons). I hope it's either one of the those three, because that can send the house into disarray and I would love to see that happen (cough, cough, MEMPHIS).
The 100 Review- It Keeps Getting Worse (7×14)
After the disaster that was last week's episode of The 100, I didn't think it could get much worse. But it did.
Another pointless episode revolving around side characters with half-assed backstories and a graphic death of another man of color at the end. Every character felt off, relationships were erased, and we had to watch Gabriel "die" not once, not twice, but three times.
Chuku Modu's performance has been the only bright spot of these past two seasons, and he will be greatly missed. He would've been a great candidate to take the test to save mankind. I'm glad he was given the traveler's blessing, and I know he said he was ready to go, but you would think Clarke would at least attempt to patch him up in some way. She's been the show's resident medic since the first season.
However, we're not dealing with Clarke anymore. Our lead character has been replaced with a shell of what she once was. Any fan of the show knows that Clarke would have never killed Bellamy, let alone defended her decision. When Clarke killed Finn all the way back in season two, it was under very different circumstances. She was saving him by killing him. Even then, she beat herself up about it for quite some time and hallucinated him in the next episode out of guilt. Everyone around her, Raven, in particular, were harsh on her afterward. But this time around, Clarke is coddled.
Clarke doesn't show any remorse. She cried for a minute, but it felt artificial. She defends her choice, and actively lies that she did everything she could when we all know there were a million other ways she could've gone about it. She killed Finn when she was surrounded by an entire Grounder army with no other option, but she killed Bellamy when they were alone. There was one, maybe two other people in that room with them, and the only person who was a danger to him was her. Her hands were not tied. She could've shot his arm, shot the book, shot everyone else in the room before even considering killing Bellamy.
I love Clarke Griffin, and this isn't her. It feels wrong to criticize her actions when it's clear that the character we once knew doesn't exist anymore. She's become a plot device. It's hard to care about a story when you no longer feel connected to anyone in it. Clarke Griffin died when she shot Bellamy last episode, but unfortunately, this week the rest of the cast went along with her.
We didn't even see Octavia mourn her brother. She didn't hesitate for a second before hugging Clarke and telling her it was okay that she killed her brother in cold blood. How is this the reaction of his only blood relative? She had just started to finally understand Bellamy and everything he did for her after her time on Skyring, and then she immediately forgives his murderer? That's just bad writing.
The Blake sibling relationship has been rocky for a while, but to be comforting the other's murderer? Yikes. Especially considering Octavia was there when Bellamy was begging Clarke to trust him on this whole transcendence thing. He was so emotional and passionate in that moment and spent the entire time emphasizing how all he wanted to do was save them. How is he a different person now? Just because he doesn't agree with you? He still fought for you and did his best to ensure you would get the salvation he knows is possible.
None of them ever deserved him.
Miller and Madi's reactions to his death were the only ones that worked narratively. Miller hasn't been close with him for a while, but he still expresses remorse over not patching things up with him while they could. It was a nice tribute to one of the original friendships of the show.
Miller's small moment of mourning felt earned. He really hasn't spent that much time with Bellamy. But what about his so-called family of Spacekru? Just a few tears and a hug for Clarke? Come on. They spent over half a decade with the man, you would think they'd be more upset about his sudden death. Echo went off the deep end on Skyring and Bardo in pursuit of him but now accepts his death immediately. Bellamy, and what he meant to everyone, has been erased completely.
Madi was completely valid with her anger at Clarke for making such a terrible decision in her name. She should be mad at her for constantly using her as an excuse each time she betrayed her closest friend. Clarke doesn't let Madi be her own person, just like the series hasn't let her be her own character.
Madi's speech after Gabriel died was exactly the same as Charlotte's speech all the way back in season one. She doesn't want anyone else to get hurt over her, so she'll put herself in danger to save the rest of them.
She sends herself to M-CAP, making Bellamy's death meaningless. It was already a poor narrative choice, but it feels like a kick in the gut that they ended up in the same situation anyway. Two men of color died to keep Madi safe, and she ended up on Bardo regardless. Neither death was necessary, and neither one needed to be so graphic.
Brutally killing off characters of color for shock value (Lincoln, Shaw, Pike, Anya for example) will be the lasting legacy of The 100. It's shameful.
Stray Thoughts:
Echo and Niylah's backstories served no purpose whatsoever. It was forced and pointless.
What was the point of Bellamy and Echo's relationship? She never even told him her name and then hugged his murderer. They should've never been a thing.
Hope and Jordan are sweet, but it feels horribly out of place with such little time left.
Clarke's lack of reaction to killing Bellamy is so wildly out of character I need to mention it again because it bothered me so much.
If they're going back to Bardo, what was the point of stopping on Earth? What was the point of Gaia being there alone? Who took her there? Why does this season not make any sense?
What did you think of the episode?
How many characters are you mad at this week? All of them?
Do they even deserve to win the last war?
Let us know what you think in the comments below!