After Sarah Palin was unmasked as the Bear on the show last week, it's near impossible to expect who is going to be unmasked next.
Joel McHale, the host of The Soup and one of Ken Jeong's co-stars on Community, returned as a guest panelist this episode.
This week, we saw the 2nd round of Group C competition, and sadly Swan was eliminated at the end of the night.
Luckily, the reveal of her identity was fun to watch, and even more so because she's another one of Ken's former co-stars!
https://www.instagram.com/p/B97Kw2fhW84/
THE SWAN IS BELLA THORNE!
Thorne, apart from being an author and a model, is most famous for her acting role as CeCe Jones on the Disney Channel sitcom Shake It Up alongside Zendaya.
Thorne appeared in the movie "The DUFF" with Ken, and was quick to point it out once she was unmasked as she was disappointed in his guesses of Olivia Munn and Kristen Bell.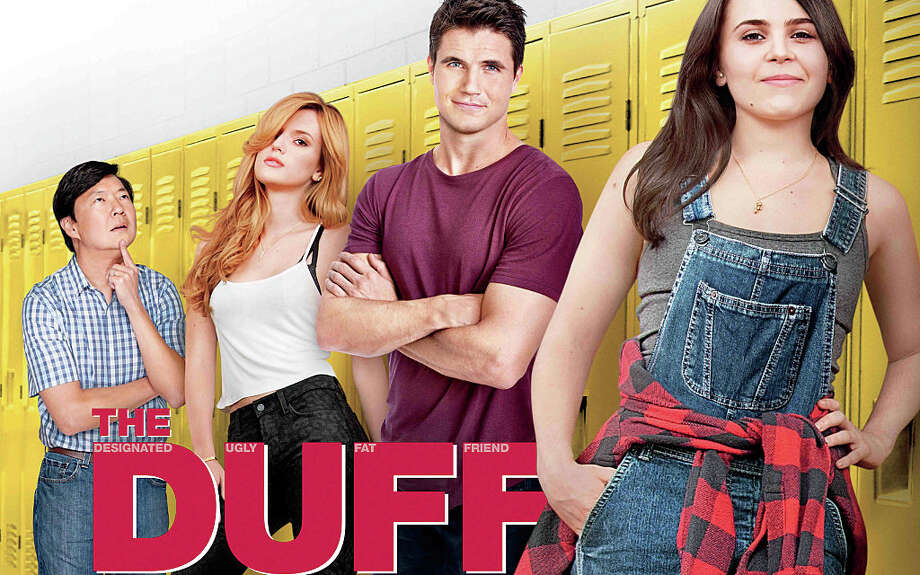 ***Ken's face in this movie poster pretty much sums it up, AND Thorne is right next to him! LOL***
Also, as Thorne revealed from her "vampire" hints in her clue package, none of the panelists deciphered: "Bella Swan" (the Twilight character) = BELLA- Thorne's first name + SWAN- her costume. (DUH. Very Clever Ms. Thorne!)
At the end of their performances tonight, Nick Cannon asked each contestant to give their "yearbook quote."
Swan's was:
"I've been the black swan, and against all odds, I've been able to spread my wings for millions to see. Life is truly magical."
Her saying "millions to see" and "magical" probably alludes to her Disney star days.
Other panelist's guesses were as follows –
Robin: Nina Dobrev 
Nicole: Megan Fox
Jenny: Kristen Stewart
Joel: Mila Kunis
AND as if Thorne could not spell out any more hints for Ken, her performance even included his face on the background screen, and shouted
"I love you Ken Jeong! I love you."
https://www.instagram.com/p/B95TfsVH1Ky/
ASTRONAUT
Package:
Some of the clues that stood out in Astronaut's package included a French horn, a flag with a constellation showing Orion's belt, and balloons tied on him.
Also, he mentioned the phrase "Circle of Life," which could possibly be an allusion to The Lion King?
His yearbook quote was:
" We can all reach the stars. Sometimes, it just takes a little help from someone from an organized-crime family."
Talk about mysterious! And kind of scary.
Performance: "Signed, Sealed, Delivered" by Stevie Wonder (whom the Astronaut mentions is his "dear friend")
https://www.instagram.com/p/B95QHPpnK7v/
Predictions:
Ken – Donald Glover
Joel – Corey Feldman
Robin – Joseph Gordon-Levitt
NIGHT ANGEL
Package:
Her clue package included a castle and strawberry on a brick wall, a pitcher of sweet tea, and three other night angels she was "surrounded" with.
The phrase that stood out in her clues was "built an empire."
She said her yearbook quote was:
"If you're willing to lend a helping wing, then you too can break berries."
 Whether she meant to say "barriers" or is intentionally saying "berries" (like the strawberry from her package) is definitely a clue worth noting!
Performance: "Million Reason" by Lady Gaga
https://www.instagram.com/p/B95RGU2HzNe/
Predictions:
Jenny – Regina King
Ken – Sia
Joel – Jessica Simpson
Nicole –  Taraji P. Henson
T-REX
Package:
The phrases "singles and doubles" (a tennis player?), "heart beating faster than a bumblebee," and her career going "downhill fast" and "no one wants to be a one-hit-wonder" stood out.
She re-iterates the island of dinosaurs she was in, and a pink globe with a party hat was in focus.
Her yearbook quote says:
"If you dream big, your face can be everywhere, and you'll never go extinct unless a meteor hits."
Not much to clue-in on except "your face can be everywhere," which suggests she could either be a model or an actress, which is no help at all!
Performance: "Push It" by Salt-N-Pepa
https://www.instagram.com/p/B95SQWQHw_c/
Predictions:
Ken – Lilly Singh
Robin – Liza Koshy
Joel – Mikaela Shiffrin
RHINO
Package:
During the entire clue package, he was standing on the wings of an old-timey airplane, while a safe on the other wing, there was also a sign that said "South," and a man cutting a sandwich with a big diamond ring in his finger (a championship ring, maybe?).
He also mentions his wife saving his life, whom he calls his "guardian angel."
His yearbook quote was:
"Family is very important for success, especially when performing for a king is in your blood."
KING? Which one? The LA Kings? Sacramento Kings? LeBron James? Elvis? Michael Jackson? My mind is racing with so many possibilities.
Performance: "Nice to Meet Ya" by Niall Horan
https://www.instagram.com/p/B95UuoHnmck/
Predictions:
Robin – Tim Tebow
Ken – Chris Pratt
Nicole – Ryan Lochte
Follow CRAVEYOUTV on socials
The Masked Singer Season Premiere Recap – Singing Dragon, Hidden Rapper (4 x 01)
The Masked Singer kicked off its fourth season with six new singers from Group-A taking the stage to make watching people wear masks fun again in 2020.
At the end of the night, the Dragon exits first from the show and is revealed to be legendary rap artist Busta Rhymes who had an electrifying performance with his version of "Mama Said Knock You Out" by LL Cool J.
The judges, as well as Nick Cannon, all seemed to narrow the identity of the Dragon fairly quickly based on his very first verse along with Cannon claiming that he knew the minute the Dragon walked on stage.
However, Ken Jeong wasn't quite as astute when he guessed the performer was Olympic swimmer Michael Phelps, so it's nice to see Ken still retaining his penchant for bad guesses.
Judges' Golden Guesses
A new wrinkle added this season is that the judges are now competing for the Golden Ear, a prize awarded to the judge with the most correct "first impression" guesses by the end of the season.
Both Jenny and Ken miss the mark tonight as they guessed NFL players Adrian Peterson and Marshawn Lynch respectively and miss out on scoring a point on the guess tally.
Meanwhile, both Robin and Nicole guessed Busta Rhymes correctly but entertained switching to DMX, who is also a legendary rapper with a similar raspy rapping voice as Busta Rhymes.
The Masked Singers Moving On
The remaining contestants from Group-A are Sun, Giraffe, Popcorn and the Snow Owls, who are the first duo to compete on the show.
Sun shined on stage with her rendition of "Cuz I Love You" by Lizzo and her clue package led the judges to believe she might be Demi Lovato, Madonna or Katarine McPhee
Giraffe, whose costume has set the record for the tallest one in The Masked Singer history, sang a cool rendition of "Let's Get It Started " by Black Eyed Peas which gave the judges the impression that he is either Travis Barker, Garth Brooks or Vanilla Ice.
Popcorn then came on stage and immediately buttered-up the judges and audience with her charm as she popped off "What About Us" by Pink and made the judges think she is Carole Baskin (Ken's guess, obviously), Mary J. Blige, or Tina Turner.
Finally, the performances concluded with the Snow Owls, who performed together on a stylish giant broken egg. The duo sang "Say Something" by A Great Big World which had the judges guessing a bevy of iconic pairs including Amy Grant & Vince Gill, Maureen McCormick & Barry Williams, Donny & Marie Osmond, and Eugene Levy & Catherine O'Hara.
The Masked Singer season 4 new episodes air every Wednesday on FOX.
The Masked Singer Finale Recap – All Masks Are Off As Season Champ Is Crowned!
On the season 3 finale of the Masked Singer, Frog, Turtle, and Night Angel performed for the last time for a shot at winning the coveted Golden Mask trophy.
After weeks on a long journey performing and concealing themselves week in and week out, the finalists were finally unmasked.
In the end, Night Angel received the most votes and became the first woman to win the competition.
The Turtle was the runner-up and Frog had the least votes of the evening.
FROG
Frog performed first at the top of the show as he dazzled and electrified the crowd with his usual flair and stage presence in his rendition of "Bad Boys For Life" by P.Diddy et al.
He rapped and choreographed his way into the finals, and he did not disappoint in his last showing.
The judges figured out his identity (as did we, on our Masked Singer theory) as Robin and Nicole both guessed correctly before he was unmasked.
Bow Wow / Shad Moss was revealed as the Frog who was arguably the fan-favorite pick to win it all this season.
Moss showed different sides of his musical talent and performance capabilities on the show and hopes to incorporate a little bit of what he picked up while performing as the entertaining amphibian.
He repeatedly mentioned a reinvigorated love for music and as a fan, I can't wait to see how his music evolves from this experience.
TURTLE
The season began with a performance from Turtle, and it almost ended with him being crowned as the champion.
For his finale performance, Turtle sang "Before You Go" by Lewis Capaldi, which brought Nicole, Ken, and a number of audience members to tears.
Alas, he was edge-out by Night Angel during the final voting and had to unmask as he fell short of winning the Golden Mask trophy.
Jenny and Nicole were able to guess his true identity (Which makes it 2 for 2 in our theories as well).
Jesse McCartney was a recurring guess periodically by the panelists all season, and the clues all came together on the very last night.
McCartney was the strongest male vocalist in the competition this season, and in his own words, said that the experience was:
"Turtle-y awesome."
NIGHT ANGEL
Night Angel had  – HANDS DOWN – one of the strangest and scariest-looking costumes the show has ever had.
Lucky for her, she also had one of the most powerful and soulful voices to ever grace the show and a signature vibrato that could not be ignored.
She sang "River Deep Mountain High" by Tina Turner, which showcased her full vocal range during the finale.
As the Golden Mask trophy came down to her and Turtle, she got the most votes and won the competition.
Finally, she was able to rip off that creepy-looking mask, and her identity revealed.
Panelists Jenny and Robin were able to trace the clues back to this amazing artist when they locked in their final guesses. (We also got a sweep for the finalists' identities in our theory for Night Angel)
Kandi Burruss was crowned the champion of season 3 as she admits to regaining her confidence in singing during the show, which she had lost ever since she stopped pursuing her music career.
This was an unbelievable revelation for the judges and audiences alike because Burruss, as the Night Angel, constantly killed during her performances every week, and was nearly perfect this season.
Burruss, however, admitted to being intimidated by several of her peers in the show and even looked up to a couple of them who were personal idols for her.
"How am I going to get to the end with such incredible people on this show?" she said while reflecting on her time on the show.
Tonight, she proved to everyone and more importantly to herself that she belongs among those incredible people as the first woman champion of the Masked Singer!
The Masked Singer Reveal – Rhino Unmasked and Ken Jeong Makes Lucky Guess (3 x 15)
On the May 13 episode of The Masked Singer "A Day in the Mask: The Semi-Finals," Rhino was eliminated from the competition.
Jay Pharaoh was on hand as the guest panelist for this episode.
Rhino, as Ken Jeong put it, was the "sentimental favorite" among the final four remaining contestants, and he remained true to this until the end.
He sang "Humble and Kind" by Tim McGraw in his final performance as he moved judge Nicole Scherzinger, among others, to tears.
https://www.instagram.com/p/CAJfzgyHVQ7/
He, however, fell short on getting votes against Night Angel, Turtle, and Frog, so he had to take off the mask and reveal himself.
Before his unmasking, the panelists took their final guesses and Ken went on one of his usually incoherent rants about Rhino's identity and seemed to just be making fun of Jenny McCarthy's guess from a few weeks prior.
Per usual, HE KNEW EXACTLY WHO THIS IS as he stretched the clues to connect to the TV show JAG and made it fit toward his guess: Barry Zito. (Which was also our guess in our Masked Singer Theory)
However, he surprised himself and the rest of the panel when it turns out, as Jenny originally guessed with a more convincing and logical line of thinking – despite Jenny's reluctance to agree with Ken – the two of them were spot on.
(Watch the video of the unmasking below as Ken celebrates by rushing to give Zito a hug.)
This is Ken's first correct guess of the season, and it came just one episode prior to the finale. Which is pretty good for his standards.
And it turns out, Zito, after being unmasked, admitted to actually making a guest appearance on JAG, which surprised even Ken– who made-up the connection in the first place.
Even though Zito had to leave the show, it came at good timing as he revealed that he and his wife just had a newborn baby just three days prior to this episode.
Here is his reflection on his time on the show, and how it has affected him moving forward in his career.
And also, a pretty good breakdown of his clues during his run on the show.
The remaining finalists – Night Angel, Frog, and Turtle – will return next week to compete in the season 3 finale for the coveted Golden Mask.
And more importantly, every one of them will finally be unmasked!
The Masked Singer airs on FOX 8/7 central on Wednesday, May 20, 2020.