After Sarah Palin was unmasked as the Bear on the show last week, it's near impossible to expect who is going to be unmasked next.
Joel McHale, the host of The Soup and one of Ken Jeong's co-stars on Community, returned as a guest panelist this episode.
This week, we saw the 2nd round of Group C competition, and sadly Swan was eliminated at the end of the night.
Luckily, the reveal of her identity was fun to watch, and even more so because she's another one of Ken's former co-stars!
https://www.instagram.com/p/B97Kw2fhW84/
THE SWAN IS BELLA THORNE!
Thorne, apart from being an author and a model, is most famous for her acting role as CeCe Jones on the Disney Channel sitcom Shake It Up alongside Zendaya.
Thorne appeared in the movie "The DUFF" with Ken, and was quick to point it out once she was unmasked as she was disappointed in his guesses of Olivia Munn and Kristen Bell.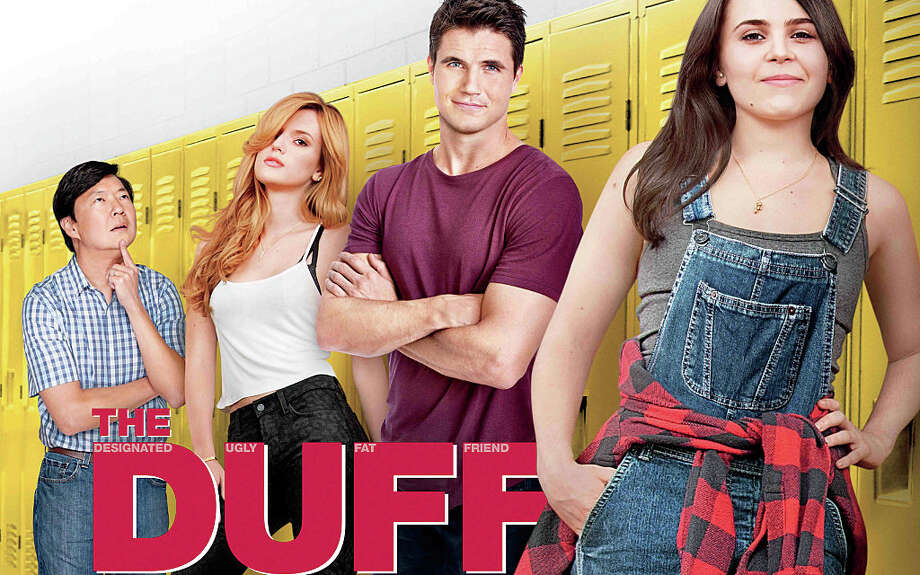 ***Ken's face in this movie poster pretty much sums it up, AND Thorne is right next to him! LOL***
Also, as Thorne revealed from her "vampire" hints in her clue package, none of the panelists deciphered: "Bella Swan" (the Twilight character) = BELLA- Thorne's first name + SWAN- her costume. (DUH. Very Clever Ms. Thorne!)
At the end of their performances tonight, Nick Cannon asked each contestant to give their "yearbook quote."
Swan's was:
"I've been the black swan, and against all odds, I've been able to spread my wings for millions to see. Life is truly magical."
Her saying "millions to see" and "magical" probably alludes to her Disney star days.
Other panelist's guesses were as follows –
Robin: Nina Dobrev 
Nicole: Megan Fox
Jenny: Kristen Stewart
Joel: Mila Kunis
AND as if Thorne could not spell out any more hints for Ken, her performance even included his face on the background screen, and shouted
"I love you Ken Jeong! I love you."
https://www.instagram.com/p/B95TfsVH1Ky/
ASTRONAUT
Package:
Some of the clues that stood out in Astronaut's package included a French horn, a flag with a constellation showing Orion's belt, and balloons tied on him.
Also, he mentioned the phrase "Circle of Life," which could possibly be an allusion to The Lion King?
His yearbook quote was:
" We can all reach the stars. Sometimes, it just takes a little help from someone from an organized-crime family."
Talk about mysterious! And kind of scary.
Performance: "Signed, Sealed, Delivered" by Stevie Wonder (whom the Astronaut mentions is his "dear friend")
https://www.instagram.com/p/B95QHPpnK7v/
Predictions:
Ken – Donald Glover
Joel – Corey Feldman
Robin – Joseph Gordon-Levitt
NIGHT ANGEL
Package:
Her clue package included a castle and strawberry on a brick wall, a pitcher of sweet tea, and three other night angels she was "surrounded" with.
The phrase that stood out in her clues was "built an empire."
She said her yearbook quote was:
"If you're willing to lend a helping wing, then you too can break berries."
 Whether she meant to say "barriers" or is intentionally saying "berries" (like the strawberry from her package) is definitely a clue worth noting!
Performance: "Million Reason" by Lady Gaga
https://www.instagram.com/p/B95RGU2HzNe/
Predictions:
Jenny – Regina King
Ken – Sia
Joel – Jessica Simpson
Nicole –  Taraji P. Henson
T-REX
Package:
The phrases "singles and doubles" (a tennis player?), "heart beating faster than a bumblebee," and her career going "downhill fast" and "no one wants to be a one-hit-wonder" stood out.
She re-iterates the island of dinosaurs she was in, and a pink globe with a party hat was in focus.
Her yearbook quote says:
"If you dream big, your face can be everywhere, and you'll never go extinct unless a meteor hits."
Not much to clue-in on except "your face can be everywhere," which suggests she could either be a model or an actress, which is no help at all!
Performance: "Push It" by Salt-N-Pepa
https://www.instagram.com/p/B95SQWQHw_c/
Predictions:
Ken – Lilly Singh
Robin – Liza Koshy
Joel – Mikaela Shiffrin
RHINO
Package:
During the entire clue package, he was standing on the wings of an old-timey airplane, while a safe on the other wing, there was also a sign that said "South," and a man cutting a sandwich with a big diamond ring in his finger (a championship ring, maybe?).
He also mentions his wife saving his life, whom he calls his "guardian angel."
His yearbook quote was:
"Family is very important for success, especially when performing for a king is in your blood."
KING? Which one? The LA Kings? Sacramento Kings? LeBron James? Elvis? Michael Jackson? My mind is racing with so many possibilities.
Performance: "Nice to Meet Ya" by Niall Horan
https://www.instagram.com/p/B95UuoHnmck/
Predictions:
Robin – Tim Tebow
Ken – Chris Pratt
Nicole – Ryan Lochte
Follow CRAVEYOUTV on socials
The Masked Singer Recap – Two Iconic Singers and An Olympic Gold Medalist Unmasked! (4×10)
The Masked Singer had its season 4 semi-finals this week that saw three singers eliminated from the Super Six showdowns.
Craig Robinson (The Office, Brooklyn Nine-Nine) was the guest panelist of the evening and is slated to be the host of FOX's upcoming new show and Masked series spin-off, The Masked Dancer.
Tonight, however, Popcorn, Jellyfish, and the Seahorse were taken down during their face-off rounds. Each of these singers was deemed by the panel as having the talent to go through to the finale, which makes the reveal that much more stunning and exciting.
Seahorse, by far, had the most shocking elimination as she was outperformed by Crocodile.
Crocodile Chomps Seahorse
Seahorse sang Bruno Mars' "That's What I Like," which was pretty good overall but was probably not the best song choice at this point in the competition.
She was edged out by Crocodile, who showcased a vulnerable vocal performance – a stark contrast from his usual flair – by singing "I Don't Wanna Miss A Thing" by Aerosmith to win the hearts of the panel and audience voters.
It was probably for the best, however, as Seahorse has been one of the most gifted vocalists among the contestants who had viewers and panelists guessing all over the place. So finding out who she is was worth it.
Seahorse eventually unmasked herself as singer-songwriter and powerhouse vocalist, Tori Kelly (American Idol).
Robin Thicke, Nicole Scherzinger, and Craig Robinson correctly guessed her identity.
While Ken Jeong and Jenny McCarthy were on the right track but stumbled along the way by overthinking with the clues.
Next, to be eliminated was Jellyfish, as the Mushroom upped his game after losing to her during their last three-way showdown with the Broccoli.
Mushroom Outgrows Jellyfish
Mushroom brought out his unique vocals once again during his version of "Valerie" by Amy Winehouse and even added a bit more flair by beatboxing toward the end of his performance, which likely turned the votes his way.
Jellyfish, on the other hand, was the dominant singer from their group and sang "Stay" by Rihanna and Mikky Ekko. After Jellyfish's shaky first performance, she consistently grew more confident and outsang nearly everyone from her group.
In the end, she was revealed to be the Olympic gold medalist (as the panel had increasingly suspected) from this season as she's revealed to be none other than . . .
Chloe Kim, the Korean-American Olympic snowboarder who won a gold medal during the 2018 Winter Olympics.
Ken Jeong was ecstatic to guess her identity correctly as the other panelists were on the same trail with guesses like Gabby Douglas (Robin's guess), McKayla Maroney (Jenny McCarthy's), and Grimes (Nicole's).
Craig just copied Ken's guess as the two shared a comedic connection all evening long, much to the chagrin of Nick Cannon.
Ken was so proud of Kim for her performance as she has been an inspiration in his household for his daughters, but Kim revealed that Ken hasn't answered a direct message from her on Instagram that she sent two years ago.
Ken promised to finally reply, of course.
Finally, the last showdown of the night was between Popcorn and the Sun.
Sun Burns Popcorn
Arguably the most lopsided matchup of the Super Six, Popcorn seemed to finally have her breakthrough performance with her rendition of "Better Be Good To Me" by Tina Turner that was hailed as a "religious experience" by the panelists.
However, the Sun shone brighter as she has always done throughout this season with her powerful showstopping performance of Billie Eilish's "When The Party's Over" that brought the panelists to tears, and had them basically crowning the sun as this season's one to beat in the Finals.
Unfortunately for Popcorn, that meant she would have to be unmasked, and a legendary diva just happened to be behind the buttery-voiced character.
Taylor Dayne was eliminated from the Super Six and graciously exited as both Nicole and Jenny basically fangirled over her as they guessed her identity correctly.
Robin and Ken, meanwhile, thought it was Tina Turner.
As for the remaining finalists, here are the panelists' guesses from tonight, and the special clue that connected them to the panel.
Sun
Guesses – LeAnn Rimes, Kate Hudson, and Emilia Clark
Special Clue – the connection was to Nicole, and the clue says "It's great to see you on this big stage because the last time we met was in the bathroom."
Mushroom
Guesses – Jaden Smith, Leslie Odom Jr., and Keegan Michael Key
Special Clue – the connection is to Robin, and the clue says "I love mixing it up with you again because this is definitely not the first time we've connected."
Crocodile
Guesses: AJ McLean, Nick Carter, and Nick Lachey
Special Clue – the connection is to Craig, and the clue says "Craig, you're one of my favorite actors and it's so cool that I get to share the screen with you again."
The Masked Singer Season 4 finale will air next Wednesday 8/7 central on FOX.
The Masked Singer Recap – Broccoli Chopped In Group C Finals! (4 x 09)
The Masked Singer had its last set of finalists from Group C throwdown during its special Thanksgiving episode.
Comedian Jay Pharoah was on-hand to share his talent for impressions, which made it seem like there was more than one guest panelist on the show tonight.
The trio of finalists all had incredible showings, but Broccoli was eliminated and unmasked as Canadian music legend, Paul Anka!
Robin Thicke was the only panelist to correctly identify Anka as Thicke mentioned that Canadians, like himself, will always be able to recognize each other.
Other panelists sort of honed in on Anka's identity as well, however, as his game-changing clue of the night stated that he was born before the Microwave was invented, so the panelists hilariously scrambled to come up with names of people who were born before the 1940s.
Anka famously wrote "My Way" by Frank Sinatra and has been in the music business since he was a teenager.
For his final solo performance, Anka, as the Broccoli sang  "Old Time Rock & Roll," by Bob Seger & the Silver Bullet Band.
Then during the Smackdown round with Mushroom, he sang "Take Me Down" by Alabama, against the Mushroom's "A Song for You" by Donny Hathaway to determine the final contestant to join the rest of the Super Six.
Group C Finals Survivors: Jellyfish & Mushroom
Jellyfish
Jellyfish had the best showing of the night and garnered the most votes, so she was immediately safe after Group C's initial performances.
SONG: "Don't Start Now" by Dua Lipa
GUESSES: McKayla Maroney, Charli XCX, and Kylie Jenner.
SPECIAL CLUE: "I've never performed on a stage quite like this before."
She will be one of the frontrunners during next week's Super Six episode where she'll join the Mushroom to represent Group C.
Mushroom
Mushroom earned his way through the Super Six this week as he had to take down Anka in commanding fashion with his amazing display of vocals in the Smackdown round.
SONG: "Unconditionally" by Katy Perry
GUESSES: Taye Diggs, The Weeknd, and Jaden Smith
SPECIAL CLUE: "The name that I go by now was not my name when I first sprouted"
This was a huge clue for the panelists as it now makes sense why the Mushroom's voice range varies so much as he could be someone who has transitioned at some point.
THE SUPER SIX
Now that all Group Finals have been settled, this season's Super Six will begin the final rounds of competition next week.
Group A – Popcorn and Sun
Group B – Seahorse and Crocodile
Group C – Jellyfish and Mushroom.
The Masked Singer Season 4 new episodes air Wednesdays 8/7 central on FOX.
The Masked Singer Recap – Ken Guesses Right & Is Brought To Tears! (4 x 08)
It was another crazy night of clues, guesses, masks, and of course singing as Ken Jeong makes a rare correct guess on one of the two eliminations from the Group B Finals.
Cheryl Hines (Curb Your Enthusiasm, I Can See Your Voice) was tonight's guest panelist and may have been the lucky charm that Ken needed.
When the dust settled, the Whatchamacallit and Serpent were unmasked at the end of the show, while Seahorse and Crocodile move on to the Super Six.
WHATCHAMACALLIT
The first to get chopped was Lonzo Ball from the New Orleans Pelicans and the only panelist to guess his identity was Ken.
This wasn't the first time Ken has guessed an NBA player on the show as he was also the only one who got Victor Oladipo of the Indiana Pacers as the Thingamajig in season 2.
Ken struck gold again and literally jumped on the panelist table with excitement after Ball was revealed.
Ball rapped his way up to this point in the competition this season as he bowed out with his performance of "Lean Back" by The Terror Squad that had everyone well… leaning back and dancing to the music.
Coincidentally, tonight marked the 2020 NBA Draft where Ball's brother LaMelo Ball was selected with the 3rd pick by the Charlotte Hornets. So it was definitely a big night for the Ball family, to say the least.
SERPENT
The second elimination from tonight was Dr. Elvis Francois AKA the Singing Surgeon, who went viral earlier this year after he performed his rendition of John Lennon's "Imagine."
Ken was brought to tears after Dr. Francois was revealed as he emotionally reminisced the difficult times during the early onset of the COVID-19 pandemic outbreak, and how the Singing Surgeon was one of the shining lights that brought positivity to the world, and for Ken personally, during those grim times.
Nicole Scherzinger was the only panelist to guess Dr. Francois as the clues that tipped her off was that the Serpent became "recently famous" and performed with Scherzinger before, which he did on The Masked Singer: After The Mask.
For his final performance, the Serpent sang "Cool" by the Jonas Brothers that showcased his signature smooth, soothing, and inspirational tone of voice that brought everyone to their feet.
Group B Survivors
As for the last two surviving contestants from Group B, the Seahorse and Crocodile were the top 2 vote-getters for the night and are set to move on to the Super Six where they will join Sun and Popcorn from Group A, and two other finalists from the upcoming Group C eliminations.
Seahorse
The frontrunner from Group B was strong as always as she rocked the Brittney Spears hit "Baby One More Time."
Special Clue: The big clues were delivered tonight by Masked Singers from the past, and Seahorse's was from the Astronaut (who was revealed as Hunter Hayes in season 3) who showed a clue that read "Seahorse was never in a girl group" which actually helped the panelists since they've been guessing singers from a bunch of them.
Guesses: Kesha, Kellie Pickler, and Sia.
Crocodile
The Croc made it by the skin of his teeth as he edged out the powerful voice of the Serpent.
He likely won over some votes with his stage presence and swag as he sang "Bleeding Love" by Leona Lewis to swoon the audience and panelists.
Special Clue: Croc's clue was delivered by the Bee (Gladys Knight from season 1) and read "Croc was in a huge cult classic movie," which really got the panelists' brains churning.
Guesses: Jared Leto, Jordan Knight, and Justin Guarini.
The Masked Singer Season 4 new episodes air Wednesdays 8/7 central on FOX.
EDIT: The Masked Singer aired on Thursday during Thanksgiving week.