Night Angel will face-off against Kangaroo on the April 8 episode of The Masked Singer.
One of them could be eliminated and unmasked at the end of the night, so why not take a guess at who they are?
Here's my theory on who the Night Angel is under the mask:
[POTENTIAL SPOILERS AHEAD for those who want to keep the reveal a surprise]
The Night Angel has been hailed by the panelists as someone who can "win it all" this season.
Good news for her, but bad news for us who want to find out who that amazing voice belongs to.
Her clue packages have been some of the trickiest to crack this season, and I figured a lot of them could be red herrings.
That is until I went back to her first clue package, and with some help from the internet, I believe I have cracked the case.
Here it is:
BREAKDOWN
The doors she opened in the video are numbered 4, 5, 6.
The 1st door contained

three

men with duck 

bills

on their noses.
The 2nd door had "

gangster grandmas

" as Robin Thicke puts it.
The 3rd door was a dance party where one of the men in black points at his watch.
At the end of the package, she says "and a little bit sweet, just like me."
The only overt clue that stumped me was the keys with the number 2 on it. (So feel free to enlighten me on this one)
Later clue packages would reference her being in her line of work since she was in high school, and found herself "lost" in a group and wanting more.
THEORY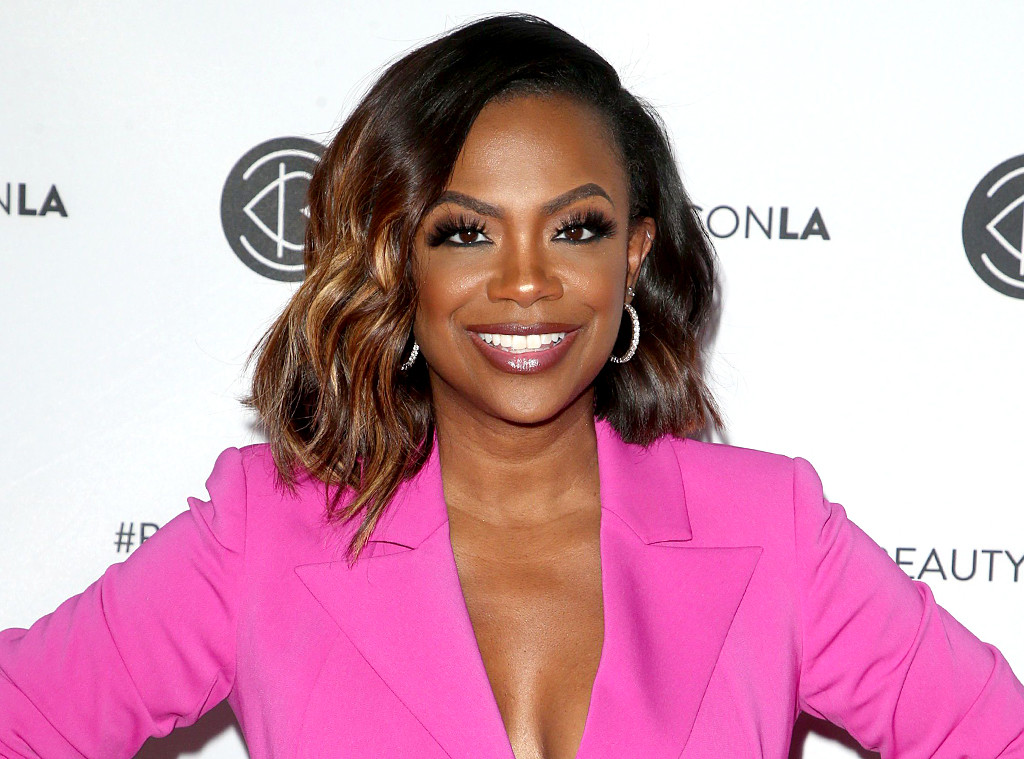 The Night Angel is Kandi Burruss, and here's why:
The numbers on the doors she opened stands for the song "4, 5, 6" which she co-wrote and performed with rapper Solé
The 1st door was a nod to her writing credits on the Destiny's Child song, "Bills, Bills, Bills"
The 2nd door is a hint about her

Atlanta

based restaurant called, "Old Lady Gang"
As the man in black pointed out, she was "Tardy for the Party" which is another song she wrote for her co-star on The Real Housewives of Atlanta, Kim Zolciak
"A little bit sweet" – What else is sweet? Well, CANDY (Kandi) of course!
In her youth, Burruss was also part of Xscape, a girl group during the 90s, which fits with her claim to have been in the business since a teenager.
Still not convinced? Here's her debut single as a solo artist, "Don't Think I'm Not." Where the distinct vibrato in her voice is clearly showcased, and sounds exactly like the Night Angel's.
And there it is, my theory on the Night Angel's identity.
Did I guess correctly?
Or did I miss something, and completely went off the wrong clues?
Let me know what you think.
Follow CRAVEYOUTV on socials
The Masked Singer Finale Recap – All Masks Are Off As Season Champ Is Crowned!
On the season 3 finale of the Masked Singer, Frog, Turtle, and Night Angel performed for the last time for a shot at winning the coveted Golden Mask trophy.
After weeks on a long journey performing and concealing themselves week in and week out, the finalists were finally unmasked.
In the end, Night Angel received the most votes and became the first woman to win the competition.
The Turtle was the runner-up and Frog had the least votes of the evening.
FROG
Frog performed first at the top of the show as he dazzled and electrified the crowd with his usual flair and stage presence in his rendition of "Bad Boys For Life" by P.Diddy et al.
He rapped and choreographed his way into the finals, and he did not disappoint in his last showing.
The judges figured out his identity (as did we, on our Masked Singer theory) as Robin and Nicole both guessed correctly before he was unmasked.
Bow Wow / Shad Moss was revealed as the Frog who was arguably the fan-favorite pick to win it all this season.
Moss showed different sides of his musical talent and performance capabilities on the show and hopes to incorporate a little bit of what he picked up while performing as the entertaining amphibian.
He repeatedly mentioned a reinvigorated love for music and as a fan, I can't wait to see how his music evolves from this experience.
TURTLE
The season began with a performance from Turtle, and it almost ended with him being crowned as the champion.
For his finale performance, Turtle sang "Before You Go" by Lewis Capaldi, which brought Nicole, Ken, and a number of audience members to tears.
Alas, he was edge-out by Night Angel during the final voting and had to unmask as he fell short of winning the Golden Mask trophy.
Jenny and Nicole were able to guess his true identity (Which makes it 2 for 2 in our theories as well).
Jesse McCartney was a recurring guess periodically by the panelists all season, and the clues all came together on the very last night.
McCartney was the strongest male vocalist in the competition this season, and in his own words, said that the experience was:
"Turtle-y awesome."
NIGHT ANGEL
Night Angel had  – HANDS DOWN – one of the strangest and scariest-looking costumes the show has ever had.
Lucky for her, she also had one of the most powerful and soulful voices to ever grace the show and a signature vibrato that could not be ignored.
She sang "River Deep Mountain High" by Tina Turner, which showcased her full vocal range during the finale.
As the Golden Mask trophy came down to her and Turtle, she got the most votes and won the competition.
Finally, she was able to rip off that creepy-looking mask, and her identity revealed.
Panelists Jenny and Robin were able to trace the clues back to this amazing artist when they locked in their final guesses. (We also got a sweep for the finalists' identities in our theory for Night Angel)
Kandi Burruss was crowned the champion of season 3 as she admits to regaining her confidence in singing during the show, which she had lost ever since she stopped pursuing her music career.
This was an unbelievable revelation for the judges and audiences alike because Burruss, as the Night Angel, constantly killed during her performances every week, and was nearly perfect this season.
Burruss, however, admitted to being intimidated by several of her peers in the show and even looked up to a couple of them who were personal idols for her.
"How am I going to get to the end with such incredible people on this show?" she said while reflecting on her time on the show.
Tonight, she proved to everyone and more importantly to herself that she belongs among those incredible people as the first woman champion of the Masked Singer!
The Masked Singer Reveal – Rhino Unmasked and Ken Jeong Makes Lucky Guess (3 x 15)
On the May 13 episode of The Masked Singer "A Day in the Mask: The Semi-Finals," Rhino was eliminated from the competition.
Jay Pharaoh was on hand as the guest panelist for this episode.
Rhino, as Ken Jeong put it, was the "sentimental favorite" among the final four remaining contestants, and he remained true to this until the end.
He sang "Humble and Kind" by Tim McGraw in his final performance as he moved judge Nicole Scherzinger, among others, to tears.
https://www.instagram.com/p/CAJfzgyHVQ7/
He, however, fell short on getting votes against Night Angel, Turtle, and Frog, so he had to take off the mask and reveal himself.
Before his unmasking, the panelists took their final guesses and Ken went on one of his usually incoherent rants about Rhino's identity and seemed to just be making fun of Jenny McCarthy's guess from a few weeks prior.
Per usual, HE KNEW EXACTLY WHO THIS IS as he stretched the clues to connect to the TV show JAG and made it fit toward his guess: Barry Zito. (Which was also our guess in our Masked Singer Theory)
However, he surprised himself and the rest of the panel when it turns out, as Jenny originally guessed with a more convincing and logical line of thinking – despite Jenny's reluctance to agree with Ken – the two of them were spot on.
(Watch the video of the unmasking below as Ken celebrates by rushing to give Zito a hug.)
This is Ken's first correct guess of the season, and it came just one episode prior to the finale. Which is pretty good for his standards.
And it turns out, Zito, after being unmasked, admitted to actually making a guest appearance on JAG, which surprised even Ken– who made-up the connection in the first place.
Even though Zito had to leave the show, it came at good timing as he revealed that he and his wife just had a newborn baby just three days prior to this episode.
Here is his reflection on his time on the show, and how it has affected him moving forward in his career.
And also, a pretty good breakdown of his clues during his run on the show.
The remaining finalists – Night Angel, Frog, and Turtle – will return next week to compete in the season 3 finale for the coveted Golden Mask.
And more importantly, every one of them will finally be unmasked!
The Masked Singer airs on FOX 8/7 central on Wednesday, May 20, 2020.
The Masked Singer Reveal – Kitty Nipped In Quarterfinal (3 x 14)
Kitty was eliminated on the May 6 episode of The Masked Singer "A Quarter Mask Crisis: The Quarter Finals," and the woman behind the mystery was revealed to be Jackie Evancho.
Until the last second, nobody could pinpoint who Kitty was all season, and so when Evancho was about to be unmasked NONE of the judges was able to guess correctly.
(We, of course, have another one of our Masked Singer Theories proven true.)
Comedian/actor Jeff Dye (Extreme Makeover: Home Edition) was the guest panelist for this episode.
Evancho is most famous as a child opera singer, which is precisely the reason she wanted to join the contest, so she can show a different side of herself.
She first gained worldwide fame when she finished second place on the fifth season of America's Got Talent, and this YouTube video in 2019 sums up her journey as a young performer:
Coincidentally, Nick Cannon happened to be the host of AGT when Evancho was competing. (See at ~0:28 mark.)
Also, at about the 1:40 mark of the video above, Evancho sings in opera-style, which is a far cry from the music she's been covering during her run on The Masked Singer.
This is probably why her voice is nearly unrecognizable to almost everyone watching the show, and why she eluded the right prediction from the panelists.
She drew guesses from Vanessa Hudgens, Ashley Tisdale, Anna Kendrick, Lea Michele to the Olsen twins from the panelists, who of course, were in awe after she was revealed.
Her final performance was a rendition of "Back to Black" by Amy Winehouse, which on any other day would have been enough to rock the house.
However, the competition to crack the Semi-finals was stiff tonight as every contestant brought their A-game.
https://www.instagram.com/p/B_3cDebnRkM/
Nevertheless, Evancho was gracious during her unmasking and was grateful for her time on the show as the judges praised her courage to step out of her comfort zone as an artist.
When Cannon asked, "Why 'The Masked Singer'?"
Evancho answered:
"I wanted to show a different side of myself. I have been stuck in this stereotype of a 10-year-old girl since I was 10 years old, and now I'm almost 20, and I'm glad that this experience has given me the chance to kind of break out of that."
She then turned to the judges and added:
"I want to say thank you guys so much because without you I don't think I would've discovered where I want to take my career, and who I want to represent myself as in the future."
Certainly, as she has showcased in The Masked Singer, Evancho can most definitely break into any genre of music her heart desires as she's always had a natural gift – the voice of an angel.
Here is Evancho's heartfelt post-interview after she was revealed, where she provides insight into her soul-searching journey on the show as an artist and a person:
Next week, the Semi-Finals are going down as the Final Four: Frog, Turtle, Rhino, and Night Angel square off.