This Is Us Midseason Premiere Review – Rebecca's Diagnosis Triggers Randall's Biggest Fears (4×10)
This Is Us returned after it midseason hiatus and couldn't wait to throw plenty of curveballs at us.
Rebecca's diagnosis was the key part of the episode as it brought upon the cliffhanger that puts Randall in a life-or-death situation.
Or does it?
Randall flew out to LA after hunting down a neurologist for his mother.
While his persistence and insistence didn't sit well with Miguel at first as he told Randall he is perfectly capable of taking care of his wife and that small memory loss happens, by the end, Miguel knew Randall was right and he didn't want to admit that something was happening to Rebecca.
The test results indicate that Rebecca has a "mild cognitive impairment," which could either mean she'll continue to forget this occassionally or it could mean she'll begin to deteriorate.
We're all hoping for the former, but given that we saw a glimpse into the future that showed Rebecca's older, frail body nearing the end, I assume it's going to progress more rapidly.
Seeing Rebecca accept the news as memories of her and Jack's first "I love you" exchange brought me to tears.
Hearing "don't you ever forget it" has never been more somber than at this very moment.
As we watched Rebecca go through simple tests like drawing a clock and repeating phrases, the moment was juxtaposed with young love between Rebecca and Jack.
A young love blossoming into a great love story, one for the ages.
Rebecca's dad got to Jack during the disastrous golf-outing where he hammered home the point that he was "good enough" for his precious princess, so Jack broke up with Rebecca.
It crushed her, but eventually, she found out it was all her daddy's doing.
We've touched upon Rebecca not having a good relationship with her mother, so it was nice to see her tell her daughter to go after Jack if she really was in love with him.
Jack proved to be the dependable, loving, thoughtful, epic love story that her mother wanted for her with or without the money and status.
Randall was the only one on hand for Rebecca's tests because Kevin and Kate didn't even know anything was wrong and that's how Randall wanted it, which makes me think that it's the reason why Kevin is not in attendance for the big three's 40th birthday.
Randall doesn't think that Kevin and Kate can handle it, but as it turns out, he might not be so equipped either.
He kept it mostly together during the appointment and looked strong for his mother, but once he came home, something happened.
The scene showed him checking in on all three of his girls plus Beth, who were all sound asleep without a worry in mind, but I couldn't help notice how much time was being dedicated to Randal checking in on his family in the final moments of an episode.
As he walked down the stairs, a feeling of concern grew over me. And then, we saw it. A man standing in his kitchen pointing a knife.
But is this real or is it a figment of Randall's imagination?
It's not unbelievable that someone would break into a house in the middle of the night, but I'm inclined to believe that Randall Pearson, of all people, would have an alarm system.
Paired with the teaser for next week which taps into all of Randall's former anxieties and fears, and I think that Randall is having a hallucination based on stress.
If you recall earlier in the season, Beth encouraged her husband to get therapy but he refused because he claimed hew as "fine" and could handle everything being thrown his way.
In this episode, Randall commented about his job as Councilman and said that he'll get one thing done and six more pop-ups. That's enough to stress out even the strongest of people.
And now, add on Rebecca's condition.
One of the nightmares in the teaser shows Randall panicking that something is going to happen to his mother.
It seems to be one of his biggest fears and now, that fear is coming to life.
Therefore, it could be that Randall is going to be going through something entirely his own as he deals with crippling anxiety and stress.
Randall is the man who makes sure everyone is okay, but who is making sure that he's okay?
On the other hand, it could be an intruder that requires Randall to protect his family. Since we've seen an aged Randall, Beth, and Tess in earlier flash-forward timelines, we know nothing happens to them.
And truthfully, when has This Is Us ever been that straightforward about anything?
They love to mess with us and make us think one thing is happening and then surprise us with a twist out of left field.
Case-and-point: Toby and Kate's marriage.
They wanted us to think that Lady Kryptonite was a threat, that Toby would develop feelings for Kara, and that when he said he was going to the gym, he was actually going to meet up with his new lady friend.
Kate thought it and we thought it. But we never should have. That's not the guy Toby is and he's never given us a reason to think otherwise.
Toby admitted that he was distancing himself and spending less time at home with Kate and Jack because Jack's blindness made him sad.
It was a crushing confession that will likely have a ripple effect on their marriage going forward despite Jack's new ability to see lights and shadows.
This Is Us quickly gave us a sweet, touching moment as baby Jack began reaching for the pineapple lights. Though, as we also know from the flash-forwards, Jack doesn't regain his eyesight.
Toby's concern and feelings are valid, but hopefully, Kate doesn't get upset with him for being unable to control how he feels and instead, shows him that baby Jack can still have a happy life despite his illness.
A family trip for blind children could help Toby understand his son more; Jack will still be able to hear and feel the ocean and he'll be able to watch and understand sports just in his own unique way.
Now that we can breathe a sigh of relief that there's no cheating involved, we can move on to Kevin whose dating life is all over the place.
After stating that he wanted to have a wife and child by the time he's 40, Kevin is really hunkering down to make it happen. He hired a matchmaker and all.
But the girl that caught his eye wasn't from a set-up or some girl from a dating app, it was a woman named Lizzy (played by Sophia Bush) that he spotted in the coffee shop.
Lizzy and Kevin had immediate chemistry and after their brief meeting, he pulled out all the stops to give the Chicago girl (an obvious nod to Bush's time on Chicago PD) the full L.A experience.
He even called up his buddy John Legend to give them a private concert at the Hollywood Bowl. Who knew Kevin had that much pull?
While Kevin thought he was quite possibly staring into the big beautiful eyes of his future wife, she was looking at her hall pass.
Yep, Lizzy was married and Kevin Pearson was the one famous person her husband would let her sleep with.
I've never felt more played in my life, so I can't even imagine how Kevin felt putting himself out there only to find out he's some "prize."
And then, he got a phone call from Sophie, which likely means she's his pregnant wife from the flash-forward.
Why are we going back to Sophie?
She may have been the love of Kevin's life at one point, but he's changed and grown so much. Which, yes, could make him a better fit for her as the problem was always that Kevin wasn't confident and secure enough, but they've tried this relationship twice already without any success.
I'd much rather see Kevin figure it out with Cassidy or meet a new soulmate.
And yet, considering we're less than a year away from the birthday scene, whoever this girl is, she has to already have an established connection with him.
The teaser for next week also mentions that it's the first of the big three trilogies, so maybe we find out what happened with Kate's ex-boyfriend? Maybe he's the intruder stalking the Big Three?
What did you think of the midseason premiere?
Was it worth the wait? Is the intruder real or a hallucination?
Can Toby and Kate move past this?
Who will be Kevin's wife?
Watch Full Episodes of This Is Us Now
Follow CRAVEYOUTV on socials
'This Is Us' Season 5 Moves Up Premiere Date – Find Out When You Can Reunite with the Pearsons!
The wait for new episodes of This Is Us is almost over.
The show's fifth season will premiere on Tuesday, October 27, a few weeks ahead of its previously announced November 10 premiere.
NBC made the announcement during a commercial that ran during the season finale of America's Got Talent on Wednesday.
The show's official social media accounts also revealed the good news writing: "We just couldn't wait any longer, but we have a feeling you won't mind."
The reunion with the Pearsons will be a two-hour event, which will hopefully answer some burning questions left behind by season 4 like who Madison's doctor is and why Nicky was by Rebecca's bedside instead of Miguel.
Oh, Baby! 'This Is Us' Actress Mandy Moore Pregnant With First Child
The series has about a month to turn over new episodes as TVLine notes that the series is set to start production this week following a mandatory hiatus brought on by the COVID-19 pandemic.
Like many shows including FOX's The Resident, the season isn't shying away from reality but will instead tackle the pandemic "head-on," series creator Dan Fogelman revealed on Twitter.
Some vague #ThisIsUs answers (sorry)

– Not sure yet on production start.
– Not sure when new eps will air.
– Yes on Covid. We've decided to attack things head on. Very proud of @ThisIsUsWriters
– Same planned ending. Same route to get there.

Hope that's (somewhat) useful? https://t.co/gx0YJQxq5f

— Dan Fogelman (@Dan_Fogelman) August 17, 2020
It's unclear how the public health crisis will play into the show's narrative or how it'll affect the tight-knit Pearson clan. Maybe that's why Randall and Kevin haven't seen each other for years? Yes, we're trying to pretend that big explosive fight in the This Is Us Season 4 finale never happened!
Turning it over to you, Cravers. Are you excited for the return of This Is Us?
Oh, Baby! 'This Is Us' Actress Mandy Moore Pregnant With First Child
Mandy Moore has plenty of experience being a mom on This Is Us, but now she'll be able to put those skills to the test in real life.
The actress, who plays Rebecca Pearson on the hit NBC series, announced that she is pregnant and expecting her first child with Taylor Goldsmith.
Not only that but the 36-year-old revealed that the couple is expecting a baby boy!
"Baby Boy Goldsmith coming early 2021," she captioned an Instagram slideshow of Goldsmith cradling her adorable bump.
https://www.instagram.com/p/CFh5kwLg8ja/
The couple tied the knot in November 2018.
Congrats!
13 Tear-Jerker Shows To Watch While You Wait For This Is Us Season 5
There is no show like This Is Us on television; it's a wholesome family show that takes you on an emotional rollercoaster. You'll laugh, you'll cry, and you'll be angry all before the hour is up.
However, there are many shows that come close to giving you those same fuzzy feelings and will have you falling in love with the cast as quickly as you fell in love with Pearsons.
5 Possible Theories About Who Madison's Doctor and His Daughter Sadie Could Be on 'This Is Us'
While we're waiting for This Is Us Season 5 to boot back up (and it'll be awhile due to the coronavirus postponing productions), you can binge-watch these shows instead.
They'll help fill the void and guarantee an ugly-cry or two. Sometimes, a good cry is just necessary!
1. Parenthood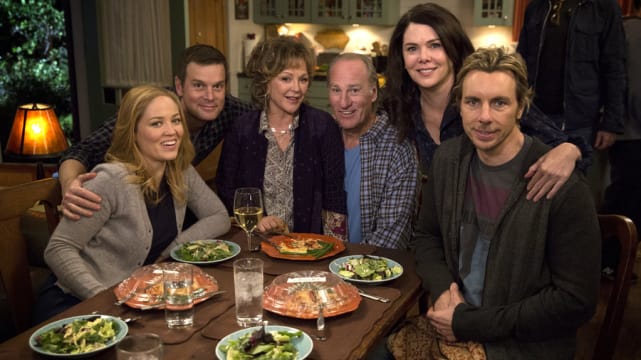 2. Chasing Life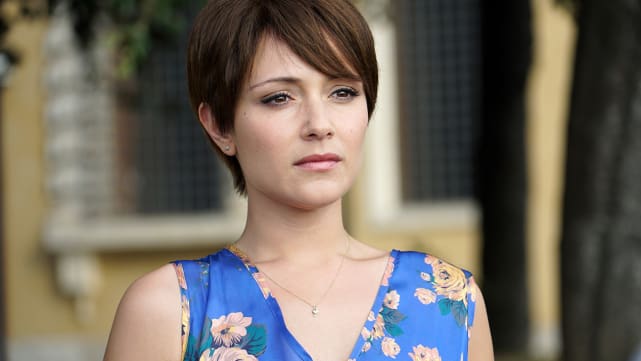 3. One Tree Hill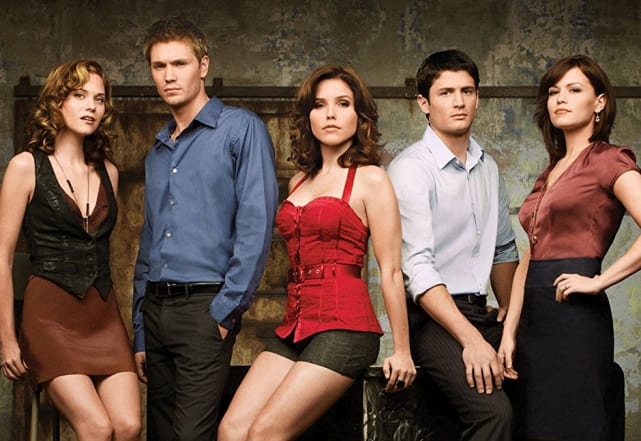 4. Gilmore Girls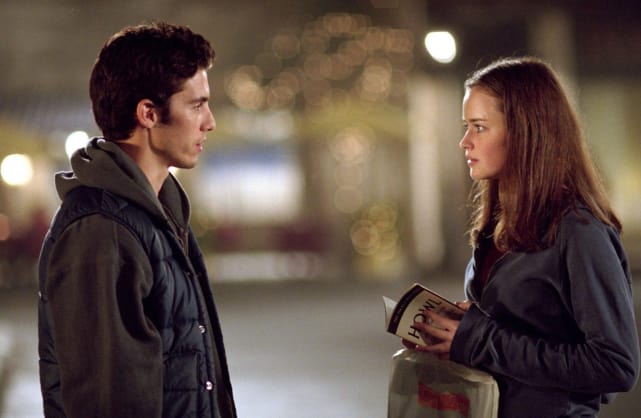 5. Friday Night Lights
6. The Fosters