"Who knew that a complete stranger could become such a big part of your story," is one of the opening quotes from a young Rebecca after arriving home from her trip to LA with Jack.
Truly, he couldn't have summed it up better.
Not only does that encompass her relationship with Jack, which at this point, was only three weeks old, but it also rings true for all the new characters introduced in This Is Us Season 4 season premiere.
Everyone starts off as strangers at the beginning of the hour.
As the episode progresses, there are moments of doubt about who these new characters are and how they fit in.
There's minimal flow to the episode as we switch back back-and-forth between getting to know this new array of folks and between young Jack's first meeting with Rebecca's parents.
There wasn't a single scene with the Big Three up until the very end, so there were moments where I wondered if I was even watching the right show. Had it not been for Jack and Rebecca's inclusion, I wouldn't have been so sure.
And therein lies my lesson for the night — never doubt the great minds behind This Is Us.
Towards the end of the episode, everything began to flow together cohesively and all those ten new characters were almost essential to the progression of the series. Because let's face it, that's life.
We meet new people all the time that influence our lives and change them in ways we never thought possible.
There's always room for someone new to make an impression.
And the one thing that makes This Is Us so special is that they aren't confined to any one timeframe.
Every scene in this episode existed in a different time period — past, present, future — yet they seamlessly flowed into each other.
So, here's our 4-1-1 breakdown on episode highlights and who these new faces are in terms of the bigger picture:
1. Jack Damon – We're introduced to a blind man who drops a plate of breakfast accidentally and decides to grab some breakfast at the local diner. What would normally be an uneventful moment is pivotal because he meets Lucy, the love of his life. Their storyline is explored at an accelerated pace. We see their first hook up, we see Jack propose, we see his dog, Sammy, grow older, we see them open up a restaurant together, we see Lucy tell him that she's pregnant, and we see Jack reach success in his music career.
Now, Jack Damon is actually baby Jack, Kate and Toby's son. Towards the end of the episode, we see the couple receive the news that although baby Jack isn't completely blind, he won't ever regain his eyesight. The full-circle scene cued the waterworks because it's comforting to know that despite his setback, Jack had a pretty successful life. We've only seen the outline as of now, and hopefully, as the season progresses, we'll see the storyline get filled in. Toby and Kate weren't present in any of adult Jack's scenes, which does worry me a bit, but it was probably done with the intention of not ruining the big reveal.
And just think about it — the magic that is This Is Us will now allow us not only to get to know adult Jack but to also meet his future child. The possibilities here are endless.
2. Cassidy – Plenty of people assumed that Once Upon a Time's Jennifer Morrison would become Kevin's future wife and we may be onto something. We're introduced to Cassidy when she's serving in the Army Corps. She's missing her family, her husband Ryan (Revenge's Nick Weschler) and her son, Matty. Her time serving is traumatic and she's responsible for the death of a village aside from her informant. When she arrives back home, the PTSD takes its toll on her life and her marriage.
She accidentally hits her son while recalling that the price of a water heater in America is how much they paid families for killing their loved ones. Eventually, she seeks out help and while she's sharing her trauma, Nicky, Jack's brother, throws a chair through the window. As he's being arrested, they call Kevin to bail him out and last we see he's purchasing tickets to fly over there. So, while Kevin and Cassidy's relationship isn't promised, it seems like the most logical storyline especially since we saw Kevin with a child in the flash-forward that could have been Matty or another child with Cassidy.
3. Kelly, Darnell, and Malik – This family was predicted to be Randall and Beth's new neighbors, and while that isn't totally the case, they are going to be involved with that side of the family.
Malik is introduced as a junior high kid with a little baby daughter, Janelle, at home. His parents are both supportive of him and help him take care of the baby as he's presumably a single father. Malik attempts to get into some shady business to make money to support his daughter explaining that a good preschool runs upwards of 10K but his father warns him against it since he knows how messy that lifestyle can be from previous experience.
He also offers to watch Janelle so that Malik can go to a barbecue with his friends where he meets the new girl in town: Deja. The two are immediately smitten and Randall and Beth can't help but cheese seeing Deja at home with a huge smile on her face.
4. Young Rebecca and Jack – Though we mostly know how Jack and Rebecca's life turned out, there's still so much to be explored with this couple in any given time period. My personal favorite version of them is when they first met. It's so fun and light to watch them get to know each other, fall for each other and explore this innocent relationship that they have no idea is going to turn into this whirlwind life. Everything, all the families and characters, it all starts because of Rebecca and Jack.
In the premiere episode, we explored Jack meeting Rebecca's pompous parents for the first time. Jack tried to make a good impression on them because, after the trip to LA, he realized he truly liked Rebecca. But making a good impression on them wasn't an easy feat.
He bought a suit to hang out at the country club, which was sold to him by Miguel, yes, Jack's best friend and Rebecca's future husband. Not only do we get to see Jack and Rebecca's humble beginning, but we get to see Jack and Miguel's also and turns out, he was always a stand-up guy even when he didn't know Jack that well.
At dinner, Rebecca's parents disregard all of her requests and grill Jack about Vietnam and his parents. Jack excuses himself to wash off that lobster juice from his new suit and then launches into a typical Jack Pearson speech about how haunting Vietnam was, how he lost his brother and other loved ones to the war that was "very real" to the soldiers fighting on the front lines, and how his parents fight.
Then, he promised that he wasn't going to "go anywhere" so they'd all have plenty of time to get to know who he really is.
And while that may have impressed Rebecca and all of us Jack Pearson fans, it wasn't good enough for Rebecca's father. He told Jack that while he was a good man, he wasn't a good enough man. He saw that he was more haunted than he was letting on and believed his daughter deserved better. And with all due respect, I have to disagree with him.
With all that we know now, there is no better man than Jack Pearson. The good news is that after catching more than a few glimpses into the future, we know that nothing Rebecca's father says actually stops the relationship.
Jack for the win.
Now that your done balling your eyes out — it's a good sign, it means This Is Us did its duty for the week — let us know what you thought of the This Is Us Season 4 premiere.
Were you impressed with the new characters? Do you wish they spent more time focusing on the Big Three?
Are the new additions necessary?
I think now that we've established the who's who of these new faces, we'll have more time for our core cast of Pearsons.
If you want to fuel our reviews, you can donate here! 
Follow CRAVEYOUTV on socials
'This Is Us' Season 5 Moves Up Premiere Date – Find Out When You Can Reunite with the Pearsons!
The wait for new episodes of This Is Us is almost over.
The show's fifth season will premiere on Tuesday, October 27, a few weeks ahead of its previously announced November 10 premiere.
NBC made the announcement during a commercial that ran during the season finale of America's Got Talent on Wednesday.
The show's official social media accounts also revealed the good news writing: "We just couldn't wait any longer, but we have a feeling you won't mind."
The reunion with the Pearsons will be a two-hour event, which will hopefully answer some burning questions left behind by season 4 like who Madison's doctor is and why Nicky was by Rebecca's bedside instead of Miguel.
Oh, Baby! 'This Is Us' Actress Mandy Moore Pregnant With First Child
The series has about a month to turn over new episodes as TVLine notes that the series is set to start production this week following a mandatory hiatus brought on by the COVID-19 pandemic.
Like many shows including FOX's The Resident, the season isn't shying away from reality but will instead tackle the pandemic "head-on," series creator Dan Fogelman revealed on Twitter.
Some vague #ThisIsUs answers (sorry)

– Not sure yet on production start.
– Not sure when new eps will air.
– Yes on Covid. We've decided to attack things head on. Very proud of @ThisIsUsWriters
– Same planned ending. Same route to get there.

Hope that's (somewhat) useful? https://t.co/gx0YJQxq5f

— Dan Fogelman (@Dan_Fogelman) August 17, 2020
It's unclear how the public health crisis will play into the show's narrative or how it'll affect the tight-knit Pearson clan. Maybe that's why Randall and Kevin haven't seen each other for years? Yes, we're trying to pretend that big explosive fight in the This Is Us Season 4 finale never happened!
Turning it over to you, Cravers. Are you excited for the return of This Is Us?
Oh, Baby! 'This Is Us' Actress Mandy Moore Pregnant With First Child
Mandy Moore has plenty of experience being a mom on This Is Us, but now she'll be able to put those skills to the test in real life.
The actress, who plays Rebecca Pearson on the hit NBC series, announced that she is pregnant and expecting her first child with Taylor Goldsmith.
Not only that but the 36-year-old revealed that the couple is expecting a baby boy!
"Baby Boy Goldsmith coming early 2021," she captioned an Instagram slideshow of Goldsmith cradling her adorable bump.
https://www.instagram.com/p/CFh5kwLg8ja/
The couple tied the knot in November 2018.
Congrats!
13 Tear-Jerker Shows To Watch While You Wait For This Is Us Season 5
There is no show like This Is Us on television; it's a wholesome family show that takes you on an emotional rollercoaster. You'll laugh, you'll cry, and you'll be angry all before the hour is up.
However, there are many shows that come close to giving you those same fuzzy feelings and will have you falling in love with the cast as quickly as you fell in love with Pearsons.
5 Possible Theories About Who Madison's Doctor and His Daughter Sadie Could Be on 'This Is Us'
While we're waiting for This Is Us Season 5 to boot back up (and it'll be awhile due to the coronavirus postponing productions), you can binge-watch these shows instead.
They'll help fill the void and guarantee an ugly-cry or two. Sometimes, a good cry is just necessary!
1. Parenthood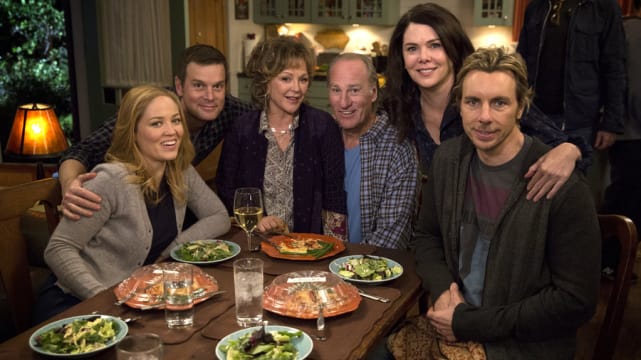 2. Chasing Life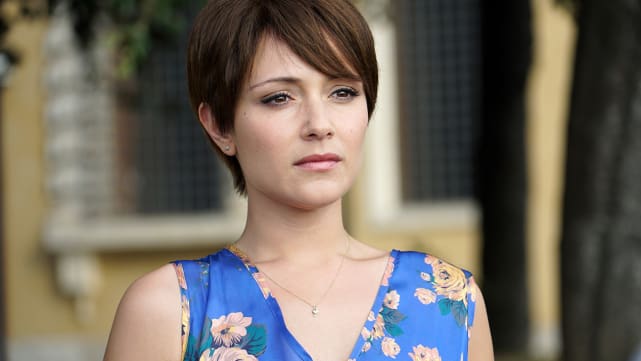 3. One Tree Hill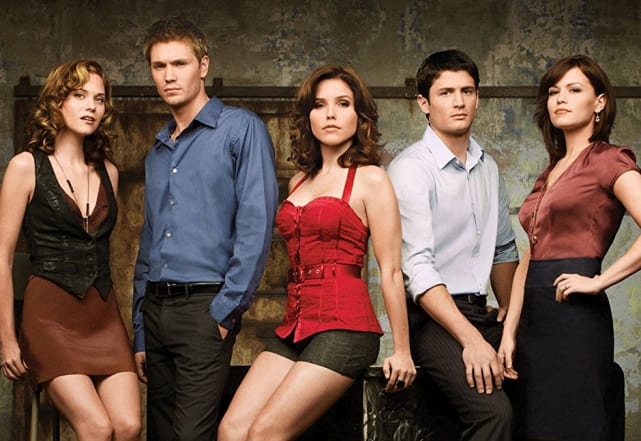 4. Gilmore Girls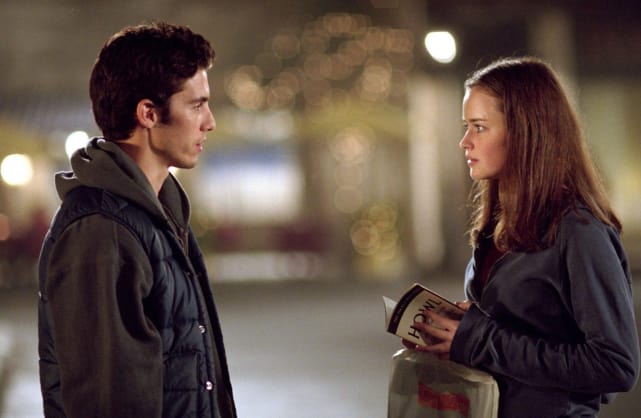 5. Friday Night Lights
6. The Fosters