The series finale of The Good Place will go down in history as a finale that got the closest to perfect.
There was incredible character development, poignant moments, organic callbacks to past seasons, and most importantly, closure on its own terms.
Related: 10 Best Lessons The Good Place Taught Us
With all that working for them, it was enough to get Twitter all types of misty-eyed.
See the tweets and memes about the bittersweet series finale that will hit you right in the feels!
Be sure to read our series finale review right here!
HE GAVE HIS DOG A BOWTIE BECAUSE HE DOESN'T WEAR HIS SUITS ANYMORE AND HE MADE IT THE COLOUR OF THE JACKSONVILLE JAGUARS BECAUSE THE DOG IS NAMED AFTER JASON

HE HAS THE PUREST SOUL#TheGoodPlace pic.twitter.com/jxTYclx31Z

— caitlin (@cxpxldi) January 31, 2020
me after watching the final episode #TheGoodPlace pic.twitter.com/rX7flVgn4T

— Borny (@monodelarctic) January 31, 2020
Me when I saw 'The Final Chapter' #TheGoodPlace pic.twitter.com/sEimuU0jK7

— THANK YOU #TheGoodPlace (@jakexsantiago) January 31, 2020
https://twitter.com/adoresbell/status/1223397899196825600?s=20
–#TheGoodPlace finale spoilers-

"i owe it to you to let you go"

"to me, remembering moments with you is the same as living in them"

"say goodbye to me now. then leave before i wake up" pic.twitter.com/Vuh1dHNmg1

— gwen (@daisyfitzjemma) January 31, 2020
https://twitter.com/witchnoru/status/1223117357926608906?s=20
https://twitter.com/XS_mmr/status/1223278675002609670?s=20
https://twitter.com/adoresbell/status/1223756460825436162?s=20
https://twitter.com/chidi_anagonye_/status/1224009046157676549?s=20
thinking about how after I die I won't have ted danson or a talking human like computer waiting for me in an afterlife with flying puppies #thegoodplace pic.twitter.com/GTfaVxm7yR

— frankie (@frankieonfilm) January 31, 2020
https://twitter.com/BabyYoga5/status/1223862592893935616?s=20
What a beautiful callback. #TheGoodPlace pic.twitter.com/VfoA9eBn4G

— Neo Womanism™ (@NeoWomanism) February 2, 2020
https://twitter.com/Porkcow002/status/1223680161977114624?s=20
Follow CRAVEYOUTV on socials
Batwoman Premiere Review – What Happened to Kate Kane? (2×01)
The Batwoman Season 2 premiere answered two pressing questions: "What happened to Kate Kane?" and "Who is Ryan Wilder?"
When Ruby Rose announced that she was leaving the show, many fans questioned how the series would move on without its main heroine, especially when all the plotlines leading up to season 2 were heavily revolved around her.
Those questions only intensified when it was announced that Javicia Leslie was cast as Ryan Wilder, a woman who embraces the cowl and cape of Gotham's masked crusader.
Though my hopes weren't high for the series, it seems that hitting the "reset" button during the premiere episode was in the show's best interest. Seeing all the familiar faces brought a sense of familiarity, but introducing Wilder's backstory into the existing narrative still gave the series a fresh vibe. It may look like the same show, but things are shifting in the right direction. All the series needs to do is ensure that it continues on that trajectory and doesn't fall into the same manholes as the freshman season.
Ryan's character brought me to a realization I hadn't had prior — I didn't care for Kate Kane. Despite being the titular character, Batwoman can and did exist without her; the series didn't feel incomplete without her likely because the supporting cast has always done much of the heavy lifting while Rose coasted by.
Rebooting a series, however, always posed the question of how they were going to write Kate off. While death by plane crash wasn't exactly what I expected, it's a sure-fire way for the series to move on permanently while providing fans with much-needed closure. (As I said to myself during the episode: "that's one way to do it.")
Some in Gotham may think that Kate's still alive somewhere out there, and usually, I tend to err on the side of caution because the rule of television is no body = no death, but considering the batsuit was on the ground at the scene of the crash, it's safe to say Kate wasn't wearing it and didn't survive the impact of the crash. Realistically, it wouldn't make sense to have the audience hoping for her survival when Rose made it very clear she's no longer interested in the role.
Ryan was at the right place at the right time and was the first at the scene of the accident, which meant that she found the batsuit and immediately saw it as an opportunity to turn her life around.
Amid the grieving and mourning of Kate's death and the tying of loose ends, the series never lost sight of Ryan's story, and the way they factored her into the narrative felt believable.
There's not much that make Ryan your all-American hero; she's a victim of a broken system, she's been let down, and she's flawed. But she also has a good heart and a passion to change the world for the better, which already makes her the perfect choice to carry the mantle, not to mention compelling and way edgier than Kate.
She doesn't exude Kate's level of entitlement and even acknowledges that she doesn't deserve to wear the suit if her only goal is revenge. She realizes that being a hero is more than the outfit, and while it's unclear if the show will take its time to properly carve out a heroine with Wilder, she already seems to have the spunk and fire that Gotham needs.
Through flashbacks, we learn that Ryan's biological mother died while giving birth to her and her adoptive mother, who kept her grounded, was killed by a group of squatters that ran with Alice.
Right off the bat (pun intended), she already has it out for Alice, which gives her something in common with Kate. She's also impressed with all that Kate's done for the LGBTQ community.
And there's no one who understands the anger of losing a mother to Alice than Mary, which may be why the latter is silently rooting for her by the end of the episode.
Ryan's desire for revenge reveals how Alice will remain an integral part of the story without Kate around.
A concern that surrounded the introduction of a new lead was that there would be no use for certain characters anymore or ways to fit them into the story organically, which would be a huge loss with Alice, who is one of the strongest parts of the series. It would be damaging to lose her, so I'm glad that there's still someone in Gotham who she'll be able to bump heads with.
And with Kate out of the picture, we'll at least get to see a different side of Alice's deliciously unhinged mind. Kate always had a soft spot for Alice despite everything she did, but that won't be the case with Ryan. Consider Alice enemy number one.
Referring to Alice as "unhinged" is a bit of an understatement. We've seen her in some pretty deranged moments, but she truly spiraled after Kate's death, which is hilarious if you think about it considering her whole plan with giving Tommy Elliot Bruce Wayne's face was to kill Kate.
She wasn't upset by the fact that Kate was dead so much so as she was upset that she wouldn't be able to execute her psychotic plan. And I'd have to agree, it is a shame. I would have loved to see the Commander shoot Batwoman with the Kryptonite only to find out he killed his daughter.
With Kate gone, Alice wasn't going to let all the plotting be a complete waste, so she clued her dad in on Batwoman's identity by simply spelling it out for him. And crushing him with the realization that his daughter died as he was waging a war against her will have to suffice for Alice (and me).
Somehow, I feel like he always knew the truth deep down inside. As did Sophie. Come on, learning that Kate was Batwoman in the goodbye letter couldn't have been such a shocker or much of an "aha-moment." If it was, that's the series dumbing down an agent we know is highly intelligent and skilled.
I guess that was the only way to bring closure to the Kate and Sophie relationship with Kate off-screen, but I just wish it was a more impactful moment on Sophie's part.
Also, it's a bit of a low blow that her final interaction with the love of her life is Kate confessing that she's been lying to her this time. Sorry, my bad.
Hopefully, this allows Sophie to embrace her feelings for Julia fully because they make a good couple and could really do some damage in town with their badassery. And they'll need each other if they're going to go after Saifya.
Safiya introduction doesn't just give Julie and Sophie a new purpose, but it also gives Alice a new arch-enemy – aside from Ryan – as she has taken responsibility for Kate's demise.
Alice will want vengeance for not getting to kill her sister, and we know how dedicated she becomes when she sets her sights on something…. or someone.
Also, yeah, she was totally cuddling up to Mouse's dead and decaying body as if it was completely normal. That's our Alice!
Tommy Elliot's arc as "Bruce Wayne" was short-lived, which I'm pretty content with. Kate's disappearance gave Bruce Wayne a legitimate excuse to return after all these years, but Tommy should have been better prepared if this was meant to be a long-term ruse.
I was curious who the first person to figure out that Bruce wasn't as he seemed, and let's be honest, Luke should have caught on when Bruce didn't know how to get into the batcave. However, I'm willing to give him some slack because he did just find out about Kate's death.
But it made sense that Julia got to the bottom of it almost immediately. She is a spy of the Special Reconnaissance Regimen… it's literally her job.
Not only did she follow her gut feeling, she acted on it by running his prints and wrapping up the whole case.
Tommy/Bruce's showdown with Ryan/Batwoman was interesting and paralleled each other as they were both pretending to be someone they weren't. The only difference is that Ryan proved in that moment that she has what it takes to be Gotham's new hero. And though she may not have had the suit down pat — it's not like it came with instructions or anything — but her martial arts skill sure came in handy.
And that wound from the kryptonite, well, it'll bring Ryan right back to Wayne Enterprises to continue her journey.
Batwoman Season 1 tried and tried again to find its footing, and while there were some gems, it always remained the least liked of the DC/CW shows.
Rose's exit as Kate offers the series a much-needed clean slate. And if the premiere episode is any indication, that's for the best.
What did you think of the Batwoman Season 2 premiere?
Chicago PD Review – Is Burgess Ready to Be a Mom? (8×03)
Intelligence is kicking off 2021 on a high note.
Following Atwater's powerful storyline, Chicago PD Season 8 Episode 3 shook things up and reminded fans of the good old days when the focus remained largely on the case-of-the-week.
It's been a while since we've seen the team go full-in on a case, especially one as compelling as the murder of Makayla's entire family.
While gang retribution was the go-to motive, the case took a surprising twist when it was revealed that all three family members died protecting the little girl from her father, Tareek, who was recently released from prison.
The case was interesting even without a personal connection, but hinging the plot on a young, innocent girl not only provided an emotional hook, it also allowed the narrative to circle back to Burgess' miscarriage from Chicago PD Season 7.
Voight was determined to nail down a suspect and get justice for the family, so the "by the book" police reform storyline kind of went out the window. Sometimes, I wonder if the series even remembers the plotlines it's introducing.
There wasn't even any reference to Atwater's situation with the racist cops; it's almost as if it never happened.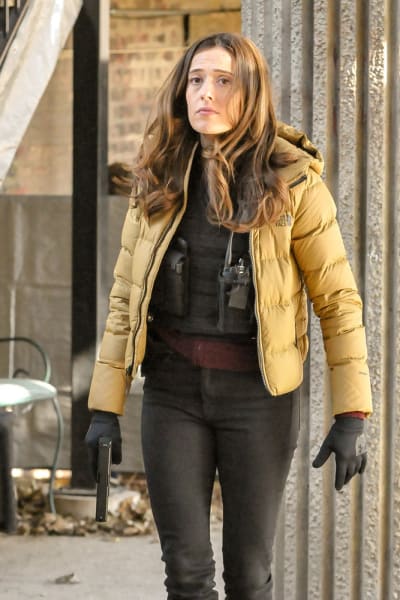 However, it was nice to see that Burgess was still dealing with the aftermath of the miscarriage.
Following such a traumatic experience, Burgess convinced herself that she didn't want children. It was a tactic to protect herself from getting hurt again.
But after forming a personal connection with Makayla, she began to see the possibilities that she could have it all: a family and a career.
Her motherly instincts kicked in when she saw that the girl was in danger — motherly instincts she didn't even know she had.
It was such a treat to see her in "mama bear" mode.
Their bond never seemed forced either as Burgess genuinely cared for the young girl and found her purpose in protecting her. She even put her job on the line to ensure that she could stay by Makayla's side until they found the people hunting her down.
But it begs the question . . . what happens next? Was this the show's way of warming everyone up to the idea of a Burzek baby again?
They already let us down once; I don't want to get ahead of myself and get my hopes up again.
Chicago Fire Review: A Malfunctioning Case (9×03)
It's been quite a while since we last saw our favorite firefighters take on the streets of Chicago, and they came back in full swing. Quick recap: Boden wants Kidd to be a lieutenant, Casey and Sylvie made out and then Casey let it slip that he's still in love with his ex-wife. After nearly two months off, it's time to get back into action.
The episode begins with Kidd and Severide arriving to work, with Severide assuring his girlfriend that he's going to help her study for the lieutenant's test that Boden recommended she take. As they arrive inside, Chief Boden is showing Kidd's protégé, Kylie, arriving for her first day as Boden's new assistant.
As Casey and Sylvie begin to have a talk about their little hook-up at the end of the last episode, the bells ring, and Firehouse 51 jumps into action. As they arrive to a warehouse that's on fire, Kidd notices that there are people on the roof that need help, and Mouch, being the great ladder operator, hops on and steers it up. As Casey begins to climb it up to the roof, Mouch notices that the ladder isn't secure, and Casey is flung over the side. Firehouse candidate Gallo runs up, and safely pulls him up. Mouch, ashamed of a possible malfunction, watches on as they continue to help. Inside the warehouse, Severide saves a man, who demands that they go back in to save a car, which he refuses, and Casey berates Mouch for almost severely injuring him.
At the Firehouse, Kylie gets her new boss a standing desk, which will offer the C plot of the episode.
Stella attends her first meeting for the lieutenant's test, and Kidd meets the people who are also involved with the test, who are all impressed that she's there.
Mouch takes the rig out so that he can look at the mechanics of the ladder, and slowly starts to become obsessed with figuring out what went wrong during that warehouse fire.
While looking at the report for the fire, Casey doesn't think that Mouch should get any extra punishment for the ladder mishap. Severide sees the man he saved in the warehouse, named Ken, and Ken tells him that he wants to get back into his warehouse as soon as possible, leading to the concerned looks from Severide. He brings it to the headquarters, who assign him to investigate the warehouse for any clues. As he leaves, Severide sees the chief who's in charge of the lieutenant's test, Conway, and he says a good little biased sentence about how Kidd's ability doesn't matter compared to how it would look for a woman to be a lieutenant. He also says that just because she's dating Severide, that'll be even easier to slide through the ranks, which infuriates Severide to no other.
Gianna and Sylvie talk boys, and Sylvie brushes off any possibility that her and Casey have any sorts of relationship, and inside the Firehouse, Mouch's obsession with the ladder malfunction continues with him scanning the handbook. Herrmann, nervous about his friend, goes to a nearby firehouse, and asks one of their crew about a similar situation where a ladder operator messed up and almost hurt someone. The crew member replied that the person in question was so far into his career, he was "going through the motions," and he was sent to a desk job.
With incredible enthusiasm, Kidd tells Severide that she's excited to get studying for the test, and he can't bring himself to tell his girlfriend the horrible remarks that Chief Conway said. Meanwhile Boden tries to break his new standing desk so he can go back to sitting, but Kylie sees through the ruse and fixes it.
Now the part we were all waiting for, Sylvie and Casey have their renewed talk about their feelings. Casey said that his feelings for her are real "regardless of Gabby," which hurts Sylvie, because there "shouldn't be a 'regardless.'" She tells him that that can't happen again, because she needs to be on her own. Thus breaks the hearts of all of us fans that were shipping them.
Sylvie and Gianna get sent out on a call of a woman who was hit in the face with a drone, and the blades of the drone cut a piece of her nose off (insert some gross and oddly impressive special effects makeup). Gianna finds the piece of the nose, and they assure her that it can be reattached. The person controlling the drone tries to take the drone away, but Gianna knocks it out of the sky with a rake, and they decide to completely destroy it for Sylvie's smash therapy (hey, that's the episode title!)
Severide and Ken head to his warehouse, where they find the car that Ken wanted saving still in pretty good condition, so there was nothing too suspicious going on.
Herrmann, Gallo, and Kylie find some of the paperwork involved with the previous incident like Mouch's, and Herrmann tells Kylie that she needs to be tougher than Boden if she is to keep the job, since Boden goes through a lot of assistants (except for Connie, who was a series favorite before her departure).
While sharing cigars, Casey tells Severide about him and Sylvie, and he says he's gonna pull back on his feelings for her, for the sake of her, which hits home for Severide, since he is in a sticky situation with Kidd.
Kylie catches Boden trying to sit at his standing desk, and Kylie tells him that he can be strict, because she wants to be tough, and she wants to learn from him.
Herrmann finds out through his searching and that the manufacturer of the ladder system was supposed to have product recalls, and it never went through, and informs Mouch and Casey that Mouch did nothing wrong.
At the usual end of episode Molly's scene, Sylvie and Kidd discuss Casey and Severide. Kidd notices the weird behavior that she's been seeing in her boyfriend and will most likely confront him about it. Severide is then shown helping his new buddy Ken fix up the car. Ken even gives him permission to take it on its first test drive. Severide purposely ignores a call from his girlfriend, and he drives off into the night.
The episode was a nice return to Fire's roots. Fighting fires, with a fair amount of share between all the side plots. It was also nice to see Chief Boden attempt to work at a standing desk when he clearly wanted to be sitting. The humanity of Casey being so forgiving to Mouch for the ladder mishap was great to see, especially when Casey can be so cold during the job.
Chicago Fire is taking a two week break before returning. What did you think of tonight's return to the show? Leave a comment below.