In season 2 of Umbrella Academy episode 2 "The Frankel Footage," The Handler comes back to life after getting shot in the head by Hazel in season 1. Then Diego and Five encounter the younger versions of Pogo and their father, Reginald Hargreeves, who turn out to be formidable opponents.
Also, the mysterious Commission assassins are revealed to be called "The Swedes," who have decided to wear milkman outfits as disguises.
After her shocking death in season 1 at the hands of Hazel, The Handler is shown in the opening scene of the episode almost getting incinerated by two morgue workers. Fortunately, she regains consciousness just in the nick of time to tell them to take her to the hospital.
She survives because of a metal plate in her head that's implanted from a previous incident.
It takes her three months to rehabilitate herself back to health and proceeds to return to work at the Commission. However, she's been demoted and usurped by AJ, a character lifted straight from the comic book, who well… looks like this: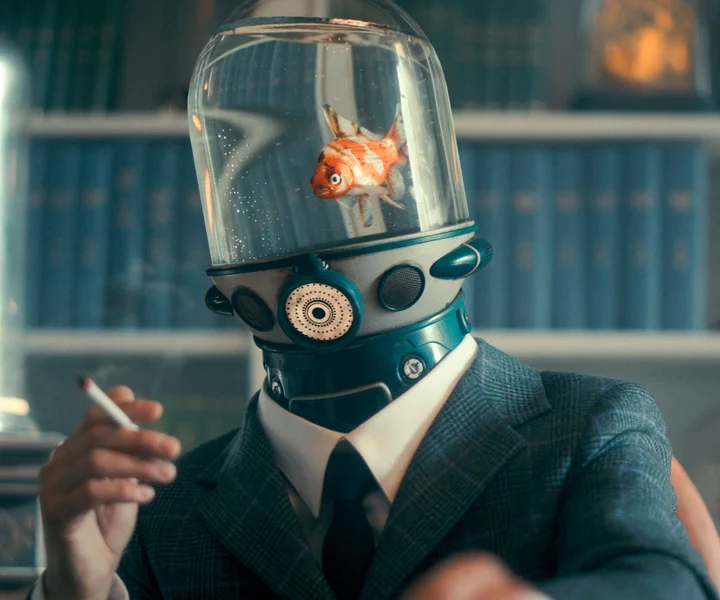 The Handler doesn't take well to her new role and is furious at the person who put her there, Number Five.
Ironically, she is placed at the same desk where she put Five on in season 1 when she "promoted" him. Her return certainly complicates things for the Hargreeves who already have a lot going on in their plate.
Young Reginald and Pogo
After deciphering the film (labeled "Frankel Footage") left by Hazel in Five's pocket as a clue in episode 1, Diego and Five find out that their father is alive and in Dallas the same as them, and seems to be involved in the assassination of President John F. Kennedy as the grainy video suggests.
They decide to track his company, D.S. Umbrella, in hopes of finding and confronting their father. The company is revealed to be a front, and they find disturbing clues that make no sense.
Eventually, Five finds a young Pogo who attacks and injures him. While Diego engages his young, spry and agile father who is more than a capable fighter in his own right. Diego almost beats Reginald but he hesitates, which Reginald takes advantage of by stabbing Diego and calling him an "amateur" before escaping with Pogo.
The fight scene is great by itself, but because it was foreshadowed makes it much more clever.
Earlier in the episode, Five describes Diego as "Imagine Batman, but aim low."
A seemingly throwaway joke that surprisingly pays off as a setup because Diego and Reginald's fight mimics the scene in Batman v. Superman where Batman hesitates to deliver the coup de grace on Superman when he utters the name "Martha."
Similarly, Diego, after seeing his father's face pauses and suffers the consequences.
Other Notes:
As for the rest of the Hargreeves siblings…
Diego starts developing a bond with the mysterious crazy lady, Lila (played by a new cast member, Ritu Arya), from the loony bin they were admitted to.
Vanya also seems to be growing attracted to Sissy– the woman with an autistic mute son, Harlan– who took her in.
Luther tracks down, confronts, and apologizes to Vanya for what he did in season 1.
Klaus seems to have created a cult and is sent to prison where he meets Alison's husband as they bond over Shakespeare passages.
Also, Klaus hilariously quotes lyrics from "Waterfalls" by TLC and passes them off as sage wisdom to followers of his cult.
Alison continues to struggle with racism during those times and has to plan a sit-in while her husband is in jail.
Luther's boss is revealed to be Jack Ruby, the historic gangster who killed Lee Harvey Oswald after the latter's trial.
Verdict: 9.0/10
The episode is fast-paced and filled with excellent music choices that fit well into scenes, which has been a distinct element for Umbrella Academy. Particularly the contrapuntal tracks that underscore sinister scenes work especially well. Moreover, the background setting in the 1960s continues to dictate narrative elements into the fold that gives the characters great new thematic elements to play in.
Follow CRAVEYOUTV on socials
'Berlin' Is the 'Money Heist' Spinoff We Never Knew We Needed
Berlin is the Money Heist spinoff we never knew we needed… but we're so glad it's almost here.
Since Berlin (Pedro González Alonso) was hands-down the most captivating (and problematic) character in the Spanish heist drama, fans always wanted to get to know more of him, especially after he sacrificed himself in the season 1 finale for his team, largely due to his terminal illness, redeeming himself in the process.
Quickly rising the ranks as a fan-favorite, the writers kept Berlin's spirit alive in the following seasons via flashbacks, noting that he always had a hand in the planning of the heists, even if he wasn't around to see them through. And it became more and more clear that there was an unsatiable thirst from audiences to explore additional parts of the character's origin story; thus, a prequel to Money Heist focusing solely on Berlin's prior escapades only made sense.
Related: Kiernan Shipka's New Slasher Comedy Is Your Fall Must-Watch
As seen in the later season of Money Heist, or La Casa de Papel, Berlin garnered even more intrigue when his son, Rafael (Patrick Criado) joined the heist. The former Electronics Engineer from MIT is Berlin's prodigal son, whose only request was not to end up a thief like his father, also drew attention after entering a relationship with his father's wife, Tatiana. It's a lot to unpack, clearly, but it's also proof that there was nothing boring or mediocre about Berlin's life in the slightest, at any point.
So, again, it warrants a spinoff that digs even deeper into this complex, charismatic, and morally questionable character we've all come to love.
When he joined the Professor's group in the series, he was already one of the most seasoned robbers of the bunch, having a plethora of experience mapping out and executing heists of ranging scales.
Also Read: 'Sullivan's Crossing' Is The CW's Most Promising New Show—And It Stars Chad Michael Murray
With Berlin: Money Heist, we're not only going to get to see one of those previous heists in action, but we're also going to get a sense of the man he was before attempting the biggest heist in history, which made him the beloved criminal we've come to know.
Capitalizing on the love already established for the series—one of Netflix's most popular shows of all time—the prequel finds Berlin, in all his glory as Andrés de Fonollosa, the mastermind behind a heist targeting the biggest auction house in Paris to steal €44 million.
The series trails the planning of a new heist as he recruits his crew: "Michelle Jenner (Isabel) plays Keila, an eminence in electronic engineering; Tristán Ulloa (Fariña) goes into the skin of Damián, a philanthropic professor and Berlin's confidant; Begoña Vargas (Welcome to Eden) plays Cameron, a kamikaze who always lives on the edge; Julio Peña Fernández (Through My Window) brings to life Roi, Berlin's faithful squire; and Joel Sánchez plays Bruce, the relentless man of action in the gang."
While it's mostly an all-new cast, we'll see a few familiar faces with Alicia Sierra (Najwa Nimri) and Raquel Murillo (Itziar Ituno) appearing at some point, though it's unclear what their connection is to the storyline. Is it possible that their paths have always crossed and Berlin was always on their radar way prior to the action at the Royal Mint?
We may not be getting the version of Berlin from the original series, but don't fret, as the teaser trailer evidenced, he's still as ruthless, dapper, and flirtatious as ever, meaning that they really did this character–and prequel—justice. The fact that it hails from the original showrunner, Alex Pina, is also a sign that it won't let the fandom down.
"It's a trip through the golden age of the character, when he robbed around Europe crazy in love," Pina previously told TUDUM, adding, "That's the most surprising, the comedy. You're going to make people laugh a lot."
Berlin in his prime, in love, and flexing his comedic bone? As the beloved criminal says in the trailer, "it's all the things worth living for."
The full synopsis for the series reads:
"There are only two things that are sure to turn a bad day into a great one: love, and a payday worth millions. They're what keep Berlin going through his golden years, a time when he still has no inkling of his illness and hasn't gotten trapped like a rat in the Spanish Mint. This is where he starts preparing one of his most extraordinary heists: making jewels worth 44 million disappear like some sort of magic trick. To do it, he'll enlist the help of one of the three gangs he's ever stolen with."
Watch the Berlin trailer below:
Berlin arrives a few days prior to New Year's Eve on Dec. 29, 2023, which means you'll have plenty of time to binge watch while counting down to 2024.
To prepare, you can stream Money Heist on Netflix and read our coverage here.
Who Is Mel's Father in 'Virgin River'?
Virgin River Season 5 concluded with a tiny time jump four months into the future, bringing the timeline into the Christmas holiday season.
Disclaimer — this post includes spoilers from the episode — proceed with caution.
On Virgin River Season 5 Episode 10, as Mel (Alexandra Breckenridge) and Jack (Martin Henderson) decorated their cabin in anticipation of Joey's arrival with the kids for their first-ever Virgin River Christmas, Mel received quite a shocking piece of information.
Her sister informed her that she found a stack of love letters between Mel's mother and a mystery man in Virgin River that she believed could be Mel's real father.
And this obviously lends itself to the question—who is the secret admirer?
There aren't that many elderly men in Virgin River aside from Doc (Tim Matheson), and it would be next-level if he had another secret child in addition to Ryan, Denny's late father. Though wouldn't it be funny if Mel thought she just escaped to this random small town only to learn that it wasn't random at all and she'd been working with her dad this whole time?
Aside from Doc, there's really only Nick (Keith MacKechnie), Bert (Trevor Lerner), and Charlie (Patrick Keating), that we are familiar with, anyway.
Naturally, there are probably plenty of residents that audiences have never met (and they have to keep us on our toes and think of new directions for the storyline), and it's possible her dad isn't even alive anymore.
It would be extremely fitting if it was Lilly's late husband, Buck, making Mel sisters with Ava, and Tara. Considering her strong bond with that family, her sisterly relationship with Ava, her love baby Chloe, and how drawn she is to that farm, this would be such a sweet twist. Mel always had a soft spot for Lilly as well, so this would be a unique way to keep her memory alive.
Mel's father will be the major storyline addressed in the two bonus holiday episodes dropping in November, as the trailer revealed Mel starting the search for her biological dad before informing Jack shortly after that they found him, with Preacher noting that he's "still in Virgin River."
The way he says it makes it seem like he's still alive, which limits the possibilities even more. Who do you think it is?
View this post on Instagram
Either way, Mel actually has roots in this small town that's always felt like home.
Will There Be a Season 6 of 'Virgin River'? And If So, When?
'Riverdale' Season 7 Hits Netflix—Stream It Now
Riverdale's seventh and final season is now available to stream on Netflix in the U.S.!
Merely a week after the long-running CW series aired its final episode ever, the streaming giant has added the series in its entirety.
All the episodes are available for fans all over the world to binge-watch on September 1, and going into a long weekend, that gives you plenty of time to catch up on all the shenanigans happening in the Town with Pep.
Many fans weren't interested in the weekly release model as it wasn't ideal having to wait for new episodes to drop every week, but having them available all at once on Netflix allows you to catch up with ease.
And if you've never seen Riverdale and are curious about all the nutty twists and turns that eventually get all of our characters to—spoiler—the 1950s, well, all seven seasons are on the streamer for your viewing pleasure.
You can rewatch those previous seasons and relive the series in all its glory (including anything you may have missed/forgotten about), or you can just tune in for the final season—it's up to you!
As mentioned before, the final season hit the reset button of sorts as Archie (KJ Apa), Betty (Lili Reinhart), Jughead (Cole Sprouse), and Veronica (Camilla Mendes), along with many of their loved ones and friends, went back in time to 1955 and found themselves reliving their high school days all over again.
Of course, as you rewatch any and all episodes, you can read all our reviews of the series that we've covered since its inception in 2017!
Enjoy your Labor Day travels to Riverdale—just remember that before it was redubbed the "Town With Pep" it was known as "Murder Town of the World." You've been warned.