In episode 203 of Umbrella Academy,  "The Swedish Job," Alison leads a sit-in to protest racial injustice, Klaus becomes a cult leader, and The Handler's daughter is revealed to be Lila.
During episode 2, the Handler was revived from the brink of death, while Diego is fatally wounded by Reginald Hargreeves. This episode begins with Diego being nursed back to health by Lila, and in a game-changing plot twist at the end of the episode, she's revealed to be the daughter of the Handler – whom she's actively involved with.
The Handler has followed the Hargreeves in 1963 and hides in a secret base of operations with a pet store as a front. The implications of her presence at the same time and place as the Hargreeves siblings suggests that she has new machinations that will probably mean bad news.
As if that doesn't complicate things enough, Diego decides to sleep with Lila, albeit in an awkwardly funny sex scene where Elliott, who's in the other room, pretends to be oblivious.
Klaus Started A Cult
In the opening montage sequence of the episode, Klaus is shown to become a messianic figure for a cult he hilariously calls "Destiny's Children."
For the past two years, Klaus traveled to Mexico, India, and San Francisco to spread his message, which he mostly made up as he went. But his status proves useful as he's managed to survive and bide his time to eventually encounter his siblings whom he thought were all dead.
Alison manages to find Klaus in his mansion where the two reunite joyously and have a great dialogue, the highlight of which was as follows:
"You started a cult," Alison says.
To which Klaus replied, "We prefer to call it an alternative spiritual community."
The two share a laugh, and after realizing that Klaus met Alison's husband Ray when he was incarcerated, he vows to free him.
He does so by using Ben to scare the police into releasing Ray by haunting the station. (Apparently, that's what it takes to combat police injustice.)
Also in the episode, Klaus tries to convince a younger Dave, the Vietnam veteran he fell in love with in season 1, not to sign up for the military in order to save his life.
Alison Leads A Civil Rights Protest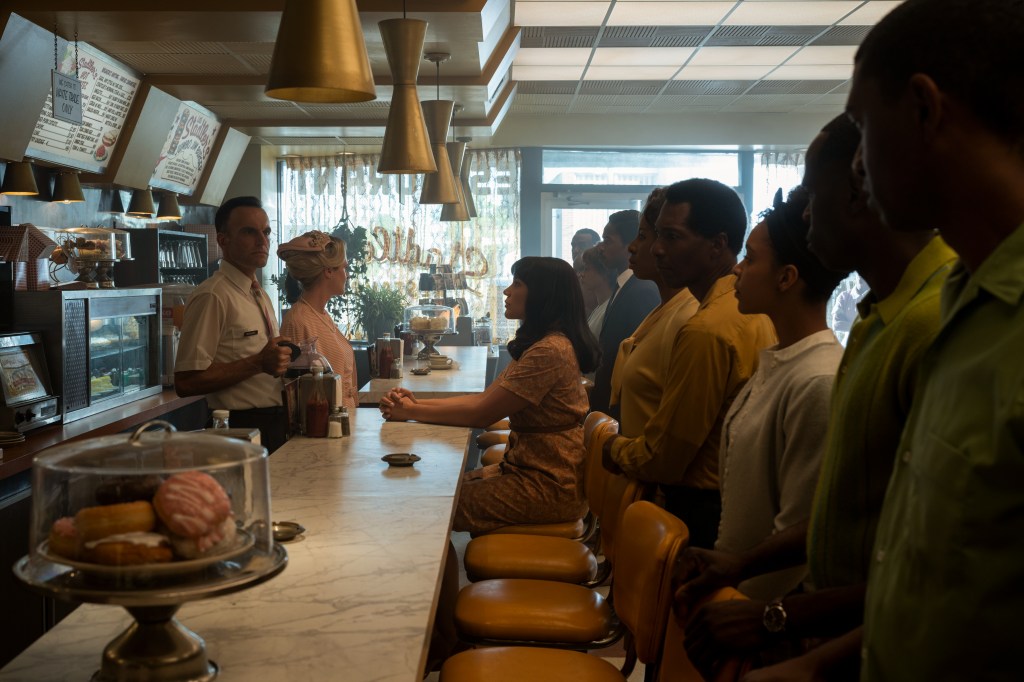 Alison convinces the rest of the civil rights activist group she's involved in to go through the sit-in protests despite the absence of Ray, who was wrongfully jailed – he eventually joins the protest after being freed by Klaus.
Alison has a powerful dialogue that empowers the discouraged civil rights activists when they begin to have doubts and fears about their plans to protest.
Their protest, of course, causes chaos at the local diner where they organized the sit-in, which is underscored by the racism and police brutality against African-Americans during those times.
The scene shows disturbing and sickening acts of prejudice by the local population, and it's an intense scene to watch that's apropos to the racial tensions happening in the country.
Eventually, Alison is forced to use her powers to save his husband, who was getting beaten with a baton by a Caucasian policeman. Ray, however, is shocked as to why a white officer would ever listen to a black woman and runs away confused and frightened.
Earlier in the episode, Alison revealed to Klaus that she has not used her powers since arriving in 1961 because of the incident with Vanya, who slit her throat and rendered Alison incapable of speaking for a year.
So using it in a desperate situation definitely caused her some emotional turmoil as well.
Other Noteworthy Events:
Vanya is hunted down by The Swedes but manages to fend them off by instinctively using her powers. As a result of the power surge, Five was able to locate Vanya and informs her of her forgotten past, and the current situation they must deal with regarding the coming apocalypse.
Luther tracks Alison's home address with the help of Jack Ruby, but only finds Ray at home. He's saddened to find out that Alison has been married for a year, and he hilariously eats the box of chocolates he brought as a gift for Alison. Emotionally distraught, Luther later lets his opponent in the underground fighting ring to knock him out, so he can "feel all the pain."
The show depicts a gripping scene with Harlan, the autistic mute son of Sissy, throwing a tantrum where he bites his mother.
Verdict: 9.5 / 10
The most political episode of the season yet, the racial undertones of the show reach an apex in this episode, and it's a beautifully weaved sequence of events that delivers a powerful albeit uncomfortable reminder of our country's problematic past. Even so, Umbrella Academy retains the humor within the chaos and simultaneously sets up intriguing storylines to follow while delivering an important message about social change.
Follow CRAVEYOUTV on socials
Who Will Die On 'Stranger Things' Season 4B?
Stranger Things Season 4 was quite a bloodbath, but we haven't seen anything yet.
While Vecna claimed a handful of victims in the first eight episodes of the season, none of them were part of the core cast.
That's all about to change come Season 4B, which does not go easy on our Hawkins best and brightest.
The final two episodes — both feature-length in duration, clocking in at over two hours a piece — have been teased by Joseph Quinn (Eddie Munson) as absolute "carnage."
Noah Schnapp (Will Byers) has been doing the press rounds and hinting at a major character death, and truthfully, all signs point to Steve Harrington.
Think about it: His death would have the largest emotional impact. He's a fan favorite, he's the "dad" of the group often taking on the protector role and keeping the kids safe when their parents are literally nowhere to be found, he's an overall good guy, and he has so much momentum and chemistry with Nancy right now, it's insane.
Per Insider, Joe Keery's character wasn't supposed to survive the first season in the Duffer Brother's original plan, but they simply couldn't let him go.
And it's exactly why his death would destroy a whole fandom, crumbling them at the core. It's a death that will hit both fans and characters equally as hard. Some might argue that Steve is the glue that holds it all together, never taking himself too seriously but also going boldly right into the danger zone.
Matt Duffer didn't exactly confirm that Steve would be the big death of the season, but he also didn't deny it either.
"If he's going to die, it's not going to be from the bat bite," Matt told Variety, which is almost reassuring. He did acknowledge everyone is "worried about Steve," so maybe his death is too obvious.
If we're all prepared for it, it won't be as effective, right?
In that case, could it be Nancy Wheeler? At the end of season 4, Nancy is stuck in the Upside Down in a trance as Vecna explains his origin story to her. It's unclear why he chose to be honest with Nancy, but that's a good journalist for you — getting the story even when it could cost her her life.
Of course, Steve is in the Upside Down with Nancy, so I don't think she'll die there just yet. There's no way he'd leave her behind without bringing her to safety. But if Nancy is already connected to Vecna, that means she's running out of time and unless she can find a foothold in the real world to keep her safe a la Max's "Running Up That Hill," she might just be his next victim.
Other possibilities:
Dr. Benner or Dr. Owens — Both of them care for Eleven and want to help restore her powers so that she can defeat this evil once and for all. But the FBI is coming for them, and they don't take kindly to betrayal. I can see them sacrificing themselves to help Eleven escape for the greater good. Owens would be slightly more upsetting because Brenner might just deserve it.
Eddie — Eddie is a fan favorite, and if look at the show's track record of killing off the lovable, new guy, well, it doesn't bode well for the newcomer. He's already been to the Upside Down, and based on the teaser, we know he returns there for some epic guitar solo. Maybe that's his triumphant moment before death?
Jonathan — The only way that Nancy and Steve could work is if Jonathan is out of the picture. And while it's cruel to kill him off for the sake of another relationship, there's also not much that Jonathan is actually contributing to the storyline anymore aside from getting high with his friend Argyle. His death, however, would shake the core group as he's Will's brother and rock.
Eleven — It's unlikely that the series would risk killing their biggest asset, but she is gearing up for her biggest battle yet. It's going to take everything that she has. Some might say, you don't make it out alive after using up all that power. And Eleven loves her friends deeply, so we know she would sacrifice everything for them.
Joyce, Murray, Dmitri, and Hopper are in a dangerous situation in Russia, but considering that they've managed to survive a plane crash, Siberia, imprisonment, and a Demogorgon, I have full faith in them!
Who do you think is going to die on Stranger Things Season 4B?
Fans React to Chilling Netflix Doc 'Keep Sweet: Pray and Obey'
The latest true-crime series on Netflix that's gripping/disturbing audiences everywhere? Keep Sweet: Pray and Obey.
The four-part series is based on the polygamous religious section known as the Fundamentalist Church of Jesus Christ of Latter-Day Saints (FLDS). It examines the rise of leader Warren Jeffs, who, at one point (prior to his arrest), had about 69 wives, some as young as 12.
If you find the synopsis disturbing, you're pretty much on the same page as viewers who recalled feeling quite "traumatized" and "sic" after watching the show.
Here are some of the tweets and reactions about Keep Sweet: Pray and Obey:
just finished "keep sweet: pray and obey". I don't have the words. need everyone to try and watch this, it's so sickening.

kids getting married off to men old enough to be their grandfathers. pic.twitter.com/dTOEkEHJfg

— Menks (@choplifexo) June 9, 2022
https://twitter.com/Rachel_Andrews/status/1534644130634244099?s=20&t=mGy6HiJYfutUpVJ-y_4Mgw
Watched Keep sweet , pray and obey on #Netflix mmmm I don't even know what to say

— . (@snatched_fire) June 9, 2022
https://twitter.com/SpaaceWitch666/status/1534952940695437319?s=20&t=mGy6HiJYfutUpVJ-y_4Mgw
I thought the new season of Stranger things season was dark… then I watched Keep Sweet; Pray and Obey and it made me physically nauseous lol. I hope Warren Jeffs gets beat up in prison every day for the rest of his life

— Brax (@byu_homer) June 9, 2022
Well, all I can say after watching that, is that the women who escaped from the FLDS and have built new lives for themselves are incredibly brave and deserve a heap of cash from all the millions held by the 'church'. #KeepSweetPrayAndObey

— Ian McClellan (@ianmac67_SE) June 9, 2022
I nominate Keep Sweet: Pray and Obey for horror movie of the year

— emma ✨ (@e_graceful) June 10, 2022
#keepsweetprayandobey documentary on Netflix is crazy. The things that happen in society under the name of religion and faith is just filthy.

— Clarette Waithera (@ClaretteWaithe1) June 8, 2022
https://twitter.com/ClaretteWaithe1/status/1534545816442097665?s=20&t=mGy6HiJYfutUpVJ-y_4Mgw
https://twitter.com/KimMannix/status/1534947655909904384?s=20&t=mGy6HiJYfutUpVJ-y_4Mgw
https://twitter.com/oucrimsongirl/status/1535261255686148098?s=20&t=mGy6HiJYfutUpVJ-y_4Mgw
If you told me Heaven was a ranch in Texas where I had to do chores and make lunch for a bunch of old dudes, I'd be making accommodations to reach Hell as soon as possible. #keepsweetprayandobey #keepsweet

— Tyler's sense of shame (@TchtJustine) June 11, 2022
WATCH: 'Manifest' Season 4 Sneak Peek
The fourth and final season of Manifest is on the horizon!
As part of Geeked Week, Netflix gave fans a first look and the upcoming season.
The clip features Michaela (Melissa Roxburgh), who takes an unsolicited trip to the docks to locate a shipping container decked out in images of cherry blossom.
The shipping container that she needed to locate is glowing, so it's likely that a vision brought her here.
But when she opens that bad boy up, it doesn't seem like she knows what she's looking for at all. In fact, she's terrified to find a hand reaching for her. The man, who doesn't seem to be doing well at all, has "Stone 828" carved into his hand. I really hope they aren't introducing zombies into the mix.
Netflix knew that they would pique our interest with this snippet, but since we have no other context about the scene, there's not much to theorize or go off of in terms of what's happening.
All we truly know is that the Stone family is doing their best to crack the mystery of what happened to Flight 828 before time officially runs out.
What do you think about the sneak peek?
There is no season premiere date just yet, but according to Netflix the final season is "coming soon." And it was confirmed that it will be released in two batches of 10 episodes.