In episode 204 of Umbrella Academy, Diego, Five and Lila crash a party to investigate the "Majestic 12," a deep-state shadow government group that includes Reginald Hargreeves as a member.
Lila's backstory with the Handler is partly revealed. In London 1993, Lila's parents are killed by an unknown Commission assassin, and the Handler takes her in, adopts her, and trains her to be an agent of the Commission as well.
In the present day (or at least in 1963 on the show), the Handler gives Lila the mission of protecting Number Five at all costs.
Meanwhile, the rest of the Hargreeves still refuse to help stop the apocalypse because of personal attachments they've developed in the timeline.
Infiltrating The Majestic 12
Five manages to hear part of the secret organization's plans, which seems to hint at the assassination of JFK.
It's unclear, however, what their intentions are solely based on what Five heard. Will they cause or simply mitigate the assassination? Hopefully, a mystery that will soon be revealed.
Also while at the party, Diego sees a woman resembling Grace / Mom from season 1 who happens to be Reginald's date to the party; implying that the robotic matron was based on a real woman from Reginald's past love life.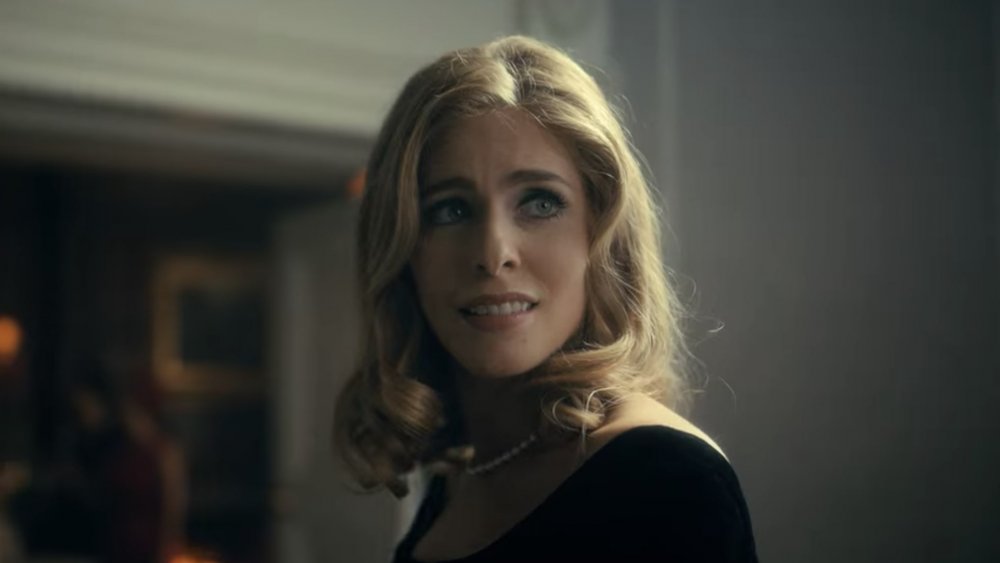 Chaos ensues when the Swedes also crash the party and attack the Hargreeves brothers and Lila.
Which also disrupts the Majestic 12's secret meeting causing them to scatter
During a moment in the battle, Lila is forced to choose who to protect between Diego and Five, and she chooses Five because of her mother's orders.
This will definitely cause a rift with Diego moving forward, and question Lila's motivations for hanging around with them.
At the end of the episode, Five shouts cryptic phrases in Ancient Greek toward Reginald, who hears it and drives away but seems to understand some kind of revelation.
Vanya Saves Harlan
Vanya tries to comfort Luther after he gets knocked out from his underground fight in the previous episode as they bond over how much of an a**hole their brother Five is. Luther reveals Vanya causes the apocalypse of season 1 and they share a small cathartic moment of forgiveness and understanding before Luther sends her away.
Five tries to convince Vanya to help him stop the apocalypse, but she instead goes back to Sissy to tell her she needs to leave to keep her and Harlan safe.
Harlan overhears their conversation and runs away and nearly drowns in a large pond.
Luckily, Vanya is able to use her powers to literally make the water float, revealing an unconscious Harlan whom she revives after giving him mouth to mouth resuscitation. She also seems to have transferred either some kind of power to him or revived him from his death.
Afterward, a distraught Sissy starts making-out with Vanya and they share an emotional moment together.
Hargreeves Siblings' Personal Troubles…
Luther gets kicked out by Jack Ruby from his abode because of the fight he lost, which caused Ruby to owe a lot of money. Luther decides to go to Elliott's place and the two get high on laughing gas – a hilarious scene with dark undertones that shows the two men sharing depressing details about their personal lives, and then inappropriately laughing about them. (PURE COMEDY!)
Ray avoids Alison due to the incident with the cop almost beating him to death as he suspects her of being some kind of spy after she uses her powers to save him. This pushes Alison to go find Luther, who is eating his feelings away by voraciously consuming barbecue. They share a meaningful embrace, but awkwardly catch-up.
Klaus continues to convince David to not sign up for the military, but instead, David punches him at the urging of his uncle Brian to "hit the queer" (Klaus). This depresses Klaus and he relapses and gets wasted.
Klaus, after a night of drinking, badly tells the fable of "The Scorpion and The Frog" to Alison and claims that the point of the story is "Frogs are bitches and we don't negotiate with terrorists."
Verdict: 7.5 / 10
This episode was a bit uneven in terms of pacing and focused more on the individual issues of the Hargreeves siblings. The kissing scene with Sissy and Vanya was expected but didn't have as much impact. While Diego and Lila's romance also became a bit questionable, mostly due to Lila's unpredictability. Klaus' tragic story arc with David was somewhat usurped by sudden comedic breaks that took away from the gravity of the moment.
On the other hand, Luther steals the show in this episode with his comedic chops, and the mysteries surrounding the apocalypse and Reginald are enough to keep you hooked and wanting more.
Follow CRAVEYOUTV on socials
Inventing Anna Series Premiere Review – Who the Hell Is Anna Delvey? (1×01)
From the creative mind of Shonda Rhimes comes Inventing Anna.
It's the story of Anna Delvey that you've likely heard before, but with Shondaland's exclusive twist on it.
Delvey, real name Anna Sorokin, was a faux socialite who scammed New York's high society, including hotels, banks, Wall Street, and elite friends.
The Russian immigrant posed as a German heiress in an attempt to steal millions of dollars from the wealthy.
But despite having Sorokin's name in the title, the first episode of the Netflix limited series hinges heavily on Vivian Kent, the ambitious journalist who landed the tell-all interview with Delvey.
Anna Chlumsky (who you might remember from the '90s My Girl fame) is a powerhouse in the role as she sets her sights on Delvey/Sorokin (played by Ozark's Julia Garner) in order to revive her career.
Kent has been banished to "Scriberia," a corner of the office where she's convinced journalists go to die. After coming upon Delvey's upcoming trial, she sniffs out a case and tries to convince her bosses — Paul and Landon — to cover the story.
Unfortunately, neither of them seemed particularly moved by her spiel as they insist she covers the women of Wall Street's #MeToo plight.
Kent, however, doesn't feel compelled to bully these women into telling their stories for clickbait and pursues the Delvey story instead.
The more she digs, the less she knows.
Delvey is an enigma who seemingly crafted many personas while schmoozing with New York's upper echelon.
Eventually, Kent is able to convince the editor of The Manhattan (the show's New York magazine) to let her roll with the story.
It's unclear why her editor, Paul, has it out for her, but the series seems to purposefully leave Kent's background vague throughout the episode.
All we know is that something went wrong, a little boy was involved, Google will remember it forever (the internet never forgets), and that's she's desperate to revive her career, a feat she hopes to accomplish before she has her baby girl. When she realizes that it might not be possible, she has an entire breakdown at the gynecologist's office during the ultrasound, which, as a woman trying to juggle a career and motherhood, is all too relatable.
And then — she gets the absolute motivation to convince Delvey to reject the plea deal being offered and fight for her reputation as well.
In an intense meeting where Kent levels with Delvey, she convinces her that she deserves to have her story told.
But that's not what ultimately persuades Delvey. As a journalist, you want something from your subject, but in order to get it, you also have to know what your subject wants. So, in exchange for her story, Kent promises Delvey the one thing she wants more than anything: fame.
After all, Delvey herself claims that the persona she made up is a "masterpiece, bitches," while the friends she conned note that she was a "legend" and "icon."
In that pivotal scene, it seems as though Kent has fully tapped into why Delvey concocted her scheme in the first place. While she claims to be a businesswoman who wanted to secure a loan for an exclusive club she wanted to open up, Delvey was obsessed with the high life; the exclusivity of being an "it" girl.
Kent tapped into the vein fueling Delvey's motivations this whole time — even from the depths of Rikers.
While the series is based on a true story, it's definitely not an accurate depiction of what really happened, but that's neither here nor there because the episode is wildly entertaining and keeps you hanging on to every single delusion Delvey divulges.
Much of Kent's background — even if vague at times — is presented, while there's just enough of Garner's Delvey, with her intense accent, to hook you into coming back for more.
Though neither would admit it, Delvey and Kent have one thing in common — the need to prove themselves, which makes this profile something that's in both of their best interests.
And it's even in the interest of Delvey's lawyer, Todd, who also wants to prove himself as an ADA.
Todd, played by Arian Moayed, is definitely battling some insecurity issues. He even tells his wife, a powerful attorney working at her father's firm, that he feels inferior to many of their friends. He may be defending the world's biggest con artist, but somehow, he's the one feeling like a fraud while Delvey remains adamant she's not the criminal they are painting her out to be.
At times, you almost feel for Delvey and start to believe her story, only to realize that her act is one big manipulation tactic. It also becomes harder to empathize with her when she calls Kent out for looking "very poor" and "very, very fat." However, those moments paint a vivid photo of the kind of things Delvey prioritized, even while spending time in one of the most dangerous prisons.
All of this likely proves that Garner has nailed the role of the woman who was able to manipulate some of the smartest people in the city.
Of course, while much of the back-and-forth dance happens between Kent and Delvey, there's an incredible supporting cast.
Todd faces off assistant DA Catherine McCaw played by Westworld's Rebecca Henderson.
Rhimes takes care of her own as Scandal's Katie Lowes and Jeff Perry; Lowes plays ex-Vanity Fair picture researcher and Delvey's bestie Rachel DeLoache Williams, while Perry is Kent's fellow journalist.
The Bold Type's Alexis Floyd as Neff, an employee at the hotel Delvey stayed at who assists Kent with her story, while Orange Is the New Black's Laverne Cox will appear as celebrity fitness trainer Kacy Duke.
Inventing Anna has all the makings of a Rhimes hit series, so strap in for the ride because from the looks of it, Delvey is just getting started as we take a peak behind the curtain to figure out what exactly led up to this very prison meeting.
And we can't wait to see where Garner takes this role as the trial ramps up, which leaves all of NYC's finest quaking in their boots.
After all, did you ever imagine that Ruth would become the moral heartbeat of Ozark?!
'The Woman In the House' – Everything You Need to Know About Kristen Bell's New Thriller
Kristen Bell is known for her comedic chops, but she's dabbling a new genre come 2022.
"The Good Place" actress will star as Anna in a dark comedy thriller on Netflix.
Here's everything we know about the upcoming series "The Woman in the House Across the Street from the Girl in the Window."
What's It About?
The series focuses on the heartbroken lead who lives everyday the same way — staring out her window and watching life pass her by while she sips her wine.
All of that is flipped upside down when her handsome neighbor moves in across the street and she witnesses a murder… or does she? Does someone want her to forget? Did she imagine it? Are they the hallucinations?
We're already totally invested.
Is there a Trailer?
YES! Glad you asked. The teaser is intoxicating and shows exactly why Bell was the right choice for the role!
Check it out below:
Who Else Is in the Series?
Well, there's Bell. Other cast members include: Michael Ealy, Tom Riley, Mary Holland, Cameron Britton, Samsara Yett, Christina Anthony, and Benjamin Levy Aguilar.
How Long is the Series?
The season consists of eight, 30-minute episodes. You know what that means? They're easily binge-able with your glass of wine!
Why Does It Sound So Familiar?
It parodies Amy Adams' thriller "The Woman in the Window" and the 2016 film "The Girl on the Train."
When Does It Premiere?
The show hits Netflix on Friday, Jan. 28, 2022!
Is There Going to be a Second Season?
While it's crafted as a limited-series that doesn't necessarily mean that a second season is out of the question. After all, Big Little Lies was also a limited-series. Never say never!
WATCH: Christmas is Here Early With a Trailer for 'The Princess Switch 3'
Oops… she's doing it again!
The holiday season isn't complete without Vanessa Hudgens, who is back once again for The Princess Switch 3.
Netflix has released the official trailer and from the looks of it, it's going to be filled with comedy, romance, and yes, three different accents and voices all performed by the talented actress.
Check out the trailer below.
Hudgens is once again reprising her roles as Queen Margaret and Princess Stacy, with a new addition Fiona, the cousin.
After the special guest, the Vatican's Star of Peace is stolen, the two royal lookalikes need to team up together to steal it back. In order to do so, they enlist the help of their cousin Fiona who is also identical to them. The three completely different personalities work together to safely bring back the missing treasure.
Alongside Hudgens, the cast includes Sam Palladio, Remy Hii, Nick Sagar, and Will Kemp.
Netflix will release The Princess Switch 3 on November 18th, so set your calendars!
Recap the The Princess Switch: Switched Again right here
Yes, That Is Queen Amber from 'A Christmas Prince' in 'The Princess Switch: Switched Again'