In episode 204 of Umbrella Academy, Diego, Five and Lila crash a party to investigate the "Majestic 12," a deep-state shadow government group that includes Reginald Hargreeves as a member.
Lila's backstory with the Handler is partly revealed. In London 1993, Lila's parents are killed by an unknown Commission assassin, and the Handler takes her in, adopts her, and trains her to be an agent of the Commission as well.
In the present day (or at least in 1963 on the show), the Handler gives Lila the mission of protecting Number Five at all costs.
Meanwhile, the rest of the Hargreeves still refuse to help stop the apocalypse because of personal attachments they've developed in the timeline.
Infiltrating The Majestic 12
Five manages to hear part of the secret organization's plans, which seems to hint at the assassination of JFK.
It's unclear, however, what their intentions are solely based on what Five heard. Will they cause or simply mitigate the assassination? Hopefully, a mystery that will soon be revealed.
Also while at the party, Diego sees a woman resembling Grace / Mom from season 1 who happens to be Reginald's date to the party; implying that the robotic matron was based on a real woman from Reginald's past love life.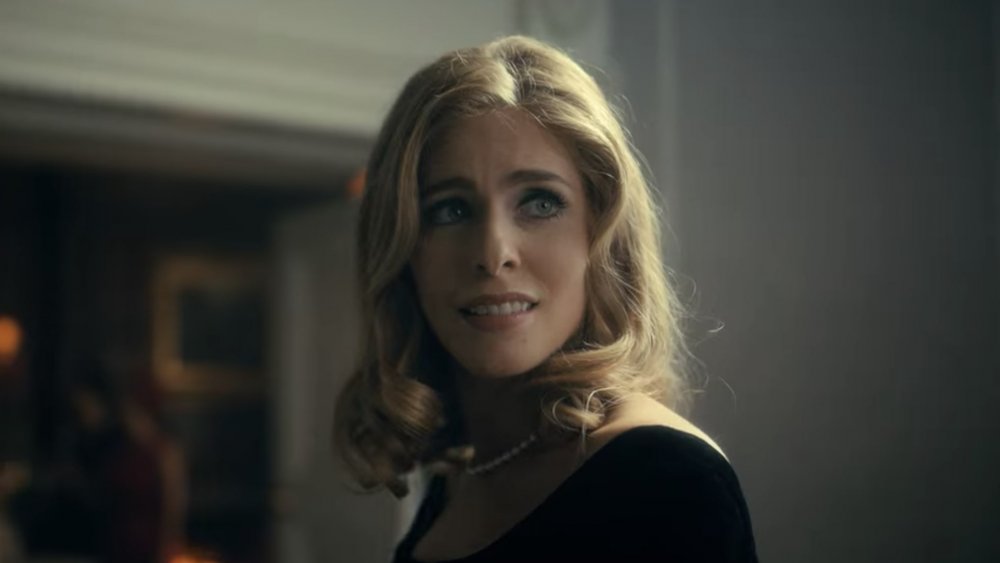 Chaos ensues when the Swedes also crash the party and attack the Hargreeves brothers and Lila.
Which also disrupts the Majestic 12's secret meeting causing them to scatter
During a moment in the battle, Lila is forced to choose who to protect between Diego and Five, and she chooses Five because of her mother's orders.
This will definitely cause a rift with Diego moving forward, and question Lila's motivations for hanging around with them.
At the end of the episode, Five shouts cryptic phrases in Ancient Greek toward Reginald, who hears it and drives away but seems to understand some kind of revelation.
Vanya Saves Harlan
Vanya tries to comfort Luther after he gets knocked out from his underground fight in the previous episode as they bond over how much of an a**hole their brother Five is. Luther reveals Vanya causes the apocalypse of season 1 and they share a small cathartic moment of forgiveness and understanding before Luther sends her away.
Five tries to convince Vanya to help him stop the apocalypse, but she instead goes back to Sissy to tell her she needs to leave to keep her and Harlan safe.
Harlan overhears their conversation and runs away and nearly drowns in a large pond.
Luckily, Vanya is able to use her powers to literally make the water float, revealing an unconscious Harlan whom she revives after giving him mouth to mouth resuscitation. She also seems to have transferred either some kind of power to him or revived him from his death.
Afterward, a distraught Sissy starts making-out with Vanya and they share an emotional moment together.
Hargreeves Siblings' Personal Troubles…
Luther gets kicked out by Jack Ruby from his abode because of the fight he lost, which caused Ruby to owe a lot of money. Luther decides to go to Elliott's place and the two get high on laughing gas – a hilarious scene with dark undertones that shows the two men sharing depressing details about their personal lives, and then inappropriately laughing about them. (PURE COMEDY!)
Ray avoids Alison due to the incident with the cop almost beating him to death as he suspects her of being some kind of spy after she uses her powers to save him. This pushes Alison to go find Luther, who is eating his feelings away by voraciously consuming barbecue. They share a meaningful embrace, but awkwardly catch-up.
Klaus continues to convince David to not sign up for the military, but instead, David punches him at the urging of his uncle Brian to "hit the queer" (Klaus). This depresses Klaus and he relapses and gets wasted.
Klaus, after a night of drinking, badly tells the fable of "The Scorpion and The Frog" to Alison and claims that the point of the story is "Frogs are bitches and we don't negotiate with terrorists."
Verdict: 7.5 / 10
This episode was a bit uneven in terms of pacing and focused more on the individual issues of the Hargreeves siblings. The kissing scene with Sissy and Vanya was expected but didn't have as much impact. While Diego and Lila's romance also became a bit questionable, mostly due to Lila's unpredictability. Klaus' tragic story arc with David was somewhat usurped by sudden comedic breaks that took away from the gravity of the moment.
On the other hand, Luther steals the show in this episode with his comedic chops, and the mysteries surrounding the apocalypse and Reginald are enough to keep you hooked and wanting more.
Follow CRAVEYOUTV on socials
WATCH: Christmas is Here Early With a Trailer for 'The Princess Switch 3'
Oops… she's doing it again!
The holiday season isn't complete without Vanessa Hudgens, who is back once again for The Princess Switch 3.
Netflix has released the official trailer and from the looks of it, it's going to be filled with comedy, romance, and yes, three different accents and voices all performed by the talented actress.
Check out the trailer below.
Hudgens is once again reprising her roles as Queen Margaret and Princess Stacy, with a new addition Fiona, the cousin.
After the special guest, the Vatican's Star of Peace is stolen, the two royal lookalikes need to team up together to steal it back. In order to do so, they enlist the help of their cousin Fiona who is also identical to them. The three completely different personalities work together to safely bring back the missing treasure.
Alongside Hudgens, the cast includes Sam Palladio, Remy Hii, Nick Sagar, and Will Kemp.
Netflix will release The Princess Switch 3 on November 18th, so set your calendars!
Recap the The Princess Switch: Switched Again right here
Yes, That Is Queen Amber from 'A Christmas Prince' in 'The Princess Switch: Switched Again'
5 Biggest Moments on YOU Season 3: Who Died, Who Survived, and What's Next?
The wait for YOU Season 3 is finally over!
On October 15, Netflix dropped the next installment of Joe Goldberg's adventures.
Only this time, he was joined by his partner-in-crime, Love, and their new bundle of joy, baby Henry.
The murderous couple moved to Madre Linda for a fresh start, but despite Joe's insistence that "everything would be different" this time around, they fell into old patterns fairly quickly and left a trail of bodies behind that would eventually lead to the demise of their fictitious happily ever after.
You can read the spoiler-free review here!
1. RIP to Those Who Didn't Make It
Murder is the name of the game when it comes to Joe and Love. Their list of suspects this season included Natalia, who was the catalyst for all the disturbances in the town defined by tacky athleisure. But, let's be honest, if it wasn't her, it would've been someone else. Joe has a delusional obsession with finding "the one."
While watching the season, there was no shortage of potential victims. Anytime the residents of Madre Lina were in a strange setting with Love or Joe, you found yourself wondering: "when are they going to die?"
Surprisingly, most of the victims belonged to Love, whose impulsiveness did no one any favors. After killing Natalie, she bludgeoned anti-vaxxer Gil and locked him up in the glass cage that they rebuilt in the bakery's basement (also Natalie's final resting place). While Gil technically killed himself after learning that his wife paid to get their delinquent son into university (looking at you, Lori Loughlin), Love and Joe used it as an opportunity to frame the poor guy for Natalie's murder and made it seem like the result of a torrid love affair. Wow, they're good at this. I shouldn't be this surprised, right?
Joe's only victim was Ryan Goodwin, Marienne's narcissistic and druggie ex… but he kind of deserved it.
2. Those Who (Surprisingly!) Survived
To survive a brush with Love and Joe at their worst is, well, an incredible feat. Not many can live to tell that story, but influencer Sherry, her buff husband, Cary, and Theo, an impressionable college student with a terrible relationship with his father, Matthew, also Natalie's husband, all did.
Sherry and Cary suggested that Love and Joe try to "hack their love life" by sleeping with them. Unfortunately, Love's jealousy issues took over, and when she accidentally blurted out that she killed Natalie for Joe, Sherry and Cary didn't stand a chance. It was touch-and-go-there for a bit as Cary accidentally shot and grazed Sherry's ear, while she intentionally shot him in the leg. Eventually, she found a key and managed to get them out of the cage alive and well. And in true Sherry fashion, she and Cary ended up turning their story into a best-selling book.
Theo was simply in the wrong place at the wrong time. He found Sherry and Cary in the cage just as Love arrived at the bakery. He tried to convince her that he didn't believe what they said about her, but she knocked him out and pushed him down the stairs. However, when Joe went to clean up her mess, he realized that Theo was still alive. Since he promised not to say a word, Joe drove him to a hospital and let the poor kid live. His only sin was falling in love with the wrong woman!
Marienne also survived, but it was also touch-and-go for her. Love had it out for her, and the only reason she made it out of the Quinn-Goldberg household in one piece was because of her sweet daughter. Fly free, Marienne!
3. Joe and Love's lovers
Joe and Love may have been on the same team, but they were simply trying to make a failed marriage work. Love's insecurities got the best of her, and when she found out about Joe's brief rendezvous with Natalie, she felt "wanted" by college kid Theo. She loved that he saw her and craved that attention, which she wasn't getting from Joe. It was a disturbing relationship, and one she tried to put an end to many times, before convincing Joe that she needed to seduce Theo in order to find out what evidence Matthew had against them.
Meanwhile, Joe developed an obsession with Marienne, a whip-smart library manager who gave him a job and slowly began to fall for him. He saw a light in Marienne, who, as a Black woman, was failed by the system multiple times, and wanted to get custody of her daughter from her abusive ex and local news anchor, Ryan Goodwin. While Marienne's feelings towards Joe were reciprocated, they were a byproduct of his manipulative charm. Joe knows how to prey on a vulnerable woman to get what he wants.
Thankfully, as mentioned above, both of Theo and Marienne survived, which is a new one for romantic partners in the series. Though, the season did end with Joe going to the depths of the Earth to find Marienne, so maybe she isn't in the clear after all!
4. Survival of the Fittest
One could argue that Joe and Love were each other's victims. Their relationship was toxic for the get-go, and no amount of marriage counseling was going to fix it. If Love hadn't announced her pregnancy at the end of season 2, Joe would've killed her on the spot. They were both alive because of Henry, and thus, thought that staying together for the child was going to somehow make all of their problems disappear.
But it didn't. Their resentment for each other grew as they lied and manipulated each other. They never trusted each other, and the relationship was solely codependency. I do think Love wanted to make a marriage with Joe work, but Joe, despite being a murderer himself, couldn't see Love as anything more than a monster.
Thus, he looked for any out that he could find. When he set his sights on Marienne, he envisioned a brand new family with her and attempted to "protect her" from Love. In doing so, he was also protected himself. It definitely seemed as though Love's murder attempt blindsided him. She admitted that she killed her first husband, James, with the same aconite used to poison Joe.
However, Joe was always one step ahead of her because he took an adrenaline pill right before, which counteracted the poison. And he should breathe a sigh of relief because if he hadn't, Love would've killed him with a butcher's knife.
Their relationship was survival of the fittest — be or be killed. And when she approached him, he stabbed her with a syringe full of the poison he made previously as he anticipated this very moment.
After the poison stopped her heart, Joe cut off two of his toes (the worst part of the season, I'll admit) and wrote a letter detailing Love's murder-suicide. No one ever "found" Joe's body, but since they found the toes, they assumed he died in the fire set by Quinn prior to killing herself. He made her out to be the true villain and escaped from Madre Linda unharmed… well, minus two toes.
5. Goodbye, for now, Henry
What about baby Henry? Well, he no longer has to pay for the crimes of his parents. While the fact that Joe killed Love and framed her for a murder-suicide was messed up, out of the two of them, he was clearly the more stable one. Throughout the season, Joe prioritized being a good father because he didn't want baby Henry to end up like him. Everything he did, in a twisted way, was to secure the child's future.
He knew that Love would never change and needed to be stopped because she would take them both down, which would ensure that Henry would end up in the system. Since he was placed in the system after his mother abandoned him, it was Joe's biggest fear, and a future he did not want for his son. Therefore, his choice to give up Henry to Dante and Lansing, a good couple who were trying to adopt, was the most selfless thing he's ever done.
Sure, it was also a bit selfish because he wanted to pursue Marienne, but still, he made the best choice for baby Henry and ensured that he would have the possibility of a good future. At the end of the day, that's all that matters.
In the End…
After putting an end to Love — "she must be stopped" — and giving away baby Henry to Dante and Lansing, Joe threw on his invisibility cap, said adios Madre Linda, and bonjour Paris.
Will he say "hello you" to Marienne once again? And even if he does, how will he explain all that went down? He's good at talking his way out of things, but they also found his toes at the scene of the crime. Marienne may think she attracts toxic men, but she's levelheaded; she knew when to get out, so she'd never fall for or believe anything he said.
With a fourth season of YOU secured at Netflix already, we know that Joe will keep on keepin' on and feeding into his delusions. Until his thirst is satiated, he'll scour the world for Marienne. Or maybe he'll give up and find a new obsession.
Unfortunately, the world will never be safe if Joe is around.
YOU Season 3 Review – More Murders… But With a Conscience
The suburban dream turns into a nightmare when Joe and Love move into the quiet, safe, and crime-free town of Madre Linda on You Season 3.
The family of 3 — yes, they're parents now — are looking for a change, but can a zebra change its stripes?
Joe and Love surely want to… for Henry, their new bundle of joy. If there's anything that can change a person, it's parenthood. And the series digs into their desires to change deeply, while continuously asking the question: can people as broken as Joe and Love actually change?
While the addition of a third Quinn-Goldberg family member ups the stakes and paints everything in a new light, it's also heartbreaking to see a child paying for the crimes of his parents.
Murder is bad, but murder with a baby that's sleeping in the same room is even worse. The writers know that all too well. They know how disturbing it is to involve a child, so they juxtapose the innocence and love needed to raise a child with the disturbed inner monologue of two sociopaths.
Joe and Love are proof that you cannot judge a book by its cover. On the outside, they're the picture-perfect family; the "best team" if you will, but right beneath the surface, they are a timebomb ready to explode.
The trust faded long before Henry was born, and despite their time spent in marriage therapy (at least they are able to recognize that there's a problem and seek help), Joe, a murderer, cannot get over the fact that Love has killed before, a fact revealed in the final few moments of season 2.
At times, you want to just shake them both and remind them that they've both done terrible things not only to each other but also to others.
Joe justifies his kills but judges Love for them, which just tells you everything you need to know about the state of their marriage.
The hypocrisy exists within both of them this season, and, at times, it makes them almost insufferable as they cannot take what they dish out.
Joe thinks that moving to a "soulless suburb" will be the death of him, but naturally, it proves to be most dangerous to all those in their new social circle.
But before it all goes downhill, their new beginning starts off promising — Love opens a bakery, while Joe rediscovers his love of books. As they aim to fit in and make new friends, relationships become more complicated, and despite Joe's insistence that "things will be different this time," they are very much the same as they fall back into old patterns.
Marriage and kids do not stop Joe from his delusional obsessions, but they do give him a conscience. He wants to be better, he tries to do the right thing, and he attempts to retrain his thoughts.
And to be fair, he's not responsible for most of the murders this season so much as he is for cleaning up all of Love's messes.
Maybe change is possible to some extent after all? And that's exactly what the writers want — viewers to straddle the line of being horrified by Joe while also empathizing with him.
Love, however, gives in to her impulsiveness all too easily and undoes any progress they may have made.
Joe, as the villain, takes a backburner to Love, who the series unravels as a much more realized character. Love is no longer Joe's obsession anymore; she's achieved main character status, and I'll be honest, a female Joe is oftentimes much more terrifying and ruthless.
We get to know her on a deeper level as her journey through motherhood evolves and she aims to befriend the tacky athleisure-wearing socialites while aiming to hide the darkest parts of herself and mourning Forty's death all at the same time.
It's not just Joe anymore, it's Love and Joe. They put a mirror up to each other, and boy, they do not like what they see. If you look up a "love and hate" relationship in the dictionary, you'll get Love and Joe.
We already knew they were disturbed individuals, but season 3 truly hammers it home.
One might think that after two seasons, things become predictable and lose their allure. We know what these two are capable of, and we know that they won't hesitate to spill blood over the slightest inconvenience, yet that doesn't stop the series from surprising with every twist and turn.
You think you know Joe and Love, but you really haven't begun to scratch the surface, which is what keeps you on the edge of your seat.
As the mystery deepens — and the body count rises — you find yourself not only wondering whose next but also, how are they going to get out of this?
What will be their undoing? At some point, something's got to give because their lifestyle isn't sustainable. And no amount of charm from Joe can erase the damage they've inflicted.
In addition to providing timely social commentary — unintentionally — the season also digs into the backstory of what made Joe and Love the monsters they are today.
As Love's dysfunctional relationship with her mother, Dottie, is explored further in the present day, flashbacks into Joe's childhood trauma allow us to get more insight into his abandonment and the bullying he endured at the foster home.
The season manages to tap into the sweet spot that made the first two seasons so enjoyable; it's a thrill from beginning to end.
And when it's all over, you too will find yourself looking for your new obsession. Hopefully, that obsession is YOU season 4 pending a renewal from Netflix!