In episode 204 of Umbrella Academy, Diego, Five and Lila crash a party to investigate the "Majestic 12," a deep-state shadow government group that includes Reginald Hargreeves as a member.
Lila's backstory with the Handler is partly revealed. In London 1993, Lila's parents are killed by an unknown Commission assassin, and the Handler takes her in, adopts her, and trains her to be an agent of the Commission as well.
In the present day (or at least in 1963 on the show), the Handler gives Lila the mission of protecting Number Five at all costs.
Meanwhile, the rest of the Hargreeves still refuse to help stop the apocalypse because of personal attachments they've developed in the timeline.
Infiltrating The Majestic 12
Five manages to hear part of the secret organization's plans, which seems to hint at the assassination of JFK.
It's unclear, however, what their intentions are solely based on what Five heard. Will they cause or simply mitigate the assassination? Hopefully, a mystery that will soon be revealed.
Also while at the party, Diego sees a woman resembling Grace / Mom from season 1 who happens to be Reginald's date to the party; implying that the robotic matron was based on a real woman from Reginald's past love life.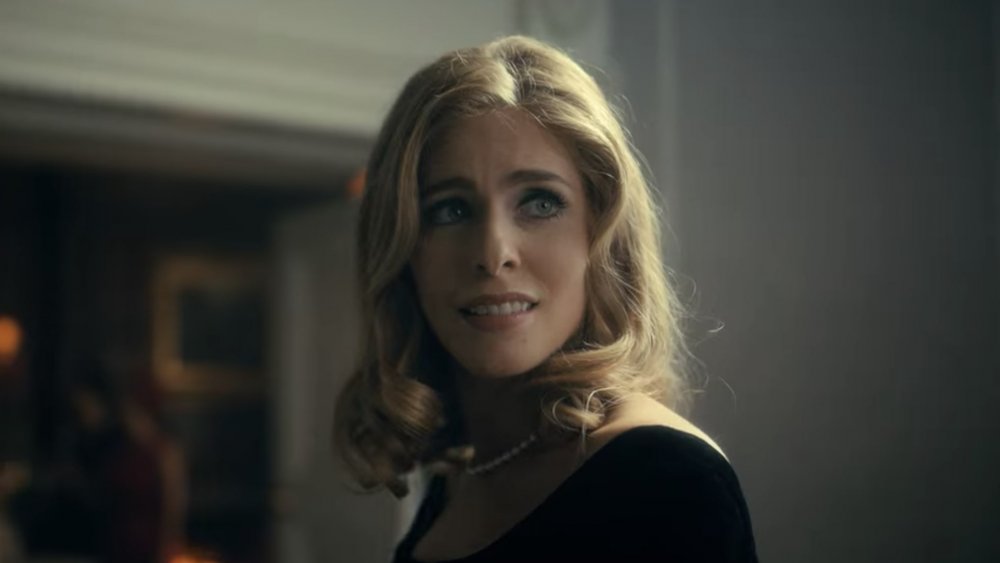 Chaos ensues when the Swedes also crash the party and attack the Hargreeves brothers and Lila.
Which also disrupts the Majestic 12's secret meeting causing them to scatter
During a moment in the battle, Lila is forced to choose who to protect between Diego and Five, and she chooses Five because of her mother's orders.
This will definitely cause a rift with Diego moving forward, and question Lila's motivations for hanging around with them.
At the end of the episode, Five shouts cryptic phrases in Ancient Greek toward Reginald, who hears it and drives away but seems to understand some kind of revelation.
Vanya Saves Harlan
Vanya tries to comfort Luther after he gets knocked out from his underground fight in the previous episode as they bond over how much of an a**hole their brother Five is. Luther reveals Vanya causes the apocalypse of season 1 and they share a small cathartic moment of forgiveness and understanding before Luther sends her away.
Five tries to convince Vanya to help him stop the apocalypse, but she instead goes back to Sissy to tell her she needs to leave to keep her and Harlan safe.
Harlan overhears their conversation and runs away and nearly drowns in a large pond.
Luckily, Vanya is able to use her powers to literally make the water float, revealing an unconscious Harlan whom she revives after giving him mouth to mouth resuscitation. She also seems to have transferred either some kind of power to him or revived him from his death.
Afterward, a distraught Sissy starts making-out with Vanya and they share an emotional moment together.
Hargreeves Siblings' Personal Troubles…
Luther gets kicked out by Jack Ruby from his abode because of the fight he lost, which caused Ruby to owe a lot of money. Luther decides to go to Elliott's place and the two get high on laughing gas – a hilarious scene with dark undertones that shows the two men sharing depressing details about their personal lives, and then inappropriately laughing about them. (PURE COMEDY!)
Ray avoids Alison due to the incident with the cop almost beating him to death as he suspects her of being some kind of spy after she uses her powers to save him. This pushes Alison to go find Luther, who is eating his feelings away by voraciously consuming barbecue. They share a meaningful embrace, but awkwardly catch-up.
Klaus continues to convince David to not sign up for the military, but instead, David punches him at the urging of his uncle Brian to "hit the queer" (Klaus). This depresses Klaus and he relapses and gets wasted.
Klaus, after a night of drinking, badly tells the fable of "The Scorpion and The Frog" to Alison and claims that the point of the story is "Frogs are bitches and we don't negotiate with terrorists."
Verdict: 7.5 / 10
This episode was a bit uneven in terms of pacing and focused more on the individual issues of the Hargreeves siblings. The kissing scene with Sissy and Vanya was expected but didn't have as much impact. While Diego and Lila's romance also became a bit questionable, mostly due to Lila's unpredictability. Klaus' tragic story arc with David was somewhat usurped by sudden comedic breaks that took away from the gravity of the moment.
On the other hand, Luther steals the show in this episode with his comedic chops, and the mysteries surrounding the apocalypse and Reginald are enough to keep you hooked and wanting more.
Follow CRAVEYOUTV on socials
'Berlin' Is the 'Money Heist' Spinoff We Never Knew We Needed
Berlin is the Money Heist spinoff we never knew we needed… but we're so glad it's almost here.
Since Berlin (Pedro González Alonso) was hands-down the most captivating (and problematic) character in the Spanish heist drama, fans always wanted to get to know more of him, especially after he sacrificed himself in the season 1 finale for his team, largely due to his terminal illness, redeeming himself in the process.
Quickly rising the ranks as a fan-favorite, the writers kept Berlin's spirit alive in the following seasons via flashbacks, noting that he always had a hand in the planning of the heists, even if he wasn't around to see them through. And it became more and more clear that there was an unsatiable thirst from audiences to explore additional parts of the character's origin story; thus, a prequel to Money Heist focusing solely on Berlin's prior escapades only made sense.
Related: Kiernan Shipka's New Slasher Comedy Is Your Fall Must-Watch
As seen in the later season of Money Heist, or La Casa de Papel, Berlin garnered even more intrigue when his son, Rafael (Patrick Criado) joined the heist. The former Electronics Engineer from MIT is Berlin's prodigal son, whose only request was not to end up a thief like his father, also drew attention after entering a relationship with his father's wife, Tatiana. It's a lot to unpack, clearly, but it's also proof that there was nothing boring or mediocre about Berlin's life in the slightest, at any point.
So, again, it warrants a spinoff that digs even deeper into this complex, charismatic, and morally questionable character we've all come to love.
When he joined the Professor's group in the series, he was already one of the most seasoned robbers of the bunch, having a plethora of experience mapping out and executing heists of ranging scales.
Also Read: 'Sullivan's Crossing' Is The CW's Most Promising New Show—And It Stars Chad Michael Murray
With Berlin: Money Heist, we're not only going to get to see one of those previous heists in action, but we're also going to get a sense of the man he was before attempting the biggest heist in history, which made him the beloved criminal we've come to know.
Capitalizing on the love already established for the series—one of Netflix's most popular shows of all time—the prequel finds Berlin, in all his glory as Andrés de Fonollosa, the mastermind behind a heist targeting the biggest auction house in Paris to steal €44 million.
The series trails the planning of a new heist as he recruits his crew: "Michelle Jenner (Isabel) plays Keila, an eminence in electronic engineering; Tristán Ulloa (Fariña) goes into the skin of Damián, a philanthropic professor and Berlin's confidant; Begoña Vargas (Welcome to Eden) plays Cameron, a kamikaze who always lives on the edge; Julio Peña Fernández (Through My Window) brings to life Roi, Berlin's faithful squire; and Joel Sánchez plays Bruce, the relentless man of action in the gang."
While it's mostly an all-new cast, we'll see a few familiar faces with Alicia Sierra (Najwa Nimri) and Raquel Murillo (Itziar Ituno) appearing at some point, though it's unclear what their connection is to the storyline. Is it possible that their paths have always crossed and Berlin was always on their radar way prior to the action at the Royal Mint?
We may not be getting the version of Berlin from the original series, but don't fret, as the teaser trailer evidenced, he's still as ruthless, dapper, and flirtatious as ever, meaning that they really did this character–and prequel—justice. The fact that it hails from the original showrunner, Alex Pina, is also a sign that it won't let the fandom down.
"It's a trip through the golden age of the character, when he robbed around Europe crazy in love," Pina previously told TUDUM, adding, "That's the most surprising, the comedy. You're going to make people laugh a lot."
Berlin in his prime, in love, and flexing his comedic bone? As the beloved criminal says in the trailer, "it's all the things worth living for."
The full synopsis for the series reads:
"There are only two things that are sure to turn a bad day into a great one: love, and a payday worth millions. They're what keep Berlin going through his golden years, a time when he still has no inkling of his illness and hasn't gotten trapped like a rat in the Spanish Mint. This is where he starts preparing one of his most extraordinary heists: making jewels worth 44 million disappear like some sort of magic trick. To do it, he'll enlist the help of one of the three gangs he's ever stolen with."
Watch the Berlin trailer below:
Berlin arrives a few days prior to New Year's Eve on Dec. 29, 2023, which means you'll have plenty of time to binge watch while counting down to 2024.
To prepare, you can stream Money Heist on Netflix and read our coverage here.
Who Is Mel's Father in 'Virgin River'?
Virgin River Season 5 concluded with a tiny time jump four months into the future, bringing the timeline into the Christmas holiday season.
Disclaimer — this post includes spoilers from the episode — proceed with caution.
On Virgin River Season 5 Episode 10, as Mel (Alexandra Breckenridge) and Jack (Martin Henderson) decorated their cabin in anticipation of Joey's arrival with the kids for their first-ever Virgin River Christmas, Mel received quite a shocking piece of information.
Her sister informed her that she found a stack of love letters between Mel's mother and a mystery man in Virgin River that she believed could be Mel's real father.
And this obviously lends itself to the question—who is the secret admirer?
There aren't that many elderly men in Virgin River aside from Doc (Tim Matheson), and it would be next-level if he had another secret child in addition to Ryan, Denny's late father. Though wouldn't it be funny if Mel thought she just escaped to this random small town only to learn that it wasn't random at all and she'd been working with her dad this whole time?
Aside from Doc, there's really only Nick (Keith MacKechnie), Bert (Trevor Lerner), and Charlie (Patrick Keating), that we are familiar with, anyway.
Naturally, there are probably plenty of residents that audiences have never met (and they have to keep us on our toes and think of new directions for the storyline), and it's possible her dad isn't even alive anymore.
It would be extremely fitting if it was Lilly's late husband, Buck, making Mel sisters with Ava, and Tara. Considering her strong bond with that family, her sisterly relationship with Ava, her love baby Chloe, and how drawn she is to that farm, this would be such a sweet twist. Mel always had a soft spot for Lilly as well, so this would be a unique way to keep her memory alive.
Mel's father will be the major storyline addressed in the two bonus holiday episodes dropping in November, as the trailer revealed Mel starting the search for her biological dad before informing Jack shortly after that they found him, with Preacher noting that he's "still in Virgin River."
The way he says it makes it seem like he's still alive, which limits the possibilities even more. Who do you think it is?
View this post on Instagram
Either way, Mel actually has roots in this small town that's always felt like home.
Will There Be a Season 6 of 'Virgin River'? And If So, When?
'Riverdale' Season 7 Hits Netflix—Stream It Now
Riverdale's seventh and final season is now available to stream on Netflix in the U.S.!
Merely a week after the long-running CW series aired its final episode ever, the streaming giant has added the series in its entirety.
All the episodes are available for fans all over the world to binge-watch on September 1, and going into a long weekend, that gives you plenty of time to catch up on all the shenanigans happening in the Town with Pep.
Many fans weren't interested in the weekly release model as it wasn't ideal having to wait for new episodes to drop every week, but having them available all at once on Netflix allows you to catch up with ease.
And if you've never seen Riverdale and are curious about all the nutty twists and turns that eventually get all of our characters to—spoiler—the 1950s, well, all seven seasons are on the streamer for your viewing pleasure.
You can rewatch those previous seasons and relive the series in all its glory (including anything you may have missed/forgotten about), or you can just tune in for the final season—it's up to you!
As mentioned before, the final season hit the reset button of sorts as Archie (KJ Apa), Betty (Lili Reinhart), Jughead (Cole Sprouse), and Veronica (Camilla Mendes), along with many of their loved ones and friends, went back in time to 1955 and found themselves reliving their high school days all over again.
Of course, as you rewatch any and all episodes, you can read all our reviews of the series that we've covered since its inception in 2017!
Enjoy your Labor Day travels to Riverdale—just remember that before it was redubbed the "Town With Pep" it was known as "Murder Town of the World." You've been warned.