In episode 205, "Valhalla," of Umbrella Academy, the Hargreeves siblings have finally reunited once again, but each of them has personal issues they need to resolve before they can work together as a team. The Handler sets a trap for the Swedes, and Lila blows her cover.
This episode is a pleasure to watch for a lot of reasons, but the main draw is the excellent choice of music throughout.
From the opening sequence highlighting Pogo and human Grace's backstory with the song "Major Tom (Coming Home)" by Peter Schilling, the incorporation of music into the narrative was taken to another level, and rather than become a distraction, most of the song choices add a pleasantly surprising element into the mix.
In one instance, The Interrupters' rendition of  Billie Eilish's "Bad Guy" plays as Five fights with Lila.
In this fight, it seems that Lila has teleportation-like superpowers, which would make sense because she could possibly one of the children born in 1989 (like the members of the Umbrella Academy were) as she's shown to be a young girl in 1992 in the last episode.
Meanwhile, the episode is generally geared to a more positive tone that's both funny and uplifting at numerous points.
Except maybe during the Viking funeral when one of the Swedes was killed by the trap set by the Handler.
Hargreeves Family Reunion
The team gets back together in Elliott's residence as they discuss what to do about the coming apocalypse.
Diego insists it involves their father, Reginald, and suggests they hunt him down and kill him. But Five disagrees and only wants to interrogate him.
In one particularly hilarious dialogue between the siblings, Vanya says the most sensible thing when she asks the question:
"Has anyone done anything to screw up the timeline?"
At first, everyone falls silent, but then start pointing things out that each of them has done during their time apart and blame each other since any of them could have jump-started the apocalypse.
Their involvement in the timeline certainly suggests this because Diego stalked Lee Harvey Oswald, Luther associated with Jack Ruby, Klaus started a cult, and Alison got involved in the local civil rights movement.
Vanya rules herself out because she's become a nanny at a farmhouse in the middle of nowhere, but the team doesn't write her off since she started the original apocalypse in the first place.
As Klaus hilariously put it "Is it because of Vanya?" he asks getting dirty looks from everyone, "What? It's always Vanya."
The meeting ends when Luther walks out and declares they shouldn't do anything about it because they might be the ones responsible for actually pursuing a solution in preventing the apocalypse.
Twisting the Night Away
After their family meeting goes awry, Klaus, Alison, and Vanya go to the parlor to unwind, drink, and dance as they discuss their respective love lives.
They come to the disturbing conclusion that every member of the Hargreeves family sucks at love, and the healthiest relationship any of the siblings have had is Five and his mannequin girlfriend, Dolores, in season 1. Which is a pretty low bar, to say the least.
So after an uplifting music montage to the tune of "Twisting The Night Away" by Sam Cooke, Klaus decides to go back to his cult to release them from his influence, and both Alison and Vanya go to their respective newfound love interests to repair and resolve them.
Meanwhile, Luther and Diego receive an ominous invitation from Reginald for a "light" supper. So things are about to get real since Reginald seems to have tracked the siblings down, and plans to confront them head-on.
Viking Funeral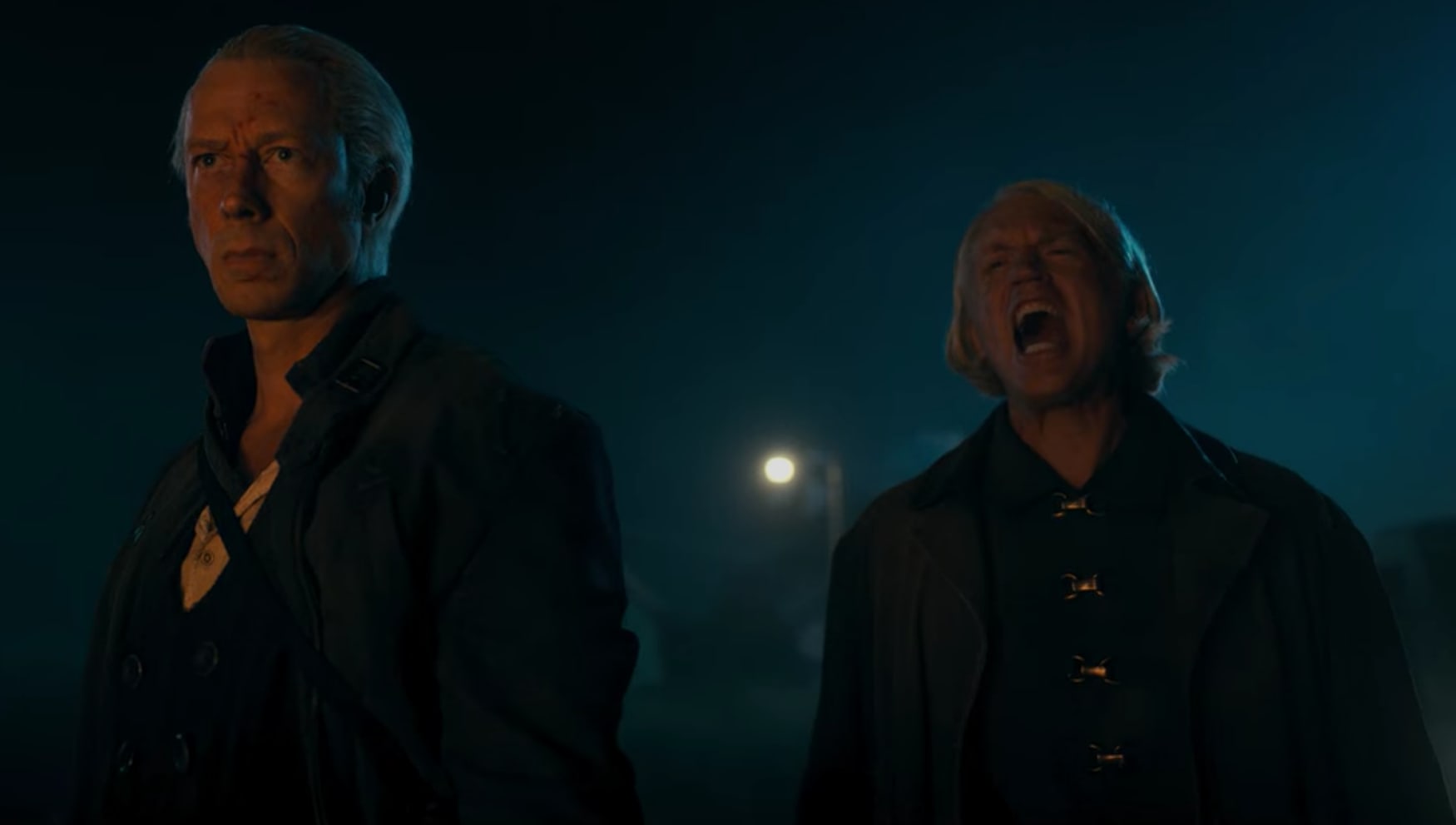 One of the Swedes dies as a result of the Handler's trap, which she framed to look like Diego had done it by using one of his knives as bait, which Lila had taken from him when they slept together two episodes prior.
The highlight of this story arc, however, is the use of a Swedish version of Adele's "Hello" which plays during the Viking funeral scene where the two remaining Swedes pay their respects to their fallen brother.
The result is awesome because, despite no lines from the stoic Swedes, the scene is somber yet hilarious at the same time.
VERDICT: 9.5/10
As mentioned before in this article, Umbrella Academy raised the bar when it comes to incorporating music into their stories, and "Valhalla" certainly did a masterful job in evoking a lot of comedy and meaning into scenes simply by picking the right song to underscore the tone they were going for.
Follow CRAVEYOUTV on socials
'The Woman In the House' – Everything You Need to Know About Kristen Bell's New Thriller
Kristen Bell is known for her comedic chops, but she's dabbling a new genre come 2022.
"The Good Place" actress will star as Anna in a dark comedy thriller on Netflix.
Here's everything we know about the upcoming series "The Woman in the House Across the Street from the Girl in the Window."
What's It About?
The series focuses on the heartbroken lead who lives everyday the same way — staring out her window and watching life pass her by while she sips her wine.
All of that is flipped upside down when her handsome neighbor moves in across the street and she witnesses a murder… or does she? Does someone want her to forget? Did she imagine it? Are they the hallucinations?
We're already totally invested.
Is there a Trailer?
YES! Glad you asked. The teaser is intoxicating and shows exactly why Bell was the right choice for the role!
Check it out below:
Who Else Is in the Series?
Well, there's Bell. Other cast members include: Michael Ealy, Tom Riley, Mary Holland, Cameron Britton, Samsara Yett, Christina Anthony, and Benjamin Levy Aguilar.
How Long is the Series?
The season consists of eight, 30-minute episodes. You know what that means? They're easily binge-able with your glass of wine!
Why Does It Sound So Familiar?
It parodies Amy Adams' thriller "The Woman in the Window" and the 2016 film "The Girl on the Train."
When Does It Premiere?
The show hits Netflix on Friday, Jan. 28, 2022!
Is There Going to be a Second Season?
While it's crafted as a limited-series that doesn't necessarily mean that a second season is out of the question. After all, Big Little Lies was also a limited-series. Never say never!
WATCH: Christmas is Here Early With a Trailer for 'The Princess Switch 3'
Oops… she's doing it again!
The holiday season isn't complete without Vanessa Hudgens, who is back once again for The Princess Switch 3.
Netflix has released the official trailer and from the looks of it, it's going to be filled with comedy, romance, and yes, three different accents and voices all performed by the talented actress.
Check out the trailer below.
Hudgens is once again reprising her roles as Queen Margaret and Princess Stacy, with a new addition Fiona, the cousin.
After the special guest, the Vatican's Star of Peace is stolen, the two royal lookalikes need to team up together to steal it back. In order to do so, they enlist the help of their cousin Fiona who is also identical to them. The three completely different personalities work together to safely bring back the missing treasure.
Alongside Hudgens, the cast includes Sam Palladio, Remy Hii, Nick Sagar, and Will Kemp.
Netflix will release The Princess Switch 3 on November 18th, so set your calendars!
Recap the The Princess Switch: Switched Again right here
Yes, That Is Queen Amber from 'A Christmas Prince' in 'The Princess Switch: Switched Again'
5 Biggest Moments on YOU Season 3: Who Died, Who Survived, and What's Next?
The wait for YOU Season 3 is finally over!
On October 15, Netflix dropped the next installment of Joe Goldberg's adventures.
Only this time, he was joined by his partner-in-crime, Love, and their new bundle of joy, baby Henry.
The murderous couple moved to Madre Linda for a fresh start, but despite Joe's insistence that "everything would be different" this time around, they fell into old patterns fairly quickly and left a trail of bodies behind that would eventually lead to the demise of their fictitious happily ever after.
You can read the spoiler-free review here!
1. RIP to Those Who Didn't Make It
Murder is the name of the game when it comes to Joe and Love. Their list of suspects this season included Natalia, who was the catalyst for all the disturbances in the town defined by tacky athleisure. But, let's be honest, if it wasn't her, it would've been someone else. Joe has a delusional obsession with finding "the one."
While watching the season, there was no shortage of potential victims. Anytime the residents of Madre Lina were in a strange setting with Love or Joe, you found yourself wondering: "when are they going to die?"
Surprisingly, most of the victims belonged to Love, whose impulsiveness did no one any favors. After killing Natalie, she bludgeoned anti-vaxxer Gil and locked him up in the glass cage that they rebuilt in the bakery's basement (also Natalie's final resting place). While Gil technically killed himself after learning that his wife paid to get their delinquent son into university (looking at you, Lori Loughlin), Love and Joe used it as an opportunity to frame the poor guy for Natalie's murder and made it seem like the result of a torrid love affair. Wow, they're good at this. I shouldn't be this surprised, right?
Joe's only victim was Ryan Goodwin, Marienne's narcissistic and druggie ex… but he kind of deserved it.
2. Those Who (Surprisingly!) Survived
To survive a brush with Love and Joe at their worst is, well, an incredible feat. Not many can live to tell that story, but influencer Sherry, her buff husband, Cary, and Theo, an impressionable college student with a terrible relationship with his father, Matthew, also Natalie's husband, all did.
Sherry and Cary suggested that Love and Joe try to "hack their love life" by sleeping with them. Unfortunately, Love's jealousy issues took over, and when she accidentally blurted out that she killed Natalie for Joe, Sherry and Cary didn't stand a chance. It was touch-and-go-there for a bit as Cary accidentally shot and grazed Sherry's ear, while she intentionally shot him in the leg. Eventually, she found a key and managed to get them out of the cage alive and well. And in true Sherry fashion, she and Cary ended up turning their story into a best-selling book.
Theo was simply in the wrong place at the wrong time. He found Sherry and Cary in the cage just as Love arrived at the bakery. He tried to convince her that he didn't believe what they said about her, but she knocked him out and pushed him down the stairs. However, when Joe went to clean up her mess, he realized that Theo was still alive. Since he promised not to say a word, Joe drove him to a hospital and let the poor kid live. His only sin was falling in love with the wrong woman!
Marienne also survived, but it was also touch-and-go for her. Love had it out for her, and the only reason she made it out of the Quinn-Goldberg household in one piece was because of her sweet daughter. Fly free, Marienne!
3. Joe and Love's lovers
Joe and Love may have been on the same team, but they were simply trying to make a failed marriage work. Love's insecurities got the best of her, and when she found out about Joe's brief rendezvous with Natalie, she felt "wanted" by college kid Theo. She loved that he saw her and craved that attention, which she wasn't getting from Joe. It was a disturbing relationship, and one she tried to put an end to many times, before convincing Joe that she needed to seduce Theo in order to find out what evidence Matthew had against them.
Meanwhile, Joe developed an obsession with Marienne, a whip-smart library manager who gave him a job and slowly began to fall for him. He saw a light in Marienne, who, as a Black woman, was failed by the system multiple times, and wanted to get custody of her daughter from her abusive ex and local news anchor, Ryan Goodwin. While Marienne's feelings towards Joe were reciprocated, they were a byproduct of his manipulative charm. Joe knows how to prey on a vulnerable woman to get what he wants.
Thankfully, as mentioned above, both of Theo and Marienne survived, which is a new one for romantic partners in the series. Though, the season did end with Joe going to the depths of the Earth to find Marienne, so maybe she isn't in the clear after all!
4. Survival of the Fittest
One could argue that Joe and Love were each other's victims. Their relationship was toxic for the get-go, and no amount of marriage counseling was going to fix it. If Love hadn't announced her pregnancy at the end of season 2, Joe would've killed her on the spot. They were both alive because of Henry, and thus, thought that staying together for the child was going to somehow make all of their problems disappear.
But it didn't. Their resentment for each other grew as they lied and manipulated each other. They never trusted each other, and the relationship was solely codependency. I do think Love wanted to make a marriage with Joe work, but Joe, despite being a murderer himself, couldn't see Love as anything more than a monster.
Thus, he looked for any out that he could find. When he set his sights on Marienne, he envisioned a brand new family with her and attempted to "protect her" from Love. In doing so, he was also protected himself. It definitely seemed as though Love's murder attempt blindsided him. She admitted that she killed her first husband, James, with the same aconite used to poison Joe.
However, Joe was always one step ahead of her because he took an adrenaline pill right before, which counteracted the poison. And he should breathe a sigh of relief because if he hadn't, Love would've killed him with a butcher's knife.
Their relationship was survival of the fittest — be or be killed. And when she approached him, he stabbed her with a syringe full of the poison he made previously as he anticipated this very moment.
After the poison stopped her heart, Joe cut off two of his toes (the worst part of the season, I'll admit) and wrote a letter detailing Love's murder-suicide. No one ever "found" Joe's body, but since they found the toes, they assumed he died in the fire set by Quinn prior to killing herself. He made her out to be the true villain and escaped from Madre Linda unharmed… well, minus two toes.
5. Goodbye, for now, Henry
What about baby Henry? Well, he no longer has to pay for the crimes of his parents. While the fact that Joe killed Love and framed her for a murder-suicide was messed up, out of the two of them, he was clearly the more stable one. Throughout the season, Joe prioritized being a good father because he didn't want baby Henry to end up like him. Everything he did, in a twisted way, was to secure the child's future.
He knew that Love would never change and needed to be stopped because she would take them both down, which would ensure that Henry would end up in the system. Since he was placed in the system after his mother abandoned him, it was Joe's biggest fear, and a future he did not want for his son. Therefore, his choice to give up Henry to Dante and Lansing, a good couple who were trying to adopt, was the most selfless thing he's ever done.
Sure, it was also a bit selfish because he wanted to pursue Marienne, but still, he made the best choice for baby Henry and ensured that he would have the possibility of a good future. At the end of the day, that's all that matters.
In the End…
After putting an end to Love — "she must be stopped" — and giving away baby Henry to Dante and Lansing, Joe threw on his invisibility cap, said adios Madre Linda, and bonjour Paris.
Will he say "hello you" to Marienne once again? And even if he does, how will he explain all that went down? He's good at talking his way out of things, but they also found his toes at the scene of the crime. Marienne may think she attracts toxic men, but she's levelheaded; she knew when to get out, so she'd never fall for or believe anything he said.
With a fourth season of YOU secured at Netflix already, we know that Joe will keep on keepin' on and feeding into his delusions. Until his thirst is satiated, he'll scour the world for Marienne. Or maybe he'll give up and find a new obsession.
Unfortunately, the world will never be safe if Joe is around.