In episode 208, "The Seven Stages," of Umbrella Academy, Five prepares for a desperate and dangerous plan where he has to rely on Luther to watch his back.
Meanwhile, Vanya is captured by the FBI, Diego goes through orientation at the Commission, & Allison and Klaus have to dispose of the dead Swede's body.
This subpar episode merely serves as a setup episode for the final two installments for this season, so narrative-wise not much goes on, but there are still some noteworthy developments that deserve proper attention.
The Seven Stages of Paradox Psychosis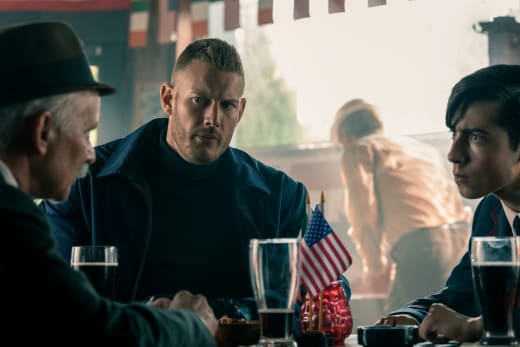 After Five's plan to return everyone to 2019 in the previous episode expectedly fails, he comes up with a more desperate and dangerous plan that risks his very existence.
Five realizes that his older self (or younger, technically) is on assignment to ensure that JFK is assassinated, so Five wants to try to get the time-travel briefcase in the hands of his doppelganger. The only problem is that meeting your time-displaced self will cause a condition called "paradox psychosis," which Five fears he could succumb to. Therefore, he has to rely on Luther to keep him on task, otherwise, the plan won't work. He lists the symptoms of the condition to Luther as follows:
Denial
Itching
Extreme Thirst & Urination
Excessive Gas
Acute Paranoia
Uncontrolled Perspiration
Homicidal Rage
Sure enough, after finding Five's doppelganger, both versions of himself begin exhibiting symptoms of paradox psychosis. Seeing both versions of Five profusely sweating and passing gas is equally hilarious and disgusting at the same time, which alone makes the episode worth a watch.
They grow increasingly suspicious of each other's motives, but Luther actually does a decent job of mitigating between the two versions of his brother.
Not all is going well, however, as the Five who has the briefcase confides a simpler and seemingly sensible plan to Luther: for both of them to simply jump back to 2019 and "make nice" with Vanya to ensure that the original apocalypse from season 1 never happens.
Although this plan means erasing the other Five from existence, which seems to cause some moral dilemma for Luther. But he goes with it and the audience is left to wait for the aftermath in the following episode.
Vanya Is The Bomb (Again)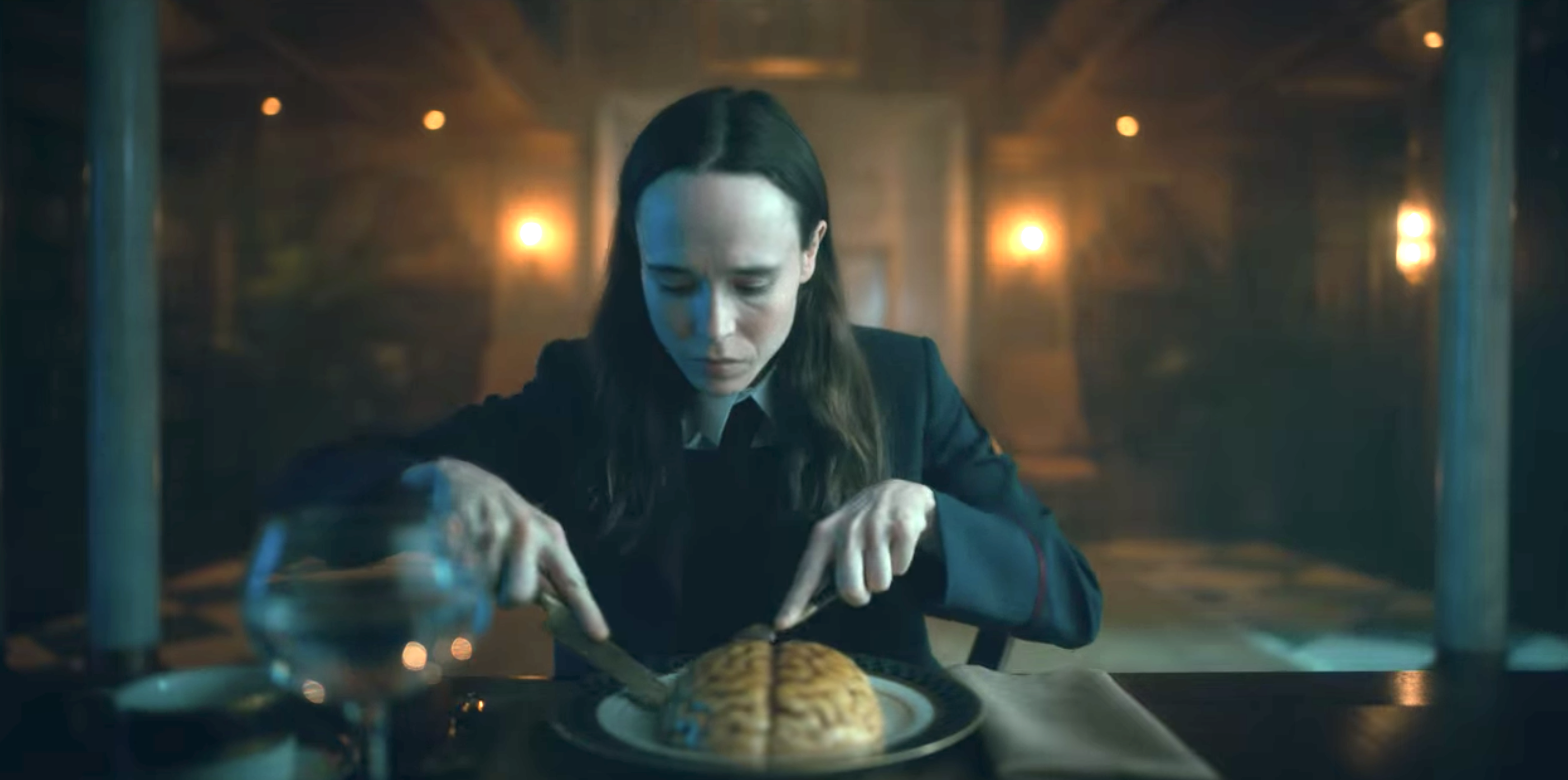 After getting arrested in the previous episode, Vanya is taken by the FBI and is interrogated and then tortured in this episode.
She is tricked into speaking Russian, which Vanya is surprised she can speak well, and she's detained under the suspicion that she's a Communist KGB agent.
Vanya is then drugged and strapped to an electric chair, which causes her to go into a comatose-like state where she hallucinates that she's back at the Umbrella Academy with her siblings and their father at a dining table where they have a bizarre meal that consists of a raw brain.
The scene is gross, to say the least, but it serves as a metaphor for Vanya's fractured psyche and foggy memory, which she seems to have deliberately suppressed if the manifestation of Reginald Hargreeves is to be taken for his words.
Back in the real world, Vanya is emanating a powerful glow that starts going nuclear, which endangers the FBI building as well as confirm some kind of connection to Harlan as the boy starts glowing as well when Vanya does.
Diego To The Rescue
Lila takes Diego to the Commission and introduces him to the Handler. After some grilling, he's eventually allowed to start orientation to become an employee at the Commission, but Diego has other plans in mind.
He goes to the Infinite Switch Board to try and find a way to help his siblings in 1963. He has no clue what he's doing until Herb the analyst shows up and assists him (after Diego threatens him with a knife).
They discover that Vanya inadvertently triggers the apocalypse again by causing an explosion that destroys the FBI building, which botches the JFK assassination allowing him to live and cause a nuclear war with the Soviets.
Diego is then introduced to "La Resistance," a group of case managers working at the Commission who don't want the Handler to lead the organization.
Herb then takes Diego back with him to 1963, at Ray Chestnut's house, to meet back with Allison and Klaus to try and prevent Vanya from destroying the FBI building.
The episode ends with the siblings stopped at their tracks as Vanya, in her comatose state, continues to go nuclear.
Other Notes:
Grace investigates Reginald's office (after Diego's warnings) and finds shady plans related to the JFK assassination, she asks him to share everything but he refuses, so she dumps him.
The surviving Swede brother discovers that the Handler has tricked them with a fake order from the Commission– he detects a scent of lavender in the canister, which of course, he remembers smelling on the Handler when she confronted them in the steam room scene in episode 206.
Klaus, Ray, and Allison struggle to bury the dead Swede brother at Ray's house.
Ben and Klaus discuss how each other felt during the possession. Klaus says it's like "having sex with one of the lesser Baldwins," while Ben says it's like "having no skin, but still wanting to touch everything." But Klaus revokes Ben's possession privileges, which is a bit of shame because it was hilarious.
VERDICT: 7.5/10
The episode is entertaining enough, but nothing really happens to make it stand out as an episode. It does, however, set up the next episode well, and the scenes with Five particularly are worth watching for its comedic value.
Follow CRAVEYOUTV on socials
'Glass Onion: A Knives Out Mystery' Review – A Murder Mystery Within a Murder Mystery
If you're a murder mystery fanatic who enjoyed the original Knives Out, you're likely looking forward to what Rian Johnson has in store for you this time around.
And you're probably wondering—can the second installment capture, bottle up, and sell the essence of the first film once again? Unfortunately, it cannot.
Glass Onion: A Knives Out Mystery takes a stab at it—yet misses the mark, though not entirely. If you ordered a margarita, this would be a watered-down margarita–slightly less potent but still enjoyable enough.
The first film was a smashing success mainly because it delivered the eerie vibe of an old-school whodunit. However, the classic elements that made the first one so great are no longer present in the sequel. It's glitz, glamor, and gadgets, first and foremost. With a heavy tech focus and set amid a backdrop of a luxury private island, it doesn't necessarily align with what fans may be expecting, nor does it benefit from falling under the Knives Out umbrella. In fact, I think labeling it as a Knives Out mystery may have led to the confusion since tonally, it feels more adjacent to Death on the Nile.
That being said, I thoroughly enjoyed Death on the Nile, so once I came in with an open mind, Glass Onion turned out to be a thrilling journey from beginning to end. The pristine locations, top-notch action, and eccentric characters all lent themselves to the wonder.
We're not playing your mom's version of Clue as the film bypasses the typical murder mystery aesthetic, which becomes evident almost immediately, however, it's crafted with just as much, if not more, love from Johnson, who knows he has to live up to some pretty high expectations.
The second film is ambitious, serving up multiple murder mysteries in one. The murder mystery within a murder mystery makes it difficult to have any plausible theories until about halfway through when the film starts walking the storyline back and peeling the layers of the very complex onion.
And while I personally thought the murderer's identity was far too obvious—isn't that always the case? Isn't the killer always starting your right in the face?—it was still a satisfying resolution. The clues are all there from the beginning if you dare pay close attention…and it's that attention to detail and intricacies that make the Knives Out franchise such a hit.
The writers managed to trip audiences up with an added plot twist so well crafted, it could shock even the sleuthiest of sleuths, including Benoit Blanc.
Daniel Craig's gentleman detective is the only familiar thread between the two films, and it's comforting to hear his Southern drawl once again, because this time, you know exactly what to expect from him. You've seen him in action and you know how his mind works, so even if it doesn't seem like he has a handle on the situation, he knows more than he's letting on.
He has a pulse on the new mystery, coming in knowing more than anyone on the island—or the audience—knows, but at times, it sure does seem like he's lost his edge. And that's the point… the minute you let your guard down, and when you think the game has gotten away from him, he cracks the case most brilliantly.
I didn't think we'd see Craig headline another franchise after Bond, but here we are, and having a damn good time at that, especially as the film takes on a more comedic tone. The laid-back nature of the film allows Benoit to have some fun and not take himself so seriously– he doesn't need to prove himself this time around—and fans can let loose and get lost in the plot without feeling too bogged down by the murderous twists, of which there are plenty.
The new group of suspects—because let's be honest, that's what they are—is a group of old friends who refer to themselves as the "disruptors." However, the only thing being truly disrupted is their fun murder mystery party on the island when a real-life murder occurs and sends their little getaway into disarray. Through this real-life murder, we begin to unearth a little more about each character, learning their motivation and relationship with the victim(s) play a crucial role in solving this mystery. And though I found it slightly difficult to connect with any specific character on a deeper level, or even feel any empathy for them, the variety of personalities, backgrounds, and social statuses, makes them all worthy suspects.
Knives Out capitalized on a star-studded cast the first time around, and Johnson somehow managed to once again pull off bringing so much talent into one room, nabbing a cast that holds a candle to the original, including Edward Norton as tech guru Miles Bron (the owner of the Glass Onion), Kathryn Hahn as governor Claire Debella, and Kate Hudson as a carefree socialite named Birdie Jay, to name a few. There might not be a Chris Evans sweater moment, but they're a good bunch that fit the tone of the film.
My biggest complaint isn't even a complaint, but rather, an observation of how easily I was distracted by the name Andi, which should never be used for another character in a movie starring Hudson. True fans of How to Lose a Guy in 10 Days will understand the sheer confusion of a movie referencing Andi but not actually referring to Hudson. That was a mystery in itself.
And just when you thought there couldn't be more star power, there are plenty of Easter eggs and unexpected guest appearances—we're looking at you, Hugh Grant.
The bottom line is that if you go in with zero expectations stemming from the first film, you won't be disappointed. The films are distinctly different, but they'll both make you put your detective skills to use.
It's a worthy sequel that allows Johnson to flex his funny bone while doing what he does best—crafting a mystery that will keep you on your toes from beginning to end. He proves that there isn't one way, or a right way, to do a murder mystery, and what makes them so enjoyable and enticing every single time is that they are one giant game for everyone involved.
Where Can I Stream Knives Out?
The first Knives Out film is currently not streaming on Netflix, and there's no word if the streaming giant will be able to acquire rights before the second film premieres.
However, you can still watch it on many other platforms. It is available on Amazon Prime, Youtube, Google Play Movies, Apple TV and Vudu for $3.99. You can also get it on Redbox for $1.99.
Knives Out 2 Cast?
Here's a breakdown of the Glass Onion: A Knives Out Mystery cast:
Daniel Craig As Detective Benoit Blanc
Edward Norton As Miles Bron
Janelle Monáe As Cassandra "Andi" Brand
Kathryn Hahn As Claire Debella
Leslie Odom Jr. As Lionel Toussaint
Kate Hudson As Birdie Jay
Jessica Henwick As Peg
Dave Bautista As Duke Cody
Madelyn Cline As Whiskey
Glass Onion: A Knives Out Mystery Release Date
The second installment in the Knives Out franchise was released on November 23 for a limited theatrical run for about a week. It will now debut on Netflix on December 23, 2023, which is perfect for your Christmas Eve and Christmas Day viewing.
Freddie Prinze Jr. Is Back! Everything We Know About the 'Christmas With You' Heartthrob
Freddie Prinze Jr., the '90s heartthrob, is back on our TV screens in Netflix's newest holiday rom-com, Christmas With You.
In the film, Prinze Jr. stars as a Latino single father, Miguel Torres, who teaches music class at his daughter Cristina's (Deja Monique Cruz) school when his path unexpectedly crosses with Angelina (Aimee Garcia), a burnt out popstar looking for her next Christmas hit.
The actor, who starred in hits like She's All That and I Know What You Did Last Summer, admitted he felt pretty nervous getting back into the swing of things, but thankfully, it seems to be paying off as the film is being well-received by audiences for it's heartwarming and important message.
And now, we're answering some of your burning questions about the leading man!
What Ethnicity is Freddie Prinze Jr.?
Since Prinze Jr. stars as a Hispanic father, the question of his ethnicity has come up quite frequently. The star reportedly embraces his Latin ancestry as his paternal grandmother was Puerto Rican, from Boquerón, so he is fluent in Spanish. His mom is of Italian descent, along with German, English, and Irish.
Does Freddie Prinze Jr. Have Kids?
Prinze Jr. shares two children with his wife, Sarah Michelle Gellar—13-year-old Charlotte Grace Prinze and 10-year-old Rocky James Prinze.
In fact, the actor told TODAY that his return to acting has a lot to do with his daughter, stating, "My daughter has taken an interest in acting and performing, dance and things like that. So both my wife and I wanted to take a more active role to show her the way, so to speak, because we have very different processes (with) the way we deal with success and failure, rejection and acceptance and all those things.
"We wanted to give her an opportunity to see that it's not just being famous, limousines and millions of dollars and all that. It requires a lot of sacrifice and a lot of hard work, time away from the people you love," he added.
Freddie Prinze Jr. Age
Since many of us grew up watching Prinze Jr. in the '90s and early '00s, we still think of him as this teen actor, but the truth is that he is 46 years old.
Freddie Prinze Jr. Wife
As mentioned before, Prinze Jr. wed his Scooby-Doo co-star, Sarah Michelle Gellar, in 2002. In fact, the couple met on the set of 1997's I Know What You Did Last Summer, but didn't start dating until a few years later in 2000.
They recently celebrated their 20th anniversary together, with Gellar sharing a sweet photo from the nuptials in Puerto Vallarta, Mexico, on Instagram.
View this post on Instagram
Who Plays Freddie Prinze Jr.'s Love Interest on Christmas With You?
Aimee Garcia, best known for her role as Jamie Batista in Showtime's Dexter, takes on the role of Prinze Jr.'s love interest and pop sensation Angelina Chavez Torres, who visits the small town where Prinze Jr's character, Miguel, lives with his daughter, who is preparing for her quinceanera. Her big holiday wish? To meet the pop star who remains the only connection to her late mom.
Christmas With You is currently airing on Netflix.
Virgin River Season 4 Episode 1 Premiere Review – All Is Not Calm In This Scenic Town
All is not calm in this scenic town, but you already knew that?
However, if you didn't know what to expect when Virgin River Season 4 returned to your screens, you probably didn't anticipate the first episode to kick off with a very pregnant Mel walking with Jack. You assume you're getting a glimpse of what's to come, but suddenly, Mark, very much alive, comes their way as a debate erupts over who the father of the child actually is.
Thankfully, it's just a nightmare (though, Mel might see it as a dream), and a peek into Jack's current mental state when it comes to how he's coping with the pregnancy news.
It doesn't take long before the series dives right in where we left off dishing out the expected dose of drama, feel-good moments, and that gorgeous, picturesque scenery.
Mel
Mel and Jack arrive at the doctor's office where she's classified as a high-risk pregnancy because of her previous stillbirth. Jack continues to worry about Mel throughout the episode, which isn't helping her since she doesn't want to make a fuss about it. She informs him that when she was expecting with Mark, they did everything by the book and still lost a child, so her plan is just to live her life this time around and hope for the best. It's not an easy thing to accept, but who can blame Mel for not wanting to worry when anything can go wrong regardless?
A new doctor blows into town, and since he's a young, good-looking man, it stirs up a lot of gossip! Not only is Dr. Cameron Hayek a looker, but he's also a great guy! But he's no competition for Jack, even if the town's people are hoping for some kind of love triangle strictly for their own entertainment.
Jack asks Mel not to tell her sister, Jo, about the baby as he wants to keep it a secret for a little longer, but Joey knows something is up when she calls Mel. When breaks the news to her, she informs her that she's not sure who the father is. Either way, Joey is thrilled and knows this is what Mel has always wanted.
Jack
Jack continues to worry about Mel throughout the episode, which isn
Hope
Anette O'Toole is back as Hope, but this isn't the snappy and spunky woman we've come to know. Hope is recovering from a traumatic accident that led to a brain injury, so she's not feeling like herself. Everyone is kind of tip-toeing around her as she deals with her new reality, particularly when it comes to Lily. Hope asks Doc if Lily is mad at her because she's not returning her calls. Her brain blocked out the information that Lily passed away, and Doc does his best to avoid the topic at all costs because he doesn't want to inhibit her recovery in any way. When Lizzie volunteers to take care of Hope, she accidentally reveals that Lily is dead. Once she realizes Hope doesn't know, she panics and calls Doc who comes to inform Hope that she knew about Lily's death and was actually on her way to the funeral when she got into the accident.
Doc
As Doc deals mostly with Hope's memory loss and recovery, he's shocked to hear that there has been a young man looking for him claiming that he's his grandfather. Obviously, since he had no children, he doesn't really believe it. But at the end of the episode, Denny arrives on his doorstep and informs him that Rose Miller gave him Doc's information. Doc recognizes Rose's name immediately, but he also thought she died 49 years ago. The fact that he remembers how many years have passed means that she meant a great deal to him. Will Rose somehow be involved in the series?
Charmaine
Her appearance is brief, thankfully, but she does divulge that she's expecting boys, a secret she's conveniently keeping from Jack. I just feel bad for the kids because she clearly doesn't value Jack as their father and is going to make being in their lives as hard for him as possible.
Preacher
Preacher doesn't have much action in the first episode, but considering the nature of his storyline, I'm sure it will change soon enough. He's worried that he hasn't heard back from the PI about Vince after he kidnapped Christopher. He considers taking the whole thing public but decides against it because he doesn't want to spook Vince into hiding. Eventually, he'll slip up and they'll be able to find Christopher safe and sound. Hopefully.
Brady
Brady is in jail, which is quite a scary place to be when you've betrayed a whole gang and are responsible for the raid that landed them all in prison, including Jimmy. He keeps trying to reach out to Brie and even requested a bail hearing, but things are moving pretty slowly. Jack suggests that maybe Brady was framed. He notes that Brady is a lot of things, but dumb isn't one of them, so the chances of him driving around with the gun in his Jeep are slim.
Brie
Brie goes on a job interview as she hopes to stay in Virgin River and make a life for herself here. After everything that transpired between Brady and Jack with the arrest, she chooses to ignore her former lover's calls from prison. Will she eventually hear him out and let him explain his side of the story?
Hope is still in such a fragile place — how will she react to the news that Doc had a son and is a grandfather? Gossip travels fast in town, so it's best if Doc tells her before she hears in the same way she found out about Lily.
Who do you think the father of Mel's child is? It's such a unique situation, and she'd likely be happy with either outcome. How will her pregnancy affect the storyline moving forward? Is the new doctor hitting on her or is he just super friendly?
Is Charmaine out of line? Will Brady survive in prison?
Share your thoughts in the comments below!