In episode 208, "The Seven Stages," of Umbrella Academy, Five prepares for a desperate and dangerous plan where he has to rely on Luther to watch his back.
Meanwhile, Vanya is captured by the FBI, Diego goes through orientation at the Commission, & Allison and Klaus have to dispose of the dead Swede's body.
This subpar episode merely serves as a setup episode for the final two installments for this season, so narrative-wise not much goes on, but there are still some noteworthy developments that deserve proper attention.
The Seven Stages of Paradox Psychosis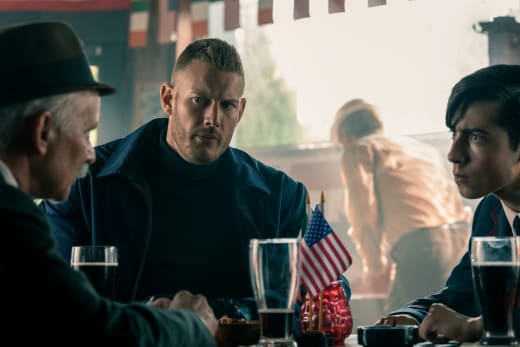 After Five's plan to return everyone to 2019 in the previous episode expectedly fails, he comes up with a more desperate and dangerous plan that risks his very existence.
Five realizes that his older self (or younger, technically) is on assignment to ensure that JFK is assassinated, so Five wants to try to get the time-travel briefcase in the hands of his doppelganger. The only problem is that meeting your time-displaced self will cause a condition called "paradox psychosis," which Five fears he could succumb to. Therefore, he has to rely on Luther to keep him on task, otherwise, the plan won't work. He lists the symptoms of the condition to Luther as follows:
Denial
Itching
Extreme Thirst & Urination
Excessive Gas
Acute Paranoia
Uncontrolled Perspiration
Homicidal Rage
Sure enough, after finding Five's doppelganger, both versions of himself begin exhibiting symptoms of paradox psychosis. Seeing both versions of Five profusely sweating and passing gas is equally hilarious and disgusting at the same time, which alone makes the episode worth a watch.
They grow increasingly suspicious of each other's motives, but Luther actually does a decent job of mitigating between the two versions of his brother.
Not all is going well, however, as the Five who has the briefcase confides a simpler and seemingly sensible plan to Luther: for both of them to simply jump back to 2019 and "make nice" with Vanya to ensure that the original apocalypse from season 1 never happens.
Although this plan means erasing the other Five from existence, which seems to cause some moral dilemma for Luther. But he goes with it and the audience is left to wait for the aftermath in the following episode.
Vanya Is The Bomb (Again)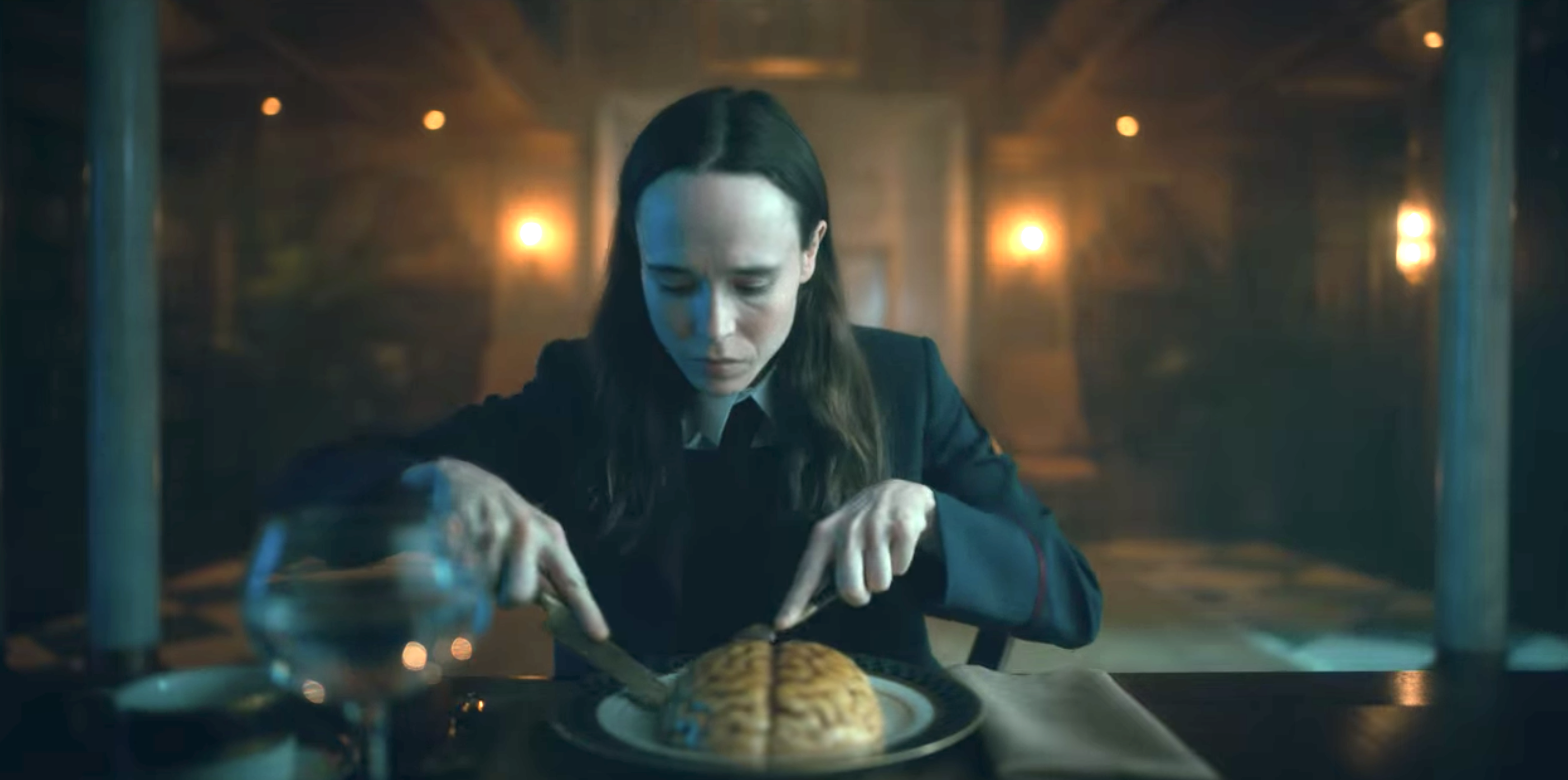 After getting arrested in the previous episode, Vanya is taken by the FBI and is interrogated and then tortured in this episode.
She is tricked into speaking Russian, which Vanya is surprised she can speak well, and she's detained under the suspicion that she's a Communist KGB agent.
Vanya is then drugged and strapped to an electric chair, which causes her to go into a comatose-like state where she hallucinates that she's back at the Umbrella Academy with her siblings and their father at a dining table where they have a bizarre meal that consists of a raw brain.
The scene is gross, to say the least, but it serves as a metaphor for Vanya's fractured psyche and foggy memory, which she seems to have deliberately suppressed if the manifestation of Reginald Hargreeves is to be taken for his words.
Back in the real world, Vanya is emanating a powerful glow that starts going nuclear, which endangers the FBI building as well as confirm some kind of connection to Harlan as the boy starts glowing as well when Vanya does.
Diego To The Rescue
Lila takes Diego to the Commission and introduces him to the Handler. After some grilling, he's eventually allowed to start orientation to become an employee at the Commission, but Diego has other plans in mind.
He goes to the Infinite Switch Board to try and find a way to help his siblings in 1963. He has no clue what he's doing until Herb the analyst shows up and assists him (after Diego threatens him with a knife).
They discover that Vanya inadvertently triggers the apocalypse again by causing an explosion that destroys the FBI building, which botches the JFK assassination allowing him to live and cause a nuclear war with the Soviets.
Diego is then introduced to "La Resistance," a group of case managers working at the Commission who don't want the Handler to lead the organization.
Herb then takes Diego back with him to 1963, at Ray Chestnut's house, to meet back with Allison and Klaus to try and prevent Vanya from destroying the FBI building.
The episode ends with the siblings stopped at their tracks as Vanya, in her comatose state, continues to go nuclear.
Other Notes:
Grace investigates Reginald's office (after Diego's warnings) and finds shady plans related to the JFK assassination, she asks him to share everything but he refuses, so she dumps him.
The surviving Swede brother discovers that the Handler has tricked them with a fake order from the Commission– he detects a scent of lavender in the canister, which of course, he remembers smelling on the Handler when she confronted them in the steam room scene in episode 206.
Klaus, Ray, and Allison struggle to bury the dead Swede brother at Ray's house.
Ben and Klaus discuss how each other felt during the possession. Klaus says it's like "having sex with one of the lesser Baldwins," while Ben says it's like "having no skin, but still wanting to touch everything." But Klaus revokes Ben's possession privileges, which is a bit of shame because it was hilarious.
VERDICT: 7.5/10
The episode is entertaining enough, but nothing really happens to make it stand out as an episode. It does, however, set up the next episode well, and the scenes with Five particularly are worth watching for its comedic value.
Follow CRAVEYOUTV on socials
'Berlin' Is the 'Money Heist' Spinoff We Never Knew We Needed
Berlin is the Money Heist spinoff we never knew we needed… but we're so glad it's almost here.
Since Berlin (Pedro González Alonso) was hands-down the most captivating (and problematic) character in the Spanish heist drama, fans always wanted to get to know more of him, especially after he sacrificed himself in the season 1 finale for his team, largely due to his terminal illness, redeeming himself in the process.
Quickly rising the ranks as a fan-favorite, the writers kept Berlin's spirit alive in the following seasons via flashbacks, noting that he always had a hand in the planning of the heists, even if he wasn't around to see them through. And it became more and more clear that there was an unsatiable thirst from audiences to explore additional parts of the character's origin story; thus, a prequel to Money Heist focusing solely on Berlin's prior escapades only made sense.
Related: Kiernan Shipka's New Slasher Comedy Is Your Fall Must-Watch
As seen in the later season of Money Heist, or La Casa de Papel, Berlin garnered even more intrigue when his son, Rafael (Patrick Criado) joined the heist. The former Electronics Engineer from MIT is Berlin's prodigal son, whose only request was not to end up a thief like his father, also drew attention after entering a relationship with his father's wife, Tatiana. It's a lot to unpack, clearly, but it's also proof that there was nothing boring or mediocre about Berlin's life in the slightest, at any point.
So, again, it warrants a spinoff that digs even deeper into this complex, charismatic, and morally questionable character we've all come to love.
When he joined the Professor's group in the series, he was already one of the most seasoned robbers of the bunch, having a plethora of experience mapping out and executing heists of ranging scales.
Also Read: 'Sullivan's Crossing' Is The CW's Most Promising New Show—And It Stars Chad Michael Murray
With Berlin: Money Heist, we're not only going to get to see one of those previous heists in action, but we're also going to get a sense of the man he was before attempting the biggest heist in history, which made him the beloved criminal we've come to know.
Capitalizing on the love already established for the series—one of Netflix's most popular shows of all time—the prequel finds Berlin, in all his glory as Andrés de Fonollosa, the mastermind behind a heist targeting the biggest auction house in Paris to steal €44 million.
The series trails the planning of a new heist as he recruits his crew: "Michelle Jenner (Isabel) plays Keila, an eminence in electronic engineering; Tristán Ulloa (Fariña) goes into the skin of Damián, a philanthropic professor and Berlin's confidant; Begoña Vargas (Welcome to Eden) plays Cameron, a kamikaze who always lives on the edge; Julio Peña Fernández (Through My Window) brings to life Roi, Berlin's faithful squire; and Joel Sánchez plays Bruce, the relentless man of action in the gang."
While it's mostly an all-new cast, we'll see a few familiar faces with Alicia Sierra (Najwa Nimri) and Raquel Murillo (Itziar Ituno) appearing at some point, though it's unclear what their connection is to the storyline. Is it possible that their paths have always crossed and Berlin was always on their radar way prior to the action at the Royal Mint?
We may not be getting the version of Berlin from the original series, but don't fret, as the teaser trailer evidenced, he's still as ruthless, dapper, and flirtatious as ever, meaning that they really did this character–and prequel—justice. The fact that it hails from the original showrunner, Alex Pina, is also a sign that it won't let the fandom down.
"It's a trip through the golden age of the character, when he robbed around Europe crazy in love," Pina previously told TUDUM, adding, "That's the most surprising, the comedy. You're going to make people laugh a lot."
Berlin in his prime, in love, and flexing his comedic bone? As the beloved criminal says in the trailer, "it's all the things worth living for."
The full synopsis for the series reads:
"There are only two things that are sure to turn a bad day into a great one: love, and a payday worth millions. They're what keep Berlin going through his golden years, a time when he still has no inkling of his illness and hasn't gotten trapped like a rat in the Spanish Mint. This is where he starts preparing one of his most extraordinary heists: making jewels worth 44 million disappear like some sort of magic trick. To do it, he'll enlist the help of one of the three gangs he's ever stolen with."
Watch the Berlin trailer below:
Berlin arrives a few days prior to New Year's Eve on Dec. 29, 2023, which means you'll have plenty of time to binge watch while counting down to 2024.
To prepare, you can stream Money Heist on Netflix and read our coverage here.
Who Is Mel's Father in 'Virgin River'?
Virgin River Season 5 concluded with a tiny time jump four months into the future, bringing the timeline into the Christmas holiday season.
Disclaimer — this post includes spoilers from the episode — proceed with caution.
On Virgin River Season 5 Episode 10, as Mel (Alexandra Breckenridge) and Jack (Martin Henderson) decorated their cabin in anticipation of Joey's arrival with the kids for their first-ever Virgin River Christmas, Mel received quite a shocking piece of information.
Her sister informed her that she found a stack of love letters between Mel's mother and a mystery man in Virgin River that she believed could be Mel's real father.
And this obviously lends itself to the question—who is the secret admirer?
There aren't that many elderly men in Virgin River aside from Doc (Tim Matheson), and it would be next-level if he had another secret child in addition to Ryan, Denny's late father. Though wouldn't it be funny if Mel thought she just escaped to this random small town only to learn that it wasn't random at all and she'd been working with her dad this whole time?
Aside from Doc, there's really only Nick (Keith MacKechnie), Bert (Trevor Lerner), and Charlie (Patrick Keating), that we are familiar with, anyway.
Naturally, there are probably plenty of residents that audiences have never met (and they have to keep us on our toes and think of new directions for the storyline), and it's possible her dad isn't even alive anymore.
It would be extremely fitting if it was Lilly's late husband, Buck, making Mel sisters with Ava, and Tara. Considering her strong bond with that family, her sisterly relationship with Ava, her love baby Chloe, and how drawn she is to that farm, this would be such a sweet twist. Mel always had a soft spot for Lilly as well, so this would be a unique way to keep her memory alive.
Mel's father will be the major storyline addressed in the two bonus holiday episodes dropping in November, as the trailer revealed Mel starting the search for her biological dad before informing Jack shortly after that they found him, with Preacher noting that he's "still in Virgin River."
The way he says it makes it seem like he's still alive, which limits the possibilities even more. Who do you think it is?
View this post on Instagram
Either way, Mel actually has roots in this small town that's always felt like home.
Will There Be a Season 6 of 'Virgin River'? And If So, When?
'Riverdale' Season 7 Hits Netflix—Stream It Now
Riverdale's seventh and final season is now available to stream on Netflix in the U.S.!
Merely a week after the long-running CW series aired its final episode ever, the streaming giant has added the series in its entirety.
All the episodes are available for fans all over the world to binge-watch on September 1, and going into a long weekend, that gives you plenty of time to catch up on all the shenanigans happening in the Town with Pep.
Many fans weren't interested in the weekly release model as it wasn't ideal having to wait for new episodes to drop every week, but having them available all at once on Netflix allows you to catch up with ease.
And if you've never seen Riverdale and are curious about all the nutty twists and turns that eventually get all of our characters to—spoiler—the 1950s, well, all seven seasons are on the streamer for your viewing pleasure.
You can rewatch those previous seasons and relive the series in all its glory (including anything you may have missed/forgotten about), or you can just tune in for the final season—it's up to you!
As mentioned before, the final season hit the reset button of sorts as Archie (KJ Apa), Betty (Lili Reinhart), Jughead (Cole Sprouse), and Veronica (Camilla Mendes), along with many of their loved ones and friends, went back in time to 1955 and found themselves reliving their high school days all over again.
Of course, as you rewatch any and all episodes, you can read all our reviews of the series that we've covered since its inception in 2017!
Enjoy your Labor Day travels to Riverdale—just remember that before it was redubbed the "Town With Pep" it was known as "Murder Town of the World." You've been warned.