In episode 208, "The Seven Stages," of Umbrella Academy, Five prepares for a desperate and dangerous plan where he has to rely on Luther to watch his back.
Meanwhile, Vanya is captured by the FBI, Diego goes through orientation at the Commission, & Allison and Klaus have to dispose of the dead Swede's body.
This subpar episode merely serves as a setup episode for the final two installments for this season, so narrative-wise not much goes on, but there are still some noteworthy developments that deserve proper attention.
The Seven Stages of Paradox Psychosis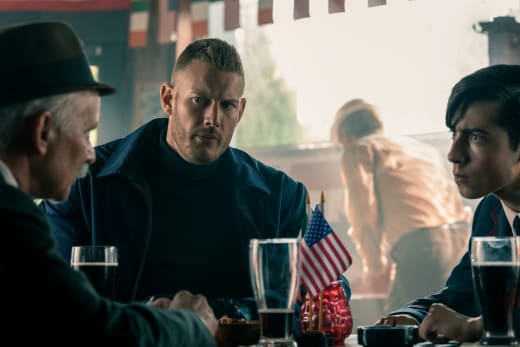 After Five's plan to return everyone to 2019 in the previous episode expectedly fails, he comes up with a more desperate and dangerous plan that risks his very existence.
Five realizes that his older self (or younger, technically) is on assignment to ensure that JFK is assassinated, so Five wants to try to get the time-travel briefcase in the hands of his doppelganger. The only problem is that meeting your time-displaced self will cause a condition called "paradox psychosis," which Five fears he could succumb to. Therefore, he has to rely on Luther to keep him on task, otherwise, the plan won't work. He lists the symptoms of the condition to Luther as follows:
Denial
Itching
Extreme Thirst & Urination
Excessive Gas
Acute Paranoia
Uncontrolled Perspiration
Homicidal Rage
Sure enough, after finding Five's doppelganger, both versions of himself begin exhibiting symptoms of paradox psychosis. Seeing both versions of Five profusely sweating and passing gas is equally hilarious and disgusting at the same time, which alone makes the episode worth a watch.
They grow increasingly suspicious of each other's motives, but Luther actually does a decent job of mitigating between the two versions of his brother.
Not all is going well, however, as the Five who has the briefcase confides a simpler and seemingly sensible plan to Luther: for both of them to simply jump back to 2019 and "make nice" with Vanya to ensure that the original apocalypse from season 1 never happens.
Although this plan means erasing the other Five from existence, which seems to cause some moral dilemma for Luther. But he goes with it and the audience is left to wait for the aftermath in the following episode.
Vanya Is The Bomb (Again)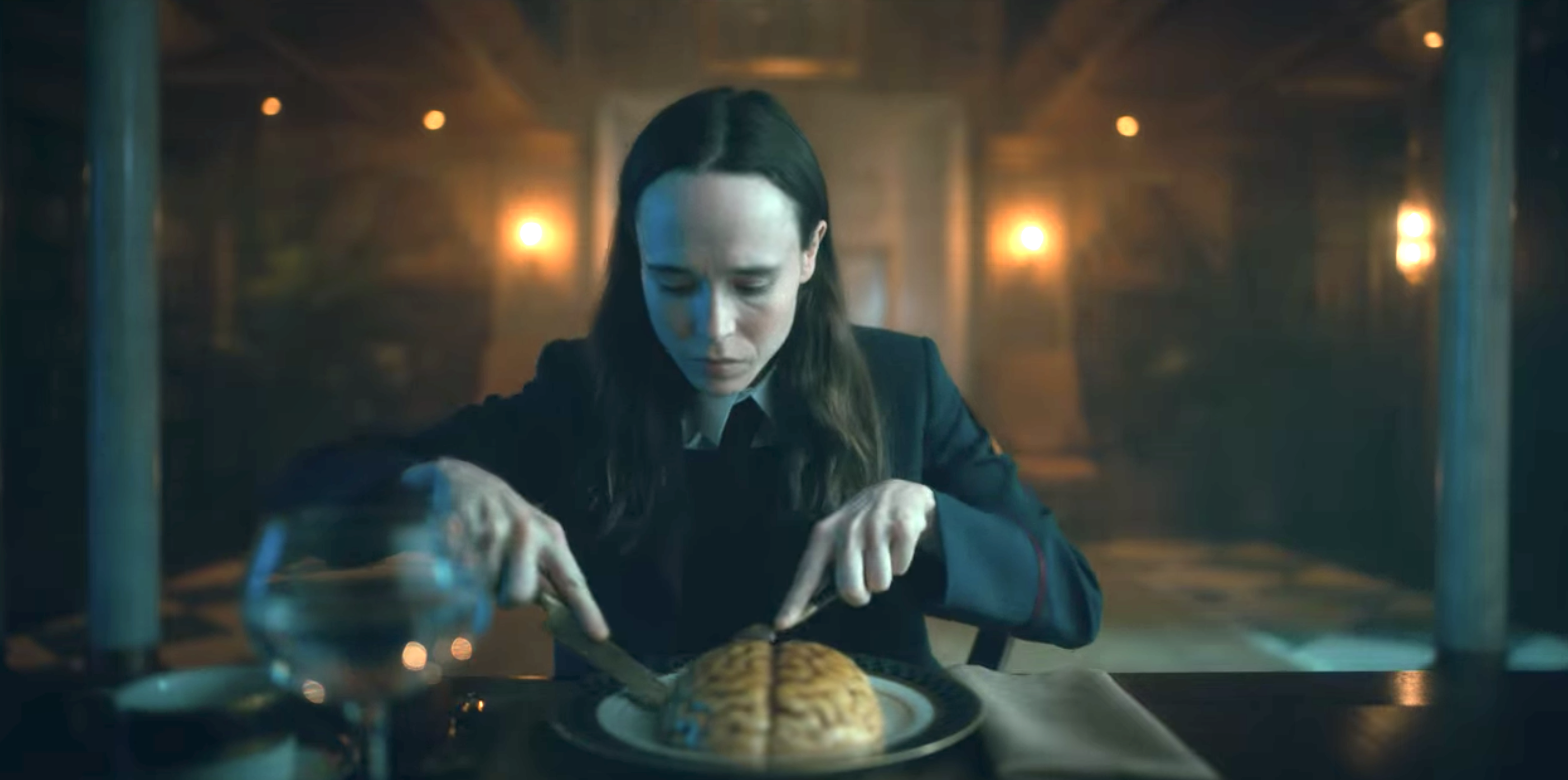 After getting arrested in the previous episode, Vanya is taken by the FBI and is interrogated and then tortured in this episode.
She is tricked into speaking Russian, which Vanya is surprised she can speak well, and she's detained under the suspicion that she's a Communist KGB agent.
Vanya is then drugged and strapped to an electric chair, which causes her to go into a comatose-like state where she hallucinates that she's back at the Umbrella Academy with her siblings and their father at a dining table where they have a bizarre meal that consists of a raw brain.
The scene is gross, to say the least, but it serves as a metaphor for Vanya's fractured psyche and foggy memory, which she seems to have deliberately suppressed if the manifestation of Reginald Hargreeves is to be taken for his words.
Back in the real world, Vanya is emanating a powerful glow that starts going nuclear, which endangers the FBI building as well as confirm some kind of connection to Harlan as the boy starts glowing as well when Vanya does.
Diego To The Rescue
Lila takes Diego to the Commission and introduces him to the Handler. After some grilling, he's eventually allowed to start orientation to become an employee at the Commission, but Diego has other plans in mind.
He goes to the Infinite Switch Board to try and find a way to help his siblings in 1963. He has no clue what he's doing until Herb the analyst shows up and assists him (after Diego threatens him with a knife).
They discover that Vanya inadvertently triggers the apocalypse again by causing an explosion that destroys the FBI building, which botches the JFK assassination allowing him to live and cause a nuclear war with the Soviets.
Diego is then introduced to "La Resistance," a group of case managers working at the Commission who don't want the Handler to lead the organization.
Herb then takes Diego back with him to 1963, at Ray Chestnut's house, to meet back with Allison and Klaus to try and prevent Vanya from destroying the FBI building.
The episode ends with the siblings stopped at their tracks as Vanya, in her comatose state, continues to go nuclear.
Other Notes:
Grace investigates Reginald's office (after Diego's warnings) and finds shady plans related to the JFK assassination, she asks him to share everything but he refuses, so she dumps him.
The surviving Swede brother discovers that the Handler has tricked them with a fake order from the Commission– he detects a scent of lavender in the canister, which of course, he remembers smelling on the Handler when she confronted them in the steam room scene in episode 206.
Klaus, Ray, and Allison struggle to bury the dead Swede brother at Ray's house.
Ben and Klaus discuss how each other felt during the possession. Klaus says it's like "having sex with one of the lesser Baldwins," while Ben says it's like "having no skin, but still wanting to touch everything." But Klaus revokes Ben's possession privileges, which is a bit of shame because it was hilarious.
VERDICT: 7.5/10
The episode is entertaining enough, but nothing really happens to make it stand out as an episode. It does, however, set up the next episode well, and the scenes with Five particularly are worth watching for its comedic value.
Follow CRAVEYOUTV on socials
Who Will Die On 'Stranger Things' Season 4B?
Stranger Things Season 4 was quite a bloodbath, but we haven't seen anything yet.
While Vecna claimed a handful of victims in the first eight episodes of the season, none of them were part of the core cast.
That's all about to change come Season 4B, which does not go easy on our Hawkins best and brightest.
The final two episodes — both feature-length in duration, clocking in at over two hours a piece — have been teased by Joseph Quinn (Eddie Munson) as absolute "carnage."
Noah Schnapp (Will Byers) has been doing the press rounds and hinting at a major character death, and truthfully, all signs point to Steve Harrington.
Think about it: His death would have the largest emotional impact. He's a fan favorite, he's the "dad" of the group often taking on the protector role and keeping the kids safe when their parents are literally nowhere to be found, he's an overall good guy, and he has so much momentum and chemistry with Nancy right now, it's insane.
Per Insider, Joe Keery's character wasn't supposed to survive the first season in the Duffer Brother's original plan, but they simply couldn't let him go.
And it's exactly why his death would destroy a whole fandom, crumbling them at the core. It's a death that will hit both fans and characters equally as hard. Some might argue that Steve is the glue that holds it all together, never taking himself too seriously but also going boldly right into the danger zone.
Matt Duffer didn't exactly confirm that Steve would be the big death of the season, but he also didn't deny it either.
"If he's going to die, it's not going to be from the bat bite," Matt told Variety, which is almost reassuring. He did acknowledge everyone is "worried about Steve," so maybe his death is too obvious.
If we're all prepared for it, it won't be as effective, right?
In that case, could it be Nancy Wheeler? At the end of season 4, Nancy is stuck in the Upside Down in a trance as Vecna explains his origin story to her. It's unclear why he chose to be honest with Nancy, but that's a good journalist for you — getting the story even when it could cost her her life.
Of course, Steve is in the Upside Down with Nancy, so I don't think she'll die there just yet. There's no way he'd leave her behind without bringing her to safety. But if Nancy is already connected to Vecna, that means she's running out of time and unless she can find a foothold in the real world to keep her safe a la Max's "Running Up That Hill," she might just be his next victim.
Other possibilities:
Dr. Benner or Dr. Owens — Both of them care for Eleven and want to help restore her powers so that she can defeat this evil once and for all. But the FBI is coming for them, and they don't take kindly to betrayal. I can see them sacrificing themselves to help Eleven escape for the greater good. Owens would be slightly more upsetting because Brenner might just deserve it.
Eddie — Eddie is a fan favorite, and if look at the show's track record of killing off the lovable, new guy, well, it doesn't bode well for the newcomer. He's already been to the Upside Down, and based on the teaser, we know he returns there for some epic guitar solo. Maybe that's his triumphant moment before death?
Jonathan — The only way that Nancy and Steve could work is if Jonathan is out of the picture. And while it's cruel to kill him off for the sake of another relationship, there's also not much that Jonathan is actually contributing to the storyline anymore aside from getting high with his friend Argyle. His death, however, would shake the core group as he's Will's brother and rock.
Eleven — It's unlikely that the series would risk killing their biggest asset, but she is gearing up for her biggest battle yet. It's going to take everything that she has. Some might say, you don't make it out alive after using up all that power. And Eleven loves her friends deeply, so we know she would sacrifice everything for them.
Joyce, Murray, Dmitri, and Hopper are in a dangerous situation in Russia, but considering that they've managed to survive a plane crash, Siberia, imprisonment, and a Demogorgon, I have full faith in them!
Who do you think is going to die on Stranger Things Season 4B?
Fans React to Chilling Netflix Doc 'Keep Sweet: Pray and Obey'
The latest true-crime series on Netflix that's gripping/disturbing audiences everywhere? Keep Sweet: Pray and Obey.
The four-part series is based on the polygamous religious section known as the Fundamentalist Church of Jesus Christ of Latter-Day Saints (FLDS). It examines the rise of leader Warren Jeffs, who, at one point (prior to his arrest), had about 69 wives, some as young as 12.
If you find the synopsis disturbing, you're pretty much on the same page as viewers who recalled feeling quite "traumatized" and "sic" after watching the show.
Here are some of the tweets and reactions about Keep Sweet: Pray and Obey:
just finished "keep sweet: pray and obey". I don't have the words. need everyone to try and watch this, it's so sickening.

kids getting married off to men old enough to be their grandfathers. pic.twitter.com/dTOEkEHJfg

— Menks (@choplifexo) June 9, 2022
https://twitter.com/Rachel_Andrews/status/1534644130634244099?s=20&t=mGy6HiJYfutUpVJ-y_4Mgw
Watched Keep sweet , pray and obey on #Netflix mmmm I don't even know what to say

— . (@snatched_fire) June 9, 2022
https://twitter.com/SpaaceWitch666/status/1534952940695437319?s=20&t=mGy6HiJYfutUpVJ-y_4Mgw
I thought the new season of Stranger things season was dark… then I watched Keep Sweet; Pray and Obey and it made me physically nauseous lol. I hope Warren Jeffs gets beat up in prison every day for the rest of his life

— Brax (@byu_homer) June 9, 2022
Well, all I can say after watching that, is that the women who escaped from the FLDS and have built new lives for themselves are incredibly brave and deserve a heap of cash from all the millions held by the 'church'. #KeepSweetPrayAndObey

— Ian McClellan (@ianmac67_SE) June 9, 2022
I nominate Keep Sweet: Pray and Obey for horror movie of the year

— emma ✨ (@e_graceful) June 10, 2022
#keepsweetprayandobey documentary on Netflix is crazy. The things that happen in society under the name of religion and faith is just filthy.

— Clarette Waithera (@ClaretteWaithe1) June 8, 2022
https://twitter.com/ClaretteWaithe1/status/1534545816442097665?s=20&t=mGy6HiJYfutUpVJ-y_4Mgw
https://twitter.com/KimMannix/status/1534947655909904384?s=20&t=mGy6HiJYfutUpVJ-y_4Mgw
https://twitter.com/oucrimsongirl/status/1535261255686148098?s=20&t=mGy6HiJYfutUpVJ-y_4Mgw
If you told me Heaven was a ranch in Texas where I had to do chores and make lunch for a bunch of old dudes, I'd be making accommodations to reach Hell as soon as possible. #keepsweetprayandobey #keepsweet

— Tyler's sense of shame (@TchtJustine) June 11, 2022
WATCH: 'Manifest' Season 4 Sneak Peek
The fourth and final season of Manifest is on the horizon!
As part of Geeked Week, Netflix gave fans a first look and the upcoming season.
The clip features Michaela (Melissa Roxburgh), who takes an unsolicited trip to the docks to locate a shipping container decked out in images of cherry blossom.
The shipping container that she needed to locate is glowing, so it's likely that a vision brought her here.
But when she opens that bad boy up, it doesn't seem like she knows what she's looking for at all. In fact, she's terrified to find a hand reaching for her. The man, who doesn't seem to be doing well at all, has "Stone 828" carved into his hand. I really hope they aren't introducing zombies into the mix.
Netflix knew that they would pique our interest with this snippet, but since we have no other context about the scene, there's not much to theorize or go off of in terms of what's happening.
All we truly know is that the Stone family is doing their best to crack the mystery of what happened to Flight 828 before time officially runs out.
What do you think about the sneak peek?
There is no season premiere date just yet, but according to Netflix the final season is "coming soon." And it was confirmed that it will be released in two batches of 10 episodes.