In Umbrella Academy's penultimate episode of season 2, "743," one of the Hargreeves willingly makes the sacrifice to save Vanya from triggering doomsday again.
Secrets are revealed at the Commission regarding kill order #743 as well as another cataclysmic anomaly, Five and Luther deal with Five's doppelganger, and Reginald Hargreeves shows his true face, literally.
This episode is a spectacular installment as several narratives fell into place and seemingly unrelated plot points are revealed to hold greater importance than they're made out to be, including clever connections from season 1 that paid off well in this episode.
The best highlight, however, belongs to Vanya and her unexpected savior, Ben.
Ben Saves Vanya And The World From Ending
Following Diego's discovery in the previous episode that Vanya once again triggers the apocalypse, he, Klaus, and Allison go to the FBI building she's detained at to try and prevent the explosion from happening. The three of them valiantly try but fail nonetheless as they can't get close enough to Vanya.
In one hilarious exchange of dialogue, Klaus fearing for their lives tells Diego just in case they don't live through this.
"You look like Antonio Banderas with the long hair," says Klaus, as Diego replies with a genuine face "Thanks, man."
The dialogue is a great way to undercut the dangerous situation and works well to set up Klaus' heroic attempt as he was the closest to reach Vanya.
After seeing his siblings fail to save Vanya, Ben decides to try as he's physically unaffected by Vanya's powers. He possesses Vanya's body and enters her mind.
He ends up in the hallucinated dream world that Vanya created where she trapped herself in as she remembers everything she did in season 1 and becomes depressed.
A heartbreaking dialogue between the two follows as Vanya says, "I'm a monster."
Ben, in the most emotionally captivating monologue this season that's worth watching over and over again, proceeds to encourage her sister.
One line in particular tugs at the heartstrings when he says, "You're not a monster, you're my sister."
His words reach Vanya and her powerful dispersal of energy in the real world begins to dissipate. However, soon after Ben reveals that her powers have taken their toll on his soul and he begins to disintegrate.
He bids a heartfelt farewell to Vanya and asks a simple request: "Can you hug me as I go?" (cue tears… damn ninjas cutting onions again!)
Vanya hugs her brother tightly as he slowly fades away, and right before Ben completely goes, he leaves a message with Vanya to tell Klaus.
Kill Order #743
Following Herb's act of mutiny in helping Diego escape from the Commission, the Handler intimidates Herb into telling Lila that Diego betrayed her.
Meanwhile, AJ who's trapped in a fishbowl manages to signal Herb to investigate the archives for Kill Order #743. Herb finds it and relays the information to Lila who proceeds to seemingly confront her mother about it.
However, Lila misinterprets the order as authorized by AJ when it was actually the Handler who gave the order.
The job is revealed to have been carried out by none other than Five to kill Lila's real parents (as shown in episode 4), which urges Lila to want revenge on him.
The Handler takes advantage of her daughter by manipulating her into believing that the Hargreeves brothers were conspiring from the beginning and that she was a pawn in their plan all along. Lila seems convinced.
In a bizarre scene, after realizing that AJ somehow alerted Herb of the order, she proceeds to eat the helpless goldfish alive.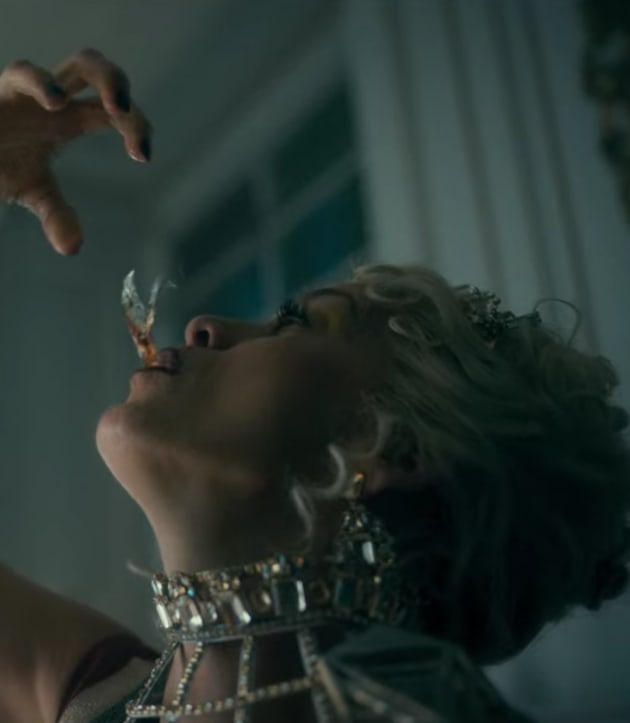 Meanwhile, an anomaly is detected by the Infinite Switchboard. The Handler is alerted and keeps it a secret, and proceeds to kill the employee who discovered it.
Before the episode ends, she ominously declares "Recall all personnel from the field… we're going to war!"
The scene then cuts to the farmhouse where Sissy and Harlan live as a powerful glow akin to Vanya's powers starts to shine. Setting up a final mystery for the finale.
Five Versus Five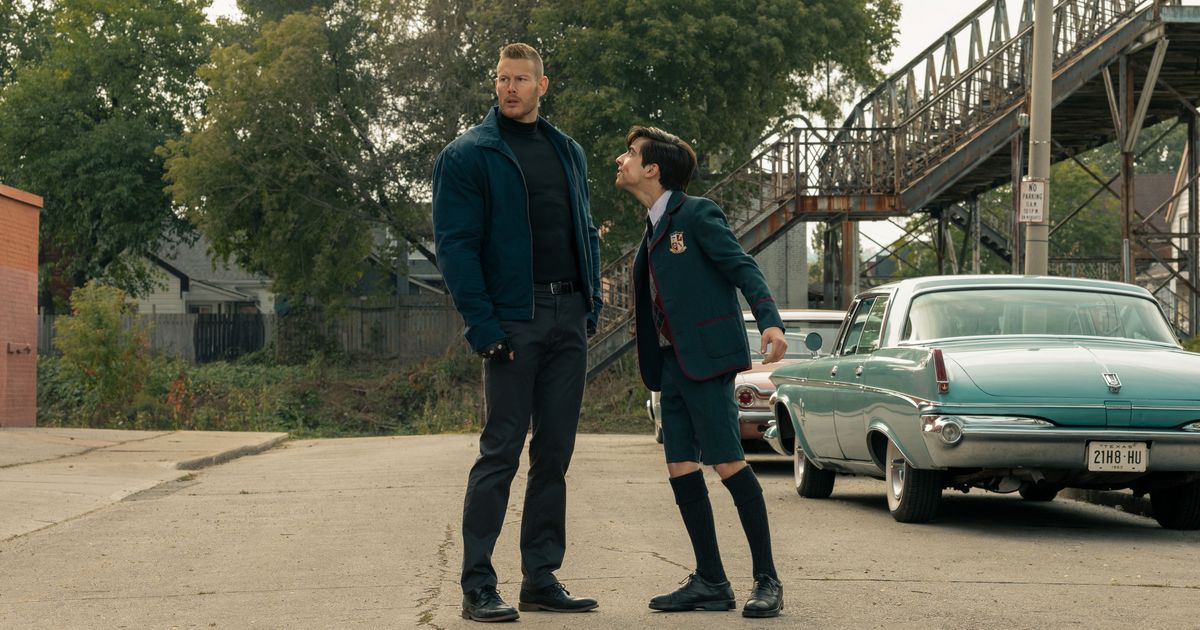 After Five and Luther find Five's doppelganger, they accompany him to the grassy knoll where he was supposed to ensure JFK's assassination.
Everything seems fine until both Fives succumb to the final stage of paradox psychosis, "Homicidal Rage."
The two Fives duke it out in an awesome slow-motion fight scene displaying their teleportation powers to the cleverly chosen tune of "Dancing With Myself" by Billy Idol.
Little Five also hilariously kicks Luther in the gonads to stop him from interfering with the fight.
In a classic twist, however, Luther manages to secure a rifle and has to choose which Five to shoot. He seemingly decides to shoot little Five but ultimately knocks the other Five out.
In a clever easter egg referencing a scene in episode 1 season 1, as little Five opens the temporal portal back to 2019 to get rid of his doppelganger, a fire extinguisher thrown by Klaus goes through the portal and knocks Luther out, which gives the other Five a chance to break free.
In the original scene, Klaus throwing the fire extinguisher only seemed like a throwaway gag for comedic relief, so for it to come back into play as a minor plot twist definitely paid off as a great nod to fans paying attention to every detail.
It also implies that the Umbrella Academy's timelines from season 1 and this season are part of a loop where the events that are happening have happened already, and are happening as they should. (I know that sentence is confusing but so is time-travel, so bear with me)
In the end, Five's older-looking doppelganger goes through the portal but in the process, the time-traveling briefcase is damaged and left unusable.
Other Notes:
Harlan is confirmed to possess some of Vanya's powers as he deflects a bullet accidentally shot by Carl while trying to pry the shotgun away from Sissy. The bullet ricochets off Harlan and accidentally hits and kills Carl.
Reginald is shown confronting the shadowy "Majestic 12" group after JFK's assassination and it's revealed that he did not want JFK to be killed as part of their deal. He tries to sever ties with them since he was lied to but a member of the organization threatens to expose him. An enraged Reginald then takes off his face, revealing that he's more than what he seems to be and kills the members of the organization – in the comics, he's an alien in disguise, which the show seems to be accurately adopting.
Diego is revealed to be the infamous man running across the grassy knoll in the JFK assassination footage as he tried to save the president from being killed.
Reginal, or rather his decoy, is implied to be the infamous "umbrella man" whom historical theorists also suspected had some ties to the JFK assassination.
VERDICT: 10/10
This episode was packed with so many great scenes and dialogue that takes the viewer on a great emotional ride. The action scenes with Five were also epic but Ben saving Vanya was definitely the impetus of the episode that followed through with a strong narrative and a mysterious ending to boot, which leaves the audience anxiously anticipating what the finale of this season has to offer!
Follow CRAVEYOUTV on socials
'Berlin' Is the 'Money Heist' Spinoff We Never Knew We Needed
Berlin is the Money Heist spinoff we never knew we needed… but we're so glad it's almost here.
Since Berlin (Pedro González Alonso) was hands-down the most captivating (and problematic) character in the Spanish heist drama, fans always wanted to get to know more of him, especially after he sacrificed himself in the season 1 finale for his team, largely due to his terminal illness, redeeming himself in the process.
Quickly rising the ranks as a fan-favorite, the writers kept Berlin's spirit alive in the following seasons via flashbacks, noting that he always had a hand in the planning of the heists, even if he wasn't around to see them through. And it became more and more clear that there was an unsatiable thirst from audiences to explore additional parts of the character's origin story; thus, a prequel to Money Heist focusing solely on Berlin's prior escapades only made sense.
Related: Kiernan Shipka's New Slasher Comedy Is Your Fall Must-Watch
As seen in the later season of Money Heist, or La Casa de Papel, Berlin garnered even more intrigue when his son, Rafael (Patrick Criado) joined the heist. The former Electronics Engineer from MIT is Berlin's prodigal son, whose only request was not to end up a thief like his father, also drew attention after entering a relationship with his father's wife, Tatiana. It's a lot to unpack, clearly, but it's also proof that there was nothing boring or mediocre about Berlin's life in the slightest, at any point.
So, again, it warrants a spinoff that digs even deeper into this complex, charismatic, and morally questionable character we've all come to love.
When he joined the Professor's group in the series, he was already one of the most seasoned robbers of the bunch, having a plethora of experience mapping out and executing heists of ranging scales.
Also Read: 'Sullivan's Crossing' Is The CW's Most Promising New Show—And It Stars Chad Michael Murray
With Berlin: Money Heist, we're not only going to get to see one of those previous heists in action, but we're also going to get a sense of the man he was before attempting the biggest heist in history, which made him the beloved criminal we've come to know.
Capitalizing on the love already established for the series—one of Netflix's most popular shows of all time—the prequel finds Berlin, in all his glory as Andrés de Fonollosa, the mastermind behind a heist targeting the biggest auction house in Paris to steal €44 million.
The series trails the planning of a new heist as he recruits his crew: "Michelle Jenner (Isabel) plays Keila, an eminence in electronic engineering; Tristán Ulloa (Fariña) goes into the skin of Damián, a philanthropic professor and Berlin's confidant; Begoña Vargas (Welcome to Eden) plays Cameron, a kamikaze who always lives on the edge; Julio Peña Fernández (Through My Window) brings to life Roi, Berlin's faithful squire; and Joel Sánchez plays Bruce, the relentless man of action in the gang."
While it's mostly an all-new cast, we'll see a few familiar faces with Alicia Sierra (Najwa Nimri) and Raquel Murillo (Itziar Ituno) appearing at some point, though it's unclear what their connection is to the storyline. Is it possible that their paths have always crossed and Berlin was always on their radar way prior to the action at the Royal Mint?
We may not be getting the version of Berlin from the original series, but don't fret, as the teaser trailer evidenced, he's still as ruthless, dapper, and flirtatious as ever, meaning that they really did this character–and prequel—justice. The fact that it hails from the original showrunner, Alex Pina, is also a sign that it won't let the fandom down.
"It's a trip through the golden age of the character, when he robbed around Europe crazy in love," Pina previously told TUDUM, adding, "That's the most surprising, the comedy. You're going to make people laugh a lot."
Berlin in his prime, in love, and flexing his comedic bone? As the beloved criminal says in the trailer, "it's all the things worth living for."
The full synopsis for the series reads:
"There are only two things that are sure to turn a bad day into a great one: love, and a payday worth millions. They're what keep Berlin going through his golden years, a time when he still has no inkling of his illness and hasn't gotten trapped like a rat in the Spanish Mint. This is where he starts preparing one of his most extraordinary heists: making jewels worth 44 million disappear like some sort of magic trick. To do it, he'll enlist the help of one of the three gangs he's ever stolen with."
Watch the Berlin trailer below:
Berlin arrives a few days prior to New Year's Eve on Dec. 29, 2023, which means you'll have plenty of time to binge watch while counting down to 2024.
To prepare, you can stream Money Heist on Netflix and read our coverage here.
Who Is Mel's Father in 'Virgin River'?
Virgin River Season 5 concluded with a tiny time jump four months into the future, bringing the timeline into the Christmas holiday season.
Disclaimer — this post includes spoilers from the episode — proceed with caution.
On Virgin River Season 5 Episode 10, as Mel (Alexandra Breckenridge) and Jack (Martin Henderson) decorated their cabin in anticipation of Joey's arrival with the kids for their first-ever Virgin River Christmas, Mel received quite a shocking piece of information.
Her sister informed her that she found a stack of love letters between Mel's mother and a mystery man in Virgin River that she believed could be Mel's real father.
And this obviously lends itself to the question—who is the secret admirer?
There aren't that many elderly men in Virgin River aside from Doc (Tim Matheson), and it would be next-level if he had another secret child in addition to Ryan, Denny's late father. Though wouldn't it be funny if Mel thought she just escaped to this random small town only to learn that it wasn't random at all and she'd been working with her dad this whole time?
Aside from Doc, there's really only Nick (Keith MacKechnie), Bert (Trevor Lerner), and Charlie (Patrick Keating), that we are familiar with, anyway.
Naturally, there are probably plenty of residents that audiences have never met (and they have to keep us on our toes and think of new directions for the storyline), and it's possible her dad isn't even alive anymore.
It would be extremely fitting if it was Lilly's late husband, Buck, making Mel sisters with Ava, and Tara. Considering her strong bond with that family, her sisterly relationship with Ava, her love baby Chloe, and how drawn she is to that farm, this would be such a sweet twist. Mel always had a soft spot for Lilly as well, so this would be a unique way to keep her memory alive.
Mel's father will be the major storyline addressed in the two bonus holiday episodes dropping in November, as the trailer revealed Mel starting the search for her biological dad before informing Jack shortly after that they found him, with Preacher noting that he's "still in Virgin River."
The way he says it makes it seem like he's still alive, which limits the possibilities even more. Who do you think it is?
View this post on Instagram
Either way, Mel actually has roots in this small town that's always felt like home.
Will There Be a Season 6 of 'Virgin River'? And If So, When?
'Riverdale' Season 7 Hits Netflix—Stream It Now
Riverdale's seventh and final season is now available to stream on Netflix in the U.S.!
Merely a week after the long-running CW series aired its final episode ever, the streaming giant has added the series in its entirety.
All the episodes are available for fans all over the world to binge-watch on September 1, and going into a long weekend, that gives you plenty of time to catch up on all the shenanigans happening in the Town with Pep.
Many fans weren't interested in the weekly release model as it wasn't ideal having to wait for new episodes to drop every week, but having them available all at once on Netflix allows you to catch up with ease.
And if you've never seen Riverdale and are curious about all the nutty twists and turns that eventually get all of our characters to—spoiler—the 1950s, well, all seven seasons are on the streamer for your viewing pleasure.
You can rewatch those previous seasons and relive the series in all its glory (including anything you may have missed/forgotten about), or you can just tune in for the final season—it's up to you!
As mentioned before, the final season hit the reset button of sorts as Archie (KJ Apa), Betty (Lili Reinhart), Jughead (Cole Sprouse), and Veronica (Camilla Mendes), along with many of their loved ones and friends, went back in time to 1955 and found themselves reliving their high school days all over again.
Of course, as you rewatch any and all episodes, you can read all our reviews of the series that we've covered since its inception in 2017!
Enjoy your Labor Day travels to Riverdale—just remember that before it was redubbed the "Town With Pep" it was known as "Murder Town of the World." You've been warned.