In Umbrella Academy's penultimate episode of season 2, "743," one of the Hargreeves willingly makes the sacrifice to save Vanya from triggering doomsday again.
Secrets are revealed at the Commission regarding kill order #743 as well as another cataclysmic anomaly, Five and Luther deal with Five's doppelganger, and Reginald Hargreeves shows his true face, literally.
This episode is a spectacular installment as several narratives fell into place and seemingly unrelated plot points are revealed to hold greater importance than they're made out to be, including clever connections from season 1 that paid off well in this episode.
The best highlight, however, belongs to Vanya and her unexpected savior, Ben.
Ben Saves Vanya And The World From Ending
Following Diego's discovery in the previous episode that Vanya once again triggers the apocalypse, he, Klaus, and Allison go to the FBI building she's detained at to try and prevent the explosion from happening. The three of them valiantly try but fail nonetheless as they can't get close enough to Vanya.
In one hilarious exchange of dialogue, Klaus fearing for their lives tells Diego just in case they don't live through this.
"You look like Antonio Banderas with the long hair," says Klaus, as Diego replies with a genuine face "Thanks, man."
The dialogue is a great way to undercut the dangerous situation and works well to set up Klaus' heroic attempt as he was the closest to reach Vanya.
After seeing his siblings fail to save Vanya, Ben decides to try as he's physically unaffected by Vanya's powers. He possesses Vanya's body and enters her mind.
He ends up in the hallucinated dream world that Vanya created where she trapped herself in as she remembers everything she did in season 1 and becomes depressed.
A heartbreaking dialogue between the two follows as Vanya says, "I'm a monster."
Ben, in the most emotionally captivating monologue this season that's worth watching over and over again, proceeds to encourage her sister.
One line in particular tugs at the heartstrings when he says, "You're not a monster, you're my sister."
His words reach Vanya and her powerful dispersal of energy in the real world begins to dissipate. However, soon after Ben reveals that her powers have taken their toll on his soul and he begins to disintegrate.
He bids a heartfelt farewell to Vanya and asks a simple request: "Can you hug me as I go?" (cue tears… damn ninjas cutting onions again!)
Vanya hugs her brother tightly as he slowly fades away, and right before Ben completely goes, he leaves a message with Vanya to tell Klaus.
Kill Order #743
Following Herb's act of mutiny in helping Diego escape from the Commission, the Handler intimidates Herb into telling Lila that Diego betrayed her.
Meanwhile, AJ who's trapped in a fishbowl manages to signal Herb to investigate the archives for Kill Order #743. Herb finds it and relays the information to Lila who proceeds to seemingly confront her mother about it.
However, Lila misinterprets the order as authorized by AJ when it was actually the Handler who gave the order.
The job is revealed to have been carried out by none other than Five to kill Lila's real parents (as shown in episode 4), which urges Lila to want revenge on him.
The Handler takes advantage of her daughter by manipulating her into believing that the Hargreeves brothers were conspiring from the beginning and that she was a pawn in their plan all along. Lila seems convinced.
In a bizarre scene, after realizing that AJ somehow alerted Herb of the order, she proceeds to eat the helpless goldfish alive.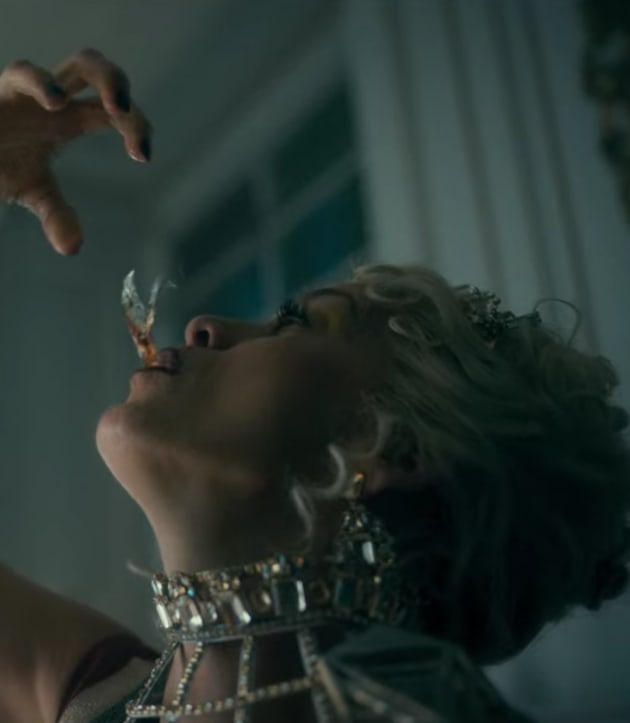 Meanwhile, an anomaly is detected by the Infinite Switchboard. The Handler is alerted and keeps it a secret, and proceeds to kill the employee who discovered it.
Before the episode ends, she ominously declares "Recall all personnel from the field… we're going to war!"
The scene then cuts to the farmhouse where Sissy and Harlan live as a powerful glow akin to Vanya's powers starts to shine. Setting up a final mystery for the finale.
Five Versus Five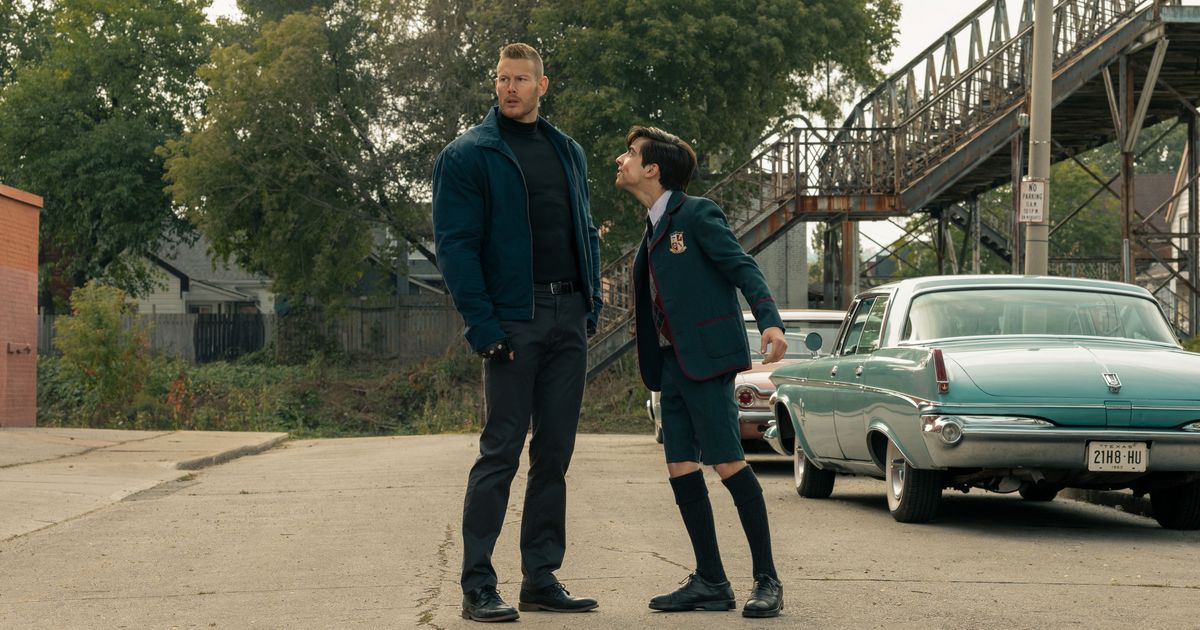 After Five and Luther find Five's doppelganger, they accompany him to the grassy knoll where he was supposed to ensure JFK's assassination.
Everything seems fine until both Fives succumb to the final stage of paradox psychosis, "Homicidal Rage."
The two Fives duke it out in an awesome slow-motion fight scene displaying their teleportation powers to the cleverly chosen tune of "Dancing With Myself" by Billy Idol.
Little Five also hilariously kicks Luther in the gonads to stop him from interfering with the fight.
In a classic twist, however, Luther manages to secure a rifle and has to choose which Five to shoot. He seemingly decides to shoot little Five but ultimately knocks the other Five out.
In a clever easter egg referencing a scene in episode 1 season 1, as little Five opens the temporal portal back to 2019 to get rid of his doppelganger, a fire extinguisher thrown by Klaus goes through the portal and knocks Luther out, which gives the other Five a chance to break free.
In the original scene, Klaus throwing the fire extinguisher only seemed like a throwaway gag for comedic relief, so for it to come back into play as a minor plot twist definitely paid off as a great nod to fans paying attention to every detail.
It also implies that the Umbrella Academy's timelines from season 1 and this season are part of a loop where the events that are happening have happened already, and are happening as they should. (I know that sentence is confusing but so is time-travel, so bear with me)
In the end, Five's older-looking doppelganger goes through the portal but in the process, the time-traveling briefcase is damaged and left unusable.
Other Notes:
Harlan is confirmed to possess some of Vanya's powers as he deflects a bullet accidentally shot by Carl while trying to pry the shotgun away from Sissy. The bullet ricochets off Harlan and accidentally hits and kills Carl.
Reginald is shown confronting the shadowy "Majestic 12" group after JFK's assassination and it's revealed that he did not want JFK to be killed as part of their deal. He tries to sever ties with them since he was lied to but a member of the organization threatens to expose him. An enraged Reginald then takes off his face, revealing that he's more than what he seems to be and kills the members of the organization – in the comics, he's an alien in disguise, which the show seems to be accurately adopting.
Diego is revealed to be the infamous man running across the grassy knoll in the JFK assassination footage as he tried to save the president from being killed.
Reginal, or rather his decoy, is implied to be the infamous "umbrella man" whom historical theorists also suspected had some ties to the JFK assassination.
VERDICT: 10/10
This episode was packed with so many great scenes and dialogue that takes the viewer on a great emotional ride. The action scenes with Five were also epic but Ben saving Vanya was definitely the impetus of the episode that followed through with a strong narrative and a mysterious ending to boot, which leaves the audience anxiously anticipating what the finale of this season has to offer!
Follow CRAVEYOUTV on socials
Who Will Die On 'Stranger Things' Season 4B?
Stranger Things Season 4 was quite a bloodbath, but we haven't seen anything yet.
While Vecna claimed a handful of victims in the first eight episodes of the season, none of them were part of the core cast.
That's all about to change come Season 4B, which does not go easy on our Hawkins best and brightest.
The final two episodes — both feature-length in duration, clocking in at over two hours a piece — have been teased by Joseph Quinn (Eddie Munson) as absolute "carnage."
Noah Schnapp (Will Byers) has been doing the press rounds and hinting at a major character death, and truthfully, all signs point to Steve Harrington.
Think about it: His death would have the largest emotional impact. He's a fan favorite, he's the "dad" of the group often taking on the protector role and keeping the kids safe when their parents are literally nowhere to be found, he's an overall good guy, and he has so much momentum and chemistry with Nancy right now, it's insane.
Per Insider, Joe Keery's character wasn't supposed to survive the first season in the Duffer Brother's original plan, but they simply couldn't let him go.
And it's exactly why his death would destroy a whole fandom, crumbling them at the core. It's a death that will hit both fans and characters equally as hard. Some might argue that Steve is the glue that holds it all together, never taking himself too seriously but also going boldly right into the danger zone.
Matt Duffer didn't exactly confirm that Steve would be the big death of the season, but he also didn't deny it either.
"If he's going to die, it's not going to be from the bat bite," Matt told Variety, which is almost reassuring. He did acknowledge everyone is "worried about Steve," so maybe his death is too obvious.
If we're all prepared for it, it won't be as effective, right?
In that case, could it be Nancy Wheeler? At the end of season 4, Nancy is stuck in the Upside Down in a trance as Vecna explains his origin story to her. It's unclear why he chose to be honest with Nancy, but that's a good journalist for you — getting the story even when it could cost her her life.
Of course, Steve is in the Upside Down with Nancy, so I don't think she'll die there just yet. There's no way he'd leave her behind without bringing her to safety. But if Nancy is already connected to Vecna, that means she's running out of time and unless she can find a foothold in the real world to keep her safe a la Max's "Running Up That Hill," she might just be his next victim.
Other possibilities:
Dr. Benner or Dr. Owens — Both of them care for Eleven and want to help restore her powers so that she can defeat this evil once and for all. But the FBI is coming for them, and they don't take kindly to betrayal. I can see them sacrificing themselves to help Eleven escape for the greater good. Owens would be slightly more upsetting because Brenner might just deserve it.
Eddie — Eddie is a fan favorite, and if look at the show's track record of killing off the lovable, new guy, well, it doesn't bode well for the newcomer. He's already been to the Upside Down, and based on the teaser, we know he returns there for some epic guitar solo. Maybe that's his triumphant moment before death?
Jonathan — The only way that Nancy and Steve could work is if Jonathan is out of the picture. And while it's cruel to kill him off for the sake of another relationship, there's also not much that Jonathan is actually contributing to the storyline anymore aside from getting high with his friend Argyle. His death, however, would shake the core group as he's Will's brother and rock.
Eleven — It's unlikely that the series would risk killing their biggest asset, but she is gearing up for her biggest battle yet. It's going to take everything that she has. Some might say, you don't make it out alive after using up all that power. And Eleven loves her friends deeply, so we know she would sacrifice everything for them.
Joyce, Murray, Dmitri, and Hopper are in a dangerous situation in Russia, but considering that they've managed to survive a plane crash, Siberia, imprisonment, and a Demogorgon, I have full faith in them!
Who do you think is going to die on Stranger Things Season 4B?
Fans React to Chilling Netflix Doc 'Keep Sweet: Pray and Obey'
The latest true-crime series on Netflix that's gripping/disturbing audiences everywhere? Keep Sweet: Pray and Obey.
The four-part series is based on the polygamous religious section known as the Fundamentalist Church of Jesus Christ of Latter-Day Saints (FLDS). It examines the rise of leader Warren Jeffs, who, at one point (prior to his arrest), had about 69 wives, some as young as 12.
If you find the synopsis disturbing, you're pretty much on the same page as viewers who recalled feeling quite "traumatized" and "sic" after watching the show.
Here are some of the tweets and reactions about Keep Sweet: Pray and Obey:
just finished "keep sweet: pray and obey". I don't have the words. need everyone to try and watch this, it's so sickening.

kids getting married off to men old enough to be their grandfathers. pic.twitter.com/dTOEkEHJfg

— Menks (@choplifexo) June 9, 2022
https://twitter.com/Rachel_Andrews/status/1534644130634244099?s=20&t=mGy6HiJYfutUpVJ-y_4Mgw
Watched Keep sweet , pray and obey on #Netflix mmmm I don't even know what to say

— . (@snatched_fire) June 9, 2022
https://twitter.com/SpaaceWitch666/status/1534952940695437319?s=20&t=mGy6HiJYfutUpVJ-y_4Mgw
I thought the new season of Stranger things season was dark… then I watched Keep Sweet; Pray and Obey and it made me physically nauseous lol. I hope Warren Jeffs gets beat up in prison every day for the rest of his life

— Brax (@byu_homer) June 9, 2022
Well, all I can say after watching that, is that the women who escaped from the FLDS and have built new lives for themselves are incredibly brave and deserve a heap of cash from all the millions held by the 'church'. #KeepSweetPrayAndObey

— Ian McClellan (@ianmac67_SE) June 9, 2022
I nominate Keep Sweet: Pray and Obey for horror movie of the year

— emma ✨ (@e_graceful) June 10, 2022
#keepsweetprayandobey documentary on Netflix is crazy. The things that happen in society under the name of religion and faith is just filthy.

— Clarette Waithera (@ClaretteWaithe1) June 8, 2022
https://twitter.com/ClaretteWaithe1/status/1534545816442097665?s=20&t=mGy6HiJYfutUpVJ-y_4Mgw
https://twitter.com/KimMannix/status/1534947655909904384?s=20&t=mGy6HiJYfutUpVJ-y_4Mgw
https://twitter.com/oucrimsongirl/status/1535261255686148098?s=20&t=mGy6HiJYfutUpVJ-y_4Mgw
If you told me Heaven was a ranch in Texas where I had to do chores and make lunch for a bunch of old dudes, I'd be making accommodations to reach Hell as soon as possible. #keepsweetprayandobey #keepsweet

— Tyler's sense of shame (@TchtJustine) June 11, 2022
WATCH: 'Manifest' Season 4 Sneak Peek
The fourth and final season of Manifest is on the horizon!
As part of Geeked Week, Netflix gave fans a first look and the upcoming season.
The clip features Michaela (Melissa Roxburgh), who takes an unsolicited trip to the docks to locate a shipping container decked out in images of cherry blossom.
The shipping container that she needed to locate is glowing, so it's likely that a vision brought her here.
But when she opens that bad boy up, it doesn't seem like she knows what she's looking for at all. In fact, she's terrified to find a hand reaching for her. The man, who doesn't seem to be doing well at all, has "Stone 828" carved into his hand. I really hope they aren't introducing zombies into the mix.
Netflix knew that they would pique our interest with this snippet, but since we have no other context about the scene, there's not much to theorize or go off of in terms of what's happening.
All we truly know is that the Stone family is doing their best to crack the mystery of what happened to Flight 828 before time officially runs out.
What do you think about the sneak peek?
There is no season premiere date just yet, but according to Netflix the final season is "coming soon." And it was confirmed that it will be released in two batches of 10 episodes.