We Need to Acknowledge Vanessa Morgan's Comments About Black Characters Being Portrayed as 'Sidekicks'
Vanessa Morgan is fed up with how black people are portrayed in the media.
And she should be.
Morgan, who plays Toni Topaz on Riverdale, took to social media to say she's "tired of us being portrayed as thugs, dangerous or angry scary people. Tired of us also being used as side kick non dimensional characters to our white leads."
"Or only used in the ads for diversity but not actually in the show," she continued, adding, "It starts with the media. I'm not being quiet anymore."
https://twitter.com/VanessaMorgan/status/1267086887535153152?s=20
We've seen many African American actors assume the very roles she mentioned, but one that stood out in particular was "sidekick" as it described the 28-year-old star's character on The CW.
While Toni's on-screen girlfriend, Cheryl Blossom (Madeline Petsch), is far from one-dimensional, Toni often lurks in the shadows until it's time to prop up Cheryl. She rarely gets any screen time without her other half, she has no storyline outside of her relationship, and she's lucky if she gets a few sentences in a scene.
This isn't a fault of Morgan's castmates, who she defended writing that her role "has nothing to do with my fellow classmates/friends. They don't write the show. So no need to attack them, they don't call the shots & I know they have my back."
My role on Riverdale has nothing to do with my fellow castmates/friends. They don't write the show. So no need to attack them, they don't call the shots & I know they have my back. ♥️

— Vanessa Morgan (@VanessaMorgan) June 2, 2020
Toni Topaz has been reduced to a sidekick through absolutely no fault or her own, and being sidelined is not a reflection or her acting. And yet, she's the one suffering, even noting that she's the lowest paid regular on the series.
To truth of the matter is, Toni has been underutilized in a series that should be tapping into her potential as one of the only few women of color.
For this reason, Morgan has made it her mission to evoke change: "To my black fans, I have now made it my purpose to fight for us. To the six-year-old me who had no role model that looked like me on TV. This is for you. We aren't your token black non-dimensional characters. This is being black in Hollywood. I will fight for YOU."
https://twitter.com/VanessaMorgan/status/1268231377679417347?s=20
Toni isn't the only character suffering as the writers seem to struggle to find story arcs for many characters outside of the core four, but it happens more often to the female character than it does to someone like Kevin Keller or Reggie, two characters we've seen the series attempt to integrate into the storyline as much as they can.
This isn't the first time the series has struggled to write storylines for a woman of color as the same thing happened to Ashleigh Murray, who plays/played Josie McCoy on the series for several seasons. Despite having her own musical group in high school, Josie and the Pussycats, there never seemed to be a compelling storyline for Josie, the character which many argue was the strongest, most realistic, and most grounded. It was a shame, and thankfully, the TV powers that be pushed her towards the Riverdale spinoff, Katy Keene, where she gets the shine equally amongst her diverse counterparts. That series is still led by a heterosexual white woman, but the representation on the series far outweighs that of Riverdale.
Murray has gotten to shine and be included in the cast the way she's always been meant to; she's no longer a sidekick to meet a quota.
Murray supported Morgan writing, "These are the ways we can implement real change. The beginnings of concrete conversations and plans of action that will mold our future for the better. We are not asking for special treatment. We are asking for equal treatment."
These are the ways we can implement real change. The beginnings of concrete conversations and plans of action that will mold our future for the better. We are not asking for special treatment. We are asking for equal treatment. https://t.co/5IEK3iM81D

— Ashleigh Murray (@iamamurray) June 1, 2020
Morgan's statements came on the heels of a since-deleted comment that claimed Murray was written off the series because she was a "diva" who refused to share the screen with others.
"You don't know what the f** you're talking about and don't talk about my friend like that. Another thing i hate BLACK women being called DIVAS for sticking up for themselves. Maybe the show should write for her like the white characters," Morgan responded.
The problem extends way past these two Archie Comic shows, however. It's become all too common for shows marginalize black characters… The Vampire Diaries' treatment of Bonnie Bennett (played by Kat Graham), one of the few character's of color on the series, is a prime example.
Bonnie was technically a "core character" but never got the core character treatment. She was a strong-willed, selfless, and badass witch, but she was reduced to a character that was constantly forced to make sacrifices for her friends, put their needs above their own, and carry their pain.
A moral compass, fixer, and the only woman bold enough to call out Damon Salvatore, Bonnie had the potential to have some of the best and most powerful storylines, and instead, they always revolved around her besties, Elena and Caroline. It wasn't about Bonnie as an individual, it was about how Bonnie could help them achieve greatness.
Bonnie was always the loophole, she lacked proper character development, and for a series that thrived on ships, she barely got a love interest until the very end. And even then, he was killed off leaving Bonnie to suffer in silence… again.
Bonnie held her own, but she never got her own.
We've seen this play out in other shows like Dynasty. Jeff (Sam Adegoke) and Monica Colby (Wakeema Hollis) could make great antagonists for Blake Carrington, and there is a lot of family drama to dig into when it comes to the Carrington's and the Colby's, but instead, they are reduced to having limited storylines that are constantly getting dropped and downplayed. The lack of direction was so evident that Monica has taken a hiatus from the series.
Even shows that are getting many issues right seem to fumble when it comes to representation and characters of color.
Season 3 of Chilling Adventures of Sabrina started on the right track with Prudence (Tati Gabrielle) and Ambrose (Chance Perdomo) venturing to New Orleans to seek out help from a Haitian Voodoo Priestess in New Orleans. MarySue writes it best explaining that the scenes set up the exploration of African traditions before sidelining the storyline completely and watering down the character of Mambo Marie. The series aims to be inclusive, but it reduces its impeccable talent from Prudence, Ambrose, and even Roz (Jaz Sinclair), who is turned to stone for a lot of the season, seem to be there, to being sacrifices that allow white characters to shine and become more powerful.
It's 2020, the Black Lives Matter movement has gained more momentum and support than every before (tragically, due to the a heartless death of George Floyd, a black man, a the hands of a white cop), and while it may not seem like empowering black characters is something that tops the list of priorities, it should be. Representation starts at home and on our TV screens.
It's past the time to make necessary changes in storytelling.
People want to feel represented, they want diversity, and they want relatable characters on shows that are well-rounded and representative of our societies. There's no excuse.
And yes, there's room if you write for people of color as human beings who are just as worthy of good storylines as their white counterparts.
Morgan's voice was heard by Riverdale and Katy Keene creator, Roberto Aguirre Sacasa, who apologized and vowed to "do better," and "honor her and the character she plays."
"Riverdale will be part of the movement, not outside of it," he wrote.
#hearvanessamorgan @BLMLA #riverdale ❤️ pic.twitter.com/gnlI8Dh9yz

— RobertoAguirreSacasa (@WriterRAS) June 5, 2020
The intention should have been there from the beginning, but progress is progress. Let's hope he keeps his promise.
Follow CRAVEYOUTV on socials
The Masked Singer Recap – Group C Finally Compete, But Lips Mask Couldn't Stick (4 x 05)
This week's episode of The Masked Singer introduced us to the final block of singers in Group C that comprises five new mystery celebrities.
After the show was delayed last week due to the MLB World Series showcase, the show returned to form with five outstanding performances from the latest group, but at the end of the night, the Lips was revealed to be legendary daytime television talk show host Wendy Williams.
Williams was correctly identified by both Nicole Scherzinger and Jenny McCarthy-Wahlberg as soon as she sang her first note. Ken Jeong missed the mark as usual.
She performed "Native New Yorker" by Odyssey but it wasn't enough to keep her on the show. She seemed glad to be eliminated though because her costume was so heavy she could not perform standing as she needed to be rolled out on a couch and sat during her entire performance.
The highlight of her reveal, however, was how the judges' demeanor all seemed to suddenly change once Williams started talking to them as if she's a teacher talking to a bunch of nervous school children who just got in trouble.
Thicke, especially, seemed rather reserved as Williams asked if he was staying out of trouble. Also, because he guessed her identity wrong somehow.
Other Performers from Group C.
(From L-R: Broccoli, Jellyfish, Lips, Mushroom, and Squiggly Monster. Image c/o FOX)
Group C will return to compete in next week's episode (barring any unforeseen delays again). The Mushroom was the strongest competitor of the night as his falsetto garnered the best reaction from the panelists.
Mushroom
Song:  "This Woman's Work" by Kate Bush
Judge guesses: Donald Glover, Usher, and Frank Ocean
Squiggly Monster
Song: "Have You Ever See the Rain," by Creedence Clearwater Revival
Judge guesses: Ray Romano, Brad Garrett, Al Franken, and (Ken Jeong's guess) Dr. Anthony Fauci
Jellyfish
Song: "Big Girls Don't Cry," by Fergie
Judge guesses: Gabby Douglas, Chloe Grace Moretz, Awkwafina, and Sofia Richie
Broccoli
Song: "House Is Rockin'"/"Whole Lotta Shakin' Going On," by Stevie Ray Vaughan and Jerry Lee Lewis
Judge guesses: Bill Murray, Howie Mandel, and Steve Guttenberg
Note: Apologies to our loyal CraveYouTV readers, but due to the MLB World Series interfering with the regular showtimes of The Masked Singer and causing confusion, I missed writing the fourth episode (which aired October 14th) of this season where the Baby Alien from Group B was unmasked as NFL professional player Mark Sanchez.
None of the judges were able to guess his identity, but his most unusual costume was one of the most memorable among this season's singers.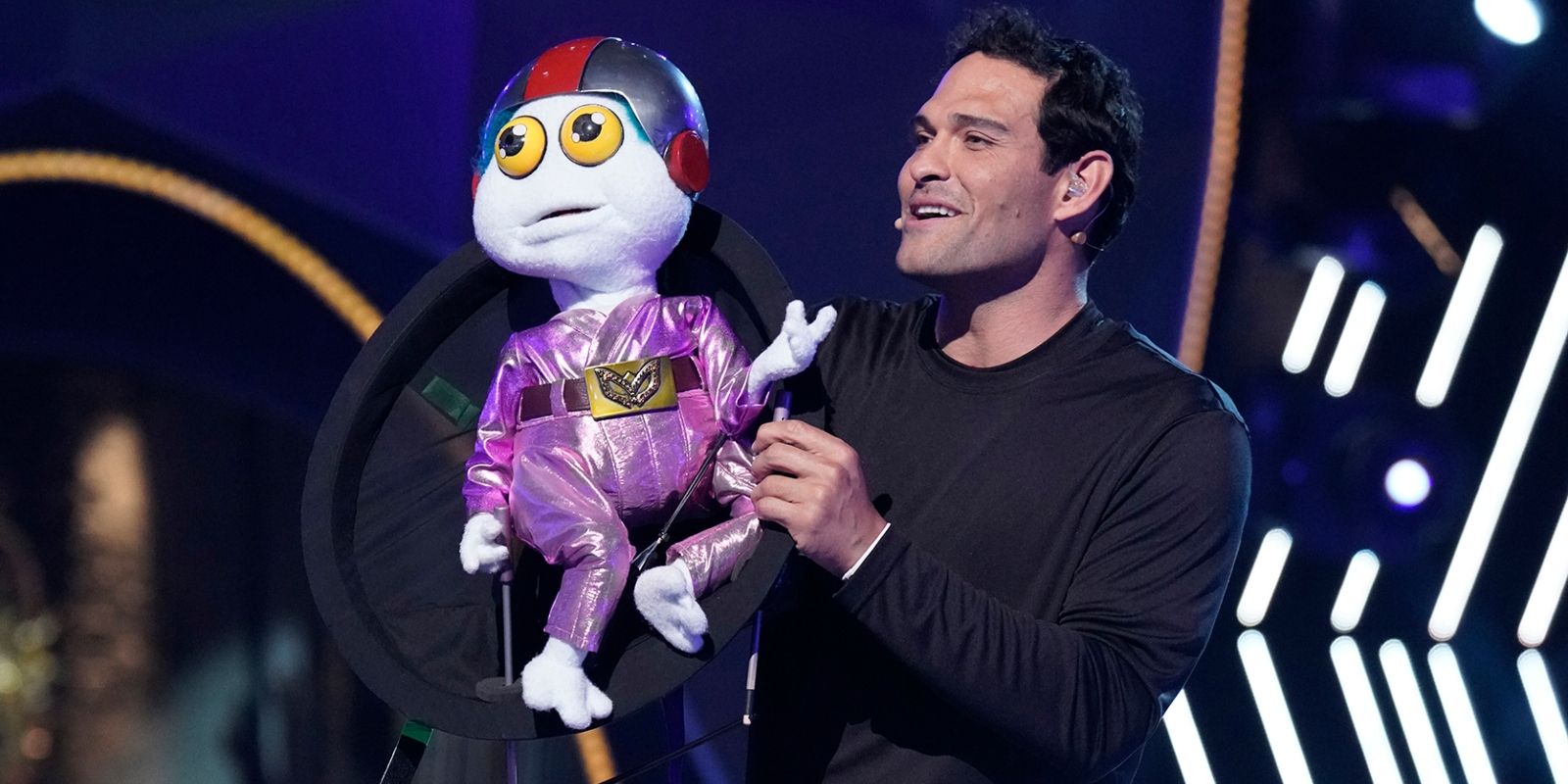 The Masked Singer Season 4 new episodes air Wednesdays 9/8 central on FOX.
Is Randall's Birth Mother His New Therapist on 'This Is Us' Season 5? Here's What the Writers Said
For several seasons, Randall (Sterling K. Brown) has struggled navigating life as a Black man raised in a white family.
Tensions really escalated when he found out that his adoptive mother, Rebecca Pearson, had known his biological father, William, his entire life and kept him a secret despite knowing how much he wanted information on his biological family.
After years of dealing with identity and anxiety issues, Randall eventually went to therapy to deal with the stress brought on by his mother's illness, his run for City Council, and the burglarization of his home.
There's a stigma that follows seeking out therapy, especially when it comes to Black men, so Randall's decision was bold and important.
It wasn't easy at first to open up, but eventually, the therapist was able to break through his tough exterior. When This Is Us Season 5 premiered, Randall seemed in a much better place mentally — the tremors were gone! — as he continued virtual therapy amid the coronavirus pandemic.
He also dealt with racial relations brought on by yet another heinous murder of a Black man in America prompting protests known as the Black Lives Matter movement.
Important and difficult conversations were had with his family, specifically Kate, which led him to realize that he needed to change therapists.
While he initially made the conscious decision to pursue a therapist that was a white woman, just like adoptive mother, as he grew more secure in his identity, he realized he needed someone that he could fully open up with and not hide the "Black parts" from.
He needed a Black therapist.
Randall's realization happens at the same time as the shocking twist that his biological mother, Laurel, (who audiences thought died shortly after birth due to an overdose) was actually resuscitated and likely survived.
This Is Us is such a meticulously planned show that the writers managed to weave in COVID and BLM into an episode so organically that it was impossible for the audience to tell when or how it was altered. It just fit.
So, there's reason to believe that the timing of Randall's decision and the reveal that his mother may be alive isn't an accident.
What if his new therapist is his biological mother? It's a popular theory and one that the This Is Us writers already debunked, but should we believe them?
She is not going to end up as Randall's therapist. #ThisIsUs

— ThisIsUsWriters (@ThisIsUsWriters) October 28, 2020
It's possible that she's either too old to still be practicing or no longer alive.
However, that doesn't mean Randall's new therapist isn't a long-lost brother or sister that he didn't know about?
There has to be some connection.
Randall has always sought out answers about his biological family, who he is, and where he comes from. Even after meeting William and mending things with him, Randall continues to have a void because he never knew his biological mother. His "mommy issues" stem from the abandonment (which we now know wasn't intentional as he was wanted) by his biological mom and the deception by his adoptive mother.
For a show centered around family and the importance of family, it would only make sense for them to pursue this avenue and allow Randall to further explore his background on a deeper level.
What do you think, Cravers? If Randall's mom isn't the therapist, how does this storyline play into Randall's overall arc?
All the Reese Witherspoon TV Shows You Have to Watch
Reese Witherspoon is a culture icon.
The actress is responsible for bringing to life some of the most iconic roles in both movies and television. Her foray from the big-screen into television has been nothing short of enjoyable and impressive as it's given her a blank canvas in which she can show off her incredible range.
No character is too big or too small for Witherspoon.
It would have been easy for Witherspoon to typecast herself or become boxed into the role of "ditzy yet ambitious blonde" following the success of Legally Blonde in 2001, but Reese never allowed it. Since stepping into the limelight in 1991, she's continuously pushed and reinvented herself to become one of the hardest working actresses and executive producers in the business.
Is Season 3 of Big Little Lies Happening? Reese Witherspoon and Laura Dern Want Ice Cube and J.Lo to Appear
Everywhere you turn, you'll see Reese's moniker on something even if she isn't starring in it!
Many of her TV shows are even produced under her own Hello Sunshine umbrella, which she developed when she found herself lacking progressive and aspiring roles.
Turns out, Reese always knew what was best for Reese, and we're so glad she continues giving us that's compelling, nuanced, and emotional.
Here are the Reese Witherspoon shows you have to watch!
Little Fires Everywhere (Hulu)
The Hulu miniseries is based on the 2017 novel of the same name and follows the intertwined fates of the picture-perfect Richardson family and a mother-daughter duo who upend the lives that they've become accustomed to. Not only does Witherspoon star as Elena Richardson opposite Scandal's Kerry Washington, she also served as executive producer.
The Morning Show (Apple TV+)
The drama is an unfiltered look at the cutthroat world of morning television and the lives of the people who bring you the news each morning. Witherspoon stars as green reporter Bradley Jackson opposite Jennifer Aniston and Steve Carrell.
The award-winning series is based on the bestseller by Liane Moriarty. The drama tells the story of helicopter moms, successful husbands, rumors, and a murder in the usually tranquil beachy town of Monterey, California. There's a lot more to these women that meets the eye, and they all have their fair share of secrets they want to keep including Witherspoon's neurotic Madeline. The show is filled with star power with Nicole Kidman, Shailene Woodley, Laura Dern, and Zoe Kravitz.
Friends
Before she could run, Witherspoon had to walk, but she did so on one of the most popular sitcoms ever. While she didn't have the biggest role, she's one of the most notable characters as she played Rachel Green's (Jennifer Aniston) youngest sister, Jill. She was featured in two episodes of season six.
Get Organized with the Home Edit (Netflix)
Witherspoon, an executive producer on the series, appears in one episode, but if you log into Netflix, her episode is used to promote the series and entice you into watching. The reality series finds expert home organizers Clea and Joanna helping clients declutter their spaces! Get ready to feel inspired!