When you're a TV star, things are constantly changing. Here are the main stories, we think you should know about!
Things are moving fast with Lea Michele and her boyfriend, Mathew Paetz. They've only been dating since June, but US Weekly reports that he's already moved into her home. He was spotted moving in over the weekend, unpacking his U-Haul truck! It's good to see Michele happy and moving on. 

A Switched at Birth wedding! Katie Leclerc wed fiancé Brian Stuart Habecost in a romantic ceremony on Saturday. The duo said 'I do'at Colony 29 in Palm Springs. Most of her TV co-stars and family, including TV dad Gilles Marini, were on hand to celebrate the event. 
And speaking of weddings, Ashley Tisdale got married this weekend as well. The Young and Hungry producer secretly wed fiancé Christopher French. She confirmed the ordeal on Instagram writing, "Best day of my life! Introducing Mr. and Mrs. French Sept.8, 2014" with a snapshot from the wedding.
Photo: Ashley Tisdale Instagram
The couple got engaged last August on the 103rd floor of the Empire State Building. They met in 2012 via mutual friends. BFF and High School Musical co-star Vanessa Hudgens was one of Tisdale's six bridesmaids, all of whom wore complementing gowns in various shades of pink, lavender and nude. There were about 100 guests gathered at the private estate for the ceremony, including other HSM stars. 
Photo Credit: Ashley Tisdale Instagram
Grey is the New Black! Dascha Polanco, who plays Dayarana Diaz on the Netflix show Orange is the New Black, debuted a grey hairstyle at Mercendez-Benz New York Fashion Week, Sept.7. Her new locks are actually… a wig! 
Photo Credit: Sons of Anarchy/FX
Charlie Hunnam can't let 50 shades go… Can you blame him? Sons of Anarchy premiered yesterday, but the buzz is all about how Hunnam passed up the role of Christian Grey. Wait didn't we already hear about this? Now, Hunnam is opening up about how the role gave him a mental breakdown. (Sidenote: I don't think that's the effect playing Mr. Grey is suppose to have on a person.)
When Hunnam took the role, he was currently playing three characters. "I was going to finish [filming] Sons at like 11 p.m. Friday night, get on the plane Saturday morning to Vancouver for Fifty, missing the whole first week of rehearsal and start shooting Monday morning," Hunnam recalled. "And I was going to shoot that film, wrap that on the Wednesday and the following Monday I was going to start shooting Crimson Peak in Toronto. I just had like … frankly, something of a nervous breakdown," he said.
Two months after being cast as Mr. Grey, Hunnam had to drop out of the massive production. "I just said, 'I can't … I can't …. To fail on such a grand scale — because Fifty's going to be massive, it's going to be huge. I really didn't want to fail on such a grand scale, and I just couldn't transition from Jax Teller to Christian Grey in 48 hours. It's painful because I loved the character and I wanted to do it. I'm also a man of my word."
Well, as sad as it is, I think it's safe to say Jamie Dornan did the character justice. Am I right?
There you have it, you're scoop on all things celebrity! Comment and share your thoughts! 
God Friended Me Sneak Peek Clip: Does Arthur Make the Right Decision?
Is the God Account pulling the strings for everyone in Miles' life?
On God Friended Me Season 2 Episode 5, was tasked with decision that would alter the course of his future.
After Bishop Thompson resigned from the church leaving the position of Bishop of New York, the opportunity fell into the retired reverend's lap.
Thompson suggested that Arthur was the only qualified person to fill the role.
The offer would have been a dream come true for Arthur just a few months ago when he and Thompson ran against each other. Obviously, Thompson one.
But since then, Arthur has taken a break from the church; he's in a new phase in his life.
God Friended Me Season 2 Episode 5 Review: The Greater Good
Being retired allows him time to play tennis and hang out with his soon-to-be-wife, Trish, who isn't exactly thrilled to see him recommit to the church.
And still, Arthur continues to be drawn to it because it's his destiny.
Therefore, this decision is momentous.
Does he listen to his fiance's advice and pass or does he accept a position that he's worked towards his whole life?
Luckily, TV Fanatic has an exclusive clip from God Friended Me, which revealed that Arthur doesn't think twice about accepting this second chance.
Watch the clip HERE!
Dynasty's Adam Huber on Liam's Amnesia, #Falliam Future & That Kid Storyline
Adam Huber plays the uber dreamy Liam Ridley, the latest addition to the Dynasty cast.
Huber scored the title of series regular ahead of Dynasty Season 3.
But even without the coveted upgrade, the heartthrob has been a fan favorite since his debut on Dynasty Season 1 Episode 15, you know, the episode where he married Fallon, a complete stranger, on a whim.
Since then, Fallon and Liam have had a tumultuous yet epic relationship.
Nothing about their relationship has been conventional.
After they overcame a love triangle with Culhane, a messy situation with Liam's uncle, a divorce, and Fallon's attempts at winning him back from Ashley, it seemed liked things were going to work out.
Dynasty Season 3 Episode 1 Review: Guilt Trip To Alaska
Fallon proposed to him on the Carrington lake, and despite losing the ring in the water, Liam still said 'yes."
But their happiness was short-lived when her tyrannical brother, Adam, clobbered Liam upside the head and locked him in the pool closet.
After regaining consciousness, Liam crawled over to the pool, fell in, and woke up with amnesia, which is where we left off when I spoke with Huber.
Huber dished about Liam's amnesia, what's next for their relationship, his possible revenge on Adam, and the storyline he's dying like to explore.
Dynasty is back and with it returns all of that Carrington craziness!
Sure.
Amidst all of that, you've been up to series regular. Congrats. Were you expecting it? 
No, I honestly wasn't.
There have been other people. Wakeema, whose on the show and plays Monica Colby. You know, me and her were kind of doing the same thing we were just recurring, and you kind of go until you book another show or they give you a contract.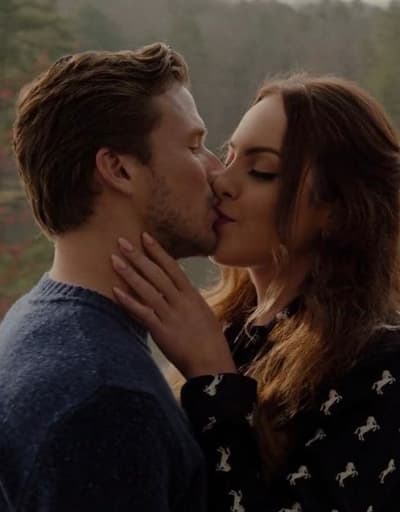 And I was testing actually on another show, NYPD Blue is doing a reboot. I got very close to that. And right around the same time, they asked me to be a series regular.
So, you know, it worked out well. I wasn't getting on PD Blue, so they had me a series regular. No, I was expecting it. I was just kind of chilling. I was just happy to be there.
It's a great role to have. 
Right?
Has the way you approach and prepare for the character changed now that he does have a deeper storyline and is so loved by audiences?
I have been putting, I think, more work into it. I mean, I've always put work into it, and definitely just trying to stay fresh and just trying to understand him.
We're very similar, but we're also different. You want to keep his story fresh. I have a journal that I do character journaling in.
I take what I know, and then just create a story around him.
Like, what was the relationship like with my dad? What is the relationship like with my uncle who is on the show played by C. Thomas Howell? And I do that with all the other people in his life. Does that make sense?
Everything to Know About the Original Shows & Movies Coming to Disney +
Disney+ is gearing up to take over the world, or, at the very least, provide stiff competition to other streaming platforms like Netflix, Amazon Prime, and Hulu.
Launching November 12 in the US, Canada, and the Netherlands (and a week later in Australia and New Zealand), Disney's streaming platform has already made lots of commotion in the entertainment world.
Those who scoffed at adding another streaming service are now re-thinking their stance after hearing Disney's plans for programming.
Not only is Disney+ planning to offer classic films, but they're also rebooting nostalgic favorites, and expanding the Marvel universe with several new shows, both animated and live-action.
Disney+ is bringing your childhood to life. For avid TV watchers, it's the equivalent of going to Disney World or Disneyland.
While the Disney Channel markets with a focus on children, Disney+ is planning to entice children, millennials, and adults alike.
Best of all, their price-point is competitive and appealing. At $7 a month, it's almost half of what Netflix is charging, and they're even offering bundles with ESPN Plus and ad-supported Hulu for just $13, $5 less than what all three combined would cost.
It's hard to continue hating on Disney+ when they have so much working in their favor.
Not convinced just yet? Let's take a look at all the exciting original shows and films that will be hitting the platform!