It finally happened, #Barchie fans!
If you're a #Bughead fan, you might want to stop reading at this point because this is a full post dedicated to the Betty and Archie hook-up!
After several seasons, Riverdale finally gave fans the Betty and Archie moment they've been waiting for.
This moment has been a long time coming.
There were some close calls through the years, though mainly, fans were left disappointed and wondering if the pairing would ever see the light of day.
At the end of season 4, the duo shared a romantic kiss but ultimately decided to bury their feelings out of respect for their significant others.
But you don't just write a love ballad for someone and forget about them!
The long-awaited and highly-anticipated moment finally came via a steamy shower sex scene following a seven-year time-jump. It was so hot, I found myself wondering if this is even allowed on The CW. That steam wasn't from the hot shower, that's all I'm going to say!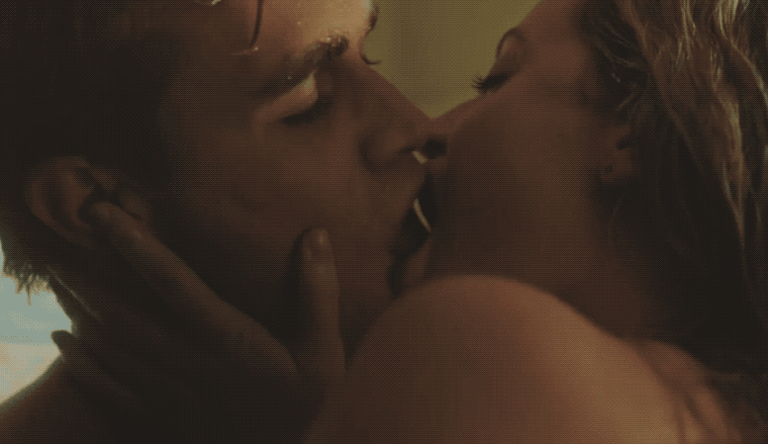 Archie, who survived a war, and Betty, who has been catching serial killers while training to be an FBI agent at Quantico, reunited and fell right back into their old feelings without even realizing it.
Post hook-up, when Archie questioned what just happened between them, Betty informed him that it's something "we've been wanting to do since high school but never got around to it." And you have to appreciate her honesty here.
Since they're both mature and single adults — Archie's ex Veronica is "happily" married, while Betty hasn't been with Jughead for years — they decided to keep the moment of passion under wraps.
Riverdale can be a bit ridiculous at times, but this was the smartest decision these two ever made. They don't owe anyone, including Veronica and Jughead, anything.
This moment singlehandedly changed the Betty and Archie relationship forever.
And when I tell you fans were thrilled, I mean they were straight geeking out on Twitter.
"Something we've been wanting to do since high school but never got around too."

THIS SCENE WAS EVERYTHING!
The chemistry between KJ & Lili is everything! Truly one of riverdales best! Can't wait to see where this story goes! #BARCHIETIMEJUMP #Riverdale pic.twitter.com/yAPo86hhkN

— Barchiedaily (@Barchiedaily) February 18, 2021
The lip bite makes a return 10 years later #Barchie #Riverdale pic.twitter.com/E3zegfrWzR

— Barchiedaily (@Barchiedaily) February 18, 2021
But what does this mean for #Barchie moving forward? Was it a one-time thing that they needed to get out of their system?
Based on the glowing aftermath, methinks not. The chemistry and sexual tension is there, and they're clearly into each other. And for the first time, they're both in a place where they can pursue a relationship.
Well, there is the small issue of Betty's boyfriend, Glen, back in Virginia, but I doubt that will pose much of a problem since she seemed to forget all about him. She didn't even call him to inform him she decided to stick around for a while and teach at her old high school, which tells you everything you need to know!
And while Archie and Jughead's new roomie situation may make things a bit more complicated and awkward, I think Archie and Betty owe it to each other to explore these longtime feelings.
They've never been given the opportunity to figure what these feelings truly mean — is it love or is it just lust? — because they've always repressed them out of respect for others.
There's no better time like the present to put them to the test.
Though, if I'm being completely honest, I don't see it lasting long. I'd love the idea of #Barchie babies, but with the core four back in each other's orbits, they're bound to fall into old habits.
Jughead and Betty don't seem like they're going to get back together anytime soon, but based on their conversation, they never got closure following their abrupt breakup. With a new mystery in tow, I see their paths merging again, though, I am really digging that Betty and Archie have been working together on the "Polly mystery."
As for Ronnie, she may be married, but it's not going to last long. She and Chadwick are already having marital issues that stem mainly from his insecurities and jealousy. I wouldn't rule out a post-divorce reunion for Archie and Veronica.
She's always wanted someone who can handle her Lodge independence, and Archie has always been that man.
So, while Betty and Archie might not be able to keep their hands to themselves in the short-term, I don't think that there's potential for them in the long run. And that's okay too.
Sometimes the best thing before settling down is the fling you've always fantasized about!
At the end of the day, I'm rooting for the ships that will bring each other happiness — whoever that may be!
Don't forget to check out our full review of Riverdale Season 5 Episode 5 now!
Follow CRAVEYOUTV on socials
TV Shows and Movies to Watch During Women's History Month
March is not only Women's History Month, but March 8 is also International Women's Day.
To celebrate, Philo put together a curated collection titled "Celebrating Women " to honor the fearless, passionate, and hardworking women in your life.
Per the release, the collection will include "movies and shows that magnify female experiences, explore narratives centered around women, and commemorate their vital role in today's society."
Here are some titles to check out:
Liza Miller is a forty-something-year-old who pretends to be half her age to rejoin the world of publishing. She never expects that lying about her age could open up a world of possibilities not only in her career but also in love!
Tyler Perry's comedy-drama follows a group of single black women as they navigate the ins-and-outs of life like careers, friendship, and more.
Nicole Kidman, Charlize Theron, and Margot Robbie star in a film about female empowerment in the #MeToo World. In this drama based on a real story, three whip-smart women go from reading headlines to becoming the headlines when they expose the man who made them famous.
Eve, a gifted MI5 spy, and Villanelle, a talented killer, play a game of cat and mouse as they obsess over each other.
Ava DuVernay and Oprah join forces behind-the-scenes of this drama, which brings the Bordelon siblings back together to run the family's struggling sugar cane farm.
The classic 80s sitcom finds four women living together in Miami through what can only be described as the ups-and-downs of their "golden years."
The long-running British drama focuses on an extraterrestrial Time Lord that travels through time and space via TARDIS to solve problems. The 12th season welcomed the first female doctor with Jodie Whittaker taking on the iconic role.
High-powered attorney Patty Hewes gets embroiled in a custody case and goes above and beyond to prevent her protege from taking the stand and exposing all of her secrets.
Shailene Woodley stars as Tris in the post-apocalyptic franchise about a society divided into five factions. When she learns that she doesn't fit into just one faction, it puts everyone she loves at risk.
7 Most Anticipated Shows Coming in the Spring of 2021
As the days get longer, snow begins to melt, and flowers begin to bloom, you'll likely find yourself emerging from a winter slump and ready to warm up your soul.
And what better way than with some exciting television blooming this spring?
While there's plenty of shows returning from hiatus (you can find all the must-watch shows and movies premiering in March right here), there's also a slate of new shows hoping to melt your cold exterior and warm their way into your heart.
Here's everything that we're looking forward to watching in the spring of 2021:
Debris – March 1 (NBC)
Network television loves its sci-fi! Debris finds two agents, one from the CIA and one for MI6, teaming up to travel the U.S. looking for remnants of an alien spacecraft to find out where it's from, what it wants, and what it's effects are on the human population. Think X-Files meets Fringe meets Extant.
The Falcon and the Winter Soldier – March 19 (Disney+)
Disney+ is expanding the world of Marvel with yet another addition to the small screen. Following Wandavision, The Falcon and the Winter Soldier is a six-episode comedy about Sam Wilson (Anthony Mackie), who is now Captain America, and Bucky Barnes (Sebastian Stan), which picks up after the events of Avengers: Endgame.
The Irregulars – March 26 (Netflix)
You know the story of Sherlock Holmes, but do you know the story of Dr. Watson and the Baker Street Irregulars? All you need to know is that it's a gang of street teens manipulated into working for Watson to protect London from supernatural elements.
Law & Order: Organized Crime – April 1 (NBC)
The series marks Elliot Stabler's (Christopher Meloni) overdue (due to COVID-19) return to television and the Law & Order franchise. Stabler stars up again with the NYPD and even reunites with Olivia Benson (Mariska Hargitay) in the spinoff drama! Thursday's just got so much better!
Cruel Summer – April 20 (Freeform)
Hailing from producer Jessica Biel, this psychological thriller – that's also a '90s throwback – examines the lives of two young women, one of whom mysterious disappears. Kate Wallis (Olivia Holt, "Cloak & Dagger") is a popular girl who goes missing, and Jeanette Turner (Chiara Aurelia), is the girl deemed responsible.
The Mighty Ducks: Game Changers – March 26 (Disney+)
Polish those skates, because the Mighty Ducks spinoff is skating to the small-screen. When the powerhouse team turns away 12-year-old Evan, a potential new member, he and his mom Alex (Lauren Graham) decided to build their own team. The 10-episode series marks the return of Emilio Esteves as Coach Gordon Bombay.
Shadow and Bone – April 23 (Netflix)
Set in an alternate version of tsarist Russia called Ravka and based on the hit fantasy book series, sinister forces plot against a young soldier after she is found to have magical powers that may help unite the world.
Batwoman Review – Can Ryan Wilder's Kryptonite Infection Be Cured? (2×06)
On Batwoman Season 2 Episode 6, Ryan Wilder could no longer hide the fact that her kryptonite wound was slowly killing her.
Talk about a painful death.
And despite all of it, she never let the people of Gotham, or her Bat team, down. As Luke pointed out, if that isn't a hero, I don't know what is.
Luke felt pretty terrible about the fact that he was the reason that Ryan kept her injury on the down-low and suffered in silence, but the moment also made him realize just how dedicated Ryan actually is to being Batwoman. She's taking this seriously even if there's a chance it's only a temporary gig.
Of course, with no actual cure for kryptonite, this makes the hunt for the Dessert Rose that much more pressing.
Everyone wants a piece of Coryana's miracle cure. And based on how they're all behaving, I'm not surprised Safiyah has kept the location of the island under wraps.
Just imagine if it got into the wrong hands… say the rogue doctors at Hamilton Dynamics that stole the map from the Crows because they want to replicate it and get rid of the diseases. And while there's nothing wrong with trying to find a cure for virtually every disease (although, I'm sure the pharmaceutical industry wouldn't be pleased, unless the idea is to charge a high premium for the drug once it's available), the approach was quite problematic.
He had no problem testing on patients as if they were lab rats and didn't care how many of them died. He then sent Aaron, an unhinged patient with spontaneous rage issues, to kidnap Mary and Jacob Kane in order to get information, and then he and his men ambushed the Crows and stole the map from them!
Here's my issue with that whole scene – after managing to get the map from two of Gotham's most violent criminals, Ocean and Alice (without backup, might I add), Sophie somehow thought it was a good idea to bring it with her to a hostage situation.
Sure, she wanted to save Mary and Jacob, but how would anyone know if she swapped it with a fake?
What a fail on her part.
Despite Batwoman's disdain for Sophie (whom she hilariously refers to as "Crow-phie"), she couldn't gamble with her life and handed over the map.
That means Batwoman wants the Dessert Rose to heal herself, Hamilton doctors want it to create an all-encompassing cure and The Crows, Mary, and Luke want the map so that it can lead them to Kate, who is allegedly still alive.
A lot of people with a lot of motivation!
Ocean, who was confirmed to be the one growing the psychedelic mushrooms for Snake Bite, had the map to Coryana (hidden under the real Napier painting) this whole time, but never told Alice it was a map that could lead them to the one woman who not only wants him dead, but also erased all of his romantic memories with Alice.
There's a chance he didn't know about the map, but how would he know to burn it when Sophie caught them?
And if the Dessert Rose is all he's after, why didn't he just follow the map back to where it all started in the first place?
What are we missing about Ocean?
Though, admittedly, I'm really into this partnership. Ocean seems like Alice's equal only slightly deranged, and seeing Alice in love has plenty of potential.
It's unclear why Coryana wants Ocean dead, but Alice made the right choice by sparing him because that's clearly leverage to get her sister back. Plus, pretending to "kill him" will help her back into Safiyah's good graces, and hopefully, we'll learn more about their previous relationship.
It looks like there was a time that Alice wasn't a complete psycho, and while it's delicious to watch her torment the innocent souls of Gotham, it would be fun to explore a different side to her that's less vindictive.
I'm a little upset that the series brought Angelique and Ryan back together just to rip them apart again. The relationship was doomed from the start since they never confronted what went wrong the first time around, and instead, jumped right back into a relationship that was previously plagued by bad decisions and addiction.
Angelique may be clean now, but she's still dealing and has no plans to stop. That's problematic for Ryan, who went to prison for her and wanted her to make the best of this second chance.
The reality is that no matter how much they love each other, they don't see eye-to-eye. Sophie may not always have Ryan's best interests at heart, but she was right for calling out Ryan for returning to the same lifestyle that previously got her in trouble.
If she wants to be the hero, she can't also be dating someone that's on the opposing team.
Ryan got upset with Luke after finding out he was in cahoots with Alice to find Ocean, but if you think about it, Angelique is working with Ocean, who now has a very "complicated" connection with Alice. That's a big red relationship flag!
Jacob Kane also needs to learn how to be a father. Mary finally told him about her underground clinic, and while it wasn't by choice or the way she wanted to do it, it was a weight lifted off her shoulders that she could finally be honest with him.
And instead of embracing her or trying to understand it, he told her he was shutting it down.
His logic didn't even track. After finding out that his wife and Mary's mom, who was previously CEO of Hamilton Dynamics, gave the green light for human trials, Jacob figured he had to intervene in Mary's life before she followed the same trajectory.
There's no way to justify the logic, especially since Mary has helped so many people that couldn't afford healthcare and was doing it for the right reasons and not for the money.
Jacob's problem is that he continues to alienate all of his loved ones without realizing that he's the biggest problem right along with his corrupt Crows. He could get so much more done if he just worked with Batwoman and Mary instead of riding his high horse and thinking he's better.
And then he's surprised that he's blindsided by everyone's secrets when he doesn't even try to get to know his daughters, and when he does pay attention to them, he takes away the things that make them who they are.
What did you think of the episode? Will Ryan find the Dessert Rose in time?
What are your thoughts on Alice and Ocean?