It finally happened, #Barchie fans!
If you're a #Bughead fan, you might want to stop reading at this point because this is a full post dedicated to the Betty and Archie hook-up!
After several seasons, Riverdale finally gave fans the Betty and Archie moment they've been waiting for.
This moment has been a long time coming.
There were some close calls through the years, though mainly, fans were left disappointed and wondering if the pairing would ever see the light of day.
At the end of season 4, the duo shared a romantic kiss but ultimately decided to bury their feelings out of respect for their significant others.
But you don't just write a love ballad for someone and forget about them!
The long-awaited and highly-anticipated moment finally came via a steamy shower sex scene following a seven-year time-jump. It was so hot, I found myself wondering if this is even allowed on The CW. That steam wasn't from the hot shower, that's all I'm going to say!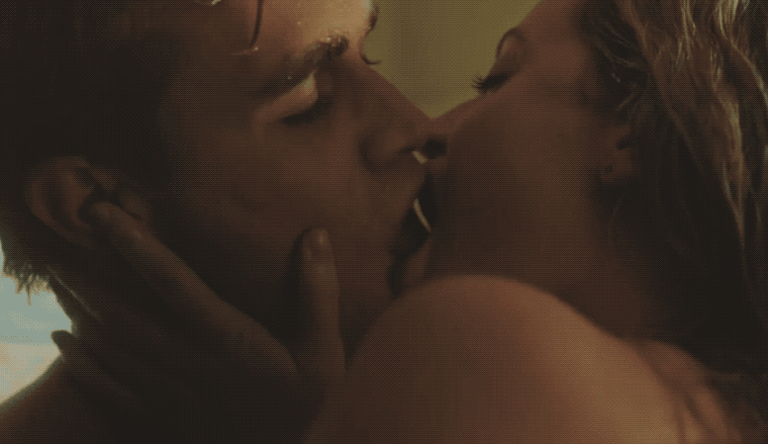 Archie, who survived a war, and Betty, who has been catching serial killers while training to be an FBI agent at Quantico, reunited and fell right back into their old feelings without even realizing it.
Post hook-up, when Archie questioned what just happened between them, Betty informed him that it's something "we've been wanting to do since high school but never got around to it." And you have to appreciate her honesty here.
Since they're both mature and single adults — Archie's ex Veronica is "happily" married, while Betty hasn't been with Jughead for years — they decided to keep the moment of passion under wraps.
Riverdale can be a bit ridiculous at times, but this was the smartest decision these two ever made. They don't owe anyone, including Veronica and Jughead, anything.
This moment singlehandedly changed the Betty and Archie relationship forever.
And when I tell you fans were thrilled, I mean they were straight geeking out on Twitter.
"Something we've been wanting to do since high school but never got around too."

THIS SCENE WAS EVERYTHING!
The chemistry between KJ & Lili is everything! Truly one of riverdales best! Can't wait to see where this story goes! #BARCHIETIMEJUMP #Riverdale pic.twitter.com/yAPo86hhkN

— Barchiedaily (@Barchiedaily) February 18, 2021
The lip bite makes a return 10 years later #Barchie #Riverdale pic.twitter.com/E3zegfrWzR

— Barchiedaily (@Barchiedaily) February 18, 2021
But what does this mean for #Barchie moving forward? Was it a one-time thing that they needed to get out of their system?
Based on the glowing aftermath, methinks not. The chemistry and sexual tension is there, and they're clearly into each other. And for the first time, they're both in a place where they can pursue a relationship.
Well, there is the small issue of Betty's boyfriend, Glen, back in Virginia, but I doubt that will pose much of a problem since she seemed to forget all about him. She didn't even call him to inform him she decided to stick around for a while and teach at her old high school, which tells you everything you need to know!
And while Archie and Jughead's new roomie situation may make things a bit more complicated and awkward, I think Archie and Betty owe it to each other to explore these longtime feelings.
They've never been given the opportunity to figure what these feelings truly mean — is it love or is it just lust? — because they've always repressed them out of respect for others.
There's no better time like the present to put them to the test.
Though, if I'm being completely honest, I don't see it lasting long. I'd love the idea of #Barchie babies, but with the core four back in each other's orbits, they're bound to fall into old habits.
Jughead and Betty don't seem like they're going to get back together anytime soon, but based on their conversation, they never got closure following their abrupt breakup. With a new mystery in tow, I see their paths merging again, though, I am really digging that Betty and Archie have been working together on the "Polly mystery."
As for Ronnie, she may be married, but it's not going to last long. She and Chadwick are already having marital issues that stem mainly from his insecurities and jealousy. I wouldn't rule out a post-divorce reunion for Archie and Veronica.
She's always wanted someone who can handle her Lodge independence, and Archie has always been that man.
So, while Betty and Archie might not be able to keep their hands to themselves in the short-term, I don't think that there's potential for them in the long run. And that's okay too.
Sometimes the best thing before settling down is the fling you've always fantasized about!
At the end of the day, I'm rooting for the ships that will bring each other happiness — whoever that may be!
Don't forget to check out our full review of Riverdale Season 5 Episode 5 now!
Follow CRAVEYOUTV on socials
9 TV Shows to Watch After Thanksgiving Dinner
Thanksgiving brings together friends and family for a shared meal.
But after all the turkey, sides, and pie is cleared off the plate, the only acceptable activity is binge-watching some feel-good TV shows.
Here's what you should watch post-Thanksgiving dinner!
You'll be just as surprised as Mel to fall in love with the picturesque town of Virgin River. Come for the views, stay for the Jack.
Hart of Zoe
Dr. Zoe Hart arrives in Alabama looking for a fresh start and learns that the Southern way of living might actually be what's best for her.
Gilmore Girls
An unbreakable mother and daughter bond, a charming town that would make any Lifetime movie jealous, and an unspoken love for coffee? Say no more.
Selena + Chef
You might know her as a Disney Channel actress and pop star, but now, she's adding chef to her resume. And since Thanksgiving is all about food, this is one show you don't want to pass up.
There are only nine episodes available, but the NBC series has gripped audiences as it ponders how much impact one small choice can have on the rest of your life.
The modern-day update to the Chuck Norris classic hones in on family over everything with a side of roundhouse kicks.
A Million Little Things
A group from Boston bond under the unlikeliest of circumstances and get a much-needed wake-up call following the death of a close friend.
Though it falls into the "sci-fi mystery" category, La Brea hinges on a family determined to find their way back to each other despite all the obstacles standing in their way and all the sacrifices needed to be made.
Dream Home Makeover
If there's ever a time to get inspired for a home makeover, it's after the holidays (and during Black Friday when everything is on sale!) And the McGee family is the cherry on top!
This is… a no-brainer. No show captures the essence of what it means to be a complicated, loving, flawed, and fulfilled family more than this NBC drama.
Angel the Series: Why The Series is The King of Found Family Shows
Ghosts Recap – Flower's Article (1×07)
Ghosts Season 1 Episode 7 dived into Flower's groovy backstory.
And though her bank robbery store hit a bit of a snag halfway through the episode, there was a happy ending for all.
Sam was hesitant about pitching Flower's bank robbery story to her editor, but when he didn't like any of her other pitches, she had no choice but to run with it.
And he loved it.
Of course, this was "not groovy" with Flower because she explicitly forbid Sam from pursuing the story.
Alberta and Isaac found themselves particularly interested in what was fueling the pushback from Flower, who told the bank robbery story at least once a week.
Further prodding revealed that Flower wasn't proud of this big moment in her life because she always left out one little part — she stole the stolen money from the commune.
Flower explained that she took the stolen cash along with her boyfriend Ira after the members of the commune took too long to figure out what to do with it.
She wanted to open up a fair trade coffee shop, however, Ira wanted to buy a house.
Before they could come to an understanding, she was mauled by a bear.
Flower kept that part of the story a secret because she felt like a fraud for not donating the money to help people.
However, in an uplifting turn of events, Sam realized that Ira kept his promise to Flower and opened up a franchised coffee shop called Daisy's (Flower's nickname).
A note on the coffee cups even honored her by donating proceeds to underprivileged communities and towards bear safety.
First Sam reunited Pete with his wife and family, and now, Sam was able to help another one of the ghosts find closure.
Unfortunately, it didn't matter with Flower because all that acid meant she was in and out of reality.
And she forgot the feel-good vibes of the story almost immediately.
During her meeting with the editor, Sam ran into two ghosts, including Shikin, a woman from the same tribe as Sass.
Sass revealed that he was in love with Shikin once upon a time but she never returned his feelings.
This got Jay really riled up as he attempted to help Sass get the girl by playing the game.
Although Jay can't see the ghosts, it's fun that he's so active in all the ghostly business through Sam.
Also, how funny was it when the other two ghosts at the paper discovered that Sam could see them? That's not something they ever expected.
I'm surprised she didn't get more strange look as she stood in the office essentially talking to herself.
Supergirl Series Finale Review – The Last Gauntlet and Kara (6×19 and 6×20)
A wedding, a funeral, a visit from some beloved familiar faces, and finally, and most importantly of all, the destruction of Lex and Nyxly.
Everything came full-circle on Supergirl's series finale when the Super Squad — complete with an assistant from the Legion and the people of National City — banished Lex and Nyxly to the Phantom Zone.
Okay, fine. Technically the duo banished themselves after Lex unleashed the phantoms and they preyed on their fears and insecurities.
But I'll admit, it was pretty satisfying to see them get swept up thanks to their own plan.
It only made sense that the final showdown would include Lex. He was the one true villain that caused this world too much harm over the years.
And the fact that he was "in love" didn't change the fact that he was a ruthless sociopath that was willing to do whatever was necessary to become the all mighty and powerful.
The man was willing to sacrifice an innocent child for crying out loud.
He deserved everything that came his way.
And at least he was banished to the Phantom Zone with the love of his life! They have all the time in the world to figure out their relationship.
Of course, I definitely felt a little bad for Nyxly as she was fueled by the desire to get revenge on those that wronged her.
Her need to get revenge took over her rational thinking, so she too got what was deserved, but it's unfortunate that instead of moving on and finding peace, she's now going back to the place that nightmares are made of.
All of this could've turned out very differently for her, especially since she had potential. She could've joined the side of good, been a "friend" to Supergirl, and maintained that independent spirit that saw through Lex's nonsense in the first place.
To the two of them, I say, good riddance.
Good always prevails. And in the process, Supergirl was able to empower the rest of the world into believing in themselves and each other.
The series has always been about hope and humanity, so the message was fitting.
I'm also glad that the series acknowledge all that in the first place, including all the beloved characters that were a huge part of the show at one point.
And I'm also happy that it spent the final 30 minutes dedicated to the future — we want to know that our characters will be okay — and Alex and Kelly's happily ever after.
Typically, shows tend to gloss over weddings, but this one got its deserved moment.
Fans know just how long Alex's journey to happily ever after has been. Not only has she struggled to live authentically, but she's also had so much heartbreak.
It was necessary to honor the life that she's built with Kelly and Esme.
Speaking of living authentic lives, Kara found herself struggling with her two identities.
Leading a double life is hard work. Kara was tired of lying to everyone, and as she watched everyone around her step into their power, she felt weak.
After Cat Grant offered her the job of Editor-in-Chief at CatCo (which she bought back from Andrea Rojas!), Kara found herself even more torn about how to proceed and live authentically.
Feeling like a fraud simply doesn't vibe with the message that Supergirl inspires.
While bringing back Cat Grant simply to appease fans would've been just fine, the series made her return purposeful.
When "Keer-ah" didn't accept the position, she reached out and admitted that she always knew that Kara Danvers was Supergirl.
Honestly, I was more impressed with the fact that she knows Kara's name and still chooses to call her Keer-ah.
It was a sweet nod to the relationship Kara and Cat always had, but also, to the fact that nothing gets past Cat Grant!
And it's fitting that Cat would be the one to inspire Kara to finally take off the glasses by suggesting that she could be so much more powerful if she became one integrated being.
Also, thank god that someone else called out the glasses for being a terrible cover. Someone had to say it!
Living your truth couldn't have been a better theme for the series finale of Supergirl.
In the end, Kara accepted the gig as EIC and her first major story — introducing herself to National City as Supergirl. A Cat Grant exclusive!
We also had a little walk down memory lane as James Olsen and Wynn shared a scene with Kara and reminisced about their humble beginnings at CatCo.
The original Super Friends carved a truly impressive path for themselves.
Other Major Moments
Mon-El crashed the party to help the Super Squad defeat Lex and Nyxly. He was inspired by Supergirl's speech to the people, which he said changed the course of history. I know that a relationship was never in the cards for these two, but it was nice to see Mon-El's final visit to this timeline.
Maybe the fact that Kara is owning her destiny means that she'll finally make room for romance!
Esme is the cutest and sweetest little kid ever.
Game nights are a thing again, and I'm living for it!
Papa J'onn! Wynn mentioned that J'onn and M'ghann have a son!
The DEO was reinstated as a place of peace, not violence. They are now civil servants instead of vigilantes!
Lena Luthor finally embraced the life she wanted following Lillian's confession on her deathbed. Lena might not have gotten a goodbye from her birth mother, but at least she found peace and closure with her adopted one.
Wynn and Kara's singing was perfection!
Brainy returned from the future to be with his one true love, Nia Nal! It's unclear how that will impact the future, but I love that for them!
Overall, it was a perfect series finale.
Supergirl has had some rocky seasons, but when all is said and done, it's been an incredible journey with one of the best found family's on television!