When You Season 2 dropped on Netflix the day after Christmas, all the good boys and girls were nestled on their couches watching Will Bettlehim nee Joe Goldberg start a new life in Los Angeles.
Some of his season highlights included grinding up a man in a meat grinder (I'll never look at ground beef the same), getting a job at Anavarin (Nirvana spelled backward), and falling in love with a woman named Love despite swearing off romance following the turmoil he endured from his previous relationship.
At first glance — and after binge-ing in almost a full sitting (bathroom and snack breaks were mandatory) — the series was a thrilling follow-up to Joe's first murderous escapades in New York City that ended in Beck's demise and Candace's return from the dead.
In retrospect, and after the adrenaline of Will/Joe's antics wore off, I realized the second season didn't live up to my expectations the way that I had hoped.
My biggest gripe with the season was that it was unbelievable.
The first season engulfed audiences (well, after it hit Netflix since it was not as widely received when it aired on Lifetime, unfortunately), because of how relatable it was.
While many of us likely aren't being stalked by a sociopath (hopefully and thankfully), there are elements from Joe and Beck's toxic relationship that we could all connect to.
For starters, plenty of 20-somethings are living a life solely constructed for the 'gram while simultaneously being a muddle of insecurities and emotions just like Beck.
The rise of online dating also makes us aware of the possibility of going on a date with a serial killer, though it hasn't stopped us from putting ourselves out there and trying to find a soulmate yet.
We also know a Beck or we've all been a Beck, a woman who is too desperate for love and attention and is dating a guy that is all wrong for her.
And, there's a high probability that we've all definitely dated a person who turned out to be someone they're not.
It's likely the person wasn't a psychopath who was way too comfortable with permanently eliminating his problems and obstacles, but you get the idea.
With all that in mind, not much about the first season seemed impractical or unrealistic. In short, Beck got stalked by a guy, she was oblivious, she knew the relationship was toxic, but she kept going back to him, and it ended up with her 10 feet under.
She also didn't know how to properly close her blinds, but that's an editorial for a different day.
he point is — this Beck could exist in real-life, and unfortunately, we know that this Joe, or a version of Joe, exists in real life.
Penn Badgley's portrayal of Joe was never the problem.
Even in Season 2, he's played with the same dangerous perfection that you find yourself drawn to him, rooting for him, and relating to him while simultaneously being terrified of his every move.
And despite being slightly more likable and humanized in the second season almost to the point of a stereotypical reformed bad boy a la Damon Salvatore on The Vampire Diaries, there's still a constant tug-and-pull where you think Joe is becoming a better person only for him to remind you that he's a killer underneath all that charisma and occasional compassion.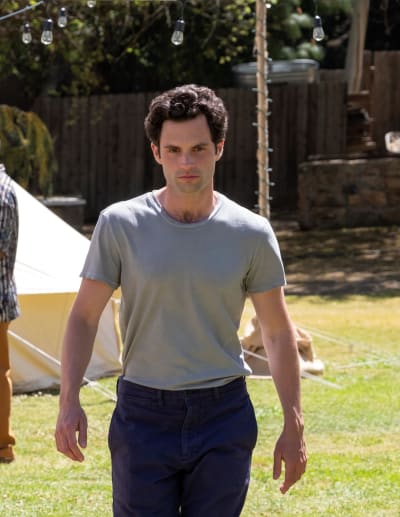 Most of the problems with the season stem from the plot, which often becomes contrived and unrealistic to continuously raise the stakes and keep the audience in a state of suspense and fear.
First off, Joe re-built an underground bunker, which probably made you go, "seriously?" How did he get his hands on all that glass? How did he get the design perfectly similar to the one he had in his bookshop? Who knows. And don't get me started on the lack of security cameras at the storage facility.
Then, Joe steals Will Bettleheim's identity, which isn't completely out of the realm of possibility.
Read the full post at TV Fanatic! 
Follow CRAVEYOUTV on socials
Is Moose the TBK on 'Riverdale'?
We've had the Black Hood, the Gargoyle King, Edward Evernever, the Stonies, the Auteur, and season 6 ushered in the Trash Bag Killer (referred to in short as TBK).
Yeah, it's a funny name, but there's nothing funny about his obsession with stalking and tormenting Betty Cooper.
His identity was somewhat revealed as Archie's construction worker Dennis in one of the episodes, but that was clearly a fake out. Why would a man like Dennis care about Betty and Archie? Neither of them really questioned TBK's identity or motives either, so it stands to reason that they know the real TBK is still out there somewhere keeping his identity tucked away in his pocket.
The test? Betty was tasked with helping him dismember a dead body. She seems only mildly torn up about it — chalk it up to being the daughter of a serial killer, I guess — while Archie shrugs it off at her attempt at survival. When there's a murderous psycho standing behind you, there isn't anything you won't do, which is fair.
Except there's also a clue hidden in this story. Betty reveals that TBK let her go because her actions proved that they were kindred spirits. Alike. The same. Bonded forever. He also thinks that the world would be better with her in it.
One of the things that immediately stood out in these flashbacks was how buff TBK is. The dude is ripped! (Last I remember, Dennis was not that ripped!) When does someone that deranged have time to go to the gym? Or is it from lugging all the bodies around? I hate that this show forces me to have these disturbing thoughts, and yet here we are.
The point is, TBK is much younger than we expected, and he's into physical fitness.
It's likely not a coincidence that Moose shows up in town at the same exact time looking equally as buff. If you don't believe me, this
Twitter account did a little side-by-side
, and it's hard to argue with bulging biceps.
Moose's presence seemed innocent enough as he simply wanted to reconnect with Kevin, but there were a lot of sus moments that audiences likely overlooked.
For starters, how did he get to the school when everyone was sheltering in place because the fog was so thick you couldn't see a thing outside? We know TBK was in town because Betty saw a figure lurking in front of her house, though, Archie never ventured out to confirm the lurkers identity so it could've been anyone.
Secondly, why did Kevin suddenly start having nightmares? Did Moose spike his drink?
And it's all too convenient that Moose now has a job as a PE teacher, which means he cares about physically fitness and has time to workout.
Moose then goes on to inform Kevin that he was fired from his trucking job when the Lonely Highway shut down and now he's living with his dad, who recently got out of jail. We know that only sketch people are involved with the Lonely Highway.
And Moose isn't impervious to the darkness as — reminder — his father was the Gargoyle King who interrupted Moose's first time with Kevin in the woods. Something like that has the potential to leave a scar, especially as Marcus Mason was clearly not supportive of his son's lifestyle. Not to mention all that he went through while at Stonewall Prep (blackmail and manipulation) and the Army, where he enlisted at the behest of Mr. Chipping.
It's not fair to Moose who has consistently been getting terrible character arcs and deserves some happiness, but it's hard to argue with the fact that the timing of his return to Riverdale is all too convenient and suspicious.
Then again, Moose could be a red herring considering his motives remain questionable. Why Betty? Are serial killers simply attracted to her because of the serial killer gene? Or is she an easy target?
Hopefully, we'll get more insight into the TBK as the season progresses because, as of now, he's been the least compelling villain on Riverdale.
At this point, the only way to make TBK a worthy serial killer is to unmask him as someone we know. Someone we've all trusted. And someone who has a reason to cling to Betty. Wouldn't it be crazy if Kevin ended up being TBK. He's been so focused on criticizing Toni and Fangs for their gang lifestyle and trying to keep baby Anthony safe, but what if the fact that he's constantly seeking out danger means he's actually subconsciously Riverdale's new threat?
And then there's always Percival Pickens, though, that would be kind of lame, wouldn't it?
Who do you think is behind the trash bag mask? And why! Sound off in the comments!
Best Shay Mitchell Movies and TV Shows to Watch
Shay Mitchell has amassed quite a following on social media with her hilarious and relatable TikTok videos, but on-screen is where she delivers the real gold and pours herself into the most challenging roles.
Here are the best movies and TV shows starring Shay Mitchell to add to your must-watch list:
Pretty Little Liars – Freeform
Shay became a household name after bringing Emily Fields to life in the ABC Family/Freeform mystery drama. Emily and her best friends attempted to solve the mystery surrounding their best friend's disappearance while fielding text messages from a digital stalker at every turn. Shay's portrayal was also pivotal as it brought to life one of the best LGBTQ characters for the network!
Dollface – Hulu
After being dumped, Jules (Kat Dennings) rekindles her female friendship with Madison (Brenda Song) and the eccentric Stella (Shay) and re-enters the world where your girlfriends trump romantic relationships. Each character brings a certain personality to the series, but Stella is definitely the most vibrant and worldly.
You – Netflix
In its first season of the psychological thriller, Shay tackled the role of Peach Salinger, the best friend of Joe's (Penn Badgley) first obsession Beck (Elizabeth Lail). And you know that any friend of Beck's is an enemy of Joe's.
The Possession of Hannah Grace – Sony Pictures
Shay flexed her horror muscle as cop-turned-morgue worker Megan Reed, who accepts a delivery of a disfigured cadaver during the graveyard shift and is plagued with horrifying visions as she's possessed by a demonic spirit.
Mother's Day
The film revolves around several different mother's day events, including one with Sandy (Jennifer Aniston), a single mom that finds out her ex-husband is marrying a younger woman, Tina, played by Shay.
7 Hottest Moments Between Thony and Arman on 'The Cleaning Lady'
Arman and Thony have an intense and electric bond on The Cleaning Lady.
While they let the passion get to them on a few occasions, they've mostly kept things PG. So, how can there be so many "hot moments" between them, you ask. Well, good question!
When it comes to these two, it's not only about the physical connection but the emotional as well. It's about every longing gaze, stolen glance, and forbidden touch. It's about all the times Arman helps Thony at his own discretion, and in turn, it's the loyalty and support she extends to him.
Here are the hottest and steamiest moments between Arman (Adan Canto) and Thony (Elodie Yung) on The Cleaning Lady Season 1!
Not only does Arman spare Thony's life, but he "hires her" as the cleaning lady in order to justify keeping her alive. He sees something in her that not only piques his interest but also reminds him of himself. When Thony stands up to him at the airport hangar for the first time, she's setting the scene for their season-long tug-and-pull dynamic. Arman acknowledges that she's a woman that "commands respect" while noting that he's "offering that to her." He also reminds her that as immigrants, they need each other, and she needs him as he can play a huge role in keeping her son alive. It's a key scene in order to establish the ground rules between these two power players — even if they are told at every turn that they have no power.
When Arman risks his own life to save Thony's after he realizes he's basically walked her into a trap, it's one of the first moments where he admits, subconsciously, that he cares for her. After the explosion, she pays him back for saving her life by saving his, which is when she reveals that there's much more to her than meets the eye. Arman is impressed with how well she works under pressure, but Thony once again reminds him that it's a give and take relationship. "You want me to work for you, protect me. Give me the respect I deserve. And if anything happens to me, swear my son will be protected." He gave her his word… and he never lied.
With Luca dying in her arms, Thony realizes she's out of options and seeks out Arman and the club, who rushes to her aid and brings her to a private doctor that's paid off by Hayak. Arman doesn't just drop Thony off — he carries Luca inside, takes her burden, and sticks around to make sure that she's okay. While he's offering a shoulder to cry on, he realizes that he trusts her enough to open up about his past, which reveals that he understands Thony's predicament all too well as he's done the unthinkable to protect his family, too. The moment humanizes him in Thony's eyes and the eyes of the audience. And when he sees that she looks at him with judgment for the career that he chose, it almost seems like he wants to become a better man for her.
When Arman notices that Thony is upset about Luca's procedure, he comforts her. He allows her to have a full-on breakdown (one of Thony's only moments of weakness in the series) and cradles her in his arms. And all those heightened emotions lead to a very unexpected yet passionate kiss. I mean… really passionate. You cannot fake that kind of chemistry! Thony stops things before they escalate to the point of no return, but it's enough to satiate all the fans that have been long shipping the couple.
When Thony informs Arman that she can't afford the surgery and the liver donor, Arman offers to pay for the surgery, assuring her that he couldn't have secured a huge deal with Thony's intel from the FBI. "I'm in too deep now," he says with an adorable smile, which definitely implies that he's not just doing this for Luca. However, when Thony mentions that she'll have to "talk to her husband" who has arrived in the U.S., Arman's whole demeanor changes. The guy has absolutely no poker face, but it's because he simply can't hide himself or his emotions in front of the woman he loves. And while the moment isn't exactly "hot," it does reveal just how bad Arman has it for Thony. Plus, he's still willing to pay for the surgery even with Thony's husband in the picture, which is admirable.
The kiss right before Luca's surgery was perfection. Unlike their first make-out session, this kiss was rooted in trust, honesty, and longing. Arman risked everything to get Thony and Luca across the border in a private jet because he cares about her so much and knows he might not have her around for much longer. The kiss is prefaced by a sweet talk where Thony reveals so much happened in Vegas that she'd like to forget, which prompts Arman to suggest, "hopefully, not everything." "Not everything," Thony admits.
Arman and Thony are like the modern-day Bonnie and Clyde. In one fell swoop, they worked together to take down Hayak and stole the $6 million from the gun sale after agreeing to help the FBI make the arrests. The action-packed episode didn't allow for any real romantic moments, but the very fact that they trust each other enough to get into bed with the FBI while pulling one over on FBI at the same speak volumes.
Also, the longing gaze and hang caressing while Thony visits Arman in jail is enough to make fans go crazy waiting for more #Armony (should we make that a ship name?).
Come on, FOX. Give us a second season!
I'm sure there are plenty of other moments I could've mentioned — which ones would you add to the list? Weigh in in the comments below!
You can read all of The Cleaning Lady reviews right here!