When You Season 2 dropped on Netflix the day after Christmas, all the good boys and girls were nestled on their couches watching Will Bettlehim nee Joe Goldberg start a new life in Los Angeles.
Some of his season highlights included grinding up a man in a meat grinder (I'll never look at ground beef the same), getting a job at Anavarin (Nirvana spelled backward), and falling in love with a woman named Love despite swearing off romance following the turmoil he endured from his previous relationship.
At first glance — and after binge-ing in almost a full sitting (bathroom and snack breaks were mandatory) — the series was a thrilling follow-up to Joe's first murderous escapades in New York City that ended in Beck's demise and Candace's return from the dead.
In retrospect, and after the adrenaline of Will/Joe's antics wore off, I realized the second season didn't live up to my expectations the way that I had hoped.
My biggest gripe with the season was that it was unbelievable.
The first season engulfed audiences (well, after it hit Netflix since it was not as widely received when it aired on Lifetime, unfortunately), because of how relatable it was.
While many of us likely aren't being stalked by a sociopath (hopefully and thankfully), there are elements from Joe and Beck's toxic relationship that we could all connect to.
For starters, plenty of 20-somethings are living a life solely constructed for the 'gram while simultaneously being a muddle of insecurities and emotions just like Beck.
The rise of online dating also makes us aware of the possibility of going on a date with a serial killer, though it hasn't stopped us from putting ourselves out there and trying to find a soulmate yet.
We also know a Beck or we've all been a Beck, a woman who is too desperate for love and attention and is dating a guy that is all wrong for her.
And, there's a high probability that we've all definitely dated a person who turned out to be someone they're not.
It's likely the person wasn't a psychopath who was way too comfortable with permanently eliminating his problems and obstacles, but you get the idea.
With all that in mind, not much about the first season seemed impractical or unrealistic. In short, Beck got stalked by a guy, she was oblivious, she knew the relationship was toxic, but she kept going back to him, and it ended up with her 10 feet under.
She also didn't know how to properly close her blinds, but that's an editorial for a different day.
he point is — this Beck could exist in real-life, and unfortunately, we know that this Joe, or a version of Joe, exists in real life.
Penn Badgley's portrayal of Joe was never the problem.
Even in Season 2, he's played with the same dangerous perfection that you find yourself drawn to him, rooting for him, and relating to him while simultaneously being terrified of his every move.
And despite being slightly more likable and humanized in the second season almost to the point of a stereotypical reformed bad boy a la Damon Salvatore on The Vampire Diaries, there's still a constant tug-and-pull where you think Joe is becoming a better person only for him to remind you that he's a killer underneath all that charisma and occasional compassion.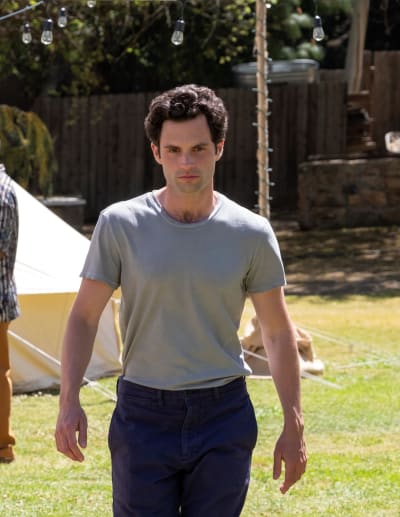 Most of the problems with the season stem from the plot, which often becomes contrived and unrealistic to continuously raise the stakes and keep the audience in a state of suspense and fear.
First off, Joe re-built an underground bunker, which probably made you go, "seriously?" How did he get his hands on all that glass? How did he get the design perfectly similar to the one he had in his bookshop? Who knows. And don't get me started on the lack of security cameras at the storage facility.
Then, Joe steals Will Bettleheim's identity, which isn't completely out of the realm of possibility.
Follow CRAVEYOUTV on socials
6 Sexy Shows to Watch for Valentine's Day
Valentine's Day can be celebrated in all sorts of different ways.
Some people bake cookies, others go out for a romantic date, while some do a fun activity with their significant other.
However, this is the first Valentine's Day under COVID-19 restrictions, which means that you likely don't have as many fun and romance-filled options as in years prior.
That's where TV comes in! Regardless if you're spending February 14 with a significant other or your besties, these are some of the sexiest and steamiest shows to watch on the day that's all about celebrating L-O-V-E (for friends, family, significant others, and, most importantly, yourself!)
Bridgerton
Romance, scandal, drama… Bridgerton has it all! Dubbed the Regency-era Gossip Girl, Netflix's smash hit and most-watched series is a brilliant and entertaining period piece with enough sex scenes to make you blush. And Regé-Jean Page isn't bad on the eyes.
Emily in Paris
Emily in Paris, which was just surprisingly nominated for a Golden Globe, hails from Sex and the City creator Darren Star. It's an airy flick about a millennial named Emily who travels to Paris for a dream job and becomes enamored with the City of Love and the men that want to show her all that it has to offer.
Modern Love
Falling in love requires you to be open, honest, and vulnerable. The American rom-com anthology web series, based on a weekly column published by the New York Times, explores themes of love (romantic, platonic, friendly) with a star-studded cast. The 30-minute episodes are standalone and easily digestible, which makes them the perfect viewing on a night like Valentine's Day.
Younger
What happens when Liza, a 40-year-old single mom, decides to be 26-years old in order to re-enter the working world and falls in love with not one but two very different men? An exciting journey through the world of publishing and heartbreak. As Liza tries to find herself, she does everything in her power to hide her true self from those she's become most intimate with. It's another whip-smart Darren Star creation!
Good Girls
Two sisters, Beth and Annie, along with best friend Ruby find themselves embroiled in a dangerous life of crime after robbing a grocery store. Beth, specifically, falls victim to a crime of passion with one sexy "gang friend" that pulls her further and further into his world.
Elite
If Gossip Girl and Pretty Little Liars had a baby, it would be this Spanish-language drama. A private school becomes the scene of a murder after a clash between the rich and poor students. There's plenty of sexual tension and unexpected turns as detectives try to narrow down the list of suspects.
** Article originally published in February 2021**
Is Bruce Greenwood Leaving 'The Resident'?
After The Resident Season 6 Episode 9, many fans have been wondering if Bruce Greenwood, who plays Dr. Randolph Bell, is exiting the FOX medical drama.
While there has been no official word about a potential exit, it's a fair question to ask considering the nature of his most recent storyline.
In the latest episode—which aired on November 29—Bell, who found himself as the target of Governor Betz's smear campaign, finally admitted to himself, and to his wife, Dr. Kitt Voss, that his MS is progressing.
After Bell exposed Betz's corruption while trying to secure funding for Chastain, Betz decided that the only way to teach him a lesson and make an example out of him was through revenge. Betz ordered a hit piece on Bell that painted him as a dangerous doctor to Chastain, which, in turn, tainted the hospital's image.
Of course, while some parts of it were true at one point in Bell's career, it was largely exaggerated and sensationalized to paint him in a bad light, and it didn't take into account all the work Bell has done to become a better man and doctor.
The stress of all the negative press caused Bell's MS to flare up, triggering a variety of symptoms like a high-pitched ringing in his ears, seeing double, and dizziness, which made him realize that he was pushing off the inevitable.
This time around, instead of operating when he shouldn't, he acknowledged that he no longer felt confident in his abilities, nor did he trust himself to perform any future surgeries. When he told Kit that he needed to go back to the clinical trial, it was a shock, but ultimately, she was supportive because she knew that's what he needed.
But what now? How will The Resident keep incorporating Bell's character into the storyline? Will we just see him communicating with Kit from the trial in the same way we did earlier this season? Or will he slowly get phased out and written off?
The trial could prove to be successful again, and all of Bell's worries could have been for nothing. After he prioritizes his health and the whole thing with Betz blows over, it's possible we could see Bell return to surgery for many more years—back to his previous glory.
Losing Greenwood would be a huge blow to the series, especially since he's been part of the series since its inception, however, it remains unclear which direction The Resident will go with this storyline.
Hopefully, we'll find out in the upcoming season 6 finale, which is set to air on December 6, but as of right now, there's no indication that Greenwood is exiting the drama.
Madelaine Petsch's 'Hotel for the Holidays' Is a Gem Among Cliché Films
There are a lot of Christmas movies out there, which is why it's important to make the right choice this holiday season. After all, no one has the time to waste over two+ hours on a bad movie.
At the top of your list should be Hotel for the Holidays, a rom-com that offers a refreshing take on a festive genre that oftentimes lacks creativity simply because the forces behind the scenes know it will make money regardless as everyone longs for a slice of familiarity and comfort around the holidays.
There's plenty of Christmas magic (it must've slipped through the cracks) in Hotel for the Holidays, and it sneaks up on you—and Madelaine Petsch's character, Georgia—in the best possible way. It's Amazon Freevee's first original holiday flick, and hopefully, not the last.
The plot is rather simple on the surface, but it isn't predictable as with other holiday rom-coms.
Here's the gist: Georgia is a young and ambitious hotel manager at the historic Hotel Fontaine (it gives The Plaza Hotel vibes from Home Alone 2), which attracts an eclectic bunch of guests, including some heartbroken singles, an infamous popstar, a European ex-prince looking for a taste of the real world, and more. They all arrive in New York City for the holidays looking for an escape from the norm, and Georgia is determined to give it to them. However, she also has her own plans and goals that get her into a bit of a love triangle with the hotel's chef, Luke (Mesa Massoud from the live-action Aladdin), and the ex-prince, Raymond (Max Lloyd Jones from Book of Boba Fett). It also stars Kayleigh Shikanai (American Gods) as Pandora, Jami Belushi (According to Jim) as Kiki, Neil Crone (It) as Milton, and Jayne Eastwood (My Big Fat Greek Wedding) as Florence.
Pretty early into the film, it's obvious how Georgia's romantic life will resolve itself, which allows the film to dig into other captivating subplots that are positively unexpected. Unlike other holiday films, Georgia values herself beyond a romantic partner, which, right off the bat, is a breath of fresh air.
The supporting cast plays an integral part in the film, right down to the chef's best friend/fellow chef and the janitorial staff. They may not be the sole focus of the series, but the team behind the rom-com found a way to involve them in a way that's natural and easy to keep up with. Pretty soon, you find yourself rooting for the happiness of everyone at Hotel Fontaine—the staff and the guests.
The acting is also great. It's just the right amount of feel-good so it never feels forced, nor do the character's choices seem questionable. It's all believable within the world they've created, aside from the scene where they are dining on a rooftop in the dead of a New York City winter without jackets or even sweaters. How are they not cold? As for the few over-the-top performances and characters, well, they also work—the prince's bodyguard (AJ Zoldy) is a delight.
If I'm being perfectly honest, the magical thing about the film is that it's a love letter to the community of people you surround yourself with: your found family.
The film doesn't just settle for telling a story about two people who finally admit that they love each other because that's tired and expected. Instead, it recognizes that romance comes in all shapes and sizes—in romantic partners, in co-workers, in friends, and even in new acquaintances that pass through your life for a brief moment (or stay awhile).
The storylines come together seamlessly, and the themes of belonging and acceptance—in addition to staying true to yourself, finding the inspiration to pursue your goals and ambitions, and acknowledging that it's ok to move and find happiness on your own terms, even if it doesn't always please everyone—help the film stand out among the other cliche seasonal offerings.
Most importantly, Petsch shines… and it's so deserved. The film allows her to show off her range of acting chops that, sadly, get stifled on Riverdale. The CW series may have been her mainstream big break, but it stopped working in her favor a long time ago, so it's exciting to see her take on new projects and characters.
Of all the Christmas films that I've seen in 2022 thus far, Hotel for the Holidays is one of the best.
Check it out for yourself when it premieres on Dec. 2 on Amazon's Freevee.
Read On: