The weather has cooled down, and I've found my new fall obsession in Lifetime's "You."
You is a promising offering; it's thrilling yet sexy, provocative yet at times, uncomfortable. You bet your ass I'm referring to the scene where Joe stands outside her window watching her "finish" and pleasuring himself in the bushes. And I shudder to think that's just the beginning of what Joe is capable of.
The premiere focused mostly on nice guy Joe Goldberg's character, and he's problematic in the best way.
We learned about who he is, how he operates and what he thinks via voiceovers that were directed at Beck, the girl from the bookstore.  The relationship he formed with her in his mind was alarming but concurrently, one of the best parts of the episode because it really allowed you to get inside his twisted head. You were able to stalk the stalker and make the same judgements about him that he was making about those around him.
What seemed like an innocent connection between two book nerds rather quickly turned into something more dangerous, even deadly. Joe became consumed with getting to know Beck. His obsession teetered on the border of normalcy — when he social media stalked her — to insanity — when he reported a gas leak in her apartment so he can sneak in and look through her things.
Penn Badgley's performance of the guy-next-door-turned complete psycho was intoxicating simply because you found yourself rooting for the guy you really shouldn't be rooting for. Tgive credit where credit is due, he did pull her up when she fell onto the train tracks, didn't freak-out when she threw up in his face (how did he not?) and got her home safely. But he also stole her phone so he could read all of her messages and trace her every move so there's that.
He warned "Beck" about the strangers who may have bad intentions while being the stranger with bad intentions. Everything Joe tried to protect her from, he became. It's a stunning display of a person who lacks self-awareness even though they are able to assess and pass judgment, mostly accurate, about everyone around them.
But it's also one thing to think he friends aren't faithful, that her boyfriend is a douchebag, and that she's an attention seeker, but it's another thing to act on those judgments and impulses.
And act on them he did.
The moment when he took a hammer to bind the book for his neighbor friend was palpitating because it was evident that the next thing being struck by said hammer would be the back of Benji's head. I predicted it, which was infuriating because should a guy like Joe really be that predictable?
Most concerning is how unaware Joe is that his crazy is untucking. On the surface he's nice, but he's got the manipulation down to an art. He thinks he's superior to everyone around him, including Beck, but he also believes he's acting out of love or that his intentions are in the right place. He believes he's the hero in the story and also, the savior that she needs as a damsel in distress.
And he justifies his extreme action of locking up her hook-up in the book cage because he's a shit human.
If this is what he pulls after just knowing Beck for less than a week, what else does good 'ole Joe have in store for us?
There was a brief mention of Joe's previous girlfriend, the one that made his so wary of love and sparked his interest on being "careful," but it seems like she may have been his first victim.
Who knows, maybe Joe Goldberg isn't even his real name.
I'm intrigued to see what happens when it dawns on him that the Beck he's infatuated with, the woman he created based on the social media profiles and the perception she puts out into the world, isn't actually the woman she really is.
Will he lose it? Will her friends pick up on the fact that Joe isn't just a nice guy? Will they "see it in his eyes" like the abuser that lives next door?
He sees right through Joe which would make him a bigger threat than Benji. The only difference is that Ron doesn't stand in the way of his relationship with Beck the way Benji does.
His ability to comprehend that Ron isn't a good person because he's a woman beater while convincing himself that whatever stalker-ish things he's doing is concerning in itself.
There are still likable moments about Joe ranging from his cheek-in-tongue commentary about our society to taking young Paco under his wing and teaching him about books. Hopefully, this part of the friendship remains innocent. The fact that Joe would selflessly share his sandwich with the kid while not having any food in the apartment speaks volumes to there being something redeemable in Joe.
However, if he continues down this path, which I'm sure he will, those selfless acts won't be able to save him for long.
People are disappointing Beck said upon meeting Joe and really, she has no idea.
Let this show be a lesson that you have to be very wary of what you put on social media channels and how much you allow the public to know about you.
At no point should a stranger ever be able to find out that much information about you. YOU may be the reality check our society needs.
What did you think? Rate the premiere in the comments below!
Follow CRAVEYOUTV on socials
Everything We Already Know About 'YOU' Season 3 on Netflix Including New Cast Members
Hello, you.
Joe Goldberg, Will Bettelheim, or whatever we're calling him these days, is only just getting started with you.
WARNING: stop reading if you don't want spoilers for YOU Season 1 and Season 2!
The second season of the Lifetime-turned-Netflix series left on a pretty major cliffhanger: Joe is expecting a child with Love. Oh, and despite being confronted by someone equally as insane that made him realize his behavior and actions are completely unacceptable, he cannot help himself when he notices his new neighbor and his stalker-senses start tingling again.
Given all of that, it's no surprise that the upcoming third season (which was renewed in early January) is highly-anticipated. It's shaping up to be even more intense than the first two seasons combined.
Related: How to Download TV Shows and Movies from Netflix for Offline Watching
The stakes are much higher now that a child is involved, Joe is being held accountable for his actions by Love, and much to his dismay, he's stuck in a relationship with someone he's not even in love with.
So, here's what we know about the third season of YOU.
You're going to binge-watch it – HA, okay, that was just a joke to see if you were paying attention. Of course, you're going to binge-watch it.
It will premiere in 2021 – Netflix has confirmed that. In other words, you have about a year to recover from the insanity that was season 2.
Production has already kicked off – Showrunner Sera Gamble took to Twitter to share that "We've started work on season 3. Just thought you'd want to know." And yes, we did want to know, so thank you, Sera.
We've started work on season 3. Just thought you'd want to know. #YouNetflix pic.twitter.com/Ih9MQl9BqU

— Sera Gamble (@serathegamble) February 7, 2020
It will be 10 episodes – Both seasons have consisted of 10 episodes so why fix something that isn't broken, am I right?
You'll see some familiar faces – Badgley will obviously reprise his character as stalker Joe, while Victoria Pedretti will return as his psycho baby momma Love Quinn.
Who are the new cast members? – Shalita Grant joins as Sherry, a "Mom-fluencer" who appears down to earth but is really a mean girl pretending to invite Love into her circle. Travis Van Winkle will play Cary, a wealthy guy who invites Joe into his circle. Sounds ominous. And if we know anything about Joe and Love, this isn't going to end well for either Sherry or Travis.
Will Ellie be back? It's not confirmed, but I'm crossing my fingers that we'll also see Jenna Ortega return because we need a wellness check on that girl!
The dream team is returning – Not Joe and Love… never Joe and Love. We're talking about Sera Gamble and Greg Berlanti who delivered some twisted television magic.
Can I crush on Joe? – Seriously, no. He's a narcissistic murder no matter how great his jawline is. You all saw what happened to Delilah.
The neighbor will be explored – Not much is known about the plot of season 3, but I reckon the object of Joe's attention in those final moments is going to play a vital role. Even the season 3 announcement teased "see you soon, neighbor." There are plenty of theories about who the mystery woman could be (Badgley debunked that it's his mother, but do we believe him?), but I really want it to be Candace again. She can be like "hey, I'm still not dead." Or maybe it's Beck's sister? Whoever it is, I don't think it's going to be anyone random.
See you soon, neighbor. YOU S3 is coming. pic.twitter.com/rCJx7K9v0P

— YOU (@YouNetflix) January 14, 2020
Is it based on a book? Maybe. The first two seasons were based on novels by Caroline Kepnes, although, the plot did stray from the book ever so slightly. Kepnes is currently writing her third book and close to being finished, but there's no word if it will inspire the third season.
Will Joe finally get what's coming to him? I mean, I hope so. Whatever happened to the pee cup? How can no one tie any of these murders to him? Why does he keep getting away?
As you wait for the new season, you can binge-watch season 1 and 2 on Netflix.
And don't forget to check out the funniest memes inspired by our dear Joe and his murderous tendencies.
Why 'YOU' Season 2 Wasn't As Believable as Season 1
When You Season 2 dropped on Netflix the day after Christmas, all the good boys and girls were nestled on their couches watching Will Bettlehim nee Joe Goldberg start a new life in Los Angeles.
Some of his season highlights included grinding up a man in a meat grinder (I'll never look at ground beef the same), getting a job at Anavarin (Nirvana spelled backward), and falling in love with a woman named Love despite swearing off romance following the turmoil he endured from his previous relationship.
At first glance — and after binge-ing in almost a full sitting (bathroom and snack breaks were mandatory) — the series was a thrilling follow-up to Joe's first murderous escapades in New York City that ended in Beck's demise and Candace's return from the dead.
In retrospect, and after the adrenaline of Will/Joe's antics wore off, I realized the second season didn't live up to my expectations the way that I had hoped.
My biggest gripe with the season was that it was unbelievable.
The first season engulfed audiences (well, after it hit Netflix since it was not as widely received when it aired on Lifetime, unfortunately), because of how relatable it was.
While many of us likely aren't being stalked by a sociopath (hopefully and thankfully), there are elements from Joe and Beck's toxic relationship that we could all connect to.
For starters, plenty of 20-somethings are living a life solely constructed for the 'gram while simultaneously being a muddle of insecurities and emotions just like Beck.
The rise of online dating also makes us aware of the possibility of going on a date with a serial killer, though it hasn't stopped us from putting ourselves out there and trying to find a soulmate yet.
We also know a Beck or we've all been a Beck, a woman who is too desperate for love and attention and is dating a guy that is all wrong for her.
And, there's a high probability that we've all definitely dated a person who turned out to be someone they're not.
It's likely the person wasn't a psychopath who was way too comfortable with permanently eliminating his problems and obstacles, but you get the idea.
With all that in mind, not much about the first season seemed impractical or unrealistic. In short, Beck got stalked by a guy, she was oblivious, she knew the relationship was toxic, but she kept going back to him, and it ended up with her 10 feet under.
She also didn't know how to properly close her blinds, but that's an editorial for a different day.
he point is — this Beck could exist in real-life, and unfortunately, we know that this Joe, or a version of Joe, exists in real life.
Penn Badgley's portrayal of Joe was never the problem.
Even in Season 2, he's played with the same dangerous perfection that you find yourself drawn to him, rooting for him, and relating to him while simultaneously being terrified of his every move.
And despite being slightly more likable and humanized in the second season almost to the point of a stereotypical reformed bad boy a la Damon Salvatore on The Vampire Diaries, there's still a constant tug-and-pull where you think Joe is becoming a better person only for him to remind you that he's a killer underneath all that charisma and occasional compassion.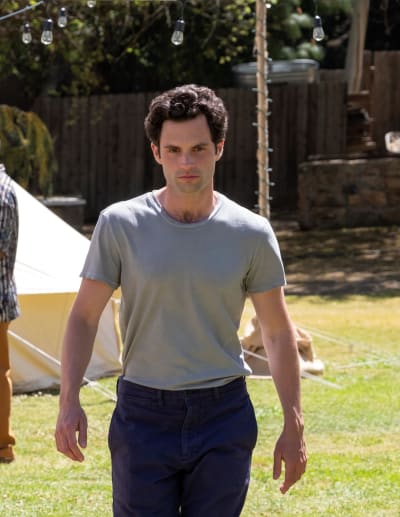 Most of the problems with the season stem from the plot, which often becomes contrived and unrealistic to continuously raise the stakes and keep the audience in a state of suspense and fear.
First off, Joe re-built an underground bunker, which probably made you go, "seriously?" How did he get his hands on all that glass? How did he get the design perfectly similar to the one he had in his bookshop? Who knows. And don't get me started on the lack of security cameras at the storage facility.
Then, Joe steals Will Bettleheim's identity, which isn't completely out of the realm of possibility.
Read the full post at TV Fanatic! 
TV Shows to Binge During Your Self-Quarantine and Social Distancing
In case you haven't been keeping up with global news, coronavirus, COVID-19, is forcing everyone to practice the 2020 version of"conscious uncoupling" known as "social distancing."
Many cities/states are on lockdown with bars, restaurants, and other establishments closing their doors to keep the outbreak from spreading even more than it has.
If you've found yourself self-quarantined at home on the couch to prevent the spread of germs, you'll likely be looking for things to keep yourself occupied.
Many shows have shuttered production with daytime and late-night talk shows going sans audiences or completely dark for the remainder of the month.
And this means it's the perfect time to binge-watch those shows you've been putting off.
Here are some shows to watch during your self-quarantine.
What the world needs now is a fixer who could tell us all how to get out of this mess. Since that's not possible, we have the next best thing in Olivia Pope, DC's fixer and right-hand to the President, who is also in a torrid love affair with him. It's political, dramatic, and sexy as hell to this day.
Don't you wish we could all travel back to a time before the coronavirus? Same. Maybe if we had a time machine like Lucy, Wyatt, and Rufus, we totally could. But alas, we'll have to settle for watching their journey through key historical moments as they attempt to stop Rittenhouse from destroying the world.
Locke & Key
Think Harry Potter meets Narnia. Netflix's new fantasy thriller finds a family moving into a mansion following their father's death where they learn that it's filled with secret keys that open up portals to other dimensions. You never know where you'll end up, but it'll make you forget you're curled up on your couch amidst a toilet-paper shortage.
Mr. Robot
Elliot works as a cybersecurity engineer by day and doubles as a vigilante hacker by night. When he's recruited by a mysterious underground organization, he's forced to do things that make him question his personal beliefs, his morals, and most importantly, what's real and what isn't.
Financial burdens (like the fact that you spent all your money stocking up on canned goods and paper towels) plague three suburban moms who are tired of always playing "catch up." They decide to take matters into their own hands and rob a grocery store. Soon, they find themselves trying to navigate a world of crime that has absolutely no rules. As they try to survive, their actions will keep you on the edge of your seat.
Stranger Things
You've already heard of Stranger Things, and if you haven't seen it yet, it's high time you do. The series takes place in 1980s Indiana and follows a group of young friends who become privy to supernatural happening within the government.
There's no better time than during a quarantine to watch all 16 seasons of Grey's Anatomy. Honestly, when else are you going to have the time? All you need to know is that it's a medical drama, there's a doctor named McDreamy, and Shonda Rhimes is the boss babe behind it.
The Good Place is a stroke of comedic genius mixed with some of the most insightful and wholesome storytelling of our generation. It's also the only series that had the perfect series finale (fight me, but after coronavirus cause there's a no-touching ban). Eleanor Shellstrop is shocked to find herself in the Good Place following her death and immediately realizes she's there by mistake. No one is prepared for her hilarious afterlife antics as she hides from architect Michael and her new friends while trying to become a better version of herself.
Don't be deterred by the plot — a young Latina woman learns she's pregnant after she's accidentally artificially inseminated. The series weaves together the best parts of a telenovela while adding heart, feshed-out characters, strong female leads, irresistible love interests, and family at the forefront of every storyline.
Love is Blind
In the reality TV vein, Netflix delivered the world's newest obsession. It's a social experiment that many claim prepared our generation for dating throughout "social distancing." Love is Blind forces a handful of contestants to meet people while isolated in pods. Once they find their "soulmate," they propose to them without meeting face-to-face and a few weeks later, walk down the aisle.
YOU
If you're not familiar with Joe Goldberg, you're missing out. YOU is a suspenseful thriller that digs into the mind of an obsessed serial killer and follows his romantic relationships.
Game of Thrones
Similarly to Greys Anatomy, when else are you going to find the time to watch all of Game of Thrones? This is the perfect time to dig into a pop culture phenomenon so you know what "winter is coming" means the next time someone mentions it.
The Marvelous Ms. Maisel
If there's anyone that can cheer you up and put a smile on your face, it's Ms. Maisel. Set in the late 1950s, Miriam aka "Midge" breaks the rules and pursues a career in stand-up comedy. While it's unheard of for women of her class to pursue a career, it's even more unheard of a woman succeeding in such an industry. But leave it to Midge to prove everyone wrong and do it with flair and style!
Binge. Enjoy. And wash your hands!